Weebly Pricing: How Does Weebly's Value Stack Up?
Expert Analyst & Reviewer

UPDATED

Weebly makes a strong case for being The People's Website Builder. Its website editing model is easily one of the most intuitive out there, and its appeal to the non-techies among us is unparalleled. In keeping with the company's emphasis on providing value to the masses, there is a free plan available to everybody. This is why you'll occasionally see Weebly referred to as a "free website builder." In reality, much of what makes Weebly a compelling website builder is reserved for paying subscribers.
In my review of Weebly, I describe Weebly's editor and features as thoroughly as possible. In this article, however, I'd like to focus on the pricing of Weebly's services and the value you receive in exchange.
Weebly Pricing And Essential Features
Weebly gives all comers access to their platform for the low price of free. Anybody who signs up will get the following without having to enter any payment information:
Drag & Drop Website Builder
Display Weebly Ads
Free Hosting – Weebly.com Subdomain
Search Engine Optimization
500MB Storage Limit
Chat and Email Support
Community Forum
Lead Capture
However, the time will likely come when you want more out of your Weebly site, whether that's eCommerce, video backgrounds, or your own personalized domain. Well, for all that, you'll need a paid subscription. These are the features you'll get with any Weebly paid plan:
A personalized domain, free for the first year
A $100 Google ad credit
No Weebly ads
Connect your existing domain
Unlimited storage
eCommerce
Advanced Site Stats
While the paid plans have the above features in common, they differ in terms of price and other features offered. Here are Weebly's paid plans, their prices (based on the annual rate — I don't recommend a monthly subscription as they are more expensive and do not include a personalized domain free for a year), and some of the features they include:
| | | | | |
| --- | --- | --- | --- | --- |
| Weebly Plan | Starter | Pro | Business | Performance |
| Pricing (annual plan): | $8/month | $12/month | $25/month | $38/month |
| Phone support? | No | Yes | Yes | Yes |
| Video backgrounds/HD video & audio? | No | Yes | Yes | Yes |
| Membership pages? | No | Yes – Up to 100 members | Yes – Unlimited Membership | Yes – Unlimited Membership |
| Email campaigns? | No | No | No | Yes – 5 email campaigns/month |
At $8 per month, Weebly's cheapest plan is very competitively priced indeed. However, it doesn't come with much in the way of additional features, so you're not getting a whole lot for your money. It's at the Pro subscription level where Weebly's premium plans start to show their value. At $12/month, a Weebly Pro subscription entitles you to phone support, gives you video backgrounds, high-definition video and audio, and lets you set up membership pages on which people can log in with a password to access exclusive content. If you're looking to run a well-featured non-eCommerce website, the Pro plan might just be the "sweet spot."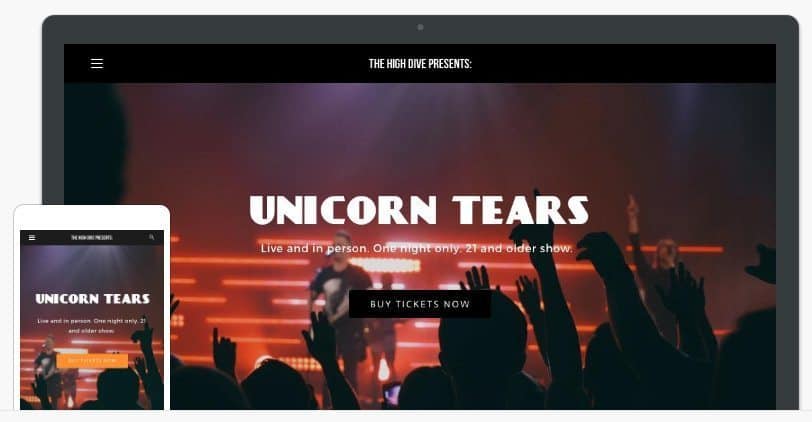 But wait! What if you want to build and run your own online store? Let's compare the eCommerce features of Weebly's paid plans.
Weebly eCommerce Features
| | | | | |
| --- | --- | --- | --- | --- |
| Weebly Plan | Starter | Pro | Business | Performance |
| Weebly transaction fee? | Yes, 3% | Yes, 3% | No | No |
| Number of products: | Up to 10 | Up to 25 | Unlimited | Unlimited |
| Checkout: | On Weebly's domain | On Weebly's domain | On your domain | On your domain |
| Digital goods/inventory management/SSL? | No | No | Yes | Yes |
| Abandoned Cart Email/Real Time Shipping Rates? | No | No | No | Yes |
You'll notice that under the cheapest two plans, Starter and Pro, Weebly charges a transaction fee of 3% on every purchase someone makes on your site. If you're an online seller, this makes the Starter and Pro plans less of a value proposition. Keep in mind that this transaction fee comes on top of the transaction fees charged by the payment processor, which typically come out to 2.9% + 30¢ per transaction.
Starting at the Business level, not only are Weebly's transaction fees waived (the payment processor's fees remain), but the limit on the number of products you can sell is gone. You'll also have your customers check out on your domain, not a Weebly domain. (Much more professional-looking that way.) You can also sell digital goods, track your inventory, and reassure your customers with SSL security. For just $25 a month, Weebly's Business package is quite the deal.
Other Costs To Consider
I mentioned earlier that with Weebly's paid subscription plans, you can get your own personal domain for your site at no cost for the first year. Afterwards, however, you pick up the cost. Domains offered by Weebly renew at $19.95 on a yearly basis, with discounts for 2, 5 and 10-year renewals. This rate is a bit higher than the rate for domains charged by Wix and Squarespace.
The cost of personalized email is another factor to consider. Some website builders include email in their paid subscriptions — Weebly does not. Instead, like Wix, they offer email as a standalone package through G Suite. The price is $4.08 per user per month, and you'll get to use 30 different aliases (as in [email protected], [email protected], [email protected] etc).
One of Weebly's selling points is the Weebly App Center, a large collection of feature add-ons for a wide variety of purposes. Many of these apps are free, but some of them operate on the freemium model where you'll have to pay anywhere from around $4 to $25 a month for the premium version.
Final Thoughts
I'm a fan of Weebly, and I'm glad they're made it their mission to cater to as broad an audience as possible. Techies aren't the only people who require their own DIY web presence. For a tiny fraction of the cost of hiring web designers to put something together for you, you can use Weebly to create your own attractive and functional website. So long as you make sure to cover all your bases feature-wise, you'll be good to go.