What Is Enterprise eCommerce Software?
Updated on:
Posted by: Shannon Vissers
Advertiser Disclosure: Our unbiased reviews and content are supported in part by
affiliate partnerships
, and we adhere to strict
guidelines
to preserve editorial integrity.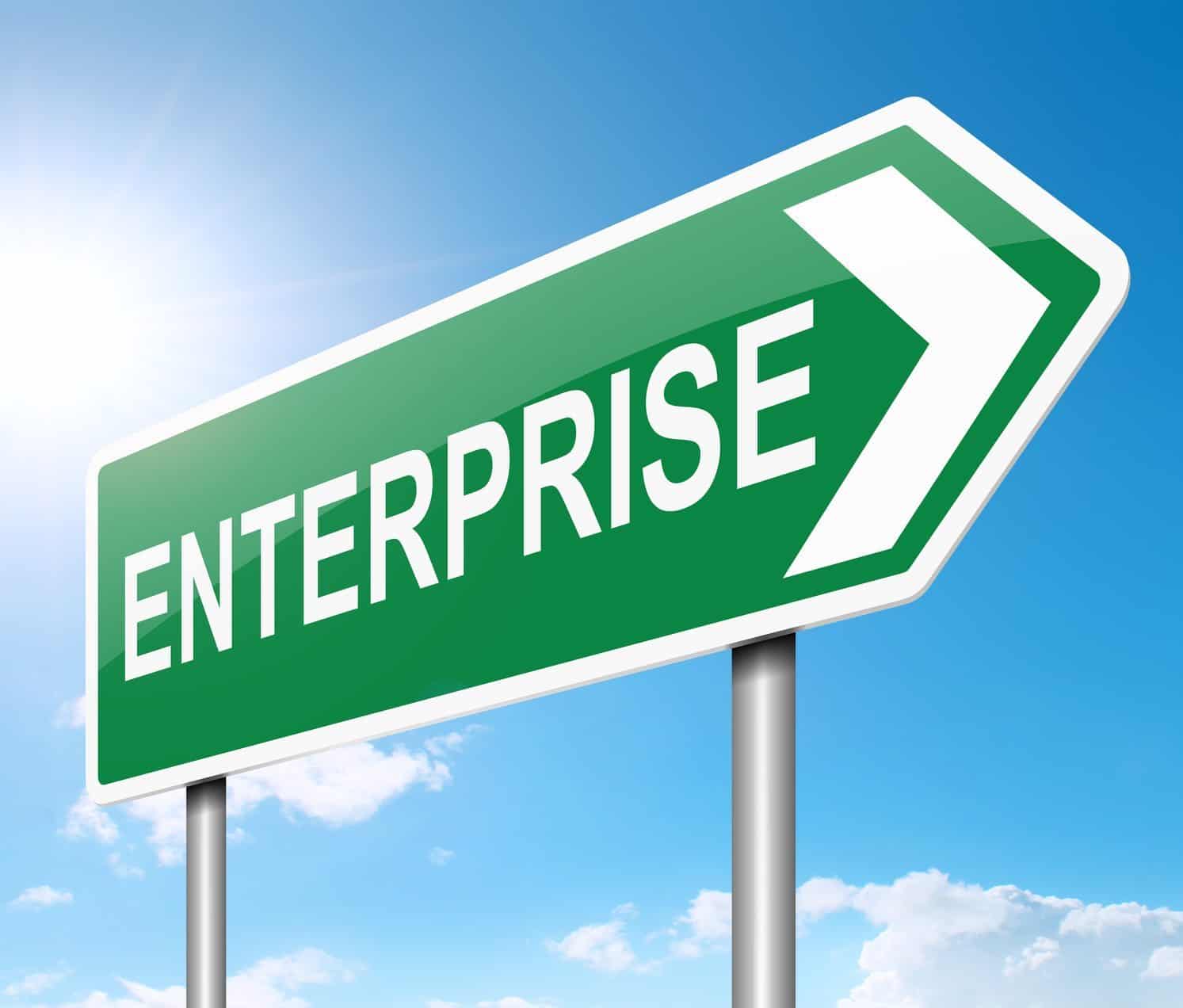 Simply put, enterprise eCommerce software is software that allows large organizations to sell online. The End. Just kidding! There's a bit more to it than that. For one, today's enterprise commerce solutions aren't just for multi-million-dollar corporations — far from it. Now that most software is cloud-based and completely scaleable, eCommerce solutions like Shopify Plus are considered enterprise software, even though plenty of small businesses use Shopify, too.
In this article, we'll take a closer look at enterprise eCommerce software and help you find out if one of these solutions might work for your business.
Are You an "Enterprise" Business?
Being classified as "Enterprise" really has very little to do with the number of employees you have, the number of customers served, or even your net revenue. These may be fair indicators, but being an enterprise has more to do with the structure of your business.
You might be an enterprise if…
You offer more than one kind of product or service to your customers

The various departments of your business utilize the same…

Pool of financial resources

Pool of technical resources

General management team
If you really want to get technical, the majority of retail businesses might be considered enterprise-sized if their annual revenue exceeds $7.5M. (This is a very general example, not intended to be used as a metric.)
What Is Enterprise Software?
This is a bit easier to define. Enterprise software, also known as Enterprise Application Software (EAS), is typically a software system designed to serve the diverse needs of a large business. EAS brings each department under one umbrella, enabling a more seamless communication platform. 
Enterprise software provides a centralized, company-wide solution for accounting, eCommerce, order processing, or any other business need (or combination thereof). This type of software is appropriate for multi-location/multi-server businesses, and its cost tends to reflect the larger budget of "enterprise-sized" businesses.
This type of software may be cloud-hosted or installed, or a hybrid. All of the major eCommerce Enterprise software solutions are cloud-based, however.
Examples of enterprise software:
There are all types of enterprise software designed to handle diverse tasks ranging from order processing to customer relationship management. But since the focus of this article is on enterprise eCommerce software, I'll give you some eCommerce examples of enterprise software:
What Enterprise eCommerce Software Does
When eCommerce software – also called "Shopping Cart" software – graduates into the enterprise playing field, several important perks tend to be included.
Offers unlimited everything (number of products, product variations, online storage, bandwidth, site traffic, etc.) 

Includes premium web features like custom SSL certificates, SSO (single sign-on, where a single login gives you access to more than one service), and Google Trusted Store tags

Order and inventory management

Payment gateways have more competitive rates and fees

Multi-channel and multi-store features

Integrated Point of Sale (POS) features
Customer Relationship Management (CRM) features

Personal account managers, assisting in training, and technical support
"White Glove" Customer Support
Among the main reasons to go with an enterprise plan is the high level of customer and technical support included with this type of package. Most eCommerce developers will provide you with a dedicated account manager who will help with things like onboarding assistance, demos for your team, and priority technical support. 
Enterprise eCommerce Software Scalability
Enterprise-level software is designed to become an integral part of your business no matter how much it grows — think of it as a framework that can support any weight.
As I mentioned earlier, the scalability of modern cloud-based (web-based) software means that you can use some edition of eCommerce software even if your business is closer in size to a lemonade stand than it is to Zappos. For example, with a solution like Shopify or Magento, larger businesses with high sales volumes will probably choose the "Plus" or "Enterprise" package, while a startup will choose regular Shopify or the Magento Community Edition.
Compared to starter editions of eCommerce software, enterprise-level plans are especially scaleable — that is, appropriate for fast-growing businesses — as they typically allow unlimited products, bandwidth, and support, letting your resource usage expand as big as your business grows. 
Seamlessly Integrated Systems
Enterprise eCommerce software helps you unite all of your business's departments, making everything run smoother. For example, CRM functionality aids the HR and marketing departments, while inventory control features inform the warehouse, S&R, and supply chain departments, and integrated POS systems give the sales teams better tools to serve the customer.
These functionalities are not necessarily absent in lower plans, but again, an enterprise plan is all about scale, so everything is included at as high a level as you need.
When all of these features are under one software roof, your important business data is updated in real-time and you can prevent the glitches that often occur when trying to integrate disparate software systems.
Enterprise-level API
Though enterprise-level software suites are generally produced by a single developer, API integrations for third-party developers can extend the functionality to meet highly customized needs.
Examples of eCommerce API integrations:
Global wholesale sourcing
Email marketing
Shipping
You can also use an API to integrate your enterprise eCommerce solution with whichever Enterprise Resource Planning (ERP), accounting software, CRM, or other software your business already uses. (Note that most CRM functions are almost always included at this level of eCommerce software, but importing your data from your previous CRM solution is usually very easy.)
Conclusion:
You've been around the block. You know that you can no longer afford to make major decisions based on the "guess and check" method. You need a solution you won't outgrow, one that won't interfere with maintaining your loyal customer base or your corporate identity. In other words, you are ready to take the leap into an enterprise-sized eCommerce solution.
As you research your software options, get in touch with someone at each company who can spell out the terms for their enterprise eCommerce solutions. Most shopping cart providers won't have qualifications that you will need to meet, but it's still a good idea to get in contact with someone who can assess your business needs and hook you up with the right set of features, at the right price.
Check out our shopping cart comparison to see how various eCommerce software solutions like Shopify and Bigcommerce stack up.