What Is Enterprise eCommerce Software & How Can You Find The Right Platform?
Expert Analyst & Reviewer

UPDATED
Advertiser Disclosure: Our unbiased reviews and content are supported in part by
affiliate partnerships
, and we adhere to strict
guidelines
to preserve editorial integrity.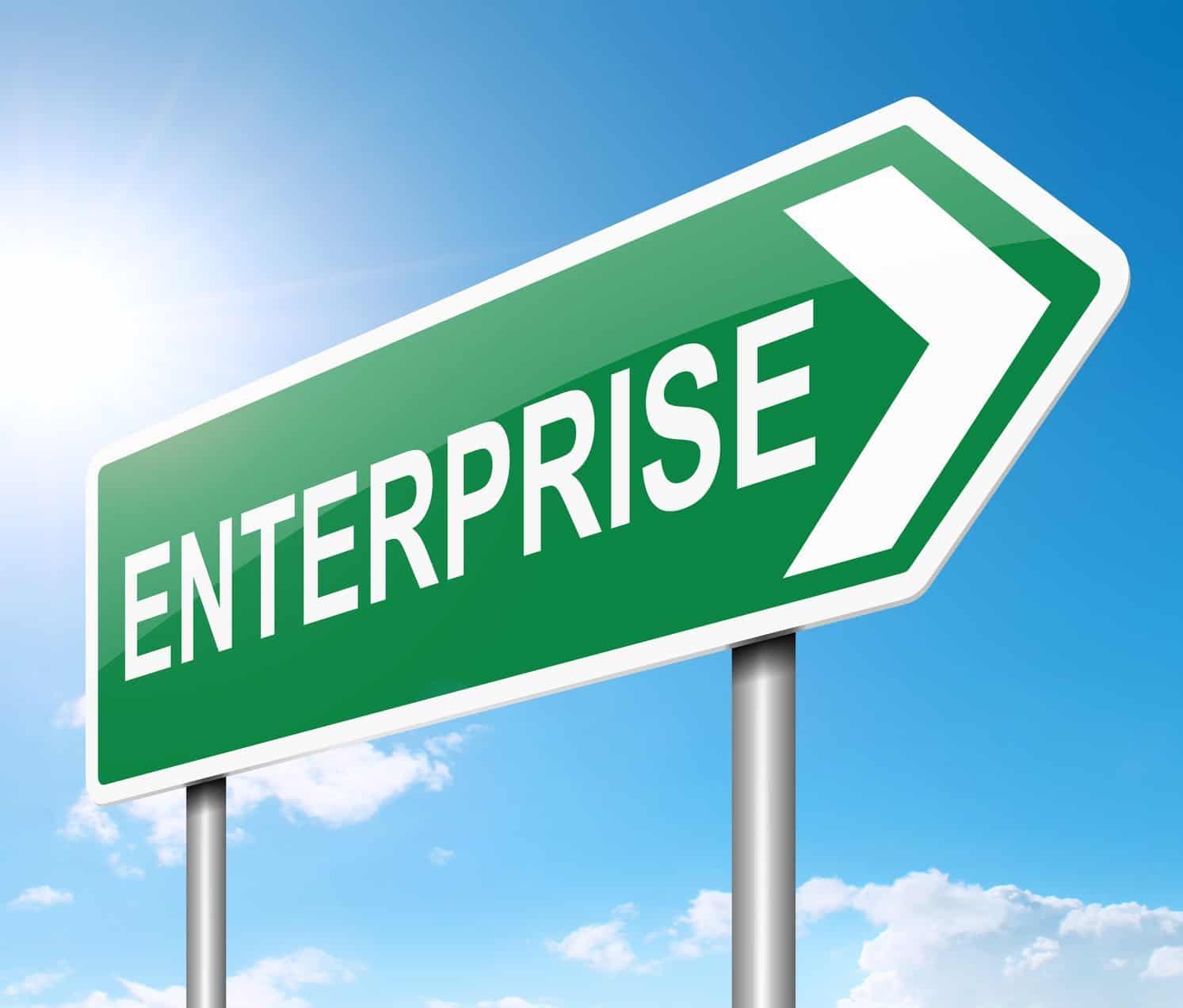 Has your company outgrown its website?
If your operation has seen significant growth, it may be time to beef up your online sales operations. Or maybe your successful brick and mortar organization is ready to get into eCommerce and tap growth opportunities online. As you start your search for the right solution, you may come across the phrase "enterprise eCommerce software." And you might wonder: Are you big enough for an enterprise-level solution?
If you're big enough to ask that question, then the answer probably is yes. Enterprise commerce solutions aren't just for multi-million-dollar corporations anymore. Cloud-based and completely scaleable, eCommerce solutions like Shopify Plus are considered enterprise software, even though plenty of small businesses use Shopify, too.
Learn More About Our Top Picks
Company
Best For
Next StepsBest For
BigCommerce Enterprise
Best for high-volume businesses looking for reliable uptime and excellent support.

Best for high-volume businesses looking for reliable uptime and excellent support.

Shopify Plus
Best for high-volume sellers who don't want to build their site from scratch.

Best for high-volume sellers who don't want to build their site from scratch.

Magento Enterprise Cloud Edition
Best for eCommerce vendors seeking unlimited growth who don't mind coding duties.

Best for eCommerce vendors seeking unlimited growth who don't mind coding duties.

Stripe Payments
Best for merchants seeking to power up an existing website to enterprise level.

Best for merchants seeking to power up an existing website to enterprise level.

WooCommerce
Best for those looking for a self-hosted website with unlimited growth potential.

Best for those looking for a self-hosted website with unlimited growth potential.

Show Fewer Options
Read more below to learn why we chose these options.
What Is Enterprise Software?
Enterprise eCommerce software is perfect for meeting any large business's diverse needs. It brings various departments together under one umbrella, providing a centralized solution for accounting, eCommerce, order processing, and more. It's appropriate for multi-location/multi-server businesses, and its cost tends to reflect the larger budget of "enterprise-sized" businesses.
How eCommerce Software Can Help Your Enterprise Business
When eCommerce software – also known as shopping cart software – moves up the enterprise-level, you can expect to find more of what you need to succeed online. Here are some important benefits you can expect to gain from an Enterprise eCommerce solution:
Goodbye, Limits: unlimited number of products and product variations, with no limits on online storage, bandwidth, site traffic, and so on
Premium Web Features: custom SSL certificates, SSO (single sign-on, where a single login gives you access to more than one service), and Google Trusted Store tags
Additional Tools: order and inventory management, CRM, integrated POS, multi-channel and multi-store features, among others
Payment Gateway Perks: more competitive rates and fees
"White Glove" Customer Support: a personal, dedicated account manager who will provide t

raining, onboarding assistance, demonstrations for your team, and priority technical support.
Enterprise eCommerce Software For Scalability
Those benefits outlined above combined to deliver the greatest perk of enterprise-level software: unlimited scalability. Think of it as a framework that can support any weight. Enterprise software, with its built-in benefits, is designed to become an integral part of your business, no matter how much or how quickly you grow.
Even if your eCommerce operations are still more in the "mom and pop" range right now, you still can plan ahead for the time when you'll appreciate having an enterprise-level option. The scalability of modern cloud- or web-based software means you can start with a basic version of many eCommerce platforms, with the option to move up in plan as your business grows.
So if you choose Shopify, for example, you can start with a basic Shopify plan and migrate gradually toward the enterprise-level Shopify Plus, when you're ready. Or, if you're ready to jump right in at the enterprise level, you'll find the support you need there, too.
eCommerce Software Solution For Seamless Integration
As your business grows, it naturally becomes more complex, and functions that you once could handle easily with a spreadsheet or a stack of sticky notes can quickly become too much to handle. That's the point where enterprise software solutions deliver another benefit — and it's a big one.
Enterprise eCommerce software helps you unite all of your business's departments, making everything run smoother. For example, CRM functionality aids the HR and marketing departments, while inventory control features inform the warehouse, S&R, and supply chain departments, and integrated POS systems give the sales teams better tools to serve the customer.
These functionalities are not necessarily absent in lower plans, but again, an enterprise plan is all about scale, so everything is included at as high a level as you need.
With all of these features together in one complete software package, all your important business data will be easy to access and updated in real-time. And you can avoid the glitches that often occur when you're attempting to integrate various software systems.
Enterprise eCommerce Platform Comparison for 2021
Now that you understand the benefits of using enterprise eCommerce software, the question becomes which software is right for your business. Remember, even if you're not sure that you're ready to move to enterprise-level, it makes sense to explore the options. That way, you can choose the right entry-level plan that will allow you to grow into the enterprise version, if and when you need it.
The following are some of the best eCommerce software available for enterprise operations.
1. BigCommerce Enterprise
BigCommerce Enterprise


---
Best for high-volume businesses looking for reliable uptime and excellent support.
We often recommend BigCommerce basic plans as some of our favorite eCommerce platforms for online businesses of all size. Does BigCommerce Enterprise rise to the same level? Designed for large companies with annual revenues approaching a half million dollars each year, it's well suited for enterprise-level eCommerce operations looking for an eCommerce software solution that can handle large volumes of traffic.
BigCommerce is fully hosted and cloud-based, and the Enterprise version features the same easy-to-use dashboard and functionality as more basic plans. It's easy to get a store up and running, and customizing that store is made possible by the WYSIWYG (what you see is what you get) editor you can use to make changes to web pages, banners, and product pages. However, making large changes to your theme's layout will require a dive into the source code.
Overall, the BigCommerce platform offers an impressive range of features; at the Enterprise level, you'll find even more. That includes comprehensive tools for converting casual browsers into buyers, such as abandoned cart tools and faced search features. You'll also get a real-time shipping rate calculation tool, custom product filter fields, the ability to transfer unlimited date between integrations in real-time, thanks to the BigCommerce API. That will come in handy, since BigCommerce Enterprise integrates easily with an almost overwhelming number of other software and applications, allowing you to design an eCommerce site that functions perfectly for your needs. Pricing is by personal quote only, but sources say it starts at $400 up to $15,000 per month, depending on your average order value and volume of business.
Pros
99.99% uptime
Easy to use
Excellent features
Numerous integrations
Excellent customer support
Cons
Tiers within Enterprise level
Expensive cost
Get Started With BigCommerce Enterprise
2. Shopify Plus
Shopify Plus


---
Best for high-volume sellers who don't want to build their site from scratch.
Shopify Plus builds on entry and mid-level Shopify plans to create an eCommerce software solution aimed at vendors doing more than $500,000 per year in sales. Shopify Plus pricing is either $2,000 per month or 0.25% of transactions, whichever is higher. Pricing adjusts automatically each month, based on those figures. Additionally, if you choose to use a payment gateway other than Shopify Plus, you will pay an additional 0.15% transaction fee on each sale you make.
So what can you expect to receive in return for those payments? You'll get simple, elegant, easy-to-use eCommerce software. While Shopify offers a solid set of basic features and impressive functionality, the enterprise version of the software adds multichannel capabilities, an automation tool, Shopify Flow, to streamline processes, options for globalization, wholesale and B2B features, and guaranteed priority customer service.
Shopify Plus is fully customizable, too. In addition to more than 1,500 integrations and apps you can add to your store, you can change your store's look and functions by using a drag-and-drop editor called Sections; use Shopify's own template language, Liquid; or edit in HTML, CSS, or JavaScript. There's also a REST API you can use to build your own add-ons.
All that do-it-yourself capability doesn't mean you'll be on your own, though. Shopify Plus clients are assigned an individual Merchant Success Manager, who works on your behalf to get features you want, helps you activate new sales channels, and strategizes with you to help you reach your business goals.
Pros
Easy to use
Low learning curve
Reliability
Multi-channel & global capabilities
Cons
Cost can change monthly
Transaction fees
Add-ons often required
3. Magento Enterprise
Magento Enterprise Cloud Edition


---
Best for eCommerce vendors seeking unlimited growth who don't mind coding duties.
Magento Enterprise Cloud Edition (ECE) is a PaaS (platform as a service) that's similar to other Enterprise software's SaaS (software as a service) offerings. It's fully hosted and cloud-based, with superior features and priority customer service. Flexible and fully scalable, Magento ECE is designed to support large and mid-sized businesses anticipating rapid growth and big sales volume. How big? Magento ECE can handle up to 3.5 million page views and more than 250,000 orders per hour.
Pricing details for Magento Enterprise are a little hard to find. For comparison, the self-hosted version of the software starts at about $22,000 per year. The fully hosted ECE version is likely higher. You'll have to contact a sales rep to gain a personalized assessment and price quote. Unless you have experience in coding and website development, you likely will want to hire someone who does have that skill set, so factor that cost and ongoing costs for maintenance into your budget.
You can trim back your budget in another area, though, because Magento ECE is fully loaded with useful features. You can manage multiple websites and stores from a single admin, sell across multiple channels or internationally, manage inventory, analyze shopper behavior, and more with the built-in features you'll find. And because Magento is open-code, you can build your own integrations if you're so inclined — or choose from thousands of developers' innovations on the Magento Marketplace. All in all, Magento ECE offers customizability, immense scalability, and all the features and functionality you could ask enterprise eCommerce software to provide.
Pros
Open-source
Highly customizable
Superior features
Excellent service
Cons
Developer skills necessary
High cost
Get Started With Magento Enterprise Cloud Edition
4. Stripe
Stripe Payments


---
Best for merchants seeking to power up an existing website to enterprise level.
Best known as a third-party payment processor, Stripe has a simple purpose: making it easier for companies to do business online. Stripe qualifies as an enterprise eCommerce solution because of its developer-first focus, powerful tools, and flexible solutions for businesses large and small, it's worth looking into adding Stripe as an option for turning your existing website into an enterprise-level powerhouse. That's especially true if you're ready and able to make use of Stripe's API and extensive developer tools to create a truly customized solution that works for your business. And Stripe offers most of these tools on a sliding scale based on your overall transaction volume, rather than a tiered model, meaning you'll probably find a reasonable price range for what you need without paying for tools you don't want.
Developers will find Stripe's documentation exhaustive and its tutorials both numerous and useful. If you're not interested in using Stripe's developer tools, you still can unlock Stripe's potential. Look into a Stripe plugin or the more than 300 integration partnerships available. For eCommerce specifically, Strips integrates with 3Dcart, BigCommerce, Shopify, Wix, Weebly, and more. Or use Stripe's payment-related tools, including a customizable prebuilt payments page called Stripe Checkout, to sell through your existing shopping cart.
Stripe offers powerful tools for functions other than payment processing. Stripe billing offers subscription management and billing tools that pair well with Stripe's marketing tools. Connect is a suite of tools designed for marketplaces and platforms (like Kickstarter or Uber/Lyft) that supports and automatically converts more than 135 currencies. Radar Teams is an enterprise-level solution to internet fraud that lets you set rules for transactions. Stripe Sigma lets you create custom reports, using SQL, that let you tap into advanced business intelligence. And Stripe has tools for teams that allow you to control access to your data by delegating responsibilities and setting custom permissions for your users.
Pros
Competitive pricing
International reach
API available
Excellent marketplace tools
Cons
Developer knowledge may be necessary
Inconsistent customer service
Get Started With Stripe Payments
5. WooCommerce
WooCommerce


---
Best for those looking for a self-hosted website with unlimited growth potential.
While not aimed specifically at enterprise level eCommerce, WooCommerce is such a versatile platform that it deserves a spot on this list. It's a free, open-source shopping cart plugin that can turn a WordPress website into an online store. Although you can download and use WooCommerce for free, you can expect to pay for a number of extensions you'll need to run advanced features on your site, and you'll need to find and pay for web hosting with adequate bandwidth for your volume of traffic.
WooCommerce works seamlessly with WordPress, so if you're already familiar with WordPress, you're ready to set up your store. If not, you'll need to create a WordPress account first. WooCommerce offers excellent features in a Core+Extensions model that includes a solid set of eCommerce tools. That means you can start selling immediately once you set up your store and add products. Of course, it should come as no surprise to learn that enterprise-level ventures will need to spend some money on add-ons to gain advanced features. Take your pick of more than 400 extensions in the WooCommerce app store, where you'll find categories like store management, marketing, payment options, shipping, subscriptions, and more. You can start with our list of suggestions for the top WooCommerce extensions.
If you're not able to find what you need, remember that WooCommerce comes with a REST API and lots of documentation. So if you don't see what you need, you can always build it yourself or pay a developer to do it for you. Like most open-source solutions, WooCommerce does not offer personalized support, but you can access an impressive number of self-help options, ranging from documentation and FAQs to an active forum and experts for hire. WooCommerce's most attractive feature to those seeking an enterprise solution may be its complete scalability. It's eCommerce software that can grow with you, as far as you want to take it.
Pros
Free
Scalable
Fully customizable
Unlimited scalability
Cons
Limited customer support
Developer knowledge needed
Self-hosted
Enterprise eCommerce Software: FAQs
Finding The Best eCommerce Software Solution
If your online sales are growing, you need a solution that will grow along with your business, one that won't interfere with maintaining your loyal customer base or your corporate identity. In other words, you are ready to take the leap into an enterprise-sized eCommerce solution. But what is the best enterprise software for you?
Start by identifying your goals, priorities, and capabilities. Do you want an out-of-the-box solution like Shopify Plus or BigCommerce? If so, can you afford the price tag and transaction fees? Or can you tap someone within your company who has the developer skills you need to set up and maintain an online store built on open-source software like Magento or WooCommerce?
As you research your software options and narrow your choices down to a couple of top contenders for your business, get in touch with someone at each company who can spell out the terms for their enterprise eCommerce solutions. It's always a good idea to get in contact with someone who can assess your business needs and hook you up with the right set of features, at the right price. You should be able to get a feel for how responsive the service is to enterprise-level customers, although sales and service departments can differ greatly in response time and level of care. Be sure to ask about service expectations, too, so you can be sure that you can rest assured that you'll have adequate support if and when you need it.
Check out the linked reviews for all the eCommerce software listed in this comparison. Take a look at our shopping cart comparison to see how various eCommerce software solutions like measure up. Ask for demonstrations, take advantage of free trials, and then jump in confidently and get busy selling!
In Summary: Enterprise eCommerce Platform Comparison for 2021