Will Chip Cards Kill Mobile Processing?
Expert Analyst & Reviewer

UPDATED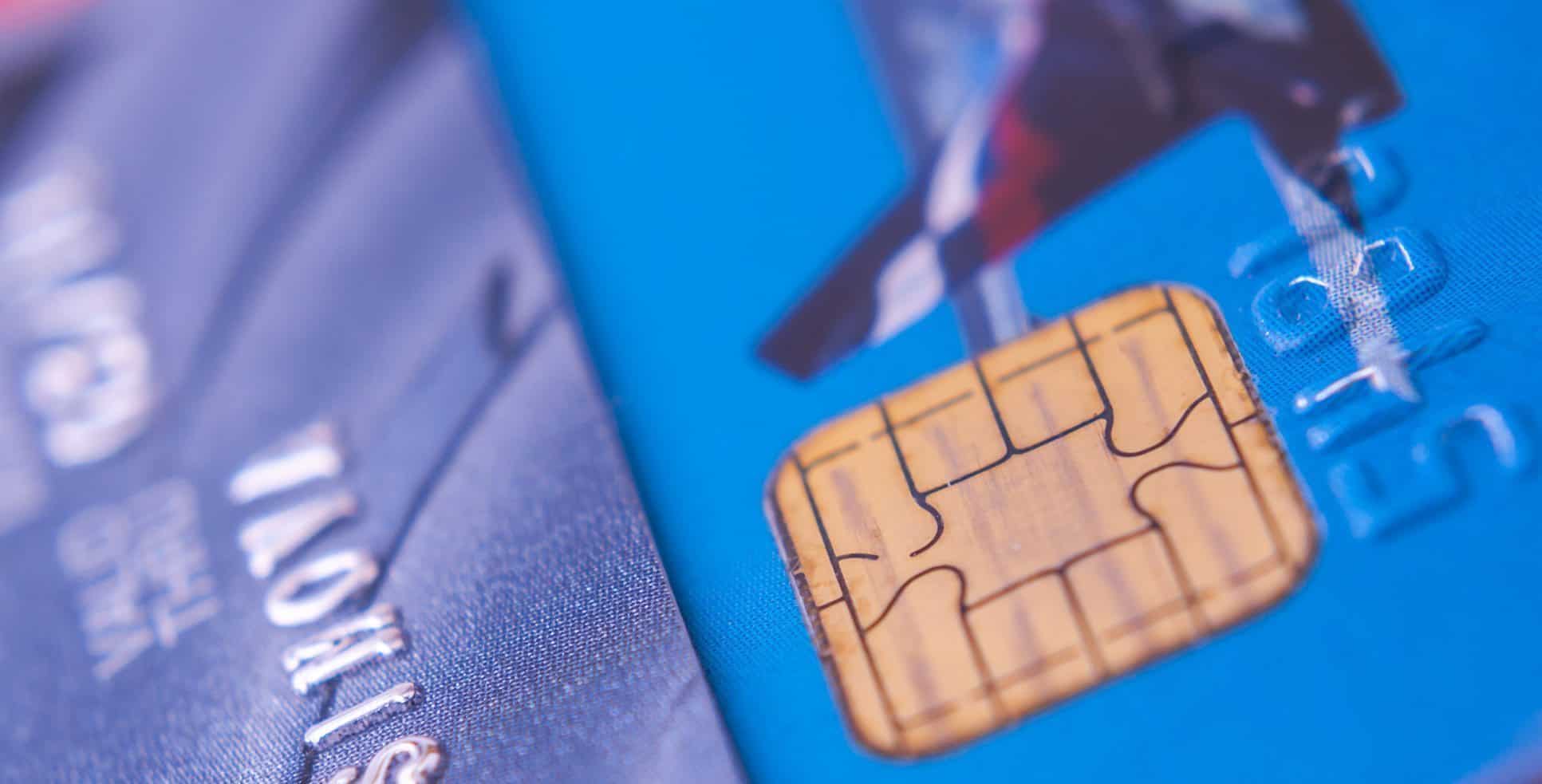 Since Square launched back in 2009, the credit card industry has, in many ways, been turned on its head. Credit card acceptance is more prevalent and less expensive than ever. But with the nationwide switch to chip cards coming in October 2015, we might see another major shift in the way we conceive of in-person payments, and in the opposite direction.
Remember when you used to have to ask at the counter if you could pay with a credit card? Well, recently I pulled up at a school fundraiser carwash and thought to myself, "They probably take credit cards." And they did. With Square. This is how much low-cost, phone-based processing has changed the way we pay for things, and what we expect from sellers. Today, I think any elementary school child with a lemonade stand would be foolish to not check out (with parental supervision) an app like Flint (see our review). Ten years ago I probably would have called the police if the same child asked me for my credit card. But with the rise of chip cards, can we expect the same ubiquity?
The scoop on how mobile processing took root
Let's be clear: most of the democratization of payments brought about by third-party payment services like PayPal, Stripe, and Square is here to stay. These services brought credit card acceptance to the masses by not charging any monthly fees, providing nearly instant approval, and requiring no setup costs. This means that literally anyone can afford to sign up to accept card payments with very little effort and absolutely no expense except for fees based on usage. Compare that to old school traditional merchant account setup that could take weeks, cost hundreds of dollars up front, and then come with monthly fees of $40 or more even if no transactions are processed, alongside hefty early termination fees. (Note that many of the best merchant account providers can accommodate low-volume users without charging an arm and a leg.)
But how are companies like Square able to ship out free credit card readers to anyone who asks for one? Two reasons: low-cost hardware and the need for a huge user base.
Square and other mobile processors make a very, very small amount of profit on each account. To make a sustainable amount of profit, the company must have an enormous number of accounts. By making the setup process as frictionless as possible, Square is able to cast the broadest net possible. And because Square has historically managed to produce such an inexpensive credit card reader, there isn't much financial risk involved in setting everyone up. The fact that Square's signup process requires basically no underwriting or evaluation doesn't hurt either, at least in terms of keeping operating costs down. Although, as we have seen, this doesn't always produce the best user experience.
The cost of mobile chip card readers
While I don't have exact numbers, I can tell you with absolute certainty that production of chip card readers is much more expensive than magnetic stripe card readers, especially considering that chip card readers, for the most part, will still need to support mag stripe cards. The production cost is increased so much, in fact, that Square charges about $30 for it's current chip card reader – a steep rise from the formerly free reader it will replace. The company's new NFC-capable chip card reader will retail for $50, but certain merchants may qualify for a free reader (depending on processing volume and business type), while others who pre-order may qualify for a $50 statement credit.
The fact remains, many micro merchants will not be able to receive a free EMV chip card reader from Square, or anywhere else, at least not without paying a monthly fee. It would simply be too risky and expensive for these companies to ship out chip card readers to merchants who may not even process a single transaction.
But merchants who don't want to shell out $30 to $60 for a reader are not out of luck. As always, users can key-in card information without any reader at all. The downside to this is that keyed-in transactions are more prone to holds, and they generally cost more to process. I also expect that we will see more camera scanning functionality implemented, like what Flint uses, which will at least make the keying-in process quicker and easier.
How are mobile processors dealing with the need for chip card readers?
Here's what we know so far regarding mobile processors' plans for EMV chip cards.
PayPal Here:
PayPal (see our review) says that its new reader is coming in "Fall of 2015." Since Fall begins on September 23rd this year, and the official EMV switch date is October 1st, I guess we can expect it sometime that week? The company recently released images of the forthcoming chip card reader but provided no pre-order date.
Here's what we do know about PayPal's US-based chip card reader:
It will be a separate Bluetooth connected device, not a headphone jack reader
It will have a full PIN pad
It will be NFC-capable, meaning it can accept Apple Pay and similar mobile wallets
It will also support magnetic stripe cards
It will not be free
The current UK version version of PayPal's chip card reader costs about $50, but the new US version will likely be more expensive due to the NFC reader embedded.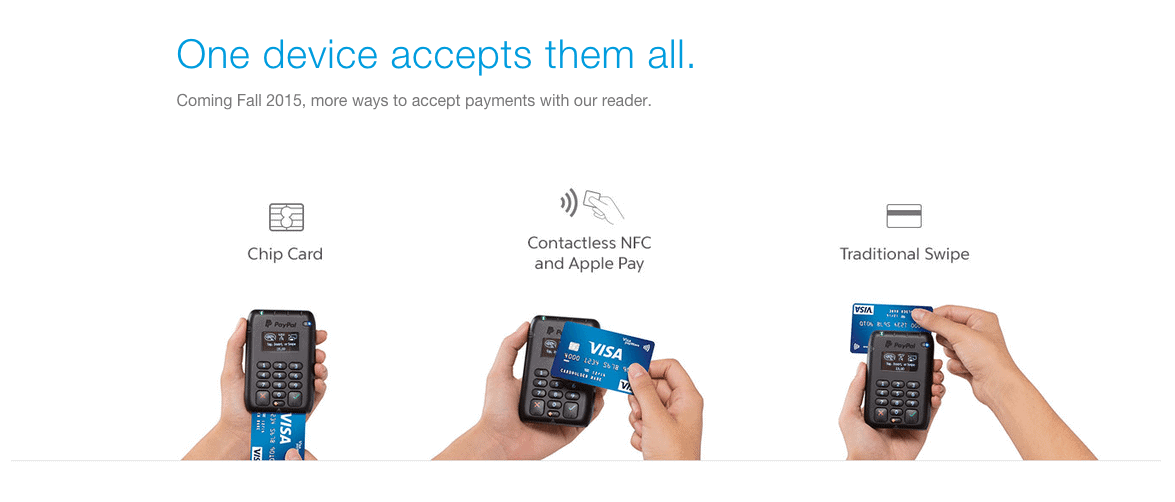 Spark Pay:
Most mobile processors are keeping things close to the vest in regard to the chip card switch. Spark Pay's (see our review) official answer is:
Yes, Spark Pay will support EMV. The deadline for supporting this new standard is October 2015. As we get closer to this date, we will provide more details around our support and what actions, if any, you will need to undertake.
Aside from that, there has been no public comment from Spark Pay on this subject.
Flint:
Flint Mobile (see our review) has remained quiet in regard to its plans for the upcoming EMV shift. Because Flint uses the device's camera to scan credit cards instead of a card reader, the transactions are technically processed as card-not-present. The new EMV regulations will not impact card-not-present transactions, so it seems likely to me that the chip card liability shift will not force Flint to make any changes. But the final decision rests in the hands of Flint's backend processor. I'd expect to see some kind of announcement later this summer. If Flint can continue to use its app as-is, as I anticipate, the company will be at an advantage because it will not have to deal with the expense and friction of issuing hardware.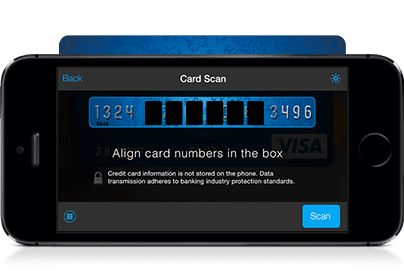 In early July, PayAnywhere (see our review) posted in a Facebook comment stating that "we are currently evaluating offering a Mobile EMV capable device, and more information will be available very soon." In regard to the storefront tablet, the company had this to say: "We began shipping EMV capable Storefront units last month [June 2015]. If you ordered prior to then, your unit is likely not EMV capable."
Oddly, however, PayAnywhere is not actively advertising its EMV hardware or releasing images and specifications on its website. So at the moment I have no idea what the company's chip card system will look like or what features it will offer.
QuickBooks Payments (Intuit GoPayment):
Quickbooks recently began accepting pre-orders for its mobile EMV card reader (see our review). It's an audio jack reader that works with magnetic stripe and chip cards, but does not support NFC payments such as Apple Pay. The price tag is $30, on par with similar non-NFC mobile readers. The reader is nothing to call home about in terms of either design or features, but it's nice to see the company is on top of the EMV transition.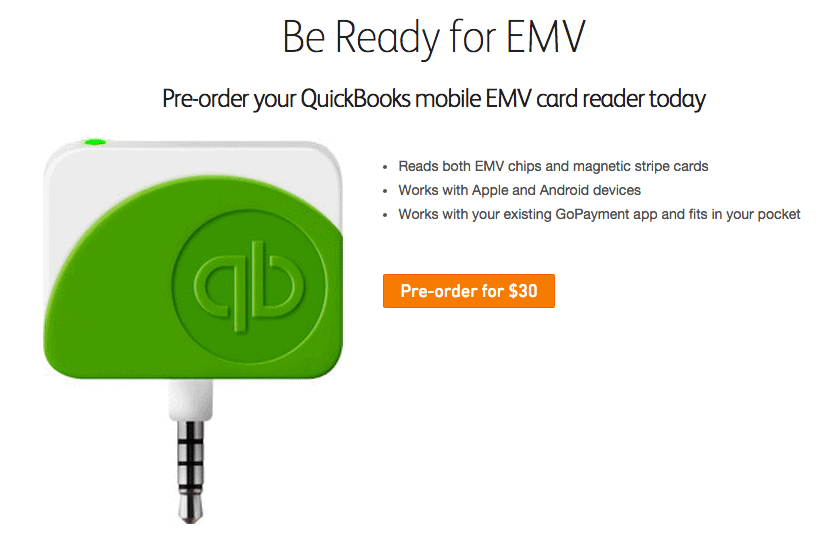 Last but not least, we have Square (see our review). This is the obvious frontrunner in the EMV race, with one of the first mobile chip card readers on the market (we unboxed and review it), and an NFC-capable reader currently available for pre-order. The standard audio jack chip card readers can process EMV cards and magnetic stripes, while the Bluetooth NFC reader cannot run magnetic stripe transactions (Square ships those readers with a free audio jack mag stripe reader). Furthermore, Square has released a chip card reader specifically for the Square Stand. That's a pretty solid group of products, especially considering the competition.
It's down to the wire for mobile chip card readers, but they're here to stay
I honestly expected much more from mobile processors by this point. As of late July, this is all of the information we have. I'm surprised that every processor hasn't issued official press releases with details about forthcoming hardware at the very least. As you can see, only half of the companies we looked at here have done this, and only one of them has a chip card reader currently available for purchase. With only about two months left before the liability shift, I'm a little disappointed.
But here's the good news. Chip cards are definitely not going to kill mobile processing. They may, however, make it more expensive – particularly for micro merchants who won't want to shell out $30 or more for the new hardware. These users will either decide to swipe the cards and risk fraud, to key-in the card data and pay the surcharge for doing so, or not to accept card payments at all. This may make camera scan mobile processing apps like Flint Mobile more attractive, because no hardware is needed to qualify for the standard rates. But time will tell how these systems adapt for chip cards. I would guess that at least a few mobile processors will fold in the process.
In the meantime, I'm excited to get my hands on some new hardware for testing! Follow us on social media for more hardware reviews and the latest news regarding chip cards and mobile processors.