Weebly VS Wix: Which Is Better For Building A Business Website?
Expert Analyst & Reviewer

UPDATED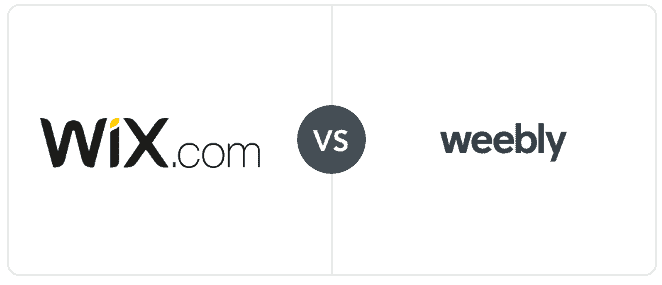 Weebly
Wix
Pricing
Free to $26/month
Free to $49/month
Features
Good
Excellent
Ease Of Use
Excellent
Excellent
Customer Support
Good
Good
Reviews & Complaints
Fair
Fair
Integrations
Excellent
Excellent
Best For
Small- to mid-sized businesses looking for structured site building, great eCommerce, and/or a generous free website plan
Small- to mid-sized businesses looking for design freedom, great features, and/or online restaurant ordering
Visit Site
Read Review
Visit Site
Read Review
If you're looking into building a website for your small business, I'm sure you've come across Wix and Weebly – the two big Ws of the website building industry. These two DIY site-building giants have a lot in common. However, there are some important points of distinction as well. With this article, we want to explore these differences in order to highlight which website builder best suits which types and sizes of businesses.
With similar names and similar services, it may seem like there's little reason to choose one of these website builders over the other. However, there are some differences that can make a difference to your business goals. Let's take a deep dive into the Wix vs Weebly battle!
Weebly VS Wix
Weebly and Wix have much in common. However, important differences exist. While Weebly's site editor is the easiest to use, Wix gives you more design freedom. And while Wix offers more features overall, Weebly offers eCommerce to free subscribers — something Wix doesn't do. Let's explore these — and other — differences.
Weebly Overview
Most modern website builders are designed to be as easy as possible for non-techies to use. Even considering this, Weebly stands out for being, in all likelihood, the simplest and easiest website creation tool around. If your primary goal is to get a simple website up and running to advertise your business, Weebly is the easiest tool by which you can do this.
As you would expect, when you sign up for a Weebly account, hosting and domains are provided in-house. Weebly provides a generous free plan — one which includes eCommerce, unlike the Wix free plan — along with three relatively inexpensive paid plans, each with an escalating level of features.
Weebly provides a lengthy list of features, and if you need additional functionality for your site, Weebly offers 362 integrations and add-ons — both free and paid — in its Weebly App Center. If you need unique features for your business website, there's a good chance the App Center will have what you need.
Pros
Extremely easy to use
Free plan includes eCommerce
Loads of integrations
Attractive templates
Cons
Limited design customization
Your monthly cost will rise if you need paid add-ons
Numerous public complaints
Wix Overview
Like Weebly, Wix is an all-in-one cloud-based website builder that includes hosting and domains. It also specializes in user-friendliness, though its editor differs a bit from Weebly's in that it allows for greater design freedom. You can edit your templates however you like, whereas Weebly restricts where you can place your site elements to a certain degree. This is the primary difference between the two website builders, and if you sign up for a free account with both services for comparison purposes, it's the difference you're most likely to notice early on.
Wix operates under the freemium pricing model, offering users a bare-bones free plan along with eight paid plans — four of which offer eCommerce capabilities and four of which do not.
Wix offers up a long list of features. And like Weebly, Wix also offers a large depository of apps and add-ons — 251 of them, both in-house and third-party — in the form of the Wix App Market. All in all, it's a very formidable website builder. It's not a mistake that it's the most widely-used website builder on Earth.
Pros
Very easy to use
Lots of design freedom
Excellent templates
Lots of integrations
Cons
Free plan has no eCommerce
Your monthly cost will rise if you need paid add-ons
Numerous public complaints
Features
Features
Weebly
Wix
Blogging
✔︎
✔︎
eCommerce
✔︎
✔︎
Form Builder
✔︎
✔︎
SEO Tools
✔︎
✔︎
App Store
✔︎
✔︎
Mobile App for Site Editing
✔︎
Unlimited Template Customization
✔︎
Visit Site
Read Review
Visit Site
Read Review
When it comes to features, Wix and Weebly both offer the major features one expects of a modern website builder. You'd do well to use either Weebly or Wix for blogging, and from eCommerce to form builders to image galleries to maps, Wix and Weebly have very similar feature sets. However, let's focus on the differences that do exist between the two companies' website builder features, starting with eCommerce.
eCommerce
Both Weebly and Wix offer capable eCommerce systems that suit the needs of small- to mid-sized online stores. However, one key difference is that with Weebly — unlike Wix — you can set up a basic online store with a free account. You won't even face any limits on the number of products you can sell, which is truly remarkable. You'll face other limitations — selling digital products requires a paid subscription, for example — but it's a very generous free package.
On the whole, both companies offer robust and capable eCommerce systems. Weebly's acquisition by Square in 2018 saw a strengthening of the company's eCommerce system. Along with such features as tax management, standalone product pages, a digital coupon system, and the ability to sell services and accept donations, you'll get some advanced features such as filtered search, real-time shipping cost calculation, and customized email receipts (something Wix doesn't offer). It's also extraordinarily easy to use, just like the rest of Weebly.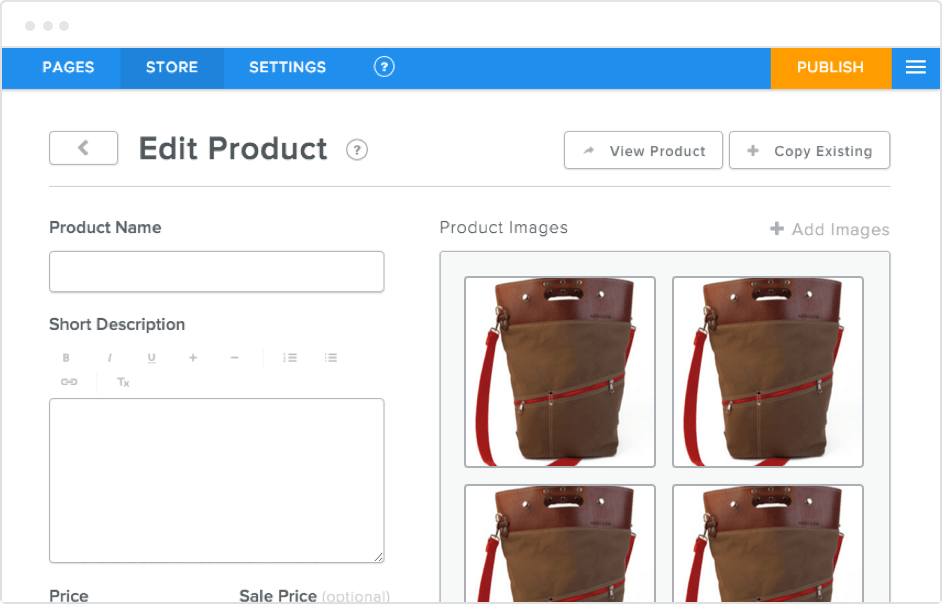 Wix offers a very capable eCommerce package as well. With features like multichannel sales, automatic shipping & tax calculation, abandoned cart recovery, excellent product presentation, coupons & discounts, and the ability to print branded shipping labels, Wix brings a lot to the eCommerce table. However, it's not quite as easy to manage as Weebly's online store, and you can't sell items with a free subscription the way you can with Weebly.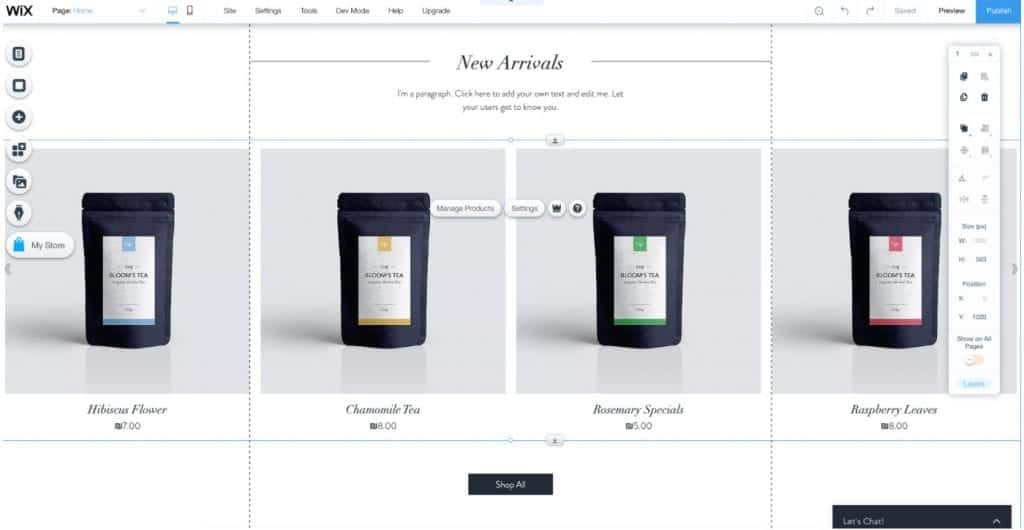 Web Design
Wix's site editing system is quite easy to use and allows for nearly complete design freedom. This unstructured approach has its advantages if you have a specific idea of what you want your site to look like and a good design sensibility. However, if you're less certain on this front, you may find this lack of structure overwhelming. By contract, Weebly's templates constrain your design freedom, but in so doing, they help guide you towards maintaining a consistent site feel. You'll also be able to switch templates and have your content imported into the new template, which you can't do with Wix.
I should mention that if you like Wix but are intimidated by the freewheeling editor, you can always use Wix ADI to create your site. After the system builds a site for you, you edit it using a simplified version of the primary editor, thus giving you a more Weebly-esque site building experience.
Pricing & Fees
In keeping with the pricing practices of most (but by no means all) website builders, Wix and Weebly are freemium services. This means that with both, you'll get a website with limited storage and features (and one carrying company advertising and a branded URL) at the free level. Of course, Wix and Weebly hope you'll be inspired to graduate to one of their paid plans, which offer an escalating level of services as you go up the price ladder.
The free plans offered by Wix and Weebly are pretty similar. Both generously allow users to create an unlimited number of pages, both limit you to 500 MB of storage and bandwidth, and both make you carry company advertising. The main difference: Weebly offers eCommerce at the free level, and you won't even face any limits on the number of products you can sell. A Wix free website does not include eCommerce. Of course, though you can sell items with a Weebly free website, you'll still be restricted to a Weebly-branded URL and you'll have to carry Weebly ads. Still, it's a surprising amount of functionality to offer for free.
Regarding Wix pricing, Wix offers up a whopping eight paid subscription plans. Four are designated as "Website Plans" and the other four are designated as "Business & eCommerce Plans." The Website Plans go from $14/month to $39/month while the 3 small business-oriented Business & eCommerce Plans go from $23/month to $49/month. The fourth Business/eCommerce Plan is for enterprise businesses, and pricing is not given on the website — you'll have to get in touch with the company for a quote. Expect it to be well out of the price range of most small- to mid-sized businesses. Finally, students can obtain a Wix student discount by finding the relevant promo codes online.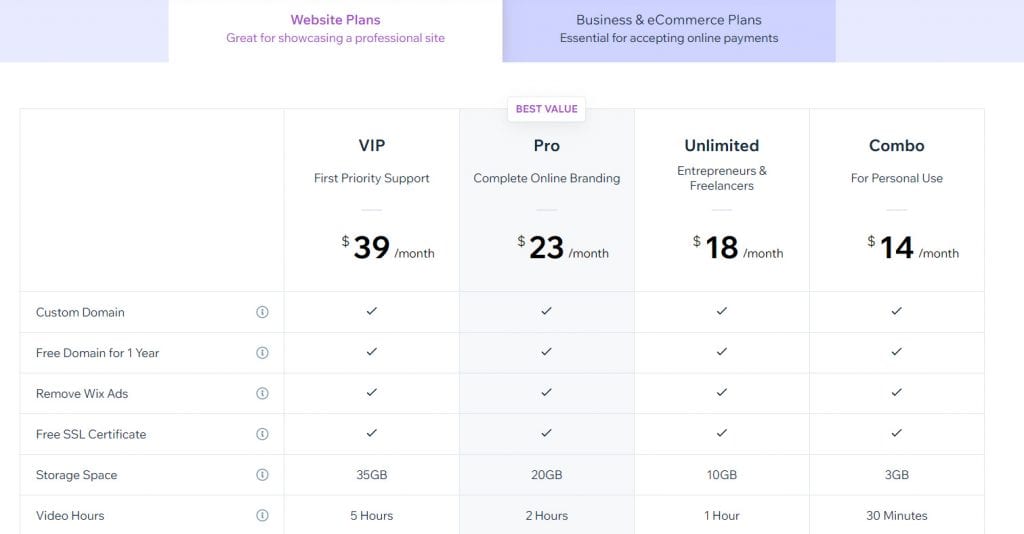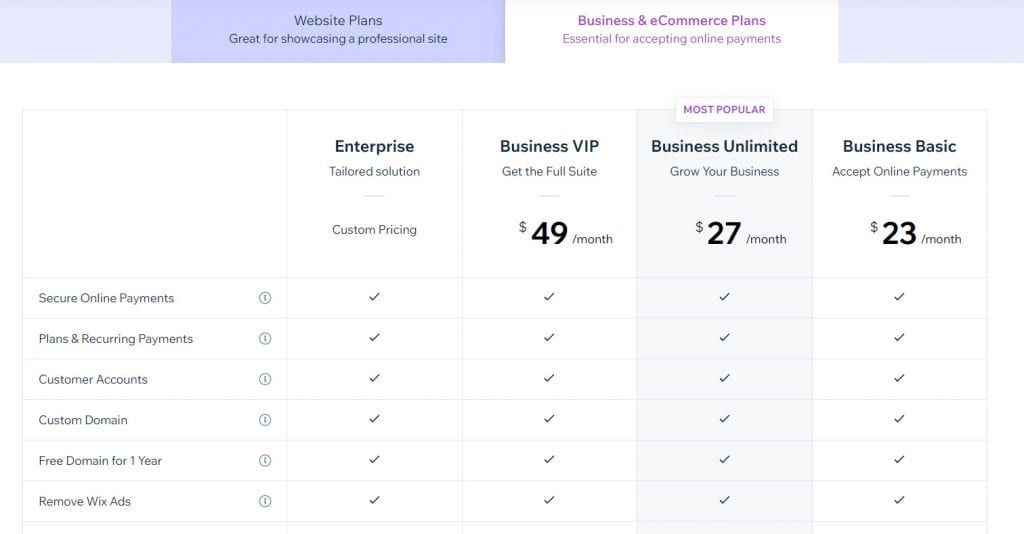 The Weebly pricing tier structure is simpler, as only three paid plans are available. They go from $6/month to $26/month. On the whole, Weebly is the less expensive website solution. However, if you're looking to use Weebly for education, you'll find a lot to like, though you won't find any student discount.

If you want your own domain, Wix and Weebly offer a free domain for the first year, but you'll have to pay for your domain each subsequent year, with rates dependent on the type of domain you buy.
Keep in mind that if you want the advanced functionality on offer with both companies in the form of apps and add-ons, these additional features may well require their own subscription, so you may end up paying considerably more than the listed price, no matter who you go with. What's more, pricing for the paid plans of both Wix and Weebly changes rather frequently (though rarely drastically), so be aware of that.
Ease Of Use
As we've discussed, both Weebly and Wix are quite easy to use. If any aspect of either editor has you confused, both companies offer tutorial videos to walk you through whatever it is that's vexing you. However, Wix's editor is much more open-ended, allowing you to place elements wherever you want on your page with pinpoint precision. Weebly takes a different approach, letting you drag and drop elements onto your page, but only within designated areas as determined by the grid of your chosen template.
So, which approach is easiest for the end user? That depends.
If you have a very precise vision for how you want your website to look, you may have an easier time bringing forth this vision with Wix. However, if you don't have a natural sense of design, Wix's unstructured editor may make it more difficult for you to create a website that actually looks good and comports with modern web design trends.
If you just want to build a website for your business and have it look nice without a lot of effort, Weebly makes it easier for you to accomplish this. Additionally, with the Weebly website builder, edits you make to your desktop site are automatically applied to your mobile site, while Wix requires you to actually go in and edit your mobile site manually, making the process of updating your site more cumbersome.
Customer Service & Support
Both Wix and Weebly offer numerous support avenues for their users. Both offer in-depth knowledge bases (Wix's is a bit more extensive though), guides, tutorial videos, social media support channels, and community forums. As for direct company support, both offer email support. The primary difference here is that while Wix offers phone support but lacks live chat support, Weebly features live chat support but no phone support.
I should note that unless you have a higher-tier subscription, Wix's phone support comes in the form of a callback system in which you submit your request for a customer service call from Wix and then receive a call in around five minutes (though it can take around an hour during the busiest times). Those with a high enough subscription level can directly call Wix for customer support.
Reviews & Complaints
Both Wix and Weebly receive a considerable amount of public criticism from users. The complaints regarding Wix often center on poor customer service experiences. Another oft-heard Wix complaint is that users can experience slow page loading times, particularly with larger websites. Some users complain of bugs and glitches in the software, while others note that Wix subscriptions are set to auto-renew and the company doesn't seem to offer refunds on unintentional auto-renewals. While the high volume of complaints regarding Wix is cause for concern, it's at least partially a result of the product's enormous global user base.
Wix gets its share of praise as well, mainly regarding its ease of use and its attractive, professional templates.
Weebly also receives a considerable number of complaints.
As with Wix, these complaints often mention substandard customer service, bugginess in the site editor, and billing disputes. Others complain that the Weebly editor is too limiting in terms of where you can place elements on your site. Weebly also attracts plenty of positive feedback, mainly regarding the service's supreme ease of use.
Integrations
Here's another area in which Wix and Weebly have much in common. Both services offer a set of core features and rely on app stores packed with hundreds of feature integrations to help fill any feature gaps left by the core product. Whether you need more functionality in terms of eCommerce, marketing, social media features, live chat, or site analytics, you'll likely find what you need with either website builder. Of course, with both website builders, many of these feature add-ons come at a price.
On the whole, though Weebly's app store contains more apps than Wix's app store (350+ apps vs 250+ apps), both companies' extensive integration offerings are likely to fill your business needs.
The Key Differences Between Weebly And Wix
As you've probably gathered from this comparison so far, Wix and Weebly share a lot in common. Both offer easy website building to the global masses, a freemium pricing structure, a core set of essential website builder features (blogging, eCommerce, contact forms, etc.), and both offer extensive app stores with hundreds of add-ons, both free and paid.
So, where do the differences between the two products make themselves apparent? Let's explore:
Pricing Models: While both Wix and Weebly offer a limited free plan along with robust paid subscriptions, Weebly's free plan is more generous than Wix's in terms of what it lets you do, and Weebly's paid subscriptions are a bit cheaper than the equivalent Wix paid plans.
eCommerce: Both Weebly and Wix offer strong eCommerce packages, but only Weebly lets users sell items from their website with a free subscription. Weebly's Square-powered eCommerce system is also a bit easier to use than that of Wix. However, Wix has the edge here in terms of its online food ordering and hotel booking features.
Design Customization: Both Wix and Weebly offer a user-friendly editing system that requires no coding knowledge or advanced technical skills. However, Wix's editor is more freewheeling, allowing you to place elements wherever you want on the page. By contract, Weebly's editor is more structured and makes you conform to the existing structure of your chosen template. Additionally, Weebly automatically translates your site edits to the mobile version of your site, while Wix makes you manually edit your mobile site.
Is Weebly Or Wix Better For My Business?
Most business owners will be well-served by either Wix or Weebly. Both provide a broad range of strong tools for a wide variety of businesses. However, there are reasons why you may prefer one of these website builders over the other, depending on your circumstances.
Choose Weebly If…
Weebly is best for:
Business owners seeking to build a great-looking website with help from the editing system
Those looking to build and maintain a great mobile website without extra hassle
Those looking to build an online store as easily as possible
Choose Wix If…
Wix is best for:
Business owners seeking a high degree of control over the look of their website
Restaurant owners looking for a robust online ordering system
Those who want the option of speaking to customer support over the phone
Comparing Wix VS Weebly: The Final Verdict
A few years ago, when describing the Weebly vs Wix battle, I said that Wix held the overall edge over Weebly. However, with Weebly's recent improvements, most notably in the field of eCommerce, the two products are much closer in terms of their overall value, and aside from a few specific business niches — Weebly is better for smaller online stores, Wix is better for restaurants offering online ordering — the question of which site builder is best largely comes down to what kind of editing experience you're looking for.
If you want complete creative freedom in designing and maintaining your site, Wix delivers what you're looking for. If you're looking for a site builder that restricts your design choices to what jibes with your chosen template, you'll have a better experience with Weebly. And if you want to sell products from your website without paying for a subscription, you'll need to choose Weebly.
For more information on these two website building giants, check out the following resources!