Working From Home With Kids? Survive The Quarantine With These Proven Tips From Our Remote Team
Managing Editor

UPDATED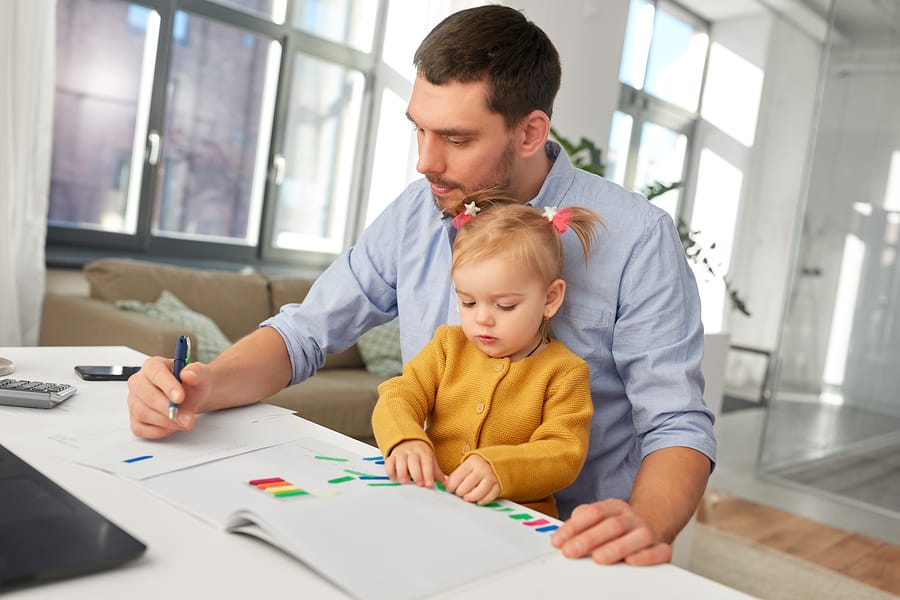 First, before we dive into the meat of this article, let's all take a deep breath.
You're here because here we are living in this moment — a COVID-19 world. No matter what you think about the virus or the reaction to it, working parents and their school-aged children hunkering down at home together is now the new normal for most families across the nation. Work is instantly remote, schools and businesses are shuttering, and some of our best parent go-to's for educational outings are not an option, as zoos, museums, and other resources are closed.
We pause to recognize that we have never faced a public health emergency quite like this one before, and we are all going to spend the next few months figuring this out together as we go.
As a remote-worker with Merchant Maverick, a former teacher, and a parent to two school-aged kids, I have experienced the joys and turmoil of trying to balance my work along with having my children home with me. Many of us at this company are parents, and we will tell you this: It's not easy, but it is doable.
Undoubtedly, even our home has had to pivot from our old routines to address having two remote workers, a third-grader, a fifth-grader, and some animals all home for the unforeseeable future.
Look, this is a list of tips, but it is in no way a list of requirements or shoulds. In a time like this, there are no shoulds (other than the "you should stay home, especially if you are sick"), and there is no shame. This is a global emergency, and if you need permission to just do what it takes to survive, then that's what you do. More screen time? Probably. Moments of decreased productivity? Absolutely. Permission to laugh when you want to cry? Do it!
Quarantine Survival Tips
Whether you are quarantined, self-isolating, sheltered in place, or simply mandated to work remotely with school closures, we should prepare for long hours at home, together with our isolation pods. (Isolation pods sound cool and fun and futuristic; I think we can get that term moving.) The good news? With most of the nation shutting down, we are truly in this together.
You are not alone. This tragedy has ground the entire world to a halt — everyone and everything — and sometimes when we are going through a trauma, we feel guilty for needing to explain the intensity of our anxiety to other people: You don't have to do that. This pandemic is life-changing for most people. With that:
Be Kind To Yourself
These next months will challenge us as a country and as a united world. I hope that this doesn't happen, but some people might not know how to change their tone, and you might still see people pitching Pinterest-worthy home-schooling lessons, unrealistic agendas, and pictures on IG of kids happily playing a board game. If you have the time and resources to provide amazing educational moments for your kids, awesome! If you don't, reach out, and I guarantee the community is ready with answers, resources, and options. With that said, there is going to be a level of homeschool you can handle, and there is going to be a level of homeschool supplemented with screens and worksheets, and that's okay.
If you are feeling shame for that, I need you to Brené Brown that emotion and get rid of it. Here is what she says, "What we don't need in the midst of struggle is shame for being human." Bam. All these emotions and all these stages of grief related to the things we've lost and will lose will happen for you and all the people in your house, and you are not alone, so there is no shame in retreating and watching a Pixar marathon.
We are stronger and better people when we fight together. And we are all fighting this together.
Be gentle with yourself.
Practice As Many Of The Same Routines As Possible
Look, it's okay to roll your eyes at this one and say, "Get real." How many of the same routines can you be expected to do when life itself is not routine anymore? But beyond keeping a schedule, trying to settle into a normal pace for the day will help. Mornings and bedtimes can be places of comfort, and don't forget to try to maintain hygiene as best you can, too. Also, if possible, it's important to find ways to do your hobbies at home and recenter on the joys of life outside of the quarantine. It is easy to let depression and trauma send routines into a tailspin — own that and then, when you can, ease into a new normal with things that remind us what we're all working toward: stopping this virus and resuming our lives again.
Keep The Lines Of Communication Open
This goes for everyone in the home but also to teachers and co-workers and managers and bosses: what is your current work-from-home situation, what are your biggest challenges? Also, do what it takes to keep yourself socializing with the people you love. Use Zoom, Skype, and FaceTime to set up virtual playdates for you and your kids. With my husband and I both working remotely, we are communicating with our company when we can write and when we are teaching our kids, which leads me into…
Create A Schedule
This is crucial and took my night-owl self a long time to learn when I first became a remote worker: If you don't create a schedule, then all the days meld into blobby endlessness. (When I was quarantined for SARS in 2003, blobby endlessness is just what I felt, and you will feel it, too, and, no, there are no better words to describe it. Once again: blobby endlessness.)
When working from home, and especially when working from home with kids, there needs to be designated time for all things. In school, students are managed by the clock and the chunking of activities throughout the day, but adults also do better when time is measured, weighed, and accounted for. This has to be a schedule that works for everyone in the home and is tailored to meet the needs of kids and adults (for those of you with very little ones, discuss with your partner if it helps to work as a pair or to tag-team). Include time within that schedule to: get some fresh air, move around, quiet time, and free time.
Even if your schedule has a 2 PM slot for just yelling into the void, write it down and get it up for everyone to see. There are a variety of schedules and day planning tools out there on social media, so find or make one that fits with the natural rhythms of your family the best.
Ask For Help
Help is out there. Reach out with, "Hey! I need some first-grade math resources!" and see if you can join an online group of other parents to pool your information. Ask your kids for help to manage the house and model what it looks like to work from home. If you are feeling sick, ask for someone to help you buy groceries. People are stuck at home and itching to help in any way possible — you never know where your need might meet someone else's offering.
You can even leave a comment on this article with a specific need and see if our Merchant Maverick community can help with answers.
Our Remote Team's Tips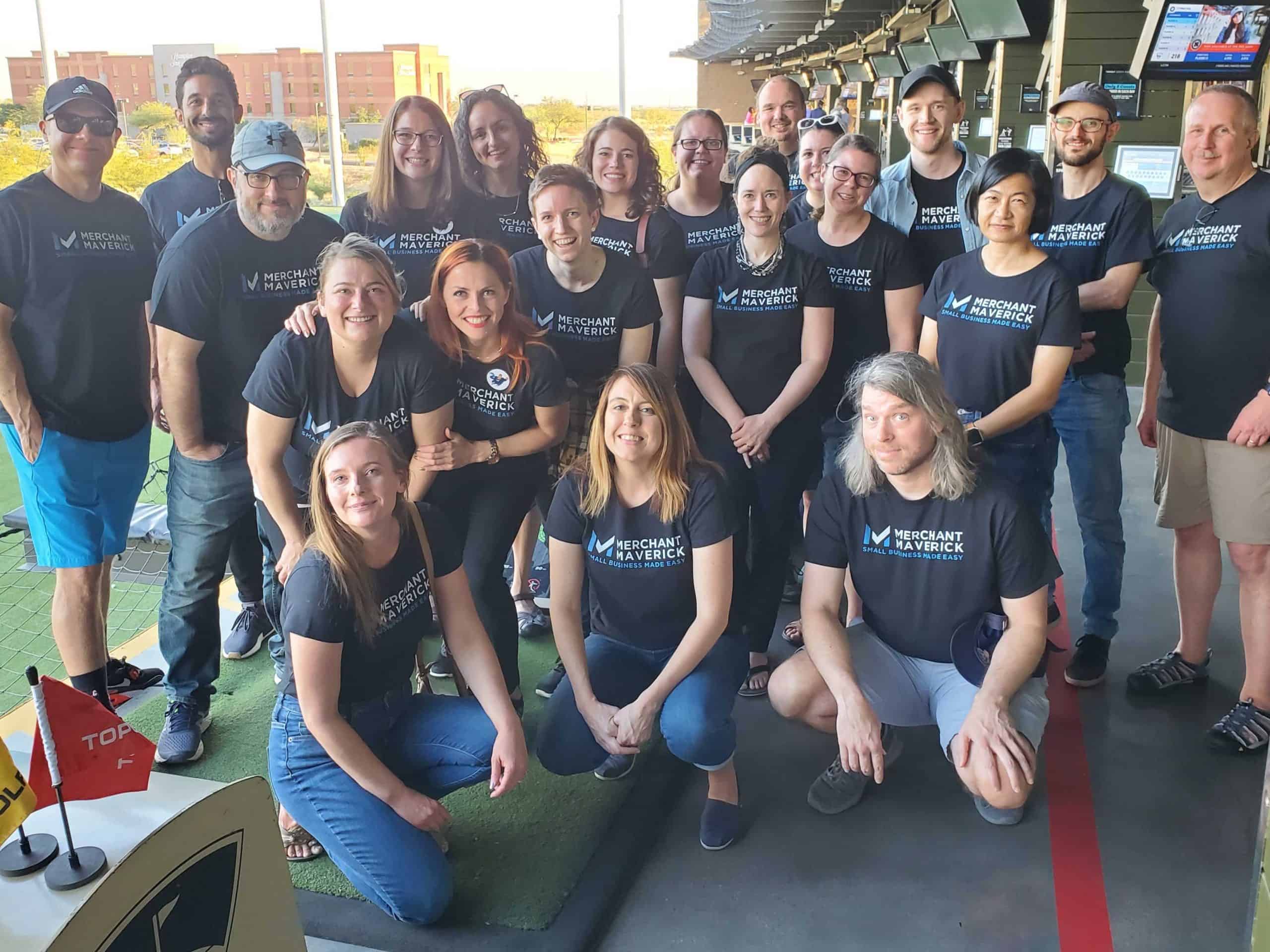 Merchant Maverick employees are fully remote workers, and some have been managing kids and a remote job for quite some time. As parents, we are quick to measure ourselves against others, but we want to tell you don't do that: Everyone's circumstances are different. Our first and best tip: Take care of your family's physical and mental health first.
Rosie Holman, our project manager, says:
I think the biggest challenge, as always, is managing screen time, and I'll include myself in that because I've been obsessively checking the news for weeks. Here's what's helping me:

Committing to being on the same schedule as my kids for work and online time and not letting it spill into the random nooks and crannies of our time as it often does under normal circumstances.
Similarly, sticking to a regular schedule of waking up/getting dressed as well as going to bed, so we're all well-rested and feel like real human people.
Creating a list of chores and self-care habits that must be completed before screen time.
Having lunch together and doing something fun and interactive during the lunch break.
Posting the schedule and tasks in a prominent place. (We have a big whiteboard that works great. My son also likes to check things off once they're done.)
Holding each other accountable to stick to the schedule. Knowing that I've told my kids that I'm planning to do this with them helps me stick to it probably more than it helps them!
Emily Hale, a payments writer, says:
When having an especially hectic moment, remind yourself as much as you need to that 'This too shall pass.'"
Julie Titterington, our editor-in-chief, says:
Here are a few things we're doing:

Having them work on workbooks at the same table where we are working on our laptops.
Getting a book on tape and listening to it while we drive around, just to get out.
Family exercise breaks during work with a YouTube yoga video
Jessica Dinsmore, our head of email marketing and customer service, says:
Set realistic expectations for yourself and your kid(s). Everyone is stressed, and you can't expect them to adapt without protest or emotion, and you can't expect yourself to homeschool, keep house, and work remotely. Do what you can without compromising mental health and know that it's enough.
Matthew Sherman, a writer (and full-disclosure, my husband), says:
It's important to lean heavily on mandatory outside time and to relax the screen time limits.
We're Here For You
As a company, Merchant Maverick wants every single person who comes to us seeking some balance in this unbalanced time to find help and also to find a community that understands the unique challenges of remote working with children. We have set up a hub for all COVID-19 related business news and updates. In the meantime, feel free to post your own tips or current questions below.