Essential Work Travel: 6 Tips To Stay Safe While Traveling During Coronavirus (& 4 Alternatives To Travel)
Expert Analyst & Reviewer

UPDATED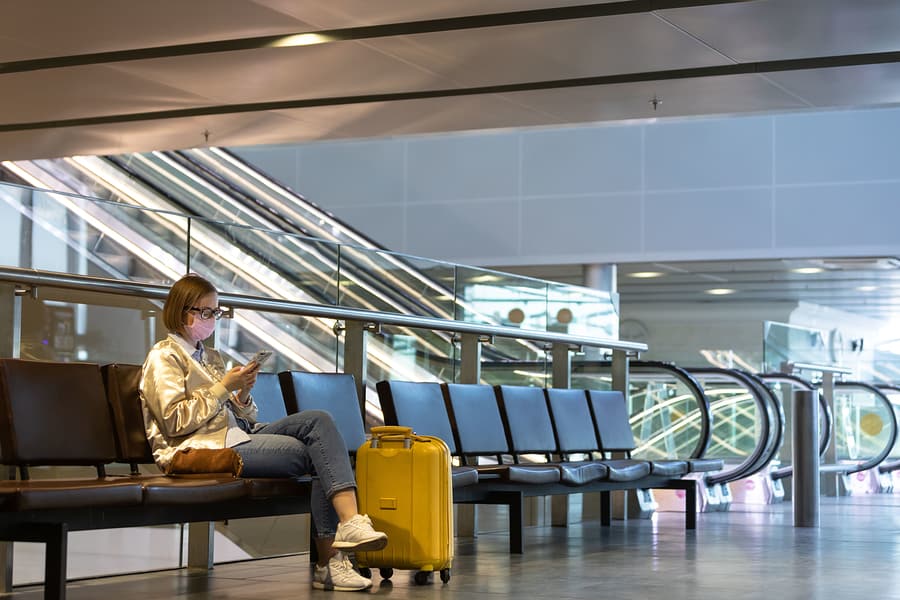 Social distancing has become the new normal in the wake of COVID-19, and business travel has unsurprisingly been limited in the recent days and months. However, with states slowly beginning to relax restrictions and businesses struggling to make a buck, the desire to return to usual work travel is understandably becoming more common.
Despite the easing of restrictions, COVID-19 itself isn't easing up anytime soon. As such, it's normal to pause before booking your business's next flight out or scheduling a meeting in another state. Putting your employees in harm's way is never an easy decision.
So should you or your employees travel for work? And if business travel is necessary, how can you venture out safely? These certainly aren't simple questions to answer, but we've taken a crack at providing clarity so you can have a sense of how to handle the current situation.
Read on for more information on business travel during the COVID-19 pandemic.
Work Travel Will Return As Quarantine Restrictions Are Lifted
COVID-19 drastically shut down the US through local government-imposed stay-at-home orders. Besides affecting local businesses operating out brick-and-mortar locations, these stay-at-home orders also curbed business travel. An April survey by the Global Business Travel Association, a trade organization for corporate travel managers, found that 92% of the nearly 1,000 company members queried had halted domestic travel in face of the pandemic. Numerous industry conferences have been canceled as well, while large companies like Google and Square have placed restrictions on employee travel.
This stoppage in business travel certainly helped provide a hit to the travel industry — data-hoarding company Statista forecasted 470 million business trips by US travelers in 2019. With such a big role in the travel economy, a lack of business travel has played a role in the danger that now faces airline companies, with many eyeing October 1 as a potential date for massive layoffs in the air industry. Meanwhile, a recent study by Facebook reveals that 43% of hotels, cafes, and restaurants have closed down since February. The past several months have certainly been a bleak time for both the travel industry and businesses that rely on frequent travel.
It's not all economic gloom and doom, though, as restrictions are being eased across the US, potentially sparking an uptick in business travel. According to The New York Times, only four states are still shut down as of May 20. 36 are nearly "universally" reopening while 10 are regionally opening. With restrictions lifted on retail stores, restaurants, and forms of outdoor recreation, more and more travelers will be willing to hit the road.
The numbers support this — at least in airports, which have been getting busier throughout May. During the midst of heavy quarantine restrictions in mid-April, TSA saw as few as 87K travelers go through security checkpoints in a day throughout the US. In May, TSA has now had multiple days of at least 250K travelers venturing through checkpoints. While 250K isn't anywhere close to the 2 million-plus who went through checkpoints daily this time last year, it's still a substantial boost from the lows in April.
So even though things may still be restricted in some way, people are now able to go out and about more often — and travel numbers are ticking up as a response. It's reasonable to then assume that business travel will only become more frequent as more of the economy opens up.
What The Law Says About Travel
Because countries and states all have different regulations and guidelines regarding travel during the COVID-19 crisis, it's hard to make a sweeping statement about the legality of travel at this time.
We do know that travel abroad will remain difficult for the foreseeable future. For instance, many countries across the globe have locked down their borders to foreigners or require two-week quarantines for incoming travelers. Some international travel destinations are looking more promising for the summer, though, with countries such as Belgium, Greece, and Iceland planning to ease restrictions as soon as June and July.
It is a bit easier to travel domestically within the US. However, some states — such as Alaska, Maine, and Texas — have instituted 14-day quarantine requirements for out-of-state travelers. If you plan for business travel to such states, your options may be limited.
Of course, many states are in the process of easing restrictions — making the precise rules a fast-paced and ever-changing beast. As such, we suggest you hunt down the guidelines for the state or states your business intends to travel to before actually booking any flights or hotels.
All told, the CDC recommends that people stay home as much as possible and that all non-essential travel is curtailed — including both domestic and international. While it is unlikely for you to be arrested for traveling, the CDC does have the ability to detain, detain, medically examine, and release those who arrived into the US or traveled between states and are suspected of carrying communicable diseases under 42 Code of Federal Regulations parts 70 and 71.
You may also want to consider the legal ramifications in case an employee gets COVID-19 while on the road traveling. Since these are unprecedented times, it's unclear if businesses will face any sort of legal woes for requiring employees to travel for work.
However, a New York Times article on professional conferences does note that "some attorneys are concerned" that if a business sends an employee to a conference and that employee contracts the virus, the liability may be saddled on the business. Because of these murky waters, we advise that you consult a legal professional, if possible, before sending employees on trips.
Tips & Precautions For Essential Travel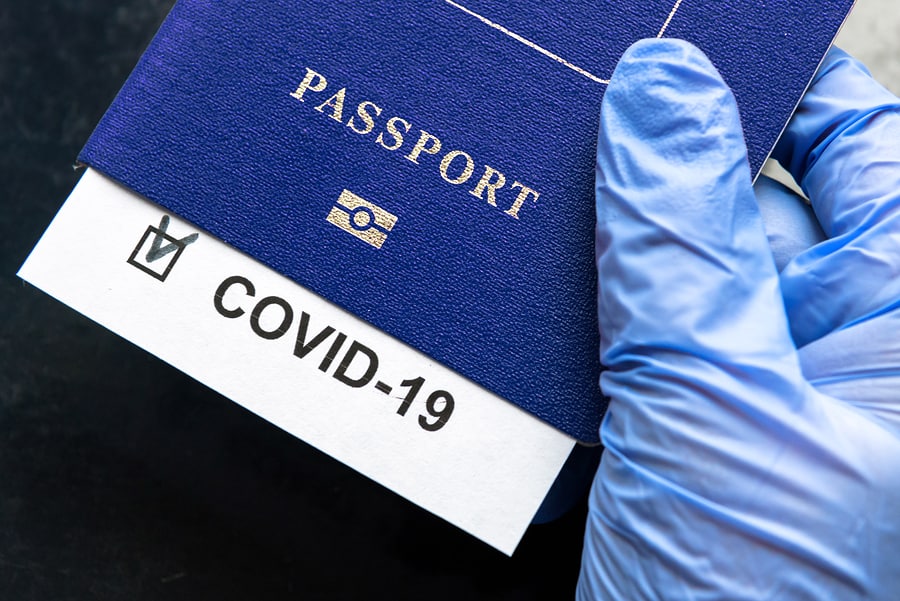 The CDC has provided guidelines to determine essential travel within the US. If you do consider your business's travel essential based on the CDC's guidelines, there are a few ways you can improve the safety of both your employees and the communities they'll visit. Here are our tips for businesses with essential travel:
1. Avoid Hot Spots
Limit or fully eliminate travel to areas (such as specific counties or cities) that are seeing recent COVID-19 outbreaks. Because these areas — commonly referred to as "hot spots" — are seeing increased numbers, you or your employees may be at greater risk to contract the virus by traveling there.
One example of a hot spot location is Illinois — and specifically Chicago. Illinois saw over 4,000 positive tests — a peak for the state — as recently as May 12, per NPR. Cook County, where the heart of Chicago is located, has been hit particularly hard, with one in 81 of the county's population testing positive for the virus as of May 20. Another example hot spot includes Worcester, Massachusetts, which recently saw 81 workers at a local Walmart test positive for COVID-19, according to the Boston Globe.
The New York Times has created a coronavirus map that details hot spots throughout the country. You can also view raw COVID-19 numbers broken down by state over on IHME's healthdata.org.
2. No Travel For Those With Symptoms
Institute a policy that no employee should travel if they have any symptoms of COVID-19. Besides potentially limiting the spread of the virus, doing so could ease stress on your employees — especially if their symptoms worsen.
According to the CDC, the most common symptoms of COVID-19 include:
Coughing
Short of breath or difficulty breathing
Fever
Chills
Muscle pain
Sore throat
New taste or smell loss
3. Encourage Safe Travel
Because not all carriers of COVID-19 exhibit symptoms, it's important that travelers wear a cloth face covering while in public. Also note that for the time being, many major airline carriers are requiring fliers to wear face masks on the airplane. With this in mind, if your business requires air travel, a mask may simply be a necessity for you or your employees to even get on a plane.
Additionally, urge that your employee travelers engage in frequent hand washing, don't touch their eyes and face, and maintain proper social distancing where possible. Hands should be washed with soap and water for at least 20 seconds while individuals should physically keep six feet apart. If soap and water aren't available, hand sanitizer of at least 60% alcohol can be used as a substitute.
If it is financially feasible, consider giving masks and hand sanitizer to your employees who travel. Besides building goodwill with your team, doing so can also help encourage that the proper safety protocols are followed by your business' travelers.
4. Have Employees Self-Quarantine After Trips
When an employee travels in the coming weeks and months, consider requiring that they self-quarantine after returning home. Per the CDC's guidelines, symptoms take between two and 14 days before appearing. Because of this, we recommend that when possible, you require employees to stay home for two weeks after returning from a trip. You should especially require 14-day quarantines for employees who have traveled to and from coronavirus hot spots.
This rule should be followed for both work and personal travel. In fact, it may be wise for your business to log any time an employee travels, whether for work or personal reasons. Doing so will enable your business to know who should stay in self-quarantine for two weeks.
5. Create A COVID-19 Travel Policy
Having a company policy outlined for travel during the pandemic can ease confusion as employees make plans for the coming months. It should be simple and to the point — make it no longer than one page. It should answer basic questions such as:
"Who can travel?"
"What reasons for travel are essential?"
"How can we minimize risk during travel?"
If you have access to legal counsel or employ human resource specialists, we recommend working with them to come up with a policy that fits your business and your employees.
6. Be Flexible
When you get down to it, your business is made up of people. It's important to listen to those people and be flexible if they can't or don't want to travel during the pandemic.
For instance, if an employee lives with someone who is immunocompromised or otherwise part of an at-risk group, it may be unwise for that employee to be traveling and interacting with many people outside the home. Instead, try to figure out a way that employee could do their tasks from home.
Alternatives To Consider Before Traveling
Until restrictions are fully lifted, and we can safely travel without any worry of contracting or spreading COVID-19, we recommend that you do your best to avoid business travel. Here are a few ways you can still do business without setting foot on an airplane or hitting the road:
1. Work From Home
As a remote company since inception, we at Merchant Maverick have plenty of experience working from home. Working from home can allow employees to enjoy more flexible hours as well as saving money (and time) on commuting. Some employees may find it easier to concentrate in a non-office setting, too.
If it's at all possible, make sure that your employees that can work from home are doing so. This can limit any potential spread of the virus in your community — and especially so if some employees will also be needing to travel.
While working from home can seem like a daunting task, research has indicated that working from home may actually boost productivity and worker concentration. This has helped convince numerous businesses to be more open to at-home work during COVID-19's crisis. In fact, several larger companies — most notably Square and Twitter — have been happy enough with their employee's work that they've already indicated they'll allow workers to continue working from home even after the pandemic's impact subsides.
2. Use Video Chat
If you are considering traveling or having employees travel for a work-related meeting, attempt to schedule the meeting using video conference software. While not all meetings can take place over video chat, many should work just fine with remote participants.
For instance, Merchant Maverick uses Zoom to hold a weekly coffee hour. We also have other meetings between teams using Google Meet, which is baked into Google's G Suite. Since video chats let you see who else is talking, you may have better and more rewarding interactions than you might with phone calls.
Besides Zoom and Google Meet, video conferencing options include Skype and GoToMeeting. For more information on choosing video chat software for your business — as well as other options — check out Merchant Maverick's guide to the best video conferencing services.
3. Sign Up For A Messaging Service
Not all interactions require video chat — that's where text messaging services come in. These services can allow your business to communicate with one another on the fly more casually than video chatting or phone calls.
At Merchant Maverick, we use Slack daily. This service allows us to collaborate within teams or reach out to others individually. For many of us at Merchant Maverick, using Slack has simply become second-nature — it helps us improve communication over more traditional calls or email.
Slack isn't the only player on the block. Twist is another solid option, while Microsoft Teams offers a good experience for businesses tied into the Office 365 ecosystem. For more details on which messaging service might work for your business, visit our guide to the best communication apps.
4. Email More
If video chat or dedicated messaging services won't cut it, good old-fashioned email may be able to do the trick instead.
Email is fairly ubiquitous. According to Statista, over 4 billion users worldwide will have email access by the end of 2020. As such, communicating with email may be an excellent option to replace non-essential work-related travel — many vendors and other businesses outside your company should already be set up to communicate via email.
At the end of the day, you'll need to decide which trips are worth the risk for your business. What counts as an essential trip will vary from business to business and from industry to industry. No matter what, make sure to take proper precautions that can keep you, your employees, their families, and the community-at-large safe during these troubled times.
For more of Merchant Maverick's continuing coronavirus coverage, visit our small business resource hub for COVID-19.