osCommerce VS Zen Cart
Founder

UPDATED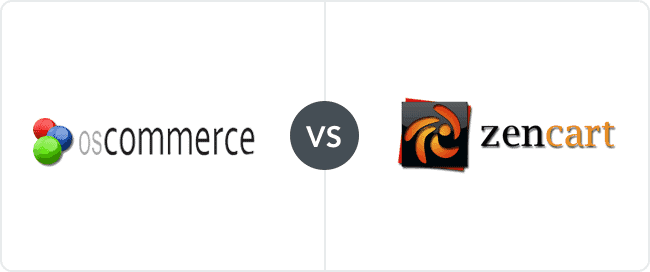 Since they are free to download and community-powered, open source shopping carts can be attractive options for merchants, especially those of us with some coding skills. Two well-established examples of open source carts that allow you to create and operate an online store are osCommerce and Zen Cart. Best known as one of the original PHP/MySQL open source carts, osCommerce has been used to create many thousand online stores since its inception in 2000. osCommerce earned industry cred during the several years after it was introduced but soon gained some stiff competition.
Built with the bones of osCommerce, Zen Cart launched in 2003 with more bells and whistles than its predecessor, including coupons and product reviews. The PHP/MySQL cart boasts more than 100,000 users, with many loyal programmers attesting to its quality. But like osCommerce, Zen Cart is not without its weaknesses.
Don't have time to read an entire article? Take a look at our top rated eCommerce solutions for a few quick recommendations. Every option we present here offers excellent customer support, superb web templates, and easy-to-use software, all for a reasonable price.
Otherwise, read on for my comparison of two of the best known open source shopping cart platforms on the market.
Web-Hosted or Licensed:
Both osCommerce and Zen Cart are open source, self-hosted shopping carts that cost nothing to download.
Hardware and Software Requirements:
When you use osCommerce or Zen Cart, you'll be responsible for providing or paying for secure hosting for your online store. Note that several hosting companies offer installation services. Read details about osCommerce's hosting requirements here and Zen Cart's requirements here.
Pricing:
Winner: Tie
As I mentioned above, in contrast to web-hosted shopping carts, both osCommerce and Zen Cart are open source, which means they're free to download and use to create your store. But before you can get selling remember that it will cost at least some funds to use osCommerce or Zen Cart. Since they're downloadable, both require hosting, design templates, possible additional security, a merchant account to process credit card orders, and add-ons to round out your shop. And depending on your confidence level working with code you may need to bring a designer and/or developer on board.
Ease of Use:
Winner: Zen Cart
Since neither osCommerce or Zen Cart are turnkey, cloud-based solutions, you'll want to pour a cup of coffee and carve out a considerable chunk of time to spend in each cart's admin before rolling out. That's where you'll craft your store's design, add features, integrate shippers and payment processors, and add categories, products, and customers.
During my research and testing of osCommerce I came across some reports of developers who had little trouble installing the cart. But there are far more pros who claim that, at least after the install is complete, osCommerce is a bear when it comes to customizing, loading add-ons and features, and making updates.
I found osCommerce's admin to be an unwelcoming mix of overly complex and clunky and missed what I'm used to seeing as standards elements with many competitors, including easily filterable products and meaningful reporting data.
On the other hand, with Zen Cart's admin I found it hard to know exactly where to dive in. Almost a dozen top level categories break into many more subcategories that should easily be folded into other parts of the admin. It seems like every backend element earned its own drop down tab in Zen Cart, including an option value manager and music genre page.
It's a little ironic that Zen Cart arrives without a lot of feature bloat, yet maintains a backend that's chock full of sections I can't imagine the average merchant will need to access.
But overall, Zen Cart offers a template system that makes setting up themes more intuitive, plus its products and categories are easy enough to input and maintain.
Product Features:
Winner: Zen Cart
With osCommerce, the lion's share of your store's features will come via add-ons. Note that these plug-ins vary in quality and ease of installation. After dowloading osCommere, you'll have instant access to a handful of features like multi-currency support, social tools, and an address book. Then be ready to browse from a multitude of plug-ins to add additional functionality. And know that in general, osCommerce's backend inventory management can be complicated and its SEO notoriously messy, producing long URLS that are anything but search engine friendly.
Zen Cart comes out of the box with several more features than osCommerce. You'll start with the basics, including adding items (including dig downloads) and categories and defining shipping carriers, currency, and payment processors. I like that you'll find just enough useful features to fill out your store with Zen Cart–other examples include newsletters, coupons, multiple language and currency support, product reviews, and a product showcase–without having to spend time installing a whole host of potentially troublesome add-ons.
Confused or overwhelmed by your options? If you need help sifting through ecommerce shopping cart software solution we're here to help. Check out Merchant Maverick's consulting services.
Web Design:
Winner: Zen Cart
While you can make some basic adjustments to osCommerce's underwhelming templates, going far beyond changing columns and fonts can be a complete headache. If you're not an experienced designer or developer then trust me, you don't want to go there. And even if you do have mid-range coding skills it can take several steps to make updates to your theme that would take no time at all to complete on some other carts. I found osCommerce's admin to be a counterintuitive eyesore that is hard to search and navigate. Still, after a learning curve it gets the job done. See for yourself by checking out this demo of the backend.
Unfortunately, you're not going to do much better in the design department with Zen Cart's frontend theme, but depending on the products you sell or the scope of your shop you may be able to spruce things up enough to get by via template alterations and buttons and graphics plug-ins. Zen Cart's dated admin is far from slick and doesn't offer a live editor or helpful built-in reporting tools, but it's a workhorse that newbies can begin to grasp with some time and training.
Check out themes uploaded by osCommerce users here and free Zen Cart skins here. Then compare live osCommerce stores and live Zen Cart stores. It shouldn't take long to see that, as a general rule, Zen Cart's (highly customized) offerings are a whole lot fresher and more visually interesting than what osCommerce brings to the table.
Integrations and Add-Ons:
Winner: osCommerce
Most major shopping cart platforms maintain app stores that offer functionality in addition to what comes out of the box. Think marketing, SEO, and accounting tools. But few if any carts come anywhere close to maintaining the sheer number of integrations offered by osCommerce. Its add-on store is busting at the seams with more than 7,000 plug-ins that includes pretty much any extra you can imagine. Browse the full database here.
While Zen Cart has had a few less years to rack up as many integrations as osCommerce, it gives users access to more than 1,500 plug-ins, ranging from international shipping modules to admin, marketing, and language extras. We talk about Zen Cart's extras in more detail in our full review, and you can check out the Zen Cart plugins page here.
I gave osCommerce the win in the integrations bracket simply because it offers so many more extras than Zen Cart. But I'm awarding it with a note of caution, and this applies to both carts, actually: the quality and ease of installation really varies. With so many free, community developed plug-ins you or your developer should be ready to troubleshoot integration hiccups–osCommerce users report trouble working with some add-ons, and Zen Cart users are warned to be cautious about customizing plugins since they may be glitchy, especially when upgrading to a new version of the platform.
Payment Processing:
Winner: Tie
Both osCommerce and Zen Cart support a more than ample number of US-based and overseas merchant accounts and payment processors, including PayPal. Browse osCommerce's current processor extensions, such as Authorize.net, PAYMILL, and FirstData, here and Zen Cart's, including Braintree, Dwolla, and Checkout by Amazon, here. Another general note about working with open source shopping cart platforms: You'll want to partner with your developer or take extra care yourself to maintain security and PCI compliance, since ensuring safe shopping not only benefits your customers but also protects your business.
If you need help navigating the payment processor marketplace, check out our Merchant Account Comparison page or contact us for a consultation.
Customer Service and Technical Support:
Winner: Zen Cart
osCommerce users can search for answers via a forum and documentation or look for more general PHP/mysql-related questions around the web. In addition, if you choose to purchase a $65 annual osCommerce "community sponsorship" you can submit tickets and garner access to live chat from 9 a.m. to 6 p.m. Central European Time (CET). That's 3 a.m. to 9 a.m. EST, so be ready to troubleshoot in the middle of the night or early morning.
While I like that osCommerce offers paid live chat access (even if it ends up being at very inconvenient times for US-based users) overall I found Zen Cart to have better support resources. The forum is your best bet for having a question answered quickly by someone else in the Zen Cart community. You can also search a wiki for instructions about installing, upgrading, and customizing your store. If you have more questions, you can search tutorials and FAQs, watch YouTube videos, or even dig into a thick user manual.
Negative Reviews and Complaints:
Winner: Zen Cart
After hours of research, testing, and gathering input from people who've interacted with both platforms, an assortment of common complaints emerged for both osCommerce and Zen Cart I found the open source carts to share some common negatives: Repeating gripes from osCommerce and Zen Cart users center around the platforms and their templates being outdated and their software overly complex in comparison with other more recently rolled out open source carts like Spree Commerce and PrestaShop.
osCommerce developers reported several hacker attacks, including some that required merchants to completely rebuild stores–these occurrences serve as a good reminder to beef up security and backup your data. Other common osCommerce negatives include remedial SEO and spotty tech support.
Zen Cart users also report underwhelming SEO and marketing tools, few effective free mobile add-ons, and trouble maintaining stores with more than 1,000 products. Like osCommerce, Zen Cart users say that the cart can be buggy and is tough to upgrade without losing information.
If you want to search for other complaints about osCommerce or Zen Cart, be sure to google osCommerce/Zen Cart reviews, osCommerce/Zen Cart complaints, osCommerce/Zen Cart comments, osCommerce/Zen Cart scam, osCommerce/Zen Cart testimonials, etc.
Positive Reviews and Testimonials:
Winner: Zen Cart
The biggest positive aspect of both osCommerce and Zen Cart? That one's obvious: both platforms are free to download. Additionally, users of each report liking the fact that osCommerce and Zen Cart maintain accessible forums.
osCommerce users are generally positive about the cart offering several thousand add-ons, and even better that many are free. Others commented on how, at least at first, the installation is simple for users with some coding knowledge and like that instead of arriving with unneeded features it's light and can be customized as you go.
But in comparison, Zen Cart users have more praises to sing. It might not come be as polished or have as intuitive an admin as commercial competitors, but Zen Cart does offer some similar features without charging merchants a one-time or monthly fee. Users like that it's customizable with plenty of plug-ins and is relatively stable, as well as the fact that the cart offers options for international sales.
Final Verdict:
Winner: Zen Cart
In my opinion, if you want the ability to easily sell items on Facebook, rank high without being forced to clock in many hours of SEO work, and offer customers a way to purchase items from a store that's been optimized for tablets and smartphones, neither osCommerce or Zen Cart should be your strongest contenders.
But if you'd like the ability to totally customize a store, manage hosting, and engage in a community of developers working to improve a shopping cart under an open source umbrella that fosters collaboration and nimbleness, one of our two contenders may be for you.
osCommerce is easy to install and garnered cred for being a trendsetter when it launched more than a decade ago. But it does not offer as many built-in features as Zen Cart and stores produced by osCommerce have to rely on deep customizations to avoid looking boxy and dated.
Zen Cart offers CSS-based templates that give designers some flexibility and in my opinion make it a more attractive and reliable choice for the developer crowd. Zen Cart is updated more frequently than osCommerce and provides clearer documentation and troubleshooting resources. Although both carts have clear negatives, I found Zen Cart to offer fewer major design and ease of use challenges than osCommerce. It can also be a cost effective option if you're a moderately experienced developer, but a reminder that the appeal of a free download can wear off pretty quickly when you have to fork several hundred or several thousands of dollars over to a pro in order to start filling orders.
You can download osCommerce here and Zen Cart here. I recommend taking the time to test drive both carts before determining if either is the right match for your online store. And don't forget to check out our complete osCommerce and Zen Cart reviews for the full lowdown.