X-Cart VS Zen Cart
Founder

UPDATED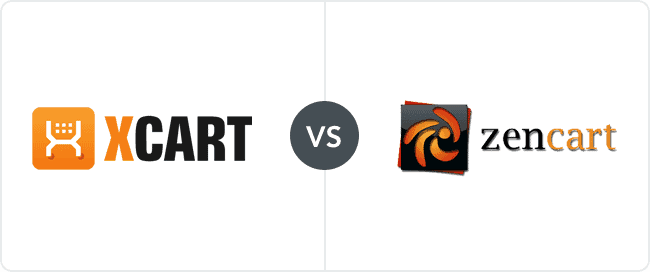 If you're launching or migrating an ecommerce site you'll want to decide which category of shopping cart best compliments your store's scope and your level of technical knowledge. Maybe you're on the market for a platform that includes hosting like Shopify and BigCommerce. These cloud-based carts don't require you to know any code but offer less wiggle room for making deep customizations.
However, if creating a totally unique online store is a priority I recommend considering both downloadable and open source shopping carts. X-Cart is a downloadable platform that charges an upfront fee to use. It was created more than a decade back by programmers in Russia and has grown into a large platform with a staff of over 100 engineers through its parent firm Qualiteam. More than 30,000 users have purchased the licensed CMS to create online stores. X-Cart's easy to use admin keeps improving and is fully scalable. But depending on your skill set you may need to hire a pro to help you launch, which can add cost and time to your roll-out. Note: X-Cart also offers a cloud-based solution called X-Cart Next. We'll be looking at X-Cart's original, licensed option in the following review.
Zen Cart is free to download, and 100,000 people have done just that since the cart launched in 2003 after splitting off from predecessor osCommerce. But to use the PHP/MySQL open source platform you'll want to have at least mid-level coding skills or receive help from a developer. Zen Cart arrives with several features that are included with fee-based carts for free, but its lack of support means you're at the mercy of a forum: Luckily, it's accessible and active.
Don't have time to read an entire article? Take a look at our top rated eCommerce solutions for a few quick recommendations. Every option we present here offers excellent customer support, superb web templates, and easy-to-use software, all for a reasonable price.
Otherwise, read on for for my full X-Cart and Zen Cart comparison. I'll examine each cart's features, user feedback, pricing, and more below.
Web-Hosted or Licensed:
While users receive access to complete source code, X-Cart is a downloadable licensed software that you'll pay for upfront. Zen Cart is an open source shopping cart that costs nothing to download or use.
Hardware and Software Requirements:
As an X-Cart or Zen Cart user you'll be responsible for securing hosting for your website from a provider like Rackspace. You can learn more about X-Cart's server requirements here and Zen Cart's hosting recommendations here. In addition, X-Cart offers in-house hosting plans.
Pricing:
Winner: Zen Cart
With X-Cart's downloadable version you'll pay an upfront fee ranging from $195 to $1,795 to access the program. Merchants can choose between X-Cart's Gold, Gold Plus, Platinum and Mobile plans, although in my opinion going with the Mobile option is a no-brainer since more and more online purchases are being completed on tablets and smart phones. X-Cart also offers SSL certificates, hosting, design and development work, and fee-based tech support. Check out our complete X-Cart review for plan and pricing details.
Since X-Cart is self-hosted you'll also want to pencil in added monthly hosting expenses as well as additional security, integrations, and credit card processing fees. Users of the free to download Zen Cart will encounter the same set of fees. Plus, if you're not a coder be ready to budget in paying a developer and designer. But if you are able to modify PHP code, then Zen Cart is the better value.
Ease of Use:
Winner: X-Cart
It's easier to install and customize X-Cart than Zen Cart, which is the case when comparing just about any downloadable VS open source software. In order to start using X-Cart you'll want to be comfortable installing software with the help of an FTP and customizing code to create a store that both looks great and runs smoothly. I found there to be a slight learning curve with X-Cart and it took a few minutes for me to find my way around its admin. But after customizing templates, importing product info, adding integrations, and inputting store settings, you should be through the majority of work needed to start selling. Other extras can always be added down the road.
It's harder to know where to begin after Zen Cart's installation process is complete. The set up process takes some PHP/MySQL programming skills and is less straightforward than X-Cart. Zen Cart's admin is a bit of a bear that could benefit from a revamp. Some backend options that aren't that important have their own drop down, like a music genre page, while others aren't located in the most obvious place and require some hunting and pecking to find. But on the plus side, if you're willing to commit some effort to learning the parts of Zen Cart that are useful to you (i.e. adding items and filling orders) the cart will begin to become easier to use.
Product Features:
Winner: X-Cart
X-Cart offers just enough features to get you going, including configurable URLs and meta tags ("clean" URLS are created to replace original dynamic URLS,) order tracking, and customer reviews. I like that you can sell items with several variations with relative ease via the product option module and I really like that traditional, express, and 'fast lane' one-page checkout is available. Learn about X-Cart's features here and see our full review for more features details.
Zen Cart offers some of the same great features you'll find with X-Cart, including product reviews and downloadable products. A full list is here. That said, while it downloads with more features than some open source competitors like osCommerce, Zen Cart doesn't offer a couple of crucial elements that you'll enjoy with X-Cart: I missed finding one-page checkout and a mobile version out of the box. Since customers are making physical and downloadable purchases via mobile devices more and more, not offering an optimized, fast buying experience could be a real hindrance to completing sales.
Confused or overwhelmed by your options? If you need help sifting through shopping cart software we're here to help. Check out Merchant Maverick's consulting services.
Web Design:
Winner: X-Cart
While I didn't find X-Cart's free or fee-based CSS-based templates to be show-stopping, several are intuitive and can be altered to match the theme and feel of your store. Browse some skin options here. I recommend beginning with a fairly bare bones theme and customizing it by adding fresh fonts, colors, and product photography.
To contrast, Zen Cart's default theme is an eye sore. You could try to liven it up by downloading one of the several template alterations that allow you to, for example, add a slideshow to your homepage or a sidebar that displays social media buttons, but in my opinion it's a much better idea to hire a pro to design your store or hunt for a cleaner theme like this or this. Try Googling "free Zen Cart templates" or click through the free template packages on Zen Cart's plug-ins directory for more theme examples.
While Zen Cart's admin area is easy enough to use to add products and fill orders once you get the hang of it, it's also seriously in need of a refresh. I had a much easier time getting acclimated to X-Cart's more elegant admin, where you can create coupons, maintain order and inventory info, and quickly click back and forth from your backend to frontend. I also like that integrations are housed under a "goodies" tab.
Integrations and Add-Ons:
Winner: Zen Cart
X-Cart offers a handful of free add-ons like f-Commerce Go: It's an extra that integrates X-Cart with your Facebook business page. You'll also find several popular fee-based extras, such as eBay and Mailchimp integrations. But compared to Zen Cart, X-Cart offers far fewer add-ons.
Zen Cart arrives with enough basic features to get your store up and running, but it's likely you'll want to integrate some of its more than 1,500 extras to make your store stand out and increase its functionality. Keep in mind that some users have had trouble customizing plugins in the past and undergo difficulties carrying add-ons over after making sporadic Zen Cart updates. Read more about Zen Cart integrations in our full review.
Payment Processing:
Winner: Tie
Zen Cart is able to be integrated with Paypal, Authorize.net, and FirstData, as well as international credit cards like Solo/Switch/Maestro (UK), and JCB (multi-country). you can also processes checks and money orders. Select credit cards your store accepts in the admin, including all the major players like Visa, Mastercard, and AmEx. Check out Zen Cart's plug-ins to find several additional payment gateway and merchant account integrations like PAYMILL and 2Checkout.
With X-Cart it's easy to integrate with any of almost 100 gateways, including PayPal and Checkout by Amazon. You'll be able to process orders purchased with Visa, Mastercard, and American Express as well as accept checks and money orders. View the whole list here.
If you need help navigating the payment processor marketplace, check out our Merchant Account Comparison page or contact us for a consultation.
Customer Service and Technical Support:
Winner: Tie
Like other open source carts, Zen Cart doesn't maintain robust support beyond an active forum. But I did find Zen Cart to go beyond some of its open source peers–it offers tutorials and FAQs, a user manual, a wiki that covers installing and upgrading the program, and YouTube videos.
In my opinion, X-Cart's support is a bit of a mixed bag–some merchants are satisfied with their customer service experience, while others complain that paid support costs $99 per month (or $99 per single non-urgent incident if you don't opt into a monthly support plan) and isn't offered 24/7. Also note that tickets don't cover all issues unless you pay an additional fee, so read the fine print before you buy a ticket. Unsupported topics range from SEO to upgrades and performance issues–see the whole list on the bottom of this page. Be sure to check other free resources for answers to your questions first, via forums, a knowledge base, and FAQs. I recommend going the single ticket route since X-Cart's paid monthly support will set you back almost $1,200 per year.
Negative Reviews and Complaints:
Winner: X-Cart
We spent hours researching and compiling user feedback about both X-Cart and Zen Cart and found more negative feedback from Zen Cart users. As mentioned above, we noted that some X-Cart merchants wish its paid support was available 24/7. In my opinion, X-Cart could easily simplify its paid support model, especially since I can't imagine a slew of businesses are happy to fork over $99 for monthly support when cloud-based carts offer hosting, tech support, better themes and more features for far less per month that X-Cart charges for support alone.
Zen Cart users complain about its stale themes, counterintuitive admin, lack of one-page checkout (which X-Cart offers) and behind-the-times SEO and marketing features. And some merchants report that the platform can act buggy and have experienced rocky upgrades.
If you want to search for other complaints about X-Cart or Zen Cart, be sure to google X-Cart/Zen Cart reviews, X-Cart/Zen Cart complaints, X-Cart/Zen Cart comments, X-Cart/Zen Cart scam, X-Cart/Zen Cart testimonials, etc.
Positive Reviews and Testimonials:
Winner: X-Cart
I found plenty of positive X-Cart comments online from longtime, loyal users. Bright spots for X-Cart include engineers that quickly reconcile issues, a full set of out of the box features, and a very customizable admin. Others like its price, social media integrations, and PCI-compliance.
Zen Cart users like that it's free to download–no surprise there–and that it's completely customizable and maintains a lively forum. Others appreciate that it comes with a range of features and add-ons. But overall, our search turned up more kudos from X-Cart merchants.
Final Verdict:
Winner: X-Cart
Choosing either a licensed ecommerce shopping cart that requires an upfront payment to download like X-Cart or an open source cart that is free to download but requires more coding competence to launch like Zen Cart will give you control over your store's look and feel. Both X-Cart and Zen Cart require that you find a host for your store and give you the real ability to make serious customizations to your shop. Plus, each comes out of the box with enough features to get going.
Which one is right for your business? It depends on your shop's scope and values. Some merchants are energized by the chance to opt in to an open source user community and are comfortable taking it to the forums for assistance when problems pop up. If that's you, Zen Cart may be the right fit. But before committing I'd also recommend looking at competitors like Spree Commerce. If you'll need to bring a developer on board to create your store with Zen Cart, my prediction is that the free to download platform will be the more costly option in the end.
If you're lured by a licensed cart that arrives ready to be built into a totally unique store I recommend looking closely at X-Cart, which keeps getting better. X-Cart arrives with fresher skins and an easier to navigate admin than Zen Cart. I like that X-Cart also offers one-page checkout and supports responsive themes, since in my opinion both are essential for your store's success.
Try a free demo of X-Cart's downloadable version or download Zen Cart for an unlimited trial and see if either shopping cart is right for your online store.