Boost Holiday Sales 2022: Small Business Holiday Guide
It's time to start thinking about your holiday marketing strategy and getting ready the rush. Our tips will help you prepare for your holiday sales.
Expert Analyst & Reviewer

UPDATED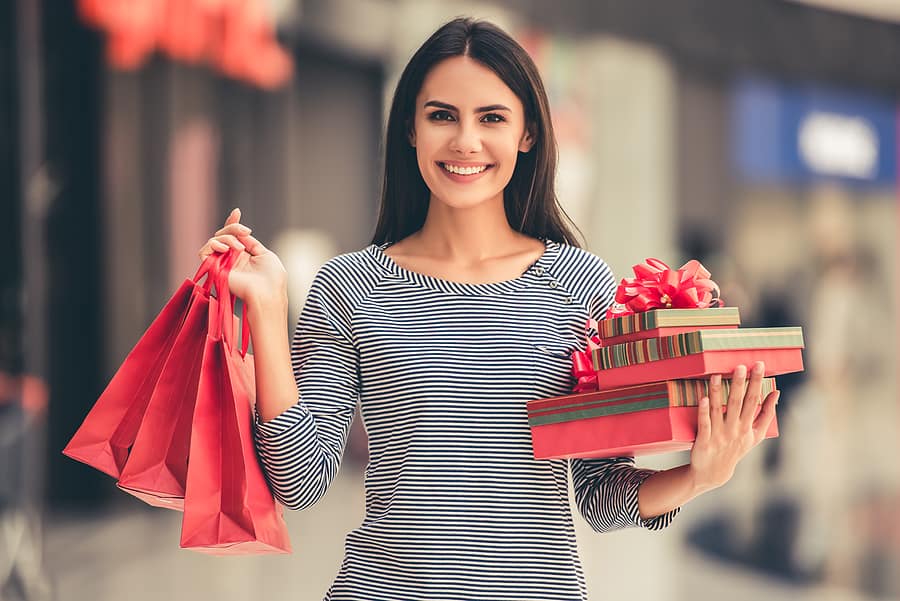 Holiday sales have averaged approximately 19% of annual retail sales over the last five years, according to data from the National Retail Federation (this number can be much larger for some businesses). That means that your business can get a cut of the billions of dollars spent during the holidays, starting right now.
Even when the days are longer and temperatures are higher, it's not too early to start planning for the holiday season. Once the back-to-school rush is over, it's time to start planning so that you can maximize your revenue over the next few months. In this post, we'll show you how. From getting prepared for an influx of customers to launching effective marketing campaigns, reaching new customers, and engaging your loyal shoppers, keep reading for our tips on how you can boost your holiday sales.
How To Prepare Your Business For The Holidays
1) Get Organized Before The Holiday Rush
Make a to-do list to get organized before the holiday rush with tasks such as:
Updating your website
Changing vendors
Stocking up on inventory
Planning employee schedules
Tackling invoices
Don't wait to figure out the logistics. Get everything current and unload those worries from your brain because the time to make any needed organizational changes is now.
2) Analyze Cash Flow
Small businesses need to crunch numbers and analyze cash flow to make smart financial holiday decisions. If you're not sure how to calculate your cash flow, check out our post on how to analyze cash flow for your business.
To prep for the holidays, start by looking at last year's sales and numbers. Understanding your cash flow history helps you to set upcoming holiday sales goals. When analyzing cash flow history, pay attention to:
Your busiest shopping days
Earnings during the holiday season
Expenses incurred before/during the holiday rush
When analyzing cash flow and setting your goals for the upcoming holiday season, keep the following points in mind:
How much do I expect to earn?
What inventory needs stocking?
How much more can I add to my marketing campaigns?
Do I have enough to offer employee bonuses or gifts?
Finally, look at your January sales. There might be a slump coming, so prepare for it now by knowing how much you'll need to earn to get through any potential slowdown. We also have tips on improving your cash flow to overcome potential challenges.
3) Stock Up On Inventory
The favorite items in your shop will fly off the shelves, so when those customers and clients arrive at the last minute looking for that favorite item, have it available. If you are advertising a specific item, stock up.
Don't forget that suppliers and vendors are in the same boat as you as things get busy. Make sure to write down shipping deadlines for your vendors and suppliers in preparation for the busy months ahead.
4) Create A Holiday Marketing Strategy
It is never too early to start thinking about a holiday marketing strategy. Your business can use a holiday marketing strategy for branding, and the message should be personal and unique: What is something about your business that is different than all the others?
Design your marketing materials to include information about shipping deadlines or sales. Consumers are frantic to know where to get items they need fast and without expensive shipping. Make those details part of your marketing strategy.
Last Year's Holiday Spending Statistics: 2021
In 2021, holiday sales hit a record $886.7 billion. According to data from the National Retail Federation, sales grew 14.1% in 2021 over 2020. These numbers exceeded expectations, as the NRF predicted that sales would grow by 8.5% to 10.5%. This growth occurred despite various challenges, including the COVID pandemic, supply chain issues, and inflation.
Additionally, the NRF found that online and non-store sales grew by 11.3% in 2021 to hit $218.9 billion. These numbers were in line with NRF predictions.
Holiday spending for 2022 is expected to continue growing, although much of this growth may be driven by inflation. According to predictions, spending could increase as much as 7.5% this year, although this growth may just be between 1% to 3% after adjusting for inflation. Still, this amounts to billions of dollars that consumers are ready to spend this holiday season with businesses just like yours.
7 Tips To Increase Holiday Sales
Ready to take your business to the next level this holiday season? If you're ready to increase your sales, start with these seven tips to help you draw in new customers, engage existing customers, and boost your holiday revenue.
Market Your Holiday Sales On Social Media
With over 4 billion people using social media, it's easy to see why promoting your business across your socials is critical to boosting holiday sales. Here's how to get the most out of your social media marketing.
Facebook
Reach nearly 3 billion users by creating engaging content on Facebook. Here are some ways you can market your business for the holidays through Facebook:
Engage customers with interactive polls on Facebook Stories
Showcase new or popular products with an engaging post or story
Use Facebook Page Insights to determine the best times to reach your followers
Engage your followers with holiday giveaways and contests
Instagram
Over 1 billion people log into Instagram, so make sure your profile is ready to reach new and existing customers with the following tips:
Host holiday flash sales on Instagram Live
Hold contests and giveaways for users who like, share, and comment on posts
Use Instagram Carousel ads to create shoppable mini holiday gift buying guides featuring top products
Showcase new products with Instagram Reels
Post engaging videos educating your customers about your business or new and popular products
Twitter
Twitter has over 300 million users that you can reach to promote your business. Get started with your marketing campaign by:
Showcase up to 50 products using Twitter Shop Spotlight
Create a live shopping event for holiday flash sales
Experiment with different types of ads (photos, videos, carousel ads, etc.) to see which have the most engagement
Track key metrics by using Twitter Analytics
YouTube
With over 2 billion users, YouTube is the ultimate way to reach potential customers through video. Here are a few tips to keep in mind when sharing content on YouTube:
Keep videos short and engaging
Create how-to videos featuring your products
Discuss new products with an unboxing video
Utilize solid, relevant keywords in your title, description, and video tags
Build an emotional connection with viewers
Share your content on your other social media sites
Promote Your Holiday Sales With An Email Workflow
Email marketing is an easy and cost-effective tool that you should add to your holiday marketing arsenal. A good email marketing campaign will:
Build trust with your customers
Provide value
Be personalized to your target market
Be planned out in terms of scheduling, frequency, and types of emails sent
Have a call-to-action (CTA)
One important thing to remember is that value is key. You want to offer something to your subscribers that can't be found elsewhere, whether it is sneak peeks of new products, early access to sales, or something else.
Don't do the heavy lifting yourself — make sure to pick email marketing software that boosts your odds for a successful marketing campaign.
Choose The Right Point Of Sale Software
Whether you're launching a seasonal business that needs a POS system or outgrown your old cash register, point of sale software is a necessity for any business during the holidays. Point of sale software goes beyond just accepting customer payments. The right point of sale software offers numerous benefits to you and your customers, including:
Loyalty programs
Inventory management
Gift cards
Layaway
Returns, refunds, and exchanges
Marketing tools
Employee management
Don't wait until the last minute to get your POS up and running. Start doing your research now to make sure that you select the right software and have plenty of time to learn how to use it (and train your employees) before the holiday rush. Start your search with our picks for the best POS systems for small businesses.
Get An Online Shop Ready To Make More Holiday Sales
eCommerce is a crucial component of holiday shopping. According to statistics from Shopify, online shopping accounted for nearly $124 billion in holiday shopping dollars in 2018. (That's up from only $80 billion in 2015.) Make sure that you're prepared by:
Updating all company information, product descriptions, photos, contact information, and social media links
Creating a clean, uncluttered site with clear, concise copy
Fixing broken links
Creating a mobile-friendly site
Including shipping times and fees
You also want to make sure the process is streamlined and quick for your customers. Run trials and tests, and work out any technical problems before the holidays get too busy. And don't forget to check out our other tips for getting your eCommerce store holiday-ready.
If your business isn't yet online, there's no better time than now to get started. Find out how to launch your online store in just a few easy steps.
Provide Buy Now Pay Later Options To Increase Spending On Holiday Sales
Buy Now, Pay Later services soared in usage during the pandemic and continue to rise in popularity, with one survey showing that 60% of people have used BNPL. Buy Now, Pay Later is an easy way for shoppers to make larger holiday purchases, so why not offer it to your customers?
If you're unsure if this is the right option for you, learn more about adding Buy Now, Pay Later services to your website and how to get started.
Show Customer Appreciation
Thanking your customers doesn't just show your gratitude — it can also bring repeat business. Here are some ways you can incorporate customer appreciation into your marketing strategy:
Offer coupons or discounts to returning customers
Offer drinks and snacks in your brick-and-mortar store
Include thank you notes or emails with every purchase
Give Back To Charitable Organizations
Giving back doesn't just feel good — it can also benefit your business. Millennials make shopping choices based on a company's record of charitable giving (70% say charitable giving factors into purchases). Another bonus is that your giving is tax-deductible.
Here are a few ways to give back this holiday season:
Dedicate a percentage of sales to a charitable organization
Hold special sales on specific days or times and donate proceeds to the charity of your choice
Match employee contributions to charitable organizations
FAQs: Holiday Marketing