Square VS Merchant Account: Which Is Better For Your Business?
Learn how to determine when Square is the best option for your small business and when it's time to get a merchant account instead.
Expert Analyst & Reviewer

UPDATED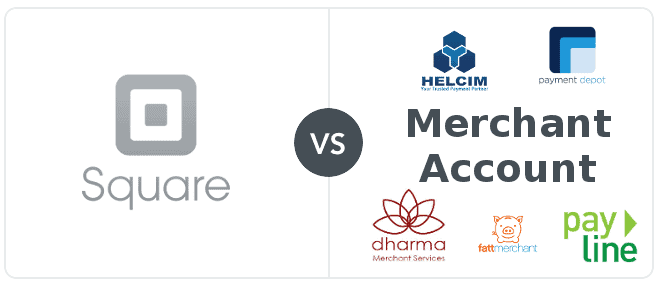 If you've been in business for any length of time, you've almost certainly heard of Square. The company revolutionized the credit card processing industry by introducing a simple, technology-based platform that allowed even the smallest businesses to start accepting credit cards. Gone were the oppressive long-term contracts, byzantine processing rate plans, hidden fees, and expensive terminals that had made traditional merchant accounts too expensive for many small business owners.
If you're a new business owner trying to decide whether to get a merchant account or opt for Square, the decision can be a surprisingly complicated one. While Square is a payment service provider (meaning that all users share a single, aggregated merchant account) and offers the same slate of products to all its customers, traditional merchant accounts vary widely in features, pricing, and contract terms. For this article, however, we will generally be using the practices of the best payment processing companies out there as reference points.
The right choice depends on the nature and size of your business. New companies will have an easier time setting up a Square account. Small businesses might find the streamlined, all-in-one solution that Square offers to be more convenient as well. However, medium-sized and even larger businesses might chafe under Square's flat-rate pricing structure, which can become quite expensive at higher processing volume levels. Nor will all companies find exactly what they need with Square, making a merchant account the better choice for many.
Square's Merchant Services Aren't The Same As A Merchant Account
With Square, there's no application fee, and anyone is welcome to open an account. Square will ask you for some basic information about your business and verify your identity, but you won't have to undergo an extensive underwriting process. Instead, you'll be up and processing within a few days.
On the other hand, obtaining a merchant account is much more complicated.
The applications themselves are often quite streamlined, but you can expect the process to take longer. Part of this is because the processor's underwriting department will scrutinize every aspect of your business to decide just how likely they are to encounter chargebacks, claims of fraud, and everything else that processors hate to deal with. You might have several back-and-forths with a representative before you get approved for an account.
In this respect, Square is more advantageous for small or new businesses.
How Does Square Work?
When Square first started out, it didn't offer much beyond basic credit card transaction processing and a rudimentary reporting and analytics feature. Today, that's no longer the case. Square has expanded its product and services lineup tremendously in recent years and now offers just about every conceivable feature that you could expect to find with a traditional merchant account provider.
Square Merchant Services Include…
When you sign up for Square, you'll immediately have access to a host of free features that are included in your account. The company also offers a number of more specialized optional features, for which you'll have to pay a monthly fee. Here's a brief breakdown of Square's main features:
Credit and debit card transaction processing via EMV, NFC (contactless), and magstripe payment methods
Access to the Square Online Store, which includes a payment gateway and integrated shopping cart features
Support for alternative payment methods, including card-on-file, invoices, and QR code payments
Analytics and reporting features via the Square Dashboard
Free Square Card Reader for magstripe payments
Optional Square Card Reader for contactless and chip, Square Terminal, or Square Point-Of-Sale devices (available for purchase)
Specialized services for specific industries, including Square Appointments, Square For Retail, and Square For Restaurants
Extensive online knowledgebase
Customer service via email and telephone
For a more in-depth discussion of these and other services available from Square, please see our full review of Square Credit Card Processing and our article, The Complete Guide To Choosing Square POS Credit Card Readers & Cash Register Bundles.
How Does A Merchant Account Work?
With all these services available, it's easy to think of your Square account as a merchant account. However, that's not really the case. Square is a payment service provider (PSP), meaning that it can process your credit card transactions, but doesn't provide you with a true, full-service merchant account. Instead, your account is aggregated with those of other users into a single, huge merchant account. Advantages of this approach include a fast, streamlined account approval process and the fact that Square handles all PCI compliance requirements for you at no cost to you. The primary disadvantage is that, because your business hasn't been subjected to the usual thorough vetting process that's needed for a merchant account, the possibility of a sudden account hold, freeze, or termination is significantly higher.
Merchant Accounts Include…
Merchant accounts, on the other hand, require you to undergo an extensive underwriting process before you can process your first transaction. This process typically requires a credit check, a lot of paperwork, and a lot of time. Even if you're finally approved, you may have to wait up to two weeks from the time you submit your application until you can finally start accepting credit cards with your new account. However, by taking the time to go through this process in advance, you can minimize the chances of experiencing a hold, freeze, or termination later. Here are the main features that are typically available with a merchant account:
Credit and debit card transaction processing via EMV, NFC (contactless), and magstripe payment methods
Access to a payment gateway (either proprietary or through a third-party provider) for accepting online transactions
Support for eCheck and ACH payment methods (typically as a paid optional service)
Online account access with real-time sales reporting and analytics features
A variety of compatible credit card terminals, usually available for purchase, lease, or rent
Support for advanced Point-Of-Sale (POS) systems
Optional add-ons such as support for loyalty/gift cards, recurring billing, etc.
Customer service via email and telephone
Comparison: Key Differences Between Square & A Merchant Account
Although both Square and a traditional merchant account allow you to accept credit and debit card payments, there are significant differences between them. The table below summarizes the most important differences you need to be aware of in deciding which option is best for your business:
| Square | Merchant Accounts |
| --- | --- |
| Aggregated account, no unique Merchant ID number | Full-service account, unique Merchant ID number |
| Pay-as-you-go billing | Fees are billed every month, even if you don't process any transactions |
| No long-term contract or early termination fee | May include long-term contract (typically 3 years) and early termination fee (up to $500 on average) |
| No recurring monthly fees for a standard account | Multiple recurring monthly & annual fees |
| Predictable flat-rate pricing | Highly variable tiered, interchange-plus, or membership pricing |
In addition to these considerations, one of the primary differences between Square and traditional merchant accounts is that with Square, everyone is offered the same terms and prices. This isn't usually the case with merchant accounts, where contract terms, fee schedules, and processing rates will all vary from one business to the next and can be adjusted in your favor with some aggressive negotiation. Most traditional merchant account providers don't disclose any pricing information or contract terms on their websites, preferring to use a quote-based system that's tailored to the size and needs of each business.
Fortunately, there has been a very positive trend within the processing industry in recent years to offer more transparency – particularly on rates and fees – to prospective merchants. Most of our top-rated providers now provide extensive disclosures of processing rate plans, fee schedules, and contract terms right on their websites. Merchants trying to decide on a provider can easily compare their estimated costs with what Square would cost them. For many small businesses, Square will indeed be the cheaper option. However, at higher processing volumes, the significantly lower interchange-plus rates offered by a full-service merchant account provider will prove to be the better bargain, even with the additional monthly and annual fees factored in.
Does The Difference Between Square & Traditional Credit Card Processing Matter?
If you're a small business owner, you may be wondering why you would want to choose a merchant account over simply using Square. The truth is that, for many small and seasonal businesses, Square is usually the cheapest and easiest option available. With no monthly fees and no long-term commitment, you can use it as little or as much as you need to, without paying anything extra. Square is a particularly attractive option to seasonal merchants, who often get stuck paying monthly fees even during the months when their business is closed.
However, it's very important to understand that Square isn't always the best option, even for smaller businesses. The risk of suddenly having your account shut down without any advance notice can be a dealbreaker, although there are ways to lower the chances of having this happen to you. Also, Square can actually be more expensive than a merchant account at higher processing volumes, even without all the extra monthly fees.
Is Square Cheaper Than Other Merchant Services?
| | Square | Merchant Account |
| --- | --- | --- |
| Pricing Model | Flat-rate | Tiered, interchange-plus, or membership |
| Monthly Fees | None | Variable, usually at least $10/month |
| Early Termination Fee/Cancellation Fee | None | Variable, $0-$500 or higher |
| Hardware Options | Proprietary (can only be used with Square) | Usually universal (can be reprogrammed to work with a different provider) |
| Ideal For | Small or newly established business (less than $5K/month processing volume | Medium-large business (over $5K/month processing volume) |
The table above summarizes the main differences between Square and a traditional merchant account. As you can see, Square differs from most merchant account providers in one very significant way: transparency. While merchant account pricing and contract terms can be highly variable, Square offers you all the information you'll need to make an informed decision upfront. Which option will be less expensive for you will ultimately depend not only on the nature and size of your business, but also on what kind of rates and terms you are offered by a merchant account provider.
As a very general rule, Square usually costs less overall if your business processes less than $5,000 per month in credit and debit card transactions. Above this amount, a good merchant services provider can be less expensive. However, it's important to remember that the $5,000 figure is nothing more than a very general average. We've seen figures as low as $1,500 per month and as high as $10,000 per month as the suggested "tipping point" where a merchant account makes more sense.
Coming up with a reasonably accurate "tipping point" for your business is something that only you can determine, based on your needs and variables such as your monthly processing volume, average ticket size, etc. If you need some help with "doing the math," take a look at our e-book, Don't Overpay For Credit Card Processing: How To Find A Great Merchant Services Provider & Lower Your Costs, for a detailed explanation (complete with spreadsheets) about how to estimate your total costs with Square or a competing merchant account provider.
Which Is Best For My Business Needs: A Merchant Account Or Square?
Choosing a payment processor for your business isn't simply a matter of going with the cheapest option. You'll want to also factor in other considerations, such as the availability of ancillary services, hardware and software options, and (most importantly) quality of customer support.
Choose Square If…
Square has proven to be an affordable option for millions of users over the years, and the company's ever-expanding line of products and services makes it a solid alternative to a traditional merchant account. It's also a great option for very small businesses that otherwise wouldn't be able to afford a full-service merchant account. You'll usually find Square to be the better choice in the following use cases:
Part-time or seasonal businesses
Businesses that only occasionally need to accept a credit card payment
Small nonprofits
Full-time businesses that typically process less than $5,000 per month
Choose A Merchant Account If…
As great as Square is, it's not the best option for everyone. A larger, more established business will generally be better off with a true merchant account due to the lower processing rates, availability of more sophisticated hardware and software, improved account stability, and generally better customer support. You should choose a merchant account (from a top-rated provider) if the following criteria apply to your business:
Full-time business that operates year-round
Businesses that accept credit cards on a daily basis
Large nonprofits
Businesses that typically process over $5,000 per month
Square VS Merchant Account: The Final Verdict
Do we recommend Square for merchants? Yes, we think Square is right for many businesses. Do we recommend traditional merchant accounts? Absolutely. So which one is better? That's hard to say.
When it comes to payments and payment processing, there is no one-size-fits-all solution. The age of your business, its size, your industry, and even how you operate daily all factor into choosing a payment processor. There are some undeniable facts: Getting a Square account takes a lot less time – but you may be sacrificing account stability. Customer service will always be better with a highly-rated payment processor. With Square, you don't get a choice in what hardware or software you use; merchant accounts typically give you many options.
If you find yourself leaning towards getting a merchant account, studying our Merchant Account Comparison Chart will give you a sense of your best options.
As always, the decision comes down to what stands to benefit your business the most. Weigh the pros and cons.
Do you still have questions? What have been your experiences with Square or your merchant account provider? Leave us a comment – we're always eager to hear from our readers!