How To Find & Open The Right Bank Account For Your Small Business
Before you can open a business checking account, there are some important steps to take care of.
Expert Analyst & Reviewer

Updated on: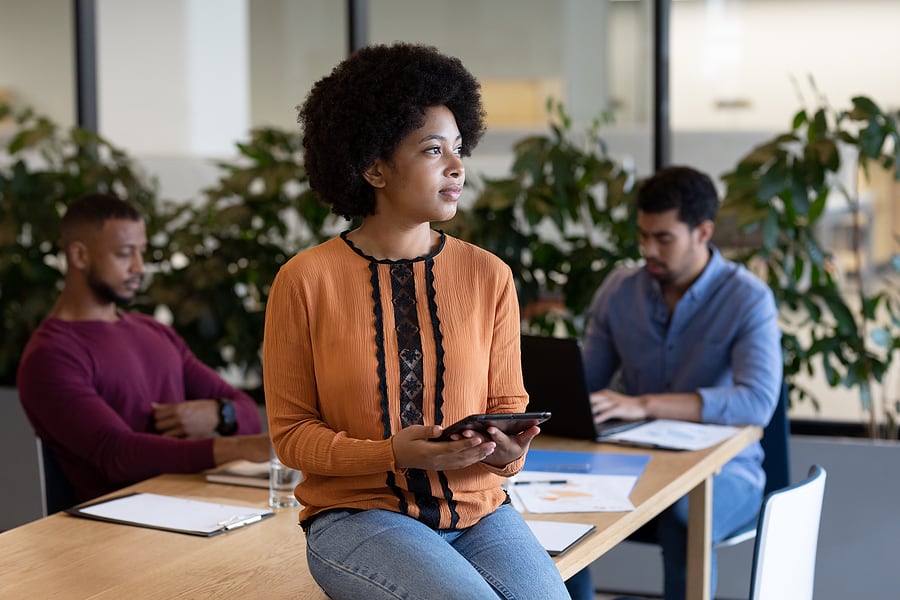 You've decided to open a business bank account. Congratulations on making a smart move that can save you time and reduce your personal liability while running a small business.
For some entrepreneurs, making the decision to move to business banking is the hard step. For others, it's knowing what to do once you've decided! If you're still mulling the decision, it may help you to understand the differences between personal and business banking and when you can get away with using your personal bank accounts.
Once you've decided it's time, these step-by-step guidelines will show you how to open a business bank account:
1. Know Your Needs
Let the world know you want to open a business bank account, and you may find yourself flooded with offers. Of course, they're not all equal. So how can you sort through them and pick the business banking services that are right for you? Start with these tips:
Don't Pay For Extras
When it comes to business banking, some perks and functions are not optional, like the ability to make deposits, pay bills, and receive good customer service. But do you really need support for wire transfers, a point of sale (POS) system, check-writing services, unlimited balance transfers and transactions, and access to a line of credit?
All those things can be valuable business services that you want your bank to offer. But if you don't need those tools at this point in your business development, you shouldn't pay extra fees for them right now.
Leave Room To Grow
At the same time, don't box yourself in by choosing a bank that fits you now but will limit your options later. That means looking at how a bank fits your needs not just now but also as you grow.
Business finance expert Imani Francies of FreeAdvice.com highlights transaction fees as one example. You may not anticipate many daily transactions right now, but if you sign up with a bank that imposed strict and costly limits, you may regret your choice later.
"Look for any transaction limitations imposed by the bank. Banks may limit the number of transactions that can be posted to your account in a single day," Francies said. "Alternatively, you may be limited to a certain number of transactions before being charged a fee for any more. If you normally have a high amount of transactions, finding a business checking account that allows for limitless transactions may be great for minimizing costs."
Francies suggest business owners also consider interest rates, the bank's branch and ATM availability, minimum account balances, any introductory or promotional offers, and how easy it will be to integrate your banking with accounting software, if you use it now or plan to as your business grows.
If you intend to use your business bank account's merchant services to process credit cards, you'll want to look at a few other considerations, according to the US Small Business Administration. These include:
The discount rate, or the percentage the bank charges for each transaction
Transaction fees, or the amount you'll be charged for every credit card transaction
Address Verification Service (AVS) fees
ACH daily batch fees, or the amount you'll be charged when you settle your credit card transactions each day
Monthly minimum fees, or the amount you'll be charged if your business does not hit the minimum number of required transactions
Consider Fees, But Don't Feel Restricted By Them
Speaking of fees, get ready for them. Business banking often brings fees that you don't see attached to your personal bank account. It's smart to check out at least a couple of different banking options and see how their fees for business services compare.
However, Rob Stephens, a CPA and the founder of CFO Perspective, advises small business owners to look beyond the fees, especially at two factors: convenience and responsiveness.
"Bank fees are tiny compared to your other operating expense," he said. "Don't endure poor service because you tried to save a few dollars in fees. Your time is worth more than you can ever save in fees. Convenience may mean a nearby branch, good remote deposit capabilities for your checks, fast loan processing, or robust cash management options for card payments. Find a bank or credit union where you can develop a relationship with branch staff or a loan officer that you can contact when you need help."
2. Gather Your Documents
Signing up for a personal bank account is relatively simple and quick. You'll be asked to provide little beyond proof of your identity and address.
Opening a business bank account, by contrast, requires a little more documentation and it can take several days to get approval for your account. So that means you'll need to come prepared, and you should not expect immediate results.
Here's a checklist of the information the US Small Business Association suggests you should be prepared to show:
Your employer identification number (EIN). It's free to apply for an EIN, and it's not the same as your own Social Security number. You'll also need an EIN to pay taxes for your business.
Business license from your city, county, and/or state
Business formation documents and ownership agreements
Proof of monthly income
What if you're missing an item or two from that list? If you don't have, say, your EIN or a business license, you may be able to use your personal bank accounts to manage your business for now. Just keep in mind that using business banking services offers important advantages, such as personal financial protection and simplicity around tax filing. So while switching to business banking is usually a good idea, if you need some time to get your documents rounded up, you're probably okay to use your personal accounts to run your business in the meantime.
3. Shop Around
Your first question might be how to open a business bank account. The next one is usually where should I open my business bank account?
Don't Automatically Settle For Your Current Bank
Your first choice may be the easiest, but is it the best? You already have a relationship established with the bank that currently handles your personal funds. If they offer business services, it could be an easy switch.
Don't be too quick to make this leap, experts caution. Business and personal banking are very different, and oftentimes business accounts charge higher fees, including penalties for excessive transactions or balances that dip below minimums.
That's not to say that your current bank is necessarily a bad choice. It's actually a good idea to talk to someone there about the business banking services available to you. You can use what you learn as a benchmark when comparing other banks, making sure you choose the one with the best fees and the best available services for your needs.
Think Outside The Big Box
"Check with both banks and credit unions," Rob Stephens said. A CPA and the founder of CFO Perspective, Stephens said, "Credit unions continue to increase their business banking capabilities. They often offer lower loan rates and higher deposit rates than banks."
Jim Pendergast, a senior vice-president at altLINE, a division of The Southern Bank Company, advises evaluating the customer service you get with each of your top choices.
"The best banks will always offer personal help for your business," he said. "Consider, for example, the times you've been on the phone with a large corporation, hoping to talk to a real person but not getting to that point after several hours on the phone. Smaller banks give you much more personalized business."
However, he also advised that larger banks are more familiar with business needs and have greater resources, so they may have more to offer you.
Go Online
While you might think first of brick-and-mortar options for your business banking needs, you can find a number of reputable online banks too. And many of them offer the same business services you can find at an in-person bank near you. The only difference you may see is that you'll apply online and do all your banking through your computer, instead of at your local branch.
Do your research and compare the services, fees, and more from online banks to the other banks you've looked into. You may find that online banks offer a little more, including higher interest rates and more convenient access, with lower fees.
4. Separate Your Finances
Whether yours is a brand-new startup or a side business you've been slowly growing over time, you may have mingled your personal funds with your business income and expenses as you got your business off the ground. If you're ready to move to business banking services, take the time to separate your business and personal funds before you open a business account.
It's not just smart to account for the money you've invested. It's also very important for tax purposes. If you're audited, you don't want the IRS to note a history of mingling personal and business finances. In fact, it may be worth your time to talk to a professional accountant, to make sure you separate your funds completely and in the right way. Sure, that will cost you some money now, but you might be glad you spent that money if the IRS decides to perform an audit down the road.
In addition to keeping detailed records of your investments in your business, your business income, and your expenses, you may want to start using a separate credit card for as many expenses as possible. Even if you're not ready to apply for and use a business credit card, you can safely use a personal credit card for business expenses, as long as you follow some guidelines like using the card only for legitimate business expenses and paying the balance on time.
5. Take Your Time
As important as it is to take advantage of business banking services, rather than use personal bank accounts to run your small business, it's better to proceed carefully than to rush into a banking relationship that won't serve you well in the long run.
Talk to other small business owners you know, asking what bank they use for their businesses, what they like about where they bank, and what they wish they had known when they started their accounts. Compare your options, then make the best choice.
Switching business accounts isn't easy to do, although it's certainly possible. Put in the time now, do thorough research, and you'll be well on your way to a banking relationship that serves you — and your growing business — for years to come.