How To Open A Business Bank Account: Your Complete Guide
Read our step-by-step guide on how to open a business checking account or savings account, including eligibility and documents needed to get started.
Expert Analyst & Reviewer

UPDATED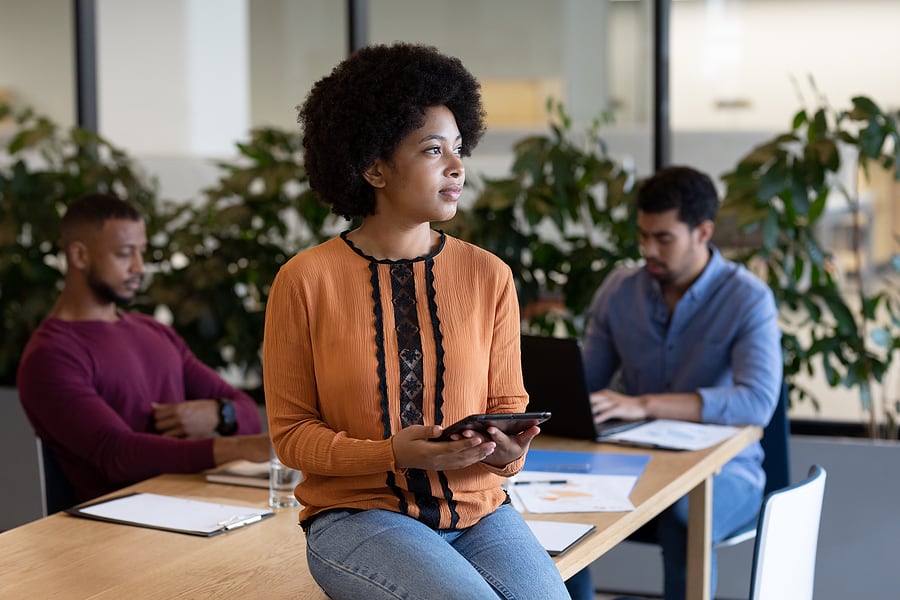 Opening a business bank account can save you time and reduce your personal legal liability as a small business owner. These step-by-step guidelines will show you how to open a business bank account.
1. Know Your Business Banking Needs
Let the world know you want to open a business bank account, and you may find yourself flooded with offers. Of course, they're not all equal, and choosing a business banking account can be a hassle. So how can you sort through your options and pick the business banking services that are right for you? Start with these tips:
Don't Pay For Business Bank Account Extras
When it comes to business banking, some perks and functions are not optional, like the ability to make deposits, pay bills, and receive good customer service. But do you really need support for wire transfers, a point of sale (POS) system, check-writing services, unlimited balance transfers and transactions, and access to a line of credit?
All those things can be valuable business services that you want your bank to offer. But if you don't need those tools at this point in your business development, you shouldn't pay higher fees to a bank that offers them right now.
Prepare To Grow Your Business As Needed
At the same time, don't box yourself in by choosing a bank that fits you now but will limit your options later. That means looking at how a bank fits your needs, not just now, but also as you grow.
Business finance expert Imani Francies of FreeAdvice.com highlights transaction fees as one example. You may not anticipate many daily transactions right now, but if you sign up with a bank that imposed strict and costly limits, you may regret your choice later.
"Look for any transaction limitations imposed by the bank. Banks may limit the number of transactions that can be posted to your account in a single day," Francies says. "Alternatively, you may be limited to a certain number of transactions before being charged a fee for any more. If you normally have a high amount of transactions, finding a business checking account that allows for limitless transactions may be great for minimizing costs."
Francies suggests that business owners also consider interest rates, the bank's branch and ATM availability, minimum account balances, any introductory or promotional offers, and how easy it will be to integrate your banking with accounting software, whether you use it now or plan to as your business grows.
If you intend to use your business bank account's merchant services to process credit cards, you'll want to look at a few other considerations, according to the US Small Business Administration. These include:
The discount rate, or the percentage the bank charges for each transaction
Transaction fees, or the amount you'll be charged for every credit card transaction
Address Verification Service (AVS) fees
ACH daily batch fees, or the amount you'll be charged when you settle your credit card transactions each day
Monthly minimum fees, or the amount you'll be charged if your business does not hit the minimum number of required transactions
Consider Banking Fees, But Don't Feel Restricted By Them
Speaking of fees, get ready for them. Business banking often brings fees that you don't see attached to your personal bank account. Even if they advertise "no fees" on their online landing page, you should look up the bank's fee structure and read any footnotes and fine print you find online. Additionally, it's smart to check out at least a couple of different banking options and see how their fees for business services compare.
However, Rob Stephens, a CPA and the founder of CFO Perspective, advises small business owners to look beyond the fees, especially at two factors: convenience and responsiveness.
"Bank fees are tiny compared to your other operating expense," he says. "Don't endure poor service because you tried to save a few dollars in fees. Your time is worth more than you can ever save in fees. Convenience may mean a nearby branch, good remote deposit capabilities for your checks, fast loan processing, or robust cash management options for card payments. Find a bank or credit union where you can develop a relationship with branch staff or a loan officer that you can contact when you need help."
2. Gather Your Required Documents
Signing up for a personal bank account is relatively simple and quick. You'll be asked to provide little beyond proof of your identity and address.
Opening a business bank account, by contrast, requires a little more documentation. That's just one of the differences between business and personal banking. What paperwork is needed to open a business bank account? That depends on how your business is structured.
3. Shop Around For The Right Business Bank Account
Your first question might be how to open a business bank account. The next one is usually where should I open my business bank account?
Don't Automatically Settle For Your Current Bank
Your first choice may be the easiest, but is it the best? You already have a relationship established with the bank that currently handles your personal funds. If they offer business services, it could be an easy switch.
Don't be too quick to make this leap, experts caution. Business and personal banking are very different, and oftentimes business accounts charge higher fees, including penalties for excessive transactions or balances that dip below minimums.
That's not to say that your current bank is necessarily a bad choice. It's actually a good idea to talk to someone there about the business banking services available to you. You can use what you learn as a benchmark when comparing other banks, making sure you choose the one with the best fees and the best available services for your needs.
Consider Banks & Credit Unions
"Check with both banks and credit unions," says Rob Stephens, the CPA and the founder of CFO Perspective. "Credit unions continue to increase their business banking capabilities. They often offer lower loan rates and higher deposit rates than banks."
Jim Pendergast, a senior vice-president at altLINE, a division of The Southern Bank Company, advises evaluating the customer service you get with each of your top choices.
"The best banks will always offer personal help for your business," he says. "Consider, for example, the times you've been on the phone with a large corporation, hoping to talk to a real person but not getting to that point after several hours on the phone. Smaller banks give you much more personalized business."
However, he also advises that larger banks are more familiar with business needs and have greater resources, so they may have more to offer you.
Explore Online Banking Options
While you might think first of brick-and-mortar options for your business banking needs, you can find a number of reputable online banks too. And many of them offer the same business services you can find at an in-person bank near you. The only difference you may see is that you'll apply online and do all your banking through your computer, instead of at your local branch.
Do your research and compare the services, fees, and more from online banks to the other banks you've looked into. You may find that online banks offer a little more, including higher interest rates and more convenient access, with lower fees.
Opening Deposit Requirements
Each bank has its own requirements regarding how much money you'll need for an initial deposit when you open your business bank account. Some banks allow you to open an account without adding any money at all right away, while others require a set amount. If an amount is required, it's usually less than $100 but it may be higher. Regardless, you'll want to ask, so you can be prepared.
Enquire too about how you can make that opening deposit. Your business bank may allow you to deposit a check, make a cash deposit, or send money via wire or ACH. Whatever the amount and method, make sure they'll work for you.
4. Separate Your Personal & Business Finances
Whether yours is a brand-new startup or a side business you've been slowly growing over time, you may have mingled your personal funds with your business income and expenses as you got your business off the ground. If you're ready to move to business banking services, take the time to separate your business and personal funds before you open a business account.
It's not just smart to account for the money you've invested. It's also very important for tax purposes. If you're audited, you don't want the IRS to note a history of mingling personal and business finances. In fact, it may be worth your time to talk to a professional accountant, to make sure you separate your funds completely and in the right way. Sure, that will cost you some money now, but you might be glad you spent that money if the IRS decides to perform an audit down the road.
In addition to keeping detailed records of your investments in your business, your business income, and your expenses, you may want to start using a separate credit card for as many expenses as possible. Even if you're not ready to apply for and use a business credit card, you can safely use a personal credit card for business expenses, as long as you follow some guidelines, like using the card only for legitimate business expenses and paying the balance on time.
5. Take Your Time Choosing A Business Banking Account
As important as it is to take advantage of business banking services, rather than using personal bank accounts to run your small business, it's better to proceed carefully than to rush into a banking relationship that won't serve you well in the long run.
Talk to other small business owners you know, asking what bank they use for their businesses, what they like about where they bank, and what they wish they had known when they started their accounts. Compare your options, then make the best choice.
Switching business accounts isn't easy to do, although it's certainly possible. Put in the time now, do thorough research, and you'll be well on your way to a banking relationship that serves you — and your growing business — for years to come.
Tips For Choosing A Business Bank Account
How to open a business bank account is one question. How to choose the right bank is an equally important one. The best business bank account for you will offer everything you need to handle your business's financial needs now and as you grow.
Some basics should be non-negotiable. These include checking accounts, a saving option (that may or may not earn interest), a strong mobile app for online banking, free bill payment, low monthly fees, deposit and transfer limits that work for the way you do business, and so on. Other elements of business banking, such as loans and merchant services, may not be priorities for you now. Although it can be convenient to access those features and services in the future, you will be able to find them from outside providers if you need them later.
Business Bank Account Types At A Glance
Free Business Bank Accounts
Traditional Small Business Accounts
Online Business Banking
Business Savings Accounts
Merchant Accounts
Best For
Freelancers looking to transition from using personal accounts
Business owners who value in-person banking services
Innovative businesses looking for a new type of bank
Businesses with cash reserves & savings goals
In-person & online sales
Not Ideal For
Large corporations with complex banking needs
Businesses looking for low or no-fee banking
Those who prefer in-person banking
N/A
Cash-heavy sellers
What To Consider

Limits on free transactions
AMT access
The strength of the mobile app

Fees for cash deposits
ATM access
Access to credit

ATM network
Fees for deposits
Hidden fees

Minimum and maximum balances
APY
Withdrawal limits

Fees
Credit score requirements
Funds availability

How To Learn More
When to get a business bank account
Best small business loans
Online business bank account reviews
Best high-yield business bank accounts
What you need to know about merchant services
What To Look For In A Business Bank Account
Choosing a business bank account involves a lot of factors and many small decisions. So many, in fact, that it can feel overwhelming if you let it. To keep you from feeling paralyzed by too many choices, let's narrow down some of the key factors. Rank them in order of importance, or simply label them as Necessary, Nice, or Not Important. Then use this list to make sure the bank you choose will meet your needs.
Here are the elements many business bank accounts commonly include:
FDIC insurance
Checking account
Savings options
High APY
ATM access
Bill payment
Debit card
Virtual cards
Mobile check deposit
Payment apps (such as CashApp, Zelle, and Venmo)
Digital wallet
Branch access
Telephone support
No monthly fees or fees that can easily be waived by meeting minimum balance requirements
No or low account balance requirements
Unlimited free transactions
Wire transfers
No-fee ACH transfers
Foreign transaction fees
Cash deposits
Overdraft protection
Linked credit cards
Loans and lines of credit
SBA loans
Merchant services
Rewards
Integrations
Promotional offers from partners
Free Business Bank Accounts
"Free" sometimes indicates a stripped-down product with bare-minimum functions. That's not the case with business banking. You can find legitimate, safe banking options that charge $0 in monthly fees and have $0 balance requirements. Sometimes these free accounts charge a few hidden fees, so be on the lookout for those. Fortunately, you may find that these fees apply to uncommon transactions, such as foreign wire transfers, and they may not apply to you at all.
You can find more than one free option in our picks for the best bank business bank accounts. We suggest you read these brief reviews to see what you get with a free bank account compared to what you get in exchange for a relatively small monthly fee. Armed with this information, you'll be able to make an informed choice and establish a business banking relationship that will serve you well now and in the future.
Traditional Small Business Bank Accounts
Traditional banks, with brick-and-mortar branch locations you can visit, offer many of the same features and services you'd expect to find in any good business bank account. A traditional bank may hold an edge in a few categories, such as access to credit in the form of credit cards and loans, a wider ATM network, and customer service.
If you're leaning toward a traditional small business bank account, be sure to inquire about any charges for in-person transactions. It's not uncommon for banks to allow a small number of teller-assisted transactions, such as deposits, with significant fees for excess transactions above that limit. If you favor traditional banks for the option of in-person assistance, make sure that your bank won't charge you for that privilege.
Finally, if you're attracted to traditional banks because you think they're safer, be aware that online banks are regulated and insured the same as traditional banks. Although what we call an online bank may not actually be a bank (it's probably a financial technology or "fintech" company), its services almost certainly are backed by a traditional bank that makes it safe and reliable.
Online Business Banking
Are online banks safe? If you choose an online business bank account, will you have reliable access to your money and to the banking services your business needs?
The answer to both those questions is a definite yes, with the following notes.
Most (but not all) online banks are not actually banks but financial technology ("fintech") companies. These fintechs partner with traditional, chartered banks to offer mobile banking services to individuals and to businesses. As long as the online bank you choose to work with is partnered with an FDIC member bank, your money is safe there and you should be able to rely on the services you'll need.
In fact, today's online banks can offer advantages that traditional banks sometimes struggle to match. Without the expense of operating branch offices, online banks can offer rewards and interest rates that traditional banks don't offer. The biggest drawback to online banking services is that you cannot visit a branch in-person to deposit cash or checks or to receive help from a banker or teller. However, most traditional banks now offer online access, whether through a website or mobile app, and you're probably already using a mobile banking app to check your balances, transfer funds, deposit checks, and so on. In addition to strong mobile apps, online banks often offer integrations with other financial software your business may be using, allowing you to link your bank account with your eCommerce platform, your accounting software, and more. These links offer advantages by saving time and reducing errors and are one of the biggest advantages online banks offer.
Check out our in-depth business bank account reviews for some side-to-side comparisons of online and traditional banks.
Business Savings Account Options
You may not have a high level of cash reserves right now, but even a small amount of cash on hand deserves the chance to work for you. In addition to a business checking account, consider opening a business savings account. That's somewhat easier to do when you're working with a traditional bank; not all online banks offer savings options. Some offer access to money market accounts or interest-bearing checking.
Some banks, online and traditional, offer savings accounts. Interest rates for these accounts can vary widely. You can check out the national average interest rate for savings accounts, to get an idea of what interest rate you should be looking for. Some banks offer high rates, or APY, that leave the national average far behind. We've listed a few of these banks in our list of the best high-yield business bank accounts.
Be aware of two factors as you search for a savings option. First, many banks offer high promotional APYs to draw in customers. These rates typically expire, and your APY will drop at the end of that time. Second, online banks in particular tend to put caps on the balances that earn high rates of interest. For example, you may earn interest only on the first $20,000 in your savings account, with any amount above that total earning no interest at all. Read the fine print so you understand.
Merchant Account For Businesses
What are merchant services? A full explanation of merchant services covers a lot, but for starters let's say that merchant services allow you to accept credit and debit card payments from your customers. And you have many options to consider when it comes to choosing a merchant service provider. To help you narrow the field, we provided a list of the top things to look for in a merchant account, including hardware, software, fees, and rates.
You may be able to receive merchant services from the bank where you have your business bank accounts. In fact, we think you should consider opening a merchant account with your bank. You may decide that's the best route to take, but you might also realize that choosing a different merchant service provider offers advantages your current bank can't match.
FAQs On How To Open A Business Bank Account
Video: How To Open A Business Bank Account