Capital One VS Chase: Compare Business Checking Accounts & Banking Services
Capital One and Chase both offer good business checking and banking options, but when choosing between a Capital One vs Chase business account, it helps to have all the facts.
Expert Analyst & Reviewer

UPDATED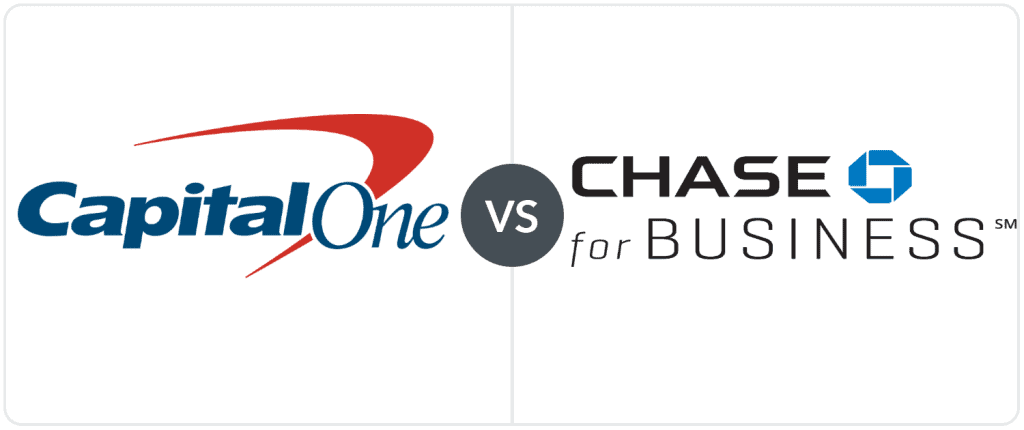 Capital One
Chase
Ideal For

Cash-heavy sales
Online only
High-yield savings

Fast access to cash
Nationwide reach
High-APY CDs

Pricing
$10-$75/month
$15/month
Accounting Integrations
Xero
Various; costs $9.95/month
Standout Features

High cash deposit allowances
High APY
Top-tier credit cards

Fast access to cash
Nationwide reach
High-APY CDs

What's Missing

Can't apply online
High APY expires after the promotional period

No high-yield savings
Limits on free transactions
High fees for cash deposits
Capital One and Chase Bank are both solid banks. In a Capital One vs Chase business banking comparison, which one comes out ahead? We'll take a look at these banks' fees, branch availability, interest rates, and more, so you can decide if a Chase business bank account is the right choice for you — or if a Capital One business bank account makes more sense for your small business.
Capital One VS Chase: Business Banking Comparison
When it comes to deciding between Chase vs Capital One business banking, the competition is close. Both offer branch access, cash deposits, savings options, and access to credit. Which one will be a better fit for your small business? Does Capital One offer more of the features and tools you need, or will Chase come out ahead? Let's look more closely at each to find out.
Capital One Banking Overview
Pros
No minimum balances
Branch offices in eight states + D.C.
Unlimited free digital transactions
Monthly fees can be waived
Cash deposits accepted
Cons
Must apply in person
High balance requirements to waive fees
APY boost for limited time only
Capital One offers business banking services under its Spark line. Small business owners looking for an all-in-one banking solution that includes FDIC-insured checking and savings accounts, merchant services, an ATM network, bill pay, and access to credit will find a lot to like about Capital One business banking. One significant fact may cause hesitation, however. While Capital One does operate physical branches, you'll find those in only eight states (plus Washington, D.C.). Since Capital One does not support online applications for business bank accounts, if you want to open an account you'll have to visit one of the Capital One branches. Capital One business banking supports online banking, so once you've opened your account you won't need to visit a branch office unless you want to.
Chase Banking Overview
Pros
Up to $500 welcome bonus for new accounts
Waivable monthly fees
Linked Chase Ink business credit cards
Built-in merchant services
Same-day deposits with QuickAccept payment processing
Cons
Limited in-person transactions
High fees for excess cash deposits
No high APY options
With physical branch locations in all the lower 48 states, it's hard to beat Chase business banking for easy access. And a Chase Business Complete Checking account includes a solid array of services, including FDIC-insured checking and savings accounts, CDs, debit and credit cards, and merchant services. Chase's merchant services, known as QuickAccept, are built into business bank accounts, and if you use QuickAccept to process debit and credit card payments, you can get access to your money sooner, with same-day deposits. Chase currently offers a welcome bonus, potentially giving up to $500 to new customers who meet certain conditions.
What's The Difference Between Capital One & Chase Bank?
So far, our Capital One vs Chase comparison has shown more similarities than differences, with both Chase and Capital One offering complete business banking services. Let's break that down further, with a list of the services and features they share, followed by a list of their differences.
Business checking accounts
Business savings accounts
Cash deposits (with limits; fees may apply)
Debit cards
Bill pay
FDIC insurance
Online banking
ATM network
Credit cards
Certificates of deposit
Loans
Lines of credit
Merchant services
SBA loans
Telephone support
Capital One Also Includes…
High APY (for promotional period)
Unlimited free digital transactions
A simple fee structure, with monthly fees that you can avoid by maintaining minimum account balances
Xero integration
Chase Also Includes…
Cash bonus for new accounts
Limits on free transactions
No minimum opening deposit
Same-day payouts from in-house POS
Personal finance management software integrations (monthly fee of $9.95)
Capital One VS Chase: Features At A Glance
Capital One
Chase
ATM Network
Transfers

Mobile deposit
ACH
Wire transfer
Zelle

Mobile deposit
ACH
Wire transfer
Zelle

Savings
Limited time promotional rate
Low APY on savings
Cash Deposits
Free up to $5K-$40K/month
Free up to $20K/month
Mobile App
Android & iOS
Android & iOS
Bill Pay
Fee-free online
Fee-free via app
Access To Credit

Loans
Credit cards
Lines of credit

Loans
Credit cards
Lines of credit

Merchant Services
Through Clover POS
In-house via QuickAccept
A battle between Capital One and Chase isn't the matchup for anyone hoping to see a knockout. Both Capital One business banking and Chase Business Complete Checking offer the basic features small businesses look for in a business banking partner. That includes checking and savings accounts, a strong mobile app, merchant services, and access to the credit your business may need as you grow. However, each bank includes a couple of items that the other lacks. And that's the information you might be looking for as you decide on the Chase vs Capital One business banking competition.
Same-Day Access To Cash
Fast access to cash might be one of those differences for your business. While both Chase and Capital One offer merchant services, only Chase offers same-day access to cash from sales made using its POS system, QuickAccept. Most payments processed, approved, and completed by 5 PM Pacific Time each day Sunday-Friday are eligible. Payments made outside those time limits will be subject to next-day availability. And there are no added charges for this fast access. Capital One customers can use Clover POS to access the bank's merchant services, but there's no special access to cash from sales.
Free Deposit Limits
And speaking of cash, while both Chase and Capital One allow business customers to deposit cash, each bank applies limits to the amount you can deposit for free and attaches fees to excess transactions. If your sales are cash-heavy, you may appreciate that Capital One allows business customers to deposit up to $5,000 in cash each month (on the Basic Checking account) or up to $40,000/month (on the Unlimited Checking account). Chase Business Complete Checking accounts allow up to $20,000/month in cash deposits, with no fees. After these limits, both banks will charge fees for cash deposits.
Monthly Fees
One final difference of note: Each of these banks has monthly fees attached to business bank accounts, and each bank sets conditions under which those fees can be waived. Capital One offers two types of business checking, in addition to business savings. These accounts come with monthly fees of $15 or $35, which can be waived with minimum balances of $2,000 or $25,000, respectively. Chase offers only one business checking account, and it comes with a $15 monthly fee that can be waived in several different ways. For example, you can keep a minimum daily balance of at least $2,000, spend at least $2,000 using a linked Chase Ink Business credit card, or deposit at least $2,000 from Chase merchant services.
Other Capital One Products & Services
Capital One may be best known for its consumer credit cards, but it's building a strong presence in business banking as well. That presence begins with a line of business credit cards that come with travel and cash-back rewards. At Merchant Maverick, we consider some of these Capital One business credit cards to be among the best available to small businesses because they come with no extra fees and offer stellar rewards and reasonable interest rates. There's even a Capital One secured card, for small businesses just starting to build their credit ratings or trying to repair a poor rating. You can read our roundup, linked above, of some of Capital One's business credit card offerings.
Capital One also offers business loans, providing working capital to growing businesses.
Other Chase Products & Services
Chase offers an array of credit cards, including a couple that landed on our list of the best business credit cards for small business. These cards offer excellent rewards, including cash back and generous welcome offers to new customers. Chase also offers business loans, including specialized loans for equipment purchases.
Chase's merchant services are highly rated, and there is a digital payment app, Chase Pay, which includes digital wallet and online payment options.
User Reviews, Complaints, & Criticisms
Although Chase Bank is not accredited with the Better Business Bureau, the BBB does maintain a Chase profile, with a C- rating and a composite score of 1.1/5 stars based on 448 user reviews. Capital One fares better with the BBB, as an accredited business with an A- rating. Consumer Affairs shows a composite rating of 3/5 stars for Chase Bank, based on 782 reviews. Capital One again fares better, but less markedly so in this case, with a 3.8/5 star rating from Consumer Affairs, based on 2,051 user reviews.
It's important to note that not all reviews and complaints about either Capital One or Chase refer specifically to business banking services. In fact, the majority seem to refer to credit cards, in both cases. Both banks garner their fair share of complaints about customer service and fraudulent transactions. That follows a pattern we've seen in reviews for online banking. Beyond this, we did not spot any red flags that raised serious concerns about either Capital One or Chase business banking. Still, it's worth looking to see what users complain about with both of these institutions.
Chase Bank Complaints & Common Problems
JPMorgan Chase is the largest bank in the US, the biggest of the "top four" within the banking industry, with$ 2.6 trillion in assets. With a history that long and a customer base that big, it's unsurprising to find a certain number of complaints. Here's what Chase banking customers have to say:
Poor customer service
Poor response to fraud claims
Delays with funds availability
Difficulties with international affairs
Capital One Complaints & Common Problems
Capital One users often seem to report varying experiences with the same aspects of dealing with Capital One. For every complaint about customer service, for example, it's possible to find one praising the customer service rep who helped a customer in one specific instance. It's possible that individual experiences really do vary that much. With that in mind, here are some common complaints we found about Capital One:
Unhelpful customer service
Problems with direct deposit
Buggy app
Unsatisfactory response to fraudulent transactions
How To Choose Between Chase Bank & Capital One
The bad news, for small business owners looking for a clear winner in this Capital One vs Chase matchup, is that there isn't a clear winner. Both Chase and Capital One have much to offer small business customers, and your decision probably will come down to your personal preferences and location.
Choose Chase If …
You'd like same-day access to funds from sales.
You want a bank with true nationwide reach, with branches in all 48 mainland states.
Your business is not heavy on cash sales (up to $20,000/month).
You want to link your banking with whatever accounting system you use and you don't mind paying $9.95/month to do so.
You'd like a business bank account that lets you waive monthly maintenance fees without forcing you to maintain a high average balance.
Choose Capital One If …
You live in or can visit one of the eight states plus Washington, D.C., where Capital One maintains physical branches.
You want to link your business bank account to some of the best business credit cards available.
You're looking for a savings option with a high APY (at least for a promotional period).
You need to be able to deposit large amounts of cash (up to $40,000/month) and want to avoid paying fees.
You use Xero for your business accounting and want to integrate accounting and banking.
Chase Bank & Capital One Competitors
Ready to make a decision and choose a business bank for your small business? If you've gotten enough information and feel ready to choose either Chase or Capital One, congratulations! But what if you've read this far, and you're still not convinced that either of these banks is right for you?
You could start by looking at our in-depth business bank account reviews. If you'd like to be sure you're picking from the best of the best, you might feel more comfortable starting with a list of our picks for the best business bank accounts.
If savings and putting your money to work for you is an important consideration, don't skip our look at the best high-yield business savings accounts.
Capital One VS Chase: Which Is Right For Your Business Banking Needs?
Whichever way your decision leads you, we hope this Capital One and Chase comparison has helped you decide between two high-reputation banks offering a full range of business services. Either Capital One or Chase can be a good choice for a small business looking to start or improve its relationship with a business bank.
If you're choosing your first business banking partner, you can make sure you're ready to open a bank account by gathering the documents needed to open a business bank account. That way, once you've made up your mind, you'll be ready to set up your account and start enjoying the benefits that come from working with a solid business bank.
FAQs: Capital One VS Chase Business Banking