Bank Of America VS Capital One: A 2023 Business Banking Comparison
Capital One and Bank of America offer similar business banking services. Since they share many of the same features, explore their differences to see which is the right fit for you.
Expert Analyst & Reviewer

UPDATED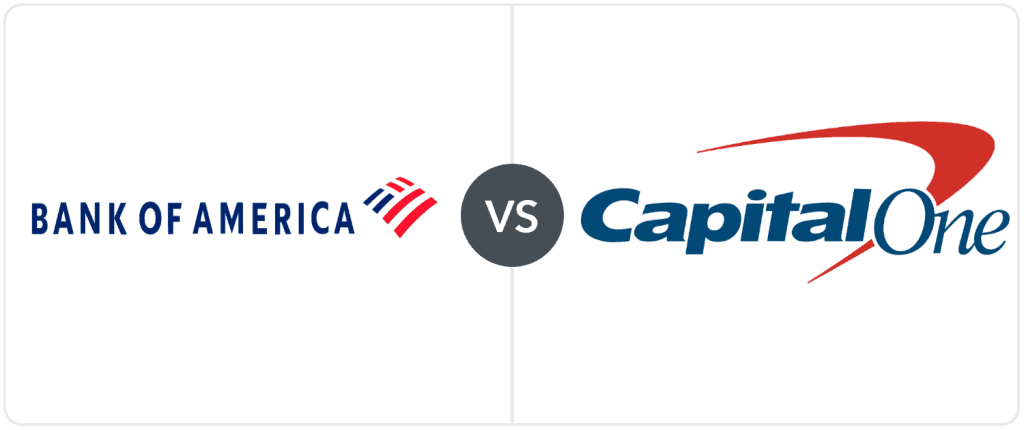 Bank Of America
Capital One
Ideal For
Businesses with low transaction volume and only domestic spending
Businesses with cash-heavy sales
Pricing
$0-$29.95/month
$10-$75/month
Accounting Integrations
QuickBooks
Xero
Standout Features

Preferred Rewards program rate boosts
Waivable fees
Online application

High cash deposit allowances
High APY
Top-tier credit cards

What's Missing

International fees
Transaction limits
Low APY on standard savings account

Can't apply online
High APY expires after the promotional period

What's Next
Visit Site
Read Review
Visit Site
Read Review
Both Capital One & Bank of America offer business banking with spending tools for small businesses. Who comes out ahead in a Bank of America vs. Capital One matchup? Does either Bank of America or Capital One business banking deliver a better range of financial tools, at a better price, with better access online and in-person?
Let's find out!
Bank Of America VS Capital One: Business Banking Comparison
A closer look at what Capital One business banking has to offer vs. Bank of America will give you the information you need about these two banks and their similarities and differences.
Let's start with some important similarities: Capital One and Bank of America both offer FDIC-insured checking and savings accounts and online access. No matter which you choose, your money will be safe.
Both Capital One and Bank of America offer unlimited online transactions, too, as well as widespread ATM access, merchant services, and physical branches that customers can visit, although one has branches in only eight states plus Washington, D.C.
Bank Of America Pros & Cons
Pros
Physical branches in 50 states
Cash deposits accepted
Preferred Rewards for Business program benefits
Strong mobile app
Monthly fees are easy to waive
Cons
Foreign transaction fees
Low APYs except on most savings options
Transaction limits
If bigger is better, you can't go wrong choosing Bank of America, the second-largest bank in the US and the eighth-largest in the world. With branches and ATMs around the country, and even in some locations overseas, Bank of America is available wherever you need it to be.
Bank of America offers just about all the services small business owners could want, including the basics like checking and savings plus merchant services, access to credit, payroll services, and professional investment advice from its subsidiary Merrill Lynch.
Bank Of America Pros & Cons
Pros
No minimum balance requirements
Monthly fees can be waived
Unlimited free online transactions
Fee-free ATMs
Access to credit
Cons
Physical branches only in 8 states + D.C.
In-person applications required
High balance requirements to waive fees on some accounts
You may know Capital One for its extensive credit card line (and perhaps its distinctive advertising line), but Capital One operates a direct bank, Capital One 360, that provides business banking services within the Spark line of financial services.
Capital One business banking includes two types of checking accounts, with different balance requirements, limits, and fees, so you can choose the option that fits your business best. Capital One's well-rounded business banking program includes merchant services, a high APY on savings (though it's available only for a promotional period), a free ATM network, and access to credit.
What's The Difference Between Bank Of America & Capital One Banking?
A Bank of America vs. Capital One business banking head-to-head is a strong competition. Each offers the basics plus a little bit more, meaning they're appropriate choices for small businesses and can meet the needs of large and growing businesses, too.
Here's a summary of the features and services you will find with both Capital One business banking and Bank of America business banking:
FDIC-insurance
Variety of business checking accounts
Savings accounts
Cash deposits (with some limits; fees may apply)
Debit cards
ATM network
Bill pay service
Online banking
Mobile app
Credit cards
Certificates of deposit
Loans
Lines of credit
Merchant services
SBA loans
Telephone support
Zelle
Only Bank Of America Includes …
Payroll services
Professional advice via Merrill Lynch
Virtual assistant
Cash flow monitor
Virtual debit cards
QuickBooks integration
Bonus rewards, loan discounts, and more as Preferred Rewards
Capital One Also Includes …
Promotional APY on savings
Xero integration
Bank Of America VS Capital One: Business Banking Compared
Bank Of America
Capital One
ATM Network
Transfers

Mobile deposit
ACH
Wire transfer
Zelle

Mobile deposit
ACH
Wire transfer
Zelle

Savings
Low APY on most savings
Limited-time promotional rate
Cash Deposits
Free up to $7,500-$20K/month
Free up to $5K-$40K/month
Mobile App
Android & iOS
Android & iOS
Bill Pay
Fee-free online
Fee-free online
Access To Credit

Loans
Credit cards
Lines of credit

Loans
Credit cards
Lines of credit

Merchant Services

In-house
US customers only

Through Clover POS
It's clear that our Capital One vs. Bank of America comparison is not going to be a knockout. These are both traditional banks, offering standard business banking features, with some added online options and apps.
However, when we drill down, we see a couple of differences that could help you decide a winner in this Bank of America vs. Capital matchup.

Do Users Like Bank Of America Or Capital One More?
Both Bank of America and Capital One are accredited by the Better Business Bureau.
Capital One maintains an A- rating with the BBB, and Bank of America goes one better with an A+ BBB rating. Although both banks have their share of complaints posted on the BBB website, most seem to be about individual customers with problems like missing debit cards, closed accounts, or fraudulent charges. Very few comments online relate specifically to business banking.
However, it's fair to note that both banks garner their share of complaints about customer service, though each offers plenty of self-help options that can be accessed online. Bank of America users have complained specifically about problems using their cards overseas, and Capital One customers say the mobile app can be buggy.
Despite concerns like these, we feel confident in saying that we didn't spot any serious concerns in user reviews, and you can confidently select either Capital One or Bank of America as your small business banking partner.
Bank Of America Complaints & Common Problems
There are 1,422 user ratings for Bank of America on the Consumer Affairs website, where the bank has a composite score of 4/5 stars. Again, we saw no troubling patterns that raised red flags. Still, here are some common concerns users have raised:
Difficult to reach customer service
International transaction fees
Account fees
Concerns with fraud response
Capital One Complaints & Common Problems
Capital One has a 3.5/5 star rating on the Consumer Affairs website, based on 589 reviews. Here are some common complaints users raise about Capital One:
Unhelpful customer service
Problems with direct deposits
Mobile app can be buggy
Unsatisfactory response to fraudulent transactions
How To Choose Between Capital One & Bank Of America
Capital One business banking and Bank of America business banking are both solid options, and we can't recommend either one exclusively for every reader. However, this Bank of America vs. Capital One comparison has uncovered some differences that could help you decide which will work best for your small business.
Choose Bank Of America If …
You value the option of visiting a physical branch in addition to online banking.
You would like $0 monthly fees without having to maintain high minimum balances.
You'd like to take advantage of professional financial advice.
You need payroll services.
You have less than $20K in cash deposits each month.
You use QuickBooks for your business accounting and want a banking system that will integrate easily.
Choose Capital One If …
You are able to visit a physical Capital One bank branch in one of the eight states plus Washington, D.C. where Capital One operates. You cannot apply online for Capital One, although you can do most banking functions without visiting a branch office.
You want some of the best business credit cards available.
You want to take advantage of a promotional APY on savings.
Your business makes a significant amount of its sales in cash transactions.
You use Xero for your business accounting and want an integration to your banking system.
Bank Of America & Capital One Competitors
Wells Fargo and Capital One both can be good choices for small businesses looking for banking services. If you like what you've seen about either so far, you can learn more by reading our full Capital One business banking review or our full Bank of America business banking review. And, if you've heard enough about these two banks and wonder what other options you have, we've got you covered there, too.
Check out our picks for the best business bank accounts. You may also browse the whole category of our in-depth business bank account reviews.
If you have a significant amount of cash to stash, you may also be interested in our updated list of the best high-yield business savings accounts, so you can put your money to work for you.
Which Bank Is Better For Your Business, Capital One Or Bank Of America?
If you choose Capital One for your business banking needs, you can access a higher yield on your savings, deposit high amounts of cash without fees, and find reasonable monthly fees that you can waive by meeting minimum balance requirements.
If you prefer Bank of America, you'll also find reasonable and waivable fees, branch offices near where you work and travel, and a strong mobile app you can use on the go.
If you're still uncertain, thinking about your priorities can help you what to look for in a business bank when you open a business bank account. And once you've decided on your top choice of business bank, prepare and gather what you'll need to open a business bank account ahead of time. That way, you'll be ready to start right and get the most from your new business banking relationship.
FAQs: Capital One VS Bank Of America