Key Differences Between Personal & Business Bank Accounts
While it's possible to use a personal checking account to run your small business, a business account can offer serious benefits and limit your personal liability and risk.
Expert Analyst & Reviewer

UPDATED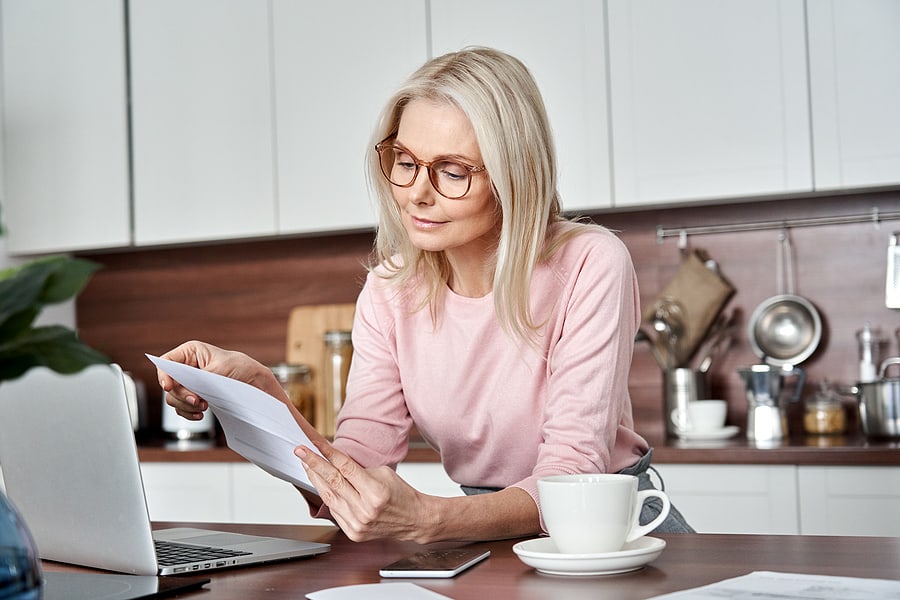 One of the first decisions an entrepreneur faces is how to handle the financial aspects of running their new business. In many cases, that decision must start with choosing between a business bank account vs personal account.
Before you can decide which is right for your new small business, it helps to understand the differences between these two banking choices. It's also key to know when you can and can't use a personal account for business banking needs.
Switching to a business bank account can help you build a professional reputation and establish credibility, limit your personal liability if your business plans don't work out the way you want them to, and make it easier to manage your business finances and file your taxes. Let's dig in further to see what other benefits there are to having a business account, and whether there are any drawbacks.
Business VS Personal Bank Accounts: Main Differences
What are the benefits, if any, of using a business account? Can you expect any perks or special support? Perhaps most important, how can you choose the right account to meet your business needs now — and in the future?
A cursory business vs personal checking account comparison shows that both look and function pretty much the same. Dig a little deeper, though, and you'll see some key differences. Here are some of the most important:
1) Business Checking Accounts Help You Separate Personal & Business Expenses
When you use a personal bank account to handle business finances, you must take extra care tracking expenses and keeping your personal and business expenditures separated. Using a business account instead can be more advantageous for several reasons.
According to Robert Farrington, founder of The College Investor, the first reason to open a business account is simplicity.
"As a business owner, you'll need to keep track of your income, expenses, and eventually file tax returns to report everything," Farrington said. "Having everything in a separate business account makes this much easier VS having things commingled with your personal accounts."
Even more important, having a separate business bank account that you use only for business transactions also means that any claims or judgments against your business — for unpaid debts or legal liability for defective products, for example — can be applied only against your business assets, and not your personal funds.
2) You Have More Legal Protection With A Business Bank Account Than With A Personal Account
Small businesses come in four basic forms: sole proprietorship, partnership, limited liability corporation (LLC), and corporation. If you consider yourself a freelancer, independent contractor, or self-employed, you're likely a sole proprietor, and you may find it convenient to continue using personal bank accounts to run your business, at least until your business grows a bit. However, if your business falls into any of those other categories, your business is an entity that's legally separate from you personally, and you are required to separate your finances.
It's not just a legal requirement, it's also a smart idea. When you separate business and personal finances, your personal assets are protected from financial liability if your business is sued or faces bankruptcy.
"If you continue keeping your business and personal finances in one account when you have an LLC or corporation, then you could run into legal trouble that could impact your personal finances," says Ben Reynolds, founder and CEO of Sure Dividend. He adds, "Having your personal finances in another account can protect against lawsuits."
3) Business Checking Can Solidify Your Brand Identity
When you use your personal account to run your business, your customers make payments to you, Mr. or Ms. Owner, instead of to your business name. Any payments you send out — for services, supplies, and any other business expenses — come from you personally.
Use a business bank account and that changes. Customers make payments to your business, instead of to you personally, and the payments that you make come from the business and not from you. That might seem like a small thing, but having a business bank account is a giant step toward establishing a strong brand identity and projecting a professional image to everyone you do business with.
4) Business Accounts Allow For Employee Access
Right now, you may be the sole employee of your business. But if you plan for growth, eventually you may want to hire other people and give them access to business funds to make purchases or pay bills on the business's behalf. You probably won't want them getting involved with your personal finances, so at that point having a business account becomes a must.
Some banks will even allow you to issue debit and/or credit cards to employees, if you decide that makes sense for your business.
5) Business Bank Accounts Require More Paperwork
Open a personal bank account and you'll probably be asked to provide some simple documentation to prove your identity and address, such as a valid driver's license, a social security card, and a current utility bill. When you want to open a business account, you'll need to provide a little more documentation, and that can take advance planning and some extra time.
Among the additional documents you'll need is an employer identification number (EIN), which is a federal tax identification for your business. EINs are free, and you'll need one to pay federal taxes on your business income, hire employees, or apply for a business license or permit in addition to opening a bank account. You'll also need a business license to open up a business bank account, and that means filing paperwork with your city, county, and/or state. (You'll probably also need a license or permit to operate legally.) Your business bank may also ask to see your business formation documents, any ownership agreements, and proof of monthly income.
"One common mistake that company owners make is entering their social security number for account setup rather than their federal employer identification number," says Imani Francies, a business finance expert with FreeAdvice.com. Francies adds, "Each bank or credit union may have varying requirements, so ask the banking office what you'll need to bring to the meeting when you make the appointment."
6) Fee Structures Differ Between Personal & Business Accounts
The Small Business Association suggests that business owners who are looking for business banking should include these considerations in their decisions:
Introductory offers or incentives
Interest rates for checking and savings
Interest rates charged for lines of credit
Transaction fees
Early termination fees
Minimum account balances and penalty fees
"Most new entrepreneurs may not know this, but the fee structure banks have for businesses can be entirely different and higher compared to personal checking accounts," Tony Martins, founder of Profitable Venture, said.
That's why it makes sense to take some time to shop around. Starting with your current bank can be an easy way to launch your search for business banking services, but don't stop there. Ask about your current bank or credit union's fee structure for business accounts, then compare that information to what you learn from other banks you check in with, so you're armed with the information you need to make the best decision.
7) Business Accounts Offer More Access To Credit
Opening a business bank account can also open doors to financial opportunities for your small business that just aren't available to personal account holders. For starters, you'll be able to build your business's credit rating. And that will allow you to eventually apply for a loan, line of credit, or business credit card when you need one. Depending on the bank you choose, you may even become eligible to access Small Business Association loans. You'll find it hard to access traditional funding without an established credit history.
Don't hesitate to ask now about services you may need only in the future. "The right bank can benefit your startup in more ways than one," Tony Martins of Profitable Venture said. "Not only will it lend you capital when you most need it but it will also do its best to ensure your business keeps growing."
8) Business Bank Accounts Include Credit Card Processing Services
Business bank accounts also include merchant services that allow you to accept credit and debit card payments from customers. However, your bank is not your only option for merchant services. For example, if your small business is only online, or if you're already using a POS system to process in-person payments, that might not be a big consideration for your right now.
Of course, if you'd like to access merchant services through your bank, you won't be able to do so with a personal account. Opening a business account is the only way to access this perk.
Similarities Between Business & Personal Banking
Although business and personal banking have some important differences, you don't need to be intimidated by those differences, because the two types of services are more alike than different in the end. For one thing, you may be able to set up your business accounts at your current bank or credit union. Wherever you end up, you still will have access to the important banking services you use in your personal life, such as online banking, checks, ATM access, and electronic payments.
You'll also have a few less fun things to look out for with a business account that may be familiar to you from your experience with personal banking. Those may include requirements for minimum balances, overdraft fees, and other fees such as monthly account maintenance fees. Because the fees may be higher with business bank accounts than with personal, be sure you ask for detailed information when you inquire with your preferred bank about opening a business account.
Is A Business Bank Account Right For You?
If you're still involved in the day-to-day effort of setting up your business or if your time is dominated by the hard work of getting a new business up and running, banking may be the last thing on your to-do list. You may also feel that you're doing just fine using your personal bank accounts to get your startup off the ground.
It may be okay for now to use your personal accounts, but there are some very good reasons for using business banking services as your business grows. Converting to a business bank account will solidify your brand and build your reputation, limit your personal liability risks, and streamline your bookkeeping and tax-paying responsibilities. Those are among the top benefits of using business banking services, and three very good reasons why the switch to business banking might become one of your priorities sooner than you think.
How To Get The Right Business Bank Account
Having a business bank account offers some advantages and protections that small business owners using personal accounts simply cannot access. So even if you're not quite ready to make the move to business banking, it's probably something you should start looking into and planning for, so you're ready when the time comes.
Once you've made that decision, you may be wondering what you need to know to find and open the right bank account for your small business. Our best advice: take your time, know your needs, do your research, make your choice, and then focus your attention back where it belongs — building the strongest foundation possible for your small business success.