Ramp VS Divvy: Corporate Card Comparison
Ramp and Divvy both have no fees, generous rewards, and features that small businesses appreciate. Which one is a better fit for your business?
Expert Analyst & Reviewer

UPDATED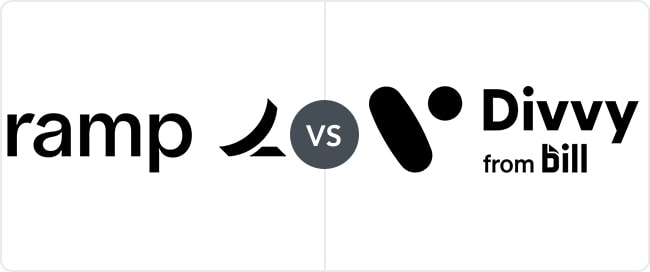 Ramp and Divvy advertise no fees, generous rewards, and useful features. In a Ramp vs. Divvy matchup, does one come out ahead?
This head-to-head comparison will help you decide which corporate card is right for your business.
Ramp
Divvy
Rewards

1.5% cashback on everything
Up to $300K in discounts and deals

Up to 7x on restaurants
Up to 5x on hotels
Up to 2x on recurring software
Up to 1.5x on everything else

$25K+ in offers

Annual Fee
$0
$0
Set-up Fee
$0
$0
Late Fee
$0
2.99% or $38
Ramp VS Divvy Corporate Card At A Glance
Ramp includes card controls, spend tracking, and bill payment. So does the Divvy corporate card. Each of these highly-rated corporate cards offers generous rewards, too, although only Divvy lets you earn up to 7x points on your purchases.
And if your business doesn't have at least $75,000 in cash on hand, you won't be eligible for the Ramp card.
Let's take a closer look at these two corporate cards.
Benefits Of Ramp Corporate Credit Card
Pros
Simple rewards scheme with 1.5% cashback
Valuable partner discounts
Unique cost-cutting automations
No fees
No credit check
Cons
High cash reserve requirements
Available only to US-based non-individual liability corporations
No phone support
One of Ramp's most appealing features is its absolute zero-fee approach, with no setup fees, annual fees, late fees, or foreign transaction fees. Ramp also offers a straight 1.5% cashback on all purchases. That's not the highest rate we've seen, but it's consistent and easy to understand. Ramp also offers $350,000+ in deals, discounts, and signup offers with software partners such as Xero Business Edition, WeWork, Slack, and Amazon Web Services.
Benefits Of Divvy Corporate Credit Card
Pros
Flexible rewards that depend on payoff frequency
Strong budgeting features
No annual fees or employee card fees
Cons
Rewards don't kick in until after a year of card use
Foreign transaction and late payment fees
Non-transparent eligibility requirements
Personal credit check with soft pull
Divvy offers rewards that can go as high as 7x points. However, the rewards scheme is complicated and depends on category spending and repayment rate. To earn the highest rewards, you'll need to pay off your balance weekly. All purchases will earn a minimum of 1x, no matter how often you pay. Divvy also delivers strong expense-management features, card controls, and spend tracking.
What's The Difference Between Ramp & Divvy Corporate Cards?
Ramp and Divvy corporate cards may seem more alike than different. But a close look at Divvy vs. Ramp shows some important differences that could make one or the other of these corporate cards better for you. Let's start with a look at what these corporate cards have in common:
Reports to major credit bureaus
Rewards for spending
No personal guarantee
Spend management tools
Partner perks & discounts
Unlimited physical and virtual cards
Card controls on employee cards
Bill payment
Expense reporting
Payoff options
No fees
Accounting integrations
Mobile app for iOS and Android users
Ramp Card Also Includes …
1.5% cash back on all purchases
$75,000 cash reserves required
No fees, including setup, late, annual, or foreign transaction fees
One-click out-of-pocket reimbursements
Visa fraud protection
Slack integration that supports reimbursement requests
HR integrations
Divvy Card Also Includes …
Up to 7x points
$20,000 cash reserves required
Foreign transaction and late payment fees
Sole proprietor businesses
Mastercard benefits
Flex limit (fee applies)
Credit Builder program
Telephone support
Ramp VS Divvy Eligibility Requirements
| Eligibility Requirements | Ramp | Divvy |
| --- | --- | --- |
| Personal Guarantee | | |
| Credit Score | NA | Good or very good personal credit |
| Minimum Bank Balance | $75K+ | $20K |
| Business Structure | Corporations and LLCs | Sole proprietors, corporations, and LLCs |
You'll find clear differences between Ramp vs. Divvy when it comes to who is eligible to use these corporate cards. One difference is that Ramp offers full transparency about its eligibility requirements, whereas Divvy does not disclose its requirements fully. Here is a quick breakdown of what we know about each corporate card's requirements.
Ramp is available only to businesses formed as corporations and LLCs and registered in the US. Nonprofits are allowed, but individuals, sole proprietors, and unregistered businesses are not eligible for Ramp's corporate card. Ramp requires businesses to have high amounts of cash on hand, with a minimum of $75,000 in a US bank account. Ramp will judge your eligibility and credit limit based on your company's cash balance, cash flows, and other indicators of financial health.
Divvy is open to a wider variety of business types than Ramp, requiring only a US bank account and US EIN. Divvy says that its card is suitable for small to mid-sized businesses but does not list specifically what types and sizes of businesses it accepts. However, Divvy told Merchant Maverick that sole proprietors are eligible to apply. At least one owner with a minimum 25% ownership stake must be a US citizen or resident. Applicants should have good or very good personal credit, and businesses that are approved typically will have at least $20,000 cash in an active account. Divvy also offers a program, called Credit Builder, that offers a secured card to businesses with imperfect credit.
Ramp VS Divvy Services & Features
| Available Services | Ramp | Divvy |
| --- | --- | --- |
| Corporate Cards | | |
| Cash Management Account | | |
| Expense Management | | |
| Bill Pay | | |
| Accounting Automation | | |
| Spend Control | | |
| Instant Revenue | | |
Ramp and Divvy both include strong expense management and spend controls along with their corporate card.
Ramp, in particular, promises to save its customers money with its auto-generated savings insight tools. These tools use algorithms to notify users of duplicate subscriptions, redundant software purchases, lower pricing tiers, and more. Ramp also allows users to set limits on employee cards, with daily, monthly, or one-time spend allowances per card. Cardholders can also be limited to specific spending categories, and you can opt to receive alerts for unusually large transactions. Employees can submit spending requests via email, SMS, or Slack and request reimbursement for out-of-pocket expenses.
Divvy features automatic expense reporting features to help you stay on top of the budget. You can monitor employee spending with real-time insights into spending by department, team, project, or employee. Divvy also includes two unique options for qualified customers: Flex Limit allows you to extend your repayment window, with Divvy paying your vendors and you repaying Divvy over a period of one-three months and with a set fee between 0.9% and 1.9%. Divvy also offers a Credit Builder program that includes a secured line of credit. Make your payments on time, and you may qualify for an unsecured credit line in the future, and in the meantime, you'll earn the same rewards as unsecured users.
Ramp and Divvy both feature valuable partner perks and useful integrations. We'll provide some more detailed information in the sections below. If you'd like to see a complete breakdown of these features, visit our website to check out our complete Ramp card review and our in-depth Divvy card review.
Ramp & Divvy Card Rewards Compared
Ramp VS Divvy Pricing & Fees
One of the best things about using Ramp corporate card is that it's completely free. You won't find any common card fees, including setup fees, late fees, interest fees, annual fees, foreign transaction fees, or employee card fees. You'll also pay $0 to use Ramp's expense management software and spend controls.
Divvy comes close to matching that but slightly misses the mark. With Divvy, you won't pay any upfront fees, such as account setup, annual fees, or employee card fees. However, you will face at least three types of fees with Divvy: a cross-border fee between 0.2% and 0.9%, depending on location; a currency conversion fee of 0.2% of the total transaction; and a late payment fee of 2.99% or $38, whichever is greater.
Which Is Cheaper, Divvy Or Ramp?
If up-front costs are your main concern, your choice is fairly clear. Most users will pay $0 to use Ramp, while Divvy has some fees you may not be able to avoid entirely.
Keep in mind, however, that Divvy has significantly higher cashback rates than Ramp. You'll earn up to 7x points when you use your Divvy card, depending on purchase categories and how often you pay off your account. All purchases with Ramp earn a straight 1.5x.
Finally, it's worth noting that many users will be able to use Divvy without running into its trio of potential fees. If you and your employees rarely do business outside the US, and if you consistently pay your balance on time, you'll be able to use Divvy without paying any fees. And Ramp's stricter eligibility requirements may make Divvy the more attractive corporate card for your business,
User Reviews, Complaints, & Criticisms
When it comes to customer satisfaction, a Ramp vs. Divvy comparison shows a pretty even matchup. Both Ramp and Divvy corporate cards are well-liked by users overall.
However, each has its fair share of complaints and criticism. Here are a few things users say could be improved with these two corporate cards:
Ramp Complaints & Common Problems
Low credit limits
No phone support
Divvy Complaints & Common Problems
Accounting integrations can be buggy
One-year wait for rewards eligibility
Foreign transaction fees
Which Is Better For My Business: Ramp Or Divvy Corporate Card?
Our Divvy vs. Ramp comparison has highlighted two highly rated corporate cards, with few if any fees, useful integrations, robust features, and generous rewards. If you're still stuck trying to choose between using Divvy corporate card or Ramp, here are our suggestions.
Choose Ramp If …
Ramp is best for:
Businesses that do significant work outside the US and want to avoid foreign transaction fees.
Companies classified as corporations that have high cash reserves.
Users who want a simple cashback rewards plan, without having to worry about purchase categories and repayment terms.
Startups that can benefit from Ramp's numerous and valuable partner discounts.
Businesses that want to use their corporate card for bill payment.
Anyone that wants to apply for a corporate credit card without undergoing a personal credit check.
Choose Divvy If …
A Divvy credit card is best for:
Any company that wants to maximize their rewards rate and doesn't mind paying off their card balance frequently.
Businesses with at least one owner who lives outside the US or those that are not classified as corporations.
Companies without a high amount of cash on hand.
Business owners who want telephone support and a mobile app.
Anyone who has imperfect business credit and could benefit from using a secured corporate card that will allow them to repair their credit.
People with strong personal and business credit who don't mind a soft check on their credit as part of the application process.
Final Summary: Ramp VS Divvy Comparison
Ramp and Divvy both have a lot to offer to businesses seeking corporate cards. With few if any fees, ample features for expense management and spend control, numerous software integrations, and cashback rewards, either of these cards can be a good choice.
Ramp has strict eligibility requirements that mean it might not be appropriate for every business. If your business is not a corporation, and if you don't have at least $75K in cash reserves, your business is not eligible to use Ramp, and Divvy will be a better choice. Divvy is available to businesses that are not formed as corporations, and you won't need to meet high cash-on-hand requirements.
And, while Divvy offers significantly higher reward rates than Ramp, you'll have to work to earn them. Divvy won't deliver any rewards for the first year of card use, and after that, you'll need to pay off your card balance weekly if you want to hit the highest rewards tier. And rewards depend on the category of your purchases, with restaurants and hotels earning at the highest rates. While Ramp's 1.5% cashback rate may not seem to shine compared to Divvy's highest rate of 7x points, Ramp delivers that return on every purchase, in every category, and every time you use your card.
Keep in mind that you have many options when you're looking for a corporate card, and while Ramp and Divvy are both solid choices you may do better with another card. Check out our list of the best corporate cards for more options. We suggest taking a careful look at one competitor in particular, Brex, and we've made it easy for you to compare Divvy vs. Brex with our own head-to-head comparison. You can also look at our list of the best Divvy alternatives, for more options to consider.
Whatever card you choose, you can improve your chances of being approved for the corporate card you apply for. Check out our tips on how to get a corporate card, so you're ready to apply and get the most out of your card once you're approved!
FAQs: Ramp VS Divvy Corporate Card