POS Hardware: What Do You Really Need?
Expert Analyst & Reviewer

UPDATED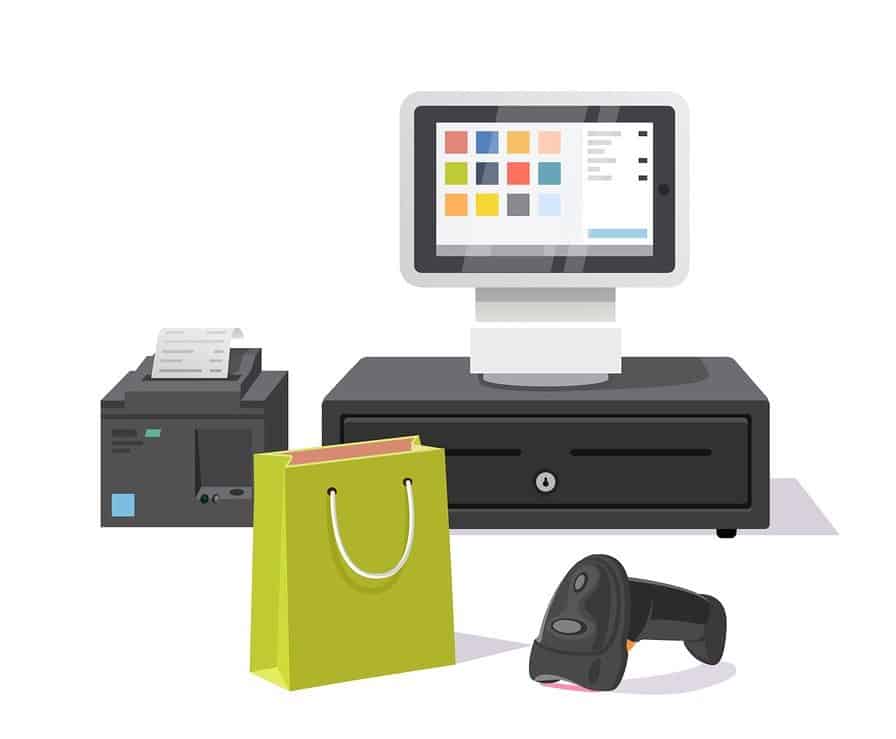 POS hardware setups can vary a lot from one merchant to the next, from big-box stores with self-service kiosks, to your small-time entrepreneur friend who only takes payments on his old-ass Samsung Galaxy. Most businesses, however, will find a happy medium between these two point-of-sale setups and incorporate a few core pieces of POS equipment into their hardware setup.
Let's go over which POS hardware items you really need . . . and which things you can probably live without.

Cloud POS Hardware — The Basic Setup
Here are the all basics you need to get started, and nothing more. With some POS's, some of these components are combined (for example, the credit card terminal might also print receipts).
Register
The word "cash register" has a slightly different meaning these days, and with new-school cloud POS systems, the "cash" part is usually dropped off, as the "register" usually consists only of a computer or touch-screen tablet PC with an enclosure. Most registers only need an operating system and a computer of some kind to run your POS software on. Depending on which POS system you choose, this piece of register hardware will probably be a laptop or an iPad. You will need one computer/tablet per register.
Most systems that use an iPad or other tablet usually sell a stand or enclosure to house and protect the device.
Credit Card Terminal
Another essential piece of POS hardware, the credit card terminal/reader, comes in many different varieties and form factors. It could be just a basic magstripe card reader, or one that's capable of accepting both swiped cards and chip-card transactions. It might be a standard reader that works for multiple POS systems, such as the Ingenico iCT220, or a proprietary reader that only works with your particular POS software. The reader might be a separate item that plugs into your tablet, or be incorporated into the register interface as an all-in-one terminal, as is the case with Clover Mini's credit card terminal.
With some very lightweight, mobile POS solutions, such as Square's EMV-compliant credit card reader, are super minimalistic, consisting of just a small square that plugs into your phone or tablet's headphone jack.
Ideally, your card reader will be EMV-compliant, meaning it accepts chip-card payments, and will accept contactless NFC payments (mobile payments) as well. Many credit card terminals also print receipts.
Receipt Printer (and Paper)
Though many customers prefer emailed receipts if your POS software has this function, you still need to offer the option of a paper receipt. As mentioned, some credit card readers will print receipts, while other POS systems use a separate receipt printer.
For quick, high-volume receipt printing, a thermal receipt printer is usually a good choice, though hot environments, such as a food truck, might use an impact printer. The printer may be either wired (Ethernet) or wireless (Bluetooth) and you'll need one per register.
Barcode Scanner (Paired with Label Printer and Labels)
In just about any retail setup, you will require a barcode scanner so you can scan items to ring them up. The scanner typically pairs with a label printer, which, though not technically a piece of "POS hardware," is still essential to your POS, as are any additional scanners you may need to use for inventory purposes.
The scanner is usually a hand scanner that includes a stand and a USB cord. However, the scanner may also be wireless, or even built into the register itself—with a POS like Clover Station, you scan items using the built-in front-facing camera on the register. Some scanners (like Clover's) can also scan QR codes as well as UPC barcodes.
Cash Drawer
While a lot of businesses no longer deal with large amounts of cash, as with printed receipts, your customers still need it as an option. With a cash drawer, you can accept cash payments and give change. As with many POS peripherals, the cash drawer may connect to the register via USB cord, or it could even be wireless.
Networking Equipment
Most modern POS systems require an Internet connection, at least most of the time, so you'll probably need a modem, router, and associated cables to get online. Most cloud POS's run on wireless (or sometimes data connections), but some, such as Revel Systems, give you the option of a more secure wired (Ethernet) connection, which plugs directly into your iPad.
Depending on how large your store is and how many register stations you have, you might also need wireless access points, which boost your wireless signal.
Some "Maybe-Need" Items:
Not all businesses have the exact same POS needs, so depending on your setup, you might also need some these items.
Kitchen Printer(s) — Communicates food orders from the point-of-sale to a restaurant's kitchen.
Additional Tablets/Mobile Devices for Tableside Ordering — Another restaurant-centric POS item, which allows waiters to take orders on a tablet or from a busy line, and send those orders electronically to the register and/or kitchen.
Self-Service Kiosk(s) — Allows customers to check out on their own, such as in a grocery store scenario; Revel offers this option.
Rotation/Swivel Base(s) — Allows you to turn the register tablet around so the customer can sign off on their payment right from the register interface (ShopKeep sells these).
Scale(s) — Needed if you ring up items based on weight rather than quantity (for example, a frozen yogurt shop).
Local Server — POS's that store some information locally instead of in the cloud (e.g., TouchBistro) require you to have a local server, which is basically just a Mac or a PC.
Some Final Considerations:
Most POS systems also allow you the option of sourcing most or some of the POS hardware yourself. You may be able to find the hardware you need at a cheaper price if you go through an outside vendor. However, if you go this route, you will need to pay careful attention to make sure the hardware is compatible.
Most POS system providers sell bundled hardware sets. These are convenient because you get everything you need, and you know that the hardware you buy will be compatible with your particular POS system, and with the other POS hardware components.
Some systems, like Clover, require that you use their proprietary hardware. Clover's hardware is custom-built for POS, and combines multiple functions in one piece of hardware (for example, the scanner is built into the register). Be very careful about buying this type of equipment from a third party, as

there are a lot of scams out there

.
If you need help figuring out what kind of POS hardware setup is right for your business, let us know and we'll help you determine which essential POS equipment you need.