Square Terminal Review
Square's handheld POS is an all-in-one wireless credit card machine, POS system, and receipt printer that makes it easy to accept payments with Square.
Expert Analyst & Reviewer

UPDATED
Advertiser Disclosure: Our unbiased reviews and content are supported in part by
affiliate partnerships
, and we adhere to strict
guidelines
to preserve editorial integrity.
Square Terminal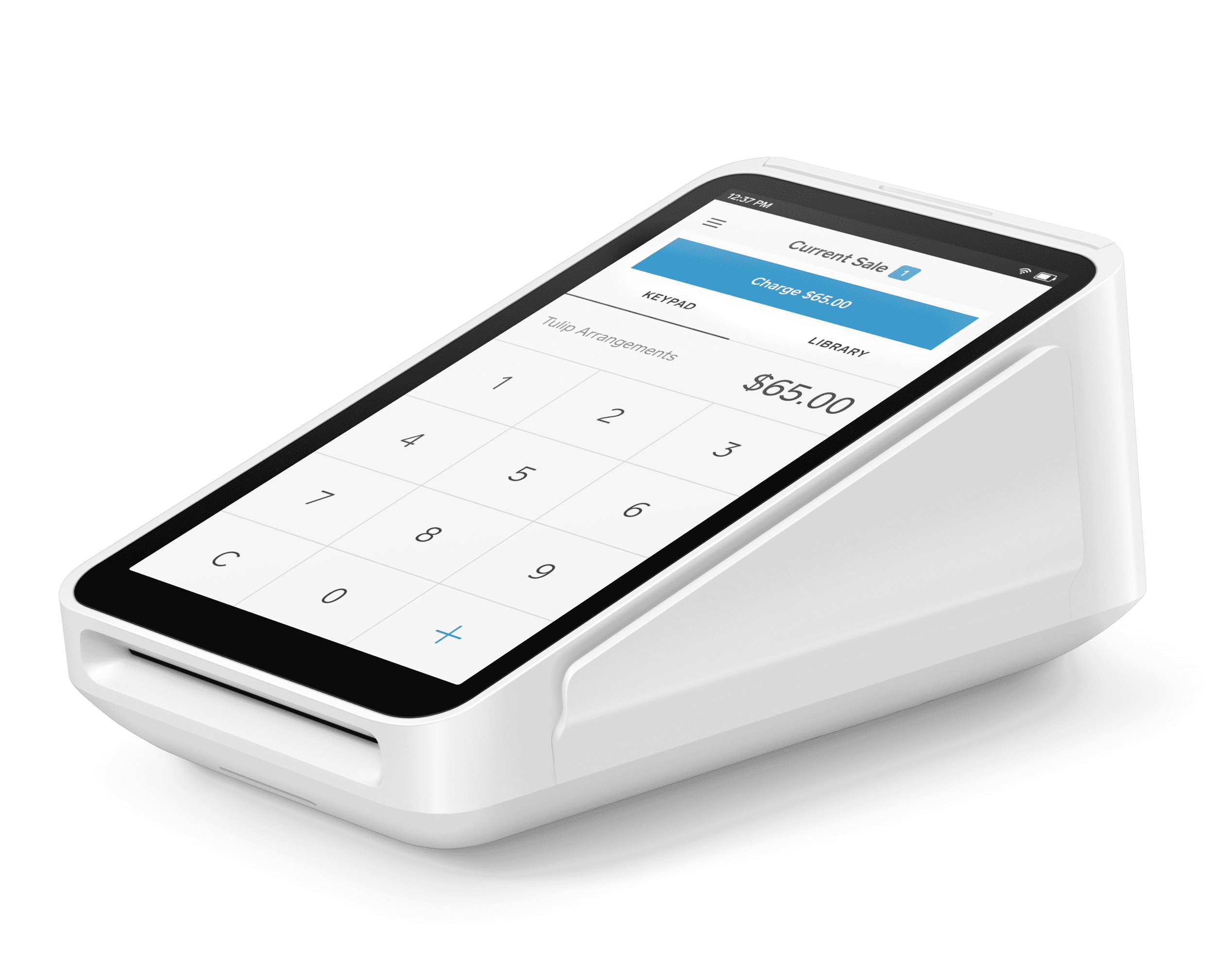 Pros
Ease of use
Simple set up
Mobility
24/7 customer support
Cons
Bulky design
Processing rates can add up
Square Terminal Overview
As mobile ordering continues to grow in popularity in both the restaurant and retail industries, it's not a big surprise to see Square out in front of the game with its handheld Square Terminal device. Square is a giant in payment processing and point of sale and has seemingly been on the cutting edge of the industry practically since its inception.
The small profile (and small screen) of the Square Terminal means that it is not a true replacement for the Square Stand. Instead, Square Terminal fills the middle ground between the Square Stand and Square Register filling the gap in Square's product line between mobile card readers, bring-your-own-device (BYOD) plans, and countertop POS systems with all of the hardware included.
What Is Square Terminal?
Square Terminal is a convenient, all-in-one credit card machine. The POS system, card reader, and receipt printer are all contained in a small device designed to allow you to take credit card payments wherever your customers are.
Square Terminal Overall Design
The biggest surprise to me when unboxing Terminal was how small it is. The screen itself is almost identical in size to most cell phones. As with all things Square related, simplicity is the name of the game. The chip reader and strip reader are conveniently placed for customer and employee use, and the power button and charging port are subtle but easy to find if you're looking for them.
It has a pair of rubber strips to prevent sliding on slick counters, and it comes with a small roll of receipt paper that takes seconds to install. (And if you somehow struggle with finding the appropriate compartment and inserting the roll, don't worry, there's a tutorial in the set-up process). It does suffer in the way that some other mobile ordering systems do in that it's still somewhat bulky and doesn't fit in your hand as well as I'd like, making it slightly more suitable to serve on a countertop, but with the built-in receipt printer, the design options were likely limited. You can also purchase belt clips to walk around with Square Terminal easily.
Square Terminal Device Specs
As mentioned, Square Terminal isn't a large machine. It's got a 5.5-inch screen, and measures 5.6 inches long by 3.4 inches wide, with a height of 2.5 inches. It's not overly heavy, so it shouldn't be much of a burden if you're planning on using it remotely around your store.
Square Terminal supports both Wi-Fi and Ethernet connections. You can keep it plugged in for stationary use, but you can also leave it unplugged because the battery is "designed to last all day." After keeping Terminal on all night, it only drained about a third of the battery, so even with heavy use, I would imagine the battery would last through most standard workdays. But given the small profile and overall design, it wouldn't be unreasonable to have a dedicated spot on your counter to plug Terminal in for charging and then just unplug it and carry it off when you need to go mobile.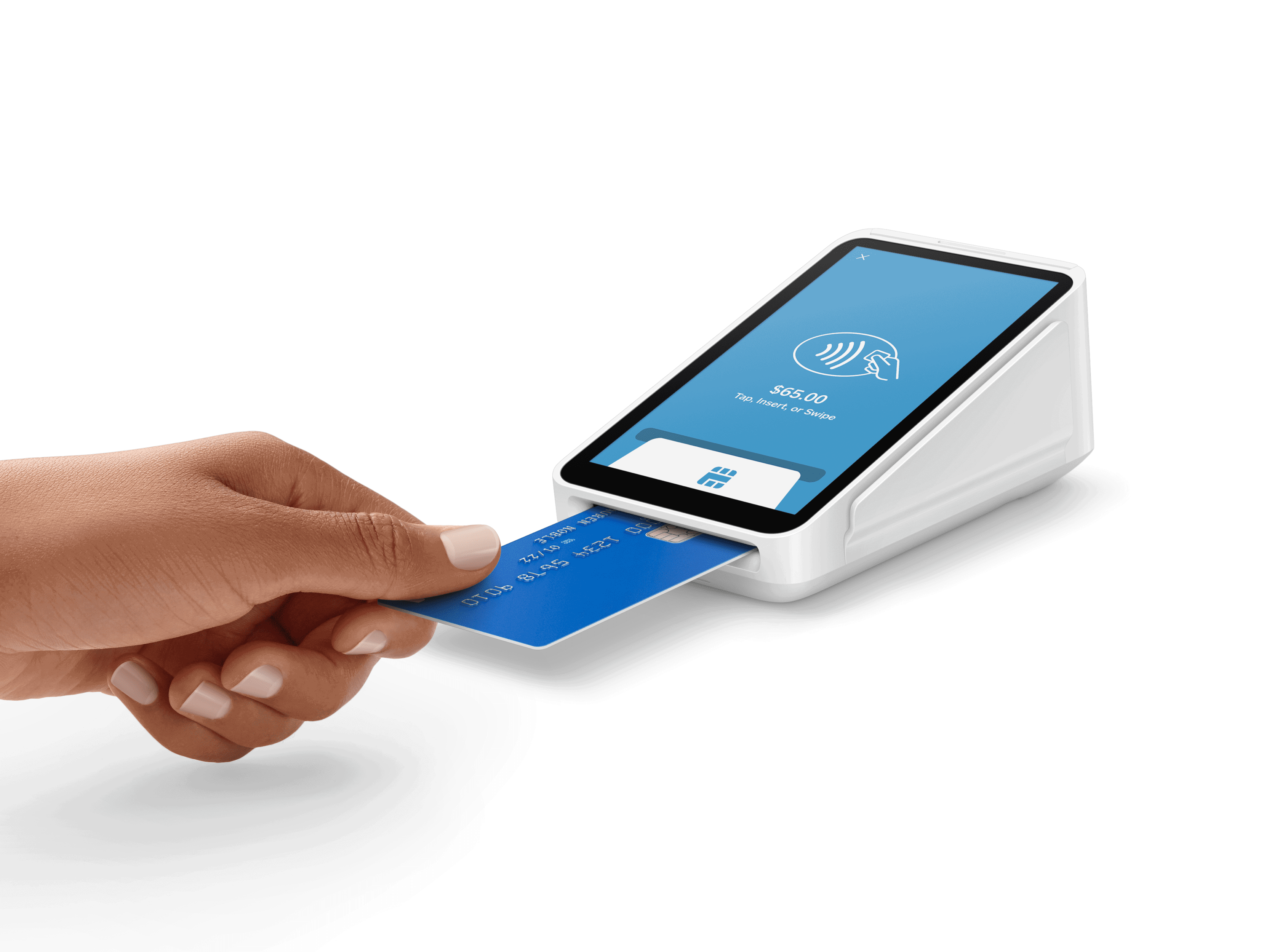 Square Terminal supports magstripe, chip cards, and contactless transactions. The magstripe reader is located on the side of the device, while the chip card reader is located at the base. Square Terminal lets customers see an itemized list of everything they are paying for rather than just a single, final sum. Signatures can be collected digitally as well as on paper, depending on your preferences.
Getting Started With Square Terminal
I have to admit I have an affinity for Square because, in my mind, getting its products up and running is as smooth and uncomplicated as everything should be. Square Terminal is no exception. It should come at least somewhat charged, but if not, you can easily plug it in and turn it on, getting to your Square login screen. If you have an account, log in, and you're then walked through a 30-second tutorial that you will likely not even need and then given the opportunity to connect to the internet either via an Ethernet cable or through available Wi-Fi.
If you need to set up your Square account, that process is also extremely easy, taking less than five minutes. You then have the option of taking an initial trial payment. Installing the receipt paper is simple as well, with a compartment popping open on the back of the terminal and the slip easily threading through the top. And that's it! If you are looking to set up additional equipment, such as a cash drawer, through a USB cord, you can purchase a Hub for Square Terminal, which comes with three USB ports.
Software Design & Features
Square Terminal runs the standard, free Square Point of Sale app (read our Square POS review for a detailed look at the app itself). It's not compatible with Square for Retail, Square Appointments, or the Square Payroll app. However, it does offer limited compatibility with Square for Restaurants (check out our in-depth review). Not all of the Restaurant POS features carry over to Terminal, but merchants can use Terminal for tableside ordering. Terminal doesn't support coursing, seat-tracking, or conversational modifiers. (Standard modifiers still work, though.)
As far as standard Square Point of Sale features go, I'm pleased to say many of Square's features (except for a few iPad or tablet exclusives) carry over to Terminal. You can't mark items for sale online, track sales by employee, or keep a cash drawer history, but Terminal does support item creation, custom tipping, and receipt management. Square Terminal has its own built-in thermal receipt printer, but it's entirely possible to set up a third-party receipt printer if you prefer.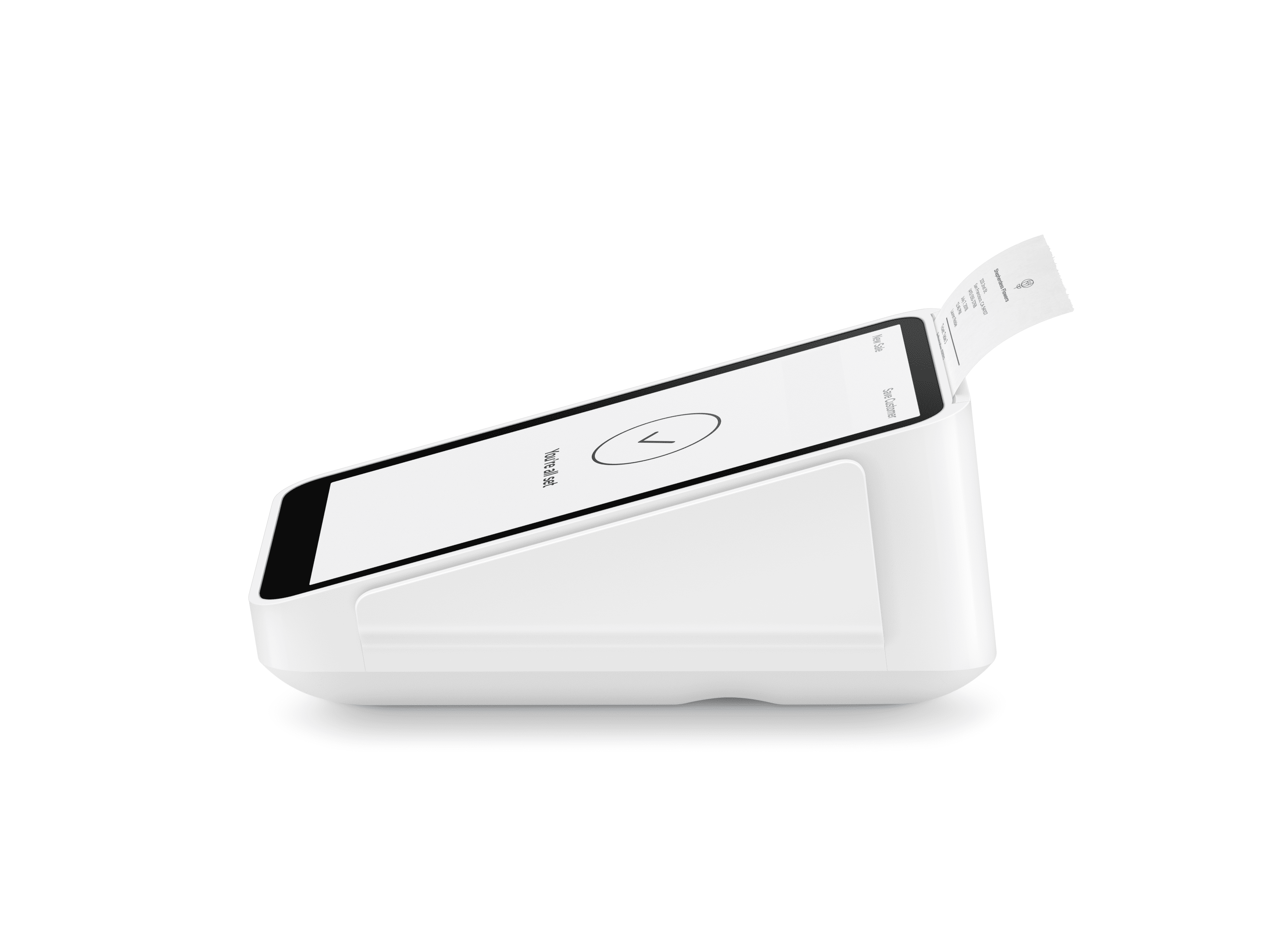 Square has also confirmed that it's possible to connect multiple Terminal devices (or other mobile devices) to a single cash drawer so long as you have an Ethernet printer connected to it. Also, Terminal devices do not count as registers on Square for Restaurants' plans, meaning they won't add to your software subscription costs.
There are a couple of additional limitations that I need to make clear. First, Square Terminal doesn't work with Bluetooth peripherals, including barcode scanners. Instead, you can connect USB-based devices. Certainly, this isn't ideal for everyone, especially if you don't like wires. Square Terminal does offer a cleverly designed power cable and USB hub to help contain the chaos and slim down the look.
Ease Of Use
If I haven't driven the point home well enough already, Square Terminal is absurdly easy to use, and that is perhaps its biggest selling point. Whether you want to use it as a tidy, out-of-the-way countertop card reading machine or use one (or multiple devices) for employees to operate remotely, you can be up and selling in a matter of moments, not to mention uploading inventory and menu items equally fast.
While the device does offer a more professional look than the standard mobile phone and Square reader that you see so often, I'm not overly impressed with the way it fits in your hand. It's not an intuitive feel and a bit bulky if you have to switch from hand to hand, and I would worry about its durability if dropped (something I imagine would be fairly common if employees were using them remotely throughout the day.) I would also worry about them being hit against tables or counters when attached via the belt clip. That said, the software is remarkably user-friendly, and the processing rates are simple to understand.
Square Terminal Pricing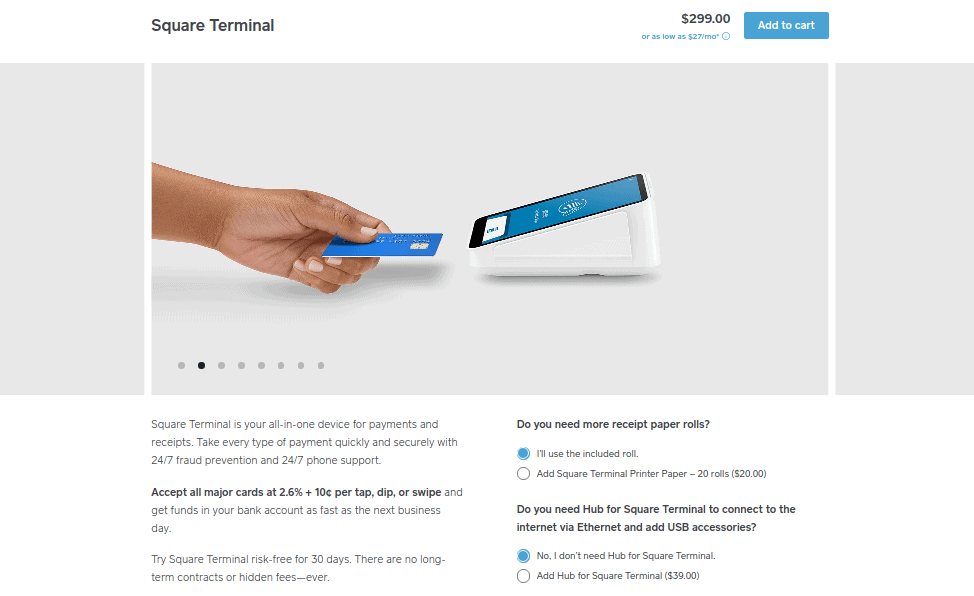 You can purchase Square Terminal directly from Square's website for $299 or from third-party retailers for the same price. Square also offers financing if needed, for as low as $27 a month for 12 months. If you need to attach additional hardware via a USB connection, such as a cash drawer or scanner, you'll need to purchase the Hub for $39. You can also purchase additional accessories, such as the belt clip.
There are no long-term contracts or hidden fees, which is something Square prides itself on. Square's processing rates for Terminal are 2.6% plus $0.10, which is competitive but could add up if you're a high-volume seller. Funds are available as quickly as the next business day in most cases or immediately if you have the Square Card.
Also, Square advertises that you can try Square Terminal "risk-free" for 30 days on the listing in its webshop. What this actually means is that you can purchase the card reader and test it out for 30 days. If you don't like it, you can return it within those 30 days and buy different hardware or stop using Square altogether.
Customer Service & Support
To me, this is one of the bigger advantages Square Terminal has over just its free app. Access to customer service has been a point of contention with me for a while, as Square always claims it has 24/7 customer support, but this simply isn't the case for many of its users. People using the free app have access Monday through Friday from 6 AM to 6 PM Pacific Time with a customer code and some 24/7 access in the case of certain emergencies. But customers with Square Terminal have access to 24/7 phone support. That's a big deal, if even just for peace of mind, especially for foodservice establishments and retailers with weekend hours.
Square's products are generally so user-friendly that not much customer support is needed. Plus, there's an extensive FAQ section on its website and a wealth of information and instructional videos online if needed. If you do need to talk to Square directly, its representatives have a solid reputation for being friendly and very knowledgeable.
Square Terminal Reviews, Complaints, & Common Problems
Positive Square Terminal Reviews & Testimonials
Here are a few things that came up multiple times in the limited number of customer reviews I could find online.
Ease Of Use: As you might imagine, many of the positive reviews brought up how simple Square is to operate and how quick and easy it is to set up. Multiple reviews appreciated the simplicity of the interface and how quickly it walked customers through the payment process.
Syncs With Other Square Software: While not everything transfers over to Square Terminal, a handful of users appreciated that they were still able to use some of the basics from Square for Restaurants and Square's built-in customer management.
Customer Service: Despite some of its limitations, Square has always had a solid reputation for its customer service. Users appreciated how knowledgeable the representatives are and the expanded access Square Terminal offers.
Negative Square Terminal Reviews & Complaints
Software Glitches: A couple of customers complained that the software would occasionally stop working for a brief period or that they couldn't get a strong internet connection.
Design: More than one user thought that the design as a mobile device made it difficult to hold for a long time and that it wasn't practical.
Final Verdict: Is Square Terminal Worth It?
While I'm not convinced that Square Terminal is going to revolutionize the point of sale or mobile ordering game, Square has added another impressive option for its customers to its already strong team. It makes sense for small or even mid-sized businesses who like the option of portability with their credit card machine or for those already using Square who would like a bit of an upgrade but don't want to commit fully to Square Register.
In addition to restaurants of all kinds, Terminal is targeted at service businesses with physical locations and small shop owners who want a professional-looking credit card machine. So, for example, hair and nail salons can bring the Square terminal right to the customer rather than bringing them to the front of the salon to pay. Kiosks at a mall can save space by switching to Terminal, which has a much smaller footprint than a traditional POS. It's less suitable for mobile businesses because Terminal doesn't work on cellular networks, but if you have a dedicated Wi-Fi connection or a mobile device with tethering, you can take Terminal on the go.
Considering that a decently reliable smartphone will run you a couple of hundred dollars plus the cost of card readers, Terminal offers a pretty good value. It's lightweight, portable, and guaranteed to work with the Square Point of Sale app, with no need to worry about OS updates or a data plan. Let's not forget that Square Terminal comes with 24/7 phone support, too. Existing Square merchants should certainly consider upgrading, especially if they've had trouble using Square on their mobile devices in the past. For new merchants, Terminal makes the transition from a traditional merchant services provider to Square much easier.
| Reader | eCommerce | Retail | Food Service |
| --- | --- | --- | --- |
| | | | |
| Free App & Reader | Square eCommerce | Square for Retail | Square for Restaurants |
| Get Started | Get Started | Get Started | Get Started |
| Free, general-purpose POS software and reader for iOS and Android | Easy integration with popular platforms plus API for customization | Specialized software for more complex retail stores | Specialized software for full-service restaurants |
| $0/month | $0/month | $0-60/month | $0-60/month |
| Always Free | Always Free | Free Trial | Free Trial |
Square Terminal FAQs
---
The Merchant Maverick Seal of Approval 🏆
Square Terminal


---
After hours of in-depth research and evaluation, we can confidently recommend this brand to our readers. Get started today and see Square Terminal for yourself.
The Merchant Maverick Seal of Approval 🏆
Square Terminal


---
After hours of in-depth research and evaluation, we can confidently recommend this brand to our readers. Get started today and see Square Terminal for yourself.