Square Appointments Review
All you need is a Square account and a mobile device to get started with the booking software Square Appointments.
Expert Analyst & Reviewer

Updated on:
Advertiser Disclosure: Our unbiased reviews and content are supported in part by
affiliate partnerships
, and we adhere to strict
guidelines
to preserve editorial integrity.
Square Appointments

Pros
Easy to use
Excellent mobile app
Free for individuals
Includes a free online store
Cons
Limited customizability
No Zoom integration currently
Square Appointments Overview
Despite its name, Square Appointments is much more than just booking software. It's also a fully-featured POS that not only lets you schedule and manage appointments but also allows you to take payments, create discounts, accept tips, and more. Best of all, Square Appointments is free for individuals/independent contractors. All you need is your phone (or any internet-connected device) and a free Square account.
Although Square Appointments is part of Square's larger integrated platform that's meant to address a broad swath of business needs, it's still possible to sign up specifically for the booking features without using the entire Square platform. Love the booking website but want a separate POS? You can do that. However, as with many of Square's other features, Square's booking solution doesn't make much sense unless you use Square for payment processing.
On the other hand, if you already use Square or are considering using it, Square Appointments may well be the best scheduling software for you since it works seamlessly with the rest of Square's services and offers some distinct advantages in its own right, especially during COVID-19.
Get Started With Square Appointments
What Is Square Appointments?
Square appointments is a scheduling and online customer booking tool that comes free (for one user) with every Square account. Automatic appointment reminders are included with the free plan. The paid plan includes multi-staff appointments and split tipping so customers can book more than one service.
Square Appointments Pricing
There are three plans, each of which offers the complete suite of scheduling features. The lower-tiered plans cap the maximum number of staff who can access the account, and the higher-tiered plans offer a slight discount on Square's credit card processing.
Just Me: $0/month, 2.6% + $0.10 per transaction
Two-Five Staff: $50/month, 2.5% + $0.10 per transaction
Six-Ten Staff: $90/month, 2.5% + $0.10 per transaction
10+ Staff: Custom pricing
With team pricing starting at $50/month, there is no way to disguise that Square Appointments is more expensive than some (but not all) of its competitors. Several other popular scheduling software companies out there offer team booking for two to five employees for $20-$40/month, depending on the company. Check out our booking software comparison chart to learn more.
However, most other booking software with free plans have some feature limitations. By contrast, Square Appointments has a fully-featured free plan for individuals. As you see from the pricing list above, Square Appointments is a super affordable booking software solution for self-employed hairdressers, makeup artists, and other independent contractors, particularly those who already use Square.
It's also worth noting that if you already have a Square-powered business in need of booking software that can accommodate multiple employees, the price for Square Appointments will likely be worth it and not just for the seamless payment integration. Multi-employee plans using Square Appointments receive a 0.1% discount on Square's processing fee, which could more than pay for the cost of Square Appointments if you run a busy med spa, for example, or sell some high-ticket services. Luckily, you can sign up for a 30-day free trial to get a sense of whether Square Appointments is worth the price of admission.
Cloud-Based Or Locally-Installed
Square is entirely cloud-based, with information automatically backed up to the cloud. You can access your Square account from anywhere with an internet connection. Square POS and Square Appointments also have some limited offline functionality. You can turn on the "Offline Mode" in your Square Appointments app settings, which allows you to queue swiped credit card payments during internet outages and process them later when you have a connection.
Ease Of Use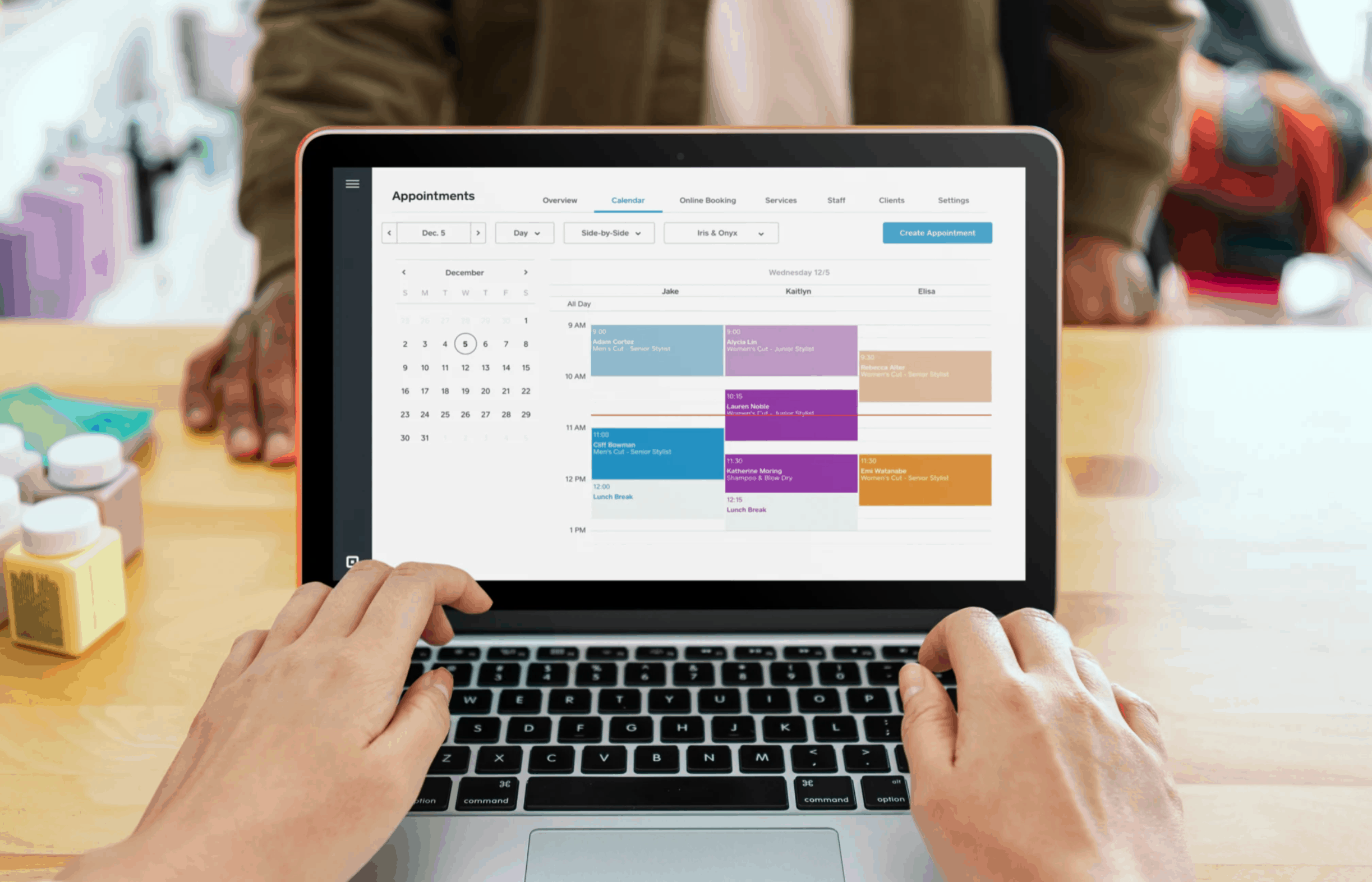 Like most of Square's products, the UI in Square Appointments is clean and modern, making it easy to understand what's going on in the app whether you're accessing it on a computer, iPad, or smartphone. The modern fonts, clear graphics, and simple color scheme ease any computer or internet anxiety, which is nice for many professionals new to SaaS (software as a service).
When you sign up, you'll have a refreshingly small number of parameters to fill out: the name of your business, the services you offer, the length of time required for the service, and the fee for your service, if applicable. You'll then see some clickable pop-ups recommending some actions to get you started.
Here's how the setup looks on the iPhone app: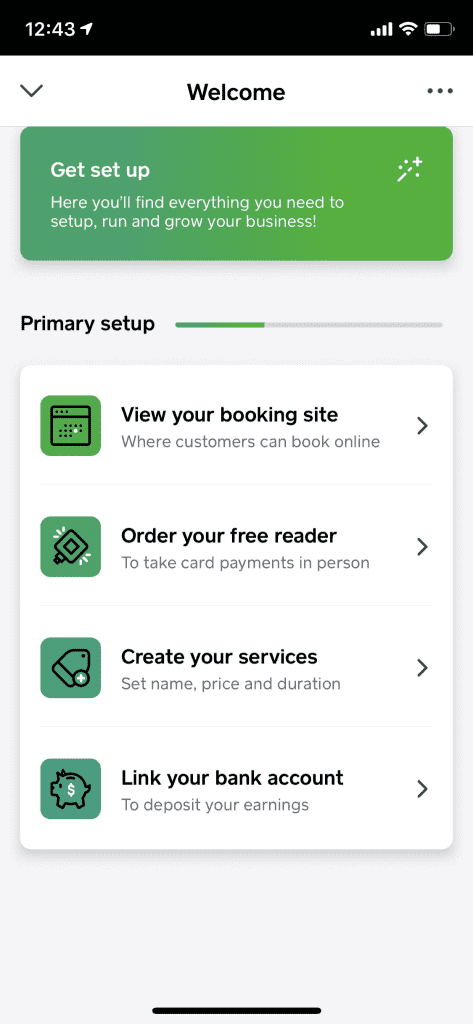 You can also set these parameters in the Appointments tab of your Square Dashboard.
Once Appointments is enabled on your Square account, here are the main features you can access, either on the web browser version (Square Dashboard) or on the mobile app:
Calendar: Graphic, interactive, and simple, it operates very much like Google Calendar (which you can sync with), featuring day, week, five-day, and monthly views. Blocks of time can be booked as appointments or personal events simply by clicking on the calendar. Here's how your calendar will appear in your Appointments Dashboard: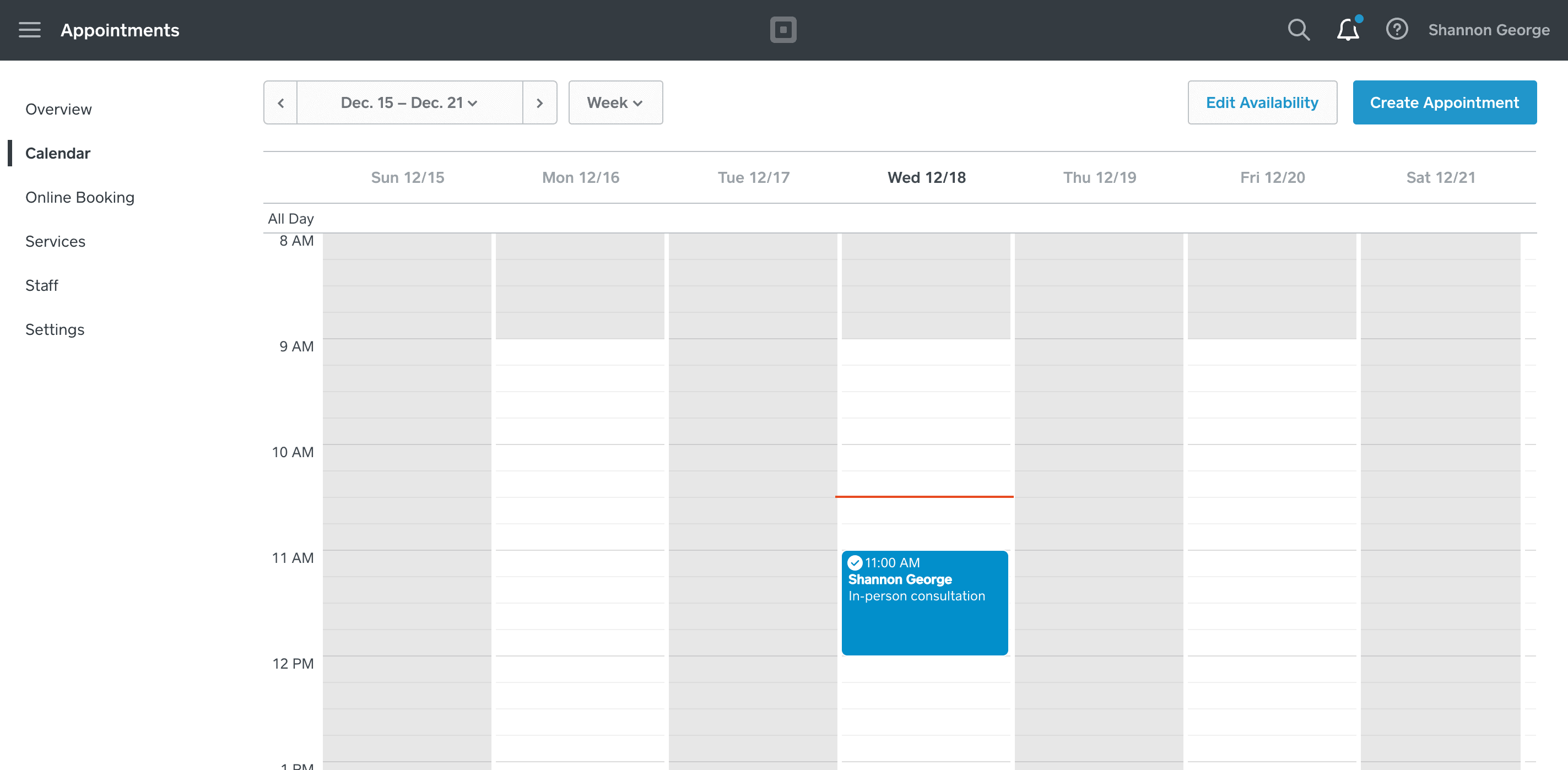 Online Booking: Under this tab, you can set up your Square customer booking flow and edit how your business and service details will appear on the website that customers will interact with. Setting up your website is super intuitive and straightforward, offering just enough customization options without overdoing it. You could foreseeably set up your website in as little as 10 minutes.
Checkout: This is your POS, where you can check out customers after their appointments. Swipe, dip, or tap the customer's credit card or mobile wallet via your integrated Square credit card reader or key-in their card information if you don't have a reader yet. You can also accept loyalty rewards or gift cards as payment and create new services, items, or discounts on the fly. Here is how the Checkout screen renders on the iPhone app:
Services: The Services tab redirects you to the Items tab of your main Square Dashboard. Here, you can add services, adding items (e.g., retail items you want to sell in addition to your services), set modifiers, and create discounts. Creating a new service is as simple as naming it, setting a price and duration, choosing whether customers can book the service online, and assigning staff to it, if applicable — painless. On the mobile app, you can access this feature via the Items & Services tab.
Staff: If your business consists of more than just you (and your plan allows it), you can add staff and define their roles and permissions under the Staff tab.
Settings: Here, you can adjust some more finite settings, including whether to require prepayment, accept tips, or let customers reschedule on their own; how you want to notify customers of their upcoming appointments; and more. You can also see your entire appointment history under this tab. As with setting up your website, I thought the Settings screen offered just the right amount of options without being overwhelming.
COVID-19 Tips: This dashboard section contains some handy shortcuts to help you take certain steps related to COVID-19, including setting up eGift cards, adding a custom message related to COVID-19 to the top of your online booking site, emailing customers about a COVID-related closure, updating your business hours, and more.
Integrated Online Store: Businesses that sell retail items online using Square's eCommerce solution, Square Online Store, can feature a link to their Square booking website on their Online Store. Square's eComm integration makes Square Appointments a good choice for businesses that sell both retail items and services. Learn how to set up your Square Online Store if you haven't already.
Some additional features you'll see on the mobile app include Reports, Transactions, and Invoices (which you'll have to set up separately). You can access all of these features in your Square Dashboard as well, but they are not in the Appointments tab.
Get Started With Square Appointments
Square Appointments Features
Square Appointment features are undeniably strong, even if they are a little bit basic in terms of appearance and options for visual customization.
Integrated Payments & POS: Square Appointments integrates with Square payment processing and functions seamlessly alongside the Square POS system and the entire Square suite of business products. That's a huge plus if you already use Square's payment processing, inventory management, staff management, or other products. You can check out customers right from the Square Appointments app. Since Square allows unlimited devices, you could potentially have a main POS at the counter and check out customers from their seats using your phone or an iPad.


Checking out customers and collecting their payment after their appointment couldn't be easier. Add any retail items to their total and swipe, dip, or tap their credit card (you can also accept cash or check). The first time you accept a customer's credit card, you can store their card for future use.

COVID-19 Features: Square Appointments has some useful features during COVID-19, including the option to add a COVID-19 liability contract that's automatically emailed after each booking using Square Contracts. Square Appointments also makes it easy to add a temporary message related to COVID-19 at the top of your booking site and configure it to limit the number of appointments a location or staff member can accept per day or add a buffer after each appointment for cleaning. Contactless selling features include NFC payments, a QR booking code for your website and/or shop window, and digital gift cards. You can also require prepayment for appointments (with the option to add a tip during prepayment), which can help free up cash during slower times and prevent the need for in-person payments. Virtual appointments with integrated video calls are not available in Square Appointments yet, but Square says this feature is "coming soon."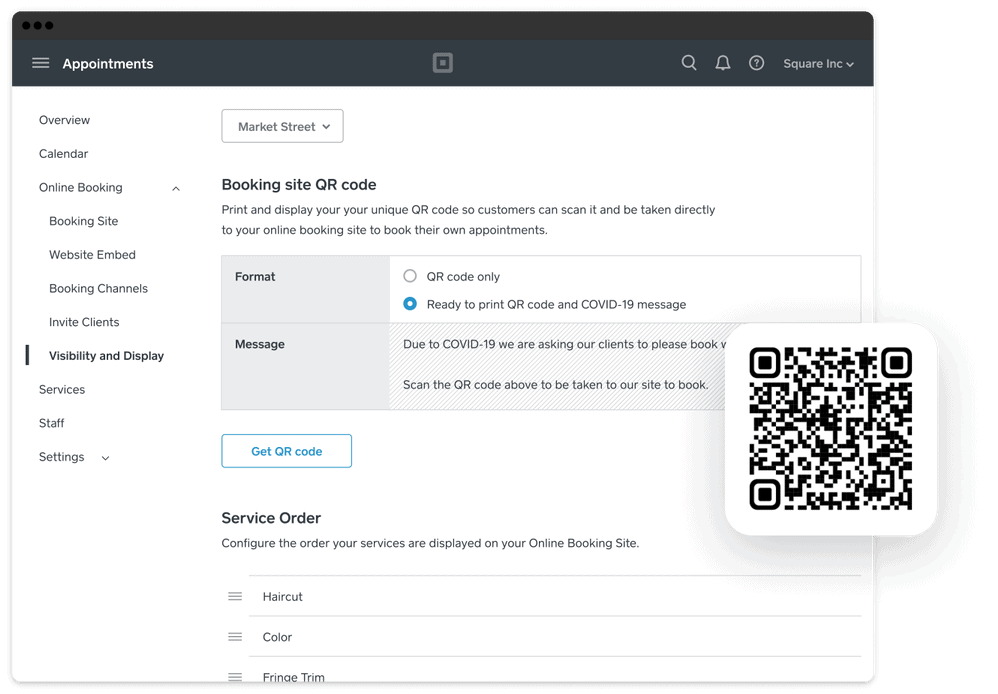 Tipping: Another thing I like about configuring the system and taking payments on Square Appointments are all the tipping options. You can choose whether to offer preset tip suggestions in percentages or whole amounts. The Smart Tips option provides tip suggestions in whole amounts for transactions of less than $10 and percentage-based tips for larger amounts. You can also set whether to calculate the tip before or after taxes and whether to include a separate tipping screen.
Customers can now add a tip when prepaying for their appointment, which removes the need for any in-person checkout or tipping transactions — though you can still allow the option to tip in-person if you so choose.
Online Booking Site: On the customer's end, your free online booking site automatically displays your services and availability, and it allows them to book or reschedule appointments. It's visually clean and easy to use. It also integrates with Google, Facebook, and Instagram, allowing new customers to instantly book an appointment from their social media apps or right from Google. Booking from the client's perspective is extremely simple: They simply select a type of appointment or specific service, choose an available time slot, and enter their contact information. The system was responsive during my tests, with an SMS text confirmation within seconds of booking the appointment.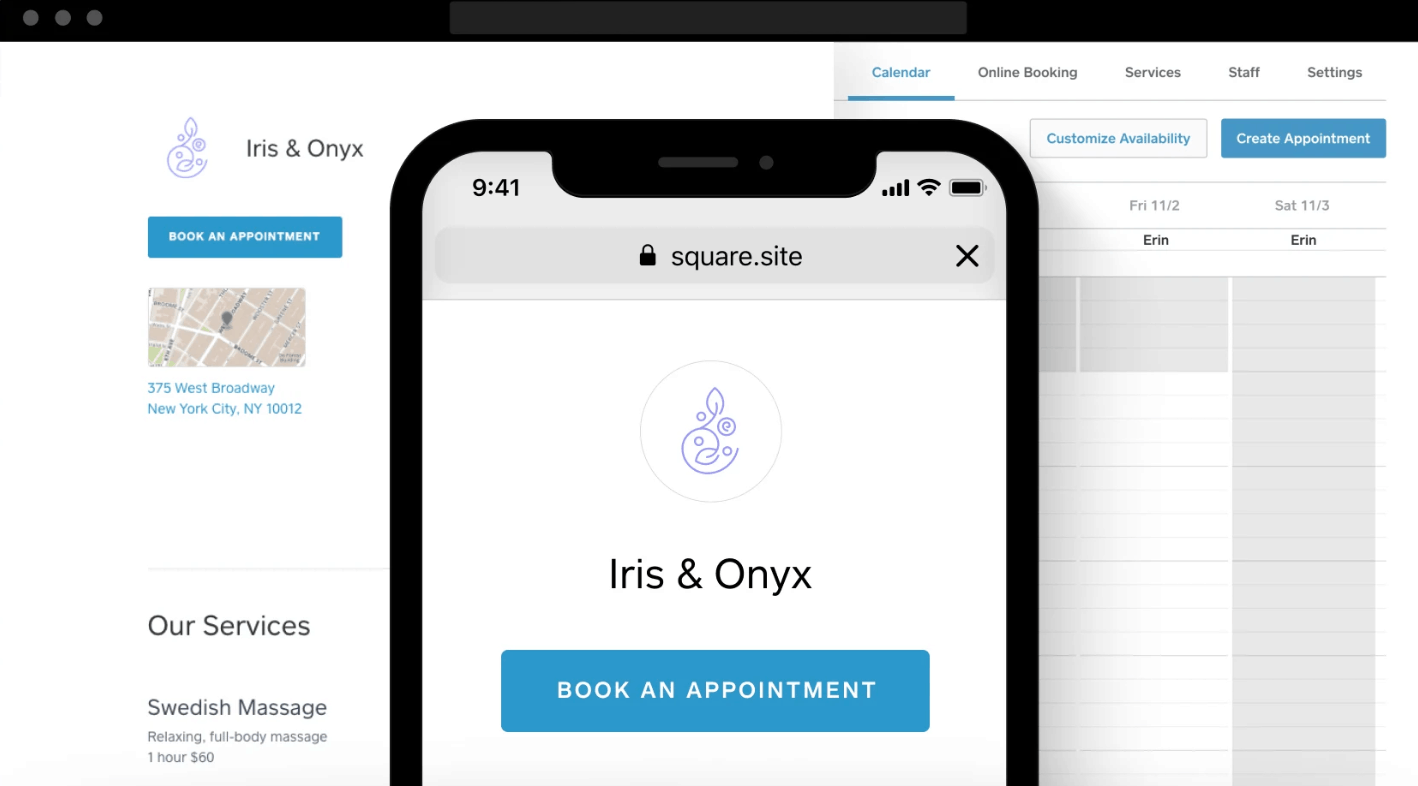 When setting up the online booking website, you can decide whether or not clients need your approval to confirm appointments and whether to enable Square Assistant, allowing clients to reschedule on their own. You also can integrate with social media and grab the code to embed a Square Appointments booking button into your existing website. One of the funnier and more unique features offered here is the Fake-It Filter, which randomly removes a percentage of your available time slots to give the appearance that you're busier than you actually are.
Square Assistant: This is a newer feature in Square Appointments that handles confirmations and rescheduling via automatic responses to customers. Using this digital messenger, customers can reschedule appointments any time of day or night. I think this is a super useful and game-changing feature. Square Assistant not only makes things easier for your customers, but it also outsources some of your admin work. Responding to your customers, canceling appointments, rescheduling appointments, and updating your calendar all take up time and resources, and Square Assistant saves you those resources.


Mobile App: Square Appointments is available as a standalone app for iOS and Android. Both apps are highly reviewed on their respective platforms and provide a seamless experience whether you're accessing Appointments from a web browser or the mobile app. You can adjust all the settings and features from the mobile app that you can from the Square Dashboard. A mobile app rarely has every feature you'd see on the desktop version, but Square is the pioneer of mobile POS, so I'd expect nothing less from them. Square Appointments is not only booking software, but it's also a mobile POS. The ability to take mobile payments is a game-changer for any independent service professional who wants to accept credit cards and not just cash or check.
Commission Tracking: Square Appointments now allows commission tracking. This feature lets you assign a commission to each sale or service provided. The commission rate is adjustable per employee. The feature also allows you to assign commissions for retail sales.
Resource Tracking: This feature lets you create resources — such as rooms, beds, chairs, stations, etc. — and assign them to your services as needed. When those services are booked, the resources are booked as well, making sure you don't book more services than there are sufficient resources available at any given time. It's also a handy feature during coronavirus since you can adjust the available number of any given resource in accordance with capacity limit adjustments. For example, if your business is required to operate at 25% capacity due to COVID-19, you can reduce your number of "station" resources by 75%.
Square Appointments is only one of the vast array of merchant services integrated into Square's broader SaaS platform. You can access this additional functionality through the massive sidebar on the left side of the Dashboard. Some of these other merchant services come at additional cost, however. Here are some other Square features you will have access to as part of the broader Square business software framework:
Square Contracts: Use this integration to email digital contracts to your customers after they book an appointment. You can create custom contracts or use Square's contract templates. Some templates include a COVID-19 agreement, service agreement, and credit card authorization form. Once the customer digitally signs the contract, you'll be able to see that they signed it on their customer profile.
Team Management: Square offers free timekeeping and basic employee management tools as part of its feature-set. If you need advanced features, you can upgrade to Team Management Plus for $35/month.
Customer Directory: Square users should take advantage of this SaaS's intricate customer management tools to track loyalty, satisfaction, and feedback. This feature is free with your Square account.
Square Marketing: Yes, Square can also function as a lean ESP. It's no Mailchimp, but it does allow you to leverage the same customer base you've built up through your booking and sales functionality. You can send customers coupons, welcomes, and announcements to clientele based on criteria, such as the frequency of their visits. Your template selection is limited, and you can edit the elements of the template, but it's limited to adding and subtracting elements, swapping out images, and changing text. This feature costs $15/month/500 contacts to send unlimited emails (there are also higher price tiers for more contacts).
Square Invoices: If you want to allow your customers to pay for their appointments later online (rather than in-person at the appointment), this is the feature that will suit you perfectly. Square invoices are free to send; you just pay 2.9% + $0.30 per invoice when customers pay with credit or debit online. You can also accept payments for invoices in-person using a card reader to qualify for the 2.6% + $0.10 rate.
You can read more about Square's various features in our Square review.
Get Started With Square Appointments
Square Appointments Customer Service & Support
Square offers its merchants, including those using Square Appointments, a few options for customer service. It isn't always super easy to reach a live person, but overall, Square's support channels are respectable:
Phone Support: Available Monday through Friday from 6 AM to 6 PM, you can call to speak to a human. However, you'll need to enter your product code to get through, and the phone number isn't prominently displayed anywhere on the website.
Support Center: Like most online support centers for software, there is a lot to sort through here, especially since one knowledgebase services all of Square's numerous products. Fortunately, performing a simple search for "appointments" brings up plenty of material to help you suss out any issues you might be experiencing.
Square's Support Robot: This is automated chat support that, while not as good as real live chat support, can help direct you to the right resources.
Square Appointments also offers customer support to your customers in the form of Square Assistant. Granted, this is automated support that wouldn't be able to handle nuanced requests, but it's free, and it's 24/7. Your customers can mostly just use it to cancel and reschedule appointments — which is probably all they would need to use it for anyway. Not bad for free booking software! Note that, while customers can change appointments in Square Assistant (if you enable this feature), you as the business owner will not be able to view the conversations between your customer and Square Assistant.
Compatible Credit Card Processors
If you're planning to take payments through your booking software, you'll be able to leverage Square's considerable expertise in that area. Though Square is the only payment processor you can use with Square Appointments, the seamless integration is a big plus for Square users. There's no additional monthly fee for using the payment processing services, but Square charges 2.5% to 2.6% + $0.10 per transaction, depending on your plan level. For a more comprehensive look at the functionality, check out our Square POS review. Square is known for its competitive right but, for high-volume sellers, the fees add up.
Of course, if you use a different credit card processor and are happy with them, you'll probably pass up Square Appointments for a different booking software program that integrates with your preferred processor.
Square Appointments Integrations & Add-Ons
As feature-rich as Square is, it's also quite expandable. As a result, all software that's compatible with Square is compatible with Square Appointments as well. However, depending on the program, the software may only interact with the Appointments feature in a limited way or not at all if the software performs an unrelated function. In any case, some of the more popular Square integrations include:
Google Calendar
And many others
Square Appointments also integrates with all of Square's other add-ons, including Square Marketing, Square Team Management, Square Payroll, Square Invoices, Square Loyalty, and others.
It's also worth noting that Square integrates with other popular booking software programs, such as Acuity, Appointy, Bookeo, Booxi, and others. Square users may also want to investigate these options to see if they may prefer to use one of those programs with, or instead of, Square Appointments.
Perhaps the only notable type of integration Square Appointments lacks is video conferencing services, such as Zoom and Google Meet. That means you can't easily assign video appointment links to bookings. However, some customers note that you can use Zapier to build an integration between Appointments and Zoom as a work-around. Another workaround is to use the standard Square POS with Wix Bookings, which allows virtual appointments with Zoom.
Square Appointments Reviews
Overall, Square Appointments enjoys an overwhelmingly positive reputation online.
Negative Square Appointments Reviews & Complaints
As Square Appointments lives inside the broader Square framework, it's a bit harder to isolate reviews of its functionality, e.g., in terms of customer support or payment processing, which apply to the entire Square framework. It's difficult to find many purely negative reviews about Square Appointments specifically, but most of the negative or mixed reviews mention one or more of the following limitations:
Limited Customization Options: If you want to customize every aspect of your booking website's appearance and workflow, this program does not provide the nuanced controls to perform such customizations.
Somewhat Basic Features: Some users feel Square Appointments is overly simple and wish it had a more expansive feature-set, such as more finite client management or the ability to book classes.
No Video Conferencing Integration: Many Appointments users in the Square Seller Community have expressed that they want the ability to book virtual appointments. Unfortunately, Square Appointments does not integrate with Zoom, Google Meet, or any other video conferencing service, nor does it provide the option to display a virtual appointment option on your booking site.
App Integrations: A few customers noted that they wished there were more apps specifically designed to work with Square Appointments.
High Cost For Teams: There haven't been as many negative comments about the cost since Square started offering Appointments for free to individuals in 2018, but some reviewers still note that it is more expensive than other programs when used in a team environment.
Positive Square Appointments Reviews & Testimonials
Square Appointments is a well-liked program, garnering an impressive 4.3/5 stars on G2 Crowd. The latest version of the Square Appointments app has also been well-received at 4.9/5 stars on the App Store and 4.4/5 stars on Google Play.
Free For Individuals: Many customers praise Appointments for being a fully-featured free booking software solution for individuals.
Integrated Functionality: Most reviewers who also take advantage of the payment processing systems and other features that Square offers consider Appointments to be a good value.
Easy To Use: Considering just how much Square can do, it's remarkably easy to use and super fast to set up.
Portable: Square was initially designed for mobile devices, so just about everything it offers is available on the go as an app or a peripheral.
Final Verdict
As part of a larger, integrated merchant services platform, Square Appointments can provide established small businesses with just about everything they need to book and manage appointments online as well as accept payments as a mobile POS, with the bonus of working harmoniously with all the other numerous Square products. On a less substantive note, Square brings a high degree of polish to its products. If you like clean, visually pleasing UIs, you'll like what Square has to offer.
Square Appointments accommodates both self-employed users who only need to manage their appointments as well as larger teams that need to manage appointments across multiple staff members and locations. If you already use Square's free POS, Square Appointments may work out perfectly for you. Businesses using Square Appointments to manage multiple employees' booking schedules will even receive a small discount on Square's processing fee. On the other hand, businesses looking for advanced booking software with more customization, multiple payment processing options, or intricate functionality may find Square Appointments too limited or overly basic.
Square Appointments has several useful options for salons and other service providers navigating the pandemic. There are features for reducing capacity, sending contracts to limit your COVID-19 liability, and communicating with customers about a temporary closure or other COVID-related changes to your business. While the lack of virtual appointment functionality is a notable blind spot, I have no doubt that Square will eventually add this feature. If you need booking software with a direct Zoom integration, you might want to look into Appointy or Bookeo.
Get Started With Square Appointments
Square Appointments: FAQ
---
The Merchant Maverick Seal of Approval 🏆
Square Appointments


---



After hours of in-depth research and evaluation, we can confidently recommend this brand to our readers. Get started today and see Square Appointments for yourself.
The Merchant Maverick Seal of Approval 🏆
Square Appointments


---



After hours of in-depth research and evaluation, we can confidently recommend this brand to our readers. Get started today and see Square Appointments for yourself.
To learn more about how we score our reviews, see our
Point Of Sale (POS) Software Rating Criteria
.
Read Next