Square POS App Review (Free Version)
Expert Analyst & Reviewer

Updated on:
Advertiser Disclosure: Our unbiased reviews and content are supported in part by
affiliate partnerships
, and we adhere to strict
guidelines
to preserve editorial integrity.
Square POS

Pros
Quick setup
Simple processing fees
Intuitive interface
Loads of integrations
Cons
Occasional fund holds
Free feature-set not as robust as paid options
Square POS Overview
Picture a modern small business's point of sale system in your head — the screen, the layout, the card reader. There's a decent chance you're thinking about Square right now. Square's free point of sale (POS) app, rather blandly named Square Point Of Sale or Square POS, is a household name even among consumers.
Paired with a remarkably handy card reader that has spawned dozens of imitators, Square POS software was (and continues to be) a complete game-changer in the industry.
In a time when assertive entrepreneurs can quickly get their business ideas off the ground from scratch, be it a food cart or niche boutique, Square has been a convenient and oft-used solution for processing and POS. It's easy to see the appeal. For one, the word "free" is always appealing. Although many competitors have tried to beat Square POS at its own game, Square's free app is still remarkably versatile. It can fit the needs of the vast majority of small business owners.
Square is defined by elegant simplicity, with set processing rates that are both affordable and easy to comprehend. Couple that with a sleek and fully customizable interface, and it's difficult to go wrong if you have a small business with a limited number of users.
A few years back, a friend of mine was opening a brand new cafe and researching point of sale companies. A slick salesman pitched his system, claiming that all of the things it offered made it superior to the Square POS app. My friend found herself locked into a contract and hit with unexpected fees and costs that handicapped her business practically before it even started. She ended up ultimately going with Square Point of Sale and never looked back. Of course, Square is not infallible.
If you need advanced inventory or reporting mechanisms, it's probably worth the extra money to find a highly robust system. But, especially with the advent of Square Register and Square for Restaurants (along with Square Invoices and Square Appointments), Square is almost certainly worth a look no matter your business.
Final Verdict: Square Point of Sale is the best free POS software on the market. The powerful features and affordable credit card processing rates make it ideal for small businesses. Users who need more advanced features can also take advantage of niche Square POS software: Square for Retail and Square for Restaurants.
Square POS App Pricing
| Plan/Product | Cost | Processing Fees |
| --- | --- | --- |
| Square Free Plan | Free | 2.6% plus $0.10 per basic transaction: 3.5% plus $0.15 per manually entered transaction: 2.9% plus $0.30 per online transaction |
| Square For Retail | $60 a month | 2.5% plus $0.10 per basic transaction: 2.9% plus $0.30 per manually entered transaction: Special rates available if you have more than $250,000 in sales annually |
| Square For Restaurants | $60 a month | 2.6% plus $0.10 per basic transaction: 3.5% plus $0.15 per manually entered transaction |
| Square Appointments | Free for one individual, $50 a month for 2-5 employees. $90 a month for 6-10 employees | N/A |
| Gift cards | $40 for a pack of 20 | N/A |
| Custom domain | $12 a month | N/A |
| Product reviews | $26 a month | N/A |
| Square Payroll | starts at $29 a month plus $5 per employee | N/A |
| Square Marketing | starts at $15 a month for up to 500 customer contracts | N/A |
| Square Loyalty | starts at $45 a month for up to 500 loyalty visits | N/A |
Square's basic point of sale app is free and is truly one of the best free products on the market, even coming with a magstripe reader at no cost. Its processing fees are competitive and easy to understand, charging 2.6% plus $0.10 for basic transactions and 3.5% plus $0.15 per manually-entered transaction, and 2.9% plus $0.30 for online transactions.
The free app includes basic inventory, reporting, and some employee management. Payroll, marketing, and loyalty need to be purchased as add-ons. Of course, there are other Square POS offerings as well with bulked-up features that are specifically tailored for certain businesses.
Square For Retail:
$60 a month for the Plus plan. This comes with slightly reduced processing rates of 2.5% plus $0.10 for basic transactions and 2.9% plus $0.30 for online transactions. The Plus plan includes:
Free online store
Unlimited items
Exchanges
Advanced inventory tools
Advanced retail reports
Square Team Management
If you have a business that is looking to scale or have more than $250,000 in sales annually, you can contact Square about its Premier package, which comes with custom rates and also includes discounts on things such as Square Payroll and Loyalty.
Square For Restaurants:
Like Retail, Square for Restaurants has a Pro plan that costs $60 a month. The processing fees for the free app and Restaurants are identical at 2.6% plus $0.10 for basic transactions and 2.9% plus $0.30 for online transactions. Upgrading to Pro from the free plan comes with:
Advanced POS features
Square KDS
Team Management Plus
24/7 customer support (compared to Monday-Friday 6 AM to 6 PM PT support with the free package)
And, like with Retail, there is a Premier package with custom rates for larger businesses.
For professional services, you can also sign up for Square Appointments. For an individual, Square Appointments is free. For two to five employees, it's $50 a month, and for six to ten employees, it's $90 a month, with custom rates for more employees. Square Appointments comes with:
Online scheduling
Unlimited bookings
Automatic appointment reminders
Employee calendars
Square also has numerous add-ons that you can sign up for but many of them come at an extra cost. These include:
Physical Gift Cards: $40 for a pack of 20
Custom Domain: $12 a month
Product Reviews: $26 a month
Square Payroll: Starts at $29 a month plus $5 per employee
Square Marketing: Starts at $15 a month for up to 500 customer contracts
Square Loyalty: Starts at $45 a month for up to 500 loyalty visits
The nice thing is that Square POS software has all of these services available and all of them sync up directly with your Square Point of Sale. However, you can see how your monthly fees can quickly ratchet up once you start fully utilizing the add-ons.
Cloud-Based Or Locally-Installed
All Square POS software is entirely cloud-based, with information automatically backed up to the cloud. The Square POS app is available on all iPhones (4S on up) and also works on a number of Android devices as long as they are running Android 5.0 or higher.
You can access your Square account from anywhere with an internet connection. The Square Point of Sale app also has an offline mode that will accept credit card payments without internet access. To do this, you'll need to switch on the offline mode on your device manually.
Payments will stay stored for 72 hours before expiring. Square is clear that business owners are responsible for declined or disputed payments in offline mode. The company suggests verifying the cardholder and expiration date on the card as well as getting a signature for added security. Square's offline mode is also only compatible with magstripe payments and cannot process chip cards.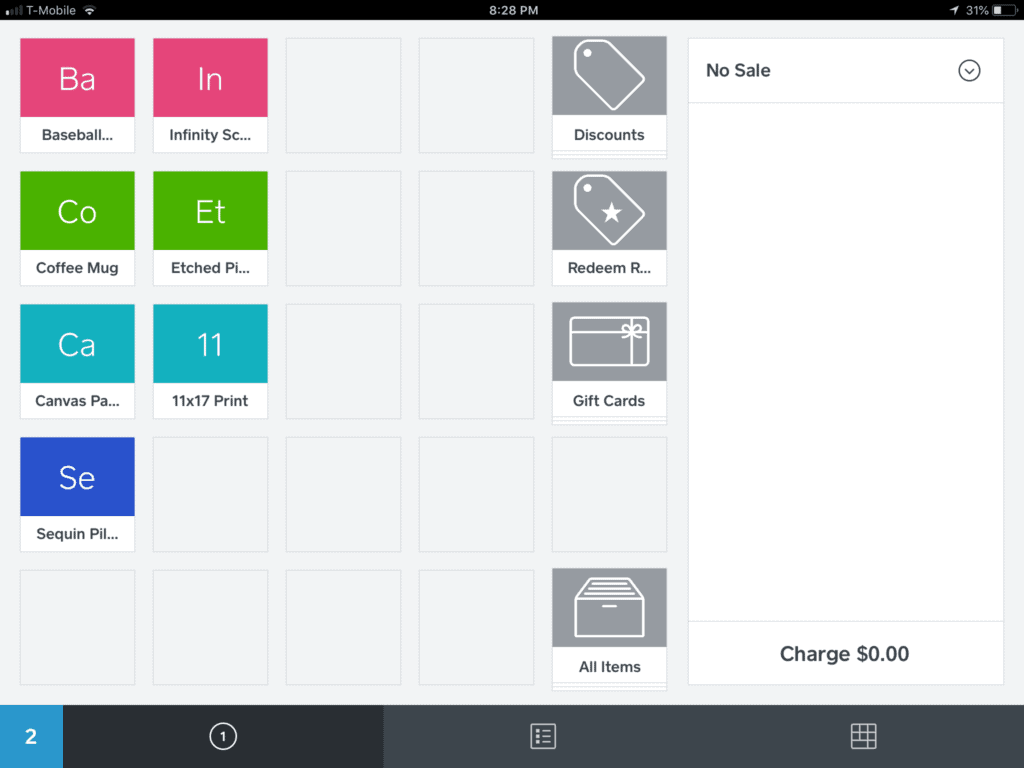 Specific Industry
Square's free version fits well in both the quick-service food industry and with retailers. Square Point of Sale is an attractive option for mobile businesses, as payments can be taken quickly and securely from practically anywhere. Thanks to good-sized inventory management features, Square can easily handle most small businesses.
Square for Retail and Square for Restaurants are designed for more mid-sized establishments and can handle larger businesses with more complex inventory and reporting needs. Both offerings are more than capable of serving enterprise establishments as well, but if your business is a high-volume seller, the processing fees can be pretty steep. Again, this is something that can potentially be negotiated with Square as it offers custom rates for larger companies, but you'll definitely want to shop around.
For independent contractors in professional businesses, Square Appointments is an amazing bargain, offering all of the basics you would need for free, and it remains fairly affordable for up to 10 employees.
Specific Size Of Business
If you have a larger, franchised business or one with vast amounts of inventory — or if you need expanded reports — you may find Square's basic package to be somewhat lacking. However, small to mid-sized businesses, particularly ones that only need one or two stations, should find the Square Point of Sale app to be perfectly suitable. You can import items in bulk via a CSV file, and you can easily download reports into digestible spreadsheets.
Square for Retail and Square for Restaurants can compete with pretty much anyone when it comes to small to mid-sized businesses, and the software is very scaleable, making it easy to not overpay for services you're not using. However, if you're looking to use more than just one or two of Square's add-ons, such as loyalty or payroll, the monthly cost can balloon quickly.
Ease Of Use
There's a reason that the Square Point of Sale interface is imitated so often by the competition. Since its inception, Square POS software has excelled at being user-friendly. If you're one of those "get off my lawn!" Luddites who just wants a product that's easy to understand (or you're planning on hiring a handful of those types), Square Point of Sale is about as intuitive as it comes.
The app's large, color-coded buttons and easy-to-navigate screens take minimal training to master. Setup is also a breeze. Creating your initial account should take fewer than 10 minutes, and that information is then automatically uploaded to your account. If your business happens to expand, and you want to upgrade to something such as Square Register in the future, that information and data will migrate with you.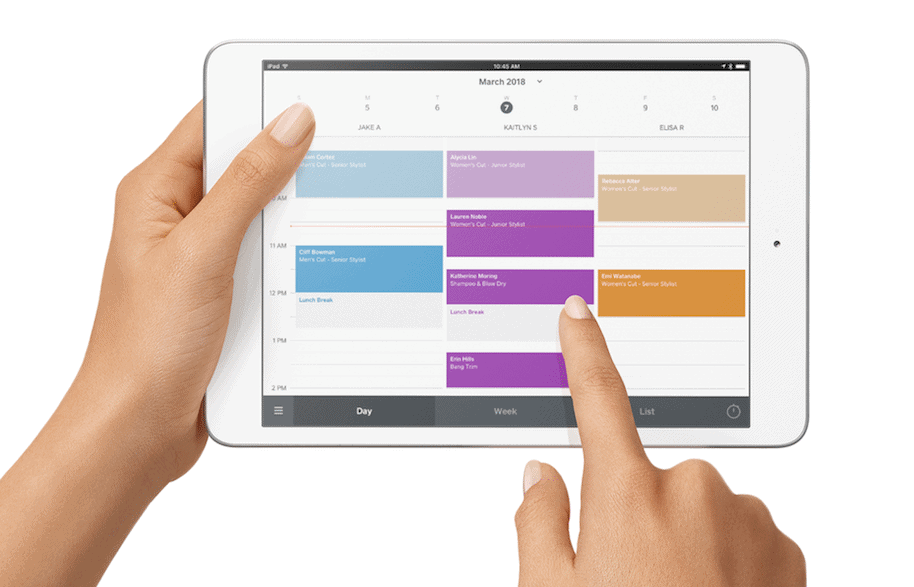 Most features in the Square POS app are extremely customizable, and you can design an efficient system by prominently placing top-selling items and adding product pictures to make things easier for your employees.
Taking payments is also a breeze. For mobile devices, Square has its standard magstripe reader as well as an EMV chip-card reader. Tap readers allow customers to sign directly on their phone or tablet.
Square For Restaurants is equally user-friendly without sacrificing a modern interface. You can lay your entire restaurant out in a matter of minutes and make changes with a simple tap. As is consistent with the Square brand, the interface isn't overly flashy, utilizing a standard color-coding system. Everything is customizable as well, even down to your screen's brightness (depending on the ambiance you're going for).
You can click on a table and split checks easily, dragging items to individual seats. Menu creation is also a breeze and fully customizable. Add photos and descriptions of products and change the menu from lunch to dinner with one touch.
Square for Retail and Square Appointments stay true to form as well. It's functional if not overly flashy and is designed not to trip up users. If you're looking for something to stand out or to catch the eye of customers, this likely won't do much for you. However, if you have come to appreciate Square's approach to its front and back-end interface, there's plenty to like here as well.
Hardware & Operating System Requirements
Square POS is best-suited to iOS devices but is also configured to handle a number of Android devices as long as they're running Android 5.0 or better. Honestly, to get up and running, all you need is a phone/tablet and a card reader of some type, and you can be hawking goods and services in a matter of minutes.
Square sells card readers directly as well as stands for tablets. It also offers a few startup kits specifically created for certain businesses that feature printers, cash drawers, and other equipment you may need. The Square Point of Sale app also runs on Square Terminal and Square Register, products that can be purchased directly from Square's website.
One of the bigger benefits to Square is access to its unique and modern hardware offerings that can add versatility to your business or take it to the next level.
Square Terminal is a convenient handheld device and checkout solution built for taking payments on the go. It accepts swipe, chip, and tap payments and has a built-in printer as well. And, if you already have a Square account, it's simple to sync up your data. Square Terminals are $299 and can be purchased in installments. They're excellent for businesses that want to give their employees mobility.
Square Register is perhaps the crown jewel of Square's hardware. It's a sleek, all-in-one register with both employee and customer-facing options that integrate directly with all of Square's point of sale offerings. It also comes in at a relatively affordable $799 to purchase directly or in monthly installments.
Square Point Of Sale System Features
The Square Point of Sale app is highly scaleable with its multiple software offerings and industry-specific products. Here are some of the highlights from each option.
Square Free App
Inventory Management:
Bulk importing allows you to download thousands of products quickly via a CSV file.
Daily stock alerts let you know when products run low.
Export stock levels instantly to a spreadsheet.
Transfer inventory across multiple stores.
Support for partial quantities and weight scale
Team Management:
Employees can be given different permissions and access to certain functions.
Employees can clock in and out at the register, and hours can be easily edited if necessary.
Analytics makes it easy to see which employees are your top sellers.
Labor vs. Sales reports make it easy to evaluate labor costs.
Control access and protect information from the dashboard.
Free timecards for simple payroll and integrated time clock.
Loyalty:
Square offers loyalty plans starting at $45 a month but does offer electronic gift cards in the basic free play. Square's loyalty comes with the ability to:
Import large customer lists via a CSV file.
Customers can earn loyalty rewards and discounts automatically, and that information gets stored on their profile within the system.
Prospective customers can also sign up to receive text messages informing them of when they've earned a reward.
Easily customize spending and visit levels for rewards.
Search customers and see what products are most likely to bring them back into your store.
You can also quickly edit customer information manually and add personalized notes.
Purchase histories and simple analyses of spending habits are easy to look up.
Gift Cards:
Physical gift cards start at $0.80 with the Square POS app. Create digital gift cards for free, or order physical cards with unique designs for an additional cost.
Balances can easily be viewed in Square Dashboard.
Customer balances and other information is simple to store and search.
eCommerce:
Square merchants get a basic, free online store hosted by Weebly.
Square pairs with numerous companies, so you can pick and choose how you want to set up your online business. If you don't have much web building experience, you can go through a company such as Wix or Weebly. If you're far savvier, Square's open API can let you customize and develop your online store from scratch.
Reporting:
View reports on any device in real-time.
Reports analyze which customers are new to your business and which are repeat visitors along with what they are purchasing.
Customize sales breakdowns by days, weeks, and months to spot trends.
Get summaries to your inbox and download CSV files.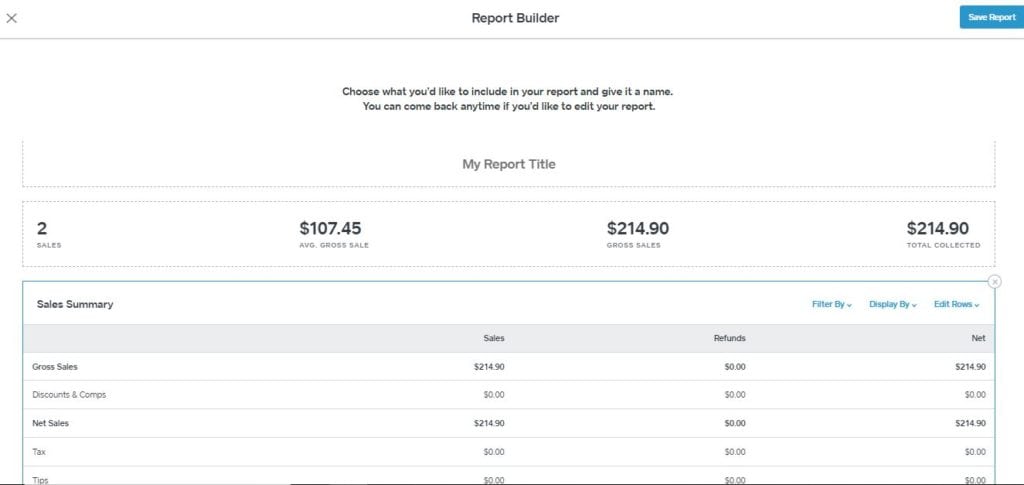 Square For Restaurants
Menu Creation:
Create as many menus as your restaurant needs and switch between them with just a tap. Menus are customizable, and items can feature pictures and descriptions to help servers. Discounts, sales, happy hour events, etc., can be set up with special pricing automatically implemented.
Check Splitting:
Items can be individually assigned to customers. Quick splits are also done with a single tap, cutting the bill into halves, thirds, or quarters.
Table Management:
For higher-end restaurants, you can plot out coursing, switching items between courses before sending them to the kitchen. You can also track how long customers have been at the table and check on the status of their meal.
Automatic Gratuity:
Another Square specialty. You can create automatic gratuity prompts for customers to increase profits or add specific percentages for large groups.
Tableside Ordering:
Cut down on errors from tables to the kitchen by allowing servers to enter orders directly from the table while giving them more opportunities to interact with and serve customers.
Delivery Integration:
Square has paired with Caviar to help restaurants set up delivery or pickup options, which can all be managed directly from the POS. Customize orders for various dining options: for here, to go, delivery, or pickup. There are also integrations with Doordash, Postmates, and other online ordering businesses that will send orders directly to your POS, managing them in one convenient location.
Catering:
Create invoices specifically for catering orders. You can also set up easy online estimates and recurring orders for customers.
Reporting:
Among other standard reports for managing your business, Square lets you check exactly what type of discounts are being given to customers and the amounts. You can review sales by floor plan and by bulk or individual modifier sets. Review labor costs quickly in a simple-to-process layout. You can also set up a variety of customized reports for your unique needs.
Employee Management:
You can track voids and discounts to cut down on fraud. Check employee sales reports to review per-labor-hour reports and reward your top-selling employees. The system also records cash drawer openings and can detect suspicious activity. Employees can sign in at the register, and their hours can be managed from anywhere and transferred to Square Payroll. Assign permissions to give different employees access to varying items. Give employees their own login passcodes.
Square For Retail
Inventory Management:
Item catalog with categories and descriptions
Customize items with variants and add-ons
Real-time inventory tracking (including across multiple locations)
Inventory history
In-depth inventory reporting, including the cost of goods and projected profits
Unlimited SKU count
Barcode and custom label printing
Low stock alerts
CSV import and bulk editing
Unit cost in item listings
Vendor & Purchase Order Management:
This is an extension of inventory management, but it seems these are the features merchants are most interested in, so I want to call them out:
Link Vendors To Products In Item Catalog: This is a new but helpful feature, and it's a good complement to the unit cost function.
Purchase Order Creation: You can create purchase orders from the Square dashboard. However, at this time, Retail isn't able to auto-populate purchase orders based on low or empty stock, which is a sore point. Instead, merchants have to select each item on the purchase order manually.
Purchase Order Management: You can receive purchase orders from the dashboard or within the Square Retail app as well as check the status (whether something is partially received, still waiting, etc.). When you receive items, you can also mark any taxes and fees for accurate cost-of-goods (COG) reporting.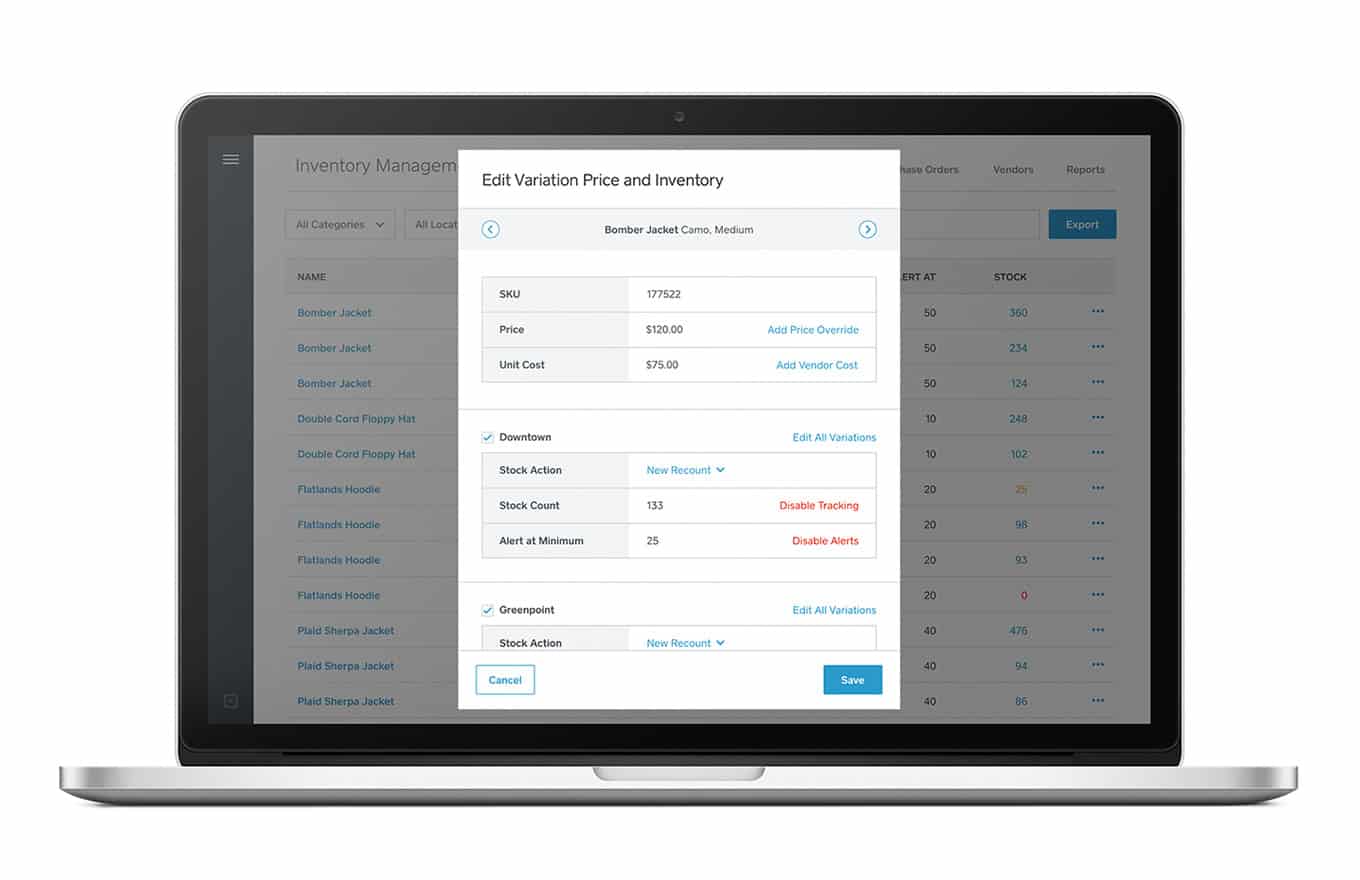 Favorites:
This feature allows you to create a list of popular items, or items you want to keep close on hand, that you can access from the app interface — no need to search for individual products.
Customer Directory:
The directory itself isn't new, but with the upgrade to the Retail app comes the ability to add notes in the directory, which is not available in the free Square Point of Sale app.
Custom Tips & Discounts:
These aren't Retail-exclusive features, but I do want to point out that the app supports tipping. I've encountered some merchants who sell a combination of services and retail goods that have expressed interest in the app. Unfortunately, many of them are frustrated by the inventory management tools, which don't seem adequately adapted for a hybrid business. But this does exist if you need it.
Team Management:
Square's version of employee management, which you can use to track employee hours with the built-in time clock, set user permissions, and create custom employee roles. Also, you can run time and management with the software. Square used to charge $5 per employee per month but has since made many of the features free in Team Management. You can also upgrade to Team Management Plus for additional features — all of which Square for Retail includes for free.
Square Virtual Terminal:
With Square's Virtual Terminal, you can accept payments through any web browser by manually keying in credit card information. Just like all other keyed-in transactions taken through Square, using the virtual terminal will cost 3.5% + $0.15 per transaction and take one to two business days to process.
Item View:
You can now manage inventory across multiple locations from your Square dashboard. You can also control employee permissions in the same way.
Client Messages:
Customers can now make an appointment and leave information in the form of a comment or note, saving employees a few steps.
Invoicing:
You can send invoices through the Square dashboard and pay 2.9% + $0.30. Invoices are customizable, and you can even keep customers' cards on file.
Free Online Store:
Square's free online store is really basic, but it works. It's as simple as ABC to set up, plus you can integrate with other third-party shopping carts (though not all reporting features work seamlessly). Square even allows you to accept orders online to pick up in-store, which is worth taking a look at.
Refund To Gift Card:
It's not quite the same as a store credit, but Square will finally let you refund a transaction to a gift card, giving you a more effective way to handle exchanges and store credit. It's not perfect by any means, but at least it's something.
Cash Management:
Track the starting and ending balances of drawers, pay-ins and pay-outs, and more.
Decimal Quantities:
Another initial hole with Square's Retail POS has been fixed with an update, as you now have decimal quantity support.
Square Appointments
Booking:
Square Appointments comes with a free booking website, allowing you to use social media sites such as Instagram and Facebook. You can create resources and assign them to get booked when clients make appointments.
Cancellations & No-Shows:
Set up your own policy and an automatic fee to be enforced when customers cancel appointments without enough notice or simply don't show up.
Timecard Reporting:
Allow employees to clock into the Square Point of Sale system in a quick, convenient fashion with the use of simple time cards, allowing you to track hours.
Permissions:
Square Appointments has unlimited sets of permissions, giving you the ability to let managers decide what employees have access to what features. You can also control what individual teams have access to and what they can see on your POS.
Customer Notes & Reminders:
Keep customer information on file with information (such as birthdays) that can be used for future marketing events. You can also see what customers have previously purchased to help with potential upsells in the future.
Wage Rates & Commissions:
You can easily assign different wages to various members of your business when necessary and set up differing commission rates for services.
Employee Accounting:
Your employees can see their own calendars within the system and access their personal schedules. You also get employee reports, allowing you to see how much labor is costing you.
Square's services at a glance:
| Reader | eCommerce | Retail | Food Service |
| --- | --- | --- | --- |
| | | | |
| Free App & Reader | Square eCommerce | Square for Retail | Square for Restaurants |
| Get Started | Get Started | Get Started | Get Started |
| Free, general-purpose POS software and reader for iOS and Android | Easy integration with popular platforms plus API for customization | Specialized software for more complex retail stores | Specialized software for full-service restaurants |
| $0/month | $0/month | $0-60/month | $0-60/month |
| Always Free | Always Free | Free Trial | Free Trial |
Customer Service & Support
Square offers live customer support from 6 AM to 6 PM Mondays through Fridays for those with the free app. This can be an issue if you need immediate assistance outside of those hours. Fortunately, there is email support available, and Square does have an impressive customer service page where you can troubleshoot some basic questions. If you subscribe to one of Square's paid services, however, you get 24/7 customer support via a support code, which is a nice added perk.
There are dozens of articles on various topics if you have time to do some research. Square also has one of the best community forums I've seen where you can look up various topics, including regular updates to the Square POS app.
Once you do get in touch with a live person, Square's support is friendly and very knowledgeable. They are happy to walk you through any issues you're having and are committed to making sure that your problems are completely resolved.
Square keeps up a current blog and is fairly active on its social media accounts, such as Facebook, Twitter, and Instagram. Square's YouTube channel also has some valuable information, plus walkthroughs and tutorials.
Compatible Credit Card Processors
Payment processing is another area where Square is a trendsetter. Square acts as its own processor and is compatible with almost any form of payment available. Square accepts Apple Pay and Android Pay, plus all major credit cards. Square recently upped its rates slightly, now charging 2.6% plus $0.10 for basic transactions, which is still very competitive in the market.
With the right equipment, you can accept swipe, dip, and tap payments. Square POS also has an intuitive tipping walkthrough for customers if you're using the product in the foodservice industry.
As you might expect, Square Payments is fully integrated with all of Square's POS products, and its fees are upfront and fairly competitive. Square's processing may be a deal-breaker for very high-volume sellers, as its fees can add up quickly. If you're sold on Square for everything else, and you have a business that's going to be making loads of sales, you may want to get on the phone with a representative. They have custom pricing, and you may be able to do some bargaining. However, this is one of the areas where Square struggles when it comes to larger operations.
Integrations & Add-Ons
With your free account, you get access to the Square App Marketplace, which comes with a wealth of integrations that work with Square Point of Sale apps (free and paid versions).
For accounting, Square integrates with Xero and QuickBooks, plus many others.
For eCommerce, you have access to Wix, WooCommerce, BigCommerce, and more. It's really worth checking out the website for a complete listing.
Square also has an open API if you're feeling enterprising and would like to create an app specifically for your business. Within the Square POS software ecosystem itself, there are also plenty of areas where you can upgrade.
The Square App Marketplace is also easy to browse, allowing you to search by the specific name of the app or just the type of app you're looking for, and it provides you with the cost and a rating. Here is just a taste of what you can get through the Square Marketplace:
Accounting:
TurboTax
Zoho Books
Commerce Sync
TaxJar
SHOGO
Enterpryze
Xero
Bench
ZipBooks
QuickBooks
Webgility
ONE UP
Kashoo Accounting
Hurdlr
SAP Business Online
GetLinked
Avalara TrustFile
DAVO
Sunrise
Booking/Scheduling:
Bookeo
Acuity Scheduling
GoDaddy Appointments
Schedulicity
Occassion
Appointy
Wix Bookings
Rezdy
Booxi
Appointedd
Here
Setmore
Full Slate
Genbook
Checkfront
Delivery & Orders:
Chowly
Craver
Jellyfish
Deliverect
Wi5
Cuboh
biermi
Aloompa LiveOrder
Order, Grab&Go
Mobi2Go
Ritual ONE
Orderspoon
ChowNow
TapTable
Ordrslip
Slice
Pepper
Kyoo
Postmates
Odeko
Inventory:
Shopventory
SkuHarmony
DEAR Systems
DigitalPour
Finale Inventory
Yellow Dog Inventory
Faire
skulQ
Loyalty:
TapMango
Gift Up!
TheGiftCardCafe.com
Digital Loyalty
Restaurants:
Fresh KDS
TouchBistro
PeachWorks
BentoBox
Plate IQ
MarketMan
Sociavore
Bevspot
Employee Management:
Deputy
TSheets
When I Work
Humanity
ZipRecruiter
7Shifts
Homebase
Square also has launched its own Square Payroll platform that integrates with all of its POS platforms, giving you another nice option for your all-in-one software that you don't have to think about.
Square POS App User Reviews & Complaints
Negative Reviews & Complaints
Fees For Larger Businesses: If you have a larger business or suddenly find yourself more successful than you had originally thought, the flat fees can add up, and you may need to look into a slightly more affordable option.
Fund Holds: A large number of Square POS review complaints to the Better Business Bureau revolve around Square placing immediate holds on funds when it deems a suspicious transaction has occurred. These holds can come without notice and can take a while to resolve, causing understandable frustration for vendors.
Less Than Robust Feature-Set: As mentioned, you can find more robust options on the market than Square. A few customers found that, once they got into Square's offerings, they needed more advanced reporting, inventory, and employee management options. This mainly comes in Square POS reviews of the free app as some users were unhappy that they would have to upgrade to a higher tier, but Square does make many of the missing features available for Square for Retail and Square for Restaurants.
Customer Service: With any large company, you're bound to get some complaints about your customer service. A few users complained about getting the runaround when trying to contact a live person for a specific issue and users of the free app weren't thrilled about not having 24/7 phone support.
Across its platforms, Square has more than 3,500 complaints with the Better Business Bureau over the past year but it also maintains an A+ rating.
Positive Reviews & Testimonials
Modern Design: Reviewers comment on the sleek look of the Square POS app and its easy-to-read display for both employees and customers.
Feature Rich: Square has never been lacking in its breadth of features. A lot of Square POS reviews enjoy the inventory and reporting functions along with the simple employee management offerings.
Low Cost & Simple Pricing: Business owners appreciate how much you get from an affordable package, and a few commented on how easy it is to predict your costs.
Integrations: Customers like having access to the impressive Square App Marketplace, and they appreciated that add-ons were at a minimum.
Final Verdict
For a novice business owner, particularly one without a lot of upfront capital, the Square Point of Sale system is going to be an extremely intriguing option. It still boasts one of the most user-friendly systems I've come across in an industry that seeks to make its products usable practically in utero.
Some POS systems offer free versions of their products that are riddled with significant feature gaps. That's not the case with Square. Square POS has all of the basic functionality you could need, plus solid customer service and simple to understand processing fees. And where the features in Square's free app are lacking slightly (such as inventory management and no 24/7 phone support) its paid products do well to fill the void.
Square for Retail is extremely intuitive and bulks up its inventory, making it a solid option for multilocation businesses. Square for Restaurants is an equally strong platform that is constantly updating and fully capable of handling an advanced, full-service restaurant. And the fact that these platforms all run on Square's modern and affordable hardware is an added bonus. Square remains an industry leader and a trendsetter for a reason.
---
The Merchant Maverick Seal of Approval 🏆
Square POS


---



After hours of in-depth research and evaluation, we can confidently recommend this brand to our readers. Get started today and see Square POS for yourself.
The Merchant Maverick Seal of Approval 🏆
Square POS


---



After hours of in-depth research and evaluation, we can confidently recommend this brand to our readers. Get started today and see Square POS for yourself.
To learn more about how we score our reviews, see our
Point Of Sale (POS) Software Rating Criteria
.
Read Next