Square POS App Review 2023 (Free Version)
The free version of Square's point of sale app offers simple processing fees, an inuitive interface, and a host of add-ons.
Expert Analyst & Reviewer

UPDATED
Advertiser Disclosure: Our unbiased reviews and content are supported in part by
affiliate partnerships
, and we adhere to strict
guidelines
to preserve editorial integrity.
Square POS

Square POS At A Glance
Free POS system with strong basic features
Intuitive interface that is simple to set up
Highly scaleable with additional software offerings
---
Pros
Quick setup
Simple processing fees
Intuitive interface
Loads of integrations
Cons
Occasional fund holds
The free plan is not as robust as paid options
What Is Square POS?
Square POS's free app is a no-cost point of sale system with built-in payment processing, basic inventory management, and reporting. Square POS accepts multiple forms of payments and is highly scaleable, with add-ons and upgrades available.
The appeal of Square point of sale is not only its no-cost entry point, which still provides a solid feature set, but also its ease of use, allowing sellers to be ready to accept card payments in minutes. Square is defined by elegant simplicity, with set processing rates that are both affordable and easy to comprehend.
It is also an ideal product for businesses that expect to grow in the future, with well-designed and affordable hardware offerings and the ability to scale up features without breaking the bank.
Square POS App Pricing
Square's basic point of sale app is free and is truly one of the best free products on the market, even coming with a magstripe reader at no cost. Its processing fees are competitive and easy to understand, charging 2.6% plus $0.10 for basic transactions and 3.5% plus $0.15 per manually-entered transaction, and 2.9% plus $0.30 for online transactions.
The free app includes basic inventory, reporting, and some employee management. Payroll, marketing, and loyalty need to be purchased as add-ons. Of course, other Square POS offerings have bulked-up features tailored to certain businesses.
Square POS Extra Costs & Fees
Square Loyalty: Starts at $45/month
Square Gift Cards: Physical gift cards start at $0.80 each
Email Marketing: $15/month
Square Payroll: $35/month + $5/employee
Online Store: Free plan $0, Pro plan $12/month, Performance plan $26/month, Premium plan $72/month
Square POS Features
| Square POS Features | Availability |
| --- | --- |
| Multi-Store Support | |
| Contactless Payments | |
| Multi-Channel Selling | |
| Gift Cards | Add-on |
| Customer Loyalty | Add-on |
| Marketing Tools | |
| Online Ordering | |
| Inventory Management | |
| Reporting | |
| Menu Management | With Square for Restaurants |
| Delivery Management | Add on |
| EBT Acceptance | |
| Employee Management | |
| Text Messaging | |
The Square Point of Sale app has many features, and you can always purchase add-ons or level up to one of its paid services. Here is where the free app shines:
Inventory Management
Bulk importing lets you download thousands of products quickly via a CSV file.
Daily stock alerts let you know when products run low.
Export stock levels instantly to a spreadsheet.
Transfer inventory across multiple stores.
Support for partial quantities and weight scale
Team Management
Employees can be given different permissions and access to certain functions.
Employees can clock in and out at the register, and hours can be easily edited if necessary.
Analytics makes it easy to see which employees are your top sellers.
Labor vs. Sales reports make it easy to evaluate labor costs.
Control access and protect information from the dashboard.
Free timecards for simple payroll and an integrated time clock.
Square Loyalty
Square offers loyalty plans starting at $45 a month but does offer electronic gift cards in the basic free play. Square's loyalty comes with the ability to:
Import large customer lists via a CSV file.
Customers can earn loyalty rewards and discounts automatically, and that information gets stored on their profile within the system.
Prospective customers can also sign up to receive text messages informing them of when they've earned a reward.
Easily customize spending and visit levels for rewards.
Search customers and see what products will most likely bring them back into your store.
You can also quickly edit customer information manually and add personalized notes.
Purchase histories and simple analyses of spending habits are easy to look up.
Square Gift Cards
Physical gift cards start at $0.80 with the Square POS app. Create digital gift cards for free, or order physical cards with unique designs for an additional cost.
Balances can easily be viewed in Square Dashboard.
Customer balances and other information is simple to store and search.
Square Online Store
Tap To Pay
Take payments on your iOS mobile app via ApplePay.
Safely store payments and customer information.
Accepts multiple payment wallets.
Reporting
View reports on any device in real-time.
Reports analyze which customers are new to your business, which are repeat visitors, and what they are purchasing.
Customize sales breakdowns by days, weeks, and months to spot trends.
Get summaries to your inbox and download CSV files.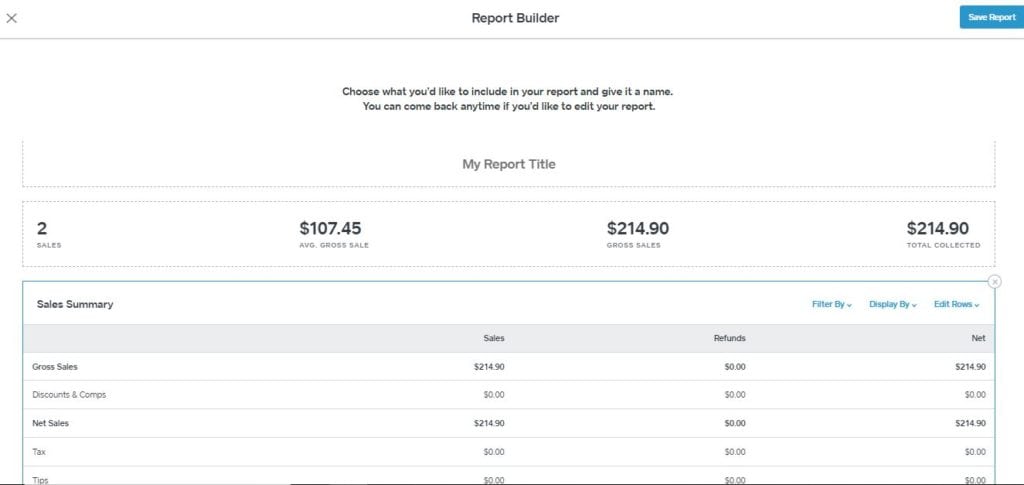 Is Square POS User-Friendly?
Square is one of the most user-friendly POS products available. Not only is it simple to use with virtually no need for training, but it can also be set up in a matter of minutes, allowing you to start selling shortly after creating your account. Square gets high praise across the board from users for its simplicity, making its POS popular with new small business owners.
Customer Service & Support
| Square POS Support | Availability |
| --- | --- |
| Phone Support | |
| Email Support | |
| Support Tickets | |
| Live Chat | |
| Dedicated Support Representative | |
| Knowledge Base or Help Center | |
| Videos & Tutorials | |
| Company Blog | |
| Social Media | |
Square offers live customer support from 6 AM to 6 PM, Mondays through Fridays, for those with the free app. This can be an issue if you need immediate assistance outside of those hours. Fortunately, email support is available, and Square does have an impressive customer service page where you can troubleshoot some basic questions.
There are dozens of articles on various topics if you have time to do some research. Square also has one of the best community forums I've seen, where you can look up various topics, including regular updates to the Square POS app.
Once you get in touch with a live person, Square's support is friendly and knowledgeable. They are happy to walk you through any issues and are committed to ensuring that your problems are completely resolved. Square keeps up a current blog and is fairly active on its social media accounts, such as Facebook, Twitter, and Instagram. Square's YouTube channel also has valuable information, walkthroughs, and tutorials.
Payment Processing With Square POS
Payment processing is another area where Square is a trendsetter. Square acts as its own processor and is compatible with almost any form of payment available. Square accepts Apple Pay and Android Pay, plus all major credit cards. Square recently upped its rates slightly, now charging 2.6% plus $0.10 for basic transactions, which is still very competitive in the market.
With the right equipment, you can accept swipe, dip, and tap payments. Square POS also has an intuitive tipping walkthrough for customers if you use the product in the foodservice industry.
As you might expect, Square Payments is fully integrated with all of Square's POS products, and its fees are upfront and fairly competitive. Square's processing may be a deal-breaker for very high-volume sellers, as its fees can add up quickly.
If you're sold on Square for everything else, and you have a business that's going to be making loads of sales, you may want to get on the phone with a representative. They have custom pricing, and you may be able to do some bargaining. However, this is one of the areas where Square struggles when it comes to larger operations.
Contract Length & Early Termination Fees
One of Square's best features is that it doesn't lock you into any long-term deals. You can use the product on a month-to-month basis and are not required to sign long contracts even for its paid services. There is the option to lease equipment for some of Square's hardware devices, but we generally advise buying your hardware if possible.
Square Integrations & Add-Ons
With your free account, you get access to the Square App Marketplace, which has a wealth of integrations that work with Square Point of Sale apps (free and paid versions).
For accounting, Square integrates with Xero and QuickBooks, plus many others.
You have access to Wix, WooCommerce, BigCommerce, and more for eCommerce. It's really worth checking out the website for a complete listing.
Square also has an open API if you're enterprising and want to create an app specifically for your business. Within the Square POS software ecosystem itself, there are also plenty of areas where you can upgrade.
The Square App Marketplace is also easy to browse, allowing you to search by the specific name of the app or just the type of app you're looking for, and it provides you with the cost and a rating. Here is just a taste of what you can get through the Square Marketplace:
Accounting
TurboTax
Zoho Books
Commerce Sync
TaxJar
SHOGO
Enterpryze
Xero
Bench
ZipBooks
QuickBooks
Webgility
ONE UP
Kashoo Accounting
Hurdlr
SAP Business Online
GetLinked
Avalara TrustFile
DAVO
Sunrise
Booking/Scheduling
Bookeo
Acuity Scheduling
GoDaddy Appointments
Schedulicity
Occassion
Appointy
Wix Bookings
Rezdy
Booxi
Appointedd
Here
Setmore
Full Slate
Genbook
Checkfront
Delivery & Orders
Chowly
Craver
Jellyfish
Deliverect
Wi5
Cuboh
biermi
Aloompa LiveOrder
Order, Grab&Go
Mobi2Go
Ritual ONE
Orderspoon
ChowNow
TapTable
Ordrslip
Slice
Pepper
Kyoo
Postmates
Odeko
Inventory
Shopventory
SkuHarmony
DEAR Systems
DigitalPour
Finale Inventory
Yellow Dog Inventory
Faire
skulQ
Loyalty
TapMango
Gift Up!
TheGiftCardCafe.com
Digital Loyalty
Restaurants
Fresh KDS
TouchBistro
PeachWorks
BentoBox
Plate IQ
MarketMan
Sociavore
Bevspot
Employee Management
Deputy
TSheets
When I Work
Humanity
ZipRecruiter
7Shifts
Homebase
Square also has launched its own Square Payroll platform that integrates with all of its POS platforms, giving you another nice option for your all-in-one software that you don't have to think about.
Square POS Reviews
Negative Square POS Reviews & Complaints
Fees For Larger Businesses: If you have a larger business or suddenly find yourself more successful than you had originally thought, the flat fees can add up, and you may need to look into a slightly more affordable option.
Fund Holds: A large number of Square POS review complaints to the Better Business Bureau revolve around Square placing immediate holds on funds when it deems a suspicious transaction has occurred. These holds can come without notice and sometimes take a while to resolve, causing understandable frustration for vendors.
Less Than Robust Feature Set: As mentioned, you can find more robust options on the market than Square. A few customers needed more advanced reporting, inventory, and employee management options once they got into Square's offerings. This mainly comes in Square POS reviews of the free app as some users were unhappy that they would have to upgrade to a higher tier, but Square does make many of the missing features available for Square for Retail and Square for Restaurants.
Customer Service: With any large company, you're bound to get complaints about your customer service. A few users complained about getting the runaround when trying to contact a live person for a specific issue, and users of the free app weren't thrilled about not having 24/7 phone support.
Positive Square Reviews & Testimonials
Modern Design: Reviewers comment on the sleek look of the Square POS app and its easy-to-read display for employees and customers.
Feature Rich: Square has never been lacking in its breadth of features. A lot of Square POS reviews enjoy the inventory and reporting functions along with the simple employee management offerings.
Low Cost & Simple Pricing: Business owners appreciate how much you get from an affordable package, and a few commented on how easy it is to predict your costs.
Integrations: Customers like having access to the impressive Square App Marketplace, and they appreciated that add-ons were at a minimum.
What About Square For Restaurants & Square For Retail?
Square also has more advanced plans for specific industries, each of which has a free plan.
Square for Restaurants is designed for restaurants of all sizes. Its paid plan is $60/month with available upgrades, and it's more than capable of handling full-service establishments with its menu creation and table mapping functionality. It also has tableside ordering options, and when paired with its delivery integration, Square for Restaurants is a versatile POS system for the food industry.
Square for Retail comes at an identical price point as Square for Restaurants, with a free version and a plan starting at $60/month which features slightly lower processing fees at the Pro level. It comes with advanced inventory features that the free app lacks, along with purchase order management, employee management, and invoicing functionality.
Final Verdict Of Square POS
Square POS Review Summary
Pricing
$0/month
Choose If You Need

A strong free app
Integrated payment processing
Scaling options
The Square Point of Sale system is an extremely intriguing option for a novice business owner, particularly one without a lot of upfront capital. It still boasts one of the most user-friendly systems in an industry that seeks to make its products usable practically in utero.
Some POS systems offer free versions of their products that are riddled with significant feature gaps. That's not the case with Square. Square POS has all the basic functionality you could need, plus solid customer service and simple-to-understand processing fees. And where the features in Square's free app are lacking slightly, its paid products do well to fill the void.
Square POS FAQs
---
The Merchant Maverick Seal of Approval 🏆
Square POS


---
After hours of in-depth research and evaluation, we can confidently recommend this brand to our readers. Get started today and see Square POS for yourself.
The Merchant Maverick Seal of Approval 🏆
Square POS


---
After hours of in-depth research and evaluation, we can confidently recommend this brand to our readers. Get started today and see Square POS for yourself.
To learn more about how we score our reviews, see our
Point Of Sale (POS) Software Rating Criteria
.