Lightspeed Retail POS Review
Expert Analyst & Reviewer

Updated on:
Advertiser Disclosure: Our unbiased reviews and content are supported in part by
affiliate partnerships
, and we adhere to strict
guidelines
to preserve editorial integrity.
Lightspeed Retail POS

Pros
Loyalty program
Advanced inventory management
eCommerce integration
Accepts multiple payment options
Cons
Steep learning curve
Expensive monthly cost for smaller businesses
Lightspeed POS Overview
No point of sale (POS) company is perfect. However, when you delve into Lightspeed Retail, you have to nitpick a little to find the flaws. That's not to say it's the best solution for every business, but as you'll see from this review, Lightspeed is a product designed for multiple types of retailers and boasts a very rich feature-set, built-in processing, eCommerce, and other goodies. Lightspeed Retail POS is geared toward mid-sized and larger-scale independent businesses. It can handle the needs of virtually any retailer, boasting dozens of integrations that can keep your business on the cutting edge.
There are multiple Lightspeed products, but this review deals explicitly with Lightspeed Retail. It's a POS designed specifically with a variety of retail establishments in mind and with features geared toward those businesses. If you're operating a business in the foodservice industry, you'll want to head on over to our review of Lightspeed Restaurant, an equally solid product from the same company but designed for restaurant establishments.
Lightspeed POS has rapidly updated in the past few years and now offers its own eCommerce platform, giving you the ability to set up and run your store online. Its interface is highly intuitive and modern, and customers will appreciate the level of customization that is available. Surprisingly, given the company's attention to staying on the cutting edge of trends in the POS world, a few complaints have been lobbed Lightspeed's way about its refusal to correct minor bugs in its software. Lightspeed is not the cheapest solution on the market, but it does offer pretty much any feature you could dream up, and for those looking for a one-stop-shopping system with strong customer service, Lightspeed POS is worth looking into.
Lightspeed POS Pricing
Recently, Lightspeed Retail pricing has changed, making it a more affordable option for smaller retailers. A basic package starts at $69/month, although the price of your Lightspeed POS package may vary based on the features your business needs.
With the new pricing structure, there appears to be a little more wiggle room if you need things such as eCommerce or advanced reporting, making a system that was on the pricier higher end of the POS spectrum slightly more cost-effective.
Here's a breakdown of Lightspeed POS costs and packages:
Basic
The LightSpeed POS Basic package costs $69/month if you sign up for an annual subscription. The price increases to $79/month if you pay on a month-to-month basis. The Basic plan includes:
Retail POS
Payments
Free terminal
Starter
The Starter package is priced at $99/month for annual subscribers or $119/month on the monthly plan. The Starter package includes:
Retail POS
Payments
Free terminal
eCommerce platform
Standard
The Standard package is most recommended by LightSpeed Retail POS. It is priced at $119/month for the annual plan or $139/month if you pay each month. The Standard plan includes:
Retail POS
Payments
Free terminal
eCommerce platform
Integration with your accounting software
Advanced
The Advanced plan is $169/month for an annual subscription or $189/month if you pay monthly. The Advanced plan includes:
Retail POS
Payments
Free terminal
eCommerce platform
Integration with your accounting software
In-store & online loyalty rewards
Pro
Finally, the Pro plan costs $229/month for annual subscribers and $259/month if you pay monthly. This plan includes:
Retail POS
Payments
Free terminal
eCommerce platform
Integration with your accounting software
In-store & online loyalty rewards
Analytics
Unsure if Lightspeed Retail POS is right for you? Take it for a spin with a 14-day trial you can use to check out the software for yourself.
Cloud-Based Or Locally-Installed
Though Lightspeed Retail is technically cloud-based — meaning your information is stored on Lightspeed's servers and synced over the cloud to your platform — the system itself is a hybrid. Retail is browser-based; you don't have to install any programs on your computer, but you do have the option to install the Retail POS app on your iOS device. In this case, the system offers most of the benefits of a locally-installed system without having to use bulky and expensive hardware or deal with on-site software updates.
Specific Industry
Lightspeed Retail is one of the most complete POS systems available for virtually any type of retail industry. It also offers features for selling services alongside physical products. With the ability to create estimates/quotes, service and repair orders, and define labor costs, the software is useful in a variety of settings. The POS really shines in the apparel industry, but it can fill the needs of virtually any type of retail environment, especially if you have opted for one of the more advanced packages. One of the standout areas of this software is the amount of register functionality offered, something not readily available with similar POS system providers.
Note: If you're a food seller, have a look at our Lightspeed Restaurant review; Retail won't be suitable for your needs.
Specific Size Of Business
Any size business will likely work happily with Lightspeed Retail, and the recent pricing change should make this a far more appealing option to smaller retailers. That said, the software is so feature-rich, with functions to support every part of the retail cycle — from ordering and purchasing to stocking and selling (as well as extensive CRM capabilities and employee management) –that it appeals to even the largest of big-box retailers.
Larger industries where cost may be less of an issue might gravitate to Lightspeed POS for its wide array of integrations and add-ons. Lightspeed also has a sleek design and regular updates, making it a relatively unique POS compared to some other options. If you're looking for all of the standard features in a highly-rated POS — solid inventory management, deep analytics reporting, and marketing campaign management — along with the ability to highly customize the software and give customers a somewhat more intimate experience, this POS should be near the top of your list.
Ease Of Use
Lightspeed does a really good job of making sure customers understand what they are getting and know best how to use it. After signing up, an associate will contact you almost immediately to answer questions and help you hit the ground running. Once you've purchased Lightspeed, a customer success representative will help you set up your store and give you instructions about how to use the system. That said, the front and back end of the software are both extremely intuitive. The initial setup, completed in the in-browser software (though you can manage it from your POS), involves a step-by-step process that includes a catalog of items you can use to populate your inventory.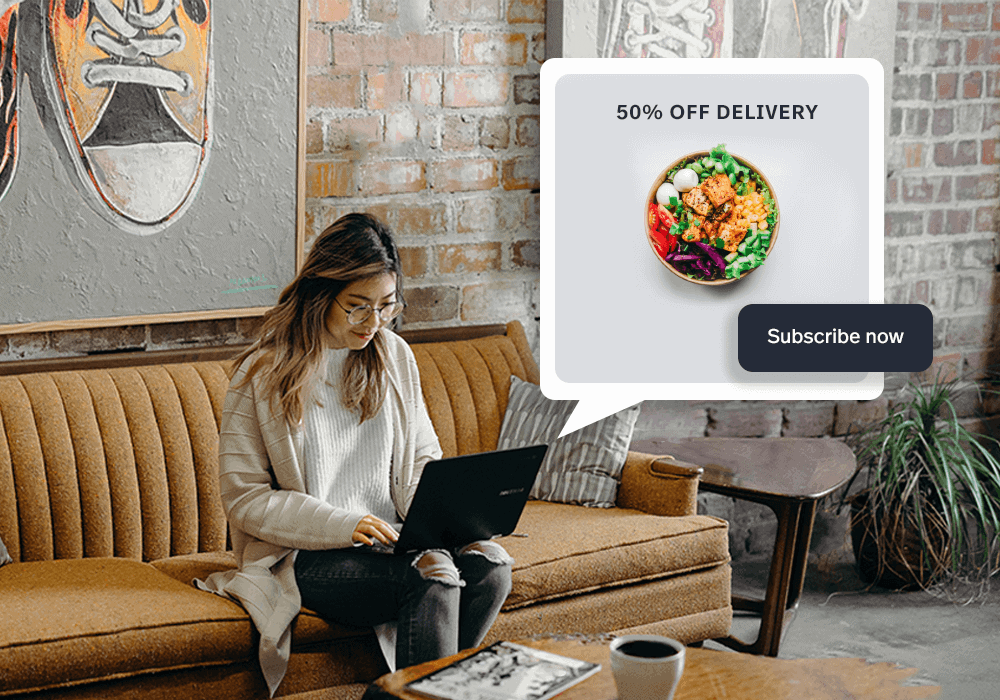 The organization of the management area is basic in the best possible way. All of the functions are grouped into categories on the left-hand side, and the most commonly used options are the most prominently displayed. This might seem like an obvious thing to do, but you'd be surprised how many POS dashboards hide away the most vital functions. You can start, continue, or refund a sale with reasonable ease, create special orders, and even set a customer-facing display for when you're away from the register.
There are very few areas where you could conceivably get tripped up when initially tooling around the interface. Everything is where you would expect to find it, and navigating through screens is simple and easy to master with limited training. There's a high degree of inventory customization, reporting options, and customer tracking, which inevitably lends a certain level of complexity to the software. Processing reporting, for example, is somewhat complicated, with dozens of compiled reports to choose from. However, most POS back ends are naturally a bit complicated, and anyone with a modicum of managerial experience should be able to figure out the system quickly.
Hardware & Operating System Requirements
The Retail App and associated hardware will work with any iPad or iPhone running iOS 12.2+. Keep in mind that you can't make sales via iPhone; you must have an iPad. The in-browser option will run on any computer with an internet connection.
Lightspeed sells all peripheral hardware and offers two bundles:
iPad POS Hardware Kit: This includes an APG cash drawer, a Vault Simplicity Base iPad stand, a Bluetooth socket scanner, a LAN receipt printer, and receipt paper. The actual iPad is not included.
Desktop POS Hardware Kit: This includes an APG cash drawer, a Lightspeed scanner, a USB receipt printer, and receipt paper. The computer itself is not included.
Any of these peripherals can be purchased separately if you don't need a whole bundle. For models and pricing, check out Lightspeed's hardware page. Customer service representatives are trained to help you if a hardware catastrophe or minor glitch hits your store. Lightspeed sells Zebra label printers through its site along with APG cash drawers and barcode scanners that can be connected by Bluetooth or through a USB connection. Lightspeed also offers card-swipers for purchase through its website.
Lightspeed POS Features
Lightspeed Retail is loaded with features tailored to retailers. Lightspeed truly offers an all-in-one POS solution with features for your POS system, eCommerce business, inventory management, and much more. Please note that the features available to you vary based on the package you select. Contact Lightspeed Retail to learn more about packages and choosing one that's right for you.
Lightspeed Retail POS
Payment Types: All payment types are accepted: cash, credit, debit, check, gift card, and store credit (either from exchanges or established house credit accounts).
Receipts: You can print and/or email receipts (and gift receipts) with product descriptions and notes.
Gift Certificates & Gift Cards: Gift certificates/cards also have a barcode for ease of use and can be reused (their balances can be changed).
Discounts: The option to apply discounts is readily available through the register.
Holds & Layaway: You can hold and suspend sales and return to them later or transfer them to another device. You can also place items on hold/layaway for customers to pick up at a later date. Adding new/existing customers to a sale directly through the POS interface is seamless. Performing returns and exchanges is equally easy.
Customer Loyalty Program: Lightspeed Loyalty allows you to reward your customers online and in-store with its point-based loyalty program. This fully integrated program allows you to easily add customers, automate marketing campaigns, categorize rewards, and send one-time offers for birthdays, special occasions, or to celebrate your VIP customers. Integrations with Mailchimp and Mailsync are now available for email marketing management. Other great features include the ability to track outstanding balances and past-due accounts, track all your print statements, apply payments to invoices and balances, or use credits against future sales
Lightspeed eCommerce
One of the most recent additions to Lightspeed is its eCommerce platform. This platform allows you to seamlessly sell online with the following features:
Customizable Templates: Lightspeed offers 60 themes and allows you to be creative with your design. It is an extra cost, but having this level of synchronization with your POS system is convenient.
Appointments: Allow customers to set up appointments directly from your online store. Automatic confirmations and email reminders are also available to help reduce no-shows.
Wishlists: Your customers can add their favorite items to a wishlist for purchasing later.
Returns & Exchanges: Simplify returns and exchanges with Lightspeed eCommerce by allowing customers to open a support ticket directly from their profile.
Shipping Tools: Get organized when it comes to shipping out products with Lightspeed Retail's shipping tools. You can organize, edit, and view shipments from the back end, issue tracking codes to customers, and integrate with shipping APIs like ShipStation and EasyPost.
Marketing: Through Lightspeed's eCommerce platform, you can easily connect your social media accounts to your shop, create an auto-syncing location page, and use Lightspeed's built-in SEO tools.
Global Support: You can create your website in up to 14 different languages. Multiple currencies are supported, and you can also set up international shipping rates.
Reports: There are a number of reports you can run to determine the health of your online business and plan for the future. This includes sales reports, order status reports, and conversion reports.
LightSpeed Inventory
Take control of your inventory with Lightspeed Retail's inventory management system. The options for inventory management can go fairly deep, depending on your particular needs. The basic process — adding descriptions, category management, and reorder points — is relatively simple. More advanced features include:
Multistore: Lightspeed allows you to transfer inventory between locations and provides full visibility of all inventory from stores and warehouses (you can look to see if another store has the product a customer wants). Another cool feature is the ability to set different prices for the same SKU on a store-by-store basis. You can take your show on the road with the Retail iPad app, capable of handling temporary storefronts, such as pop-up stands or trade shows.
Purchase Order Management: You can track vendors, complete PO's across multiple vendors and items, and receive or return orders. Return to Vendor (RTV) is a newer feature that allows you to manage merchandise returns due to damaged products, incorrect shipments, customer warranty returns, etc. Retail also enables you to track unit costs and shipping fees to calculate your profits and margins accurately. For selected vendors, there are more advanced options, such as direct catalog ordering from within Lightspeed POS.
Customizable Tags: Customizable tags allow you to essentially create your own inventory taxonomy for searching for items.
Item Variations: Your inventory management system allows you to add multiple attribute matrices (large, black, leather, etc.). You also have the ability to assemble items into bundles, including serialized items. You can also manage items that are typically bought in bulk but sold individually (i.e., a 12-pack of soda that is sold by the can).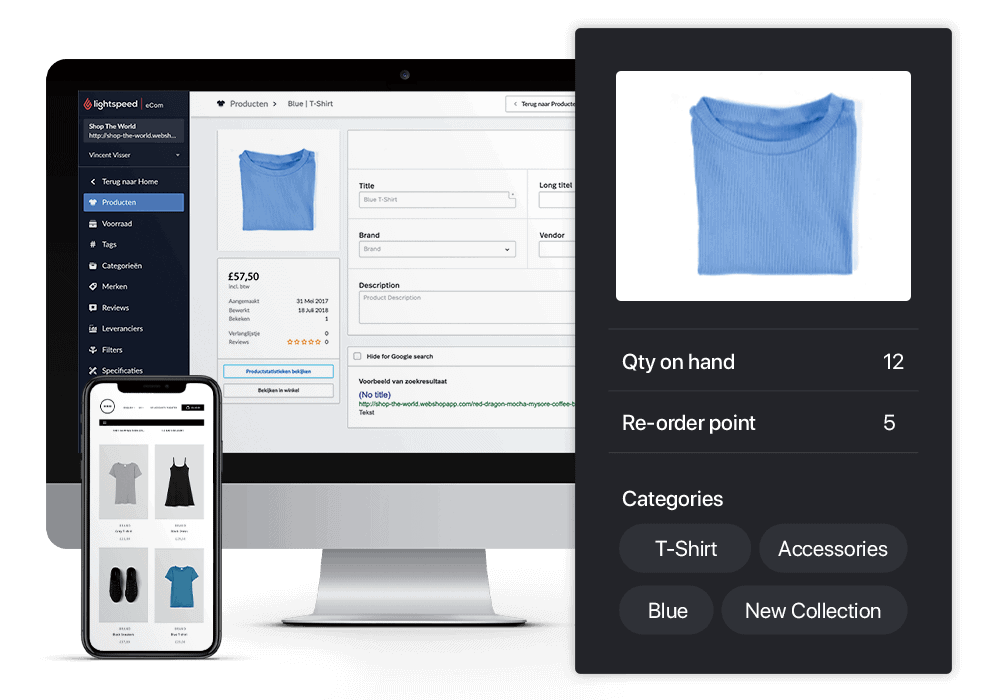 Other Lightspeed POS Features
Employee Management: There is a basic time clock for employees, operated through an easy-to-set-up pin, as well as a log of employee sales and inventory changes. You can set up customizable roles from within the management area.
Work Order Management: You can create work/repair orders, track repair progress, and print claim checks and service labels. The labor option also allows you to bill work orders based on time worked. You can schedule appointments for services and turn quotes/orders into invoices/sales too. Lightspeed recently added a feature that allows merchants to add up to 12 photos to a work order. This can be really helpful for jewelry or tattoo shops and especially for high-end repair shops that require before and after photos.
Reporting: There are hundreds of preset printable reports. Customized reports may be filtered by day, week, month, or year. View your profits by total revenue or margin to understand what your inventory is costing you and which items are most profitable. You can also use reports to track the effectiveness of promotions, strategically schedule and task your employees, and track end-of-day accounts, among other things. Advanced reporting includes responsive widgets that provide you with a visual dashboard of the most important elements in your store. There's also a desktop browser export feature — any report lists can be exported to Excel in spreadsheet format.
Customer Service & Support
Since Retail is priced with a subscription model, premium technical support is part of the service. Various kinds of support are available as follows:
Phone: Phone support is available 24/7.
Live Chat: You can chat with a representative from virtually any page on the Lightspeed site from 11 AM-8 PM EST or leave a message with your email address if no one is available.
Community Forum: A community forum is available through the website.
Social Media: Lightspeed also has several social media pages, including Facebook, Twitter, Instagram, and LinkedIn.
Additional Resources: There is a support page with links to resources, the status of the system, release notes, and training videos.
For users who have a valid subscription, Lightspeed customer support works to respond to service requests within one business day.
Lightspeed Credit Card Processing
For credit card processing, you have two choices: you can use an outside provider that integrates with Lightspeed Retail, or you can use Lightspeed's own payment processor.
Lightspeed Retail is fairly limited in its integrations with payment providers, which are:
2Accept
Ikeono
TSYS
Vantiv (now Worldpay)
Lightspeed also offers additional payment provider integrations for businesses outside of the US. You can use a non-integrated processor, but it will not be linked with your Lightspeed Retail account.
Lightspeed Payments
Lightspeed also offers its own payment processor, conveniently named Lightspeed Payments. Currently only available in the US and Canada, Lightspeed Payments offers upfront and competitive rates of 2.6% + $0.10 per tapped, inserted, or swiped payment and 2.6% + $0.30 per manual entry. Businesses processing more than $250,000 can request a custom quote.
You can purchase a terminal like the Verifone P400 directly from Lightspeed. These terminals fully integrate with Retail POS and Lightspeed Payments. Unfortunately, you can't use any existing terminal hardware if you sign up for Lightspeed Payments. This is a good choice for anyone that wants a plug-and-play system that is easy to set up and start using right away.
Integrations & Add-Ons
Integration with Mailchimp is included with any subscription to Lightspeed Retail; other third-party integrations are available as add-ons. Lightspeed POS integrates with a vast slate of companies, and the chances are, if you're interested in or have heard about a particular feature, Lightspeed will have it. The Add-Ons page lists several applications and services, including some of the following:
Accounting: Lightspeed Retail offers a program called Lightspeed Accounting that can integrate with QuickBooks Online, QuickBooks for Windows, and Xero.
Loyalty Rewards: Retail integrates with a couple of different CRM-related programs and services that allow you to create and track customer rewards programs, along with contact and sales data for email and online marketing purposes. These integrations include Loyal2, City Hive, Perkville, AppCard, Chronogolf, Tap Mango, PetStoreMarketer, and Thirdshelf.
Scheduling: Use NimbleSchedule, Agendrix, Booxi, Chronogolf, or Homebase to schedule and track employee hours over the internet, allowing employees to request time off, trade shifts, and clock in or out from anywhere.
Social Platform: Lightspeed's feature partner is CommentSold, allowing you to sell directly to customers over social media platforms, such as Facebook and Instagram.
Rental: For retailers needing to rent equipment, integrations with Rental Shop Manager and Bike Rental Manager are offered.
Email Marketing: If you would like to take advantage of email marketing, Lightspeed Retail has you covered with Mailsync.
Inventory Management: Your inventory management needs can be handled with integrations including Stitch Labs, iMerchandise, Nobal Technologies, and SkuVault.
Lightspeed eCom: This eCommerce platform is an impressive addition to Lightspeed's belt of POS systems. You can find out more information about this system by watching a demo or requesting a free trial. Not only is Lightspeed eCom a stand-alone, fully functional, exclusively online POS system, but it now offers integrations with Lightspeed Retail.
Lightspeed Retail POS Reviews, Complaints & Testimonials
Negative Lightspeed Reviews & Complaints
When it comes to reviews, Lightspeed customers seem to be split down the middle. Lightspeed POS has a B+ rating with the Better Business Bureau and nine complaints over the last three years. Some of the most common complaints across the BBB and review sites include:
Ignored Customer Requests: Various complaints cite that user feature requests and reports regarding system glitches have been largely ignored (over long periods, in several cases). Some customers state that they would like to see Lightspeed get better at maintaining and fixing its system before working on new functionality and advancement.
Glitches: Several complaints have been made about bugs in the system. Those customers report being satisfied with responses from Lightspeed's customer service regarding their complaints but are frustrated when no action seems to come from the developers.
Learning Curve: A few reviewers found some of Lightspeed's offerings to be a bit overwhelming and difficult to master. As mentioned, the back end (especially with advanced features) does take some getting used to simply because there's a lot to try out. A few other reviews also mentioned that some of those advanced features occasionally lagged.
Positive Lightspeed Reviews & Testimonials
While there are some negative reviews of Lightspeed Retail, there are many positive reviews across the web to balance things out. Lightspeed Retail receives a rating of 4/5 (based on 785 reviews) on Software Advice and a 4.1/5 (based on 162 reviews) on G2. Users most like:
Customer Service: A large number of customers are completely satisfied with the level and quality of customer service they receive from Lightspeed Retail. From short wait times to very helpful and friendly representatives, many patrons are content with the service.
Ease Of Use: A common thread found throughout most positive comments involves how easy Lightspeed Retail is to use and train staff on.
Strong Feature Set: Many appreciate the fact that Lightspeed Retail has a large and diverse set of features. Customers like the unlimited and highly customizable inventory feature as well as the matrix feature that allows you to organize items with multiple variations.
Fast Setup: Many customers really appreciated the personalized setup process and found that it was easy to train employees even on some of the more complicated aspects of the product.
Integrations: A few customers loved the choices and the variety of integrations that were available to them.
Final Verdict
Lightspeed POS is one of the most robust and easy-to-use solutions in today's point of sale market. If you're looking for a system that will likely have every option you could dream up in a POS in both the front and back end and pricing isn't a major consideration, Lightspeed Retail should be fairly high on your list.
There are a few downsides, though. Some users have reported system glitches that can be frustrating. The learning curve is also fairly steep if you're new to POS systems. The number of features can be overwhelming, and the system can take some time to get used to. However, the company is committed to updating its system frequently to provide the latest in POS advances, while offering strong customer service to help you get up and running as quickly and smoothly as possible.
I highly recommend that you take Retail for a trial run and see what you think. There are more than enough satisfied Lightspeed Retail customers who would encourage you to do the same. If you're still on the fence, you can also check out some of our top picks in retail POS systems to determine the best option for your business.
---
The Merchant Maverick Seal of Approval 🏆
Lightspeed Retail POS


---



After hours of in-depth research and evaluation, we can confidently recommend this brand to our readers. Get started today and see Lightspeed Retail POS for yourself.
The Merchant Maverick Seal of Approval 🏆
Lightspeed Retail POS


---



After hours of in-depth research and evaluation, we can confidently recommend this brand to our readers. Get started today and see Lightspeed Retail POS for yourself.
To learn more about how we score our reviews, see our
Point Of Sale (POS) Software Rating Criteria
.
Read Next