What Is Google Business Profile (Formerly Google My Business)? A Simple Guide For Small Businesses
If you're a small business owner, using Google Business Profile could help boost traffic to your place of business. Find out how in our simple guide!
Expert Analyst & Reviewer

UPDATED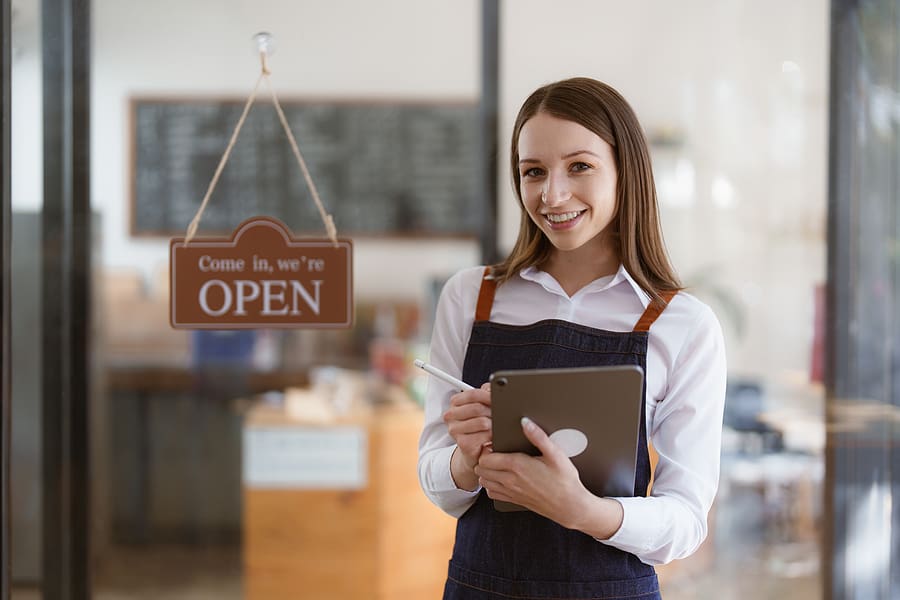 Google Business Profile (formerly Google My Business) is an easy, free way for small businesses to boost their visibility and reach more customers. But what exactly is a Google My Business profile? Should you use Google for your business, and if so, how can you start?
We're here to answer those questions and help you use this free tool. Let's start with the basics.
What Is Google Business Profile (Formerly Google My Business)?
Google Business Profile is a free tool from Google that lets small business owners control the way their business appears in Google searches and Google Maps.
Google Business Profile is one of many free Google tools for your business. If you're not already using Google for your business, Google Business Profile is a great way to start.
8 Ways Google Business Profile Helps Small Businesses
According to the latest data, Google searches account for 82.95% of online searches in the US. Google processes a mind-boggling 40,000+ search queries every single second. That represents a huge market for your small business.
But if you're not using the tools Google provides for your business, you're not representing your business and doing your best to draw those searchers in and turn them into paying customers.
Creating a Google Business Profile allows you to represent your business in Google searches how you want to be seen. Here are eight ways you can use Google tools for business once you've set up your Google Business Profile:
1) Verify Your Business
Not just anyone can claim a profile. Google will take steps to confirm that you're actually the business owner before you gain permission to manage your Business Profile. Verification can take place via phone, SMS, or a postcard sent by Google to your physical business address.
Be sure to link your business website to your Google Business Profile, too.
2) Respond To Customer Reviews
Once you're signed into your Google Business Profile, you can reply to reviews of your business posted by customers on Google Search and Maps. Your response will be labeled "Response from the owner," giving you a fantastic tool for free public relations activities.
3) Set Hours For Specific Services
Does your business limit some types of service to specific hours? An example might be breakfast service vs. lunch service for a restaurant or a professional office that prefers to limit new client visits to certain days of the week. You can use your Google Business Profile to set More hours to clarify your business availability.
4) Show Services Your Business Offers
Do you offer curbside pickup? How about free Wi-Fi? Special accessibility accommodations?
Whatever sets your business apart from the competition, you want to highlight it. You can select attributes to appear on your Google Business Profile, and customers can add input, too.
5) Update Your Menu & Accept Orders
Restaurant owners in six countries, including the US, can show takeout and delivery options on their Google Business Profile. If that's an option you're interested in, make sure your online ordering provider already works with Google.
You can also update your menu to show changes to the dishes you provide, link your full menu, or highlight special offers to grab customers' interest.
You'll also be able to flag photos of dishes for review if you spot issues that need attention. For example, if a customer posts a photo of a dish you don't serve or labels your dish incorrectly, you can suggest an edit.
6) Show Your Inventory
A Google tool called Pointy lets you show customers what's available on the shelves or racks of your physical store location. Local customers who search for specific items will be able to see what's in stock nearby. You can even add photos.
Pointy is a free downloadable app that works with some POS systems, such as Clover, Square, and Lightspeed. If you're using a different system, you can receive a Pointy box at no charge.
7) Access Google's Marketing Kit
Google has some helpful marketing tools available in a free kit for Google Business Profile users. This kit helps you promote your business both online and off. Templates are available for posters, window stickers, social posts, and more.
8) Tap Into Tailored Advice
This one isn't free, but if you're a US-based small business owner who'd like to receive personal guidance from a trained Google Advisor, you might find the cost worth it.
For a $39.99 fee, you'll get a 50-minute one-on-one session with a small business advisor. Topics available include Business Profile, Google Domains, Google Ads, Google Merchant Center, Google Workspace, Google Analytics, YouTube, and other Google products aimed at small businesses.
You'll be able to share your screen during the session and receive guidance regarding product set up and use, how to interpret reports and results, and recommendations on how to get the most from Google services and products.
How Much Does Google Business Profile Cost?
It costs $0 to set up and use a Google Business Profile. This free Google tool for small businesses lets you manage how your business appears to customers in Google Search results and Maps.
Because of the value that Google Business Profile can deliver to your small business, not using these tools can be a costly choice.
How To Use Google Business Profile
Are you convinced of the value Google Business Profile can deliver and ready to put this tool to use to polish your business's online reputation and draw in more clients? If so, you may be wondering how to get started.
Fortunately, it's easy to sign up for a Google Business Profile. Start by searching for your business name and city. Select View Profile next.
If your business isn't verified with Google already, you'll need to verify your Business Profile for the first time. The verification process is easy, but it can take a few weeks to complete, depending on which verification methods you choose among these options:
Phone/text
Email
Live video call
Video recording
Mailed postcard
You may be asked to verify your business again in the future, particularly after you've changed key business information.
You can manage your Google Business profile through the Google Maps app on your mobile device. If you prefer to use a desktop computer, you can access your profile via your browser's Google Search.
Final Thoughts On Google Business Profile
Small business owners face countless decisions every day, both small and large. Sometimes, when faced with a choice, it's hard to know which is the right decision.
This isn't one of those cases. If you own a small business that has a physical address and involves direct contact with customers, you definitely should activate and manage your business's Google Business Profile.
Google Business Profile is easy to use, makes it easier for customers to find you and learn about what you have to offer, and can improve your customer experience and relations.
There's really no reason not to use Google for business, so get started!
FAQs: Google My Business