How To Get A Corporate Credit Card For Your Business
Learn how your large business can benefit from the tailored perks and rewards of a corporate credit card, and find out how and where to apply.
Expert Analyst & Reviewer

UPDATED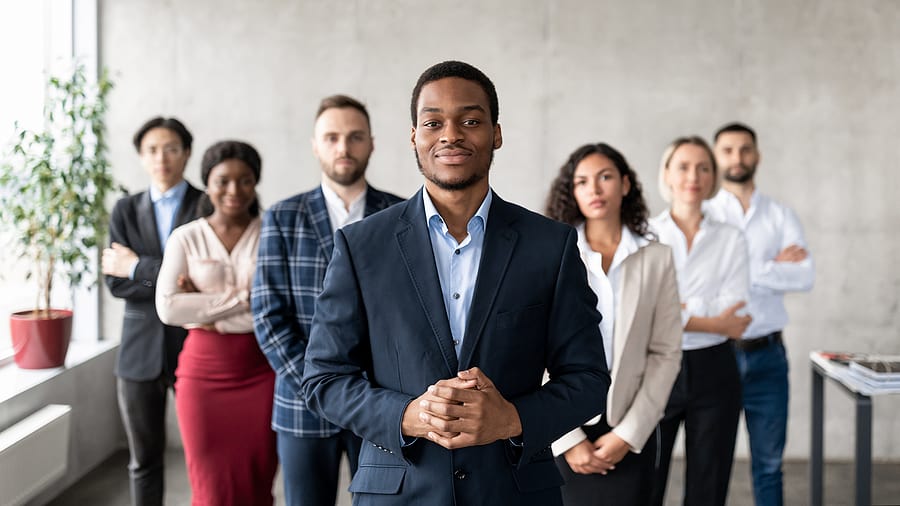 Corporate credit cards can help your company's bottom line and save you time. How? If your company spending or business purchases go unrewarded, your employees frequently travel for business, or if you're simply tired of dealing with pesky expense reports, corporate cards will pay you back for these common business expenses. This piece explores exactly what corporate cards can do for your company.
We've put in hours of research — both by trawling the web and by talking to industry experts and decision-makers — to uncover the best way for companies to pursue a corporate card. Keep on reading to learn how to get your business a corporate card.
What Is A Corporate Credit Card?
Corporate credit cards work similarly to normal credit cards. They can be used to make purchases on credit, which must then be paid off (either over a period of time or by the next billing cycle). They also offer valuable rewards for spending — just like most credit cards on the market today. However, corporate credit cards also give companies spend tracking tools, the ability to give employees cards, and more perks built to entice large organizations.
How Is Getting A Corporate Card Different From Getting A Business Credit Card?
Corporate cards tend to be specifically targeted at large companies. As such, smaller businesses (such as sole proprietorships or unincorporated businesses) won't benefit from corporate cards — and may not even be eligible to apply. If you run a smaller business, we recommend checking out some of the best small business credit cards instead of venturing down the corporate card road.
How To Get A Corporate Credit Card
The process of getting a corporate credit card differs somewhat from that of a how to get a business credit card. That's why we've created a step-by-step guide to help:
1) Determine If You're Eligible For A Corporate Card
One of the key things we've found in our research is that while some requirements for different corporate credit cards may vary, most are the same. One common requirement that should come as no surprise? Your business must be a corporation! Specifically, your business must be formally incorporated as an S-corp, C-corp, or LLC. For more information on what this means, check out our guide to different types of business structures.
Other stipulations may be more varied. For example, American Express requires corporate cardholders to operate with at least $4 million in annual revenue. Brex, meanwhile, demands that cardholders have at least $50,000 in the bank for some product lines. Others might require expected annual credit card charges of at least $250,000, a minimum number of card users within a company, or that a company has at least one year of business history.
These stringent requirements aren't too shocking. Because the issuer will be dedicating premium customer support services to your company — and without the protection of a personal guarantee — they're looking for an account with some serious clout.
2) Consider The Pros & Cons Of Getting A Corporate Credit Card
Pros
Streamline your company's incidental and travel expenses
Protect your personal assets
No personal guarantee required
Tracking and controlling employee expenses
Cons
Business must generally be well-established
Eligibility requirements extend beyond personal credit
Need to demonstrate good corporate accounting practices
Before fully committing to corporate cards, we recommend weighing the advantages and disadvantages they might bring to your company. One major advantage of corporate cards is that they streamline your company's incidental and travel expenses. This means your employees won't have to dip into their personal funds, and your company will be spared the hassle of managing cumbersome expense reports.
"I've been using the corporate card for quite some time now to manage our office expenses," said Chris Panteli, director of LifeUpswing. "I am quite happy with the features that it comes with. We were using a single card earlier, which was cumbersome to manage. Having a separate card for each expense head has helped us a great deal."
Personal Asset Protection
Another corporate card perk is that the bank cannot come after your personal assets. That's because corporate credit cards don't require a personal guarantee. Instead, corporate credit cards place the liability on the company (or, in some cases, the employees making purchases — step 4 has more on corporate credit card liability).
Tracking Employee Expenses With Corporate Cards
Yet another benefit: Corporate cards are great for tracking and controlling employee expenses. You'll be able to review the nature of your employees' spending with a minimum of fuss. This can minimize unnecessary spending while cutting down on fraudulent purchases.
"You might be able to identify fraud before it gets out of hand if you keep track of where charges are being placed within your company on a frequent basis," said Imani Francies, a business finance expert at FreeAdvice.com. "Many credit cards have spending limitations as well, so you can establish a monthly stipend for workers. This is useful in situations when workers make regular monthly expenditures."
Drawbacks To Getting A Corporate Card
On the downside, your business must generally be well-established before you can even think of getting a corporate credit card (see the eligibility requirements from the previous step!). You won't be able to rely on your personal credit score to get a corporate credit card. You'll also need to demonstrate good corporate accounting practices. Banks will want to see good cash flow, for example.
3) Check Your Business Credit Score
Because corporate cards don't hold any single person personally liable, issuers won't look at personal credit histories during the approval process. Instead, an issuer might consider your company's business credit score.
Unfortunately, unlike with your personal credit score, you cannot obtain a free business credit report from the major credit bureaus. Luckily, there are plenty of affordable services around that provide you with access to your business credit report, including Nav, Dun & Bradstreet, and Experian. And, at the end of the day, a business credit score functions similarly to a personal credit score.
Business Credit Repair
"You should know that improving your business credit score is not wildly different from handling personal credit," said Giovanni Braghieri, CEO of MyConsultingCoach. "Paying bills on time, keeping credit utilization low, and adding positive credit lines are solid foundations for an excellent credit score. It's worth considering buying off the debt from the collection agency, i.e. 'deleting' it. In case your company's already run into some trouble, hiring a credit repair company is a decent first step to fixing it."
Check Business Credit With Credit Bureaus
Braghieri's advice echoes what we've found in our research. Start by making sure that your business has established credit with the big three business credit bureaus (Dun & Bradstreet, Equifax, and Experian). Next, if you haven't already, be sure to open accounts in your business's name, including a business bank account and a business phone line. You'll also want to repay your business debts (early if possible) and remove negative marks from your business credit report.
How To Get Approved For A Corporate Business Credit Card
With all that said, it's worth noting that a business' credit score isn't the be-all-end-all when it comes to getting a corporate card. Brex, for example, considers a business' cash flow and spending patterns (as well as its credit history) during the approval process.
4) Know About The Types Of Corporate Cards Available
A trickier aspect of corporate cards can be the various ways issuers structure corporate card liability. Let's break it down:
Corporate Liability: The company is solely responsible for all debts incurred. The company receives the bill directly from the card issuer. The issuer will not check your employees' credit.
Individual Liability: The employee using the corporate card is responsible for the debt incurred on the employee's corporate card. The employee must pay the bill and then request reimbursement from the company. This arrangement requires that the issuer run a "soft pull" of the employee's credit so that the employee's credit score won't take a hit.
Joint Liability: Both the company and the employee are responsible for the debt. Under this arrangement, an employee's personal credit will be unaffected if their corporate card is paid in full within a set number of days. However, if a payment is missed or late, the issuer reports the delinquency to the credit bureaus, and the employee's personal credit score takes a hit.
Clearly, individual and joint liability programs pass more of the credit risk on to the employee, while corporate liability insulates employees from this type of risk. You'll also want to note that in some cases you may be able to choose which type of liability your corporate card program follows.
5) Decide What Features You Want For Your Corporate Credit Card
With traditional issuers, corporate credit cards are not offered as a packaged deal (compare that to the rigid, unnegotiable perks of personal or small business credit cards). The sort of business that is eligible for a corporate credit card likely has unique and specific needs, and can typically cut a deal with a corporate card issuer that is specific to those needs. Two businesses could therefore use the same corporate credit card but have completely different terms.
At modern fintech companies (such as Brex or Ramp), however, corporate card products are generally less flexible. These newer card issuers offer a specific set of reward schemes, tools, and other features for their corporate cards. This doesn't mean these cards aren't somewhat flexible; you'll still be able to customize employee spending rules, for example.
Corporate Card Reward Programs
Most corporate cards come with rewards programs just like traditional credit cards. Choosing a card with the proper rewards program could save your company money any time an employee uses their card to make a purchase — potentially making rewards a key part of the decision process. Because of the varying array of features and rewards packages out there, we believe it's best to shop around and work with an issuer to determine the corporate card elements that best suit your company.
"Companies should use corporate cards so the credit card perks go to the company rather than the individual cardholder," said John Li, co-founder of Fig Loans. "Those rewards can help businesses, especially small businesses with tight budgets, immensely."
6) Find An Issuer To Work With
Corporate credit cards have been traditionally issued by large banking institutions — longtime bigwigs American Express, J.P. Morgan, and Capital One all offer a variety of corporate cards. In general, banking institutions provide a number of different corporate card product lines to suit an array of companies. These institutions have also been around for a while, which could provide a solid level of security.
That said, there is a new crew on the scene: fintech startups. The cast of newcomers includes Brex, Divvy, and Ramp. Credit card processing company Stripe also offers its own corporate card. Fintechs provide robust software suites meant to help manage a company's spending. They can also be more nimble in times of crisis. Brex, for example, tweaked its rewards scheme to better suit transitional at-home workforces during COVID, while Divvy worked impressively to help get customers PPP loans.
"Large credit card companies have been feeling the pressure from these fintech companies, and have been forced to develop similar services and features to try and compete," Panteli said. "Divvy, Ramp, and Brex offer everything you could ever need from a corporate credit card, including great rewards, low fees, and a modern environment."
How To Apply For A Corporate Business Credit Card
After you've shopped around and picked the best fit for your company, note that the application process for corporate cards varies from issuer to issuer. Generally, though, most will require that you submit an inquiry (whether by phone, in person, or online) before officially entering the process. This is a bit different from standard credit cards, which you can often apply for online.
Corporate Credit Card Requirements
Additionally, we've found that many issuers will want you to commit to a minimum number of cards and annual spending, so make sure you know what they expect from you.
7) Create Guidelines For Employee Use
We've found that one of the main reasons businesses use corporate credit cards is to streamline employees' work-related spending. This will require you to issue guidelines for how employees use the corporate card account, as corporate credit cards allow you to monitor and control employee spending.
"Building a spending policy with your team up front is key, as is meeting the policies to ensure that employees fully understand your expectations on spending and reporting," said David Aylor, a South Carolina-based lawyer who uses corporate cards for his business. "The work isn't done there — spending policies should be revisited and reviewed semi-annually or annually and adjusted as needed to your changing business structures."
You can place controls on the types of expenses and merchants for which employees can use the card, and you can limit how much your employees can spend, either overall or on a per-transaction basis. Employees generally pay the card issuer directly for any unapproved charges.
Be sure that the guidelines you establish for your employees make sense given the nature of your industry and the expenses your employees are likely to incur during their duties.
FAQs About How To Get A Corporate Credit Card
Find The Right Corporate Credit Card For Your Business
Corporate credit cards are an elite product for large, stable businesses with numerous employees. Expect more involved processes to apply, implement, and use a corporate card than you'd find with a personal or small business credit card. However, some up-and-coming fintech companies are shaking up the scene and making it easier than ever to snag a corporate credit card. Learn more about these newcomers in our Brex, Divvy, and Ramp reviews.
Think your business is a good fit for a corporate credit card? Take a look at Merchant Maverick's favorite corporate cards. You can also learn the best tips for managing a corporate card.
Aren't quite ready for a corporate credit card? Consider a small business credit card or even a personal credit card instead.