Best Practices For Managing Your Corporate Credit Card
From limiting cardholders to organizing systems of checks and balances, managing corporate credit cards is an integral part of your business.
Expert Analyst & Reviewer

UPDATED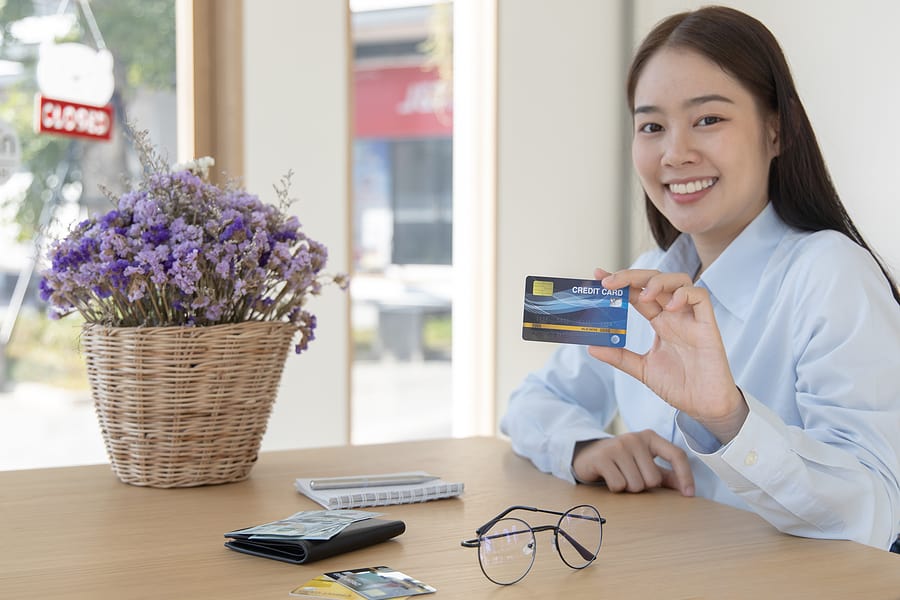 Corporate credit cards are becoming a necessity in the business world — it's not hard to see why. These cards often streamline purchases for employees by cutting the need to jump through hoops via expense reports or pestering company decision-makers. They're also great for companies because corporate cards help minimize unnecessary purchases while keeping spend reports tidy.
But signing up for a new corporate card program comes with a daunting question: How should a company manage its corporate cards? After scouring the web, we were disappointed with the lack of documentation on the best practices for managing corporate cards. To tackle this nagging question, we wrote up the guide below after interviewing key experts and tapping into our own institutional knowledge.
Corporate cards can be scary at first, but they're ultimately designed to make the spending process easier for companies. Read on through to learn how to get your company's corporate card management running in tip-top shape!
How To Manage Your Corporate Card
There's no one way to tackle corporate card management — every company is different, after all. However, there are definitely a few tricks that will help any company that uses corporate cards. We've shared below what we learned after hours of in-depth research:
Control Who Gets Corporate Cards
Our first tip is pretty straightforward: Only give corporate cards to employees who need them. This means that you should only give cards to those in management positions or those who need to make frequent purchases (such as on subscriptions or by taking clients out for dining).
"Half the battle when issuing company credit cards is limiting who has access to them," said Jim Pendergast, senior vice president at altLine by The Southern Bank Company. "Only issue credit cards to people you trust and are in management positions on your team. Always monitor spending habits as well. It's a good practice to do this for all credit cards."
By limiting the cards to only trustworthy employees, you will be able to minimize the chance of fraudulent purchases. Additionally, a low number of corporate cards will make it easier for you to track expenses than if you gave a card to every single employee.
Set Expectations With Employees
Be clear with your employees about what they can and cannot purchase with their corporate cards. By sharing a clear set of guidelines, employees won't be as stressed when making purchases. It can also help cut down on employees making mistakes while buying with their card — potentially saving your company money down the road.
"Set expectations of what the credit card is for before you issue it to anyone," said Jarret Austin, CEO of Bankruptcy Canada. "Create a list of dos and don'ts to help your management team identify what they can buy. Create a list of appropriate stores and set up expense accounts within the stores themselves to further keep track of expenditures. Once you've set the expectations, set alerts on your phone; it'll help you keep track of suspicious spending without checking your phone every few minutes. "
A clear set of guidelines is also helpful in nipping future problems in the bud. For instance, you can fall back on the guidelines when an employee has a question before placing a purchase with their corporate card.
Limit Employee Spending
Another simple corporate card management tip we've found in our research: Set spending limits for each corporate card you issue.
Many corporate card programs on the market allow spending caps to be placed on individual cards (and some allow for team-level budgeting). This means that employees won't be able to put extraneous amounts of money on their cards. For example, a card with a cap of $1,000 means an employee won't be able to spend more than $1,000 on their card at once.
"Set strict monthly spending and usage limits in your company policy at both the team and individual levels," said John Li, co-founder of Fig Loans. "Any spending above that limit needs to be approved by management, who can report this spending to the financial department."
The advantages to doing this are obvious. Most notably, it can limit the chance an employee will make a fraudulent purchase — they won't be going out and buying pricey TVs if the cost is above their card's spending cap. Next, setting spending limits is like placing an individual budget for each employee. This can help reduce unnecessary spending even if no fraudulent purchases are made.
Some modern corporate cards include robust spending cap tools. Ramp, an up-and-comer in the corporate cad scene, features the ability to set one-time, daily, monthly, or annual limits all in just a few clicks. On top of basic cap controls, Ramp also incorporates multi-step approvals to further manage your company's money safely and efficiently.
Set Purchase Categories
Corporate card programs frequently enable companies to limit what categories employees can spend in. This makes corporate cards especially powerful when controlling what employees can and cannot buy. Tapping into a category tool should be a no-brainer for those in charge of a company's corporate credit card program.
"It can prevent employees from using credit cards for their own personal expenses," said Ben Reynolds, CEO of Sure Dividend. "Companies can also take advantage of the rewards and benefits instead of the employees."
Setting purchase categories could be key to wringing the most possible rewards out of your company's corporate card. Corporate card behemoth Brex, for instance, offers higher rewards rates for purchases made via rideshares, for travel, and at restaurants. Companies that use Brex could then save extra by encouraging employees to use their cards when they spend company money in those categories.
Simplify Expense Reporting
What's the easiest way to make sure employees properly expense their purchases made with a corporate card? By making the process easy.
Luckily, many corporate cards feature user-friendly interfaces. In fact, most modern corporate cards don't require much in the way of active expense reporting. Rho, a recent entry in the world of corporate cards, offers real-time expense reporting that updates whenever someone makes a purchase — there's no need for an employee to fill out an expense form or upload receipts.
Document Everything
Our last tip is especially key: document every purchase. Documentation is always important across the business world, but it's especially important when dealing with finances. This means that you should require employees to save receipts and to fill out any necessary expense reports in a timely fashion. Meanwhile, the company should keep track of purchases when a charge is made using a corporate card.
"The biggest factor is documentation," said Ann Martin, Director of Operations of Credit Donkey Business Checking. "It doesn't matter that most cards come with quick, accurate statements now. Keep documentation of it yourself and make note of exactly what the expense was, what it was for, who was there with you, etc."
Such practices may also lead to saving money by improving how your company spends — Martin added that corporate cards can force companies to be accountable for their spending. "If you're documenting it well, you're always thinking about those expenses and what can be done to improve them," she said.
Ultimately, corporate card accountability can limit the chance of employees making fraudulent purchases. This can save you time and money by limiting needless audits. Additionally, employees may be more honest with their corporate card use if you communicate clearly that every purchase is documented by the company.
"You'll be much less likely to require an audit in the future if your workers know that every purchase will be evaluated and documented following current rules," said Hutch Ashoo, founder of Pillar Wealth Management. "Matching every […] expenditure to a timeframe is one of the keys to effectively managing a corporate credit card."
Final Thoughts
We hope this article was helpful if you are working on managing your current corporate card program or if you are about to set one up. If you would like to continue your journey into the world of corporate credit cards, we recommend reading our other articles on the topic. You can also get the rundown on the differences between corporate cards and business credit cards. Still weighing your corporate card options? Check out our favorite corporate credit cards.