The 8 Best Corporate Credit Cards For Businesses In 2022
Looking for a corporate credit card for your business? Here are the best options from tried-and-true traditional companies and new, highly popular corporate card & spend management companies like Brex and Divvy.
Expert Analyst & Reviewer

UPDATED
Advertiser Disclosure: Our unbiased reviews and content are supported in part by
affiliate partnerships
, and we adhere to strict
guidelines
to preserve editorial integrity.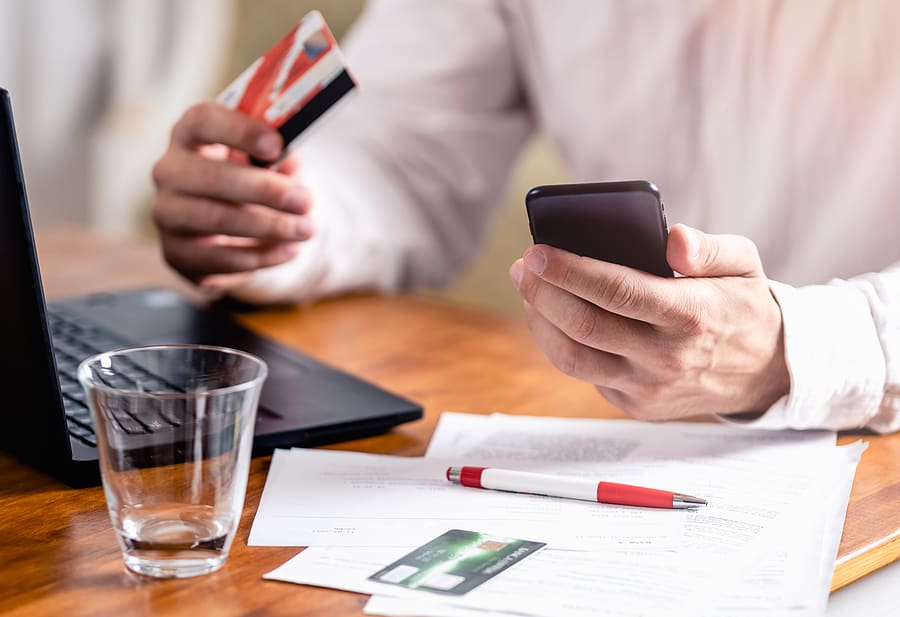 A corporate credit card can be just what your business needs to save time and money with business purchases. When your purchases go unrewarded, your employees frequently travel for business, or if you're simply tired of dealing with pesky expense reports, corporate cards can help your company's bottom line. This piece explores exactly what corporate cards can do for your company.
So what card or program should your company sign up for? Keep on reading to sort out the right corporate card program to give your company a boost.
Learn More About Our Top Picks
| Company | Key Takeaway | Next StepsKey Takeaway |
| --- | --- | --- |
| Ramp | Best for saving money | Best for saving money |
| Brex | Best all-around corporate card | Best all-around corporate card |
| Divvy | Best card for managing budgets | Best card for managing budgets |
| Rho | Best for flexible credit terms | Best for flexible credit terms |
| American Express | Best for different levels of employees | Best for different levels of employees |
Other Featured Options:
Read more below to learn why we chose these options.
Which Are The Best Corporate Credit Cards?
The best corporate credit card for your business depends on various factors, from your profit lines to your spending habits. There are several big players among the top corporate credit cards, as well as a few up-and-comers that offer a fresh take on the corporate card world.
Ramp: Best for saving money
Brex: Best all-around card
Divvy: Best for managing budgets
Rho: Best for flexible credit terms
American Express: Best for different levels of employees
Bank Of America: Best corporate card for travel
Capital One: Best minimalist card
J.P. Morgan: Best for different types of companies
1. Ramp: Best For Saving Money
Ramp


---



Pros
A simple and minimalist rewards scheme
A unique platform built to help companies cut costs
No fees of any kind
Cons
No mobile app
Limited customer support options
For rewards via Ramp, your company will collect 1.5% cash back on all purchases. For a straightforward cash back rewards scheme, this is a very solid rate — and especially so when considering it's a corporate card. While you won't receive better rewards for select purchase categories, companies that have wide-ranging purchase habits may benefit from the Ramp corporate card.
Outside the 1.5% cash back, you can look forward to Ramp's partner rewards and savings, which the company estimates is worth over $175,000 in total. Highlights here include preferred access to AWS credits and $50,000 in Segment Credits.
Ramp's most unique benefit is its algorithm-driven savings insights. These insights dig into your company's spending history and determine areas where you can cut costs and save money. For example, you might have an insight that suggests consolidating duplicate Dropbox subscriptions purchased by different departments within your company.
2. Brex: Best All-Around Card
Brex


---



Pros
Flexible and unique points earning structures
Thousands of dollars in partner discounts
No personal guarantee or personal credit check required
Cons
Bonus points for purchases require making Brex your exclusive corporate card
Limited to C-corp, S-corp, LLC, or LLP corporations only
Brex's corporate card program features a rewards scheme with 8x points for ridesharing apps and taxis, 5x on travel, 4x at restaurants, 3x on recurring software, 3x on Apple products, and 1x on everything else. Rewards can be redeemed for statement credit or used to book travel through Brex's portal.
Other perks included in this card are over $150,000 in partner offers (such as up to of $100K credits via AWS Activate or 25% off Slack for 12 months), no personal liability, and reporting your activity to business credit bureaus. There's also in depth expense tracking that enables companies to issue cards, run receipts, and run reports through the Brex UI.
On top of the corporate card program, Brex does even more. Customers can sign up for Brex Cash, the company's answer to the business bank account. Plus, online retailers will be able to get instant access to their earnings — no waiting around for fund transfers to process.
3. Divvy: Best For Managing Budgets
Divvy


---



Pros
A flexible rewards scheme that matches bill payoff frequency
A robust feature set built around managing budgets
No annual or employee card fees
Cons
Some rewards redemption options are lackluster
Despite no annual or employee card fees, Divvy still has foreign transaction and late payment fees
Divvy's corporate card features a flexible rewards program that adjusts based on how frequently you pay off your balance. For instance, if you pay weekly, your company will receive 7x points at restaurants, 5x on hotels, 2x on recurring software subscriptions, and 1.5x on everything else. If you pay semi-monthly, you'll net 4x, 3x, 1.75x, and 1x, on those categories, respectively. You can also pay off things monthly, which caps your maximum rewards rate at 2x.
Besides rewards, the card comes with a number of other benefits like virtual cards, a flexible credit line, and standard security features. You can also receive credits and discounts on sign-up, such as a $150 Google Ads credit or $15 off any print order at FedEx Office.
Beyond the corporate credit card, Divvy features a full-on expense management suite. Its tools help automate a company's expense reporting while also providing team-by-team budgeting services. You can additionally send and request money through Divvy.
4. Rho: Best For Flexible Credit Terms
Rho


---



Pros
Flexible corporate card repayment terms with up to 60 days for repayment
Competitive cash back rates of up to 1.75%
No fees for its corporate card
Cons
No mobile app
Company is very new
Rho's corporate card is notable for its flexible credit terms. You can choose between repayment terms of 60-, 45-, 30-, and 1-day. The repayment length you choose will determine how much cash back your company will get for purchases — a 1-day repayment term will net 1.75% cash back, 45-day nets 1.5% cash back, 30-day nets 0.75% cash back, and 60-day nets no cash back.
Beyond flexible repayments and competitive cash back rates, Rho also includes unlimited physical and virtual cards for employees, custom logos on cards, and card-level controls. All of this comes without any sort of fees — Rho's corporate card program is free to use.
If your company needs more than just a corporate card program, Rho also has you covered. There's a full-on commercial banking suite as well as a accounts payable solution.
5. American Express: Best For Different Levels Of Employees
American Express


---



Pros
An array of options to mix-and-match with different types of employees
Travel perks
Tailored rewards
Cons
Some card options have pricey annual fees
Amex issues its own corporate credit cards (many of the other cards on this list are co-issued through Mastercard or Visa). As part of its corporate card program, you'll be able to pick and choose between four different cards for your company — three of them act as similarly-named variants to Amex's business credit card lineup. This program also features expense management tools and employee spending limits.
Here's a quick overview of Amex's array of corporate cards (along with each card's annual fees and some featured benefits):
Corporate Platinum Card: $550 annual fee, trip delay insurance, Hilton Honors Gold Status, $200 airline fee credit
Corporate Gold Card: $250 annual fee, Hilton Honors Silver Status, $100 airline fee credit
Corporate Green Card: $75 annual fee, Hilton Honors Silver Status
Business Extra Corporate Card: Up to a $75 annual fee, up to 6% in cash rebates, $50 flight discount for every $5K spent
You can mix and match the above options to fit the travel and spending habits of your employees. These cards also come with rewards programs, with both points and cash back options available. Note that the exact rewards scheme will be tailored to fit your company's unique needs (the exception being the Extra Corporate Card, which nets 4 Business Extra points per $20 spent on eligible American Airlines flights and 1 Business Extra point per $20 spent on all eligible purchases).
American Express also offers a corporate program for startups. This program features a dynamic spending capacity of up to 10% of your business's bank account, streamlined expense reports, and premium cards with perks such as airport lounge access and rewards in the form of points or cash back. Also, note that while Amex's corporate cards have similar names to the company's small business credit cards, they are not the same.
6. Bank Of America: Best For Travel
Bank Of America


---



Pros
An array of options to mix-and-match with different types of employees
Travel perks
Tailored rewards
Cons
Minimal information available online
While we do have a full review of the banking options Bank of America offers businesses, its corporate card program is a little different. Here's a quick glance at what you can get from Bank of America on the corporate card side of things:
Mobile wallet: Bank of America Corporate cards can be added to mobile wallets and works with Apple Pay, Google Pay, and Samsung Pay.
Global card access: Accounts can be management on the go via mobile and desktop. Management features include activating a new card, checking a balance, and viewing a PIN.
Virtual cards: Travel managers can spin up one-time virtual cards to more easily manage travel bookings.
Contactless payments: Employees can make payments more quickly and safely via their card's contactless features.
Benefits: Card holders will gain access to various features, including those offered by the corporate dining network Dinova, which operates at over 18,000 restaurants.
Bank of America plays pretty coy about further details on its corporate card program. If you're curious about working with Bank of America for a corporate card option for your company, we recommend that you contact Bank of America directly.
Do note that that Bank of America's corporate card program is separate from its stable of business credit cards. If you're a small business needing a business credit card, check out Bank of America's lineup.
7. Capital One: Best Minimalist Corporate Card
Capital One


---



Pros
Real-time expense management
Mastercard benefits
Virtual cards
Cons
Non-comprehensive rewards
For corporate cards, Capital One offers its One Card program. This program will allow your company to manage expenses in real-time as well as set up automatic payments that trigger every evening. It also takes advantage of Mastercard's standard benefits, which include perks like liability protection, travel protection, and purchase security.
For rewards, the One Card taps into Mastercard Easy Savings (for 1% to 4% savings on over 30,000 qualifying businesses) plus a points structure that allows redemption for statement credit, gift cards, or travel bookings. You can either redeem points on-demand or set up automatic redemption.
Capital One also offers Virtual Card Relay, a program that aims to simplify vendor payments via virtual cards. If you're more in the market for business credit cards, read our full review on Capital One Spark.
8. J.P. Morgan: Best For Different Types Of Companies
J.P. Morgan


---



J.P. Morgan & Chase Co. corporate card


---


Visit Site

Annual Fee:


---

Purchase APR:


---
Pros
Several program options for different types of organizations
Travel perks
Single-use virtual cards
Cons
Minimal information available online
While the Chase Ink Business branding is used for business credit cards under the combined JPMorgan Chase & Co. umbrella, J.P. Morgan alone handles the company's corporate credit cards. Unlike some other companies on this list, J.P. Morgan doesn't have a single program for corporate cards. Instead, the company provides a number of different corporate card programs for different types of organizations.
Here's a look at your options if you choose a J.P. Morgan offering for your company's corporate card:
J.P. Morgan Corporate Card: Targeted towards business travelers, this card program aims to help "simplify business travel and entertainment spending" for companies using it for purchases. Its particular highlights include "user-friendly" tracking and reporting software for your company's transaction data.
J.P. Morgan Purchasing Card: Tooled for managing business-to-business purchases, this card program allows your company to keep an eye on spending before and after the fact. You'll also be able to receive data analysis to aid your payment strategy and make strategic adjustments as needed.
J.P. Morgan One Card: Intended to aid businesses that want a single card program for every expense, this card is best used for an array of purchases, including business-to-business, travel, and entertainment. It additionally promises to make management and reporting easier as well as giving out rewards for purchases.
J.P. Morgan also offers single-use virtual card accounts for those needing unique parameters for every purchase. Note that those interested in the Chase Ink Business Credit Card lineup will need to forgo getting a corporate card — Chase Ink only offers regular business credit cards.
Does Your Business Qualify For Corporate Credit Cards?
Corporate credit cards require varying qualifications, although they will almost always be more difficult to qualify for than a normal business card. This is because these cards are targeted toward larger companies with higher revenues.
Some cards look for set revenue per year (such as American Express's corporate cards) while others require a set amount in the bank (such as some startup-focused cards). Smaller companies with a slower cash flow will find better success with regular business credit cards.
Often, you'll need your company to be a C-corp, an S-corp, or an LLC in order to apply. As such, you may not be able to apply for a corporate card if you operate your business as a sole proprietorship or as some other unregistered business. Should this be the case for you, it's recommended that you apply for a regular business card or perhaps a personal one instead.
Bear in mind that your company may need to be able to afford an annual fee. However, this will be very dependent on the program and card you choose — some do lack annual fees.
What If You Don't Qualify For A Corporate Credit Card?
If your company doesn't qualify for a corporate card, don't sweat it. These cards aren't a necessity for your company to take advantage of credit card benefits. Instead of a corporate credit card, consider one of the top business credit cards. Or — if you're a startup — check out some of the best cards for startups. You may also want to look at a few travel cards if your business employs a lot of frequent flyers.
All told, corporate credit cards are best suited for companies with many employees and large cash flows. If your company doesn't meet those requirements, a regular business credit card will probably fit you better anyways.
Choosing The Best Corporate Credit Card For Your Business
At the end of the day, choosing a corporate credit card will be a very different decision from business to business. What one corporate card program can offer may make sense for one company, while a different program may make sense for a different company.
Your company will need to decide which aspects you value in a corporate card program. Are rewards paramount? Or do you need flexible credit terms? Or maybe a robust infrastructure for monitoring, controlling, and issuing cards to employees? It will all depend on what works for your company right now, as well as the future.
So, before deciding on a corporate card program, make sure you shop around and research the various ins and outs of each program. Then you'll be prepared to make the right decision for your company — our article on how to get a corporate card can spur you in the right direction. The program providers we've listed above all offer professional-level service and a competitive product — hopefully one will work for your company!
Which Corporate Cards Do Other Businesses & Corporations Use?
You aren't alone in needing a corporate card. A recent Nilson report revealed that commercial cards generated a nearly $1.4 trillion purchase volume in 2020, up 7.5% year-over-year. These bits of plastic are certainly becoming all the rage in the professional world.
Neobanking Startups
For your company's corporate card program, you may want to turn towards neobanking startups, which have been backed heavily by eager investors. The oldest of these startups, Brex, was recently valued at $3 billion. Ramp, a younger competitor to Brex, has also passed the billion-dollar valuation mark. And a third, Divvy, was bought by Bill.com for $2.5 billion. With so much cash flowing into the industry, it's not a shocker that corporate cards have become popular among the actual users of such card programs — companies just like yours.
Traditional Credit Card Issuers
Meanwhile, traditional credit card issuers also deliver solid corporate card programs. Longstanding financial institutions American Express, Bank of America, Capital One, and J.P. Morgan all feature selections that should suit most companies. If you don't feel comfortable working with a freshly minted company, there are certainly corporate card options out there for you.
Best Corporate Credit Card FAQs
In Summary: Which Are The Best Corporate Credit Cards?