What Is A Corporate Credit Card & Does Your Small Business Need One?
Corporate cards can be a great choice for certain businesses, offering good benefits and flexible spending, but there are definite pros and cons to these credit cards.
Expert Analyst & Reviewer

UPDATED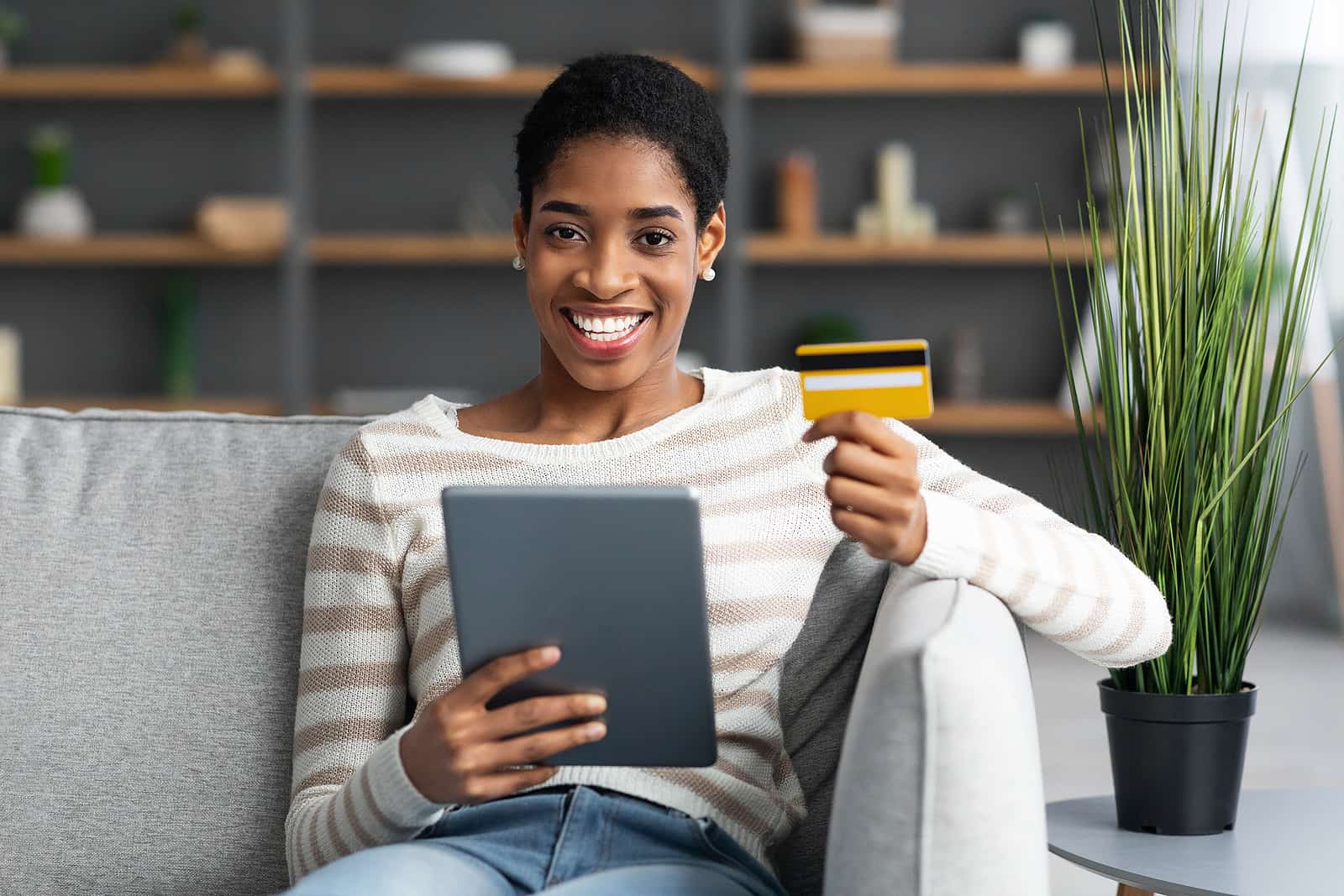 A corporate credit card can be a must-have tool for big organizations. But can a small business benefit from using a corporate card, too? What is a corporate credit card, anyway? How are corporate cards different from business credit cards, and which one will be best for your business?
Corporate credit cards aren't a good option for every small business. For one, not every small business will qualify for a corporate card. Getting a corporate card isn't as simple as filling out an online application. And properly managing a corporate card program takes some work. Ready to learn everything you need to know about corporate cards? Let's dive in!
What Is A Corporate Credit Card?
A corporate credit card is similar to a standard business credit card, at least on the surface. You can use one to make purchases and earn rewards, for example. But a corporate card often comes with robust business tools for tracking spending, free cards for employees to use, and useful integrations to business software you may already be using.
One key difference: Corporate cards usually target large companies. Although there are exceptions, not every corporate card will be a good fit for a small business. And some business types, such as sole proprietorships and unincorporated businesses, may have a hard time finding a corporate card they qualify for.
It's also important to understand that many corporate cards function more like charge cards than credit cards. What's the difference? A credit card lets you make purchases and pay them off over time, with your credit limit based on factors like your credit rating and your history of paying off debt on time. A corporate charge card, on the other hand, will be tied to your company's actual bank balance, and your credit limit could be tied to the amount of cash your business has on hand.
Examples Of Corporate Credit Cards
The best way to understand corporate credit cards and how they work may be to look at some actual corporate cards. The following are some examples. Note that they're grouped into two categories: corporate cards from familiar names in the traditional banking space, and newcomers from the financial technology ("fintech") world.
American Express Corporate Cards
With four different levels of corporate cards, Amex is one of the more popular traditional corporate card issuers. The four-card lineup is extremely flexible; companies can mix and match cards to fit the spending and travel habits of different employees. Beyond the base four cards, Amex also offers a corporate card program built for startups.
Capital One Corporate Card
Capital One's One Card program provides companies with real-time expense management, automatic payments, and Mastercard's standard benefits package. It also features savings of up to 4% and a rewards program that allows points to be redeemed for statement credit, gift cards, or travel bookings.
J.P. Morgan Corporate Cards
As one-half of JPMorgan & Chase Co., J.P. Morgan offers several corporate card programs. These include programs targeted at business travelers, business-to-business purchases, and general use. A separate virtual card solution is also available for digital payments.
Brex Corporate Credit Card
Brex offers what it calls a financial operating system for businesses, with business cash accounts, expense tracking, instant revenue, and venture debt financing all under one roof. Businesses using Brex's corporate card will be able to tap into a unique rewards scheme as well as set up employee spending controls. However, Brex caters only to large businesses, focusing on venture-backed startups with large amounts of cash in the bank. Read our full Brex review for more information about eligibility and benefits.
Ramp Corporate Card
Ramp's corporate card is designed to help companies spend less. It does this through automated expense reporting and an insights feature that finds duplicate subscriptions, unclaimed rewards, and lower pricing plans. And its cashback rate of 1.5% comes on top of these money-saving opportunities. Read more about the Ramp corporate card to learn how it can benefit your business.
Divvy Corporate Card
Focused on spend management, Divvy is another corporate card issuer attempting to solve common issues in the business world. When you use the Divvy corporate card, you can earn up to 7x rewards and utilize team-by-team expense tracking software with spend notifications and instant purchase categorization. You can learn more about Divvy's high rewards and outstanding features in our full Divvy corporate card review.
Rho Corporate Card
Unlike some other corporate card companies, Rho offers a full banking suite in addition to its card. Rho's FDIC-insured commercial banking opportunities combine with a generous cashback rate of up to 1.75%, fee-free global payments, and accounts payable tools. Rho promises high credit limits and flexible repayment terms. Read more in our comprehensive Rho review.
How Does A Corporate Card Work?
Corporate credit cards are issued by various financial institutions. Until recently, that meant banks, though thanks to some upstart fintechs entering the banking sphere, you now can find competitive corporate cards issued by financial technology firms and backed by banks. These cards are designed to help companies track and control employee spending and often feature robust financial toolsets.
For many businesses, the top reason for wanting a corporate card is to give employees access to their own individual cards. These cards can be used to make purchases and often give companies rewards for spending, just like traditional credit cards. Today's corporate cards can also give companies deep insights into how employee spending operates on an individual level, potentially catching fraud or unnecessary spending before things get out of hand.
In many cases, corporate cards function as charge cards. Charge cards operate a bit differently from normal credit cards. Instead of carrying a balance from month to month, users must pay off their charge card balance in full on a regular basis. Some corporate cards are directly tied to the business's bank account. This setup may seem like a burden, but it's becoming popular for corporate card issuers to provide flexible terms so that companies can choose how often they pay off their balance.
Between rewards, employee tracking, and flexible terms, experts agree that corporate cards could be an excellent option for many companies.
"Most corporate products tend to have better rates and terms than retail products," said Gaurav Sharma, a financial consultant and the founder of BankersByDay.com. "This is because corporations can negotiate better terms given their huge volumes. So in general, corporate credit cards should provide better value for both employees and the employer. You also can get better reporting and access to better data, real-time tracking and monitoring, and access to a dedicated relationship manager in most cases."
How Is A Small Business Credit Card Different From A Corporate Card?
While corporate cards and business credits function similarly in terms of allowing users to leverage purchase power, a few key differences emerge that are important to understand.
The table below highlights the most common differences, though some exceptions to these can be found.
| | Small Business Credit Card | Corporate Card |
| --- | --- | --- |
| Who Can Apply | All business types | May be limited to corporations; no sole proprietors |
| Personal Guarantee | | |
| Carry A Balance | | |
| Cash-On-Hand Requirements | | |
| Credit Check | | |
| Employee Cards | Some | |
| Expense Management | | |
| Rewards | | |
| Annual Fee | Some | |
Let's take a closer look at three key differences:
Eligibility
Almost any business type, including independent contractors and sole proprietorships, can apply for and receive a business credit card. Corporate cards, on the other hand, are almost exclusively designed for corporations. While you can find exceptions (check out our Expensify review for one solid option!), unless your business is structured and registered as a corporation, you may not qualify for a corporate card.
But that's not all. Many corporate cards add additional eligibility requirements, such as business size, number of employees, annual income, and the amount of cash you have in the bank. Some corporate cards are limited only to startups, as well.
Perks & Rewards
Business credit cards often offer rewards, most commonly in the form of cash back or travel rewards. If that's an important requirement for your business, you can start your search for the right business credit card by checking out our list of the best business rewards cards.
Corporate credit cards also are known for generous rewards. However, alongside cash back and travel rewards, you can expect to find additional perks. Many corporate cards offer valuable benefits from software partners, like discounts on subscriptions or credits. You can also find corporate cards that offer even greater travel perks, such as access to concierge service and fee-free foreign transactions.
Personal Liability
Even though they're issued under the company name, the approval process for many business credit cards relies on the applicant's personal credit history. That means your personal credit score can affect whether your application for a business credit card is approved, and the act of applying for a business credit card can have a negative impact on your personal credit score.
(If your personal credit score is poor, you can still apply successfully for a business credit card. Start with our list of the best business credit cards for poor credit.)
Most business credit cards also require what's known as a personal guarantee. When you apply for a business credit card, you may be personally liable for debt incurred using that card, even though it's in the company's name. Though most business credit cards require a personal guarantee, there are some business credit cards that do not require a personal guarantee that may be worth looking into.
Corporate cards typically do not require a personal guarantee, and they generally do not require a personal credit check during the application process.
If you're still not sure whether your business will do best with a traditional business credit card vs. a corporate card, check out our in-depth explainer to learn more about the differences between corporate cards vs. business credit cards.
Advantages & Disadvantages Of Corporate Cards
Unsurprisingly, you'll find both benefits and drawbacks when you consider using a corporate card. Whether the pros outweigh the cons for your business will largely depend on how you're structured and how much thought you give to setting up spending rules and boundaries. Here's a summary of the benefits of corporate cards and a look at some of their drawbacks.

Pros
Time savings
Additional business management tools
Traceable transactions
Unlimited employee cards
Great perks & rewards
Cons
Strict eligibility requirements
Fast repayment requirements
Potential for misuse
Let's go a little deeper into these pros and cons, starting with the upside:
Corporate Cards Can Save Time
You won't have to worry about wasting time and effort coordinating any of the details of employee spending. Whether they're traveling on company business, entertaining clients, or just purchasing everyday supplies, when you use a corporate card you can set customized limits and rules for each employee. You can even limit the vendors or spending categories for each employee card.
Cards For Every Employee Who Needs One
While it's true that you can get additional business credit cards for some employees, if you're managing a large team whose members make frequent purchases, you'll probably find it easy to get the corporate cards you need. Business credit cards are usually available for 10-15 users within your company. Most corporate cards offer unlimited cards for employee use, and that often includes one-time-use virtual cards.
Expense Management Becomes A Snap
When employees use corporate cards for authorized business expenses, you won't need to preapprove each purchase, and your employees won't have to save paper receipts and fill out expense reports by hand. That means you, or your accounting team, won't have to review and track every receipt. You'll see all employee expenditures on a single statement each month. Most corporate cards have a mobile app, so employees can submit receipts electronically and you can monitor on the go.
Record-Keeping Becomes Easier
Corporate cards make business transactions fast and traceable. Some corporate cards allow employees to submit receipts electronically, and those expenses can be coded automatically, too. That saves your accounting team valuable time. And you won't have to worry about anyone losing receipts anymore. Most corporate cards allow admins to view and monitor expenditures in real-time, according to credit limits you've set for each individual card.
Those benefits are undeniably impressive. But using a corporate card won't be the right move for every business. Let's take a look at some of the drawbacks of corporate cards, too.
Eligibility: Your business may not meet the requirements for approval when you apply for a corporate card. For one thing, most corporate cards exclude very small businesses, including sole proprietorships. Many have strict requirements for annual income, annual spending, the number of employees, and the amount of cash you need to have on hand.
Repayment Requirements: Almost without exception, corporate credit cards function as charge cards, not credit cards. That means you'll be required to pay off your balance regularly. Some cards even require daily repayment, and your credit limit may be tied to your bank balance. You will not be allowed to carry a balance on a corporate card.
Potential For Misuse: The more employees authorized to spend company resources, the greater the potential for misuse. Although most corporate cards offer easy-to-access tools for monitoring employee spending, those tools won't help you unless you put them to use.
Should You Use A Corporate Card?
A corporate card and a traditional business credit card are both reliable methods of managing business spending. So how can you be sure which is the right one for your business? Here are our suggestions.
Choose A Corporate Card If …
You have more than 10 employees who regularly spend company money on legitimate business expenses
Your business is classified as a corporation
You can meet common corporate card requirements like minimum cash on hand or number of employees
You don't want to undergo a personal credit check or offer a personal guarantee
You are comfortable paying off your balance in full as required, whether that's daily or monthly
Your business can benefit from special travel perks and partner offers for software and services
Your accounting team would benefit from time-saving perks like automatic expense coding and digital receipts
If you've read this far and decided that a corporate card is the right approach for your business, your next step is choosing the right card to apply for. Start by perusing our in-depth analysis of the best corporate credit cards available, comparing rewards, eligibility requirements, and more to decide which corporate card suits you best.
Choose A Business Credit Card If …
Your business is classified as a sole proprietorship or is unincorporated
You have 10 or fewer employees who need a spending card
Your business is not likely to meet corporate card eligibility requirements
You wish to carry a balance or to spread out payments for large purchases
If you've decided that a business credit card makes more sense for your business than a corporate card, you've got some great choices. You can start looking for a perfect match in our list of the best business credit cards. As a bonus, the cards on this list deliver some of the best cashback rewards, introductory offers, and travel benefits available.
How To Get A Corporate Credit Card & Start Using It
Now that you know more about corporate cards, you're probably wondering how your company can get one. Luckily, the process isn't too complex, and it's very similar to the process of applying for a personal or small business credit card.
To start, make sure your company qualifies for a corporate card. This usually means your company must be an S corporation, a C corporation, or an LLC. On top of that, you might need to hit certain cash, revenue, or credit requirements. These vary by card provider, so be sure you understand these requirements before you apply.
Next, determine which issuer you want your company to work with and reach out to learn their application process. Some offer demos, while others may have a stricter application process. Fortunately, most corporate cards make it easy to apply online, and decisions often are issued very quickly.
Once you're approved to use a corporate card, you can immediately start to use it. You won't even have to wait to receive your card in the mail! Most corporate cards come with unlimited virtual cards, so you and your employees can start making charges right away.
Get a more detailed look at the process of getting your company a corporate card with our guide, How To Get A Corporate Credit Card.
The Bottom Line On Corporate Credit Cards
Corporate credit cards are getting a lot of positive press these days. And it's true that newcomers to business finance like Divvy, Ramp, Brex, and Rho are shaking up the world of business spending, to the benefit of their cardholders. At the same time, there's nothing wrong with going the tried-and-true route and using a traditional business credit card for your company's spending.
If you decide that it makes sense to apply for a corporate card and give cards to employees, spend some time setting up an effective corporate card policy to make sure workers use their cards correctly and your business assets are protected. In fact, whether you issue corporate cards to a large number of employees or business credit cards to a select few, you should learn about the right way to give credit cards to employees.
One final word of caution: Whether you choose a corporate card or a traditional credit card, make very certain that you and your employees use it only for legitimate business expenses. Mixing business and personal expenses is never a good idea, as you will learn in our post about putting personal expenses on a business credit card.
Corporate Credit Card FAQs