POS 101: Choosing A POS System
UPDATED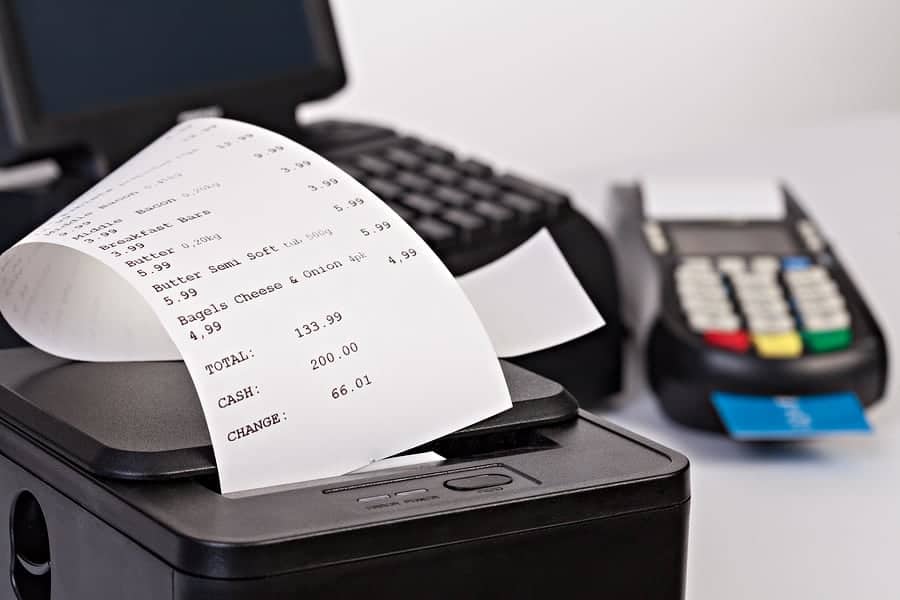 Choosing a point of sale system that's just right for your business is incredibly important. With the right POS software, your business should produce all you need to live a fairly comfortable life. With the wrong POS software, your business will explode in a fiery spectacle.
Alright, so maybe selecting a POS isn't quite that dramatic, but whether you're just starting out or you've already got the show on the road and you're looking for an upgrade, the system you choose plays a big roll in the success or failure of your business. Fortunately, POS software has advanced since the era of the first old-timey cash register, meaning that you no longer have to process payments on a glorified calculator.
In fact, you have hundreds of POS vendors competing for your business. That's why it's important to do your homework before entering into the decision-making process and selecting new point of sale software for your business. There are a million variables to consider, including out-of-pocket costs, integrations, features, customer service, and more. But how are you to sort through which variable are important to the health of your business and which won't affect you one way or another?
Read on to find out everything you need to know about choosing a POS system for your business. But let's start out by talking about why you might want point of sale software in the first place.
Do I Need A POS System?
Ah, the age-old existential question: to POS or not to POS? I guess I can't really force anyone to modernize, and it might be a little difficult to believe (what with all my wild examples) that a POS upgrade is really that important. So I'll be upfront with you and just bring it to the bottom line: cloud-based point of sale software will save you time and money. The reporting suites you'll find in most systems provide the behind-the-scenes information you need to know what's selling and what's not, who's performing and who needs improvement, who voided a transaction and what was voided, percentage of labor against sales, etc. The customer management and marketing tools now built directly into these systems will save you money on third-party CRM programs. It's the same with eCommerce options and accounting needs. But hey, even if you want to use third-party software, the breadth of integrations available make it a simple process to transfer accounting information to Xero, sync inventory and stock levels to Shopify (see our review), and export customer profiles to Zoho CRM.
Really, I don't have to try that hard to convince you that you need a modern POS system. The software speaks for itself in that regard. The question we should be asking is what, specifically, do you need for your particular business? As the rest of this article suggests, that question has many facets.
Let's discuss some of the variables you should keep in mind as you choose a new POS system.
Business Type
Anyone who has worn a custom-made suit will probably tell you that they could never go back to the feel of the discount rack attire. And those of us who can't afford custom-made anything will just have to take their word for it. Fortunately, POS systems (unlike custom suits) are plentiful enough to offer the features you need without costing you an arm and a leg. The only problem is narrowing down the search to a system that will suit (no pun intended) your specific business. A restaurant POS is not the same as a retail POS, which is not the same as a general, all-purpose POS. Even the systems like Revel (see our review) that basically try to be all things to all people have their limits and won't be appropriate for all merchants.
You have to ask yourself which category you fit into. Are you a mobile food truck? Are you a small coffee shop that sells both food and hand-crafted nicknacks? Are you a full-service restaurant and bar? Are you a nightclub? Are you a bike shop that repairs and rents out tandem bikes? Are you an online business or a brick-and-mortar store?
All of these business are going to have different needs, and narrowing down what category you fit into will at least point you in the direction you need to go.
Cloud-Based POS Solutions
I'm not sure if you've noticed, but I have been and will continue to subtly steer your mind toward cloud-based POS solutions throughout this article. Yeah, I took a psychology class my freshman year of college so I'm pretty sure I've got this subliminal massaging and brain cleaning thing down.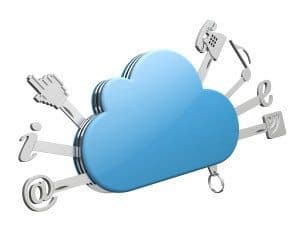 Although I am biased toward cloud-based POS software, it is not without good reason. Locally-installed software had its place at one point–back when it was an upgrade from old-fashioned cash registers, but it is quickly being outmoded by much more advanced software. Even the larger companies that traditionally relied on the stability of a legacy system are trading in their bulky (and expensive) servers, high support costs, and general inconvenience for the all-purpose mobile Swiss Army knife of the POS world: cloud-based solutions. Quite a few mega chains and franchises (i.e. Goodwill, Cinnabon, Belkin, Toms, and Adidas–just to name a few) run very successfully on cloud-based software.
I won't try to give you a full run down of the benefits and trade offs of a cloud POS, because I'd just be rehashing what has already been said, but the proof is really in the systems themselves. It's only a matter of time before traditional locally-installed systems are completely outmoded by the sleek cloud-based software of the future.
Ease of Use
Y'know, I've always heard that you should be at least 10% smarter than the object you're working with, but in the era of smart phones, Siri, and Wikipedia, that can be a little difficult to do. Okay, maybe not so much with Wikipedia, but you get the idea.
The Apple aesthetic has permeated our culture with a near-universal standard of usability. These days, unless you can configure the basic settings on a point of sale with minimal help from tech support, the system isn't going to do so well on the market (mind you, this is not true of more advanced setup, but more on that below). Aside from customer support, usability is one of the biggest things I've seen people complain about in a POS system. Merchants shouldn't need a background in computer engineering just to configure their tax levels, yet some systems are just that complicated. Fortunately, an "Ease of Use" section is included in all of our POS reviews, but no user is going to have the same experience. iPad-based systems may seem completely intuitive to Apple lovers, but totally frustrating to Android loyalists. The best advice I can give is to thoroughly test the software by taking advantage of the free trial versions most vendors offer these days. It won't be the same as running it through the motions during a peak selling hour, but you can at least get a feel for how easy (or not) the system is to use.
POS Pricing
I hate to be the bearer of bad news, but unfortunately things cost money. And point of sale software is a thing. Ergo, POS systems cost money (learn more about how much POS systems cost). I apologize for the highly technical logical progression I just laid down, but all those years of Advanced Data Analytics are suddenly validated.
Fortunately, you don't need to be a logical genius like me to take your budget into account when picking a POS system, but you do want to be aware of the fact that vendors' pricing structures are rarely as simple as they are portrayed to be. For example, a system can technically be advertised as "Free" (because you don't have to pay a licensing fee), but even if you factor out the money you'll have to spend on hardware (like a cash register and receipt printer) and possibly support costs, you've still got to pay the monthly fees to process credit and debit card transactions.
You're going to want to keep all these categories in mind when adding up exactly how much your new POS is going to cost you:
Software: This is the most transparent part of the price. You're either going to pay a one-time licensing fee with additional fees for upgrades or a monthly subscription fee that is essentially made up of the licensing fee, upgrade costs, and support costs.
Hardware: Naturally, the size of your business is going to directly affect how much hardware you're going to need, but your type of business will also affect it. If you're just wanting to sell your hand-made ceramic frogs at a street fair, you're probably just going to need a tablet, a credit card reader, and a cash box. On the other hand, if you're a multi-location restaurant chain, you'll probably need POS terminals, receipt printers, bump bars, cash drawers, maybe barcode scanners for inventory, and perhaps some digital menu boards (among other things). Price will also vary depending on whether you use proprietary hardware or an Android or iPad solution. Fortunately, most suppliers offer flexible pricing on hardware and special deals for bulk buyers.
Integrations: Though many vendors are trying to fill in the cracks with their own software, there's a definite market for third-party integrations to supplement your POS system. Some of these programs are free, but most of them are going to cost you an extra monthly fee. This might also be true of the integrations themselves (some companies will make you pay extra to sync your POS data with external software).
Credit Card Processing: With how widely used credit cards have become, you really can't get away with the cash or check only options anymore. In order to process credit and debit transactions, though, you're going to need to get set up with a merchant account. You'll want to keep in mind the recent EMV liability shift as well, since not all processors and POS systems are EMV-compliant yet. If you're wondering "what exactly is a merchant account?" you're not alone, but you can learn more in our complete guide to credit card processing rates and fees.
Support: Most cloud-based POS systems include 24/7 (or almost 24/7) support with the monthly subscription cost, but sometimes you can get premium support (like on-site training) for an extra charge. I don't know of any locally-installed POS systems that don't come with exorbitant technical support fees.
POS Features
Mapping out exactly how much functionality you need is important, but you should also take into account features that you might want even if you don't absolutely need them. For instance, would you like the option to integrate a digital menu? Do you want to add self-checkout kiosk? Or maybe you want a more advanced email marketing system? You shouldn't have to settle for the bare minimum just because you think you won't be able to handle or pay for anything more. You'll probably be surprised by the level of functionality out there for surprisingly affordable prices.
In any case, there are a number of selections for any level of business. If you're looking for something simple and cheap–but still functional–then Square (read our review), Vend (read our review) and Imonggo (read our review) are all good choices. Trying to go for something with more features, maybe with some good social media integrations? Well, you've got SalesVu and NCR Silver. How about something with a great user base in the food service industry? ShopKeep, Toast, and TouchBistro are all highly-ranked. Are you interested in some in-depth, ERP-style reporting functions? Revel and ERPLY have what you need.
Foodservice & Restaurant POS Features
Online ordering
Delivery apps
Check splitting/tip features
Ability to use kitchen screens
Back- and front-house communication tools
Table layout features
Loyalty programs
Advanced inventory with tracking for individual ingredients
Pay-at-table services
Retail POS Features
eCommerce integration
Advanced inventory with matrix
Loyalty programs
Gift cards
Customizable SKUs
Shipping features
Service POS Features
Advanced scheduling for people, rooms, and equipment
Calendar
Online reservations
Customer-facing booking tools
eCommerce integration
Loyalty programs
Gift cards
Support
There's a common misconception (at least it seems to me) that a good POS system shouldn't need much support. I'd say this is only really true of the most basic systems that don't have very advanced settings or functions.
Sure, once it's all up and running, business owners shouldn't need to call tech support every seven days to figure out how to run a weekly sales report. Unless you really want to. Because let's face it, dating websites are expensive and you're paying for the support anyway (in some form or another) so you might as well see if you can't get something extra out of the experience. I've heard ShopKeep has award-winning customer service. What do you think the awards are for?
You need to be realistic about how much support you're going to need and investigate whether the vendor you're looking at is can provide it. For instance, I've seen so many people bashing perfectly functioning POS systems simply because they didn't take the time or spend the money to have a professional set up their system. The more advanced systems, especially, offer on-site setup help. Use it! At the very least, get some over-the-phone training even if you feel like you've got a handle on the system, because you never know what you may have missed.
Make sure technical support will be available when you need it. Most businesses are open outside of the standard Monday through Friday, 9AM to 5PM work hours, meaning your support options must be open then, too. This usually means having 24/7 service. Some systems offer less coverage, but still seem able to offer their customers the support they need. It really all depends on your specific needs, so be sure to run the support staff through all the tests you can think of while you're playing around in the system.
Final Thoughts
So which POS system are you going to choose?
One of the most important parts of researching the right POS for your business is talking to as many people as possible. The sales guy may be nice, but he's also not going to be super quick to point out all the faults and shortcomings of the software or POS terminal he's making a commission off of. All of the top POS systems have been used and reviewed by any number of people, you just have to be willing to look for the information. Get a second opinion from a professional as well.
At the end of the day, you're ultimately responsible for the success (or failure) of your business, but that doesn't mean there aren't tools out there that are going to make your job a whole lot easier. Your point of sale solution could very well unlock the potential of your business, so make sure you pick the right one.
Looking for a recommendation? Square is a good, all-around POS systems for smaller, low-volume businesses. Toast and Revel are fantastic restaurant-based point of sale software systems for both quick-service and full-service restaurants. Vend and ShopKeep are good for retail establishments. Our full, unbiased POS reviews have more information on all of these vendors and more.