What Is A POS & How To Choose The Right Fit In 2023
Our guide to different types of POS software covers the most common features and how to choose a POS system that gives your small business the tools it needs to succeed.
Expert Analyst & Reviewer

UPDATED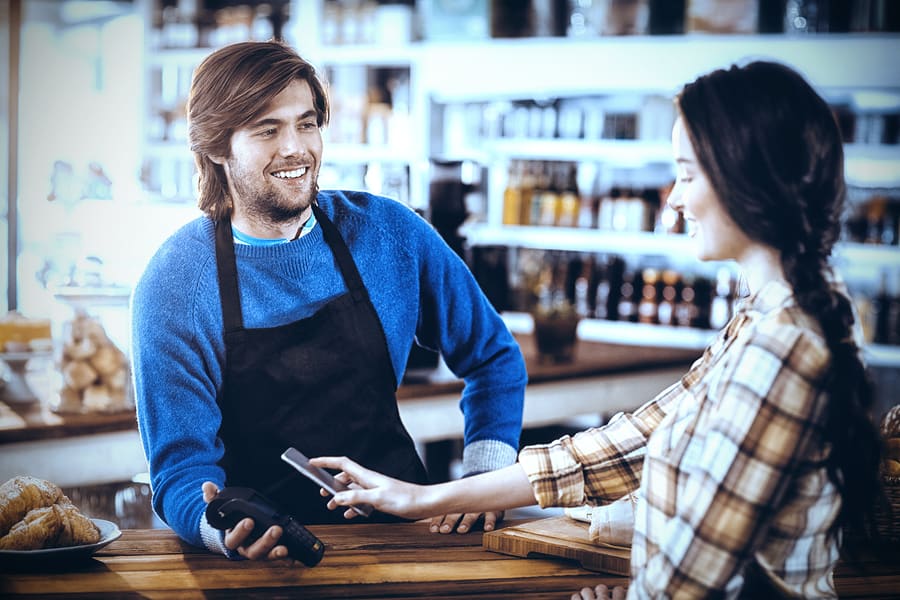 Learning the POS definition is probably one of the first questions you need answered if you're in the beginning stages of research. Whether you have an existing cash-only business, are launching a new business, or are in the market for an upgrade to your current point of sale system, you've come to the right place. Here, you'll learn all the POS system basics, meaning what a POS system is, what functions a POS includes, and how to operate a POS system. You'll also learn how a point of sale's features can help your business, especially considering the unique challenges business owners face in 2022, from COVID to inflation to high turnover.
Let's get started!
What Is A POS System?
A POS system includes hardware and software to take payments. POS systems also perform business management tasks, such as sales tracking and multi-location management. Today's top POS systems are mobile and cloud-based, with a lightweight hardware setup that may only include an iPad or tablet and a payment reader. Traditional POS systems include a full countertop set up with a customer-facing screen, scanner, and a cash drawer.
POS Guide: Find The Right Features For Your Small Business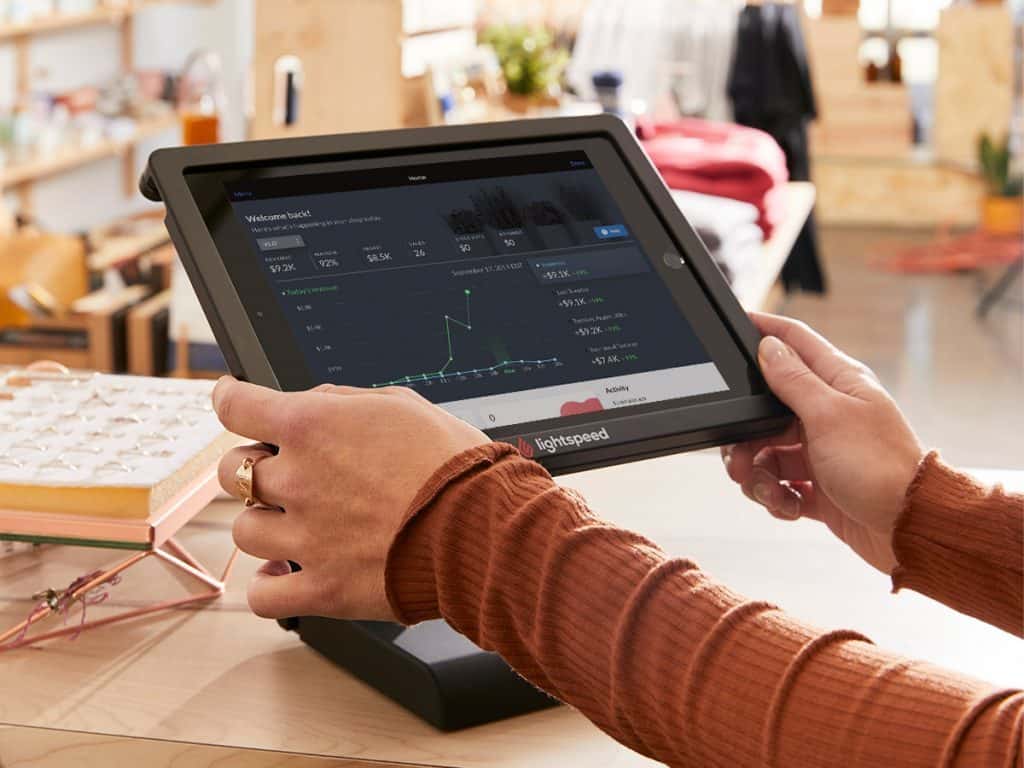 If you're shopping around for a new POS system, you'll quickly discover that they are not all created equal. Even systems with similar price points may have very different feature offerings. Here are a few point of sale features you'll want to keep an eye out for:
A Good POS System Takes Many Forms Of Payments
Most modern POS systems let you accept multiple forms of payment, including cash, swiped credit cards, chip cards, and contactless credit cards, as well as other contactless payment forms, such as contactless NFC payments (e.g., Apple Pay). Many systems will also now accept QR code payments. The more ways you give customers to pay, the better! And in the time of COVID, contactless payment acceptance can keep germ exchanges to a minimum.
Track Sales With Your Point Of Sale System
If you're just using a cash drawer and printer, even the most organized individual can get bogged down in receipts when trying to do the books. A point of sale system makes that easy, syncing your sales automatically and dividing them in numerous ways to be analyzed.
Manage Your Employees With Your Point Of Sale
If you have even a few employees, you'll need an employee management method to track their hours and pay. A POS system can take care of this for you and even help you run numbers on employee performance. Most POS systems have a built-in time clock to keep tabs on employee hours and the ability to assign permissions for employees, giving them access to only certain parts of the POS.
Inventory Management For Stock Levels
One of the biggest challenges for small businesses is managing inventory. In the restaurant industry, for example, buying the correct amount of ingredients can make or break your store. Point of sale systems can help with this, giving you automatic alerts when items are low and tracking inventory across multiple locations. Some systems also come with the ability to create purchase orders and manage vendors. During this time of inflation, a tight, well-managed inventory is essential for maintaining good margins.
Utilize Marketing Tools With Your Point Of Sale
If you have a very small business, marketing might not be a major part of your strategy, at least not yet. However, point of sale systems can simplify this and help drive repeat business with minimal effort on your part. Many POS systems will track and store customer information and spending data, allowing you to send out email blasts, create social media campaigns, or tailor special promotions for certain types of customers (most frequent customers, customers that visited once and didn't return, etc.).
Set Up An Online Shop & Take Orders
Most businesses need some sort of online presence to sell on the internet. Retail businesses should offer customers the ability to shop online. Restaurants need to have an online ordering system, so customers can place orders on your website (or app) for pickup or delivery. Most POS systems either provide businesses a website for selling online, or the system will connect with popular eComm and online ordering websites, such as Shopify and DoorDash. Increasingly, POS systems also offer omnichannel selling capabilities, such as the ability to buy online and pick up in-store.
Use The Built-In Loyalty & Gift Card Programs On Your POS System
Loyalty can be a great way to increase profits for your business by giving customers a reason to frequent your store again. Depending on the program, customers can store up points or earn rewards based on the amount of money they spend. Many POS systems include loyalty programs within their software, which is a huge plus. Sometimes, access to that loyalty program will cost extra or require a third-party integration.
Additionally, POS systems usually have a gift card function, giving you the option to make, distribute, and accept either physical or electronic gift cards or both.
Use The POS Database To Connect With Your Customers
Most good POS systems come with customer management. This gives you the ability to take and store customer information, whether it's their email address or purchase history. That information can help you build up a database that allows you to set up effective marketing campaigns for your loyal spenders.
Point Of Sale Analytics & Reporting
Virtually all POS systems come equipped with POS reporting. If you own either a smaller business or one that doesn't plan to rely on analytics much, you may be perfectly happy with a system that has just a handful of basic reports. But if you really want to track your efficiency and pinpoint top-selling items or star employees, you'll need reporting that does a bit more. Especially during this time of inflation and tight margins, businesses need actionable data that helps them make smart purchasing and scheduling decisions. Some systems come with an extremely generous offering of reports; others offer bulked-up reporting as an add-on for an additional fee.
Point Of Sale Integrations Help You Scale & Save Initially
While nearly all POS systems come with at least some integrations, you'll want to research or ask for a list of all of the company's offerings. Many systems will integrate with accounting software, such as QuickBooks or Xero, or marketing software, such as Mailchimp. You may find that your needs grow, and integrations help you scale and avoid higher-priced systems in the beginning.
Find The POS Features You Need For Your Niche Industry
Depending on your industry, you may need industry-specific functions as part of your POS. For example, a service-based business will need a module to book appointments online and apply subscription billing, while restaurants will likely want menu management and a kitchen display system.
You can find a POS with niche features by purchasing an industry-specific POS, such as a garden center pos or golf course pos system, or you might buy a general POS that integrates with third-party software to provide these industry-specific tools.
How To Operate A POS System
Your POS system will come with a guided online walkthrough of how to use the system or live installation and training, provided either remotely or in person. In most cases, expert installation and training may cost extra. However, depending on how complex your system is, an online walkthrough will, in many cases, be sufficient.
Fortunately, most of today's POS systems are so intuitively easy to use that your training needs will be minimal. That means you can often learn how to operate a POS system by simply turning on your system and following the prompts on the screen. An easy-to-use POS also makes training new employees quick and easy.
Ideally, look for a POS system that includes a dedicated account manager and 24/7 customer service. This way, you'll always be able to contact someone at the company if you have any issues operating your POS. You'll also want to pay attention to reviews that mention the POS software's ease of use — having a system that's easy to train new hires on is especially important in these times of historically high employee turnover.
Tips When Shopping For A POS System
Here are some general tips to keep in mind when shopping for a POS system.
Determine Your Budget: POS systems have a wide range of possible prices. There are free systems and systems that cost several hundred dollars a month. You can get free hardware (usually with a catch, unless it's a very bare-bones setup) or spend thousands on POS equipment. It all depends on your needs and your budget. Read our recently updated POS pricing guide for a more in-depth look at what you can expect to pay for a POS system.
Prioritize Features: It's often good to make a rough list of what you really want and need from your POS system. First, this can help you narrow things down from a wide list of options. Second, it can help you sketch out a rough idea of what you might expect to pay if, for example, you have extensive inventory needs or know that you will be purchasing certain integrations.
Decide On A Processing Model: Many POS systems come with payment processing included, while some include an option to integrate an outside payment processor (sometimes for an added fee). If you have a merchant account you currently use and want to stay with, you will want to find a POS that integrates with your merchant services provider. For businesses starting from scratch with payment processing, evaluate what processing model the POS system's integrated processor uses (for example, flat-rate processing, interchange-plus, tiered pricing, etc.) and consider whether that processing model works well for your business type and sales volume.
Find The POS Hardware You Need: POS software can be fully mobile on your phone with no equipment or include a full countertop setup with a cash register, barcode scanner, and other components. Many systems require you to purchase your POS hardware from the POS vendor, while others let you source your hardware yourself or use components you already have from a previously used system. Once you have an idea of which POS hardware you need (and can afford), you can start shopping around. Read our POS hardware post for a more in-depth look.
Consider An All-In-One System: If you're a fan of simplicity, you may be looking for an all-in-one POS system. More and more POS companies are starting to make this an option. Many POS options now come with hardware, software, and built-in payment processing, as well as an app store with additional POS features and software integrations.
Take Advantage Of Free Trials Or Demos: Most good POS companies should let you test the product or at least see it in action before you make a purchase. Free trials are often preferable because you can get hands-on experience to see just how easy it is to use and don't have to deal with a sales pitch in the process.
Double-Check For Contracts Or Hidden Fees: We try to sniff these out for you in our reviews, but it's always good to do your due diligence. Some companies offer true month-to-month pricing, while others incentivize you to sign up for a year by offering lower monthly rates. Just beware of long-term contracts or entry prices that change dramatically after a short period. You will also want to avoid hardware leases and payment processing contracts with an early termination fee.
Next Step To Choosing A POS System: Shop Around
Now that you have a basic understanding of what a POS system is and what features a point of sale system should include, you're probably ready to look at some specific POS system suggestions. Here are a few best-of lists to get you started. As long as you pick a POS system that's geared toward your industry, it will be hard to go wrong with any of the systems included in our best-of lists.
Happy POS shopping!
POS System: FAQS