5 Best Garden Center POS Systems In 2023
These excellent garden center POS systems offer software for nursery management with robust inventory tools and a variety of integrations for eCommerce and accounting.
Expert Analyst & Reviewer

UPDATED
Advertiser Disclosure: Our unbiased reviews and content are supported in part by
affiliate partnerships
, and we adhere to strict
guidelines
to preserve editorial integrity.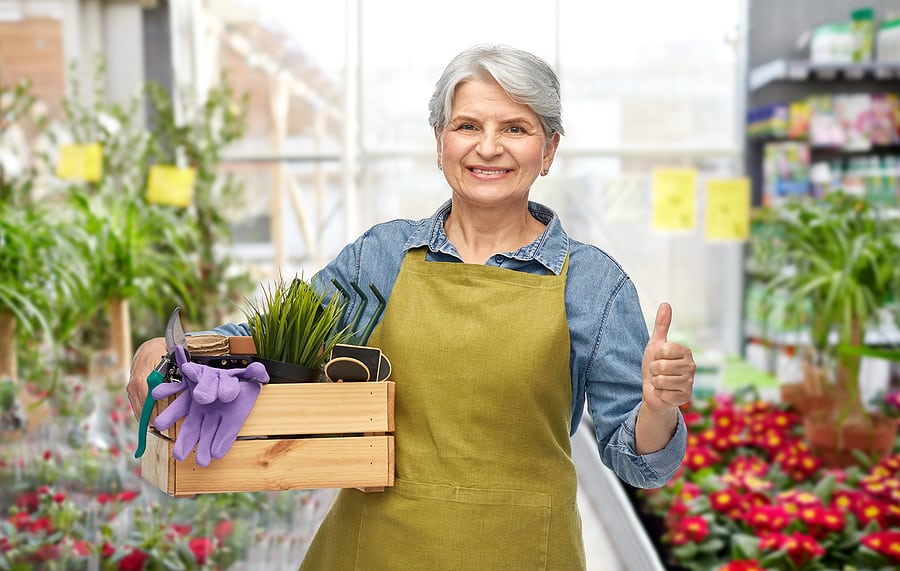 Aside from having a naturally green thumb, getting a well-designed garden center POS system can be one of the most advantageous things you could do for your nursery or flower business. Operating a garden center can be a difficult task as you have to deal with dramatic sales swings throughout the year and keep an eye on your inventory to make sure you always have your best-selling items in stock.
A strong garden center point of sale system can help with all of the necessary back-end tasks, including detailed inventory management. Read on to learn about some of our top-rated nursery software POS systems.
Learn More About Our Top Picks
Company
Best For
Next StepsBest For
Lightspeed Retail POS
Best for advanced inventory management.

Best for advanced inventory management.

Revel POS Systems
Best for high volume businesses.

Best for high volume businesses.

Square POS
Best POS with free app option.

Best POS with free app option.

Clover POS
Best for customer management.

Best for customer management.

Shopify POS
Best for online selling.

Best for online selling.

Show Fewer Options
Read more below to learn why we chose these options.
Best Garden Center Point Of Sale Systems
Software for your garden store business should include a user-friendly interface, advanced inventory tracking, and a variety of integrations to help improve your efficiency. These are our top choices for garden center POS systems.
1. Lightspeed Retail: Best For Inventory
Lightspeed Retail POS


---
Pros
Strong inventory management
eCommerce integration
Constant updates
Cons
Pricy for smaller businesses
Occasional glitches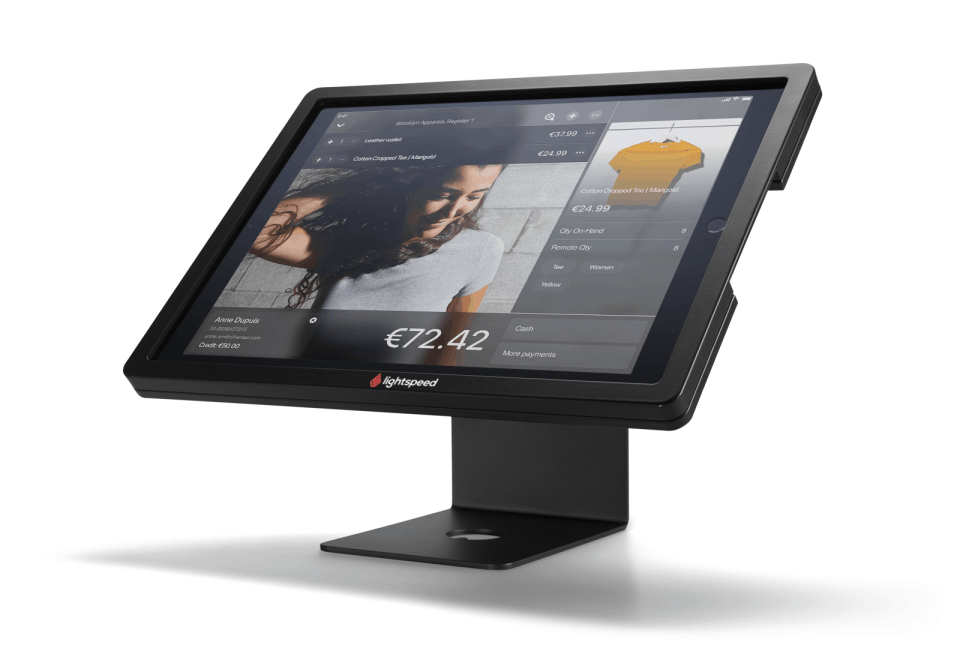 Lightspeed Retail Features
Lightspeed has one of the more in-depth features offerings around. It's an all-in-one system loaded with integrations and outstanding inventory management.
Here are some of its key features:
Gift cards
Holds and layaways
Customizable templates
Wish lists
Multistore management
Purchase order management
Advanced reporting
Lightspeed Retail Pricing
Lightspeed has three plans ranging from $89/month to $269/month ($69/month to $199/month with annual billing). Lightspeed plans come with one POS register software license and Lightspeed Payments, Lightspeed's in-house payment processor.
If you choose to integrate a third-party payment processor, such as Worldpay or 2Accept, instead of using Lightspeed Payments, you'll pay an extra $50/month.
If you want to add extra POS register licenses to your subscription, you'll pay an additional $59/register/month.
Hardware Cost
Lightspeed offers tablet and desktop bundles and also sells individual equipment, such as printers and scales on its site, but you will need to call a Lightspeed representative for a quote.
Payment Processing
Lightspeed offers its own payment processing service, Lightspeed Payments. It has upfront fees of 2.6% + $0.10 per card-present transaction and 2.6% + $0.30 for manual entries.
You also have a few third-party processing options if you prefer, including Worldpay, 2Accept, and TSYS. You will have to pay an extra $50/month to use a third-party option.
Contract Requirements/Warnings
You can sign up for Lightspeed Retail on a month-to-month or annual basis. You'll get the best rates if you sign up for an annual plan and agree to use Lightspeed Payments.
Lightspeed charges an early termination fee if you decide to cancel your plan early, so consider getting a monthly plan until you're sure Lightspeed is the right POS system for you.
You'll pay an extra $50/month if you decide to use a payment processor other than Lightspeed Payments, but that extra monthly fee could be worth it for larger businesses that want a lower payment processing rate than what Lightspeed can offer.
If you purchase hardware from Lightspeed, you must confirm that you have received it within five business days. Otherwise, your hardware will not be covered under Lightspeed's hardware warranty (14 days for Apple products and 30 days for non-Apple products).
Where Lightspeed Retail Really Shines
In a nutshell, Lightspeed does it all. It offers an easy-to-use POS system with everything you need to run your small or large garden business. We also recommend Lightspeed's advanced features for other niche industries, too, such as a golf pos system.
The inventory management features are outstanding, and it also features stellar customer service. While very small businesses may find the price point a bit high, its rates are competitive for most industries.
Get Started With Lightspeed Retail POS
2. Revel: Best For High Volume
Revel POS Systems


---
Pros
Advanced reporting
Multistore functionality
Multiple integrations
Cons
Pricy entry point
Not as simple to use

Revel Features
Revel is ideal for larger businesses or businesses that need an advanced feature set. Here are a few of Revel's best features:
Real-time inventory
Purchase order management
Intelligent reporting
Till management
Advanced marketing tools
Permissions
Kiosk mode
Revel Pricing
Revel starts at $99/month with a two-user minimum, but also offers custom rates tailored to your specific business. You are advised to call a sales rep before purchasing.
Hardware Cost
Revel offers bundles through its website that comes with everything you need to get set up. It also offers individual items for purchase but you will need to call for a quote.
Payment Processing
Revel also has its own payment processing service. Its rates are upfront and will set you back 2.49% + $0.15 for standard transactions. It also integrates with a handful of third-party processors if you want to search for a rate that might better suit your business.
Contract Requirements/Warnings
You can sign up on a month-to-month basis but, in order to receive Revel's best pricing, you'll need to sign a three-year contract.
Where Revel Really Shines
Revel is a powerhouse of a POS system. If you have complicated inventory or reporting needs, chances are very good that Revel has you completely covered. It's also an ideal system if you're managing inventory across multiple stores, despite the somewhat hefty price tag.
Get Started With Revel POS Systems
3. Square: Best Free App
Square POS


---
Pros
Ease of use
App marketplace
All-in-one system
Cons
Occasional fund holds
Features not overly advanced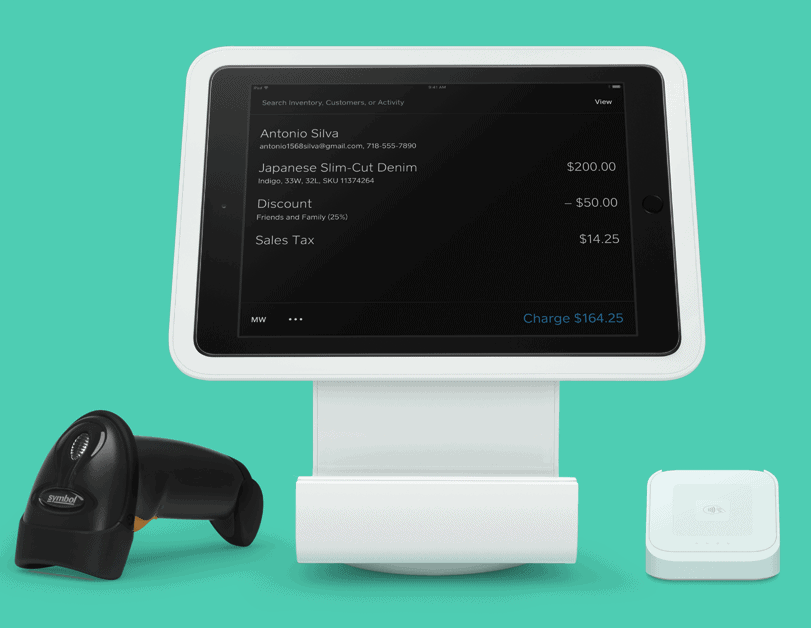 Square Features
Square is a highly scalable product, but its free app offers a generous feature set in its own right. Here are some of its top features:
Multistore support
Multichannel selling
Marketing tools
Employee management
Multiple payment options
Text messaging
Multiple reports
Square Pricing
Square starts at $0/month for its free app and has more advanced products like Square for Retail that range from $0 to $60/month.
Hardware Cost
Square offers multiple unique hardware options. Your first magstripe card reader is free and its contactless chip reader is $49. It also features a handheld processor called Square Terminal for $299 and its full-fledged system, Square Register for $799.
Payment Processing
Square is known for its simple and upfront processing services. Its rates are 2.6% + $0.10 for card-present transactions and 3.5% + $0.15 for card on file payments.
Contract Requirements/Warnings
Square requires no long-term contracts, allowing you to pay on a monthly basis and cancel at any time.
Where Square Really Shines
The beauty of Square is in its simplicity. The most novice business owner can be up and ready to sell in minutes with virtually no learning curve. The product is that easy to use. It's also great for businesses that are looking to expand as it features multiple options to unlock more advanced features.
4. Clover: Best For Loyalty
Clover POS


---
Pros
Simple set-up
App marketplace
Appealing interface
Cons
Processing customer service
High upfront cost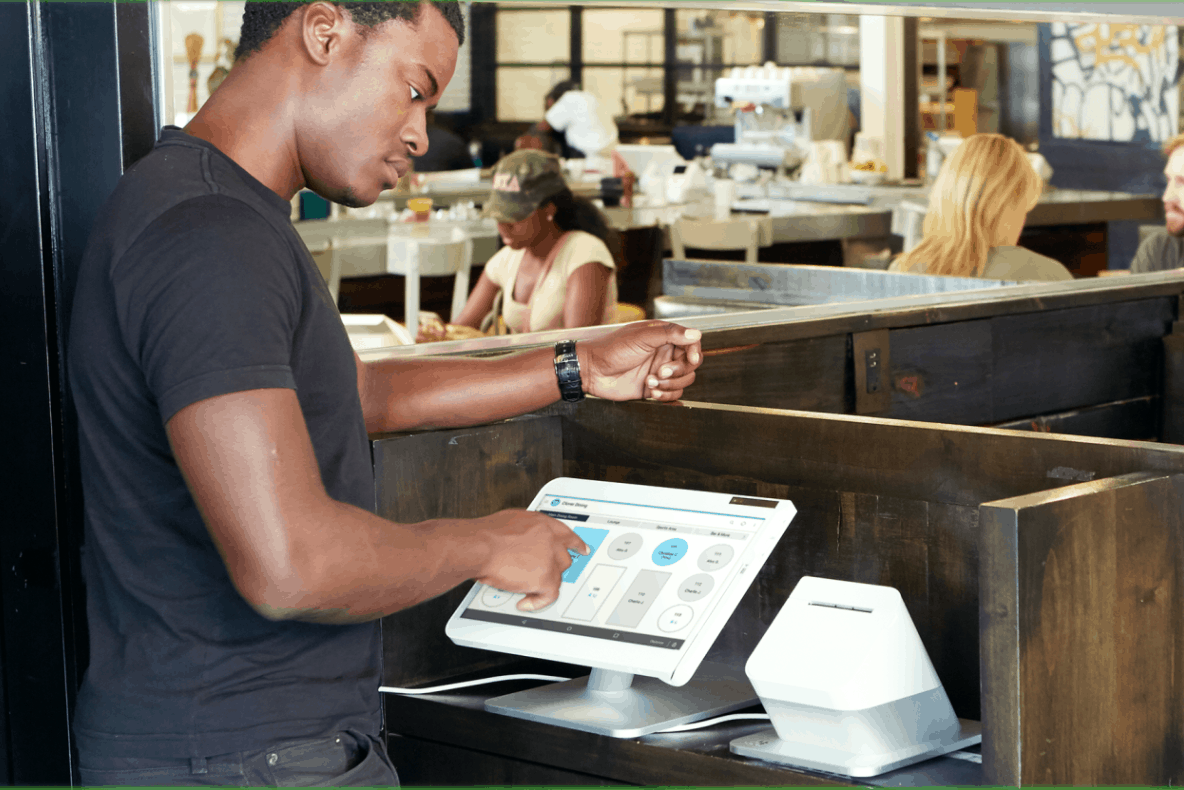 Clover Features
Clover has a robust feature set and is also exceptionally easy to set up and operate. Here are some of Clover's key offerings:
Virtual terminal
Detailed customer management
Discounts
Item exchanges
App marketplace
Sales reports
Advanced inventory
Clover Pricing
Clover's plans start at $14.95/month. Lease options are available if you don't want to purchase your equipment outright, with plans for hardware and software starting at $50/month.
Hardware Cost
Like Square, Clover has a wide variety of hardware options that might be useful to your garden center. The Clover Go card processor costs $49, while the Clover Flex handheld POS system runs for $499. And for more traditional systems, the Clover Mini runs for $799 and Clover Station starts at $1,349 through Clover's website.
Payment Processing
With Clover, you are locked into Fiserv for your processing needs, which has been a longstanding issue with the company given Fiserv's reputation. However, the rates are competitive, ranging from 2.3% – 2.6% + $0.10 for standard transactions depending on your plan.
Contract Requirements/Warnings
With Clover, you are allowed to use their service on a month-to-month basis. Just make sure that you've done your research on Fiserv to make sure their processing is right for you.
Where Clover Really Shines
Clover offers the type of system that you can set up and not have to think about. It has an incredibly simple and visually-appealing interface and an excellent array of features and plans to choose from to make sure that you're not overpaying for unnecessary services. It also has outstanding customer management and loyalty capabilities.
5. Shopify: Best for eCommerce
Shopify POS


---
Pros
eCommerce integration
Multiple payment options
Mobile options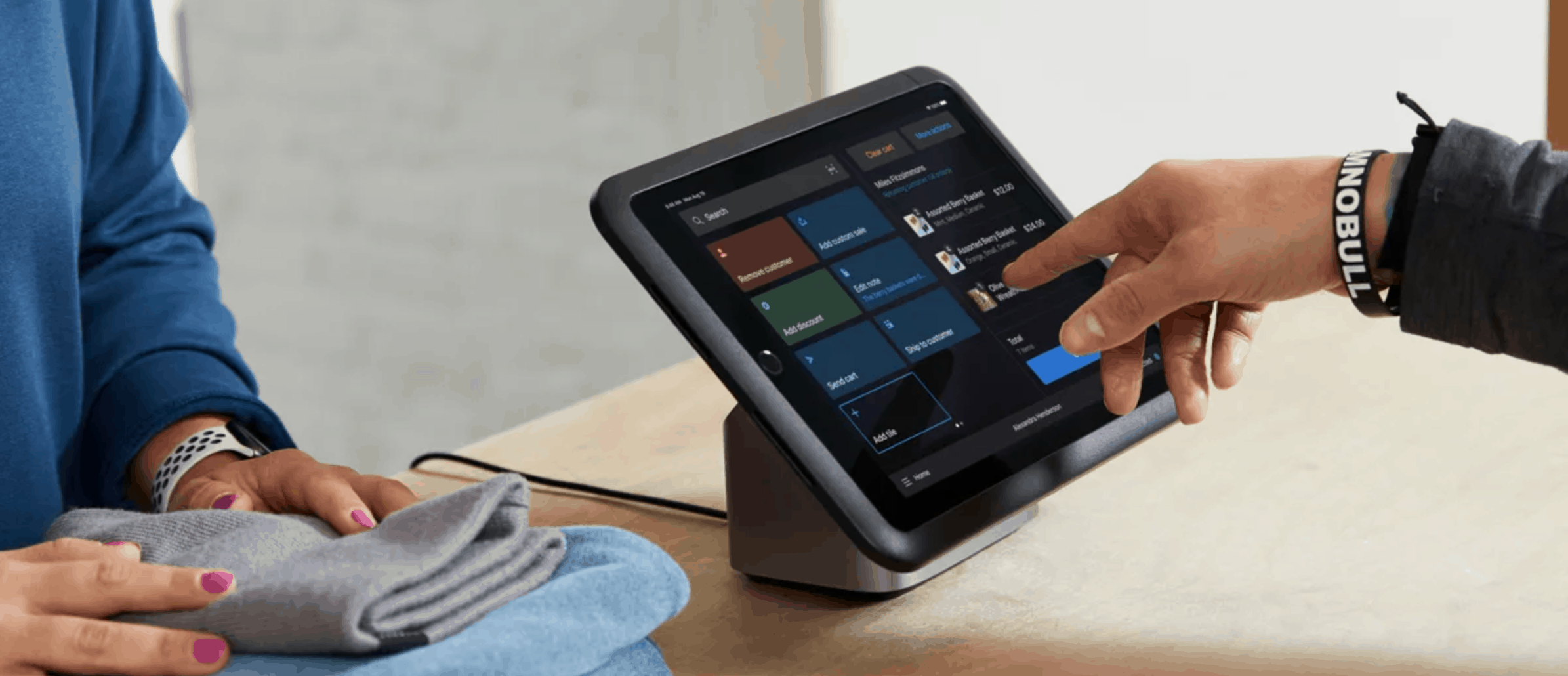 Shopify Features
Shopify is constantly updating its POS product and adding new features to improve. Here are some of Shopify's best features:
Contactless payments
Multi-channel selling
Advanced reporting
Marketing tools
Custom payment options
Portable registers
Accounting and eCommerce integrations
Customer profiles
Shopify Pricing
Shopify has a variety of pricing tiers starting at $5/month and ranging up to $299/month for advanced features. It also has plans for larger businesses at custom rates.
Hardware Cost
Shopify has hardware bundles that you can purchase through its website. Call a sales rep for a quote on hardware or to purchase individual items as well.
Payment Processing
Like many other POS companies, Shopify has gotten into the processing game as well with its own built-in payments option. Its rates range from 2.4% and 2.7% depending on your plan. If you subscribe to the Basic plan, you can also choose between a variety of third-party options.
Contract Requirements/Warnings
Shopify makes it easy, allowing you to purchase its product month-to-month with no early termination fees.
Where Shopify Really Shines
Not surprisingly, Shopify is a great POS option if eCommerce is a big part of your business plan. Its eCommerce platform is second to none and it integrates seamlessly with Shopify point of sale. If you're already using Shopify for online selling, Shopify POS is definitely a product to try and keep on your shortlist.
Which Garden Center Point Of Sale System Is Right For You?
Having a point of sale system that specifically fits the needs of your business can be a huge time and money saver. A garden center POS with advanced inventory management and a customer database to track consumer spending, among other integrations, is practically a must in this competitive industry.
So which of the above options is best? Well, it still depends on your individual business. If you are looking for a cost-effective product, Square and Clover have you covered. If you're wanting in-depth features, Revel and Lightspeed are good options. And if you're looking for seamless eCommerce functionality, definitely check out Shopify. Just make sure you prioritize what's most important to your business and make the most informed decision from there!
FAQs: Garden Center POS Systems
In Summary: Best Garden Center Point Of Sale Systems