Revel Systems Review
Revel is suitable for any-sized retail, restaurant, or hospitality business, but be prepared to make a long-term commitment alongside a steep learning curve.
Expert Analyst & Reviewer

UPDATED
Advertiser Disclosure: Our unbiased reviews and content are supported in part by
affiliate partnerships
, and we adhere to strict
guidelines
to preserve editorial integrity.
Revel POS Systems

Revel POS Systems At A Glance
Feature-rich system for mid-sized to larger businesses
Deep reporting and analytics
Good for multi-store capacity
---
Pros
Numerous integrations
Advanced reporting
Raw ingredient tracking
Multistore capability
Cons
Expensive for low-volume merchants
Steep learning curve
A three-year commitment is necessary for the lowest price
What Is Revel Systems?
Revel Systems is a feature-rich point of sale system for mid-sized to larger retail establishments and restaurants. It has highly advanced inventory and reporting that can suit most businesses along with excellent customer support.
Revel Systems Pricing
Revel pricing starts at $99 a month per terminal, with a two-terminal minimum. To get the best rate, you are billed annually and need to sign a three-year contract, which is unfortunate. You also have to commit to Revel's in-house payment processing with Revel Advantage for three years. You'll also probably want to talk to a representative to get an official quote and ensure that your system has everything you need for your specific business before committing.
Revel also offers its own processing system, with a standard rate of 2.49% plus $0.15 per transaction, but it isn't easy to find that rate through its website. You're also asked to submit information for a quote. It's less than ideal getting a potentially different rate and having to compare that, but Revel does integrate with other processors as well if you are happy with a third-party provider. They also provide implementation to get you up and running for $674.
While Revel is a very robust product, pricing is on the high side for many small businesses, especially those that may not need everything the POS offers and/or don't need two terminals. However, the Revel Systems price is much more affordable than a legacy POS system.
Extra Revel Systems Costs & Fees
| Revel POS Systems Extra Costs | Price |
| --- | --- |
| Onboarding | Starting at $674 |
Revel Systems Features
| Revel POS Systems Features | Availability |
| --- | --- |
| Multi-Store Support | |
| Contactless Payments | |
| Multi-Channel Selling | |
| Gift Cards | |
| Customer Loyalty | |
| Marketing Tools | |
| Online Ordering | |
| Inventory Management | |
| Reporting | |
| Menu Management | |
| Delivery Management | |
| EBT Acceptance | |
| Employee Management | |
| Text Messaging | |
To see an exhaustive list of Revel features, check out Revel's website or some of its training videos. It's got some pretty cool industry-specific features. For a shorter list, just keep scrolling.
Fully Functional POS: Revel POS works in a hotkey fashion; cashiers can tap on menu categories with drop-downs of items and modifiers to select. Or, if you prefer, you can enter barcode numbers into the system for scanning items. Multiple tax rates, discounts, service fees, and surcharges can be set to add on automatically or manually at the time of sale. In the "edit item" screen, cashiers can place orders to-go, for delivery, repeat items, remove items, enter discounts, enter special requests, and add quantities. And, of course, the POS can also void payments, allow for tips, split bills, email receipts, print/reprint guest receipts, and enter rewards card numbers. If an order has already gone to the kitchen, you can go back and add additional items, sending only the newly added items to the kitchen. Items already sent cannot be edited or deleted, but they can be repeated, discounted, increased in quantity, or voided off the bill.
Real-Time Inventory: Adding and managing inventory with Revel is simple, requiring only an item and price (though other fields, such as cost and SKU, are also available). A style matrix is available for easy mass entry of similar inventory items that differ by color, size, or style. Additionally, inventory can be imported using a template (such as the one listed on its support page). Revel can track inventory per ingredient, and food cost reports are also available on the ingredient level. Low-stock items are listed in red on your inventory page with nifty reorder buttons. Revel can even handle retail fuel sales with wet stock management.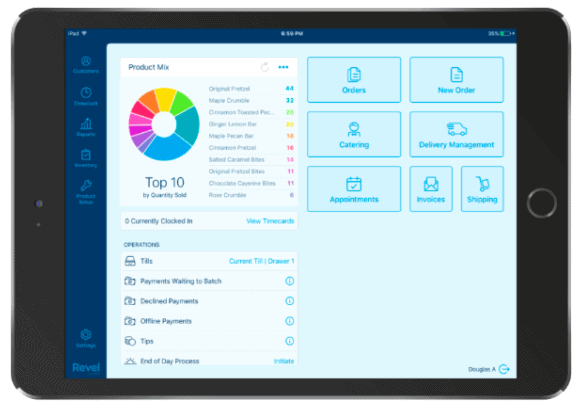 Purchase Order Management: In addition to creating purchase orders and associating inventory with vendors, Revel helps you manage when stock items arrive and are added to your inventory. You can notate partial orders when vendors only send you a portion of your stock and finalize orders once completed.
Till Management: All cash management functions are located under the manager selection of the settings tab: batch processing, over/under tills, and printable quick-view reports, such as total cash/credit/check/gift certificates for the night, items sold, and time management.
Customer Management: Revel tracks customer purchases and all necessary customer information, such as name, address, phone number, and email. This information can be exported and used to create mass marketing campaigns or cross-sell other items. You can even customize table reservations by adding customer preferences and sending text notifications when the customer's table is ready.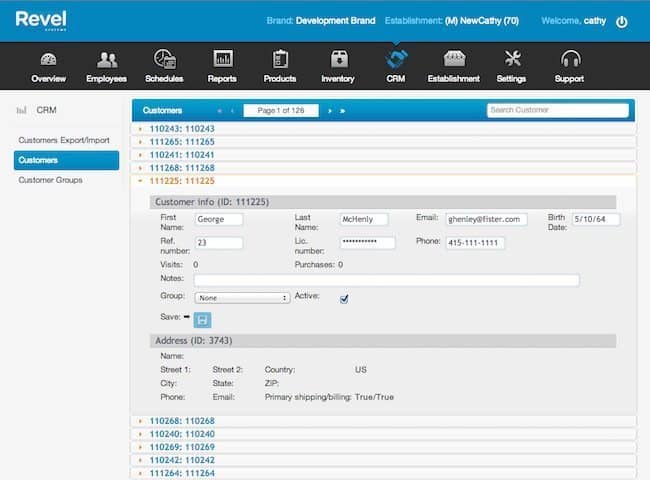 Employee Management: Each employee can have their own unique and secure PIN-activated login or swipe card to track time, employee performance, and employee activity within the system. Employee reports can be created based on the number of voids, discounts, sales volume, and productivity. Access parameters are customizable per employee responsibilities. The system can also handle scheduling employee time.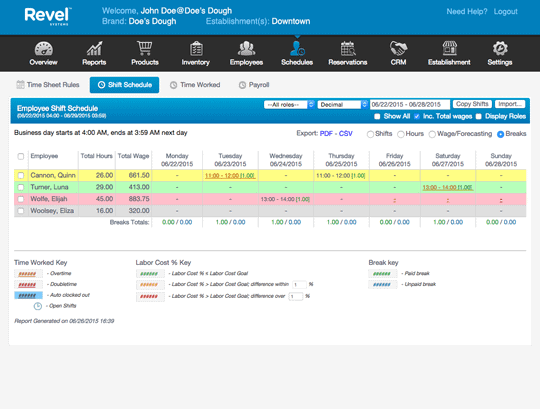 Flexible Ordering: Revel Systems has designed creative ways to simplify ordering, including tableside ordering, mobile and online ordering, and customer-facing displays. Revel has also added the ability to play a video on the customer-facing display whenever it is idle.
Kiosk POS: Using the iPad POS as a self-ordering kiosk, customers can place their orders and pay all on their own. They can browse menus, select or edit items and quantities, and place orders with their name. Orders can be completed by paying with credit, debit, gift card, or cash.
Kitchen Display System: In kitchen view, sending an order or entering payment over an iPad sends the information to the kitchen display system. The expedite view allows servers to see if an order is in progress or completed. The kitchen view (a.k.a. cook view) will display the order, plus any modifiers, the time the order came in, the server name, the customer name, and the order's status (completed or not). Once the food is taken out, the server touches "completed" in the expedite view and clears the order off the screen.
Digital Menu Board: Revel is integrated with digital menu boards, so the Revel system and your menu displays can talk to each other and exchange data. Whenever you update your menu in the Revel POS, your digital display will also update.
Intelligent Reporting Suite: Revel reports are pretty extensive and easy to read. Some of the dozens of reports available include transaction details, sales summaries, ingredients sold, PLU reports, available/used gift cards, total voids, total credit transactions, refunded/exchanged items, percentage of labor against sales, and employee check-out reports. Real-time tracking provides instant visibility to sales, staff, and location data. You can export data as you need.
Safe & Secure Servers: Revel's hardware, software, and network are PCI-DSS compliant. Sensitive credit card information is encrypted and never stored. Revel's data centers are PCI compliant and SAS 70 Type II certified. All data is encrypted and backed up regularly, and single-location businesses operate on their own database.
Loyalty & Gift Cards: Revel integrates with several gift card companies to give you options, and its loyalty functions continue to expand. You can customize it in whatever way you want to reward your customers, and the system can track and store data for research. Revel also offers a card-free loyalty program, which tracks points and purchases entirely online.
Product Management & Menu Building: Revel allows you to customize your menus with a wide variety of categories and sub-categories to choose from. Modifiers are easy to navigate, and you can automatically push changes into the system instead of inputting them manually.
Delivery Management: Track your deliveries and orders in real-time, all from your POS. The system can store customer information and order history and automatically optimizes delivery routes. A delivery management function is handy for pizza delivery services, as Revel offers driver tracking and integrates with Google Maps.
DoorDash Drive: Revel also offers Driver XT powered by DoorDash Drive. This service eliminates the need for restaurants to manage an in-house driver fleet and helps streamline the online ordering and delivery process.
Is Revel Systems User-Friendly?
Once set up, the software is easy to use. The front end is intuitive and easy to navigate, and the back end is set up with training videos. To see Revel in multiple environments (restaurant, quick service, retail, etc.), check out some of its training videos on YouTube.
Front End: Revel requires staff to log in with a PIN to access unique settings and permissions. A touch screen displays a product matrix (with optional descriptions) on one side and order tallies on the opposite side. Quantities and modifiers are easy to add, as are additional payment and discount options. Revel POS can also be used as a kiosk or customer-facing display. It's an aesthetically pleasing display, and the layouts are intuitive, so even as a novice, you're not spending a lot of time searching for the right button.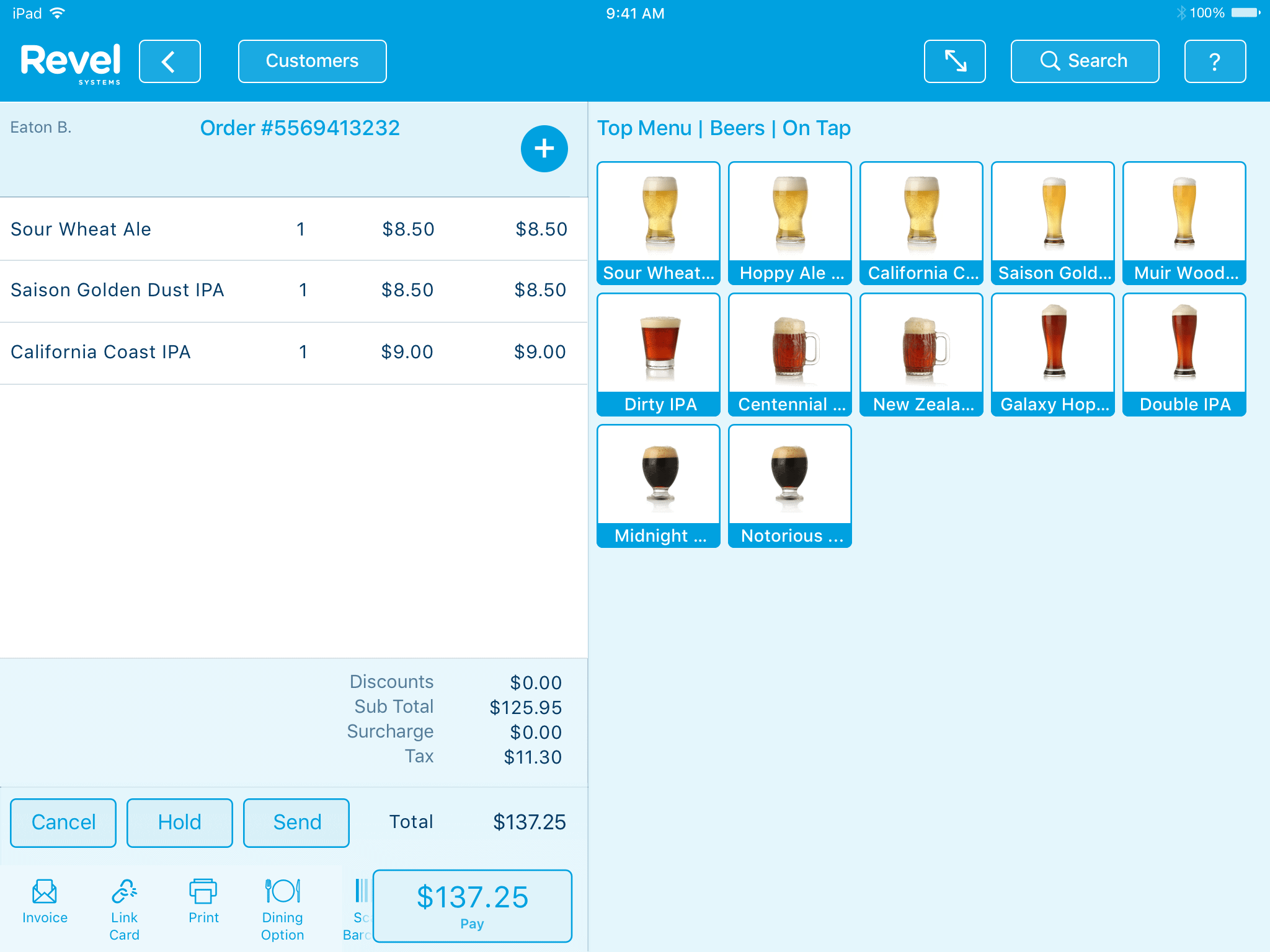 Back-End Management: Revel is designed for easy navigation through everything from inventory to employee management, but its user-friendliness is not apparent until you get the hang of the system. Performing advanced functions (or even achieving basic familiarity with how the system works) takes serious dedication, time, and training since Revel assumes that a business owner is familiar with POS systems and advanced features. If you're expecting to simply pull it out of the box and quickly get the hang of it, which is the case with other systems, you'll certainly find yourself frustrated. That said, most of the basic functions are pretty easy to navigate and use. Exporting data is simple, employee permissions are easily managed, and adding, modifying, or removing items can be accomplished directly from your dashboard. Revel has made it easy to turn off any features you aren't using, so they don't clog up the interface.
Revel Systems Customer Service & Support
| Revel POS Systems Support | Availability |
| --- | --- |
| Phone Support | |
| Email Support | |
| Support Tickets | |
| Live Chat | |
| Dedicated Support Representative | *Available to SMBs for a fee |
| Knowledge Base or Help Center | |
| Videos & Tutorials | |
| Company Blog | |
| Social Media | |
*Large enterprise businesses are automatically assigned a dedicated account manager; they are also available to small businesses for an additional fee.
Revel offers 24/7 support to all customers in several ways:
Phone: Revel sales, technical support, and billing staff are available 24/7, which is included in your software package.
Email: You can email support directly or submit a request with their customer support form.
Remote Support: A technician can access your POS remotely to diagnose/troubleshoot issues directly without extra confusion (such as describing the thingy that keeps blinking).
Web Support: You can check Revel's support page for commonly reported issues. You can search for what information you're looking for or submit a support request.
Onsite Support: You'll need to contact Revel for onsite technical support. There are additional fees involved.
Revel University: This is Revel's website for training and videos.
Social Media: Revel does have a blog; if you're interested in what the company is working on, it's worth taking a look. You can also follow various social media accounts, including Instagram, Twitter, Facebook, and LinkedIn.
Payment Processing With Revel Systems
Like many other POS companies, Revel has introduced its own processing system. Revel Advantage integrates directly with the software and offers a competitive flat processing rate of 2.49% plus $0.15 for transactions. What's nice is that if you like an existing processor or can find a better rate, Revel still integrates with plenty of other payment processors.
The marketplace section of the company website lists third-party integrations for gateway payment processors and payment processors. The list of compatible payment processors includes Moneris, Adyen, and Tyro. For gateways, Revel supports USAePay as well as FreedomPay.
Contract Length & Early Termination Fees
To lock in Revel's cheapest pricing of $99/month, you have to sign on for a three-year contract, a significant commitment for a small business. The fees for terminating this contract are also stiff, with individuals forced to pay double the amount remaining on the contract or $15,000, whichever is higher.
Revel POS Systems Integrations & Add-Ons
Revel has an open API and a whole slew of third-party integrations. Having so many available integrations is one of the bigger selling points, as Revel partners with dozens of companies. You can pick and choose the features that are best for your business. Listed below are some of the major integrations, all of which you'll find in the Revel marketplace:
Add-Ons
Digital menu board
Kitchen display system
Customer-facing display
Kiosk POS
eCommerce/Online/Mobile Ordering
Kosmos Central
Open Dining
Zuppler
Chowly
Employee Management
Mobile Payment Processors/Forms Of Payment
Apple Pay
Zapper
Braintree
Loyalty Programs
Pepper
LevelUp
Como
LoyaltyPlant
Punchh
Paytronix
Accounting
Revel Systems Reviews
Revel Systems, Inc. is rated A- with the Better Business Bureau and has had 11 complaints closed in the last three years, including three complaints closed in the previous 12 months. However, Revel has only 2.4/5 stars on Trustpilot. They have a 4.2 rating on g2.com out of 135 reviews and a 3.7 rating on Capterra with 298 reviews.
Negative Revel Systems Reviews & Complaints
As follows are some common issues and complaints described in Revel POS reviews.
Complicated System: Many Revel POS complaints revolve around customers struggling to access or use various features, particularly on the back end. This isn't a plug-and-play system, and there's a lot to sift through if you're a novice in the POS world. For its part, Revel has noted this recurring complaint and has taken steps to make things a little less overwhelming with its inventory management and reporting in particular.
Revel Advantage: Many unhappy Revel customers (on Trustpilot, in particular) dislike Revel's in-house payment processing service, Revel Advantage, and how the company pushes you to use this processor. Some customers also stated that Revel has a hefty early termination fee if you try to exit your payment processing contract early. Other reviewers didn't realize they were signing a three-year contract when they signed up for Revel.
Expensive: Some customers feel Revel is not worth its high price tag or that the system was more expensive than they initially thought it would be. In one Revel Systems review, the customer said the company even raised their monthly price mid-contract.
Customer Service: While the company is easy to get in touch with initially, a handful of reviewers thought that Revel had less than helpful technical support. Some customers were bothered by long wait times.
Positive Revel Systems Reviews & Testimonials
Here are some of the positive things customers have to say about this POS in Revel Systems reviews:
"Always On" Mode: Formerly known as offline mode, this feature allows you to continue to do business as usual if your internet is down (or experiencing a slowdown). This feature is still pretty unique among POS providers and allows you to continue to accept cash and card payments.
Versatile POS: Revel is thoughtfully designed and works well for many merchants. Its cloud-based functionality is also a huge contrast to the more rigid functionality of computer-based POS systems. It's therefore versatile and adaptable to fast-paced businesses with ever-changing needs.
Constant Improvements: Since our initial review of this software, there have been some pretty significant improvements, and Revel shows no sign of stopping. Upfront software license fee? Gone, and in its place is a manageable monthly subscription model with the license costs built in. Inventory options? Expanded and improved with room to grow. Slow-responding technical support? That I'll leave you to judge.
Customer Service: Revel reports a Customer Satisfaction Rating of over 93% for software, hardware, and logistical issues. Though it hasn't always had a great technical support reputation, Revel has recently stepped up its game in this arena. It's taking steps to improve customer relations, including the recent revamping of its suite of training videos.
Final Verdict Of Revel Systems POS
Revel POS Systems Review Summary
Pricing
$99/month
Choose If You Need

You need ample integrations
You are OK with at least a three-year commitment
You are a mid-sized to larger business needing a rich feature set
Revel will have you covered if you're looking for a cloud-based POS for a restaurant or hospitality business. If you need a comprehensive system without any gaps in moderately affordable software, this is likely the system for you. Revel has improved its offerings for regular retail businesses and is a solid option, but I'd shop around before deciding.
Revel is scalable for virtually any size. However, the monthly subscription may still be too high, or you may not want to commit to a three-year contract. Revel is not a casual, month-to-month POS system like Square POS. You also may be overwhelmed by the amount of work required to set up all the various Revel features and settings you may never use. However, if you're planning on fast growth, it would be nice not to have to transition from a more basic, free POS system.
Although Revel is a good POS system, it's a long-term commitment. The negative Revel Systems reviews online are largely made up of merchants who regretted making this commitment. Getting out of this commitment isn't easy and could set you back thousands of dollars. To make sure you don't experience any unhappy surprises with Revel Systems, make sure you read and fully understand your merchant contract before committing to use the Revel POS system — or any POS system, for that matter.
Revel POS Systems FAQs
---
The Merchant Maverick Seal of Approval 🏆
Revel POS Systems


---
After hours of in-depth research and evaluation, we can confidently recommend this brand to our readers. Get started today and see Revel POS Systems for yourself.
The Merchant Maverick Seal of Approval 🏆
Revel POS Systems


---
After hours of in-depth research and evaluation, we can confidently recommend this brand to our readers. Get started today and see Revel POS Systems for yourself.
To learn more about how we score our reviews, see our
Point Of Sale (POS) Software Rating Criteria
.