Adyen Review: Is Adyen The Future Of Commerce?
Adyen Payments is a platform that helps businesses connect payment methods from across the globe and is ideal for international merchants.
Expert Analyst & Reviewer

UPDATED
Advertiser Disclosure: Our unbiased reviews and content are supported in part by
affiliate partnerships
, and we adhere to strict
guidelines
to preserve editorial integrity.
Adyen

Adyen At A Glance
No account setup fees
No monthly account fees
Month-to-month billing with no early termination fee
---
Pros
Ideal for international merchants
No setup or application fees
No monthly fee
Offers interchange-plus and flat-rate pricing
Cons
What Is Adyen?
Adyen is an international merchant account provider working to build new technology and systems from the ground up, bypassing middlemen and old-fashioned payment infrastructure. It accomplishes its goal of "frictionless" payments by providing merchants with a source for local acquiring and managing multiple acquirers through Adyen's payment processing and gateway.
The company's services are primarily designed for established, successful companies looking to expand into new markets, and it's a great choice for big-name, mid-to-enterprise level clients operating on a global scale (for example, eBay and Microsoft use Adyen).
Adyen's suitability for small businesses, however, is mixed. While it offers tremendous capabilities, you'll need substantial technical know-how and patience to take advantage of them. The company's pricing structure also works best for established, high-volume enterprises.
Ayden currently scores 4 out of 5 stars overall, making it a good choice for businesses that are large enough to benefit from its pricing structure.
Countries Served
Adyen's primary market is Europe, but the company has rapidly expanded to other parts of the world. Adyen is also fully supported in Australia, Brazil, Canada, Singapore, and the United States.
Additionally, Adyen offers limited payment services, often through partners, to a number of countries in Africa, including Nigeria, South Africa, Morocco, and Egypt.
Adyen Pricing & Fees
Adyen's pricing models are organized by global region, country, and payment type. (Learn more about pricing models in our post on credit card processing fees.)
On Adyen's pricing page, US customers are offered a mix of interchange-plus pricing (for Visa and Mastercard) and flat rates (for American Express and Discover), which Adyen calls "blend." This makes an apples-to-apples pricing comparison to processors that use only one of those payment schemes difficult.
Here's how Adyen's pricing breaks down.
| Payment Method | Adyen Transaction Fee | Payment Method Fee | Supported Shopper Location | Transaction Type |
| --- | --- | --- | --- | --- |
| Visa | $0.12 | Interchange++ | Global | eCommerce, POS |
| Mastercard | $0.12 | Interchange++ | Global | eCommerce, POS |
| American Express | $0.12 | 3.95% | Global | eCommerce, POS |
| Discover | $0.12 | 3.95% | Global | eCommerce, POS |
| JCB | $0.12 | 3.75% (interchange++ in specific situations) | Global | eCommerce, POS |
| Union Pay | $0.12 | 3% | Global | eCommerce, POS |
| Diners Club | $0.12 | 3.95% (interchange++ in specific situations) | Global | eCommerce, POS (except in Australia) |
| ACH/Direct Debt | $0.12 | $0.25 | US | eCommerce, POS |
| PayPal | $0.12 | Requires a direct contract with PayPal | Global | eCommerce |
You might notice Adyen has an extra "+" next to its interchange-plus pricing rates. In addition to the interchange fees that go to the issuing bank and the credit card company, Adyen charges a percentage acquirer fee. This fee starts at 0.6% per transaction but may be lower for high-volume businesses.
Additionally, Adyen's flat rates are the same for eCommerce and POS transactions.
Alternative payment methods are supported as follows:
| Payment Method | Adyen Transaction Fee | Payment Method Fee | Supported Shopper Location | Transaction Type |
| --- | --- | --- | --- | --- |
| Apple Pay | $0.12 | By card used | Global | eCommerce, POS |
| Google Pay | $0.12 | By card used | Global | eCommerce |
| Samsung Pay | $0.12 | By card used | Global | eCommerce, POS |
| Klarna | $0.12 | 4.29% + $0.30 | US | eCommerce, POS (through Apple Pay) |
| Affirm | $0.12 | By direct contract with Affirm | US | eCommerce, POS |
| AfterPay | $0.12 | 4.99% + $0.30 | US, Canada | eCommerce |
Other Recurring & Incidental Fees
Adyen doesn't disclose its additional fees. However, these fees include a chargeback fee, which varies by payment method.
Also, Adyen requires merchants have a minimum invoice of $120/month or 1,000 transactions/month to keep their accounts in good standing. This requirement is the most significant impediment to small or newly-established businesses being able to use Adyen as their payment processor.
Common fees that Adyen does not charge include the following:
Account setup fees
Early termination fees
Annual fees
Monthly account fees
PCI compliance fees
Gateway fees
Additional processing fees for currency conversion
Adyen's pricing is reasonable for a cutting-edge, international payment processor accustomed to serving high-end, complex clients. The all-inclusive pricing style is appealing, and I also like that you automatically receive interchange-plus pricing for Visa and Mastercard, no matter your business type or size.
On the other hand, the flat-rate pricing on American Express and Discover is a bit higher than what you'd get with third-party processors, such as what you would pay with Square's pricing and Stripe's pricing.
Adyen Payments Products & Services
Adyen is a direct processor, not a reseller or ISO. The company describes itself as a "full-stack" payment service provider (PSP), meaning that it provides the payment gateway and processing capability while undertaking risk management and merchant acquiring responsibilities. Basically, it's a true end-to-end solution, handling the entire payment flow.
Let's take a look at Adyen's main features.
Adyen Online Payments
All merchants can integrate Adyen with their website, mobile site, or app. Integrating Adyen with your online store enables a few cool features, including one-click checkout and recurring payments.
Adyen facilitates payments within online marketplaces. eBay would be a prime example of a marketplace — a platform that connects buyers and sellers. Among other features, MarketPay can split payments across multiple sub-merchants, transfer funds, and schedule payouts.
Adyen Point Of Sale (POS) Terminals & Card Readers
Adyen likes to keep everything in-house. However, Adyen reps have told me that their business is payments, so they've decided to let the experts take care of POS software.
You have three options — (1) standalone terminals that are pre-programmed with Adyen's payments software, requiring no third-party POS software integration or cash register, (2) the Terminal API for custom integrations, or (3) ready-to-go plugins. If you choose option 3, Adyen has partnerships with many major POS software systems, including Microsoft Dynamics, Retail Pro, Oracle X Store, and Aptos, along with the supporting integration documentation.
Adyen lists fifteen POS hardware options on its site, ranging from countertop options to portable, handheld devices. Seven of these options are from the Verifone brand (P400 Plus, V400c PLUS, V400m, e280, e285, M400, and UX 410). The company recently announced two new proprietary options: the Adyen AMS1 and NYC1 mobile card readers. The former is an Android-based terminal that looks like a smartphone with an EMV card slot at the top, while the latter is a basic mobile card reader that boasts a battery life of up to two days and includes a magnet to attach it to your preferred smartphone or tablet.
Note that all of these options support EMV and NFC-based payment methods, but some (including the NYC1) do not include built-in support for PIN debit transactions.
Adyen Unified Commerce
Adyen Unified Commerce is Adyen's omnichannel payments solution. Omnichannel refers to the three main ways businesses make sales: in-store, online, and in-app. Adyen Unified Commerce shares shopper info between all three channels to create a complete transaction history.
This is handy if you want more complete reports and insights into shopper behavior, especially if you're interested in offering loyalty rewards to your best customers.
Global Processing
Adyen is an international processor. In addition to standard credit and debit cards, the company aims to facilitate payments in as many locally accepted methods as possible. This is accomplished through Adyen's ability to adopt an international or local acquiring approach depending on the country. Adyen's flexibility in this regard can help merchants reduce fees and increase authorization rates for country-specific payment methods. Merchants can also enable Dynamic Currency Conversion for their customers at the point of sale.
Likewise, Adyen supports the routing of different currencies to different bank accounts if you want to avoid currency conversion entirely.
Additional Adyen Features
Adyen's a big platform with many specialized features that may be very important for some merchants but less so for others.
RevenueProtect & RevenueAccelerate: There are a lot of fancy terms thrown around in the explanations of RevenueProtect (Adyen's risk management feature). AI learning, device fingerprinting, risk engine, behavioral analytics, transaction linking — it all just means Adyen uses multiple data analysis tools to prevent as many chargebacks caused by card fraud as possible. RevenueAccelerate seems to include an account updater tool. I wasn't able to find out if RevenueProtect and RevenueAccelerate were standard features or only available at extra cost. Be sure to ask when you sign up!
Dynamic Reporting: Beyond basic monthly statements, Adyen's Customer Area is an in-depth portal into the reasons behind approvals and declines for each payment method accepted at your business. Take a look at the reporting overview for samples of the tables and graphs Adyen creates for tracking payments in real-time.
Integrations & Developer Tools: In addition to POS systems, Adyen offers several plugins for eCommerce, clienteling, and billing software. It also provides extensive developer documentation for adding extra features to the baseline system. If you're not skilled at coding, you'll need to hire outside help to implement this.
Gift Cards: Adyen supports creating and issuing virtual and physical gift cards. These use interchange++ pricing for transactions.
Ease Of Use
Adyen tends to draw comparisons to Stripe because both services take a developer-first approach to service. Adyen even makes prospective customers set up a basic integration prior to application approval. This mostly just involves generating an API key and plugging it into some command line code provided in the Adyen documentation, but you could get fancier if you want.
While it's not that complex, the basic application process seems almost designed to intimidate people without any technical background. The developer experience and documentation look pretty good overall, but it still falls a little short of what Stripe offers. Adyen supports Ruby, Java, PHP, Python, C#, NodeJs, and Go.
As for the dashboard experiences, it's fairly straightforward if not entirely welcoming. Most of what you're looking for will be found under the sidebar heading you'd guess it would be under. The initial "tour" offered for new users is bare-bones, however, so be prepared to do some clicking and exploring.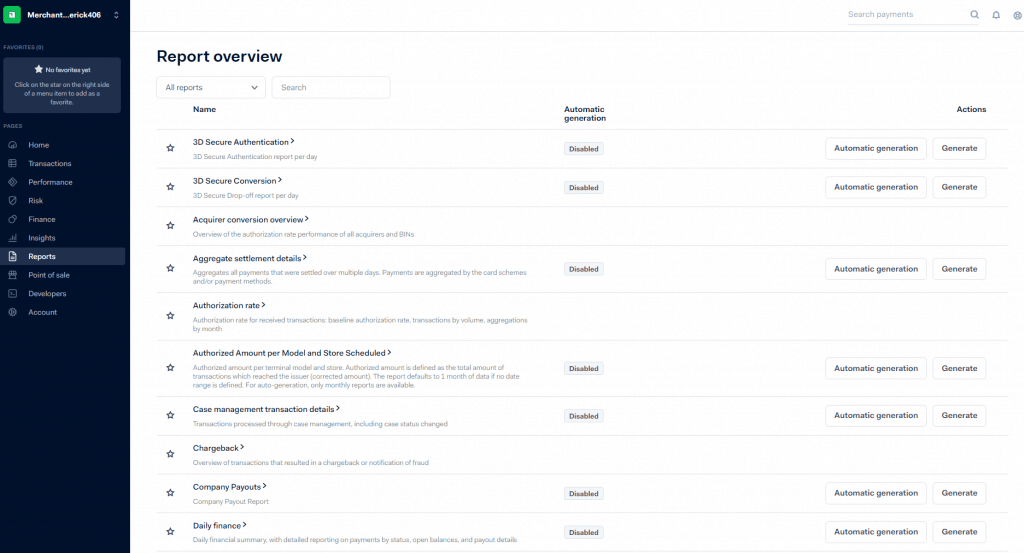 Sales & Advertising Transparency
Adyen publicly discloses most of the information you'd want to see before applying. This includes a detailed list of transaction fees, supported payment types, and hardware offerings.
However, Adyen's additional fees still aren't listed on the site, and some of the company's more advanced features could be explained with more clarity. If you're using the site's search function, be prepared to be served up articles in Dutch occasionally.
Contract Length & Early Termination Fees
Adyen contracts are indefinite, and there is no early termination fee for its merchant accounts. Either party can terminate the merchant agreement by giving at least 60 days' notice in writing.
When it comes time to cancel, many merchants are surprised that a simple phone call won't guarantee that your account will be closed properly. And if you don't follow the proper "paper trail," there isn't much you can do about it. So be sure to put your request in writing to avoid frustration. We do like that there won't be any need to worry about or buy out the rest of a terminal lease.
In some circumstances, either the merchant or Adyen may terminate the contract immediately. For example, if the service availability is below 90% in a given month, the merchant may terminate the agreement. By the same token, Adyen may terminate the contract if the merchant changes the products or services they're offering without written permission. These are pretty standard conditions, but see section 10.2 of Adyen's Merchant Service Agreement for the full explanation.
Adyen is generally not into high-risk clients and will readily suspend an account if there are too many chargebacks. The chargeback threshold is 0.5% of the total transaction volume for most payment methods, and the merchant could also be subject to fines. This is explained in section 7.1 of the Adyen Merchant Service Agreement. Note that the 0.5% figure is more strict than the general industry standard of 1%.
Additionally, accounts may be subject to a rolling reserve, which Adyen calls "Deposit Reservation" in section 3.5. That's a bit more in line with industry practices.
Customer Service & Technical Support
| Adyen Support | Availability |
| --- | --- |
| Phone Support | |
| Email Support | |
| Support Tickets | |
| Live Chat | |
| Dedicated Support Representative | |
| Knowledge Base or Help Center | |
| Videos & Tutorials | |
| Company Blog | |
| Social Media | |
Adyen employs tech support staff around the world via email, web, and phone during business hours. Emergency support is provided 24 hours a day. A list of worldwide offices and phone numbers are on Adyen's Contact page, along with a web form for filing technical support tickets. This is all nice to see.
Even nicer to see, the website itself is a wealth of information, easily searchable for developer documents, product descriptions, and case studies. Detailed, country-specific guides may be downloaded for some countries, but you can also find a quick overview of each country's common payment methods and "inside tips" on how to enter each market.
The Support tab is split into several helpful FAQ and troubleshooting sections, while the Developer tab contains its own set of resources. You can also bet that Adyen maintains active Twitter, LinkedIn, Facebook, and YouTube accounts that highlight new product developments and industry news. The e-newsletter and blog round out Adyen's online resources.
On the surface, all signs indicate solid customer service and sales support with Adyen. However, some of the user reviews from small business owners in the section below give cause for concern.
Adyen Payments Reviews, Complaints, & Problems
Negative Reviews & Complaints
Adyen is not accredited by the Better Business Bureau, and the company currently has an F rating with the watchdog group. Six customer complaints have been filed in the last three years, with four coming within the last twelve months. Trustpilot is by far the place that holds the lion's share of negative reviews for Adyen, rating the payment processor 1.9 out of 5 stars, based on 96 customer reviews.
Because there just aren't very many overall reviews for this company, but these complaints overwhelm review sites, we do need to take them seriously.
Customer complaints include:
Poor Customer Service: Customers seem to have a hard time getting their complaints resolved in a timely manner. There are also reports of high-pressure sales tactics for hardware and software.
Slow Deposit Times: Some customers reported that their payments were held for longer than expected.
Hidden Fees: Several customers claim to have been surprised by hidden fees.
Not Friendly For New Businesses: Adyen's minimum invoicing and steep technical curve can make it a poor payment processing choice for new businesses.
Positive Reviews & Testimonials
You will find several client testimonials and case studies on Adyen's YouTube channel. Reviews tend to emphasize Adyen's global compatibility, ease of use, and forward-thinking, high-tech focus. You'll see spokespeople from many recognizable brand names.
The Adyen blog is also a good source for case studies, where you can get an idea of the types of businesses Adyen caters to and the customized solutions it provides. While these posts are all marketing materials, to be sure, it's nice to see some hard data and company-specific details here.
G2 and Capterra consumer review sites paint a different picture, and we were curious to see what customers did like about this solution.
No Monthly/Early Termination Fees: Adyen does not hide any monthly or early termination fees. You can cancel your account with 60 days' notice.
International: Mid-market and enterprise merchants can sell goods internationally and process payments in many currencies.
Customer Service: Users report that Adyen's customer service is helpful and quick. We do like to see that some merchants have a good customer service experience, which leaves some hope.
Because Adyen just doesn't have the reviews built up from small business owners, we have to wonder if its services are more friendly to big-ticket clients but may leave much to be desired for smaller businesses.
Final Verdict
Adyen really seems to do it all. Where most international payment processors have focused on eCommerce and in-app purchases, Adyen adds brick-and-mortar and point of sale setups to the mix.
The platform-style approach will draw comparisons to Square, Stripe, and PayPal. Compared to those competitors, Adyen's major selling point will be its interchange-plus(plus) pricing for Visa and Mastercard. This comes with the trade-off of spending more on American Express and Discover transactions, however.
Adyen's high volume of complaints keeps me from recommending it too enthusiastically. My overall impression is that Adyen is still not actively pursuing small merchants at the individual level. If you're going to give Adyen a try, I'd suggest going in with ample technical expertise and a lot of patience. For now, I give Adyen 4 out of 5 stars.
Looking for alternatives? If Adyen is not for you, Stripe is a similar global payments platform with a powerful suite of tools (including support for storefronts). Braintree is another notable international processor with competitive rates, no monthly minimums, and an innovative approach worth exploring. If you're in the US or Canada, Square might suit your needs with various integrations, developer tools, and a seamless multichannel experience.
---
Our Top Pick To Save On Payment Processing 💰
PaymentCloud


---
PaymentCloud has an excellent track record for service quality, support, and fair pricing. Learn more from PaymentCloud.
Our Top Pick To Save On Payment Processing 💰
PaymentCloud


---
PaymentCloud has an excellent track record for service quality, support, and fair pricing. Learn more from PaymentCloud.
To learn more about how we score our reviews, see our
Credit Card Processor Rating Criteria
.