Expert Analyst & Reviewer

UPDATED
Advertiser Disclosure: Our unbiased reviews and content are supported in part by
affiliate partnerships
, and we adhere to strict
guidelines
to preserve editorial integrity.
Moneris Solutions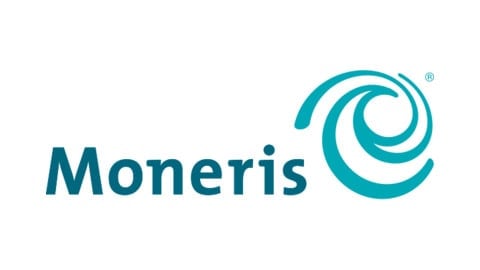 Pros
Full range of hardware available for rent or purchase
Interchange-plus pricing available
Extensive online knowledgebase
Cons
Three-year standard contract
$300 early termination fee per location
Numerous reports of poor customer support
Moneris Solutions Overview
Moneris Solutions is a merchant services provider headquartered in Toronto, Ontario. The company was formed in 2000 from a merger of the payment processing divisions of the Bank of Montreal and the Royal Bank of Canada. A US-based division was sold to Vantiv (now FIS WorldPay) in 2016, and today the company operates only in Canada.
Moneris is the largest merchant services provider in Canada, serving over 350,000 merchants and processing 3.5 billion transactions annually. While the company's large size creates advantages in the variety of products and services it can offer, it doesn't always translate into lower costs or better customer service for small business owners. The company's standard contract, which includes a three-year initial term and an early termination fee (ETF), can create problems for small business owners who are unable to negotiate a waiver — or are unaware that they can do so. We've also found a steady stream of complaints alleging poor and ineffective customer service. While this is unfortunately very common in the payments industry, it's particularly disappointing for a company with the resources to do better.
Moneris earns an overall score of 3.5 out of 5 stars, mainly on the strength of its product lineup and the fact that pricing is generally close to industry averages. It's a decent choice for a mid-sized or larger Canadian business. However, you'll certainly want to negotiate for the best rates and terms you can get and review your contract thoroughly before you sign up.
Canadian merchants don't have as many providers to choose from as their US counterparts, but Moneris isn't the only game in town. For smaller businesses — or any company looking for a more transparent sales experience — we highly recommend both Helcim and KIS Payments as the best all-around providers available in Canada. It pays to shop around, but most merchants will find the overall cost of maintaining a merchant account to be lower with either of these two companies.
Products & Services
Moneris offers an enormous number of products and services, ranging from merchant accounts to office supplies. Here's a rundown of the company's primary offerings:
Merchant Accounts: Moneris is a direct processor, meaning it processes all transactions in-house rather than relying on a third party for this service. For merchants, this means you'll always be dealing with the same company, especially when faced with a held transaction or an account freeze.
Credit Card Terminals: Moneris offers several countertop and wireless terminals, but it doesn't disclose very much information about specific models or capabilities. All models now support EMV payments, and most will also accept NFC-based payment methods such as Apple Pay and Google Pay. The company's newest "smart" terminal is the Moneris Go, a PAX A920 with wireless capability, a color touchscreen, and several other state-of-the-art features. Pricing is not disclosed, but you should have the option to either purchase your equipment outright or rent it on a month-to-month basis. The Moneris Go and several other models include the ability to load additional software applications. The Moneris Core app is the company's primary offering and features cloud-based data storage, enhanced security features, dynamic currency conversion, and support for loyalty/gift card programs.
Mobile Payments: The company offers mobile processing using its PAYD Pro® app and card reader. The PAYD app is compatible with both iOS and Android. You'll also need the PAYD Pro PIN pad, which connects via Bluetooth or Wi-Fi and supports EMV and NFC-based payment methods. PIN pads rent for $19.95 per unit, but there are no additional monthly account fees. Processing rates for the PAYD system are fixed at 2.65% for card-present transactions and 2.85% + $0.15 per transaction for card-not-present sales, while Interac debit transactions are free.
Point Of Sale (POS) Hardware Bundles: As a nod to merchants looking for an all-in-one system for their business, Moneris offers a choice of two retail bundles that include everything you need to put together an iPad-based POS system. The Basic Bundle includes the following features:

32GB Wi-Fi only iPad
PIN Pad (e355 or iPP320)
Protective PIN Pad and iPad covers
iPad stand
Cash drawer
Receipt printer and paper rolls (12)
All this will cost you $110 per month (plus tax) for 24 months. For $130 per month, you can upgrade to the Premium Bundle, which throws in…a barcode scanner and cradle. On the positive side, your bundle comes with on-site installation, 24/7 customer support, a dedicated point of contact for service issues, and Apple Care +. You'll also get a new iPad every 24 months. While the overall cost of these bundles is higher than what it would cost you to purchase each item separately, the additional support features might make them an attractive offer for some businesses.
Point Of Sale (POS) Software: If the pricing for Moneris' POS hardware bundles isn't eye-watering enough, consider this: they don't come with software. To actually use your fancy new iPad POS, you'll need to subscribe to one of the company's software subscription plans. Prices range from $44.95 to $99.95 per month (plus tax), depending on the number of users and the number of products you want to track in inventory. This gets you payment processing (using the same flat-rate pricing as the PAYD Pro mPOS system), customer information management, inventory tracking, employee scheduling, and real-time reporting.
Payment Gateway: For eCommerce merchants, the company offers its proprietary Moneris Gateway. You can set this up for access via a hosted payment page or use the API to integrate it directly into your website. Note that the latter option will usually require the assistance of a developer unless you have coding skills. The Moneris Gateway includes all the standard features you would expect in a payment gateway, including a Vault to store recurring customer data, shopping cart integration, tokenization for security and PCI compliance, and support for Levels 2 and 3 payment processing data. There's also a virtual terminal that can be used with or without the gateway.
You'll also find online reporting via the Moneris Merchant Direct website and a developer portal where you can access API SDKs and software documentation. Several other ancillary products, including a website builder, are described on the Moneris website.
Moneris Fees & Rates
One advantage that Canadian merchants enjoy is that the Canadian government has issued an official Code of Conduct for the Credit and Debit Card Industry in Canada. The Code of Conduct aims to protect businesses from some of the more unscrupulous practices that are common within the credit card processing industry. Although it isn't legally binding, Moneris has pledged to abide by the Code and provides a Code of Conduct Complaints Resolution page on its website where merchants can file complaints. Major provisions of the Code include the following:
Clear information regarding fees and rates
A minimum of 90 days' notice of any new fees or fee increases
The ability to cancel contracts without penalty if fees rise or new fees are introduced
New tools to promote competition, particularly the freedom to accept credit payments from a specific network without the obligation to accept debit payments and vice versa
Despite this commitment, Moneris discloses very little specific information about rates or fees on its website beyond the flat-rate pricing for its mPOS and retail POS services. Unless you plan to use only one of these services, you'll have to obtain a quote from the company to get an idea of what your costs will look like. Like many other providers, Moneris appears to offer a combination of interchange-plus and tiered pricing plans. Processing rates will vary, depending primarily on your average monthly processing volume, and are negotiable. Don't blindly accept the first quote offered to you! You should also explicitly ask for interchange-plus pricing, although newer businesses with little or no processing history might not be able to get it.
Moneris also reveals very little information about account fees. While Moneris' fees are also somewhat negotiable, you can expect to pay a monthly account fee, a gateway fee (if you need the payment gateway), equipment rental fees, and possibly PCI compliance fees. Other incidental fees might include Address Verification Service (AVS) fees, chargeback fees, and more. As always, it's critically important that you thoroughly review all contract documents before you sign up.
We've also seen reports of Moneris charging some merchants as much as $300 in application and account setup fees. Do not accept this when setting up your account. They're mostly junk fees and can usually be waived if you insist on it.
Contract Length & Early Termination Fee
Moneris no longer posts its standard contract on its website but still has the 2016 version of its Terms and Conditions available online. According to this document, the following conditions apply:
17.1 Term (including Renewal Terms). The Initial Term of the Agreement will begin on the Effective Date and will continue for 3 years and the Agreement will automatically renew for successive Renewal Terms of 6 months each unless any party notifies the others at least 90 days before the end of the Initial Term or Renewal Term, that it wishes to terminate the Agreement, such termination to be effective at the end of the Initial Term or Renewal Term, as the case may be. As used in the Agreement, "Term" means the Initial Term and any subsequent Renewal Terms.
Three years is the industry standard for an initial merchant account contract. However, automatic renewal periods are limited by Canadian law to no more than six months at a time. Because the agreement requires 90 days' notice to cancel, you'll have to pay close attention and submit the necessary documentation to close your account long before your current term expires. You can — and should — attempt to negotiate a waiver of the early termination clause. While your contract won't be quite the same as a month-to-month agreement, it will save you from having to pay the ETF if you need to close your account with less than 90 days' notice for any reason.
Moneris also charges a "deactivation fee" (i.e., an early termination fee or ETF) of $300 per location if you close your account early. Again, you can sometimes get this fee waived if you firmly negotiate when setting up your account. Be sure to get a written record of any waiver and keep a copy of it for your records. If you'd prefer not to have to deal with lengthy contract terms or early termination fees at all, we recommend that you take a look at Helcim. It offers month-to-month contracts to all its merchants and never charges an ETF.
Sales & Advertising Transparency
Moneris' website is fairly impressive. It's one of the better-looking sites we've seen from a payment processor. The site presents a ton of useful information, including an in-depth knowledgebase with guides to the company's equipment and software. It's not perfect, however, as very little pricing information is disclosed. Flat-rate pricing for the company's mPOS and POS systems is available, but there's no information disclosed about any of the tiered or interchange-plus plans that will apply to most medium-sized or larger businesses. We'd also note that many of the pricing "disclosures" are tucked away in small-print footnotes at the bottom of the page. Refreshingly, the site contains none of the misleading sales gimmicks that are so common in the payments processing industry.
We've received conflicting feedback about how the company sells and markets its services. Job listings on the Moneris website for sales and marketing are all for full-time positions. However, the company may also be using independent sales agents, as we've found some complaints alleging failure to disclose important contract terms, such as the three-year term and deactivation fee. Your best defense against any possible sales trickery is to educate yourself before beginning negotiations, get everything in writing, and read your contract documents thoroughly before signing up.
Moneris also has a robust presence on social media, with accounts on Facebook, Twitter, LinkedIn, Instagram, and Pinterest. These accounts are updated fairly often and are mostly used to publicize the company's blog. Moneris' YouTube channel contains dozens of videos, including testimonials, equipment tutorials, and educational clips. Videos are in both English and French.
Customer Service & Technical Support
Moneris offers 24/7 customer support by phone or through its website. If you're just having a technical problem, there's a wide range of manuals, troubleshooting guides, installation instructions, and more available through the company's Support page. This knowledgebase is very impressive and one of the better ones we've seen.
You can also contact customer service via Facebook or Twitter from 8 AM until 8 PM Eastern during the workweek. It's a novel way to provide support and can save you from having to wait on hold for a long time on the telephone, but we're not sure it's all that useful for solving complex problems.
Unfortunately, we've seen quite a few merchants alleging they received poor customer service from Moneris. This is a common problem among many larger processors due to not putting the resources into hiring adequate support staff and providing them with the necessary training to do their jobs properly. Our recommendation is to make every effort to resolve your problem using the company's knowledgebase before you try to contact customer support.
Have you worked with Moneris? Feel free to leave us your review. Be sure to follow the rules laid out in our User Review and Comment Policy before submitting a comment.
Moneris Solutions Reviews, Complaints, & Testimonials
Negative Moneris Reviews & Complaints
While Moneris Solutions has received its fair share of criticism from merchants over the years, the company's overall complaint volume is surprisingly low relative to its size. Despite being a large direct processor, Moneris is not accredited by the BBB. The company currently has an A+ rating, with seven complaints filed within the last three years. Only four of those complaints were filed within the past twelve months. The company also has three reviews posted with the BBB, all of which received a 1-star rating. Overall, there has been very little change in complaint volume since our last review update.
Ripoff Report shows an additional 20 complaints dating back to 2006. Note that many of these complaints are for the old American office. In reviewing these complaints, you'll want to focus on those for the Canadian office, as the company apparently had different business practices in the United States than it has in Canada.
This complaint volume is actually better than average for a company that processes more than 3.5 billion credit and debit card transactions a year and serves over 350,000 merchant locations. Moneris also responded to almost all of its BBB complaints, usually offering refunds or trying to resolve the situation appropriately. Issues that came up frequently in Moneris reviews included the following:
Nondisclosure Of Early Termination Fees: As with most payment processors, the number one complaint you'll see has to do with allegedly undisclosed early termination fees. Do not rely on your sales agent to disclose this information voluntarily, as they know that it makes it harder to sell you an account. Review your proposed contract thoroughly, and negotiate to have the early termination fee waived before signing up with Moneris.
Undisclosed Automatic Renewal Of Contract: Again, this comes up with a majority of processors. It happens for two reasons. First, it occurs because auto-renewal is the industry standard, and almost all processors include this clause in their merchant agreements. Second, many sales agents just want to get you signed up while disclosing as few potential sticking points as possible. The problem is that unsatisfied merchants are waiting patiently for the three-year contract to be up, so they won't have to pay the termination fee. They wait and wait, and when it's time for the contract to expire, they call to cancel — only to find out they are stuck for another six months. In case you were wondering, this makes merchants very angry.
Poor Customer Service: Merchants continue to complain about dealing with rude customer service representatives, especially when it comes to handling more complex problems or trying to close an account. While the overall volume of complaints about this issue is low, it's still concerning whenever a company's representatives behave in an unprofessional manner.
Positive Moneris Reviews & Testimonials
Moneris has several testimonials on the Featured Customers website. The company's profile includes 14 case studies, 14 customer testimonials, and one customer video. Unfortunately, only a few of these testimonials are publicly viewable. While unsolicited positive feedback from a customer will always be more compelling (and honest) than a company-produced infomercial, they're not bad.
The company also has a nice section called Success Stories on its Insights blog, which features testimonials from some of its more satisfied customers. Rather than the usual quick blurb that most processors provide, these are in-depth articles and videos showing how customers are using Moneris products and services in the day-to-day operation of their businesses. While any testimonial featured on a company's website is naturally going to be very one-sided, it's nonetheless an impressive presentation. Success Stories continues to be updated with fresh, new testimonials from Moneris customers. Success Stories videos are also available on the company's YouTube channel.
Final Verdict
Moneris offers an impressive lineup of products and services. It provides just about every kind of hardware and software product you would need to run either a retail or online business. However, the company's lengthy contracts and hefty early termination fees bring it down a notch. Its frequent failure to disclose essential contract terms — either verbally or on its website — lowers its score even further.
Like so many other large processors, Moneris' pricing and contract terms are geared more toward large businesses rather than small startups. Pricing for the company's iPad-based POS system is particularly eye-popping. We're glad to see that it offers equipment rentals rather than leases, but this appears to be mostly because EMV-compliant terminals cannot typically be resold in Canada. We still recommend buying your equipment outright whenever possible, as this will be more cost-effective in the long run.
Moneris earns an overall score of 3.5 out of 5 stars. While the company's complaint volume is surprisingly low relative to its size, its restrictive contract terms, high rates and fees, and a poor reputation in the area of customer support prevent it from receiving a better score. When reading complaints and reviews about Moneris, be cautious, as many of the older complaints don't specify whether the merchant was dealing with the American or Canadian side of the company.
While Moneris rates as a slightly better-than-average processor, it's best suited to medium-sized and larger businesses. For Canadian small business owners, we highly recommend either Helcim or KIS Payments. You can also check out our article, The Best Merchant Account Providers For Canadian Small Businesses (& 2 Names You Should Avoid), for some other recommendations.
---
Our Top Pick To Save On Payment Processing 💰
PaymentCloud


---
PaymentCloud has an excellent track record for service quality, support, and fair pricing. Learn more from PaymentCloud.
Our Top Pick To Save On Payment Processing 💰
PaymentCloud


---
PaymentCloud has an excellent track record for service quality, support, and fair pricing. Learn more from PaymentCloud.
To learn more about how we score our reviews, see our
Credit Card Processor Rating Criteria
.