The Best Merchant Accounts For Canadian Small Businesses
Canadian business owners should check out these great merchant account options and learn which companies they should avoid at all costs.
Expert Analyst & Reviewer

UPDATED
Advertiser Disclosure: Our unbiased reviews and content are supported in part by
affiliate partnerships
, and we adhere to strict
guidelines
to preserve editorial integrity.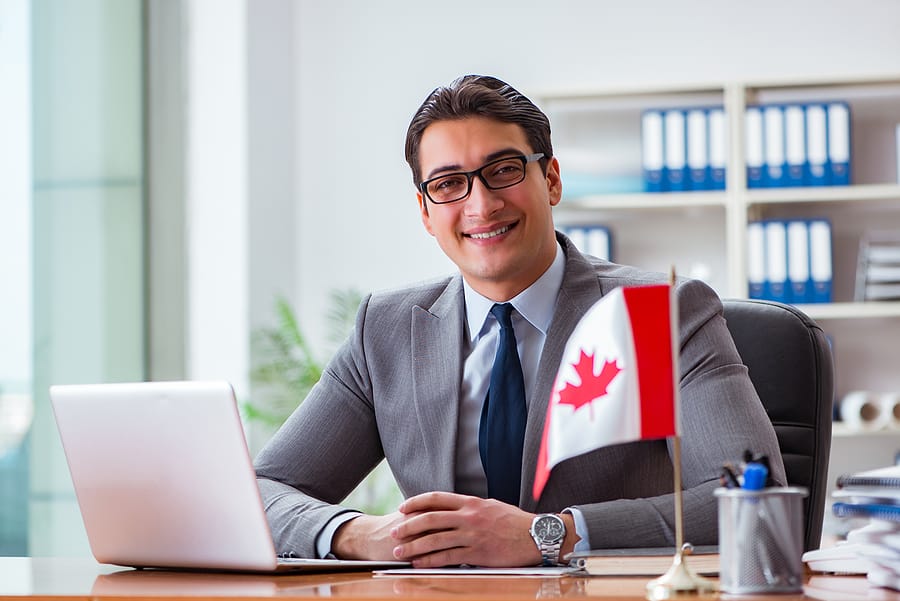 Finding the best merchant services in Canada is complicated by the fact that there aren't nearly as many processors operating there as there are in the United States. Canadian businesses will need a credit card processor that can handle both the big international credit card networks and local payment methods, such as Interac.
Whether you select a homegrown Canadian payment processor or an international company that offers Canadian merchant accounts, you'll want to choose a service that provides the most overall value for the lowest total cost.
Below, we'll break down the best Canadian merchant services providers for small businesses and cover some of the particulars of the Canadian payment processing market.
Learn More About Our Top Picks
Company
Summary
Next StepsSummary

Good rates for low-volume businesses
Comes with tons of helpful software

Good rates for low-volume businesses
Comes with tons of helpful software

No monthly fees
Excellent rates for high-volume processors

No monthly fees
Excellent rates for high-volume processors

Excellent 1:1 support
Good account stability

Excellent 1:1 support
Good account stability

Excellent eCommerce solution
Flexible sales platform

Excellent eCommerce solution
Flexible sales platform

Terminals available to buy or rent
Usually offers month-to-month contracts

Terminals available to buy or rent
Usually offers month-to-month contracts

Show More Options

Massive ecosystem
Strong international support

Massive ecosystem
Strong international support

Interchange-plus and membership pricing
Transparent fees

Interchange-plus and membership pricing
Transparent fees

High-risk merchant accounts
Most merchants can avoid a long-term contract

High-risk merchant accounts
Most merchants can avoid a long-term contract

Show Fewer Options
Read more below to learn why we chose these options.
The Basics Of Payment Processing For Canadian Small Businesses
To process credit cards, you'll need a merchant account or a third-party payment processor, which aggregates businesses into large merchant accounts. From this account, various network, bank, and processor fees are drawn from a sale before the remaining money is routed to your bank account.
The 8 Best Merchant Services & Payment Processors In Canada
The Canadian merchant services providers accept both Canadian and international payment methods and have month-to-month plans with no early termination fees, comprehensive feature sets, and either flat-rate or interchange-plus pricing. Here are some of the best payment processing companies in Canada, including Helcim, KIS Payments, Square, and more.
1. Square
Square


---
Pros
Predictable flat-rate pricing
Ideal for low-volume merchants
No monthly fees
Massive feature set
Cons
Account stability issues
Not suitable for high-risk industries
Square has made waves in the US market as a convenient payment solution for small businesses and serves small Canadian merchants similarly well. Square is a third-party processor that offers simple pricing schemes and a wealth of business productivity software, often at no additional cost.
2. Helcim
Helcim


---
Pros
Exclusive interchange-plus pricing for all merchants
Month-to-month billing & no early termination fees
All-in-one payments platform
Excellent customer support
Cons
Doesn't accept high-risk businesses
Helcim is arguably the overall best merchant account provider available in Canada today. Helcim offers detailed pricing disclosures, so you won't need to negotiate very much to secure the best possible deal for your business.
The company's website also includes in-depth articles explaining how credit card processing works and exposing many deceptive advertising tricks other providers use.
3. KIS Payments
KIS Payments


---
Pros
Exclusive interchange-plus pricing
Month-to-month agreements
Excellent customer service
Cons
Limited pricing disclosure online
There may be enrollment fees
A relative newcomer to credit card processing in Canada, KIS Payments has only been around since 2017. KIS Payments is a small company that offers Canadian merchants a better deal than what they've had to accept from traditional processors.
4. Shopify
Shopify


---
Pros
Easy to use
Advanced design tools
Predictable flat-rate pricing
Cons
Add-ons are often necessary
Additional fees
Variable customer support
Businesses, particularly newer businesses, that primarily focus on eCommerce may need a solution that's centered on their specific needs. Shopify provides just about every feature you might need to run an online business, including accepting credit card payments in Canada.
5. Chase Payment Solutions
Chase Payment Solutions Canada


---
Pros
Usually offers month-to-month contracts with no early termination fees
Credit card terminals available for sale or rent
Next-business-day funding for business checking customers
Cons
A long-term contract may be required for some merchants
Reports of mediocre customer service
For Canadian merchants running larger, more established businesses, Chase Payment Solutions is a surprisingly good choice for such a large company. You'll get a far more robust line of products and services than you will with a smaller provider, plus it's a direct processor.
Chase offers competitive rates and low account fees — something we don't often see in a large processor.
Get Started With Chase Payment Solutions Canada
6. PayPal
PayPal


---
Pros
Pay-as-you-go billing
No monthly fees (in most cases)
Predictable flat-rate pricing
Extensive eCommerce products & features
Cons
Inconsistent telephone support
Flat-rate pricing is not suitable for mid-sized/larger businesses
PayPal is a household name in both the US and Canada. Hundreds of millions of people have a PayPal account today, although you don't need one to make a purchase from a merchant using the company as their payment processor.
As a third-party processor, PayPal offers very predictable pricing, pay-as-you-go billing, and a month-to-month account with no long-term commitment.
7. Clearly Payments
Clearly Payments


---
Pros
Pay-as-you-go billing
Interchange-plus & membership pricing
Good terminal selection
Good customer service
Cons
Monthly fees
Plans may not be suitable for low-volume businesses
There's a lot to like about Clearly Payments. The company claims its mission is to drive down the cost of credit card processing. While we don't know how successful it will be, Clearly is making some good choices with regard to how it's set up its plans.
Get Started With Clearly Payments
8. Durango Merchant Services
Durango Merchant Services


---
Pros
High-risk merchant accounts
Offshore merchant accounts are available
No early termination fee in most cases
Good customer service
Cons
No public pricing disclosures
High-risk merchants have fewer options for payment processing, but that doesn't mean they should settle for poor service.
Durango Merchant Services is one of our favorite high-risk payment processors, offering reasonable rates and contract terms to industry segments that can easily be exploited. Durango offers a meaty selection of perks, including shopping cart integration, credit card terminals, and cryptocurrency support.
Get Started With Durango Merchant Services
What About These Canadian Credit Card Processors?
There are a lot of other available merchant services in Canada that are high-quality but missed being among our top contenders. That's because they're either better suited to large companies that can negotiate their rates more easily or have some limitations/specializations that make them more niche.
Payfirma
Payfirma offers a robust payment processing platform that includes the ability to take Visa, Mastercard, Discover, Interac, and Apple Pay transactions.
While the system seems comprehensive, Payfirma does not disclose much information about its fee structure up close. However, the company's language of "qualified" and "non-qualified" rates tends to imply a tiered pricing system, which we're not a fan of.
There's also an early termination fee if you lease your equipment.
If you go with Payfirma, we'd recommend trying to negotiate interchange-plus pricing.
Moneris
Moneris is a subsidiary of FIS WorldPay that operates exclusively within Canada.
Overall, Moneris offers a solid selection of services at rates that are close to the industry standard. Unfortunately, using Moneris means committing to a three-year contract, meaning you'll need to pay an early termination fee if you want to back out early. Additionally, Moneris's early termination fee is by location, so you'll owe $300 for every location you want to close early.
If you can get as good or better rates without the contract, why wouldn't you?
PayKings
As a high-risk merchant account provider, there's nothing wrong with PayKings so much as it just doesn't stand out against the competition. Unlike Durango Merchant Services, you will have to enter into a long-term contract if you're a high-risk merchant.
PayKings does have a ready-made integration with Shopify, however, making it a convenient high-risk processor option for businesses that use that platform.
Why We Don't Recommend These Major Canadian Merchant Services
You may notice the absence of some merchant account behemoths on our list and wonder why we omitted them. Many of the giant, old-school payment processors are great for large corporations that can use their heft to negotiate favorable terms and lower processing rates. We're talking about companies such as:
First Data/Fiserv
Global Payments
Elavon
This model tends not to scale well for small businesses, which generally benefit from not being unnecessarily locked into terms that may be unfavorable over the long run.
How To Find A Good Merchant Services Provider In Canada
Canadian businesses need most of the same things from their payment processors as businesses everywhere else. When choosing a merchant services provider, you'll want to consider the following:
Cost: You don't want to pay any more for your payment processing service than you have to. More importantly, you'll want a processor with a transparent payment scheme so that you know what you're paying in the first place. For low-volume or newly-established businesses, we recommend processors that offer flat-rate pricing. At higher monthly processing volumes, interchange-plus pricing is more cost-effective.
Contracts: As important as price is, your contract's terms are also critical. Unless your business is considered "high-risk," you should avoid companies that lock you into a contract with early termination fees. Month-to-month allows you to switch to a different provider without incurring an expensive early termination penalty.
Customer Service: There's nothing more frustrating than not getting the payments you're expecting deposited into your account…except having that happen and then having to navigate substandard customer service when you're trying to resolve the issue. Don't take good customer service for granted.
Means Of Payment: Some credit card processing companies in Canada specialize in in-person POS transactions, while others specialize in online transactions. While there's a lot of overlap, you'll get the most value out of a payment processor that has a specialty that aligns closely with how you conduct your sales.
Bundled Services: Many credit card processors offer their customers additional software, integrations (such as QuickBooks Online Canada), and specialized features. These services can greatly increase the value proposition of a merchant services provider.
Hardware Options: If you're going to be taking payments in person, you'll want to choose a merchant account provider that either supports your existing point of sale terminals or has attractive POS hardware options for Canadians.
Which Canadian Credit Card Processing Company Is Right For Your Small Business?
While Canadian merchants don't have nearly as many choices for payment processing as US-based businesses, they still have a variety of excellent providers that will be a good fit for just about any type of business. As always, there is no best, one-size-fits-all solution. The best provider for your business is the one that best matches your needs and provides the most overall value for your money.
We highly recommend Square as the best and most cost-effective choice for smaller companies that don't need a full-service merchant account. Because Square doesn't charge monthly fees for its standard accounts, it's also a great choice for seasonal businesses or merchants who don't always process credit card transactions every month.
Small businesses ready to step up to a true merchant account can get the best prices through Helcim. As one of the very few merchant account providers in Canada that doesn't charge a monthly fee, Helcim is also a viable alternative to Square for new but rapidly growing businesses.
Larger enterprises might get lower processing rates from either Chase Merchant Services or Clearly Payments. Shopify's all-in-one solution makes it the best credit card processing company in Canada for eCommerce businesses.
In any case, we recommend you shop around and come up with a reasonable estimate of your overall costs before deciding on a merchant services provider. Fortunately, most of our top choices make this easy with transparent pricing disclosures. For providers with variable pricing, it's always a good idea to obtain a customized quote and see how it compares to your other candidates.
Good luck!
Common Questions About Payment Processing In Canada
In Summary: The 8 Best Merchant Services & Payment Processors In Canada