KIS Payments Review (Canada)
KIS provides small Canadian businesses in numerous industries flexible, affordable, and quality merchant services, giving them the necessary tools for success.
Expert Analyst & Reviewer

UPDATED
Advertiser Disclosure: Our unbiased reviews and content are supported in part by
affiliate partnerships
, and we adhere to strict
guidelines
to preserve editorial integrity.
KIS Payments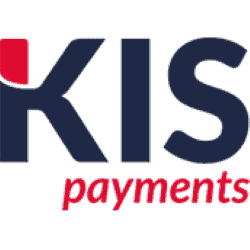 Pros
Month-to-month agreement
Transparent cost-plus pricing
Excellent customer service
Cons
Limited pricing disclosed online
An enrollment fee is likely
KIS Payments Overview
Canadian merchant services provider KIS Payments stands out from the pack — not only for its focus on Canadian businesses but also for the close relationships the company is able to maintain with its clients. Being a small business itself, KIS's mission is to simplify payments for other small business owners through dedicated advisors so that no one ever feels lost in the crowd. As I investigate further, I'm pleasantly surprised by what KIS Payments offers.
KIS provides flexible contract terms with cost-plus pricing and no early termination fees or long-term stipulations, which we love. KIS also offers a variety of options in retail, food service, eCommerce, mobile payments, and loyalty options, all with PCI-compliant, secure payment processing at the core.
What's more, the positive KIS payments reviews posted by merchants speak well of the company's priorities. Suffice to say, KIS is the Canadian payment provider that stands on guard for thee.
For these reasons, I'm happy to give KIS a 5-star score with our full recommendation. But is KIS right for your particular business?
Products & Services
The company works in a somewhat brokerage capacity, searching different platforms to find the best set of solutions for its merchants — including proactively instigating new integrations and solutions between platforms as well.
Here is an overview of what you'll find with KIS Payments:
Merchant Account: KIS Payments provides a dedicated merchant account. KIS has a few different back-end processors it works with, including Elavon, Fiserv, and People's Trust. No matter what processor is the best fit, you'll still get care in-house, with Level 3 technical support provided by the platforms themselves. We'll talk more about customer service channels later in this review.
Omnichannel Platform: KIS Payments customizes your merchant account with the tools you need, including a virtual terminal and eCommerce solutions (such as a payment gateway). And if you're looking to build an online store or add additional sales channels, KIS now partners with Ecwid (which we've reviewed) to offer all of its eCommerce features in one handy, easy-to-use shopping cart package. You'll be able to sell products on both your eCommerce website (or websites) and through your social media accounts.

Mobile POS: Clover is its most popular platform currently, so you'll have the Clover Flex as an option that you can rent without a lease or buy outright. Additionally, KIS has reached out directly to negotiate deals with software companies, including Koomi, an integrated mobile ordering app geared for food service.
POS Terminals: Because of their flexibility, KIS recommends and offers Android-based terminals, such as Clover or Poynt, but if an integrated system requires a specific device, the company works with you to find the best solution.
Payment Gateway: KIS works with several gateway products, so you should have no trouble finding what you need as far as a compatible solution. Depending on the processing platform, you'll have specific options, including Authorize.Net, Cybersource, Pay Flow Pro, NMI, Bambora, and USAePay.
Integrations: Our contact at KIS informed us that because there isn't one platform in Canada that successfully provides all of the integrations a merchant may need, the company branches out and finds ad hoc solutions that fit its clients, including spearheading new integrations (e.g., between Zusa and Elavon).
Invoicing & Recurring Billing: You'll find several invoicing and recurring billing tools to fit your needs via a payment app based on the platform or a solution geared for eCommerce.
ACH Processing: KIS Payments offers Bambora or NMI options for ACH.
Gift Card & Loyalty: KIS Payments reaches out and negotiates relationships to provide various loyalty and gift card options to merchants. You'll find Ackroo and LoyLap, to name a few, with more built-in solutions and apps in the works — KIS is always scouring up-and-coming tech for newcomers.
High-Risk Processing: KIS Payments works with People's Trust and will work with travel, cannabis, and other Canadian high-risk companies.
Cash Discounting Through NoPay.Ca
KIS now offers a cash discounting program, NoPay.ca. While credit card surcharging is prohibited for most merchants in Canada, cash discounting is always permitted. (Cash discounting is the practice of offering customers who pay with cash/debit/checks a discount equivalent to the cost of credit card processing.) Read our guide to credit card surcharging for more on the differences between surcharging and cash discounting.
With NoPay, you get an Android payment terminal, one POS software license, and the Cash Discount app. The result is that your credit-paying customers will offset the credit card charges, thus saving you money. The program also offers a Customer Rewards Program, invoicing, an online dashboard, and a free virtual terminal.
NoPay costs $65/month if you're using one terminal and $39.95/month for each additional terminal. There's also a one-time $99 setup fee charged after approval. (All prices are in Canadian dollars.)
With a wide range of solutions and platforms to choose from and a dedicated advisor that helps bring it all together, KIS provides excellent options in products and services.
KIS Payments Fees & Rates
While KIS doesn't have a set rate for all merchants, the company discloses that it uses the cost-plus (or interchange-plus) pricing model. KIS works with a variety of processors to find the best overall solution for each merchant.
Additionally, KIS guarantees that its charges will not increase, so while interchange fees may change, as they are based on the card brands, the company won't pile on with its own fee increases.
We prefer cost-plus pricing here at Merchant Maverick because it leaves little room for smoke and mirrors. Read more about this pricing model in our article, Trading Ease For Transparency With Interchange-Plus.
In addition to payments, of course, there are a lot of other features and services you may need. Here are some additional costs to keep in mind as you build your services:
Signup Fee: You will pay a one-time setup fee that's typically $99 to offset boarding costs, but you could see a charge as high as $299 at the company's discretion. You'll want to discuss this fee and see if you can negotiate, but if your merchant account is especially complex, the charge may be reasonable.
PCI Compliance Fees: KIS only passes on this fee if it exists with the back-end processor. For instance, Elavon has mandatory PCI fees, but Fiserv does not. KIS does not add any fees from its end for security.
Chargeback Fees: If a customer initiates a chargeback, you'll pay based on the charges set by the platform, typically about $25 per occurrence. To boost your defenses against the dreaded chargeback, read The Small Business Guide To Preventing Chargebacks (& How To Fight Chargebacks When They Happen).
Software Fees: Additional software fees are based on what is passed on by the SaaS platform (e.g., ACH, gateway, and POS), so consider any monthly fees for your POS or add-on integrations as you build your service out.
Hardware Rental: A refreshing detail about KIS is that it does not do binding leases for equipment. You have the option to rent or buy equipment outright.
KIS Payments stands out from other Canadian processors by going the extra kilometer to keep costs low, earning it an excellent rating in this category.
Sales & Advertising Transparency
The KIS Payments website is relatively minimal in that it doesn't offer a lot of specifics, but that isn't uncommon, and we can still glean plenty from what is there. Plus, we don't see many of the common processor red flags that come in the form of shady gimmicks (e.g., over-the-top claims or guarantees). These are all great signs.
Another great thing KIS makes clear on its site is that a merchant's contract terms will be month-to-month with no early termination fees, so again, we have a good amount of transparency as far as what to expect in contract flexibility.
Regardless of what any website or salesperson claims, however, we always recommend reading your full contract and paying special attention to the terms of cancellation as well as rates and additional charges, if any. Those can often be negotiated, but you may not be aware of them unless you look at your contract (or your bill after the fact).
Contract Length & Early Termination Fee
KIS Payments provides month-to-month billing with no long-term contract or termination fees, which is excellent news. We see far too often that merchants get stuck in a binding contract with what can be hundreds of dollars of cancellation fees.
While we are not a fan of multi-year contracts, we encourage all of our readers to read their entire contract so that all fees and terms are fully understood.
Customer Service & Technical Support
KIS merchants specifically called the company out for providing quality, local service, so I reached out to our contact to find out more details. Here's how KIS handles your concerns and questions:
KIS Advisors: If you have a question about your service, KIS Payments is your first point of contact through its in-house advisors. These advisors can be reached Monday through Friday, 8 AM to 5 PM PST. Should you have an issue requiring immediate support, however, they do utilize an answering service for time-sensitive issues. And you'll also get a business card with your advisor's phone number so that you can call them directly.
Instructional Video Library: In some cases, the company will even create a quick, informative how-to video on the fly to address any specific questions. Kis also has an instructional library with tutorials and other how-to videos that will help you onboard.
Technical Concerns: If you need Level 3 support that requires technical expertise, help can be reached 24/7 via email or toll-free numbers with the specific platform.
Because KIS offers extensive support options and personalized, responsive customer care in-house, the company earns an excellent rating in the customer service and technical support category, with no lingering doubts that the company will take good care of you.
KIS Payments Reviews, Complaints & Testimonials
Negative KIS Reviews & Complaints
I really tried to find some complaints from merchants regarding KIS. However, I couldn't find a single complaint. Not on the company's BBB page (at least not in the past three years), not on any review site — not anywhere. This definitely reflects well on the company!
We can probably assume that a merchant has had an issue with KIS Payments at some point. However, I can find no public evidence of this. Compare this to the avalanche of negativity found in the review pages of just about any leading US-based merchant account provider, and the contrast is astonishing.
Positive KIS Reviews & Testimonials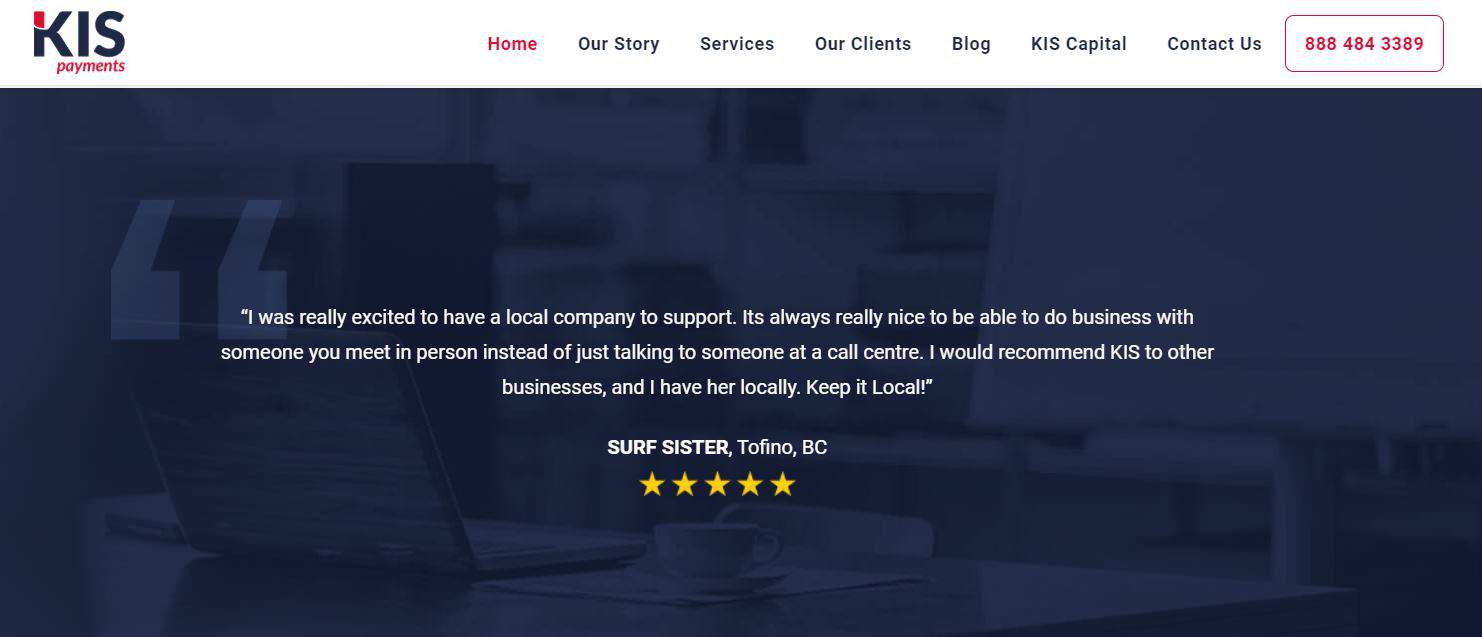 KIS Payments is a relatively new company, and as such, there aren't many positive customer reviews to be found, either. However, the company has already earned an A+ rating with the Better Business Bureau, which can be a great indicator of a trustworthy company. And what little customer feedback I have found is uniformly positive — another fantastic sign.
The many positive video testimonials from Canadian merchants (mostly from BC and Alberta) found on KIS's website come from business owners proud to identify their names and locations, lending weight to their credibility. The main thread that weaves through these positive testimonials is personalized service and an easy-to-use platform.
As the only available feedback on KIS is positively glowing (and well-attributed), KIS earns an excellent rating in this category.
Final Verdict
KIS Payments is different from many other Canadian processors (most any processor, really) I've come across. The company promises a focus on providing highly personalized and adaptive service based on the unique needs of any Canadian business, and by all available evidence, it delivers.
KIS sets itself apart by ensuring that you won't just be a faceless name in the crowd. You'll get your own dedicated advisor when you're approved for an account, but there's more. KIS learns your business model to make the best recommendations, and you'll have the phone number of a customer service rep for direct support.
While KIS does local, personalized service well, the company serves small to mid-sized businesses as well as larger enterprises and organizations. It has the tools and features to help a wide variety of businesses, including international sales, high-risk, eCommerce, mobile, and more.
For all of these reasons, and for consistently rating highly in every category, KIS earns a 5-star score and our full recommendation in the Canadian payment processing space.
Have you had any experience — good or bad — with KIS Payments? Please drop us a comment! And if you'd like to continue considering your options, read our piece on the best merchant accounts for Canadian small businesses.
---
The Merchant Maverick Seal of Approval 🏆
KIS Payments


---
After hours of in-depth research and evaluation, we can confidently recommend this brand to our readers. Get started today and see KIS Payments for yourself.
The Merchant Maverick Seal of Approval 🏆
KIS Payments


---
After hours of in-depth research and evaluation, we can confidently recommend this brand to our readers. Get started today and see KIS Payments for yourself.
To learn more about how we score our reviews, see our
Credit Card Processor Rating Criteria
.