Square Credit Card Processing Review (Square Payments)
Expert Analyst & Reviewer

Updated on:
Advertiser Disclosure: Our unbiased reviews and content are supported in part by
affiliate partnerships
, and we adhere to strict
guidelines
to preserve editorial integrity.
Square

Pros
Predictable flat-rate pricing
Ideal for low-volume merchants
No monthly fees
Impressive feature-set
Affordable chip card readers
Enables omnichannel selling
Available to Canadian merchants
Cons
Account stability issues
Not suitable for high-risk industries
Key Takeaways
Square Payments and Point of Sale from Square.com earn a perfect 5-star score for ease of use, astounding feature-set, transparent and affordable pricing, and overall status as a powerhouse for merchants. While Square credit card processing is not appropriate for all business types, many small businesses enjoy the predictable pricing and the quick setup.
Square Overview
We've been following Square (formerly Squareup) since it launched in 2009, back when the idea of a swipe-based smartphone processing system with no monthly fee and no equipment cost sounded too good to be true. Since then, Square's suite of products and services, including Square Register and Square Point of Sale, have established the company as more than a fad.
Square credit card processing is, without a doubt, the most feature-rich and advanced solution you can find without a monthly fee.
The cost has always been one of its biggest draws. With Square Payments, merchants typically pay a flat rate of 2.6% + $0.10 for swiped/dipped/tapped transactions, 3.5% + $0.15 for keyed transactions, and 2.9% + $0.30 for online transactions. There's no monthly fee, statement fees, or monthly minimums. This is a great deal for many merchants, especially new ones who don't have an established processing history.
When you toss in a robust mobile app (mPOS), reporting, employee management, and even free email marketing, the draw becomes nearly irresistible.
As Billy Mays would have said, BUT WAIT, THERE'S MORE! If you want a seamless transition between online and in-person (or in-store) selling, you have even more to like with Square. That's because Square also provides you with a free online store that syncs with your in-app inventory, including inventory counts and eCommerce integrations.
Recently Square also released Square Online Checkout, which gives even more payment flexibility to sell an item, collect a donation, or offer a subscription. You can send a payment link via email, SMS text message, or copy and paste a payment button anywhere online (similar to PayPal). You can also create a shoppable Instagram or Facebook post and rest easy that your sales are fully synced to your inventory no matter how you sell.
You'll find all this available from day one in your Square Dashboard, along with a free virtual terminal, stored card capability, invoicing, recurring billing, online ordering options, customer management, advanced analytics, tons of third-party app integrations, plus an API for developers. Suffice it to say that Square isn't just an mPOS anymore. It's an entire business ecosystem.
While you can still get the free retail point of sale app, free online store, unlimited items, and basic inventory tools, Square has shifted even more into the world of advanced POS systems. If your business expands and you find yourself wishing for more in-depth features, you can do that. Square for Retail is free; paid plans start at $60/month and include more advanced inventory and reporting tools, among other things.
While we can't help but call out all of the things to love about Square, it is important to note that Square Payments has one major consideration you should know about. Because it's a third-party payment processor, Square is prone to terminating accounts when the risk department decides a merchant has proven to be too much of a liability. You'll find similar risks in all the third-party processor models, unfortunately. Square opens its doors to many businesses that otherwise can't get processing due to lack of business history or volume, and it just comes with the territory.
So while you can get set up with a Square account almost immediately, you'll be under scrutiny, and there's a higher chance of encountering a hold or termination than if you were to open a merchant account with a traditional processor.
That said, the majority of users actually won't have any problems. We also should note that Square has taken some significant steps toward improving its overall stability. It's not perfect, and I highly doubt it will ever be. But if you read Square's terms of use, make sure your business doesn't fall on the company's no-fly list. Take steps to protect yourself and your business as much as possible, and you'll be just fine in the vast majority of cases. No matter what processor you go with, you'll want to protect yourself. Check out How To Keep Your Payment Processor From Holding Funds Or Terminating Your Account: What Small Businesses Need To Know to learn more.
Square credit card processing earns a perfect 5-star rating for its ease of use, astounding feature-set, transparent and affordable pricing, and overall status as a powerhouse for merchants. If you're willing to accept an inherent amount of risk, Square.com offers merchants the kind of value that few other processors can provide. Businesses of all sizes — from the smallest micro-merchants to large chains — can benefit from Square's system. Oh, and did we mention it's available to Canadian merchants, too?
While Square is ideal for many small businesses, we'd encourage you to look at our top picks for small business credit card payment processing before making any final decisions.
Square Review Verdict: Square offers small business owners a massive amount of value for a low price. With no monthly fees and flat-rate pricing for most of Square's products, new businesses will save money over a merchant account. We love that Square grows with its users, offering more advanced features and POS systems for free or a competitive price when it is time to scale.
Read on for a full breakdown of Square's services, its advantages, and its disadvantages. If you've worked with Square, for better or worse, please comment with your thoughts!
Features
Square's free POS and back-office features are still unmatched by any other free mobile processing system we've come across. You're not going to find all of the features you will when compared to more advanced (and expensive) POS systems. And with no monthly fee with Square, it's tough to beat the value. Here are some majors things worth noting about Square credit card processing and the perks that come with it.
Square Payment Processing
One of the biggest advantages to Square credit card processing is predictable pricing. You'll pay a consistent flat rate, regardless of card type, transaction size, or your industry. Yes, that includes no extra charge for American Express transactions. We'll go over the specifics of processing costs in the Fees & Rates section, but first, let's focus on Square's robust functions.
POS Processing: Use Square's POS apps, or you can integrate Square Payments with POS systems other than Square, including Vend, TouchBistro, and Lavu.
eCommerce Processing: Square gives you a free online store and integrates with various shopping cart software providers. You can also use Square's APIs to create a custom setup.
Developer Tools: Want to create a custom, PCI-compliant solution? Square makes it easy for you to integrate its payment processing (and other services) into other software with its APIs.
Getting Your Funds
Square generally deposits funds into merchants' bank accounts within one to two business days. However, merchants who need their funds faster can opt for instant or same-day deposits for 1.5% of the transfer amount. Recently, Square has also introduced the Square Card, a Mastercard debit card that gives you immediate access to your funds without needing a bank transfer. For more on the card, check out The Complete Guide To Your Square Balance, Square Card, & Instant Deposit Options.
Square Availability In Other Countries
Square has only recently started to expand outside the US, so it's nowhere near as widespread as Stripe or Braintree. Currently, Square supports merchants in Canada, Japan, Australia, and the United Kingdom. Supported payment methods and pricing vary based on which country you're in.
Let's take a look at a few of Square's payment processing tools in more detail:
Card On File
Square's Card on File feature lets you safely and securely store your customers' card information in the Square system if they decide to opt-in. You are PCI compliant, and the information is secure since Square hosts your customers' data and takes care of payment security. Customers can pay for orders without having to pull out their cards, even in the POS. This feature also works with Square Invoices and the Virtual Terminal as well as eCommerce (using the APIs). You'll pay the standard keyed entry rate for this feature, which is higher than the in-person rate, however. I like that Square makes it very easy to store card details via multiple channels while still providing layers of security.
Invoicing
You can use Square's built-in tools to send invoices or link up a third-party integration. Square's invoicing tools support one-off and recurring invoices as well as installment payments. More importantly, Square offers assistance with contract creation by providing a wide range of templates. You can set up default invoice templates based on your business's information and attach all sorts of files, including purchase orders, images, and more. Check out our in-depth Square Invoices review to learn more about Square's platform or read our article, How To Use Square Invoices To Ensure You Get Paid On Time.
Virtual Terminal
Square's Virtual Terminal allows you to enter credit card payments from any internet-connected device with a web browser, no cell phone or tablet required. The fact that the Virtual Terminal is free beyond the processing costs is an excellent perk. In comparison, PayPal charges $30/month just for a virtual terminal.
We like that with Square's Virtual Terminal, you can even store card data for recurring payments should your customers opt into it. Square has also added support for its magstripe card readers on Apple computers and Chromebooks. Payments accepted using the card reader process at the in-person rate, while manually entered transactions process at the standard keyed rate.
Installment Payments
With the Square Installments feature, you can offer your customer financing at checkout if you're approved. You'll get paid upfront and in full while Square Capital assumes all the risk of non-payment and collects payment from your customers. After the sale, you won't have to do a thing. Find out more about this option in our post, How To Use Square Installments To Offer "Buy Now, Pay Later" Options For Your Customers.
Square Software Apps
Square now has four separate POS apps, catering to merchants based on the type of business they run. Each one is geared for a specific niche, with a basic free plan available. However, three of Square's advanced systems also have paid plans that offer more capabilities for larger businesses that need specialized features.
Featured Square Payments Apps & Services
| Reader | eCommerce | Retail | Food Service |
| --- | --- | --- | --- |
| | | | |
| Free App & Reader | Square eCommerce | Square for Retail | Square for Restaurants |
| Get Started | Get Started | Get Started | Get Started |
| Free, general-purpose POS software and reader for iOS and Android | Easy integration with popular platforms plus API for customization | Specialized software for more complex retail stores | Specialized software for full-service restaurants |
| $0/month | $0/month | $0-60/month | $0-60/month |
| Always Free | Always Free | Free Trial | Free Trial |
Square Online: eCommerce & Online Ordering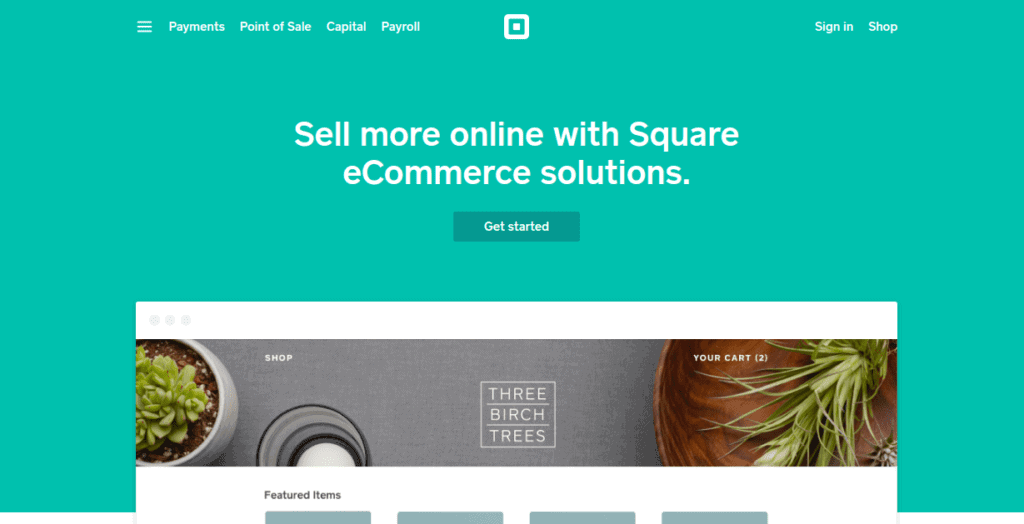 While eCommerce and online sales were tangential to Square's mPOS app in the early days, that's no longer the case. In addition to a free web store, Square expands its list of supported integrations on a somewhat regular basis.
To better understand Square's eCommerce options, check out our in-depth review of Square's online store and its eCommerce integrations. In the meantime, here's a quick rundown:
Web Store Hosting: You can bring your domain or purchase one through Square and get free hosting. Square's free online store is powered by Weebly, which Square purchased in 2018. The features are admittedly basic, but for a small monthly fee, you can upgrade to more advanced features and get your own domain.
Payment Gateway: If you have a website built already, and it's powered by BigCommerce, WooCommerce, Weebly, Ecwid, Magento, or a handful of others, you can integrate Square directly to process payments. Supported features for these integrations vary, so do your research if you want a seamless platform for selling both in-person and online.
Square Online Checkout: Square Online Checkout is a flexible way to take payments from your shoppers, donors, or clients without necessarily having a full eCommerce site. We see this as an effort by Square to compete with the ease and flexibility of the PayPal button. We're happy to see it came out very quickly in response to the social distancing protocols now faced by small businesses. You can add a payment button to an existing web page, through a link, a text, or create a shoppable Instagram or Facebook post. This new feature also includes a QR code system that allows you to break your shop or outdoor pick-up area into zones. Customers can place an order and pay, and your team is updated on where to bring items, whether that's in-store or local delivery. Read how to get started in our post, What Is Square Online Checkout? Your Guide To Using This New Square Payment Option.
For an in-depth post on how to take advance of Square's suite of eCommerce features, check out our Square Online Payments Guide: How To Use Square's Online Store, Checkout, & Other Tools.
Why We Recommend Square For eCommerce
Webstore
Integrations
Developers

Build Your Webstore Quickly & Easily

Integrate With Popular eCommerce Software

Developer-Friendly Tools For Customization

Highlights:

No coding required

Free personalized URL

Premade customizable themes

No hosting fees

Manage from your Dashboard

Mobile-ready storefront

Integrate with your in-person store

Integrate with:

WooCommerce

BigCommerce

Ecwid

3dcart

OpenCart

Zen Cart

Weebly

WordPress.com

Wix

+More

Highlights:

API for custom solutions

In-person solutions

Online solutions

Card reader SDK

Customer management solutions

PCI and EMV compliance

End-to-end encryption

Dispute management

Fraud detection




Instant Account Setup

Fast Funding

2.90% + $0.30 for online sales

Instant Account Setup

Fast Funding

2.90% + $0.30 for online sales

Instant Account Setup

Fast Funding

2.90% + $0.30 for online sales
Other Square Features
Customizable Dashboard: Square's Dashboard is the central hub of the entire platform. We like that Square lets users customize the information they see in their Dashboard by dragging and dropping different widgets. The Square Dashboard app provides real-time sales data on your iOS device, but other users will need to access the Dashboard from a computer for full functionality. What is really noteworthy about the Dashboard is that it makes Square easy to use. You'll find everything you need in one place, and you'll also find the free versions of the ancillary features and optional add-ons here, too.
Inventory Management: Square's basic inventory management system is the most advanced I've seen from any mobile processor with no monthly fee. However, it's still fairly basic when you look at what actual industry-leading solutions provide. (Check out our Square Inventory review for a more comprehensive analysis.) It's also a step behind what you can get if you upgrade to Square for Retail, which is more on par with other inventory management leaders. The upgrade includes purchase order management and barcode generation as well as profitability reporting. The features of the basic inventory suite include:

Item categories/varieties
Item add-ons/modifiers
Item pictures/descriptions
Inventory count
Partial quantities (by specified unit)
Bulk inventory import/export and management
Multiple tax rates
Online and in-store inventory sync
Adjust stock levels and mark reasons
Stock alerts
Downloadable reports
Square does support inventory integrations if you need something more robust, but you don't want to upgrade with Square.
It may be hard to believe, but we still have more Square features to talk about! Here are some more noteworthy things you get with your Square credit card processing account at no extra charge:
Customer Database: Use Square's customer database to save names, contact information, card data, and much more. The database tracks customer behaviors, including sales, visits by new versus returning customers, and customer visit frequency. These charts display activity over the period indicated. You can segment guests based on the frequency of visits and then use those segmented groups in your email marketing. It is an amazing feature given the price point: free.
Advanced Reporting: Square offers some of the best online reporting you'll see in a pay-as-you-go provider (and even many monthly-fee-based providers). You can generate real-time reports by the hour, day, week, month, or year, all from your online Square Dashboard. Reports can focus on specific item categories, mobile staff sales, sales by item, sales by payment method, and more. Many of the reports are exportable by CSV, and they're all included for free. Both Square for Retail and Restaurants include specialized advanced reports targeting their respective industries, too.
Multilocation Management: Even at the free level, Square allows you to manage all of your locations from a single account, including adjusting menus and inventories, pricing, and which employees work at which locations.
Gift Cards: With Square's gift card option, merchants can order a predesigned card or a custom design. There's no redemption fee, and the cards are reloadable. You can also email online gift cards at no charge beyond the processing fee for the credit card. Analytics let you track how much of the gift cards' balances are still unspent and more.
Customer Feedback: As one part of Square's Customer Engagement tools, Square Feedback prompts customers to leave feedback about their experience, not on social media but directly with you. You can even implement requests for feedback directly into your digital receipts. This allows you to manage your reputation, quickly identify problems, and prevent public complaints from surfacing on the web. You can also issue refunds or coupons from Square Feedback at no charge.
Email Marketing: Square offers some email templates to use for free to reach your customers. If you bump up to a monthly subscription, however, you can start sending automated email campaigns, send coupons, and get unlimited email sends to your customer database.
Loyalty Program: Square's Loyalty program is an add-on service that starts at $45/month and automatically bumps up after 501 loyalty visits. A loyalty visit is any time you enroll a customer in your program or when the customer uses a loyalty point on a repeat visit. The program allows you to replace your paper-punch cards with a digital loyalty punch that lets your customers build points as they shop with you. There are a few ways to set it up, and you can also track sales data and visits.
Team Management: Square has overhauled its Employee Management feature, rebranding it as "Team Management" and changing the pricing structure, offering many features completely free. The free Square Team app can be used to clock in and out right on your employees' phones. Paid and unpaid breaks are tracked, and overtime is calculated for you. Team Plus has a monthly fee per location of $35/month and includes multiple wage rates, early break clock-in prevention, and many more reporting features.
Payroll: Square's Payroll allows you to manage your employees' PTO, sick leave, and other benefits as well as tax reporting. If you work with any contractors, you can also pay them through Square's platform. This add-on service has a monthly fee of $29/month plus $5/month per person paid.
Timecards
Team
IRS
Pricing

Use Square's built-in timeclock system or easily integrate with a third-party timecard service.

Make payroll predictable and easy to understand for both you and your whole team.

Simple solutions for small and large businesses with W2 and/or 1099 team members.

$29/mn for W2
$0/mn for 1099

$5/employee or contractor
Square Capital: Need a little extra cash flow for your business? Square Capital will provide business loans as soon as the next business day. You make your payments by deducting a fixed percentage of what you process. (While you're at it, check out our other resources, Best Alternatives To Merchant Cash Advances and How To Get A Good Deal On A Cash Advance Loan.)
Event Rentals: You can rent hardware, including iPads, cash boxes, receipt printers, and Square hardware, from Square's preferred partner, Fello (formerly called Flying Connected). The prices are quite reasonable, and the company offers both early bird and nonprofit discounts.
Square Hardware
We're going to look briefly at Square's hardware, but for a more detailed explanation — including options for bundled POS kits — check out The Complete Guide To Choosing Square POS Credit Card Readers & Cash Register Bundles.
Basic Magstripe Card Reader: First reader, $0; subsequent readers, $10 (Square now offers both 3.5mm headphone jack and Lightning variants)
Square Contactless & Chip Reader: $49; you'll also get a free basic magstripe reader, and financing is available (check out our full Square Contactless & Chip Reader review)
Square Stand With Contactless & Chip Reader: $199
Additionally, Square now offers two all-in-one POS devices with built-in card readers: Square Register and Square Terminal.
Square Register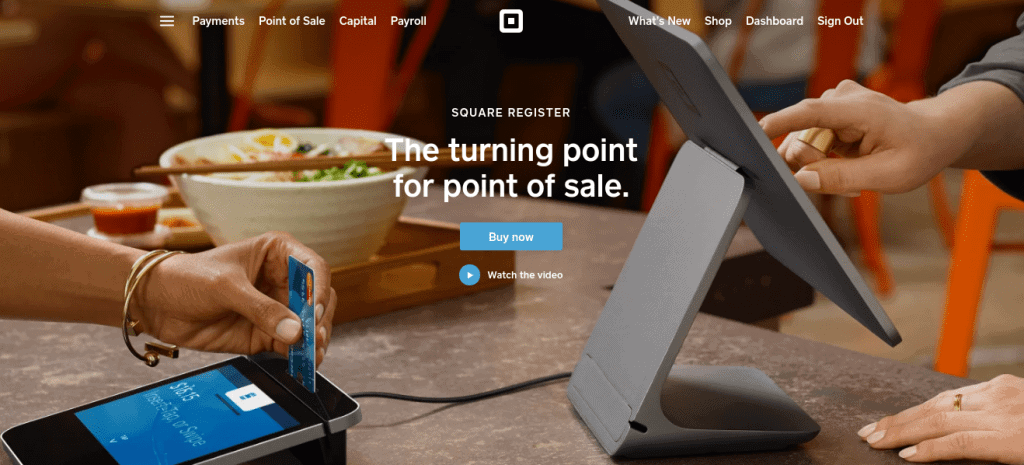 Square Register is the company's slick, high-end hardware solution. Square Register is a customized piece of Android hardware designed to run Square Point of Sale. Square Register can also run Square for Retail and the free version only of Square for Restaurants.
The Register setup features a 13-inch screen with a 7-inch customer-facing display. It integrates the payment hardware in the user display and supports magstripe, EMV, and NFC payments. However, all of the hardware (a receipt printer, cash drawer, etc.) must be purchased separately. You can get the Register on its own for $799. You can also buy the Square Register Kit with a USB cash drawer, USB receipt printer, and a stash of receipt paper for $1,329. Financing is available with reasonable terms, so you can spread that out over monthly payments.
Whether the costs justify what you get depends on perspective, though. For a more detailed look, check out our complete Square Register review.
Square Terminal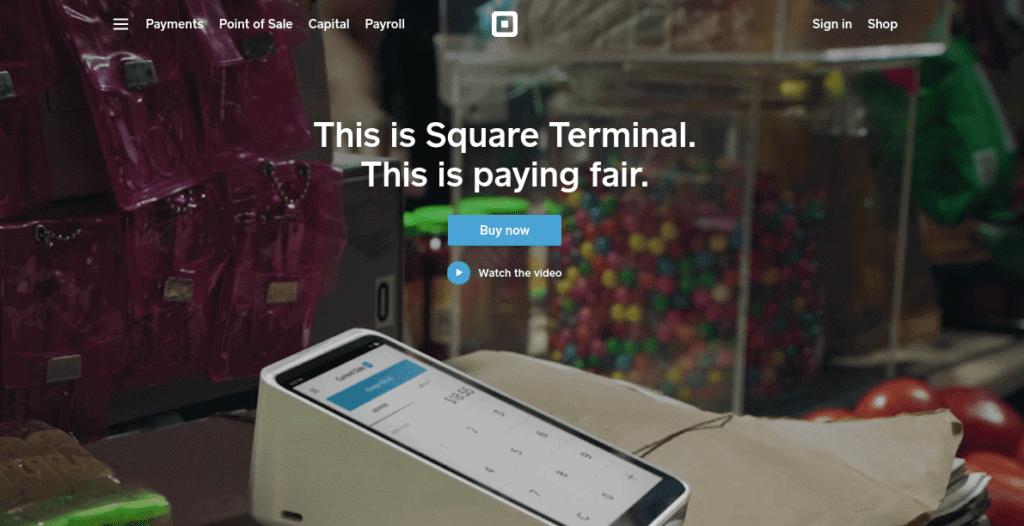 Square Terminal is the ideal compromise if you think Square Register might be a bit too much for your needs. This small credit card terminal features a smartphone-sized screen and runs Square Point of Sale. It also has integrated card readers for magstripe, chip card, and contactless transactions as well as a built-in receipt printer. The battery is designed for all-day use, so you can certainly go wireless with it — or you can keep it plugged in and charging on a countertop.
Square Terminal costs $299, but you can finance the purchase for $27/month for 12 months. Transactions process at 2.6% + $0.10, which means the pricing is more competitive for large-ticket merchants than small ones. However, Square Terminal does have some compatibility with the Restaurants POS, so you can use Terminal to take payments at the table and improve the ordering process without having to add additional devices to your subscription.
Check out our Square Terminal review for more information.
Square is pretty friendly about the whole bring-your-own-device thing so long as the device you bring is compatible with its hardware. If you prefer, you can buy iPads and other POS hardware from Square directly, which will ensure compatibility. While Square does sell a few of its readers in stores, you're better off if you buy your card reader from Square directly.
More On Financing Square Equipment
Square has implemented a financing option for hardware costing more than $49, and that includes everything from card readers to cash drawers and receipt printers. Terms vary based on the total sum financed, but you can choose the payback period to manage your cash flow better. Financing does depend on your credit check and isn't available in all states (yet), but if it's an option for you, I encourage you to look. Square's markups are pretty reasonable, and since you're buying, not leasing, you'll own the hardware when it's paid off.
Fees & Rates
Square's pricing is simple. With all of the new products and services Square has launched lately, things have gotten a little bit more complicated. Even so, you'll find a flat, predictable rate that is consistent. Whether you process Mastercard, Visa, Discover, American Express, JCB, or UnionPay, you won't pay any extra fees.
Pros
No extra fees for American Express
Predictable pricing
No business history needed to open an account
Cons
Rates hit low-average sales the hardest
No micropayments plan is available
Basic Processing Rates & Fees
Here's a break down of what you will pay depending on what Square Equipment you're using.
Square Point Of Sale (With Any Mobile Card Reader): 2.6% + $0.10 per swiped, dipped, or tapped transaction
Square Register: 2.6% + $0.10 per swiped, dipped, or tapped transaction
Square Terminal: 2.6% + $0.10 per swiped, dipped, or tapped transaction
Square For Retail POS: Free plan costs 2.6% + $0.10 and Plus plan costs 2.5% + $0.10 per swiped, dipped, or tapped transaction
Square For Restaurants POS: 2.6% + $0.10 per swiped, dipped, or tapped transaction
Square Appointments (Individual User): 2.6% + $0.10 per swiped, dipped, or tapped transaction
Square Appointments (For Teams): 2.5% + $0.10 per swiped, dipped, or tapped transaction
Keyed-In & Card-On-File Transactions: 3.5% + $0.15
eCommerce Transactions & Invoices: 2.9% + $0.30
Square Online Checkout: 2.9% + $0.30
Other Fees: No additional fees. There are no chargeback fees. Square even offers a chargeback protection program, which will cover the costs of eligible chargebacks, up to $250 per month, even if you don't win the claim.
Are you a Canadian merchant? Square supports Interac Flash debit for $0.10 per transaction and credit transactions for 2.65% per swipe, dip, or tap. Aside from some slight pricing differences, not all of Square's offerings may be available yet — for example, Register or the upgraded POS apps.
Processing Limits
According to the Square site, merchants start with a per-transaction limit of $50,000, though Square suggests splitting payments into installments if the purchase price exceeds $50K. While that's the stated limit, the reality is that many merchants encounter trouble at a much lower threshold. In some of the BBB complaints we've read, Square has recommended keeping transactions below $3,000. However, we have read about transactions in the three-figure range that have triggered suspensions or terminations.
Knowing what amount will trigger a suspension/termination is one of the challenges of using Square. Most merchants have no idea when they will cross the invisible line and trigger an account suspension or investigation by Square. A busier-than-average month or a significantly larger-than-average ticket are good ways to attract unwanted attention from Square's risk department, which might request additional information from you to verify. This is especially true if you're a new seller. Square's support team has confirmed that this kind of behavior can lead to a request for verification in the community forum for Square sellers, so it's nice to see official confirmation of what we've known for some time.
Monthly Services
Square For Retail: Free plan is available; Square for Retail Plus is $60/month per location
Square For Restaurants: Free plan available; Plus plan available for $60/month per location (additional POS device is $40/month)
Square Appointments: Free for individuals, $50/month for two to five staff, $90/month for six to 10 staff
Team Management: Free for the basic plan, $35/month per location for Team Plus
Payroll: $29/month + $5/month per employee or contractor paid
Timecards
Team
IRS
Pricing

Use Square's built-in timeclock system or easily integrate with a third-party timecard service.

Make payroll predictable and easy to understand for both you and your whole team.

Simple solutions for small and large businesses with W2 and/or 1099 team members.

$29/mn for W2
$0/mn for 1099

$5/employee or contractor
Loyalty: $45/month for zero to 500 visits; $75/month for 501-1,500 visits; $105/month for 1,501-10,000 visits
Email Marketing: $15/month for zero to 500 contacts; $25/month for 501-1,000 contacts; $35/month for 1,001-2,000 contacts
Gift Cards: Gift card pricing varies with the amount your purchase. Batches of 20 cost $2/per card. Quick Card purchased in batches of 75 and up cost $1.20/per card, with prices decreasing as you order more. Custom designed cards of 75 or more cost $1.75 per card, with prices decreasing as you order more.
Evaluating a company such as Square is a challenge because, more than many others, it's blurred the lines between payments and software. Sure, plenty of software providers (including Shopify and Toast) have built-in payment processing. But generally speaking, those are just white-label payments from a company such as Stripe or WePay, and they don't open their payments platform up to other businesses who want to piggyback on it.
Plenty of processors offer default software integrations for POS systems, but very few have built those software options by themselves, and fewer still have built such complex, powerful, and seamless systems. Square is unique with its products and approach to payments. That in and of itself makes Square noteworthy.
How Square Credit Card Processing Rates Compare
The only way you're going to get lower processing rates and get a comparable suite of features is to open a merchant account and choose a compatible POS or eCommerce system. A few mobile processors offer lower rates, but their apps aren't even close to being as robust as Square's, and you don't get any of the extra features that Square has built into its ecosystem. There's a definite appeal to a system that will work seamlessly, guaranteed, with minimal effort to set up or maintain.
As you start processing higher volumes or larger transactions, a merchant account is probably more stable, however. Depending on your processor, you might get a dedicated account rep to answer questions and resolve problems. But for a new merchant or a low-volume business, it's hard to argue with the sheer value that Square presents. And we do want to note that even large businesses are finding value in staying with Square.
Contract Length & Early Termination Fee
There is no early termination fee or locked-in contract with Square, which is true of almost all third-party processors. Every add-on service is month-to-month, and there's a 30-day free trial for each, which means there is essentially no risk. Be warned that you must wait the full 30 days in your trial period before canceling or renewing your subscription.
If you have financed hardware, those terms will apply regardless of whether you're still using Square to process payments. But generally, Square offers a 30-day trial period for its hardware, wherein you can return the hardware with no penalty if you don't like it.
This kind of trial period and contract policy is what we like to see at Merchant Maverick. We wish more companies in the payment industry would follow suit.
Sales & Advertising Transparency
Square does very well with transparency. Everything the company says in its advertising and marketing checks out. There are no wacky sales gimmicks or promises of unbeatable rates, free rate reviews, etc. The "free" basic magstripe reader is actually free, and you can easily find the price for every aspect of Square's service on a corresponding web page.
The company could provide more information about account holds (why they happen and how to avoid them). This is the biggest complaint from merchants using Square, and, surely, the company is aware of this. There really isn't anything about transaction limits or the ideal ticket size at all on the site. (If you want our take, I recommend checking out our article on how to avoid merchant account holds, freezes, and terminations.)
Aside from that issue, however, I couldn't ask for more from Square. All fees, rates, and essential information appear in its sales copy, and just about everything else you could ever want to know about processing with Square appears in detail within the extensive Help Center.
I generally find that merchant account providers struggle with marketing in the 21st century. Many of them operate like it's still 1995. Some are marginally better — they work like it's 2005. But that's still more than a full decade and a half behind the times. I fully expect companies that serve small businesses to know how to market to small businesses. That means putting information online, providing helpful content, and knowing how to use social media to engage with these businesses.
Square has a really solid handle on all of these issues. Its knowledgebase is incredible, and you don't even need an account to look through it. That's great if you want to compare how specific features work before you open an account. The blog (called Townsquare) is full of content targeting merchants and businesses of all types, reflecting Square's diverse customer base.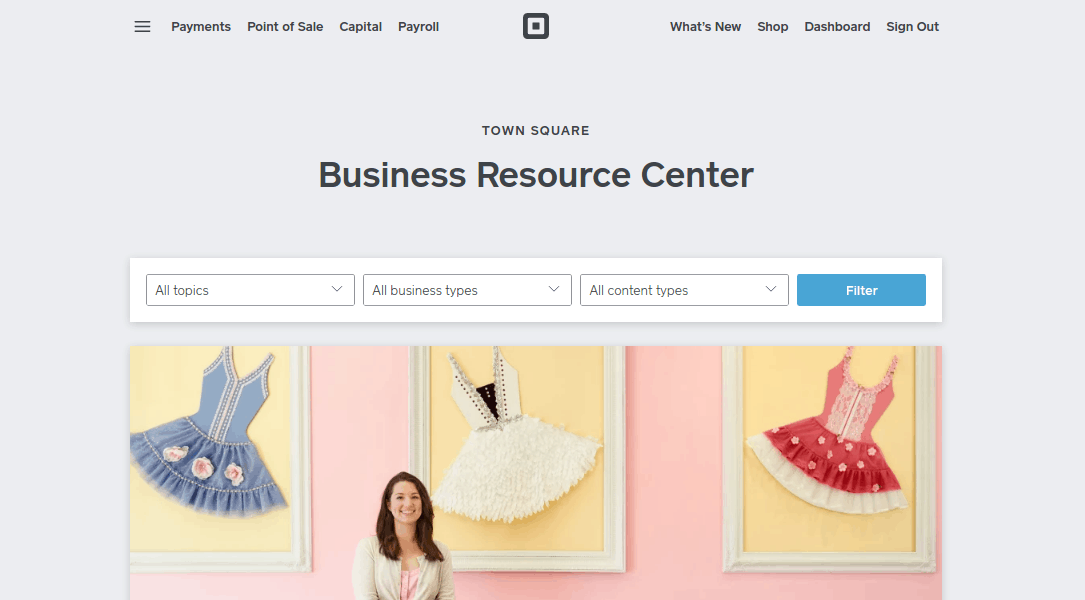 There are plenty of articles explaining how to use Square's tools to better your business as well as articles about how changes in regulations and state laws affect merchants, how to boost sales and use marketing tactics more effectively, and understanding consumer psychology. And that's just some of the topics to get you started.
The company at least seems to be addressing customer service complaints on all of its social media channels and not just its support Twitter channel. You can message the Facebook page directly if you need help. All of the company's social media channels are active, with a good mix of important news and helpful blog posts. This kind of content is absolutely essential, and I like that Square is addressing a broad range of merchants and their needs. I know lots of artists who rely on the service, and quite a few local restaurants and farmers market vendors do as well. But many, many others do, and all of them have unique needs and preferences.
It might sound like I'm nitpicking, but a company that doesn't know how to reach small businesses to market its services has no business providing its services to those same businesses. I am thrilled about how open, transparent, and helpful Square is on the marketing side of things.
Ease Of Use
Square is easy to use, no matter which features you're relying on. I like that aspect of this service, and I am sure it's a major draw for merchants. Even getting a handle on the more advanced features won't take you much time. It honestly doesn't matter if you aren't sure what you're doing; Square offers a lot of resources to walk you through how to handle every single one of Square's features. And if you, like me, are more inclined to charge headlong into things without bothering to look for a tutorial…well, you're going to be fine, too.
If you've ever used any sort of mPOS or POS app, you will grasp the basics of Square POS pretty quickly. So long as you've got your settings correct when you start, you shouldn't have any problems. However, your mileage may vary with both Square for Restaurants and Retail because they have entirely different interfaces, and they are specialized to particular niches.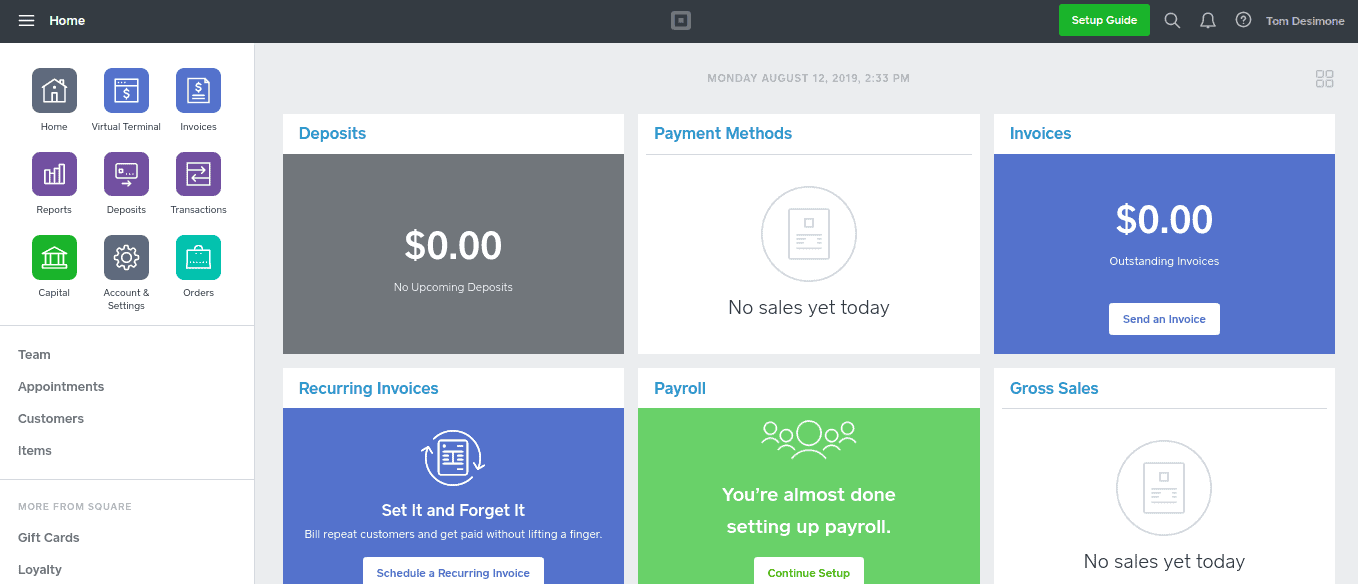 The Dashboard is the unifying element of the Square system, and it's very intuitive and easy to use. Creating products, categories, discounts, product modifiers, and tax brackets is simple, even if you don't really know what you're doing. You can also manage your monthly subscription services, POS systems, and reports from within the Dashboard. It's absolutely the central hub and the most powerful management tool. (That said, the POS apps can handle some back-end office management features.)
Hardware & Software Requirements
If you're using the magstripe or Square Contactless and Chip Card Reader with Apple iOS, know that most iOS devices running the latest iOS version are compatible. On an Android device, Square says they can't guarantee support, but they're working on as many as possible. An Android device must run Android 5 or higher.
It's also worth noting that Square Register is running a custom Android setup. Despite this, you can't install any other apps or software on the system. The Square Terminal API is compatible with any software platform or operating system.
To make this even simpler for you in terms of finding out if your device will work with Square, we suggest using Square's compatibility tool to get the most up-to-date information.
Please note: You are not legally obligated to accept EMV in any way, shape, or form. But you are liable for any transactions processed using a fraudulent credit card, which could easily be more than the cost of one of Square's EMV card readers. If you aren't accepting EMV yet, it's time to upgrade as soon as you can. Square makes it very easy, which is a major mark in its favor. It doesn't currently penalize merchants or set limits on those using the magstripe reader, but other processing companies have started charging EMV non-compliance fees, and even PayPal has put restrictions on merchants who are processing without a chip card reader.
Integrations & Add-Ons
At your Dashboard, you can access Square's app store with a very healthy list of compatible apps you can sync with. You have access to 183 apps within many categories, including:
Accounting (20)
Booking (15)
Delivery (25)
eCommerce (24)
Field Service (5)
Healthcare (6)
Insurance (1)
Invoicing (17)
Items and Inventory (9)
Loyalty (4)
Marketing and Analytics (11)
Point of Sale (16)
Restaurants (9)
Team Management (7)
Ticketing (9)
This is great because it means if you need more than Square's tools can provide, you aren't limited to just Square's features. You can also get even more value out of Square with these add-on services.
If you're a programmer or you have one on staff, you can also take advantage of Square's APIs to create custom integrations as well:
Payments API
Point of Sale API
In-App Payments API
eCommerce API
Inventory API
Reporting API
Employee API
I'm not convinced that Square's quite on the level of Stripe or Braintree in terms of developer tools, but this is a major step forward from even just a couple of years ago, and it's nice to see that Square has opened its platform for more than just payments or the POS app.
Webstore
Integrations
Developers

Build Your Webstore Quickly & Easily

Integrate With Popular eCommerce Software

Developer-Friendly Tools For Customization

Highlights:

No coding required

Free personalized URL

Premade customizable themes

No hosting fees

Manage from your Dashboard

Mobile-ready storefront

Integrate with your in-person store

Integrate with:

WooCommerce

BigCommerce

Ecwid

3dcart

OpenCart

Zen Cart

Weebly

WordPress.com

Wix

+More

Highlights:

API for custom solutions

In-person solutions

Online solutions

Card reader SDK

Customer management solutions

PCI and EMV compliance

End-to-end encryption

Dispute management

Fraud detection




Instant Account Setup

Fast Funding

2.90% + $0.30 for online sales

Instant Account Setup

Fast Funding

2.90% + $0.30 for online sales

Instant Account Setup

Fast Funding

2.90% + $0.30 for online sales
Customer Service & Technical Support
You have a few ways to reach out to Square if you have a problem. Square now has a pop-up messaging window that asks you what you need and drills down to the right next steps. I tested it with a reporting question, and it was fast and gave me clear instructions on how to find what I needed. It's a great tool to utilize for those who need simpler questions answered. If needed, however, you'll get matched with a customer agent.
You can also message the Facebook page, use Twitter, or send Square an email to reach their customer service. But if you're in a pinch and need an answer right away, you probably want phone support, which is available Monday through Friday, 6 AM to 6 PM Pacific Time. Those aren't the best hours, but they should work for the majority of merchants.
Square for Restaurants expanded support hours for the Plus and Premium plans to offer one-on-one implementation services and 24/7 customer support.
Square is quick to brag that most other departments keep in close contact with the support team, including the executives. There's also a useful site, www.issquareup.com, which will tell you whether any of Square's services are having technical issues.
That's not to say that Square's system is perfect. The phone support system is still limited only to merchants who can obtain a customer code and then dial in. People whose accounts have been terminated cannot reach Square on the phone, as the company says it will only communicate via email once that happens. (From everything I've read, all indications are that you won't hear much from Square at all if your account is terminated.)
Square's shortcomings in phone-based customer service are mitigated by its industry-leading (and I do mean it; I'm not just throwing that phrase around) knowledgebase for self-service customer support. The online user manual probably answers the vast majority of your questions regarding the Square system. It is truly extensive and contains helpful screen captures and walk-throughs for every feature offered. The Square manual is, in my opinion, the gold standard for merchant services support pages.
And if that's not enough to help you through, try Square's Seller Community. Square reps and experienced merchants alike weigh in on questions, so it's a good way to get an answer you can't find elsewhere on the web.
Even larger processors with more resources have trouble executing customer support well. But we know it can be done. And we have to give credit where credit is due: Square is putting in the effort to make consistent improvement. I have heard first-hand from merchants who use Square that they have had positive experiences, so I know it's not all doom and gloom, and there are plenty of other testimonials around the web to the same effect. Also, the Seller Community means you can get answers from other users as well as Square staff, and it's a very active community.
The main problem is that merchants with terminated accounts are (understandably) upset and want answers. To be fair, customer support reps aren't always privy to the reasons why an account may have been suspended. However, it's worth noting that this is one of the biggest complaints about Square's customer support.
Square has announced that it is offering support for its users in response to the coronavirus.
Square Online Store has launched curbside pickup and local delivery options to support small businesses and continues to improve these features. Visit Square to learn more about new features, product updates, and pausing subscriptions. You can also get helpful tips to keep your business running through the Covid-19 pandemic.
Check out our coronavirus small business hub for more support and resources to help during this challenging time.
Square Customer Reviews & Complaints
Given that Square is such a large platform serving new businesses, even we were a little surprised with the overwhelmingly positive Square reviews. Here's how Square is rated by merchants across the most common review sites:
Apple App Store (Square Point Of Sale): 4.8 stars out of 5 with 230.7K reviews
Capterra: 4.7 out of 5 with 1,612 reviews
G2: 4.5 out of 5 with 109 reviews
Google Play (Square POS): 4.3 stars out of 5 with 124.9K reviews
Trustpilot: 4.8 stars out of 5 with 2,548 reviews
Negative Reviews & Complaints
There's no lack of Square complaints across the web, which is pretty easy to confirm with a Google search. While there's no shortage of complaints, remember that there's a lot of good press out there, too — we'll get to that next.
With that said, Square has an A+ rating with the BBB despite the complaints and overwhelmingly negative reviews. Keep in mind that the overall complaint volume might seem like a lot, but it's not a huge deal compared to Square's merchant base of at least 2 million users.
When you start digging into the Square complaints on other sites across the web, you'll notice a few trends. Many of the complaints are the same and are just cross-posted on different complaints sites, for starters. There are numerous complaints from customers who say a Square merchant scammed them. You'll find quite a lot of Square reviews and complaints about the Cash App, for instance. This is not credit card processing, nor does it serve merchants exclusively. This is a case where you simply can't rely on the number of complaints in Square business reviews as an indicator of the quality of service.
However, there is a common theme to the Square complaints that do relate to merchant services, and they boil down to one issue:
Account Stability Issues/Funding Holds: Terminations or freezes make up the bulk of the complaints against Square. The company's aggressive fraud prevention tactics have put many small businesses in a position where they can't access their income because their transactions have raised a general red flag (which can happen for many reasons). Part of the problem here is that Square doesn't properly disclose/explain the risks involved in third-party processing. Square's agreements with its processors (and likely policies from its legal team) limit the company's ability to explain why accounts are terminated. The most you'll get, based on BBB complaints, is a notification that a payment violated the terms of service or that your business model is unsupported or high-risk.
Based on what I've seen from BBB complaints, if your account is suspended, you may be able to get reinstated if you provide the necessary documentation. Reinstatement doesn't always happen, however. Some merchants encounter holds, then provide the information Square requests for verification purposes only to receive a termination notice. An account termination notice is final, and generally, Square will hold any funds for up to 180 days (six months) to cover any chargebacks before releasing the funds to you. I have heard some cases where Square will allow you to refund the customers and accept an alternative (not Square) payment form instead, but not all merchants can do this (retailers, for example).
I'm not going to say Square is the most accommodating company as far as BBB complaints go, but there's a definite improvement. I have seen companies that are far more stubborn and much less apologetic (some bordering on gaslighting). If your account hasn't already been terminated, there's hope.
The other noteworthy Square customer reviews include:
Lack Of Advanced Features: This mostly comes from merchants who want to see Square features on par with other major POS systems, such as more advanced reporting or store credit. We might start to see some of these in the new iPad POS systems, but I don't know that you should ever expect Square's free apps to be on par with a paid POS app. However, with a few recent updates to the Square system — the free time tracking, support for partial quantities, etc. — it seems that Square's elevating its products to a new level.
Fees: I've seen multiple merchants expressing a wish that Square's processing and monthly fees were lower. (I think this a universal sentiment among merchants, to be honest.) And I suppose that's only to be expected. Square does offer volume discounts but only to businesses processing more than $250,000 per year, with an average ticket size exceeding $15. If you're trying to figure out if Square is a good value, take stock of all the free features you get and compare Square's costs to an alternative provider if you had to use a third-party integration. Understandably, small-ticket merchants, in particular, are unhappy with Square's pricing change from 2.75% to 2.6% + $0.10 because they're most affected by it.
I encourage you to check out our article on negativity bias to understand our review process and why we've rated Square the way we did.
Positive Reviews & Testimonials
The majority of people are happy and reflect that in Square reviews. Here's what they have to say:
Features/Design: Square has, far and away, the most diverse and advanced feature-set of any major mobile processing service without a monthly fee. And its Payments service integrates with major full-fledged POS systems and eCommerce platforms as well. This is why people choose Square: It's hard to beat the price for everything you get. Additionally, the list of features and integrations is growing all the time. See the Features section above for a complete list of all the cool things you can do with Square, but two features that come up frequently in Square merchant services reviews are the offline mode and inventory management.
Inexpensive: I know I just said some merchants wish the fees were lower. That's true, and especially after the pricing change, it's not hard to find angry merchants. But Square's pricing is absolutely competitive, especially for lower-volume merchants. Not only that, but Square's EMV readers are some of the most inexpensive options available, and you pay nothing extra for a full-fledged virtual terminal, recurring billing, or a customer database and PCI compliant card vault to store card numbers.
Easy To Open Accounts: The ease of obtaining an account is something of a double-edged sword. On the one hand, it means Square has to be careful once those accounts are open, and it leads to the problem of merchant terminations. On the other, being able to open an account and process transactions within a few minutes is a huge draw for many businesses. If you don't have an established processing history, it can be difficult to get set up with a merchant account, whereas Square takes away a lot of the difficulty if you're just starting with credit card processing.
You'll also find more positive Square credit card processing reviews. I like that there is a mix of short testimonials (with merchant and business names attached) as well as long-form press coverage.
Final Verdict
So is Square's credit card processing a good deal? Let's consider that Square has done what no one else in the credit card processing industry had managed before, and that is to make payments accessible to nearly anyone who wants to start a business. Whether you are dabbling in sales for your side hustle or you want to find solutions to improve efficiency in your thriving store, Square could be an amazing tool. Even mid-sized to larger businesses can benefit from everything Square offers. As far as value goes, Square is tough to beat. Square's pricing for card processing is competitive for a pay-as-you-go processor, and it can sometimes beat out or at least break even with interchange-plus plans.
With features such as inventory management, a free and fully functional virtual terminal, advanced reporting, offline processing, recurring billing, marketing, online sales, and more, Square has more features than I've seen from any other no-monthly-fee provider. All of the free software puts merchants in a position to save money, especially with their suite of omnichannel tools that continue to improve.
Square has earned its 5-star score for consistently rating highly in each category we reviewed. I am also excited to see where Square might go next. Because one thing is for certain: It's not standing still!
Have you opened an account with Square? Please leave us a comment with your experience! Good or bad, your feedback helps us immensely.
---
The Merchant Maverick Seal of Approval 🏆
Square


---



After hours of in-depth research and evaluation, we can confidently recommend this brand to our readers. Get started today and see Square for yourself.
The Merchant Maverick Seal of Approval 🏆
Square


---



After hours of in-depth research and evaluation, we can confidently recommend this brand to our readers. Get started today and see Square for yourself.
To learn more about how we score our reviews, see our
Credit Card Processor Rating Criteria
.
Read Next