Square Credit Card Processing Review (Square Payments)
Our review covers everything you need to know about Square's many excellent payment processing features, including rates, fees, extra features, and more.
Expert Analyst & Reviewer

UPDATED
Advertiser Disclosure: Our unbiased reviews and content are supported in part by
affiliate partnerships
, and we adhere to strict
guidelines
to preserve editorial integrity.
Square

Square At A Glance
Part of Square's vast ecosystem of scaleable products and services for businesses
Merchants typically pay a flat rate of 2.6% + $0.10 for swiped, dipped, and tapped transactions (fees vary for online and keyed-in transactions)
Very affordable and accessible, especially for new merchants or very small businesses
---
Pros
Predictable flat-rate pricing for processing

Ideal for low-volume merchants

No monthly fees

Impressive feature set

Affordable chip card readers

Enables omnichannel selling
Cons
Account stability issues

Not suitable for high-risk industries
Key Takeaways
Square Payments and point of sale from Square.com earn a perfect 5-star score for ease of use, astounding feature set, transparent and affordable pricing, and overall status as a powerhouse for merchants. While Square credit card processing is not appropriate for all business types, many small businesses enjoy the predictable pricing and the quick setup.
What Is Square?
Square is a great many things, but for this review, we're focusing on Square Payments, a third-party payment service provider (also known as a PSP).
Square credit card processing (formerly Squareup) is, without a doubt, the most feature-rich and advanced solution you can find without a monthly fee. There's no monthly fee, no statement fees, and no monthly minimums. This is a great deal for many merchants, especially new ones who don't have an established processing history.
It is important to note that Square Payments has one major drawback. Because it's a third-party payment processor, Square is prone to terminating accounts when the risk department decides a merchant has proven to be too much of a liability. So while you can get set up with a Square account almost immediately, you'll be under scrutiny and have a higher chance of encountering a hold or termination than if you were to open a merchant account with a traditional processor. That said, the majority of users actually won't have any problems.
Square compares well to Stripe, and we think it's better than similar mobile payment processors, such as PayAnywhere, but we encourage you to look at our top picks for small business credit card payment processing before making any final decisions.
Square Review Video
Don't have time to read the whole review? Watch this video to see what one of our payments experts thinks about Square.
Is Square Legit?
Square is as legitimate as any third-party processor can be. While there have been occasional issues with account freezes, Square features upfront pricing and highly-rated customer service while being an extremely popular and convenient choice for small business owners.
Square helped to revolutionize the payment processing game, and one of the biggest reasons for its popularity is its reliability. You really can be up and selling in a matter of minutes, if not seconds, and the user-friendly interface makes it a no-brainer for small business owners who don't want to overthink their payment processing.
Square Payments Fees & Rates
Square's pricing is simple. Most people will pay a flat rate of 2.6% + $0.10 for swiped/dipped/tapped transactions. With all of the new products and services Square has launched lately, things have gotten a little bit more complicated, but even so, you'll find a flat, predictable rate that is consistent no matter what type of card you're processing.
| Pricing Plan | Monthly Fee | Transaction Fee |
| --- | --- | --- |
| Square POS | $0/month | 2.6% + $0.10 |
| Square Appointments | $0-$69/month | 2.6% + $0.10 for free plan, 2.5% + $0.10 for Pro and Premium plans, 3.5% + $0.15 for manual or card-on-file payments |
| Square For Retail | $0-$60/month | 2.6% + $0.10 for the free plan, 2.5% + $0.10 for the Pro plan, and a custom rate for Premium, 3.5% + $0.15 for manual or card-on-file payments |
| Square For Restaurants | $0-$60/month | 2.6% + $0.10 |
| Square Register | $799 or $39/month for 24 months | Dependent on the software plan |
| Square Online Store | $0/month | Dependent on the software plan |
| Square Invoices | $0-$20/month | 2.9% + $0.30 |
| Square Virtual Terminal | $0/month | 2.6% + $0.10 for in-person transactions, 3.5% + $0.15 for manual or card-on-file payments |
The only way you'll get lower processing rates, and a comparable suite of features is to open a merchant account and choose a compatible POS or eCommerce system. A few mobile processors offer lower rates, but their apps aren't even close to being as robust as Square's, and you don't get any of the extra features that Square has built into its ecosystem. There's a definite appeal to a system that will work seamlessly, guaranteed, with minimal effort to set up or maintain.
That said, as you start processing higher volumes or larger transactions, a merchant account is probably more stable. Depending on your processor, you might get a dedicated account rep to answer questions and resolve problems. But for a new merchant or a low-volume business, it's hard to argue with Square's sheer value. And we do want to note that even large businesses are finding value in staying with Square.
Other Costs For Using Square
Square also has separate processing fees for the growing CBD industry. Again, these rates are upfront and consistent, although they are a little higher as the industry is still considered high-risk. Here are those rates:
Online: 3.8% + $0.30
In-Person: 3.5% + $0.10
Card-On-File: 4.4% + $0.15
Square does not have additional fees for chargeback fees or for being PCI compliant.
Looking For These Square Features? Here Are Our Other Square App Reviews
Square now has separate apps to help with all facets of being a small business owner. As you might expect with Square, these are affordable and easy to use and can be purchased separately depending on your business needs, making Square an exceptionally scaleable product. Check out our reviews for some of Square's other products:
Square Merchant Services & Other Features
Square's processing features are set up to help small businesses thrive. Square makes it easy to take virtually any form of payment and easily syncs with its own hardware and software platforms, even while integrating with other popular POS systems. Square is also PCI-compliant and helps you get your money quickly with no hidden fees.
| Feature | Availability |
| --- | --- |
| Credit Card Processing | |
| ACH Payment Processing | |
| Cryptocurrency Processing | |
| Currency Conversion | |
| PCI Compliance | |
| Real-Time Reporting | |
| Recurring Billing & Subscriptions | |
| Invoicing | |
| Native eCommerce Integrations | |
| Pre-Made Online Checkout Form | |
| Custom Online Checkout Form | |
| Native POS Integrations | |
| POS Integration SDK | |
Integrated Payment Processing For POS & Invoicing
You can use Square's built-in tools to send invoices or link up a third-party integration. Square's invoicing tools support one-off and recurring invoices as well as installment payments.
More importantly, Square offers assistance with contract creation by providing a wide range of templates. You can set up default invoice templates based on your business's information and attach all sorts of files, including purchase orders, images, and more.
Here are a few key features that Square Payments can handle:
Save and update payment methods on file
Add or remove bank account
Card on file security
Card-on-file email notifications
One rate for tap, dip, or swipe payments
PCI compliance
Chargeback assistance
Real-time reporting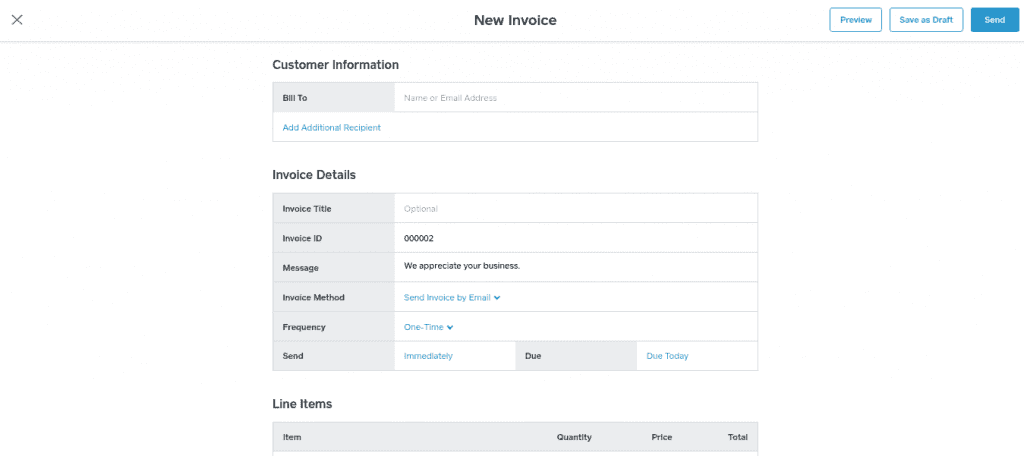 If you're interested in more information about invoicing, see how Square compares to QuickBooks.
Square Payment Gateway
You can use your own domain or purchase one through Square and get free hosting. If you have a website built already, and it's powered by BigCommerce, WooCommerce, Weebly, Ecwid, Magento, or a handful of others, you can integrate Square directly to process payments.
Supported features for these integrations vary, so do your research if you want a seamless platform for selling both in-person and online.
Square Online Checkout is a flexible way to take payments from your shoppers, donors, or clients without necessarily having a full eCommerce site. We see this as an effort by Square to compete with PayPal and the ease and flexibility of the PayPal button.
You can add a payment button to an existing web page through a link or text or create a shoppable Instagram or Facebook post. This new feature also includes a QR code system that allows you to break your shop or outdoor pick-up area into zones. Customers can place an order and pay, and your team is updated on where to bring items, whether that's in-store or local delivery.
Here are a few other key features:
Single transactions
Recurring transactions
Multiparty transactions
Afterpay installments
Digital wallets
ACH bank transfers
Custom rates for large payment volume

Square Hardware
We'll look briefly at Square's hardware, but for a more detailed explanation — including options for bundled POS kits — check out our guide on Square POS hardware. Here are the main options:
Basic Magstripe Card Reader: First reader, $0; subsequent readers, $10 (Square now offers both 3.5mm headphone jack and Lightning variants)
Square Contactless & Chip Reader: $49; you'll also get a free basic magstripe reader, and financing is available (check out our full Square Contactless & Chip Reader review)
Square Stand With Contactless & Chip Reader: $169
Additionally, Square now offers two all-in-one POS devices with built-in card readers: Square Register and Square Terminal. Square Register is a customized piece of Android hardware designed to run Square Point of Sale. You can get the Register on its own for $799. Financing is available with reasonable terms, so you can spread that out over monthly payments.
Square Terminal is the ideal compromise if you think Square Register might be too much for your needs. This small credit card terminal features a smartphone-sized screen and runs Square Point of Sale. It also has integrated card readers for magstripe, chip card, and contactless transactions as well as a built-in receipt printer.
| | Square Free Reader | Square Stand With Contactless Chip Reader | Square Terminal | Square Register |
| --- | --- | --- | --- | --- |
| Cost | Free (Additional Readers $10) | $169 (excluding iPad) | $299 | $799 |
| Supported Payment Types | Magstripe | Magstripe, EMV, contactless | Magstripe, EMV, contactless | Magstripe, EMV, contactless |
| Compliant With Square App? | | | | |
| Compliant With Square Appointments? | | | | |
| Compliant With Square For Retail? | | | | |
| Compliant With Square For Restaurants? | | | | |
| Works With Cash Drawer? | | | | |
| Supports Wireless Use? | | | | |
If you'd like a more detailed examination of the hardware options available, take a look at our complete Square Register review and then read our full Square Terminal review.
What's New With Square?
One of the more exciting things about using Square is that it is constantly updating its features and adding to its product line. Each year, if not each month, Square rolls out new improvements in the form of integrations or hardware, which continue to make things easier for small business owners. Here are some of their most recent developments over the last 12 months:
Square Tap To Pay For iPhone: This feature has been talked about for nearly a year and is now available on iPhones. You can simply ring up the sale on your Square mobile app, present your phone to your customer, and allow them to make a contactless payment via ApplePay or other methods.
Accept Afterpay In-Person And Online: Square's Afterpay allows customers to pay in no-interest installments while vendors are paid in full. Online payments are processed at 2.6% +$0.10 per transaction.
New Customer Accounts For Square Online: A new update for Square Online users will allow buyers with a Square Online account to track the status of their orders, look at past orders, and edit Square Pay information.
Square Banking: Sync up your payments, checking, and savings accounts with Square Banking for easy automation and tracking.
New Restaurant Mobile POS Kit: Square has unveiled a new kit available for Square for Restaurants Plus users. It comes with a Samsung Galaxy A32 phone and Square Reader for contactless and chip, plus an insert guide. The kit costs $299.
Square Stand Mount Available For Pre-Order: Square has unveiled a new mount that can affix to countertops and walls that acts similarly to its previous Square Stand.
Square Photo Studio App Updates: You can now use your camera roll photos with the app, including existing photos. You can also make adjustments to background removal and edit shadows.
Square Appointments Pricing Changes: As of April 2022, Square Appointments has a new pricing structure. There is still a free plan, while the Plus plan costs $29/month, and the Premium plan is $69/month. The free plan has a processing fee of 2.6% + $0.10 for in-person transactions, while the paid plans have fees of 2.5% +$0.10.
Square Contract & Commitment
Is Square Honest & Transparent About Its Merchant Agreement?
Square does very well with transparency — everything the company says in its advertising and marketing checks out. There are no wacky sales gimmicks or promises of unbeatable rates, free rate reviews, etc. The "free" basic magstripe reader is actually free, and you can easily find the price for every aspect of Square's service on a corresponding web page.
Square's knowledgebase is also incredible, and you don't even need an account to look through it. That's great if you want to compare how specific features work before you open an account. The blog (called Townsquare) is full of content targeting merchants and businesses of all types, reflecting Square's diverse customer base.
What Are The Commitments When You Use Square?
There is no early termination fee or locked-in contract with Square, which is true of almost all third-party processors. Every add-on service is month-to-month, and there's a 30-day free trial for each, meaning there is no risk. Be warned that you must wait the full 30 days in your trial period before canceling or renewing your subscription.
How Easily Can You Terminate Your Agreement With Square?
As mentioned, Square charges monthly, so you're never locked into its software products. It's also easy to deactivate your Square account.
If you have financed hardware, those terms will apply regardless of whether you're still using Square to process payments. But generally, Square offers a 30-day trial period for its hardware, wherein you can return the hardware with no penalty if you don't like it.
Square Customer Service & Technical Support
You have a few ways to reach out to Square if you have a problem. Square now has a pop-up messaging window that asks you what you need and drills down to the right next steps. You can also message the Facebook page, use Twitter, or send Square an email to reach their customer service.
But if you're in a pinch and need an answer right away, you probably want phone support, which is available Monday through Friday, 6 AM to 6 PM Pacific Time. Those aren't the best hours, but they should work for the majority of merchants.
| Option | Availability |
| --- | --- |
| Phone Support | |
| Live Chat | |
| Email | |
| Community Forum | |
| Knowledgebase | |
| Social Media | |
| Hours | 6 AM to 6 PM Monday through Friday |
Square for Restaurants expanded support hours for the Plus and Premium plans to offer one-on-one implementation services and 24/7 customer support. Square is quick to brag that most other departments keep in close contact with the support team, including the executives. There's also a useful site that will tell you whether any of Square's services are having technical issues.
That's not to say that Square's system is perfect. The phone support system is still limited only to merchants who can obtain a customer code and then dial in. People whose accounts have been terminated cannot reach Square on the phone, as the company says it will only communicate via email once that happens.
The online user manual probably answers most of your questions regarding the Square system. It is extensive and contains helpful screen captures and walkthroughs for every feature. The Square manual is, in my opinion, the gold standard for merchant services support pages.
And if that's not enough to help you through, try Square's Seller Community. Square reps and experienced merchants alike weigh in on questions, so it's a good way to get an answer you can't find elsewhere on the web.
Square Customer Reviews & Complaints
Given that Square is such a large platform serving new businesses, Squareup reviews from customers are overwhelmingly positive.
Negative Square Reviews & Complaints
There is a common theme to the Square complaints that do relate to merchant services, and they boil down to one issue: funding holds.
That said, when you start digging into Square complaints on other sites across the web, you'll notice a few other trends. There are numerous complaints from customers who say a Square merchant scammed them. For instance, you'll find many Square reviews and complaints about the Cash App.
This is a case where you simply can't rely on the number of complaints in Square business reviews as an indicator of the quality of service.
Here are the main complaints about Square:
Stability issues
Funding holds
Lack of features
Fees
Positive Square Reviews & Testimonials
The majority of people are happy and reflect that in Square reviews. Here are the main things people like:
Robust features
Simple design
Low fees
Easy to open accounts
Final Verdict On Square Payments: Is Square Worth It?
So is Square worth it? Whether you are dabbling in sales for your side hustle or you want to find solutions to improve efficiency in your thriving store, Square could be an amazing tool. Even mid-sized to larger businesses can benefit from everything Square offers. As far as value goes, Square is tough to beat. Square's pricing for card processing is competitive for a pay-as-you-go processor, and it can sometimes beat out or at least break even with interchange-plus pricing plans.
With features such as inventory management, a free and fully functional virtual terminal, advanced reporting, offline processing, recurring billing, marketing, online sales, and more, Square has more features than I've seen from any other no-monthly-fee provider. All of the free software puts merchants in a position to save money, especially with their suite of omnichannel tools that continue to improve.
Looking for something else? Check out our post on great alternatives to Square.
---
The Merchant Maverick Seal of Approval 🏆
Square


---
After hours of in-depth research and evaluation, we can confidently recommend this brand to our readers. Get started today and see Square for yourself.
The Merchant Maverick Seal of Approval 🏆
Square


---
After hours of in-depth research and evaluation, we can confidently recommend this brand to our readers. Get started today and see Square for yourself.
To learn more about how we score our reviews, see our
Mobile Credit Card Processing Rating Criteria
.