Square Register Review
A fully-integrated POS system, Square Register is ready to go right out of the box, with all the power of the Square brand behind it.
Expert Analyst & Reviewer

UPDATED
Advertiser Disclosure: Our unbiased reviews and content are supported in part by
affiliate partnerships
, and we adhere to strict
guidelines
to preserve editorial integrity.
Square Register

Square Register At A Glance
Complete point of sale system with built-in processing
Simple, intuitive design that requires limited training
Incredibly easy set-up process, allowing you to be selling in minutes
---
Pros
Set up in minutes
Cost-effective
Feature-rich
Access to App Marketplace
Cons
Fund holds are still an issue
Occasional software bugs
What Is Square Register?
Square Register POS is a fully integrated point of sale system that you can have up and running in minutes with a large touchscreen that is easy for employees to navigate, and a customer-facing screen that gives customers the ability to see what they're purchasing, the total cost, and scan or insert their cards.
Square has made Register its go-to product, running all of Square's current POS systems (Square for Retail, Square for Restaurants, and Square POS). Square Register is frankly impressive and will appeal to vendors that want a simple, all-in-one solution that also is relatively affordable.
Pricing
| Square Register Plans | Price | When To Use |
| --- | --- | --- |
| Square Register | $799 | You want an all-in-one POS system with a rich feature set and built-in processing |
Square's simple pricing structure has always been one of its more appealing selling points. Square Register costs $39/month for 24 months, or you can purchase the system outright for $799. Processing is also easy to calculate: 2.6% plus $0.10 per tap, dip, or swipe.
Square says it can work with vendors to create a custom rate for high-volume businesses that do more than $250K in annual credit card sales and have an average ticket size of over $15.
Overall Design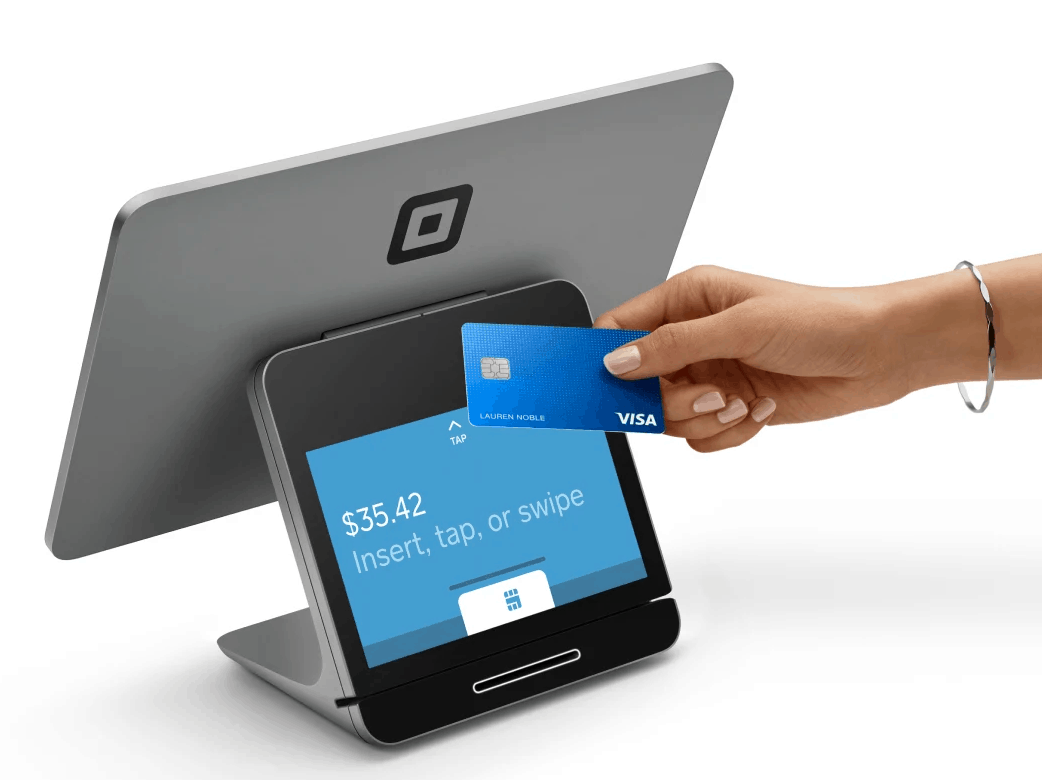 Square Register, despite obviously being larger and bulkier than Square's other hardware offerings, still very much fits in with the overall brand. The built-in card reader is intuitive, and the touch screen is responsive on both ends. As is the case with many products similar to Register, it can come across as being a bit top-heavy, but the stand is durable, and it would take something pretty significant to knock it off a counter. Square Register is intended to be a stationary device, but the customer-facing tablet is portable. The Register device must also be connected to a power source at all times to function.
Device Specs
Connectivity:

Register connects either via Wi-Fi or Ethernet, and it has a USB hub with five ports. From there, you can easily attach a wide variety of printers, scanners, cash drawers, etc. Square has a list of compatible hardware on its website and items you can purchase as well.

Dimensions:

Register Display: 13.25 inches diagonally
Customer Display: 7 inches diagonally
Width: 6.9 inches
Depth: 5 inches
Total Height: 10 inches
Register Weight: 3.9 pounds
Customer Display Weight: 1.2 pounds

Payment Types:

Magnetic stripe cards
EMV chip cards
Apple Pay
Google Pay
Samsung Pay
NFC cards

Supported Software:

Square POS included
Square for Retail
Square for Restaurants free plan

Mounting Options:

Drill mount
Adhesive mount
Using Square Register: Getting Started
If you have experience with any of Square's other products, it will come as no surprise that getting Square Register up and running is a snap. That's always been one of its major selling points. Even a product as hefty as Register can be taken out of the box and ready to make sales in a matter of minutes. This is especially true if you already have a Square account.
If you don't, no problem — that process is also simple. Once you've plugged Register in and turned it on (and it should take less than a minute to load), you can simply enter your account information, and it will sync all of your information in seconds. If you have inventory that you need to import, it can be done quickly via a CSV file.
There is a brief tutorial that can run you through the basics of processing payments through the built-in reader. If you need to attach additional hardware, the ports can be found easily and, assuming they are compatible with Register, should sync quickly and be up and ready to use almost immediately.
Square Register Features
| Square Register Features | Availability |
| --- | --- |
| Multi-Store Support | |
| Contactless Payments | |
| Multi-Channel Selling | |
| Gift Cards | |
| Customer Loyalty | |
| Marketing Tools | |
| Online Ordering | |
| Inventory Management | |
| Reporting | |
| Menu Management | With Square Restaurant |
| Delivery Management | |
| EBT Acceptance | |
| Employee Management | |
| Text Messaging | |
With Square Register, you get access to a full range of point of sale features. Square has also made Register compatible with Square for Retail, and Square for Restaurants as well. I'll highlight a few of the basics along with some of its standout offerings:
Inventory Management

Bulk importing allows you to download thousands of products quickly via a CSV file.
Daily stock alerts let you know when products run low.
Export stock levels instantly to a spreadsheet.
Transfer inventory across multiple stores.
Integrations with Shopventory and Stitch Labs provide additional tools.

Employee Management

Employees can be given different permissions and access to certain functions.
Employees can clock in and out at the register, and hours can be easily edited if necessary.
Analytics makes it easy to see which employees are your top sellers.
Labor vs. Sales reports make it easy to evaluate labor costs.

Loyalty

This option is free for 0-10 loyalty visits a month, $25 a month for 11-50 loyalty visits per month, and $35 a month for 51-100 loyalty visits. Square can also set up a custom rate for over 100 loyalty visits per month.
Import large customer lists via a CSV file.
Customers can earn loyalty rewards and discounts automatically, and that information gets stored in their profile within the system.
Customers can also sign up to receive text messages informing them of when they've earned a reward.
Easily customize spending and visit levels for rewards.
Search customers and see what products are most likely to bring them back into your store.
You can also quickly edit customer information manually and add personalized notes.
Purchase histories, along with a simple analysis of customers' spending habits, are easy to look up.
Gift Cards

Gift cards are included with the Square app. Create digital gift cards for free or order physical cards with unique designs for an additional cost.
Balances can easily be viewed in Square Dashboard
Customer balances and other information is simple to store and search.

eCommerce

Square pairs with numerous companies so that you can pick and choose how you want to set up your online business. If you don't have much web building experience, you can go through a company such as Wix or Weebly; if you're far savvier, Square's open API can let you customize and develop your online store from scratch.

Reporting

View reports on any device in real-time.
Reports analyze which customers are new to your business and which are repeat visitors along with what they are purchasing.
Customize sales breakdowns by days, weeks, and months to spot trends.

Appointments

For businesses such as spas and salons, Square lets customers book online 24/7.
Scheduling syncs with your calendar to ensure accuracy.
Customer history can be easily viewed, and automatic scheduling reminders can be set up.

Restaurant Features

Square sets up automatic tipping reminders, which can help out servers.
Customers can order takeout online.
Tickets can be set up to print to the kitchen automatically, saving valuable time.
Is Square Register Easy To Use?
Convenience has always been the name of the game for Square, yet, somehow, Square Register has been able to simplify things even further. Once you log in with your Square account, you are walked through a quick and simple tutorial. Then you're in.
You can import your inventory via a CSV file, and, thanks to a recent update, you can now add pictures of your items, making it easier for employees or customers to search through your products. Square Register's layout is easy to navigate, and the larger screen is helpful when you're navigating through various pages.
With Square Register, the product's primary goal is to give control to customers. The customer-facing screen, which can be anchored to the device or tethered for added mobility, allows customers to see the exact totals of their purchases and do their own card swiping/scanning/inserting. This cuts down on potential errors and can move lines along with more efficiency.
Customer Service & Support
| Square Register Support | Availability |
| --- | --- |
| Phone Support | |
| Email Support | |
| Support Tickets | |
| Live Chat | |
| Dedicated Support Representative | |
| Knowledge Base or Help Center | |
| Videos & Tutorials | |
| Company Blog | |
| Social Media | |
Square's customer service can be a bit frustrating if you need immediate assistance as its business hours for most customers are not 24/7. The good news for Square Register users is that all plans come with 24/7 support, which is a major plus. Square also has an impressive customer support page where you can troubleshoot some basic questions; there are dozens of articles on various topics if you have time to do some research. Square also has one of the best community forums I've seen where you can look up various topics.
Square's support is friendly and very knowledgeable. They are happy to walk you through any issue that you're having and are committed to making sure that your problems are completely resolved. Square keeps up a current blog and is fairly active on its social media accounts (Facebook, Twitter, and Instagram). Its YouTube channel also has some valuable information, plus walkthroughs and tutorials.
Payment Processing With Square Register
Square has its own payment processor and its rates are straightforward and competitive. Register allows for dip, tap, and swipe payments and accepts all major credit cards. Its in-person payment fees are 2.6% + $0.10 and there are no additional hidden fees.
Contract Length & Early Termination Fees
Another major benefit to Square is that there are no hidden fees and you can sign up for Square's software platforms on a month-to-month basis.
Square Register Integrations & Add-Ons
With all of Square's products, including Register, you get access to the Square App Marketplace. This allows you access to hundreds of apps that can help your business run more efficiently. Square also integrates with many other major software platforms including QuickBooks, Xero, Inventory, Zoho Books, and MarketMan.
Square Register User Reviews
Negative Reviews & Complaints
Bugs: A few people who received early versions of the product talked about bugs in the software but were also quick to point out that some of Square's automatic updates had already solved the issues.
Fund Holds: A large number of complaints to the Better Business Bureau revolve around Square placing immediate holds on funds when it deems a suspicious transaction has occurred. These holds can come without notice and can take a while to resolve, causing understandable frustration for vendors.
Positive Reviews & Testimonials
Modern Design: The fortunate few who have been able to get their hands on Square Register have been very impressed with its interface. Reviewers comment on its sleek look and its easy-to-read display for both employees and customers.
Feature-Rich: Square has never been lacking in its breadth of features. Retailers enjoy inventory and reporting functions along with simple employee management offerings.
Low Cost & Simple Pricing: Business owners appreciate how much you get from an affordable package and a few commented on how easy it is to predict your costs.
Integrations: Customers like having access to the impressive App Marketplace and appreciated that add-ons were at a minimum.
Final Verdict
Square Register Review Summary
Pricing
$799
Choose If You Need

You need a powerful, all-in-one POS system that is simple to use and set up
You want access to hundreds of apps and integrations
You want a product with no hidden fees or long-term contracts
It's tough to not be impressed by a system with so many features that can be set up in its entirety practically on a coffee break. The Square Register interface is ridiculously easy to maneuver, and the ability for customers to interact easily with the POS is a huge and unique benefit.
While Square's appeal has always been aimed at people who value simplicity and ease of use, the company's open API and ever-expanding App Marketplace make it worth a look to more adventurous business owners who might want to customize their own apps. Square is continuously updating and appears to have resolved some of the complaints that customers had in the past. There are no early termination fees, and the costs for add-on features are pretty clearly laid out.
Check out some of our other useful Square posts as well like how Square online ordering can help your restaurant. Good luck!
Square Register FAQs
---
The Merchant Maverick Seal of Approval 🏆
Square Register


---
After hours of in-depth research and evaluation, we can confidently recommend this brand to our readers. Get started today and see Square Register for yourself.
The Merchant Maverick Seal of Approval 🏆
Square Register


---
After hours of in-depth research and evaluation, we can confidently recommend this brand to our readers. Get started today and see Square Register for yourself.
To learn more about how we score our reviews, see our
Point Of Sale (POS) Software Rating Criteria
.