Expert Analyst & Reviewer

Updated on:
Advertiser Disclosure: Our unbiased reviews and content are supported in part by
affiliate partnerships
, and we adhere to strict
guidelines
to preserve editorial integrity.
Square Cash App Overview
I thought, for a long time, that PayPal was invincible, a behemoth that couldn't be taken down by anyone, and certainly not by an underdog like Square. I'm a lot less sure of that these days, because it's hard to call Square an underdog when it's a huge company in its right. And Square hasn't stopped rolling out feature after feature for businesses in the payments space. One of those features is Square Cash. Like PayPal and its subsidiary Venmo, Cash is a digital wallet for consumers. They can send money to their friends and family at no cost, load money from a card, or move money from their wallet to their bank accounts. And like PayPal and Venmo, Square Cash has an option that allows businesses to get paid as well.
Square Cash is far from new (it's been around since 2013, in fact) but it certainly seems like it's becoming a viable, everyday product, not a niche one for tech-savvy early adopters. Because that's the problem with a lot of "alternatives" to the industry giants. The idea might be there, but it fails in actual execution. Or it can't build enough of a user base to become viable. While you can send and request money, and even spend your Cash balance via a debit card, the app definitely isn't as full-featured as PayPal or Venmo. There's no social network. No money pools, no international support. There's no way for Square merchants to send their Square payouts to their Cash apps, and the card can't even be used for business purposes.
Square's Featured Business Products
| Reader | eCommerce | Retail | Food Service |
| --- | --- | --- | --- |
| | | | |
| Free App & Reader | Square eCommerce | Square for Retail | Square for Restaurants |
| Get Started | Get Started | Get Started | Get Started |
| Free, general-purpose POS software and reader for iOS and Android | Easy integration with popular platforms plus API for customization | Specialized software for more complex retail stores | Specialized software for full-service restaurants |
| $0/month | $0/month | $0-60/month | $0-60/month |
| Always Free | Always Free | Free Trial | Free Trial |
To be fair, Cash for Businesses is very much "Square Lite." You are not going to get anywhere even remotely close to the number of features that Square (read our review) offers in its traditional merchant setup. So if you need all the bells and whistles, Cash isn't for you. However, it's a really great solution if you run a mobile or service-based business. You can even use it for fundraising, both in person and online.
But the question is, should you use Square Cash? Obviously, it's not for everyone. I think large businesses will find very little value in this option. But if you're a small, one-person operation and you're frequently mobile and need an easy way to accept payments or request payments without juggling invoices, Square Cash might actually be a good, no-fuss solution for you. For that reason, Square Cash earns 4 stars! With a bit more functionality and live phone support, it could easily secure a higher rating.
Let's take a look at the Square Cash service — how it works and how effective a tool it is for businesses. Keep in mind this is not a full-fledged payments option and it's not interoperable with Square. Rather, it's a lightweight, mobile alternative or supplement.
Square Cash At A Glance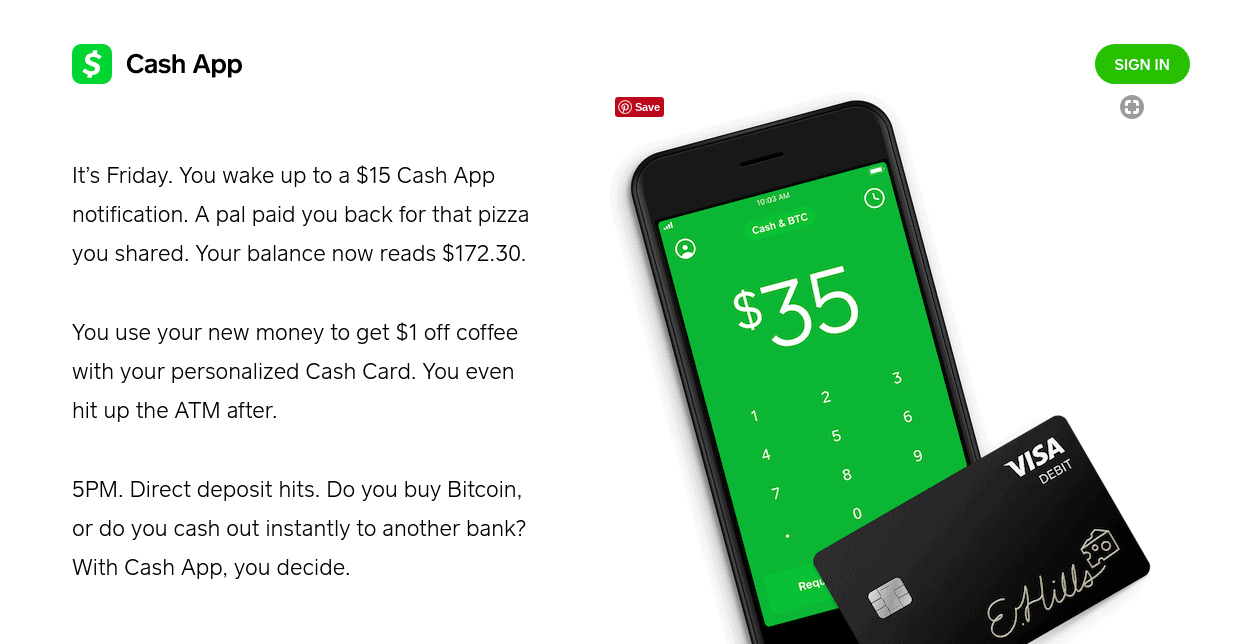 Imagine: You're at dinner with a group of your friends. The waiter comes around with the bill, and oops, the restaurant won't split the check! Half your friends don't have cash. So what do you do now? Someone whips out their phone and sends a request to all their friends via Square Cash — and then they cover the bill. That's the basic concept, anyway. It's pretty easy — and so is the signup process.
You can download the mobile app from iTunes or Google Play, or sign up on the Cash.app website. Enter your email or mobile number, and Square will send you a confirmation code. Please note, you will never set an actual password on your account. The Cash app always asks you to log in with the passcode it sends to your phone or email. Once you've signed in for the first time, Square will prompt you to link a debit card. After that's done, you can link more bank accounts or a credit card — though if you fund your wallet from a credit card, you'll pay a 3% fee to do so. Once that's done, your Cash account is set up and you're ready to use it. You can tweak some settings from within the app or online, but most of the important ones — including marking whether your account is for personal or business — need to be done from within the app.
Deposit times are on par with Square's core services: next-day deposits by default, with an option for to initiate an Instant Deposit for 1.5% of the transfer amount (Square merchants will note that instant deposits cost 1% normally, so this is a slight difference). Actual deposit times will still depend at least in part on your bank, as well. So if your bank already has a history of taking forever to process transactions, you should expect delays. Somewhat new to Square Cash's feature lineup is the ability to accept direct deposits of paychecks. This feature targets those who use the Cash App as their primary account. They can use their Cash card to spend their money. In addition, the Cash App lets you buy bitcoin easily. This isn't exactly a common feature and fewer and fewer payment processors seem to be accepting Bitcoin as an option, but the novelty of it merits a mention.
Using The Square Cash Card
Square Cash offers users a virtual card and a physical debit card so they can spend their Cash balances online or in stores, because Cash wallets aren't an accepted payment option anywhere yet — not even with Square. You can activate your virtual card and order your debit card from within the app. The card is completely free, which is always nice to see. You can even use the card at ATMs to withdraw cash, but fees may apply depending on which ATM you use. All of this is pretty great for consumers, but none of it applies for Cash merchants. I'm actually really disappointed because the Cash Card terms of use explicitly prohibit the card's use for business purposes. Which makes sense because as a Cash for Businesses user, all your funds go right to your bank account anyway.

This is a big contrast to PayPal, where you can get a debit card for personal use as well as one for business use. And again, you can't integrate your standard Square account with Square Cash, so the best you can do is send all funds from both to the same bank account. My guess is that Square hasn't found a partner who's willing to support business accounts to create that integration. Or maybe Square isn't interested in copying PayPal so directly.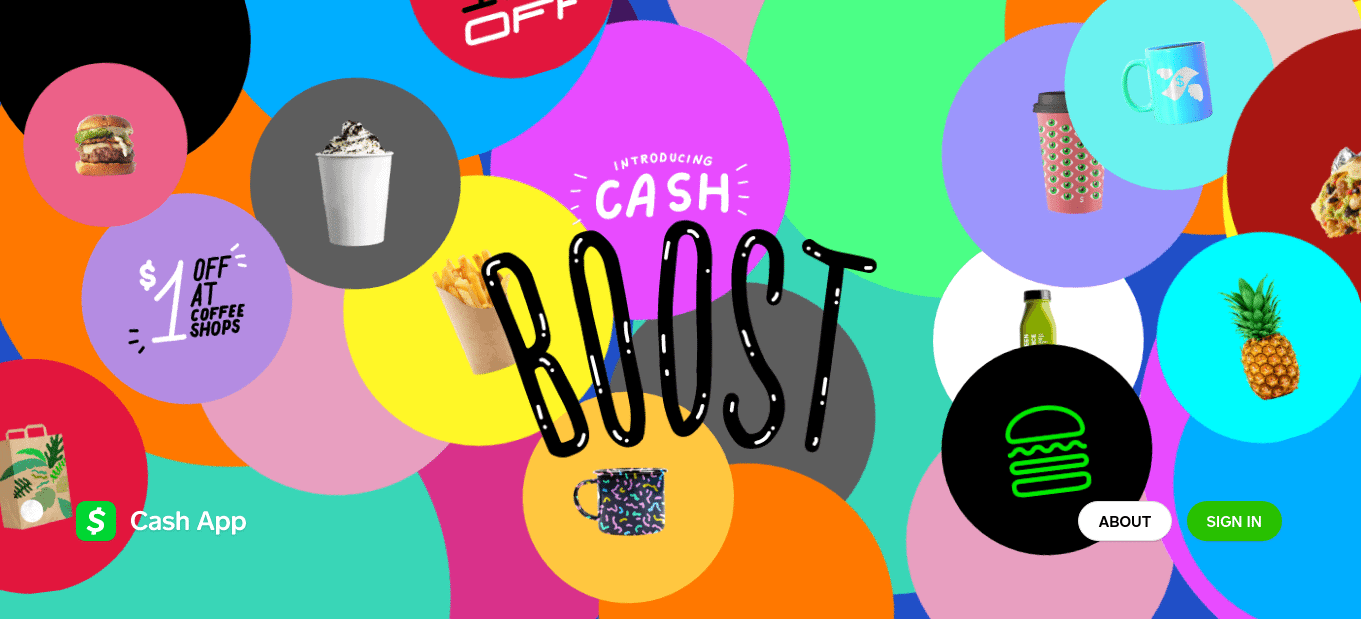 Finally, Square now offers something called Cash Boosts — essentially, cash-back rewards for using your Cash cards with certain merchants. You can choose your Cash Boost. However, it's worth noting that you're limited to one per day. Square doesn't disclose how merchants can become part of the Cash Boost program, but it seems a bit silly to not make such a program available to its user base.
How To Use Square Cash For Business
With Square Cash for Business, you can accept payments online or via the app. It's actually pretty functional — when you send or receive money, it's possible to leave a note so you can keep track of what each transaction is for. And as with using the Square Point of Sale app, you'll pay 2.75% per transaction. But this is still "Square Lite": You don't get a store with inventory, just an option to request money or have people send it to you. That works especially well for mobile businesses and services, such as personal trainers, consultants, hair stylists or makeup artists. It also works great for organizations that want to collect donations or run a fundraiser. If you're running a storefront and only sell one or two items, it could be feasible as well. Ideally, you'd just need an internet-capable tablet on hand. But you won't have access to any kind of sales data. Square Point of Sale, the company's free POS app (read our review), charges the same rate for transactions and has a boatload of features (including advanced reporting). So you should consider whether the full-featured version is worth the investment. It depends on how regimented your business is. After all, there's no card swiper required for Cash and you can request funds via Cash for a lower rate than Square's invoicing feature. (Also, there's no stipulation that says you can't use both Cash and Point of Sale.) But if you like to keep track of exactly what you're getting payment for (a particular kind of service or a particular length of session), Point of Sale might make more sense, because Cash's note feature isn't going to cut it for advanced or even consistent reporting.
Creating Cashtags
While your account is linked to a mobile number or email, you can also identify yourself using what square calls a "cash tag" — It's not unlike the hashtag, except that it's preceded by a $ instead of a #. Cashtags are used with the Cash.Me website and they're unique to each user. However, you don't need to know someone's cashtag to send money. Using their name (if they're in your phone's contacts), their phone number, or email works too. It's also worth noting that Square vets cashtags, and certain phrases are totally banned. It doesn't specify which ones, but you can guess, they are probably curse words and obscenities. Also, Square only allows limited edits to your cash tag. However, you can revert back to a previous cash tag without that penalty applying. No one can claim your previous cash tags either. For businesses, cashtags are a way to brand your business. You can set up a cashtag and send or request money that way. It's also a great option for businesses that want to fundraise. Wikipedia's cashtag, for example, is $Wikipedia, and its Cash website is Cash.me/$Wikipedia.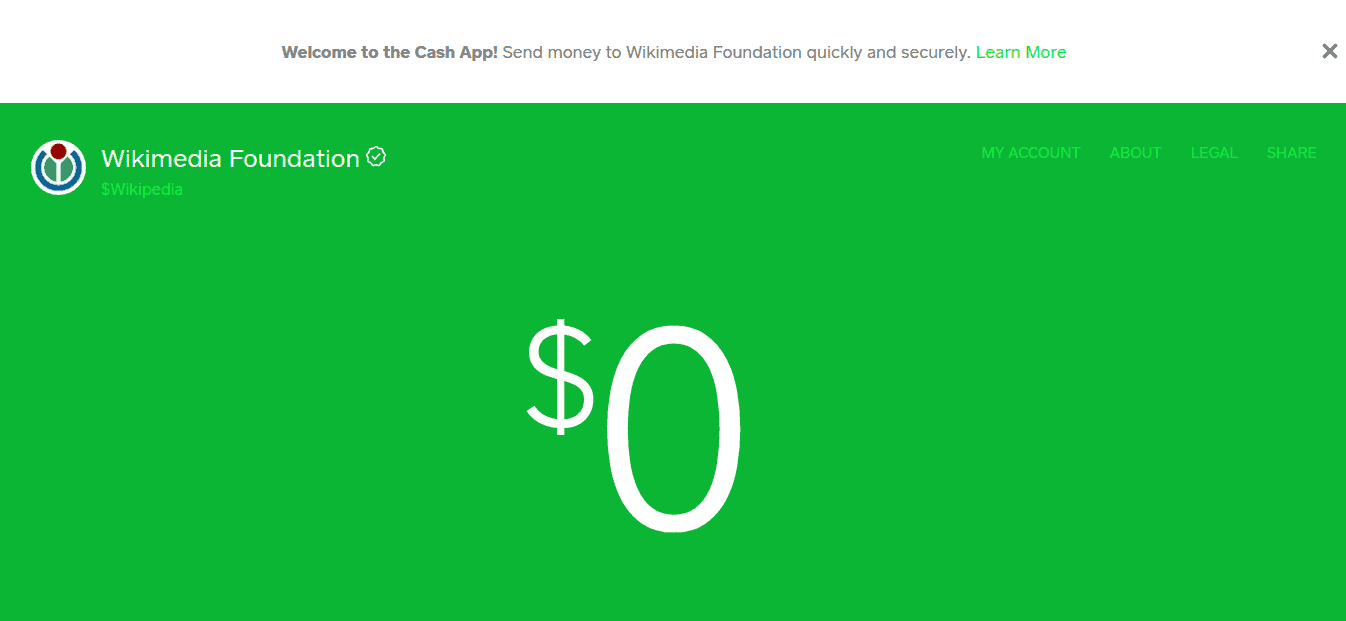 I think this is one of the best uses of the Cash app and the Cash.me websites. You don't have to bother with adding buttons to a site or creating a special landing page or anything. Square sets everything up and all you have to do is direct people to your Cash.Me site when you're ready to go. However, cashtags aren't really unique. PayPal has a similar service with its PayPal.me option — you can create a customized URL that you can give to friends or business contacts so that they can send you funds. And from a business perspective, I think it's better executed because the funds still run directly to your PayPal account, where your funds from regular PayPal transactions also appear. With Cash for Businesses, you can't hold funds in your digital wallet at all. Everything goes to your specified bank account.
Square Cash: The Fine Print
If you know anything about Square, this is probably where you're wondering if that's really it. Are there no catches? No, there aren't — at least not beyond what you expect from any sort of digital wallet. Square Cash won't ask you for a lot of information about yourself until you hit a certain threshold for transactions. And then, the company is going to reach out and ask to verify your identity.
It's a pretty simple process, fortunately — at least if you're just a consumer doing peer-to-peer (P2P) transfers to your friends and family. For a business, Square may collect more information in order to verify your identity, to comply with IRS guidelines. Here's what the Square Cash user agreement says about identity verification and limits:
Additional identification information will be required to send more than two hundred and fifty dollars ($250) in any one transaction or in multiple transactions over any rolling seven (7) day period or to receive more than one thousand dollars ($1,000) in any trailing thirty (30) day period. Senders may not send more than two thousand five hundred dollars ($2,500) in any one transaction or in multiple transactions over any rolling seven (7) day period. We may adjust these limits at any time in our reasonable discretion.
The user agreement also says that in creating a Cash for Business account, you are also agreeing to Square's terms for payments and general user accounts as well. That would include Square's right to terminate your account for any reason and to hold funds as required. This is unfortunate, but it's also very common with third-party processors such as Square and PayPal. If you want greater stability, you'll need to get a merchant account, but most merchant accounts don't offer the kind of tools and service that Square and PayPal offer — including free fundraising websites like Cash.me or PayPal.me.
I also want to take a moment to talk about the customer support experience with Cash. The support team for the Cash app is entirely separate from Square's standard support team, and your options to reach out are more limited — you can use email or social media. Currently, merchants don't have access to phone support, though if you check out some of Square's comments on Google Play it sounds like they're definitely considering adding it. Again, this is definitely a standalone product, not one integrated into the larger Square ecosystem.
Finally, Square stresses this pretty heavily and I think it's a good call: Don't use your Cash business account for personal use, and don't use your personal account for business. Square is perfectly OK with you having multiple Cash accounts, though each one has to have a unique email or phone number. But you can link the same card or bank number to multiple Cash accounts.
Final Verdict: Should You Use Square Cash for Your Business?
Square Cash isn't quite ready to unseat PayPal, or Venmo, as the top digital wallet option. It's just too lacking in features compared to other contenders, and its merchant tools aren't anything noteworthy. But even if it doesn't take the top spot, it's absolutely a viable option if you just want to move money and accept payments with ease. It's tough to argue with the convenience Square Cash, especially since customers don't need to create an account to send money. Now, there are a couple of pressing issues:
Square has a history of shutting down accounts it suspects of fraud or those that are high-risk, and you're still agreeing to Square's general terms when you sign up, including a clause that says they can terminate your account at any time.
You will encounter processing limits, so this probably isn't the best idea for high-ticket transactions. (You should consider Square's invoicing service for that.)
There's not a lot of complexity in the Cash setup to address the challenges of a retail environment, and you don't have a detailed invoice option.
Square Cash's support team is separate from Square's standard support, and there's no live phone support, just email and social media.
Some Cash users complain about funds getting lost in transit or not arriving in their bank accounts as quickly as expected. However, Square seems to be helpful in clearing up those mishaps, and part of it will depend on your bank's processing times as well. These complaints are typically from consumer users, not merchants, as well.
That said, Square Cash is a great option for mobile businesses and service providers — personal trainers, hair stylists, makeup artists, landscaping and lawn care companies, photographers — and even accountants, therapists, and tutors. If you fall into one of these categories and don't want to bother with downloading the Point of Sale app and swiping cards, this could work really well. And finally, there are two challenges businesses will face that have nothing to do with Square:
First, it's entirely on you to ensure payments are made on time. It'll become very important that you follow up with clients in a timely manner. You can't afford to be lax in making sure your clients are responding to your requests for payments. This is the exact struggle that anyone who relies on invoices faces — cash is, after all, the lifeblood of a business.
Second, there's the matter of educating customers. If most of your customers fall in the 18-to-35 age range, they're likely to be tech savvy and they'll get the concept of Cash fairly easily. However, there will still be some people who don't get it. You may have to explain Square Cash to them and walk them through the process of making a payment. Others may simply not trust the Cash.me website or requests for funds.
For those reasons, it might not be a bad idea to have a backup means of payment — like Square Register, for example. However, if you're prepared to deal with those challenges and you just want a lightweight payment option, Square Cash is absolutely a great choice.
While I'd like to see a bit more invested in Cash from the business side of things, it's definitely workable as is. For that reason, I'm happy to give Square Cash for Businesses a commendable 4 out of 5 stars and our general recommendation. As usual, there's no contract or obligation with Square, so if you're curious, I encourage you to set up an account and give it a try yourself! Then, leave us a comment about your experiences! Thanks for reading! If you're curious for more, check out our full Square review, as well as our other mPOS solutions.
---
The Merchant Maverick Seal of Approval 🏆
Square Cash App


---



After hours of in-depth research and evaluation, we can confidently recommend this brand to our readers. Get started today and see Square Cash App for yourself.
The Merchant Maverick Seal of Approval 🏆
Square Cash App


---



After hours of in-depth research and evaluation, we can confidently recommend this brand to our readers. Get started today and see Square Cash App for yourself.
Read Next