Square Cash App Review
This digital wallet makes it easy for consumers and businesses to get paid, request payments, and transfer payments.
Expert Analyst & Reviewer

UPDATED
Advertiser Disclosure: Our unbiased reviews and content are supported in part by
affiliate partnerships
, and we adhere to strict
guidelines
to preserve editorial integrity.
Square Cash App Overview
Square continues to roll out feature after feature for businesses in the payments space, and one of those features is Square Cash. Like PayPal and its subsidiary Venmo, Square Cash is a digital wallet. Consumers can send money to their friends and family at no cost, load money from a card, or move money from their wallets to their bank accounts. And like PayPal and Venmo, Square Cash has an option that allows businesses to get paid as well.
Square Cash has been around for nearly a decade, but it certainly seems like it's becoming a viable, everyday product, not a niche one for tech-savvy early adopters. While you can send and request money, and even spend your Cash balance via a debit card, the app definitely isn't as full-featured as PayPal or Venmo. However, Square seems to have its sights set firmly on the growing popularity of cryptocurrency. Square now allows its vendors to accept payments through Square Cash and allows bitcoin payments as well.
To be fair, you are not going to get anywhere even remotely close to the number of features that Square offers in its traditional merchant setup. So if you need all the bells and whistles, Cash isn't for you. However, it's a really great solution if you run a mobile or service-based business. You can even use it for fundraising, both in-person and online.
What Is Square Cash App?
Square Cash is a digital wallet that allows people to send money to friends and family at no cost. Square Cash also works for business use.
Square Cash At A Glance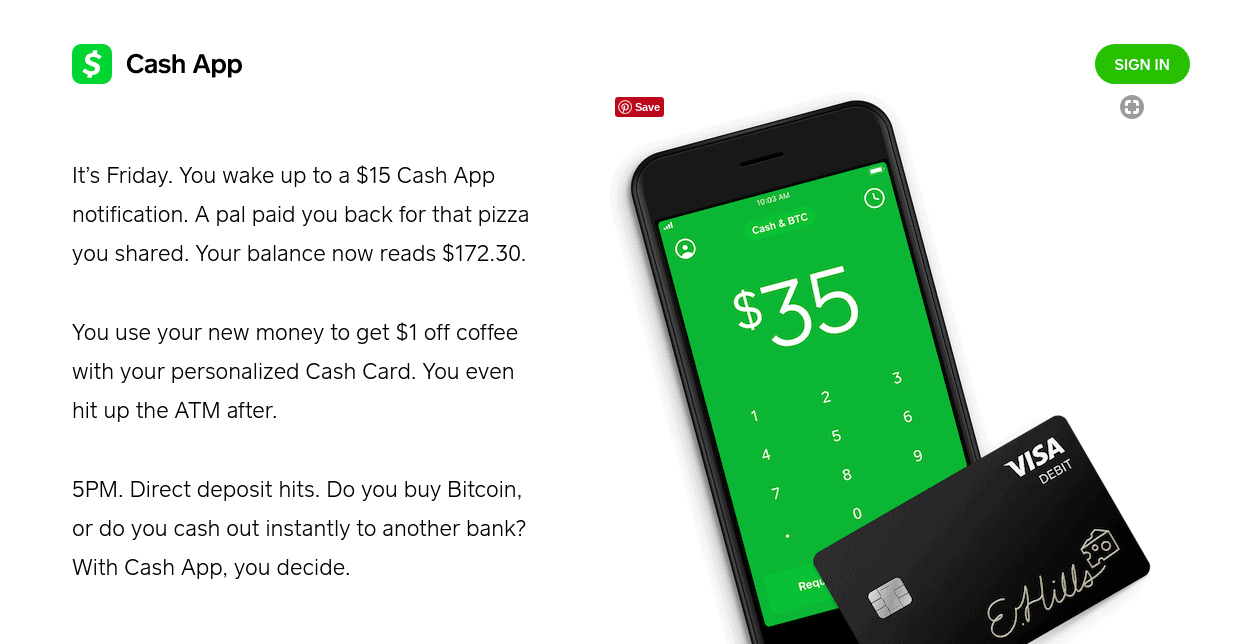 You can download the mobile app from iTunes or Google Play, or sign up on the Cash.app website. Enter your email or mobile number, and Square will send you a confirmation code. Once you've signed in for the first time, Square will prompt you to link a debit card. After that's done, you can link more bank accounts or a credit card — though if you fund your wallet from a credit card, you'll pay a 3% fee to do so.
Once that's done, your Cash account is set up and you're ready to use it. You can tweak some settings from within the app or online, but most of the important ones — including marking whether your account is for personal or business — need to be done from within the app.
Deposit times are on par with Square's core services: next-day deposits by default, with an option for to initiate an Instant Deposit for 1.5% of the transfer amount (Square merchants will note that instant deposits cost 1% normally, so this is a slight difference). Actual deposit times will still depend at least in part on your bank, as well. Somewhat new to Square Cash's feature lineup is the ability to accept direct deposits of paychecks. This feature targets those who use the Cash App as their primary account. They can use their Cash card to spend their money. In addition, the Cash App lets you buy bitcoin easily as Square continues to get more heavily involved in cryptocurrency.
Using The Square Cash Card
Square Cash offers users a virtual card and a physical debit card so they can spend their Cash balances online or in stores. You can activate your virtual card and order your debit card from within the app. The card is completely free, which is always nice to see. You can even use the card at ATMs to withdraw cash, but fees may apply depending on which ATM you use. Square sellers have also recently been able to start accepting payments via Cash App.
Finally, Square now offers something called Cash Boosts — essentially, cash-back rewards for using your Cash cards with certain merchants. You can choose your Cash Boost. However, it's worth noting that you're limited to one per day.
How To Use Square Cash For Business
With Square Cash for Business, you can accept payments online or via the app. It's actually pretty functional — when you send or receive money, it's possible to leave a note so you can keep track of what each transaction is for. And as with the Square Point of Sale app, you'll pay 2.75% per transaction. But there is still just an option to request money or have people send it to you. That works especially well for mobile businesses and services, such as personal trainers, consultants, hair stylists or makeup artists. It also works great for organizations that want to collect donations or run a fundraiser.
While your account is linked to a mobile number or email, you can identify yourself using what Square calls a "cash tag." It's not unlike the hashtag, except that it's preceded by a $ instead of a #. Cashtags are used with the Cash.Me website and they're unique to each user. However, you don't need to know someone's cashtag to send money. Using their name (if they're in your phone's contacts), their phone number, or email works too. For businesses, cashtags are a way to brand your business. You can set up a cashtag and send or request money that way. It's also a great option for businesses that want to fundraise.
You don't have to bother with adding buttons to a site or creating a special landing page or anything. Square sets everything up and all you have to do is direct people to your Cash.Me site when you're ready to go. However, cashtags aren't really unique. With Cash for Businesses, you can't hold funds in your digital wallet at all. Everything goes to your specified bank account.
Square Cash: The Fine Print
The fine print is pretty standard — at least if you're just a consumer doing peer-to-peer (P2P) transfers to your friends and family. For a business, Square may collect more information in order to verify your identity, to comply with IRS guidelines. Here's what the Square Cash user agreement says about identity verification and limits:
Additional identification information will be required to send more than two hundred and fifty dollars ($250) in any one transaction or in multiple transactions over any rolling seven (7) day period or to receive more than one thousand dollars ($1,000) in any trailing thirty (30) day period. Senders may not send more than two thousand five hundred dollars ($2,500) in any one transaction or in multiple transactions over any rolling seven (7) day period. We may adjust these limits at any time in our reasonable discretion.
The user agreement also says that in creating a Cash for Business account, you are also agreeing to Square's terms for payments and general user accounts as well. That would include Square's right to terminate your account for any reason and to hold funds as required. This is unfortunate, but it's also very common with third-party processors such as Square and PayPal. If you want greater stability, you'll need to get a merchant account, but most merchant accounts don't offer the kind of tools and service that Square and PayPal offer — including free fundraising websites like Cash.me or PayPal.me.
Final Verdict: Should You Use Square Cash for Your Business?
Square Cash isn't quite ready to unseat PayPal or Venmo as the top digital wallet option, but it's certainly on the rise. Even if it doesn't take the top spot, it's absolutely a viable option if you just want to move money and accept payments with ease. And if cryptocurrency continues its rise, which Square is fully betting on, it's likely to be at the forefront of those transactions.
Square has a history of shutting down accounts it suspects of fraud or those that are high-risk, and you're still agreeing to Square's general terms when you sign up, including a clause that says they can terminate your account at any time.
That said, Square Cash is a great option for mobile businesses and service providers — personal trainers, hair stylists, makeup artists, landscaping and lawn care companies, photographers — and even accountants, therapists, and tutors. If you fall into one of these categories and don't want to bother with downloading the Square Point of Sale app and swiping cards, this could work really well.
---
The Merchant Maverick Seal of Approval 🏆
Square Cash App


---
After hours of in-depth research and evaluation, we can confidently recommend this brand to our readers. Get started today and see Square Cash App for yourself.
The Merchant Maverick Seal of Approval 🏆
Square Cash App


---
After hours of in-depth research and evaluation, we can confidently recommend this brand to our readers. Get started today and see Square Cash App for yourself.