Shopify Review 2023
This popular, fairly basic online shopping cart makes it easy for business owners to create an eCommerce website or an online store at a reasonable price.
Expert Analyst & Reviewer

UPDATED
Advertiser Disclosure: Our unbiased reviews and content are supported in part by
affiliate partnerships
, and we adhere to strict
guidelines
to preserve editorial integrity.
Shopify

Shopify At A Glance
Six plans to choose from to suit your business size and needs
Basic plans allow social media selling, buy buttons
Stylish free templates
---
Pros
Easy to use
Numerous integrations
Attractive templates
Advanced design tools
Free trial available
Cons
Add-ons often necessary
Transaction fees
Variable customer support
What Is Shopify?
Shopify is a fast, easy, and affordable fully hosted eCommerce platform. Shopify's basic feature set is enough to let most users quickly set up a fully functional online store.
Although some advanced features are missing out of the box (more on that later), Shopify's simplicity is part of what makes it so easy to learn to use. Most people can build and run a Shopify store without knowing much at all about the technology involved in online selling. In fact, we consider Shopify to be overall one of the best options for getting started with selling online.
And Shopify is designed to grow with its users. So if you're not satisfied with the relatively basic features, you can fill in the missing pieces by adding integrations and apps. From scalable features to additional sales channels — such as Amazon, TikTok, Walmart Marketplace, and more — a Shopify store is capable of handling all the growth your company experiences.
That's a quick sketch of the reasons why we recommend Shopify so often. Want to know more details so you can decide if Shopify is the right eCommerce platform for your needs? Buckle in for a full Shopify review.
Shopify Pricing
| Shopify Plans | Price | When To Use |
| --- | --- | --- |
| Shopify Starter | $5/month | If you want to sell on social media |
| Basic Shopify | $29/month | If you want a full online store with basic functionality and/or Shopify's POS for in-person sales |
| Shopify Plan | $79/month | If you want a more complex store, with staff accounts and advanced tools & reports |
| Advanced Shopify | $229/month | If you want all the available advanced features & international sales |
| Shopify Plus | Custom pricing | If your annual sales top $500K |
With five levels of service, Shopify tiered pricing has always meant that users won't have to pay for more than they need. You can choose and pay for the plan that fits your needs of the moment and go up or down in service level as your business needs change. Most of the attention goes to the three plans in the middle, but don't overlook the entry-level plan, Shopify Starter, which is aimed at those who want to dip into eCommerce without opening a full online storefront. At the other end of the sales spectrum, Shopify Plus is aimed at enterprise businesses with annual sales above half a million dollars.
New users can take advantage of a free three-day trial, with no credit card required. Accounts set up on the free trial will automatically cancel at the end of three days; to reactivate, you must purchase a plan. This allows you to play around with the software before you have to make a commitment to any plan level, and you don't have to set a reminder to cancel before you're charged.
All of Shopify's plans are billed on a month-by-month basis. There are no contracts to sign. If you choose to purchase a full year-long plan, you can save 10%, and if you purchase two years at a time, you'll save 20%.
As we outline Shopify's subscription levels, you'll notice a Shopify transaction fee that applies in addition to the standard card processing fees charged by your choice of payment gateway. While few other shopping carts take a cut of each sale you make, Shopify does. The good news is that Shopify waives those transaction fees if you choose Shopify Payments (powered by Stripe) as your payment processor. Of course, the bad news is that not everyone wants or will be approved to use Shopify Payments.
All Shopify plans include unlimited products, bandwidth, and storage. Here's the full rundown of Shopify's pricing tiers:
Shopify Starter Plan
The new Shopify Starter Plan costs $5/month and is Shopify's lightest subscription. It's built for selling products through social media, email, SMS, WhatsApp, and anywhere else you can think of to share product links. However, the Shopify Starter plan does not include an online store. Shopify charges transaction fees starting at 5% when you use Shopify Payments.
Here's what the Starter Plan delivers:
Unlimited product pages
Fast, secure checkout
Contact page for customer inquiries
Shopping cart to enable multiple purchases
Shopify inbox
Shopify order management and integrated fulfillment network
Linkpop, a free eCommerce tool
Basic Shopify Plan
The Basic Shopify Plan costs $29/month and includes an online store. If you use Shopify Payments, the credit card rate is 2.9% + $0.30 for online transactions and a straight 2.7% for in-person transactions; if you use another payment processor, Shopify charges a 2.0% Shopify transaction fee.
The Basic Shopify plan includes the following:
Online store

Two staff accounts

Up to four inventory locations

Multichannel selling

Access to API and app store

Discount code engine

Gift cards

Built-in blogging engine

Up to 20 themes on your store

Manual order creation

Shipping discounts of up to 77% from DHL Express, UPS, and USPS

Shipping labels

133 international currencies with 3.9% + $0.30 rates

International commerce tools
Language translation and local payment methods

Fraud analysis

Access to Shopify Fulfillment Network

Free SSL certificate

Abandoned cart recovery tools

Basic reports
Customer segmentation
Marketing automation
Unlimited contacts

Shopify POS Lite

Access to Shopify POS Pro ($89/month)

24/7 multichannel support
Shopify Plan
The Shopify Plan costs $79/month. If you use Shopify Payments, the credit card rate is 2.6% for online transactions and a straight 2.5% for in-person transactions; if you use another payment processor, Shopify charges a 1.0% Shopify transaction fee.
The Shopify plan includes everything in the Basic Shopify plan, plus:
Five staff accounts (in addition to the owner's account)

Up to five inventory locations

Standard reports

eCommerce automations

Discounts of up to 88% from DHL Express, UPS, and USPS

133 payment processing with 3.6% + $0.30 rates

USPS Priority Mail Cubic and Parcel Select Cubic pricing
Advanced Shopify Plan
The Advanced Shopify Plan costs $299/month. If you use Shopify Payments, the credit card rate is 2.4% + $0.30 for online transactions and a straight 2.4% for in-person transactions; if you use another payment process, Shopify charges a 0.5% Shopify transaction fee.
The Advanced Shopify plan includes everything in the Shopify plan, plus:
15 staff accounts
Up to eight inventory locations
Advanced reports
Third-party calculated shipping rates (outside of Shopify Shipping)
Custom report builder

International payments with 3.4% + $0.30 rates

Duties and import taxes
Custom pricing by market
Shopify Plus
Shopify Plus is for enterprise businesses.
If you're interested in learning pricing details, you'll need to contact Shopify directly. Check out our full review of Shopify Plus for more information on plan features and benefits.
Extra Costs
In addition to the monthly subscription fee for the plan you select for your eCommerce business, Shopify users can expect to lay out some money for add-ons and integrations. For more information on that, see the Integrations section below.
Beyond that, Shopify users may incur these additional expenses:
Transaction Fees: As mentioned previously, Shopify stands out from the majority of its eCommerce competitors by charging transaction fees that stack up in addition to those charged by your gateway payment provider. These fees vary from 0.5% to 2% of each sale, depending on the level of service plan you sign up for. The only way to avoid Shopify's transaction fees is to sign up to use Shopify Payments as your gateway. If you use Shopify Starter, you're stuck with 5% transaction fees, if you use Shopify Payments.
POS: With the exception of Shopify Starter, all Shopify accounts come with built-in access to Shopify POS Lite at no added expense. However, users who expect to use the POS option heavily may want to look into upgrading from the Lite version. Access to Shopify POS Pro can be added for $89/month, and it delivers store management tools and omnichannel features for brick-and-mortar businesses that may make the additional expense well worth it for your business.
Is Shopify Legit & Safe?
In short, yes, Shopify is legitimate and safe eCommerce software. Shopify is a legitimate, publicly traded company that has invested in software and security engineering initiatives. Additionally, the back-end processor of Shopify Payments, Stripe, is used by thousands of companies worldwide.
Shopify Features
| Shopify Features | Availability |
| --- | --- |
| Retail Equipment Available | |
| International Sales | |
| Currency Conversion | |
| Shoppable Social Posts | |
| Gift Cards | |
| Customer Loyalty | |
| Marketing Tools | |
| Hosted Platform | |
| Reports | |
| Staff Accounts | |
| Buy Buttons | |
| Multi-Platform Integrations | |
| Shipping Tools | |
| Shipping Discounts | |
| Free Themes | |
| Unlimited Products | |
While we say Shopify is light on advanced features out of the box, it's important to note also that it does come with all the basics you'll need to open and operate an online store, as well as some nice extras. For the price, Shopify compares favorably to similar eCommerce platforms aimed at small to mid-sized businesses.
For example, most Shopify plans include Shopify POS, gift cards, online sales channels, fraud analysis, manual order creation, discount codes, an overview dashboard, and staff logins, in addition to unlimited products, storage, and bandwidth. And although Shopify includes a well-stocked app store that allows you to add many advanced features and specialized functions, much of what you'll need to set up a functioning store is built into the software.
Here's a rundown of what you'll find out of the box, with the caveat that some features are available only with higher-level plans. Look into each plan before you make your purchase.
Shopify Themes
Shopify offers beautiful web design possibilities. You'll find more than 100 themes available, and all are mobile responsive. Of those, eight are free options created and supported by Shopify, while the rest are priced between $140-$180 and are supported by their respective third-party developers.
You can add up to 20 themes to a single Shopify store. That lets you try out different themes, keep a seasonal version of your published theme, or test changes using another theme. However, you will be allowed to publish using only one of these at a time.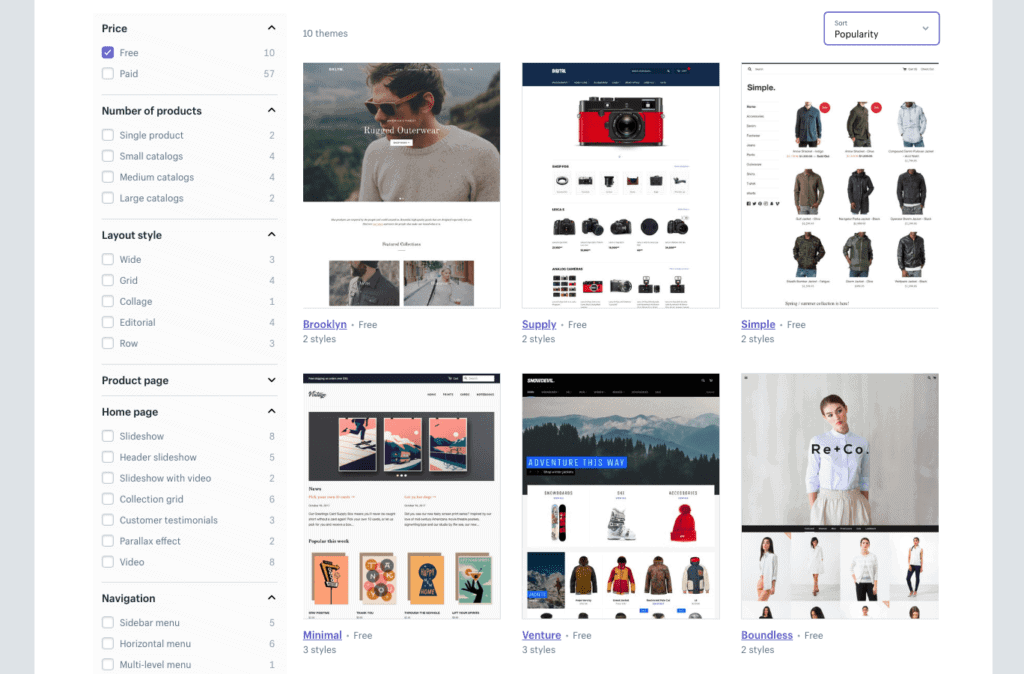 In terms of both form and function, Shopify themes are among the best I've seen. They're professional, elegant, and easy for your customers to navigate. And you won't need to do any coding to use them. On the other hand, if coding is your thing, there's a code editor you can use. Along with HTML and CSS knowledge, you'll need to brush up on Shopify's proprietary templating language called Liquid.
Types Of Payment Accepted With Shopify
Shopify accepts more than 100 payment gateways, sorted by country. In the US, that list includes top names such as:
Of course, Shopify also offers its own payment gateway, Shopify Payments (learn how to set up payments in your store). This Stripe-powered payment processor is currently available to merchants in the US and 17 other countries. Be sure to check your specific country for feature availability. In general, using Shopify Payments delivers these benefits:
No Extra Shopify Transaction Fees: The 0.5-2.0% additional fee charged by Shopify is eliminated. You still need to pay regular credit card fees, though!
Reduced Credit Card Fees: Typically, Stripe and other similar payment facilitators charge 2.9% + $0.30 for online transactions. With Shopify Payments, those rates get reduced as you move up the subscription ladder. In-person processing rates also decrease as you move up in plan level.
Fraud Protection: Shopify Payments provides its suite of advanced fraud and chargeback prevention features.
Shopify stores that use Shopify Payments are also eligible to add additional payment options to their checkout page. The first is a special integration with a buy-now-pay-later service (BNPL), Affirm. BNPL options are becoming increasingly popular, and if you're not already offering one, this could be your chance to add BNPL to your checkout options with a seamless integration.
The second payment option available to Shopify Payments users is Shop Pay, an expedited checkout option that allows merchants to save their billing and shipping information across Shopify websites, thus drastically simplifying repeat purchases on your site. Both the BNPL and accelerated checkout offered via Shop Pay are secure for merchants and for customers.
Selling On Multiple Sales Channels With Shopify
All of Shopify's plans allow you to sell on Instagram, Facebook, TikTok, Amazon or eBay, through Messenger, and with Buy buttons. You can also take advantage of Shopify's own POS system or a third-party POS on higher-level plans.
Integrations are available for additional marketplaces, like Etsy and Walmart Marketplace.
Does Shopify Offer Buy Buttons?
You can add a Buy Button sales channel in your Shopify admin and then create buy buttons for a product or a collection. Just copy the automatically generated code and plug it into the webpage or post where you want the button to appear. Before you place the button, you can customize its appearance and functions.
Customers who click your buy buttons can add products to their cart, and they will be directed to checkout for purchase. They can also view the product without choosing to purchase it.
Selling Internationally
Shopify supports international shipping and checkout in more than 50 different languages. You can set up your store in up to 20 languages and accept 133 international currencies. On the Advanced plan, you can activate duties and import taxes and set custom pricing by market.
Shopify Marketing Features
You'll be able to use customer accounts to learn more about your customers and to group them by location, shopping tendencies, and demographics. Abandoned cart recovery tools let you know when a customer leaves items in a cart without purchasing, so you can automatically send an email to encourage them to complete their purchase. Shopify Chat allows you to engage with site visitors via live chat.
Shopify Product Limits
All Shopify plans include unlimited products, storage, and bandwidth.
Inventory Management With Shopify
Build your catalog with ease by using Shopify's bulk import/export feature to facilitate migration from your previous platform or to make bulk edits to your catalog. You can list unlimited products and track them with Shopify's inventory management and product category organization features. You can list variations such as size, color, and material, though you may need to download a free extension if you want to add unlimited variations.
Shopify Shipping Tools
You can select factors to determine the cost of shipping, whether it's free shipping, a flat rate, a tiered rate, a weight-based rate, or a location-based rate. And if you use Shopify Shipping, you can access carrier-calculated shipping rates from DHL, UPS, USPS, or Canada Post. You'll also get a discount on shipping rates with DHL Express, UPS, and USPS, with the percentage depending on your Shopify subscription. Users on the Advanced Shopify plan can use calculated shipping options to integrate with a third-party shipping service that provides customers with real-time shipping rates
Shopify makes it easy to start a profitable dropshipping business. For starters, you'll find a complete guide to dropshipping with Shopify on the webpage. You can integrate your Shopify store with a number of global dropshipping apps. Just check the Dropshipping category on the Shopify App Store to see 425 results that include big names, such as AliExpress, Sprocket, and Printful. You can work with your top choice of Shopify dropshipping partners, as well as more niche dropship partners in subcategories like print on demand.
Shopify SEO Tools
Shopify offers SEO features that include customizable H1s and the ability to write title and meta tags as well as product tags. A sitemap.xml is automatically generated for each store.
Blogging
All Shopify paid plans come with a built-in blogging engine that you can use to improve your store's SEO, tell stories that increase customer engagement, and help you convert lookers into buyers. Shopify's default blog is called News, but it's easy to replace that with a custom name, and you can manage your blog right from your store admin and add it to your main navigation menu. You can even manage your blog's SEO potential from your admin, using the Search engine listing preview and URL and handle sections.
Shopify Discounts & Coupons
Shopify excels at its coupons, gift cards, and discounting features, which are available on all paid plans except Starter. Users can create coupon discount codes and coupons, including BOGO, that apply to specific products or categories, and you can limit those to specific groups, a specified number of uses, or a minimum order total.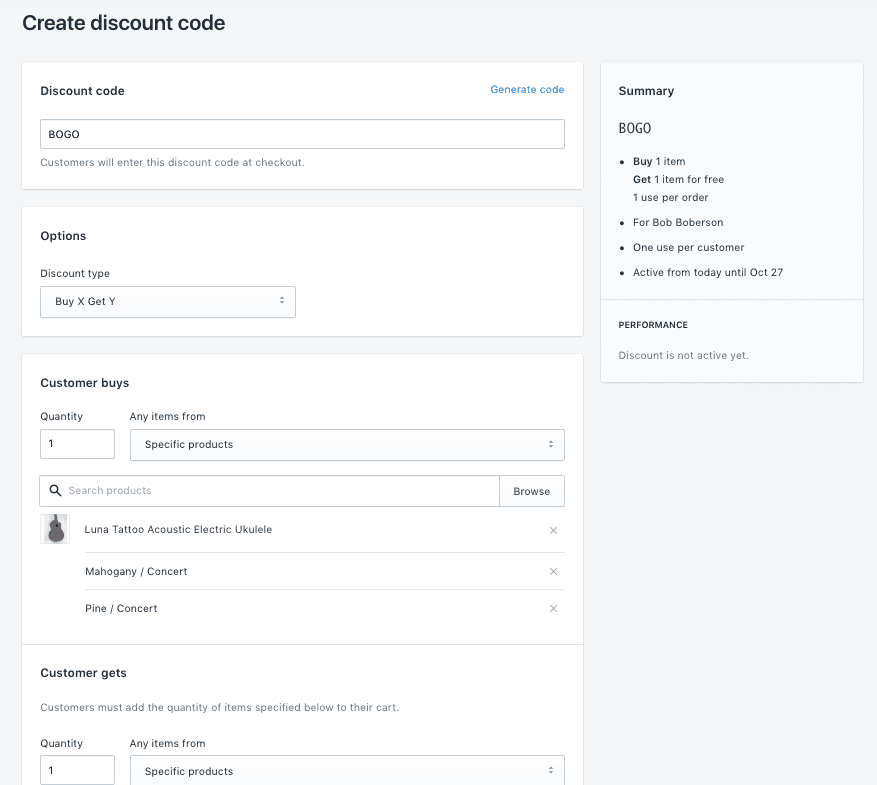 Developer Tools
Shopify makes available a range of software tools, app templates, example apps, and libraries to accelerate development. These include Shopify CLO, a command-line tool for scaffolding and managing Shopify apps; App Bridge, a JavaScript library that streamlines embedding an app in the Shopify admin; and Shopify App Generator for Rails, a Rail engine for building Shopify apps.
You'll also find a full list of Shopify API libraries and app templates to kickstart your Shopify app development. That includes a well-documented REST API that makes it easy to build integrations and applications for those with the skills and the inclination.
In-Person Selling Tools
Shopify offers a point of sale (POS) system for in-person selling. It's recently added a new retail kit to the mix, which includes a tap-and-chip card reader and a retail stand for the iPad. Shopify POS Lite is included on all paid Shopify plans except Starter. You can upgrade to Shopify POS Pro for $89/month per location.
Shopify Reports
The reporting options vary by plan level, and this is one of the areas where Shopify can come up a little short on the lower levels. The Basic Shopify plan lets you access your store's acquisition reports, several behavior reports, and a marketing report. Want more? You'll need to purchase an add-on or upgrade your plan.
On the next level, the Shopify plan includes access to professional reports with more valuable information, including sales of specific items and sales based on the time of year. Customer reports on the Shopify plan let you see how customers are browsing your store and purchasing, with reports available on customers over time, first-time customers in comparison to returning customers, and customers by country.
On the Advanced Shopify plan, you'll be able to access information about your most at-risk and loyal buyers. And if you visit the Shopify App store, you'll find more than 1,100 options for add-ons, all of which include ratings and reviews from users.
Is Shopify Easy To Use?
Ease of use is one of Shopify's top selling points. The platform provides a relatively sophisticated entrance into eCommerce that almost anyone can learn to use. If you decide to test Shopify's admin with the free trial, I think you'll quickly become comfortable with the user interface. Although you won't find a tutorial video or setup wizard, Shopify provides three suggestions to get you up and running: Add Product, Customize Theme, and Add Domain.
The main dashboard is clean, orderly, intuitive, and easy to navigate. The menu down the top-left of the screen provides your day-to-day store management tools, while the Settings menu contains storewide configurations (such as shipping methods and taxes).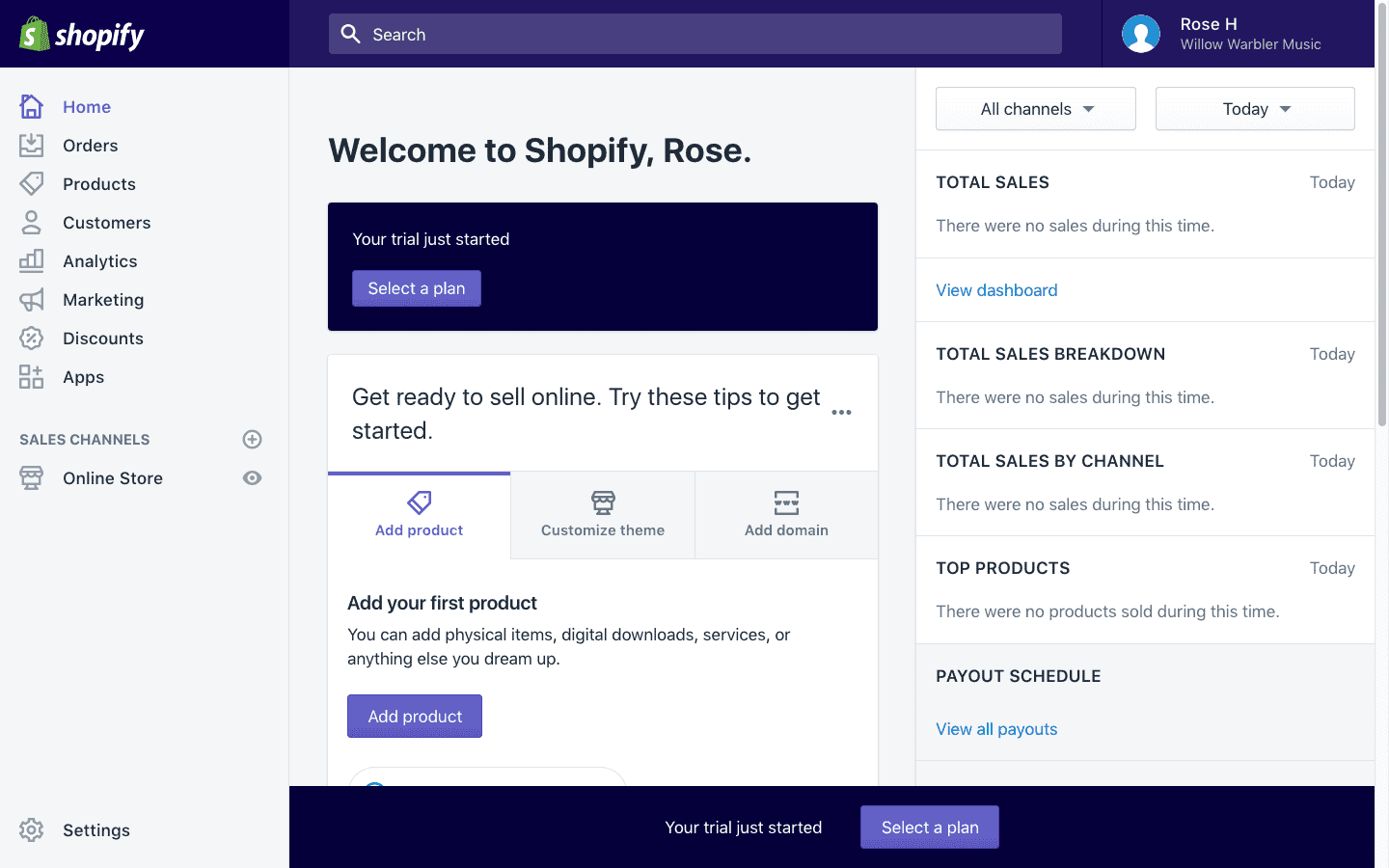 And adding products is easy. It takes only a few clicks and keystrokes. The interface provides enough detail to be functional and thorough without becoming overwhelming. Adding product variants is a simple process inside the main "add a product" screen. You can adjust prices, SKUs, and inventory for each variant when you add products, or you can edit those variables later when you configure different product weights for shipping and add variant-specific photos.
You'll also find a bulk editor that allows you to manage data for multiple product variants. If you want to add more than three options for a given product (such as size, color, and material) or more than 100 variants total, you'll need an extension from the app store.
As you've picked up on by now, Shopify aims to strike a balance between its trademark ease of use and additional customization capability. Most merchants will find enough features out of the box to get rolling, but advanced functionality with Shopify often requires add-on applications.
Shopify Customer Service & Technical Support
| Shopify Support | Availability |
| --- | --- |
| Phone Support | |
| Email Support | |
| Support Tickets | |
| Live Chat | |
| Dedicated Support Representative | |
| Knowledge Base or Help Center | |
| Videos & Tutorials | |
| Company Blog | |
| Social Media | |
The quality of Shopify's customer service varies depending on who you ask. Some people rave about it, saying that Shopify provides informed, friendly support. On the other hand, I've also read angry comments that condemn Shopify's support representatives for reading answers from a script. These users say that the representatives they contacted did not have the power to help. I've had good experiences with Shopify myself. When I called with a simple question, I received an informed answer with no wait time.
Of course, there are lots of other ways to locate the answers you need. Here's a quick look at Shopify's extensive resources for solving problems and improving your eCommerce business:
Phone: Phone support is available on all plans except for Shopify Starter. There are separate phone numbers for customers in North America, the UK, Australia, Ireland, Singapore, Hong Kong, and New Zealand, and while phone support and live chat are available in English only, email support is available 24/7 in 20 languages other than English.
Email: 24/7 email support is available to all users.
Live Chat: This option has worked well in my experience, but you can expect to exercise a bit of patience during peak periods.
Forums: Several separate community forums are available, depending on your needs.
Help Center: Access the primary knowledgebase and documentation as well as phone, email, and live chat options.
Academy: Free training courses with videos and full transcripts are available.
Encyclopedia: Definitions and overviews of eCommerce terms and concepts are available in Shopify's searchable business encyclopedia.
Guides: Multichapter PDF guides on specific topics.
Developer Docs: API documentation and other resources for the technically inclined.
Webinars: Sign up for live broadcasts.
Podcast: The Shopify Masters Podcast features interviews with successful store owners.
Blog: The Shopify blog is well-maintained and informative.
Changelog: Stay on top of new and updated features available for your store.
Free Tools: Content templates, calculators, and other free resources accessed from the main website.
Experts: From developers to designers to marketers, Shopify experts are available for hire.
Social Media: Check Shopify's Twitter account for advice and assistance.
YouTube: The dedicated Shopify Help Center channel has dozens of video tutorials posted.
Shopify Integrations & Add-Ons
Browsing the Shopify App Store is an informative and well-organized experience. The multitude of reviews and ratings for each Shopify app is particularly helpful — that's one benefit of having a strong and vocal community of users. And Shopify's app ecosystem is one of the most extensive I've seen. With well over 3,200 add-ons to choose from, it's a good bet that Shopify will integrate with whatever you're looking for.
It's worth repeating that while Shopify does a great job offering the basic features most stores need, advanced functionality definitely will require add-ons. That's part of the reason the app store is so extensive. Some of the simpler modules are free, but you may find you also need to integrate with a few software platforms that each have their own monthly subscriptions, even if the initial installation is free.
The takeaway here is to make sure you know which features you need before subscribing to Shopify. While Shopify can seem like one of the least expensive shopping carts out of the box, the total cost can quickly grow to become the most expensive option if you need lots of advanced features. On the plus side, there's a vast array of options for expanding your store's functionality gradually as you grow, making Shopify one of the more scalable eCommerce solutions out there.
In addition to integrations, Shopify offers some great in-house add-on services like Shopify Balance, which allows Shopify users to manage all their small business banking directly online. (As a bonus, Shopify Balance customers get faster access to funds, too.)
Shopify Reviews
Shopify has overwhelmingly positive reviews on most comment boards and third-party review sites. For example, with 4,090 reviews on G2Crowd, where Shopify maintains a 4.5/5 star rating, 2,677 reviews give the software 5 stars, while fewer than 300 rate it less than 4 stars. It's a similar story on Capterra, where 5,651 reviews give a composite 4.5/5 star rating.
Shopify Inc. has been accredited with the Better Business Bureau since 2012 and maintains an A+ rating there. On the BBB website, many Shopify complaints recorded came from customers who had difficulty with purchases made from a Shopify-powered website and not actual store owners complaining about their experience with the software. However, there are a number of recent complaints posted about problems with account verifications and money being held back. We'll continue to monitor and update if a trend becomes apparent.
Negative Shopify Reviews & Complaints
The most common complaints I've seen about Shopify include these:
Limited Functionality: Because Shopify aims to keep its functions basic and easy to grasp, there are a few missing elements in the features list. The necessary add-ons from third parties are almost certainly available in the app store, but the more you add, the more introduced problems you may experience with the software. And those apps can come with their own monthly subscription costs, too.
Costly Add-Ons: To make up for a lack of functionality, merchants may have to purchase add-ons, which can make Shopify higher priced than competing shopping carts.
Poor Customer Service: As I've mentioned, opinions on customer service are widely varied. For every frustrated customer bashing Shopify's service, there's one singing its praises. Take that how you will.
Too-High Fees: Payment processing fees are unavoidable. But Shopify stands out for its added transaction fees that can take between 2% and 0.5% of each sale you make through the platform. Yes, you can avoid the added fees if you use Shopify Payments. But that's a limiting factor many vendors chafe at. And international merchants may be operating in a nation where Shopify Payments isn't an option. Several recent reviews called out Shopify's subscription fees as a pain point, adding that when combined with transaction fees, Shopify is just too expensive.
Poor Service With Shopify Payments: I have read many reviews blaming Shopify Payments for withholding vendors' payments. Additionally, Shopify Payments reserves the right to discontinue services for any merchant it deems a risk. This has led to quite a bit of frustration among merchants.
Positive Shopify Reviews & Testimonials
Shopify has far more positive reviews than negative ones. Users give the platform high satisfaction ratings overall. Here are the most commonly voiced positive reactions:
Ease Of Use: As I've said before, ease of use is Shopify's niche. You can get a store up and running in less than a day. It's a great approach for startups and mid-sized businesses alike, even if you have minimal experience with creating a website. And many users agree that Shopify lets you get started selling online quickly.
Beautiful Themes: A professional-looking site inspires trust in your customers. Shopify helps by providing some of the best-looking themes I've seen from any eCommerce platform. Users have noted that although they have to learn a new language to edit themes, Shopify's proprietary language is easy to learn and use.
Multi-Channel Capabilities: Online selling today involves multiple sales sites, including not just an online store but also social media sites and marketplaces. Shopify is a leader in social media sales with two low-priced plans that help you sell on social for as little as $5/month. And Shopify is staying out front of social media selling, with its new integration with TikTok, for example.
Good Customer Service: Reviews of customer support are mixed, but at least Shopify offers a phone line and 24/7 availability. Those two facts alone separate Shopify from many of its competitors when it comes to service. Users also praise the free self-help resources and paid Shopify Experts.
Extendability: Leaving aside the extra cost for a moment, users appreciate how well-connected Shopify is with the eCommerce software world as a whole. Though they may come with a cost attached, you can find the add-ons you need to customize your store and grow your sales.
Final Verdict
Shopify Review Summary
Pricing
$5-$299/month
Choose If You Need

An inexpensive, easy-to-implement eCommerce store
An online store that can grow with your business
Basic, functional features with the ability to add on as your needs become more complex
If you're looking for an easy-to-use, reliable, and elegant online platform for your store, you can stop the search now — or at least put it on pause while you sign up for a free trial of Shopify.
We feel confident recommending Shopify to most merchants, provided they aren't seeking endless advanced functionality on a shoestring budget. With two weeks to test the software, build your online store, populate it with products, add a blog, investigate the self-help options available, and test functions such as checkout, shipping, and more, you'll have plenty of time to do your own hands-on research and decide if Shopify is right for you.
If you're new to online selling, we feel confident saying that Shopify is one of the top three eCommerce options for beginners. However, if you've taken Shopify for a spin and decided it's not for you, don't worry. We have suggestions for some top Shopify alternatives that may be better for sellers like you. Ultimately, what matters more than anything we can tell you in a Shopify review is how the software feels to you and how well it meets your own unique sales needs.
But before you leap, I encourage you to take the admin for a test drive. Sign up for your free trial, call customer support with any questions you have, and see what features you may need to add. You've got nothing to lose but 14 days of your time, and you just might gain the eCommerce solution you've been looking for.
Shopify FAQs
---
The Merchant Maverick Seal of Approval 🏆
Shopify


---
After hours of in-depth research and evaluation, we can confidently recommend this brand to our readers. Get started today and see Shopify for yourself.
The Merchant Maverick Seal of Approval 🏆
Shopify


---
After hours of in-depth research and evaluation, we can confidently recommend this brand to our readers. Get started today and see Shopify for yourself.
To learn more about how we score our reviews, see our
eCommerce Software Rating Criteria
.