Everything You Need To Know About Shopify POS Hardware: Cost, Where To Buy, & More
Read on to learn everything you need to know about Shopify hardware: what you need, how much it costs, where to get it, and how you can get the most bang for your buck if you're budget-conscious.
Expert Analyst & Reviewer

UPDATED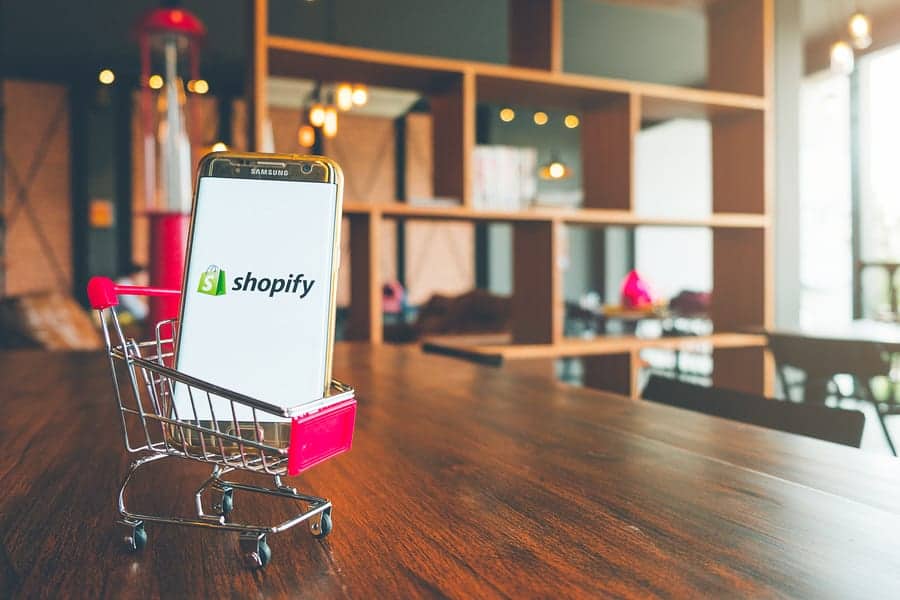 Shopify is a giant in the eCommerce world and has one of the best POS systems available.
Shopify is very upfront about disclosing every hardware component that its point of sale system works with. That makes it easy to source equipment on your own, purchase the right bundle from Shopify directly, or check to see if you can use any POS hardware you already own.
That said, it can take a little time and head-scratching to figure out the best Shopify hardware setup for your business.
Your hardware options will depend on various factors, such as whether you want to use an iPad or Android tablet, which Shopify plan you purchase, and whether you want to use Shopify's in-house processor. Your particular selling needs will also determine your hardware needs — for example, cashless businesses won't need a cash drawer.
Read on to learn everything you need to know about Shopify hardware: what you need, how much it costs, where to get it, and how you can get the most bang for your buck if you're budget-conscious.
Shopify POS Hardware Options
Shopify manufactures and sells several Shopify-branded POS hardware options, including the Shopify Retail Kit, Shopify POS Go, Shopify Tap & Chip Reader, and Shopify Retail Stand. Here is some information about Shopify hardware and pricing.
Shopify Retail Kit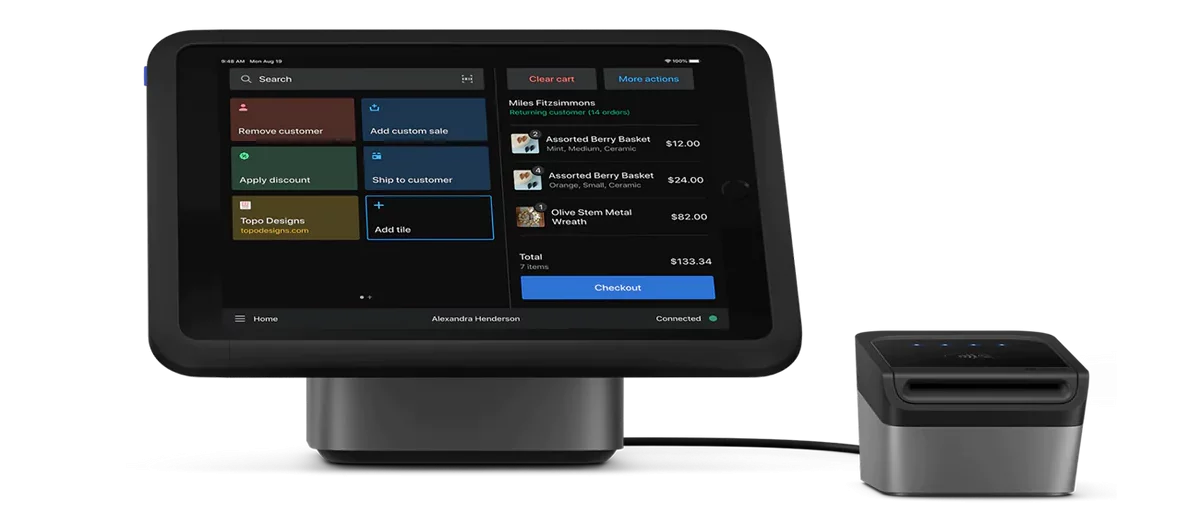 Pros
Includes Shopify Tap & Chip Card Reader, Shopify Dock for Tap & Chip Card Reader, Shopify Retail Stand for iPad (or Bouncepad Eddy Tablet Stand for Android version), & Shopify Mounting Kit

Versions for 9.7″ iPad, 10.2″ iPad/10.5″ iPad Air, & Android tablets

Keeps POS devices charged & secured to counter

Accepts chip & contactless payments
Cons
Doesn't include Shopify receipt printer, cash drawer, or barcode scanner

Reader doesn't accept swiped payments
Shopify Retail Kit Pricing
$219 for all versions (iPad & Android)
Shopify POS Go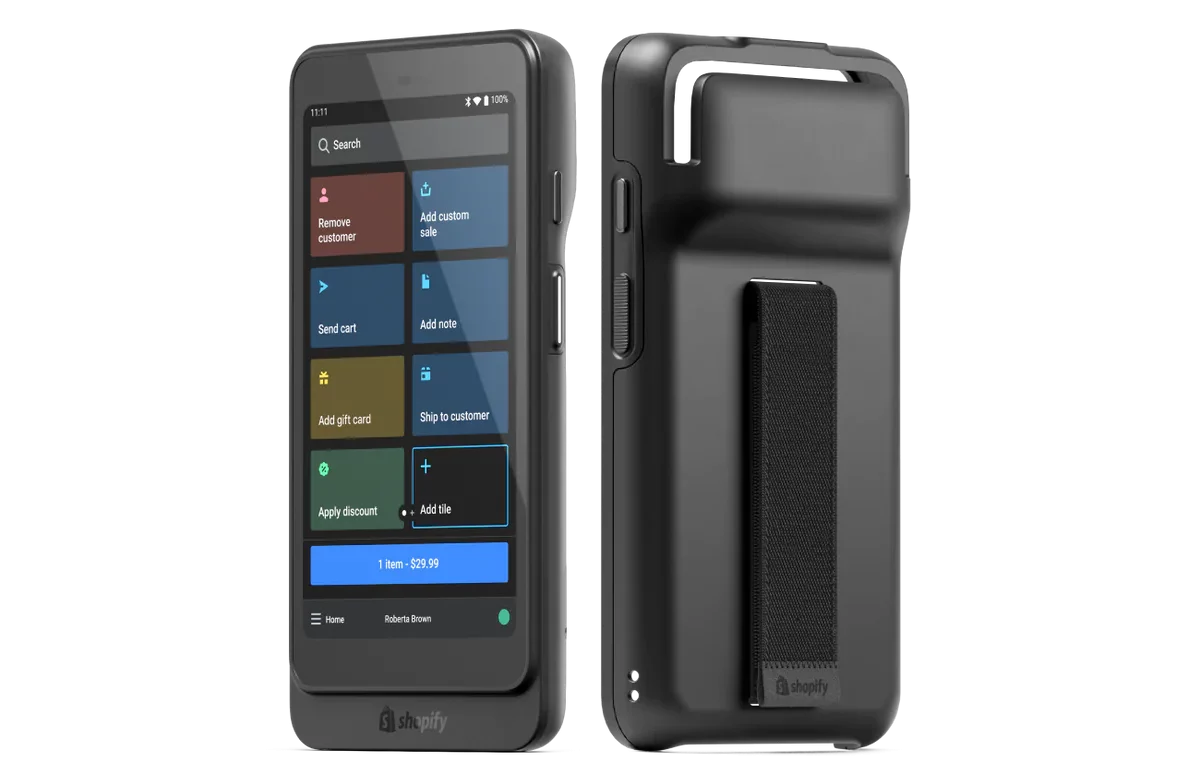 Pros
All-in-one mobile POS

Accepts tap, chip, & swipe payments

Integrated 1D/2D barcode scanner

Optional protective case with adjustable hand strap
Cons
No built-in receipt printer

Doesn't support Bluetooth
Shopify POS Go Pricing
$399 for for Shopify POS Go only
$39 for Shopify POS Go Case
Shopify Tap & Chip Reader

Pros
Accepts chip & tap payments

Connects wirelessly using Bluetooth

Compatible with Apple & Android Devices
Optional charging dock, which also raises charger to a comfortable height for customers
Cons
Doesn't accept swiped payments

Must use Shopify Payments for processing
Shopify Tap & Chip Reader Pricing
$49 for reader only
$39 for charging dock
Shopify Retail Stand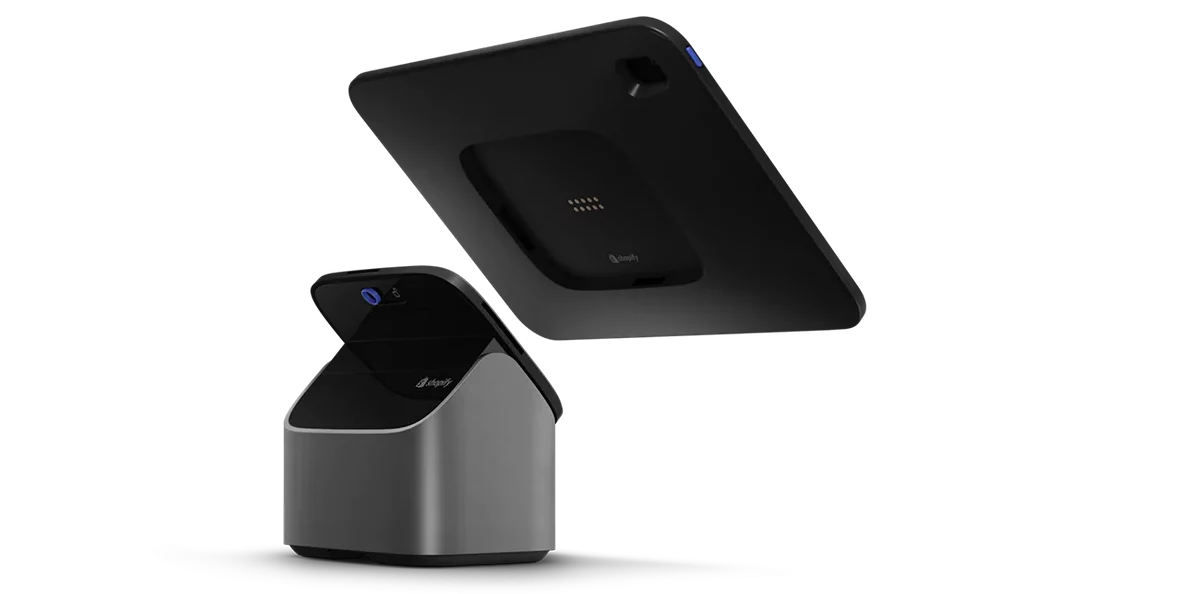 Pros
iPad case is detachable from stand base
Tablet flips so customers can tip & sign off on their purchase
Keeps tablet charged
Includes 2 USB ports to attach peripherals like a card reader & barcode scanner
Versions for 9.7″ iPad & 10.2″ iPad/10.5″ iPad Air
Cons
Not compatible with iPad Air 3rd Generation
Not compatible with Android tablets
Shopify POS Go Pricing
Shopify POS Hardware Compatibility
Besides Shopify's branded POS hardware, Shopify POS is also compatible with a wide variety of POS hardware from other manufacturers, including the following iPad stands, cash drawers, receipt printers, scanners, and other accessories. You can purchase some of these components directly from Shopify's website and Shopify also gives the model numbers of these compatible components in some cases.
iPad Stands
Shopify supports the following iPad stands:
@Rest iPad Stand: HDAR2 or H234
WindFall Stand For iPad Air (& iPad Pro 9.7″): HDWFA1 or H236
WindFall Stand For iPad Mini: HDWFM01 or H434
Bouncepad Eddy Tablet Stand
Bouncepad Click Tablet Stand
Universal Tablet Stand
Cash Drawers
Here are some cash drawers and associated model numbers Shopify POS supports for US merchants:
APG Arlo: EKDS320
APG Vasario 329: VB320-BL1616
Star Micronics 14″: CD4-1416
Star Micronics 13″: 37964220 and 37964180
Star Micronics 16″: 37965600 and 37965590
Windfall Cash Drawer: HDWFCDA and H225
Receipt Printers
As you may have noticed, there is no official Shopify receipt printer. So, you'll have to purchase a third-party receipt printer if you want to use one. Depending on which device you're using, Shopify POS supports Bluetooth, Wi-Fi, LAN, and USB receipt printers, including the following:
Star Micronics TSP100IIIBI: 39472110 (Bluetooth)
Star Micronics TSP650IIBI: 39449871 (Bluetooth)
Star Micronics TSP100IIIW: 39464790 (Wi-Fi)
Star Micronics TSP100III LAN: 39463110 (LAN)
Star Micronics TSP100USB: 39461110 (USB)
Epson TM-m30II (Bluetooth)
As mentioned, Shopify POS Go is not compatible with Bluetooth printers.
Barcode Printers & Scanners
Many retail stores use barcodes for their inventory items. With barcode printers and scanners, you can easily print and scan 1D barcodes (standard barcodes) and also 2D barcodes (QR codes). As follows are some of the barcode printers and scanners Shopify is compatible with.
Barcode Printers
Dymo LabelWriter 450: 1752264
Dymo LabelWriter Wireless Printer: 2002150
1-D Barcode Scanners

Socket Mobile S700: CX3360-1682 or CX3397-1855
Socket Mobile 7Ci: CX2870-1409, CX2895-1508, CX2885-1484, CX2883-1480, or CX2887-1486
2-D Barcode Scanners
Socket Mobile S740: CX3431-1881 or CX3419-1838
Socket Mobile 7Qi: CX3308-1528, CX3316-1536, CX3312-1532, CX3310-1530, CX3314-1534
mPOP Kits
Rather than purchasing a Shopify Retail Kit or buying your iPad stand, cash drawer, and receipt printer separately, you can opt to purchase a Star Micronics mPOP™ all-in-one kit, which includes an iPad stand along with a combined cash drawer and receipt printer and internal power supply.
Choose from the following models:
Star® mPOP™ Basic: 39650211 or 39650011
Star® mPOP™ With Scanner: 39650310 or 39650110
Since the Star mPOP bundles do not include a Shopify card reader, you can use them with an external payment processor.
Shopify Software Plans & Hardware Compatibility
Whether you can connect POS equipment to your Shopify account actually depends on your Shopify software plan. Your Shopify software version you use will also affect whether you can connect POS hardware to your Shopify account to sell in person.
All Shopify plans, aside from the Shopify Starter ($5/month) plan, work with Shopify's card reader, starting with the Basic Shopify plan ($29/month if paid annually or $39/month if paid monthly).
However, the version of the app you're using with your plan matters too. For example, if you're using the older Shopify Classic version of Shopify POS, you'll need to switch to the "Shopify" plan ($79/month if paid annually or $105/month if paid monthly) or higher to connect any other POS equipment, including a cash drawer, receipt printer, or barcode scanner.
If you upgrade to the "All-New POS" version of Shopify, you can connect whatever hardware you want. That means you can connect a cash drawer, receipt printer, mPOP, etc. Once you upgrade to the new Shopify POS, you can connect any Shopify hardware on any Shopify plan besides Shopify Starter.
The new POS version also includes the ability to track hardware connectivity for all of your Shopify POS hardware from within the app so that you can troubleshoot easily.
One more thing to keep in mind is that when you update to the new POS version, you will also automatically be upgraded to the new Shopify POS Pro subscription add-on. The add-on includes advanced features, such as unlimited registers and omnichannel selling features that allow customers to buy in-store and have the item shipped to their homes.
You'll be charged an additional $89/month (plus your Shopify plan fees) if you want to keep the Pro subscription add-on, but as long as you stay on the new POS version, you'll be able to keep your hardware integrations.
Can I Buy Third-Party Hardware For Shopify POS?
Yes, you can purchase Shopify-compatible POS hardware from a third party, except for card readers, which you must buy from Shopify directly. Since Shopify gives you the exact model numbers of the equipment you can use in many cases, it should be easy to do comparison shopping.
You can find compatible Shopify hardware, such as iPad stands, cash drawers, and barcode scanners, on sites like Amazon, Staples, or even eBay. Shopify's hardware prices are pretty good, but it may be possible to find a better price for certain items elsewhere — just make sure you verify the item model number to ensure compatibility.
One benefit of purchasing equipment directly from Shopify is that Shopify offers 24/7 support for that hardware and risk-free 30-day returns. A third-party hardware vendor may not provide those same protections. And even if that vendor offers support, it's generally better to receive POS hardware support from your POS software company because it will better understand how the hardware interacts with the software and payment processing system.
Shopify also offers financing options for some of the pricier hardware items, such as receipt printers, label printers, iPad stands, and hardware bundles. Third-party sellers may or may not offer equipment financing, but if you do finance your POS hardware, it's important to make sure you're getting fair terms on that financing.
How Do I Get The Best Deal On Shopify Hardware?
So how can you get the best prices on Shopify POS equipment and avoid overspending but still get the maximum functionality?
First, take a close look at your needs to make sure you don't get more than what's necessary (if you don't use barcodes, you won't need a barcode scanner; if you don't accept cash, you won't need a cash drawer). You'll also need to ensure that POS hardware is compatible with your device, Shopify plan, and Shopify version.
Go through the Shopify hardware website and price out a few different scenarios, including the cost to buy items individually and how much it would be to purchase that hardware as a bundle.
You can also shop for hardware on non-Shopify websites, but just make sure you check the vendor's return and support policies and keep in mind that Shopify won't be able to help you if your hardware doesn't work as expected.