Shopify Tap & Chip Card Reader Review
This handy mobile card reader works seamlessly with the Shopify POS app, but it's currently sold out and possibly won't be back in stock until late 2022.
Expert Analyst & Reviewer

UPDATED
Advertiser Disclosure: Our unbiased reviews and content are supported in part by
affiliate partnerships
, and we adhere to strict
guidelines
to preserve editorial integrity.
Shopify Tap & Chip Card Reader

Pros
Easy to use
Bluetooth connection
Accepts chip and contactless/NFC transactions
Cons
Does not process magstripe transactions
The dock costs an additional $39
What Is The Shopify Tap & Chip Card Reader?
Shopify's Tap & Chip Card Reader is a handy mobile credit card reader that works seamlessly with the Shopify POS app and accepts cutting-edge forms of payment for a reasonable price.
Overall Design
Let's examine the Shopify Tap & Chip Card Reader, the dock built to work with it, and the devices' respective packaging.
Measuring 2.83 x 3.39 x 0.51 inches and weighing 0.2 pounds, the Shopify Tap & Chip Card Reader is a small, light device. If you plan to accept occasional card payments with the device in your hand, it shouldn't be a problem. However, the device doesn't come with a clip or holder to secure it.
For that reason, you'll likely want to pair it with the dock Shopify offers for the device, which is sold separately for $39. The dock holds the reader securely in place and keeps it charged, and it also comes with a bolt and nut so that you can mount it to a countertop. The dock holds the device very securely, so you won't need to worry about the reader coming loose. The one issue I have with the dock is that it can be a bit difficult to remove the reader from the dock when you want to separate the two.
Looking at the card reader itself, the power button and the USB-C charging port are both on the back of the device. Along the top of the device, there are four lights (they aren't visible when off) that double as both battery indicator lights and payment status indicator lights.
The reader also comes with a short USB charging cord (no wall plug included). Thankfully, the dock comes with a much longer 6-foot USB charging cord.
Shopify Tap & Chip Reader Hardware Specs
As you would expect of a device called Tap & Chip Card Reader, both EMV/chip card transactions and NFC/contactless transactions are accepted. Specifically, the reader will accept the following:
Visa and Visa Debit
Mastercard and Debit Mastercard
American Express
Discover
Apple Pay
Google Pay
You'll need to pair your reader with a Shopify POS-enabled device via Bluetooth. The following devices can connect to the reader:
iPhone: iPhone 5 or better running iOS 11.4 or higher
iPad Air: Generation 2 or better running iOS 11.4 or higher
iPad: Generation 4 or better running iOS 11.4 or higher
iPad Mini: Generation 2 or higher running iOS 11.4 or higher
iPad Pro: All iPad Pro models running iOS 11.4 or higher
Android: Android device running version 5.0 (Lollipop) or higher
As for battery performance, Shopify states the following: "The Tap & Chip Reader takes one to two hours to charge fully. After the reader's fully charged, its battery should last for a week of selling." Of course, if you're using the dock, you won't need to worry about the state of the battery.
Additionally, you must use Shopify Payments as your payment processor to use the Tap & Chip Reader.
Getting Started With The Shopify Tap & Chip Reader
Getting your Shopify reader ready for selling is a breeze. Do the following, and you'll be prepared to accept payments:
Charge your card reader. When the reader is fully charged, all four battery indicator lights on the top of the device will light up. This should take one to two hours.
Download and install the free Shopify POS app onto your mobile device.
Open the app and log in to your Shopify store (sign up for an account if you haven't already).
Press the power button on the back of the reader to turn it on.
At this point, the reader should connect to the app via Bluetooth automatically (make sure you have Bluetooth enabled on your mobile device). To check that the connection has been made, touch the Home button in the lower left of the app, then select Settings from the menu that comes into view. Next, scroll down to the link that reads Set up hardware. Select Card Reader from the next menu and then select Tap & Chip. At this point, if your reader is on, the app should discover it. A Connect card reader link should display. When I did this, I got a message saying, "Pairing failed — already paired," as the pairing had already happened automatically.
The following video walks you through the setup process in a bit more detail. However, the part detailing how to turn on "accept credit cards at checkout" will probably be unnecessary for you, as the setting should turn on by default.
The device comes with a USB charging cable but no wall plug, so if you don't have a wall plug handy, you'll need to connect the cable to a laptop or battery pack to charge. If you use the reader with the dock accessory, the dock will need to be plugged in — and it doesn't come with a wall plug, either. However, the dock's 6-foot USB cable should give you some flexibility in terms of device placement.
Let's discuss how you accept payments with the reader. To accept a tap payment, do the following:
From the Shopify POS Select payment screen, tap Credit.
Tap the contactless payment card or device on the face of the card reader and hold it in place until the four blue notification lights appear. When Shopify POS displays a Payment received message, the transaction is complete.
To accept a chip payment:
From the Shopify POS Select payment screen, tap Credit.
Allow the customer to insert their card. The chip should face up toward the Shopify logo.
If a signature is required, allow the customer to sign their name on the signature screen. When a customer is happy with their signature, they tap Submit signature.
When the transaction is successful, choose whether to provide a receipt and then tap Start new order. The customer can now remove their card.
Software Design & Features
The Shopify Tap & Chip Reader is only available online from Shopify's website and is only compatible with Shopify POS. You won't be able to use it with any other processing app.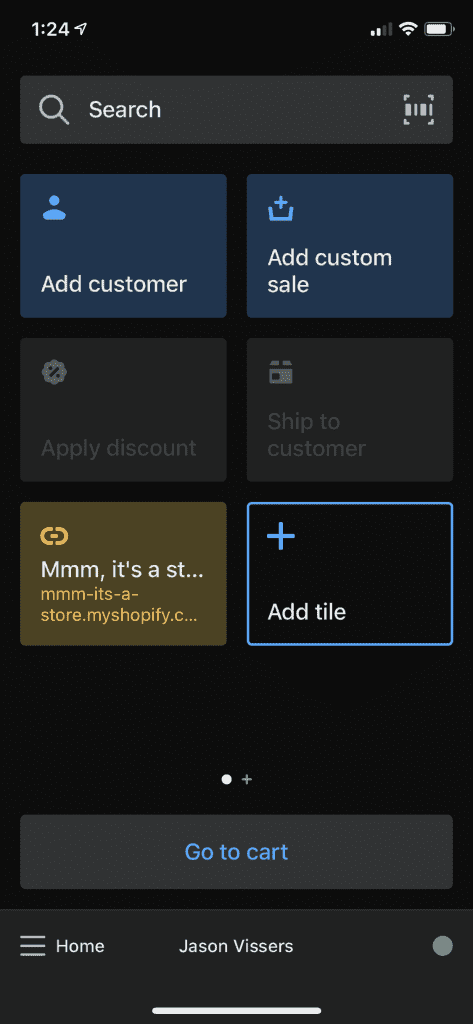 To get the full scoop on the app, you'll want to read our Shopify POS review. We'll provide the Cliffs Notes version here, though.
We here at Merchant Maverick are fans of Shopify POS. The pricing is competitive, and the system is strikingly intuitive to use. It easily integrates with your Shopify online store if you have one. However, the app is designed specifically for retail, and it works perfectly well on a standalone basis — though, of course, you'll still have the eCommerce features should you need them.
Here's just some of what you'll get with Shopify POS:
Payment Features
Accept Two Or More Payment Options: Shopify POS allows you to split tenders and accept more than one payment type in a single transaction.
Gift Cards: Create gift cards that are redeemable either in-store or online.
Custom Payment Options: One of Shopify POS's most unique features is the ability to generate custom payment options. Want to accept personal checks, gold coins, or Monopoly money as payment? This is how you do it.
Multiple Sales Channels: Create a "Buy Button" to paste into your website and/or social media channels. Sell items from wherever you want — not just directly from your Shopify online store.
Checkout Features
Automatic Tax Calculations: Shopify POS automatically calculates sales tax based on the location of your store. Additionally, you can set up custom taxes for specific products or orders.
Shipping Addresses: You can store a customer's address and contact details so that you can ship their orders in the future.
Custom Receipts: You can fully customize both your digital and printed receipts. This requires the Shopify POS Pro add-on, though.
Store Management Features
Integration With Accounting Software: Shopify POS can integrate with accounting software, including QuickBooks and Xero.
Order Histories: View all past orders, whether made in-store or online.
Multiple Staff Accounts: This option is available with the more advanced Shopify POS plans.
Reporting: Shopify POS gives you several analytical tools, including dashboards that track sales, orders, and traffic patterns.
Product Management Features
Product Organization: You can organize your products in just about any way you want. You can also offer multiple sizes, materials, and color options for your products, each with its own price, weight, SKU number, etc.
Inventory Management: Shopify's advanced inventory management system makes tracking your best-selling items easy and keeps tabs on what items are the most cost-effective.
Barcode Support: Each product can either be assigned an existing barcode or fitted with a new one.
Ease Of Use
Though I don't have much experience with operating card readers and POS software — not on the business end, at least — I didn't have any trouble setting up the device, as the process is nearly self-explanatory. What's more, the knowledgebase and training videos available through the app ensure that you should be able to perform basic Shopify POS functions.
Let's compare the experience of using Shopify POS (your use of the Tap & Chip Card Reader is a part of this experience) to the experience of using a "traditional" merchant account to process payments.
Merchant accounts can have their advantages in terms of total processing costs, particularly for big-time merchants with the heft to negotiate custom processing rates. However, you'll need to be wary of certain things, such as equipment leases, processing contracts, early termination fees, and the particulars of which merchant account provider is compatible with which integrations and card reading devices.
By contrast, the Shopify payment ecosystem is much easier to navigate for the average small business and startup outfit. With no contracts to sign, a built-in payment processor, and an extensive array of integrations, you'll be free to focus the lion's share of your energies on growing your business.
Shopify Card Reader Pricing
When the Tap & Chip Card Reader was last available from Shopify's website, it sold for $49, and the dock is currently available for $39. Some third-party processors may offer you a free card reader, though these readers typically don't accept tap transactions. Forty-nine dollars is a good price for a simple, user-friendly card reader that accepts tap and chip payments. It's also likely that Shopify will offer a discounted rate on card readers for new POS users at some point in the future, as it has done so in the past.
As for the cost of payment processing on this device, that depends on your Shopify plan. Here's what you'll pay per transaction:
Basic Shopify ($39/month if paid monthly or $29/month if paid annually), 2.9% + $0.30 for online transactions, 2.7% for in-person transactions
Shopify ($105/month if paid monthly or $79/month if paid annually), 2.6% + $0.30 for online transactions, 2.5% for in-person transactions
Advanced Shopify ($399/month if paid monthly or $299/month if paid annually), 2.4% + $0.30 for online transactions, 2.4% for in-person transactions
If you use a payment processor other than Shopify Payments, you'll encounter additional transaction fees: 2.0% per transaction with a Basic Shopify plan, 1.0% with a Shopify plan, and 0.5% with an Advanced Shopify plan.
On the whole, however, Shopify's pricing structure is very competitive. Here's the full Shopify fees and pricing guide of what you'll get with each Shopify subscription plan.
Customer Service & Support
Shopify's customer support has a better reputation than some other commerce giants (I'm thinking specifically of PayPal). The quality and swiftness of Shopify's support are typically regarded as quite good. However, there have been public complaints regarding the company's customer support — not surprising for such a sizable company.
Shopify offers 24/7 direct customer support via phone, live chat, email, and Twitter and provides a wide array of supplementary customer support options as well:
Academy: Free training courses with videos and full transcripts are available.
Encyclopedia: Definitions and overviews of eCommerce terms and concepts.
Guides: Multichapter PDF guides on specific topics.
Forums: Several separate community forums are available, depending on your needs.
Developer Docs: API documentation and other resources for the technically inclined.
Webinars: Sign up for live webinar broadcasts.
Podcast: The Shopify Masters Podcast features interviews with successful store owners.
Blog: The Shopify blog is well-maintained and informative.
Changelog: Stay on top of new and updated features available for your store.
Free Tools: Content templates, calculators, and other free resources accessed from the main website.
Experts: From developers to designers to marketers, Shopify experts are available for hire.
YouTube: The dedicated Shopify Help Center channel has countless video tutorials posted.
Shopify Tap & Chip Card Reader Reviews, Complaints, & Common Problems
I haven't seen many reviews of the Tap & Chip Card Reader specifically — this section refers to reviews of Shopify POS and Shopify as a whole.
Negative Shopify Card Reader Reviews & Complaints
While Shopify POS and Shopify both come in for more praise than criticism, there are a number of common complaints.
Offline Functionality: Shopify POS's lack of offline functionality has been a sticking point for some users. Some services allow you to continue to process transactions during an outage, but not Shopify.
Extra Costs: Some have found the cost of using Shopify to be significantly higher than is initially apparent once they find that they need to purchase software/feature add-ons to have the functionality they need.
Bugs: Many users have complained about bugs and errors harming their experience.
Poor Service With Shopify Payments: Many users have faulted Shopify Payments for withholding payments. However, this is a risk common to third-party processors. Read our article on avoiding account holds and terminations to learn more.
Positive Shopify Card Reader Reviews & Testimonials
Overall, Shopify's services are very well-received by users, especially when compared to similar services. Here's what people tend to like about Shopify.
Ease Of Use: Merchants have raved about the supreme simplicity and ease of use of both Shopify POS and Shopify as a whole. Simply put, there are a few easier ways to start a shop and begin selling, both online and in brick-and-mortar settings.
Inventory Management: Many customers have noted how easy it is to import inventory and how well Shopify POS handles a wide variety of products.
Good Customer Service: While not everyone loves Shopify's customer service, the mere fact that Shopify offers a phone line and live chat with 24/7 availability places it ahead of many competitors. Plenty of users have praised the support staff's friendliness and helpfulness as well.
Extendability: Many user reviews have noted Shopify's interconnectedness with the rest of the eCommerce software universe.
Final Verdict On The Shopify Tap & Chip Card Reader
The Shopify Tap & Chip Card Reader is a fine device and, at its last price point of $49, was quite competitively priced for a reader that accepts NFC/contactless payments. I'm giving it a score of 4.5 out of 5. To be truly useful in a retail setting, you'll need to use it with the $39 dock that is, unfortunately, sold separately.
Still, even when taking this into consideration, the Tap & Chip Reader is a powerful and cost-effective retail commerce tool. We hope that it will be back in stock as soon as possible.
If you've used the Shopify Tap & Chip Reader to process payments, we'd love to hear about your experiences. Please leave us a comment and let us know if the device has met your business needs!
---
The Merchant Maverick Seal of Approval 🏆
Shopify Tap & Chip Card Reader


---
After hours of in-depth research and evaluation, we can confidently recommend this brand to our readers. Get started today and see Shopify Tap & Chip Card Reader for yourself.
The Merchant Maverick Seal of Approval 🏆
Shopify Tap & Chip Card Reader


---
After hours of in-depth research and evaluation, we can confidently recommend this brand to our readers. Get started today and see Shopify Tap & Chip Card Reader for yourself.