How To Keep Your Payment Processor From Holding Funds Or Terminating Your Account: What Small Businesses Need To Know
Contributor

UPDATED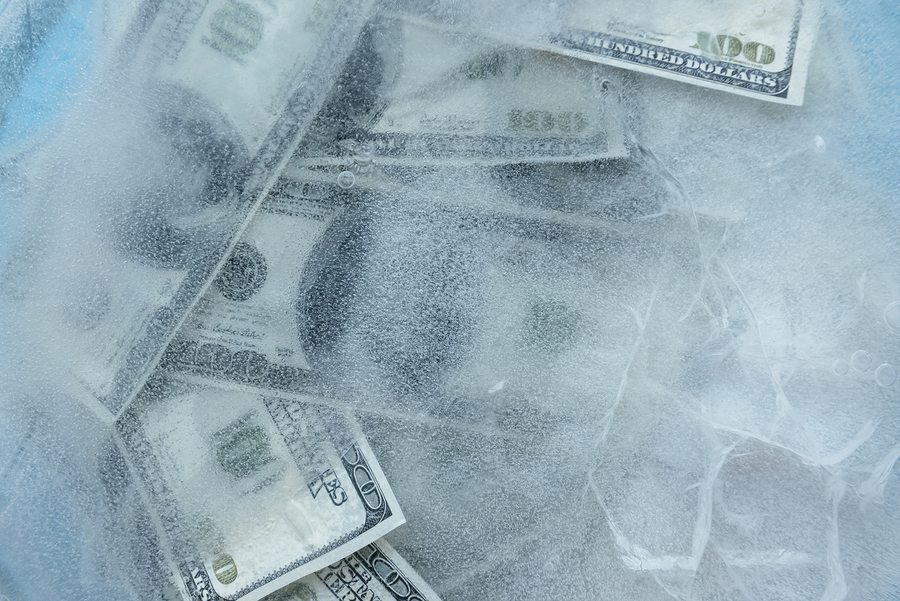 Nothing can bring your business to a screeching halt quite like a hiccup in your payment processing flow. Whether it's withheld funds, a freeze on processing ability, or the complete termination of your account, these scenarios are a nuisance at best and devastating at worst.
We're here to explain the main reasons why processors hold funds, freeze accounts, or terminate an account entirely. We'll also look at ways to prevent this from happening so you can keep your cash flowing and your business on solid footing.
The Most Common Merchant Problem: Withheld Funds
Going from the least severe to the most severe thing a processor can do to affect your cash flow, let's first discuss what it means when there is a hold on your funds. Note that your processor has no obligation to start with this option. However, if you've never had a problem with a transaction in the past, it's likely that they will first hold your funds until their team can evaluate a transaction, or they might possibly request additional documentation from you.
Defining Withheld Funds (Hold)
A hold on funds occurs when a processor withholds some of a merchant's processing volume and stores it in a separate account as a protective measure in the event of chargebacks, refunds, or fraud. Holds can be applied to individual transactions (usually high-value or very suspicious ones) or to a total percentage of the merchant's business.
The latter is usually referred to as a reserve fund or simply a reserve. A rolling reserve happens when a processor chooses to continue holding a set percentage of a merchant's daily processing volume as a guarantee. After a pre-determined number of days, those funds are released on an ongoing basis. This happens over and over (hence the term rolling reserve). A minimum reserve requires a specific sum to be held for a period of time. With a minimum reserve, funds won't be released until that reserve fund is filled.
A hold may be implemented concurrently with a processing freeze (see below), but not in every case.
Can Your Processor Legally Hold Your Money?
The short answer is yes. The long answer is that you agreed to let them hold your money when you signed your contract.
Sometimes, various provisions can be negotiated out of a contract before you sign, but you almost certainly won't be able to negotiate the funding hold/reserve provisions out of your processing contract. Holding funds on certain out-of-the-ordinary activities is standard industry practice. After all, your acquiring bank is essentially fronting you the money based on the credit card charges, so if there is danger that they might not eventually be able to recoup the money due to chargeback, refund, or fraud, the bank will want to hold the money a little longer for security before releasing it to you.
To give you an idea of the typical contract language that allows a processor to put a hold on your money, we looked through the contracts of several processors. We pulled the Square and Stripe contracts to look at typical third-party processor language and the Fiserv (formerly First Data) and TSYS contracts to look at typical merchant account providers' language. As shown below, the concept of funding holds and reserve accounts are always there in the contract.
Square
Square has several agreements that govern various aspects of its relationship with its merchants. We found Square's fund-holding language in the Payment Terms document. There are several places in the agreement where the concept of holds and reserves are applicable, but the section where the fund is actually set up is below.
13. Reserve for Holding Funds

We may withhold funds by temporarily suspending or delaying payouts of Proceeds to you and/or designate an amount of funds that you must maintain in your Square Accounts or in a separate reserve account (a "Reserve") to secure the performance of your obligations under any agreement between you and Square. We may require a Reserve for any reason related to your use of the Services. The Reserve will be in an amount as reasonably determined by us to cover potential losses to Square. The Reserve may be raised, reduced or removed at any time by Square, in its sole discretion, based on your payment history, a credit review, the amount of any arbitration award or court judgment against you in Square's favor, or otherwise as Square or its processor may determine or require. If you do not have sufficient funds in your Reserve, we may fund the Reserve from any funding source associated with your Square Accounts, including any funds (a) deposited by you, (b) due to you, or (c) available in your bank account, or other payment instrument registered with us. […]
As can be seen above (emphasis added), whether or not to set up a reserve, the amount in the reserve, and the ways to fund the reserve are all at Square's sole discretion. By signing up to do business with Square, you have to agree to the terms above, which gives Square the right to withhold funds from you.
Stripe
While Square's language above sounds severe and gives the company power over your business's money, it is fairly typical of the industry. For instance, Stripe also has similar language in its standard user agreement. The most relevant part is in Section C, Paragraph 8 (emphasis added).
In certain circumstances, we may require you to place funds in reserve or to impose conditions on the release of funds (each a "Reserve"). We may impose a Reserve on you for any reason if we determine that the risk of loss to Stripe, Customers, or others associated with your Stripe Account is higher than normal. For example, we may hold a Reserve if: (i) your or your Customers' activities increase the risk of loss to us or to your Customers, (ii) you have violated or are likely to violate this Agreement, or (iii) your Stripe Account has an elevated or abnormally high number of Disputes. If we impose a Reserve, we will establish the terms of the Reserve and provide you Notice of the amount, timing, and conditions upon which the funds in the Reserve will be released to you. In many cases, the Reserve amount will be the entire amount of Charges processed using the Payment Processing Services. We may change or condition the terms of the Reserve based on our continuous assessment and understanding of the risks associated with your Stripe Account, if required to do so by Payment Method Providers or Payment Method Acquirers, or for any other reason. We may fund the Reserve with funds processed through your use of Payment Processing Services, by debiting the Payout Account or another bank account associated with your Stripe Account, or by requesting funds directly from you.
So, again, by entering into the agreement, you have agreed that Stripe can establish a reserve fund and can fund the account in various ways, including reaching into any bank account associated with your Stripe account and pulling the money.
Fiserv (Formerly First Data)
We pulled two sample contracts from more traditional merchant account providers as well. The first is from Fiserv (the company formerly known as First Data). As you can see almost immediately, the contract language is a lot denser than in the third-party processor contracts. However, essentially they say the same things–your acquiring bank gets to set up a reserve fund if at any time they feel their risk is high processing the payment cards for your business, and the bank gets to pull the money into the reserve fund in various ways, all of which you have authorized in the contract. You can check out the Fiserv/First Data contract in its entirety if you're curious, but for now, this is what we would like to draw your attention to.
18 Reserve Account; Security Interest

18.1 You expressly authorize us to establish a Reserve Account pursuant to the terms and conditions set forth in this Section 18. The amount of such Reserve Account shall be set by us, in our sole discretion, based upon your processing history and the potential risk of loss to us as we may determine from time to time.

18.2 The Reserve Account shall be fully funded upon three (3) days notice to you, or in instances of fraud or suspected fraud or an Event of Default, Reserve Account funding may be immediate. Such Reserve Account may be funded by all or any combination of the following: (i) one or more debits to your Settlement Account or any other accounts held by Bank or any of its affiliates, at any financial institution vested in the name of the Client, any of its principals, or any of its guarantors, or if any of the same are authorized signers on such account; (ii) any payments otherwise due to you, including any amount to from TeleCheck; (iii) your delivery to us of a letter of credit; or (iv) if we so agree, your pledge to us of a freely transferable and negotiable certificate of deposit. […]
(Emphasis added.)
So, like the other agreements already discussed, not only have you agreed to have the processor set up a reserve fund, you have also agreed to the various ways they can pull money to build the fund.
TSYS
Like the Fiserv agreement, the TSYS merchant agreement is in rather formal legal language. In fact, an entire section–Section 13–is devoted to the reserve account. That section is too long to quote, so below is a short summary. As you can see, the section essentially says the same thing as the Square, Stripe, and Fiserv agreements.
The reserve account is opened at the bank's request and funded by the merchant or the merchant's bank with "sums sufficient to satisfy Merchant's current and/or future obligations as determined by Bank in its sole and absolute discretion." Money can come from "deducting from any payment due to Merchant or from any funds in the Settlement Account or any other deposit account of Merchant." (Section 13.1 (a)).
The reserve is under the sole control of the bank and the merchant has no right to withdraw from the account. (Section 13.1(b)).
The amount in the reserve account is determined only by the bank, and the bank may designate a minimum amount, may increase this minimum amount, and may require a percentage to be deposited for every transaction processed. (Section 12.2(a)).
The bank can deduct from the reserve account fees, including processing fees, chargebacks, credit transaction receipts, damages, and any other additional fees. (Section 13.3) When the reserve account falls below a minimum, the bank may replenish the account by pulling money from any payments made under the agreement in the settlement account or any account of the merchant. (Section 13.4).
After the agreement terminates, the bank can hold or deposit funds in the reserve account an amount that can cover outstanding processing fees, chargebacks, damages, or other fees or penalties from the credit card associations. The funds can be held at least 180 days, and more for any warranty, return policy, or similar for the goods or services sold. The bank will release the funds when it reasonably determines the risk of chargebacks and processing fees have ended. (Section 13.6).
Again, the concepts of the bank having the right to fund, hold, and eventually release the money in the reserve account are the same, except the TSYS agreement is a lot more detailed.
The Sibling Problem To A Funding Hold: A Processing Freeze
Simply put, a processing freeze occurs when the processor temporarily shuts down a merchant's payment processing abilities. A processor may use a freeze to analyze a merchant's processing habits and decide whether the merchant has met the terms of the agreement, or decide whether adjustments to the agreement are necessary. This may result in the implementation of a reserve fund, or it might result in account termination. Unlike an actual termination (coming up next), a freeze is potentially temporary.
Looking through the sample contracts once again, it's clear that the processing freeze language is not as precise as the reserve fund or termination language. The concept doesn't have a dedicated section in any of the contracts we explored, and relevant language is spread throughout. For instance, in the Square agreement, freezing has more to do with stopping payout to you than with sending an error message when a customer swipes a card. After all, if you can't access your funds at all after you made the sale, your ability to process payment cards is just as good as frozen.
There are at least two places in Square's agreement where account freezing is discussed. The language in Section 11 below discusses stopping payout to your business (bold portion).
We may defer payout or restrict access to your Proceeds if we need to conduct an investigation or resolve any pending dispute related to your use of the Services. We also may defer payout or restrict access to your Proceeds as necessary to comply with applicable law or court order, or if requested by any governmental entity […]
Similarly, in Section 15 of the agreement, you grant Square the ability to freeze your accounts to protect Square's financial interests.
You grant us a security interest in, as well as a right of setoff against, and assign, convey, deliver, pledge and transfer to us, as security for repayment of any obligations due under these Payment Terms and any other agreement you have with us, all of your right, title, and interest in and to all of your accounts with us. You grant us Recovery Authorizations concerning funds you are obligated to repay us. You authorize us to administratively freeze or direct any third party bank holding the account to freeze all such accounts to allow us to protect our security interest, collection, charge and setoff rights as provided for in this section.
Looking at Stripe's contract, the concept of freezing an account seems to have more to do with refusing to process the credit card charges. A portion of Section A, Paragraph 10(a), which mostly focuses on termination, does contain account freeze language:
We may suspend your Stripe Account and your ability to access funds in your Stripe Account, or terminate this Agreement, if (i) we determine in our sole discretion that you are ineligible for the Services because of significant fraud or credit risk, or any other risks associated with your Stripe Account; (ii) you use the Services in a prohibited manner or otherwise do not comply with any of the provisions of this Agreement; (iii) any Law, Payment Method Provider or Payment Method Acquirer requires us to do so; or (iv) we are otherwise entitled to do so under this Agreement. A Payment Method Provider or Payment Method Acquirer may terminate your ability to accept its Payment Method, at any time and for any reason, in which case you will no longer be able to accept the Payment Method under this Agreement.
(Emphasis added).
There are other sections throughout the agreement that address freezes as well. For example, Section C, Paragraph 1, has the following language:
Stripe works with various Stripe affiliates, Payment Method Providers and Payment Method Acquirers to provide you with access to the Payment Methods and Payment Processing Services. Where the Payment Processing Services enable you to submit Charges (as defined below), we may limit or refuse to process Charges for any Restricted Businesses, or for Charges submitted in violation of this Agreement.
So, if Stripe thinks you are in violation of the agreement, they can simply refuse to process your credit card charges. In that case, your account is frozen because the transactions won't process at all.
With Fiserv, the account freeze language is fairly difficult to find. There is a small mention of it in Section 8.5 related to Settlement of Card Transactions, where the agreement states:
In addition to any other remedies available to us under this Agreement, you agree that should any Event of Default (see Section 17) occur, we may, with or without notice, change processing or payment terms and/or suspend Credits or other payments of any and all funds, money and amounts now due or thereafter to become due to you pursuant to the terms of this Agreement until we have had reasonable opportunity to investigate such event.
Finally, with TSYS, some account freeze language can be found in Section 13.5. That section roughly states that:
If the bank believes that the merchant may be liable for chargebacks in an amount larger than the balance of the reserve account, then the bank can stop processing cards until the Bank feels the liability for chargebacks has stabilized, or demand money from the merchant to make up for the deficiency, or terminate the agreement immediately.
The Worst-Case Scenario For Merchants: Account Termination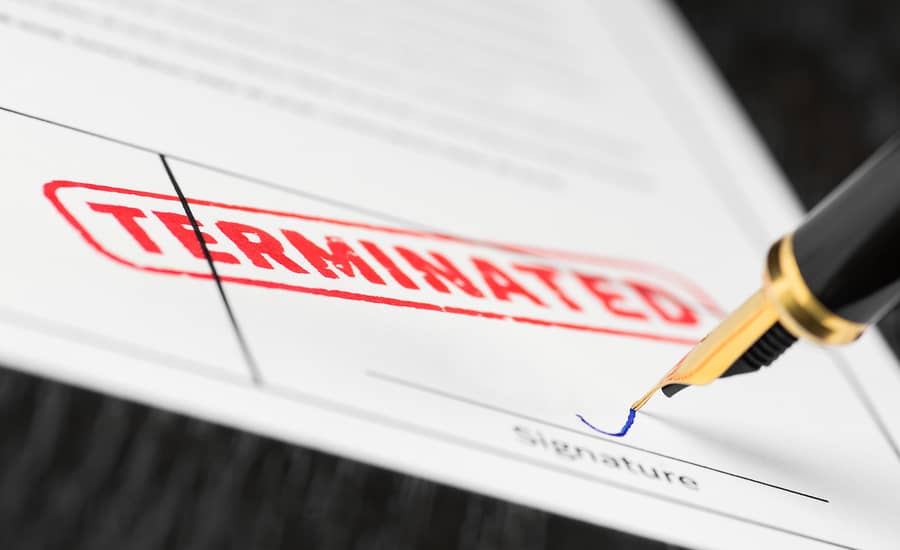 An account termination is pretty self-explanatory. Commonly, a processor will terminate an account if they deem a merchant to be in clear violation of their terms, or if the merchant has misrepresented their business in the application process. Again, looking at some of the typical contracts, account terminations are pretty much at the processor's discretion.
Square
For Square, termination is laid out in Paragraph 35 of their Payment Terms agreement. Specifically, the section states:
35. Termination of Payment Services

Square may Terminate your use of the Payment Services at any time for any reason. Any termination of these terms does not relieve you of obligations to pay Fees or costs accrued prior to the termination, Chargebacks, and any other amounts owed to us as provided in these Payment Terms or the Terms of Service. If your access to Payment Services has been terminated, you may still be permitted to use Square's other products, subject to our discretion.
This is very broad language and seems to give a merchant absolutely no protection against Square arbitrarily and capriciously terminating service. However, Square is a business and businesses need customers. So, despite the language, Square is unlikely to terminate your account for no reason whatsoever. A quick skim of their agreement reveals some common reasons for termination:
Using Square's services in "Unsupported Industries" (Section 3).
Making misrepresentations about your business when you sign up for your Square account and failing to provide documentation as proof (Sections 6, 7, and 8).
Excessive chargebacks (Section 19).
Using your account for restricted, unauthorized, or illegal purposes (Sections 21, 22, 23, and 24).
If you look carefully at Square's contract, you might be able to find additional reasons, but the ones listed above are the most common reasons for termination.
Stripe
Section A, Paragraph 10 of the Stripe's Services Agreement specifically addresses termination. The relevant language is as follows:
a. Term and Termination: This Agreement is effective upon the date you first access or use the Services and continues until terminated by you or Stripe. You may terminate this Agreement by closing your Stripe Account at any time by opening the data tab in your account settings, selecting "close my account" and ceasing to use the Service. If you use the Services again or register for another Stripe Account, you are consenting to this Agreement. We may terminate this Agreement or close your Stripe Account at any time for any reason (including, without limitation, for any activity that may create harm or loss to the goodwill of a Payment Method) by providing you Notice. We may suspend your Stripe Account and your ability to access funds in your Stripe Account, or terminate this Agreement, if (i) we determine in our sole discretion that you are ineligible for the Services because of significant fraud or credit risk, or any other risks associated with your Stripe Account; (ii) you use the Services in a prohibited manner or otherwise do not comply with any of the provisions of this Agreement; (iii) any Law, Payment Method Provider or Payment Method Acquirer requires us to do so; or (iv) we are otherwise entitled to do so under this Agreement. A Payment Method Provider or Payment Method Acquirer may terminate your ability to accept its Payment Method, at any time and for any reason, in which case you will no longer be able to accept the Payment Method under this Agreement.
(Emphasis added.)
Note the specific reasons listed in (i) – (iv) for account termination. Looking at the other portions of the agreement, Stripe can terminate services if you:
Provided incorrect information when registering/applying to open an account, including giving false identity or organization type (Section A, Paragraph 2).
Use the services for illegal activities or for restricted business activities (e.g. financial services, selling counterfeit goods, gambling, providing adult content, selling illegal drugs or drugs related paraphernalia, etc.) (Section A, Paragraphs 7 & 8).
Fail to comply with rules of the credit card networks or NACHA (National Automated Clearinghouse Association) (Section C, Paragraph 6).
Fail to set up and link a bank account to take or send payments to Stripe to settle payment funds (Section C, Paragraph 7).
Fail to comply with PCI standards (Section D, Paragraph 2(c)).
Fiserv (Formerly First Data)
For Fiserv, the Termination provision is in Paragraph 15.3, with the relevant portion quoted below:
Notwithstanding the above or any other provisions of this Agreeent, we may terminate this Agreement at any time and for any reason by providing 30 days' advance notice to you. We may terminate this Agreement immediately or with shorter notice upon an Event of Default as provided under Section 17 of this Agreement. […]
Section 17 is long and contains a laundry list of items to be considered as Event of Default. Some of the ones worth noting are:
Any material change in the financial condition of your business.
Any change of control/ownership of your business.
Irregular card sales, excessive chargebacks, noncompliance with data security standards, actual or suspected data breach, or anything that may present a financial security risk to First Data/Fiserv.
Default or breach of any material terms of the agreement.
Violation of law.
TSYS
Like the other processors, TSYS has a list of reasons it may use to terminate the agreement for cause, and that list can be found in Section 11.2(b) of the agreement. If one of the reasons for termination has been met, then the bank can terminate "in its sole and absolute discretion, effective immediately, upon written, electronic or oral notice to Merchant [….]" Some of the reasons are:
Merchant has violated any provisions of the agreement.
There's a material adverse change in the merchant's financial condition that the bank believes would create a loss to the bank.
Merchant files for bankruptcy.
Merchant provided false, incomplete, or misleading information to the bank when applying for processing services.
Excessive chargebacks (what is excessive is defined in the agreement).
Overdraft in the merchant account.
Merchant or merchant's officers or employees have been processing fraudulent/unauthorized card charges.
So, as you can see above, in every agreement to process credit cards, you have given the processor the right to hold, freeze, or terminate your account. And while some specific terms might vary and the language might be more friendly in some cases, the key takeaways are the same with every processor.
Hopefully, none of this will happen to you. In fact, there are a few things you can do to help prevent account holds, freezes, or terminations.
How To Prevent A Cash Flow Crisis With Your Payment Processor: Eight Steps To Success
Having an uninterrupted cash flow is pretty vital to running a successful business. It would be a nightmare if, one day, that cash flow is suddenly interrupted without warning. We know that your credit card processor does have the power to completely freeze your cash flow, but we also have a fairly good idea of how to prevent this from happening. Regardless of which type of processor you choose, the best steps to prevent holds, freezes, or terminations are fairly universal, and we summarize them below.
1. Pick the Right Type of Processor
Merchant agreements are as varied and diverse as payment processors themselves. But, in the end, what you need to know is that there are two kinds of agreements: direct agreements and third-party agreements. Aside from these options, merchants in certain industries may require a specialized kind of direct agreement called a high-risk merchant account. We'll take a look at all three of these options to help you decide which is right for you before you set out to get any sort of account.
Option 1: Direct Agreements
Traditional merchant accounts are direct agreements that create a unique account solely in your name. This includes large companies such as Fiserv (First Data) or Vantiv, as well as smaller ones such as Helcim or Dharma Merchant Services. With these accounts, you are the merchant of record. Your terms are often negotiable because they are catered to your processing history and industry type.
When you apply for an account, underwriters review your business thoroughly before making an offer. As a result, merchant accounts, on the whole, offer a high degree of stability. It might take a bit of back-and-forth before you can open the account, but the process has certainly been streamlined in recent years.
Merchant accounts are often best suited to well-established businesses with consistent cash flow. It's usually the most cost-effective option when you process above $10,000 a month (and sometimes even above $5,000 a month). If you're not as well-established or you only make sales infrequently, third-party processing might be a better solution.
Option 2: Third-Party Processing
Third-party processors lump individual users into a single large merchant account, which is why they are often referred to as "aggregators." This includes Square, PayPal, SumUp, Stripe, and even Etsy. In these agreements, the processor is the merchant of record. Because of that, these processors do not do as thorough a vetting, which allows them to open accounts almost immediately.
The tradeoff is that, because little vetting is done in advance and there are few (if any) minimum requirements, you are subject to much greater scrutiny afterward. Third-party processors are well-known for their tendencies to subject merchants to holds or terminations. As already discussed above with the sample agreements, nearly all aggregators have terms of service that allow them to implement holds or terminate accounts at any time, for any reason or no reason at all.
However, for low-volume or infrequent businesses, this is usually the most cost-effective solution because most third-party processors have no monthly fees and charge a consistent percentage rather than a percentage and transaction fee. The fact that many of these processors tend to be mobile-focused — that is, they are primarily mPOS apps meant for on-the-go use — also makes them well-suited to businesses without a physical location or those that travel to conventions or trade shows frequently.
Option 3: High-Risk Merchant Accounts
High-risk merchant accounts are just a special breed of direct agreement. Some of the processors that provide standard merchant accounts will offer high-risk accounts as well. Other companies choose to specialize solely in high-risk accounts. So what makes you a likely candidate for a high-risk account?
For the most part, being deemed "high-risk" isn't a personal slight; it rarely has anything to do with your qualifications as a merchant or business owner. It's mostly a matter of your business model or industry. Antiques, collectibles, financial services not provided by a bank, many types of brokering services, anything related to adult entertainment, and most cigarette- or e-cigarette-related businesses qualify as high-risk. Check out our article on high-risk merchants for a far more detailed list of industries usually deemed high-risk.
High-risk accounts offer a lot more stability to high-risk industries. For one, you're much more likely to get approved for an account. Second, there's a much lower risk of encountering an unexpected hold, freeze, or termination. The increased stability is a trade-off, however. In exchange, you're going to pay higher rates than you would with a traditional merchant account or a third-party processor. Furthermore, your processor may require a minimum reserve or a rolling reserve as a condition to even opening the account.
2. Set Expectations & Stick To Them
Here's a counter-intuitive fact: Making too much money could actually become a problem if you, as the merchant, are not careful! Processors want stability. They expect a merchant to process a relatively consistent volume from one month to the next, with mostly consistent ticket sizes.
When you apply for a traditional merchant account, you'll provide information about your expected volume and average transaction size. Processors use this information as a baseline to identify suspicious activity.
If you are a low-volume merchant using a third-party processor, inconsistent processing is less of a concern because the comparative transaction volume is small and the ticket sizes are too, in most cases. Most third-party processors expect to see that behavior, especially at first. (With that said, sudden, large transactions are well-documented as the source of holds and freezes for third-party processors.)
Any processor is going to get a bit antsy when you go from processing $5,000 a month on average to double or triple that in the space of 30 days. Likewise, if your average ticket is $100 and suddenly you have a $1,200 transaction, the people in your processor's underwriting department may get a bit suspicious.
The key is being clear about what volume of card payment transactions you expect to do and then sticking to it. You can also protect your business by obtaining signed invoices and purchase orders from clients. This is great evidence that a purchase is legitimate. If you know that you expect to have a busy month because of a sale or a new product launch, you should call your processor and let them know. Clear communication is a major asset in maintaining your account.
3. Sell What You Said You'd Sell
Misrepresenting your business and the products/services offered will lead to account termination, period. Under no circumstance should you feel tempted to fudge the details on an application because you might be in a high-risk industry or one with high interchange fees. It will backfire.
Being honest about what you do or sell is important because, when you open a merchant account, the processor assigns you an MCC — that is, a merchant category code that identifies your industry/line of work. There's a large assortment of MCCs and it is possible to create new ones as new industries emerge.
Your MCC determines your interchange rates, which means it directly affects what you pay per transaction. (Check out our Complete Guide to Credit Card Processing Rates and Fees for more information on fees.) It goes without saying that banks and credit card networks won't like it when you disclose incorrect information and mess with their profit margins and industry risk assessments.
Let's say, though, that you were honest with your processor when you signed up for the card processing services, but now you're expanding your services, or reshaping your brand to move into a new industry. The better course of action is to contact your processor and inform them of the change. If they notice suspicious transactions or see that you have a chargeback for an item/service that doesn't fit with what they believe you offer, it could trigger a review and quite possibly a hold or termination.
Read your processing agreement carefully and make sure you know what it says about making changes to your business. If you want to expand your product line, make sure it's not something high-risk. Violating that agreement is easy grounds for termination.
4. Don't Mix Your Accounts
Another very easy way to get your merchant account terminated is to use one merchant account for multiple types of business. Again: any sort of suspicious activity can trigger a review. A series of transactions that don't fit with your line of business will absolutely seem fishy or inappropriate. It could also affect your processing limits, giving your processor the appearance that you are exceeding them.
Not only that, it will make your life difficult from an accounting standpoint.
If you want to start a second business or a side hustle, you should look at a separate merchant account or a third-party processor like Square. This ensures you don't violate the terms of your merchant agreement, which could lead to a termination. Third-party processors are great for this because they expect you to have infrequent transactions and there is no expectation of a monthly minimum.
However, if you've been in business a while and have a good relationship with your processor, it's always worth asking about opening a second merchant account. Because you have an established history, it should be easier than if you were starting from scratch.
5. Minimize Chargebacks
Chargebacks, although inevitable for most merchants, are a quick way to a hold, a freeze, or even a termination. It's a clear sign to processors that the merchant isn't delivering the goods or services promised–or worse, that they're being careless and accepting fraudulent cards. Because the merchant's funds are taken away and held as soon as the chargeback is filed, processors become leery when chargeback numbers start to rise.
It's very likely that if you have a sudden spike in chargebacks, you'll encounter a hold and a freeze. Assuming you are still able to process transactions, your processor might decide to implement a rolling reserve to cover future chargebacks. This practice is the same for merchant accounts and third-party processors. However, it is possible, especially with a third-party processor, that too many chargebacks will lead straight to termination. Generally speaking, the chargeback threshold for most businesses is 1% of total transactions, though some processors might have stricter guidelines.
Merchants who deal primarily with in-person sales have less to worry about, as card-present chargebacks are quite rare. They are primarily a concern for eCommerce merchants. To keep your chargebacks to a minimum, most experts recommend having a clearly stated return policy that is visible on your website and receipts. You should also make it easy for merchants to get in contact with you. Check out our guide on how to prevent chargebacks for more advice.
6. Minimize Fraud
Credit card fraud is, unfortunately, a common problem for both consumers and merchants. Worse, card fraud can take many forms. It's worth noting that with the U.S. slowly but surely transitioning to EMV cards, a great deal of card-present fraud is shifting to-card-not present fraud–meaning eCommerce retailers are going to be hit the hardest. Research shows that in countries that have already switched over to EMV, CNP fraud increased astronomically at first before leveling off.
Online businesses absolutely need to take steps to protect their livelihoods. Most online payment processors offer a variety of fraud detection tools, including address verification service (AVS) checks. (Different shipping/billing addresses or a wrong zip code are often indicators of suspicious transactions.) Stripe uses machine learning and an algorithm to identify potentially suspicious transactions. Merchants can deny the transaction or override and approve it. However, it's usually on the merchant to go in and enable these tools and monitor closely.
That said, brick-and-mortar businesses should also take steps to protect themselves. This includes basic steps such as checking IDs and avoiding keyed transactions wherever possible.
Another major component to protecting your business against fraud is switching to EMV acceptance. On October 1, 2015, a new regulation came into effect that put the liability for accepting fraudulent transactions on the least-secure party. Considering that the overwhelming majority of consumers now have chip cards, it's definitely time for more merchants to switch over to EMV.
Many processors will deem you an unacceptable risk and simply terminate your account if they find that you have a high level of fraudulent transactions, so keeping those transactions (and chargebacks) to a minimum should be one of your top priorities.
7. Keep Documentation
Chargebacks can happen up to 180 days after the date of the purchase, and in the legal agreements, reserve accounts can be held up to 180 days or more for chargebacks, warranty claims, or return requests. This is why to protect your business, you should keep records of transactions at least six to nine months after they're settled. Such records include batch data, signed invoices/receipts, contracts, or similar showing the transaction actually took place and was completed. This data is especially important to keep for unexpectedly large transactions, as it proves that the customer agreed to the transaction and reduces the risk of chargebacks. If you're accepting a transaction that is well outside your usual size or scope, one way to make sure you have a record is to create an invoice and get everything signed.
Keep the documentation in a place where you can quickly access it (but secure enough that not just anyone can access it, too). If you get a chargeback notice and decide to fight the chargeback, be sure to send the documentation back to the processor as quickly as possible, in as complete a form as possible.
8. Communicate With Your Processor
By communicating, we mean communicating before anything has gone wrong. After all, an ounce of prevention is worth a pound of cure. So, before you accept a significantly larger than usual transaction, you might wish to speak to someone in the fraud department of your processing company. You might have to provide the invoice information and other details about the transaction, but, with this information, you could get a pre-approval for the sale. This way, when it comes time to run the payment card through the network, you can prevent holdups.
If you're fortunate and are growing your business fast and see your transactions and volume increasing, you can talk to your processor about increasing your limits to reduce the potential for holds.
What To Do If You Encounter A Hold, Freeze, Or Termination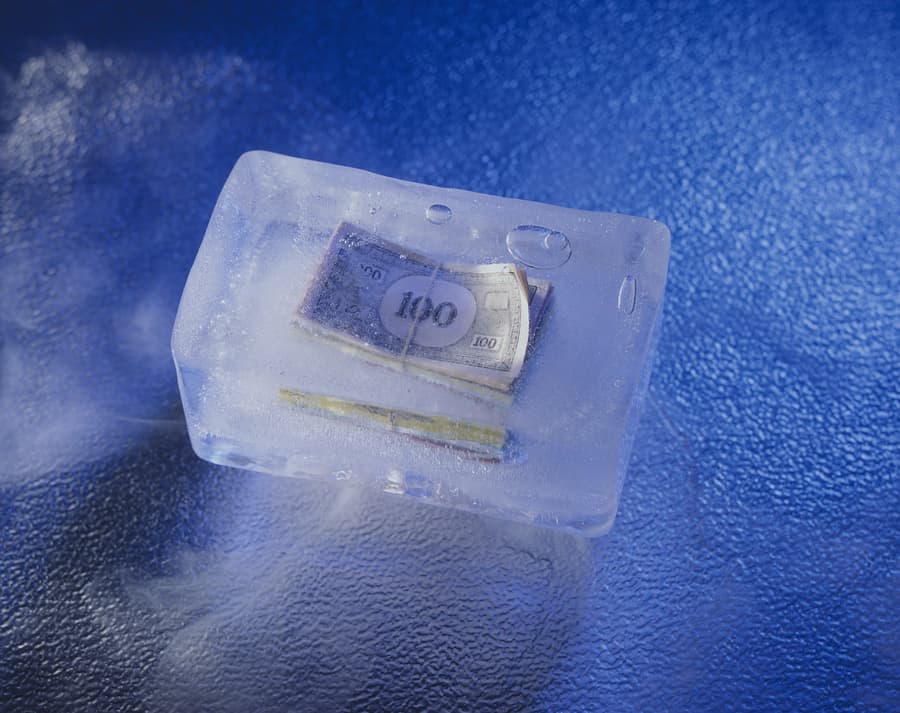 It's quite possible that you might not know you're facing a hold, a freeze, or a termination until you try to process a transaction and it won't go through, or your bank account statement doesn't match your sales records because your money is being held in a reserve fund. Not all processors give advance warning–they'll simply take what measures they deem appropriate and notify you afterward.
That's why it's very, very important that you keep a close eye on your merchant account and save any correspondence between you and your processor. Read your monthly statements and make sure you're not violating the terms of your merchant agreement.
But let's say the worst does happen: Your account is frozen. What now?
First, don't call and yell at your processor's customer service. It's not that person's fault and they can be very helpful if you remain calm and agreeable while asking for their help navigating to the right department/person who can resolve the issue for you.
Once you are directed to the correct department, continue to remain calm and ask for help to resolve the situation. Be mentally prepared that there might not be much you can do. Provide any documentation that your processor asks for (invoices, purchase orders, etc.) as quickly as you can. Let everything run its course. Either your processing agreement will be reinstated (possibly on the condition of a reserve fund), or it won't, and you'll face a termination. After all, all the agreements basically leave what to do next to the sole discretion of the processor.
Of the records the processor might request, they might ask for bank statements from your other banks/assets. This might feel invasive, but they're just trying to make sure your business has the money to cover the transaction in case a chargeback occurs down the road. If you do have a healthy cash flow, some of this information might even be used to increase your processing limits for future transactions and prevents holds, so giving your processor the information they ask for isn't always a bad thing.
If your funds are frozen, you can use small business loans to cover operating expenses in the meantime. Specifically, you might be able to get a working capital loan, a bridge loan (which is a very similar thing), or maybe a line of credit.
If you are fortunate enough that your account is reinstated, make sure that you are very clear on the guidelines and what you must do to prevent any future problems.
If your account is terminated, you'll need to look for a new processor. In all honesty, you may find that to be challenging. Processing freezes and terminations look bad on your record. In the case of a termination, your name will be added to the terminated merchant file (TMF). This lets other processors know that you have had your account terminated, which makes it more difficult to obtain another merchant account.
If you are unable to get a credit card processor, you could try to run your business as a cash-only business. Be aware that a completely cash-based business is only suited for certain industries, and other industries really do need to take credit cards to survive. In that case, you might have to seek out a high-risk processor, or at the very least settle for higher rates than you previously qualified for.
Ultimately, your best course of action is to avoid a hold, freeze, or termination in the first place. Make sure you are clear from the outset what level of business you expect to do, and what limits your processing agreement puts on you. Frequent, clear communication with your processor is going to be essential. Make your account representative your best friend–and if you don't have a dedicated account rep, don't hesitate to get on the phone with customer support if you have any questions. Always let your processor know when you are making changes to your business.
It also doesn't hurt to have a third-party processor like Square or PayPal as a backup account in case anything does happen. If your primary account is frozen, you can switch over to the backup to get you through until the matter is resolved.
I hope this has helped! If you need more resources, I recommend checking our Merchant's Guide to Getting Funds Fast. If you're ready to start looking for a credit card processing company, check out our top-rated merchant accounts as well as our top-rated mobile payments!
Got questions? Leave us a comment! We are always happy to help.