Can You Really Run A Cash-Only Business?
There are several reasons to consider a cash-only business. Check out this guide to the pros and cons of a cash-only small business.
Expert Analyst & Reviewer

UPDATED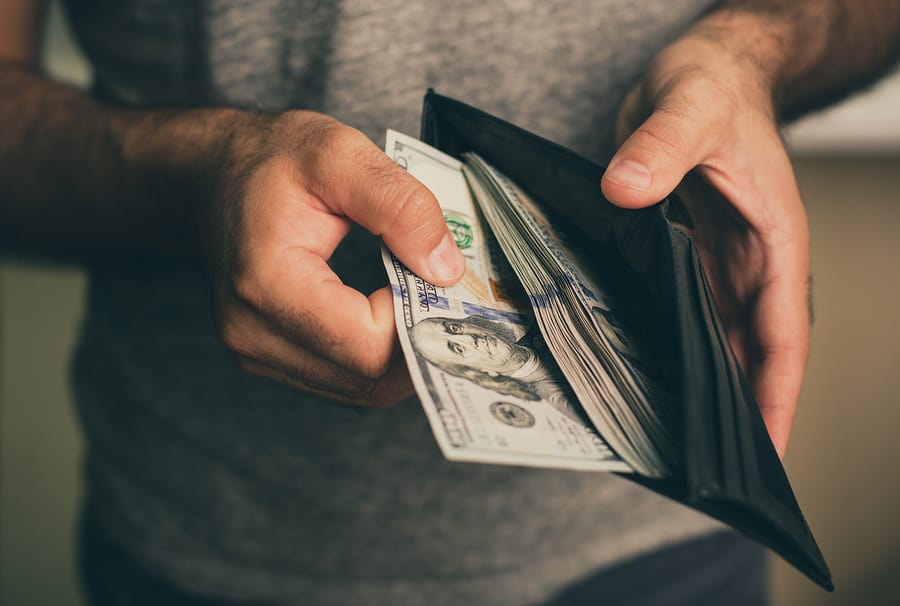 Cash-only businesses have benefits and drawbacks, and this business model certainly isn't for everyone. But is it right for you?
Whether you have a new business and can't get a merchant account or you operate in a high-risk industry, a cash-only business may be worth considering.
In this post, we're going to look at cash-only businesses, from what they are to when you should (and when you shouldn't) consider going cash-only. Keep reading to learn more about cash-only businesses.
What Is A Cash-Only Business?
A cash-only business is a business that only accepts cash payments from its customers.
These businesses do not generally accept other forms of payment, such as debit cards, credit cards, gift cards, personal checks, cash transfers, money orders, or mobile payments.
Reasons For Running A Cash-Only Business
With debit cards, credit cards, and mobile payments taking over, it may seem counterintuitive to only accept cash payments. However, there are still plenty of businesses that operate as cash-only for various reasons.
One reason to operate a cash-only business is that it keeps costs low. There are no payment processing fees to worry about and no expensive point of sale equipment to purchase.
Accepting cash only is also easy.
There's no overcomplicated equipment to master, no need to learn the ins and outs of payment processing, and no time wasted dealing with pushy salespeople. This makes the cash-only model ideal for many types of businesses, from full-time mobile businesses to side hustles such as dog walking, babysitting, and gig work.
Advantages of Going Cash Only for Payments
There are several advantages to running a cash-only business in an increasingly digital world. Here are some of the benefits of accepting only cash payments from your customers.
Disadvantages Of Going Cash-Only for Payments
Operating a cash-only business can reduce certain overhead and administrative headaches, but a cash-only business doesn't work for everyone. Before you consider running a cash-only business, consider these drawbacks.
Other Considerations If You Want To Go Cash-Only
We've focused on how going cash-only may affect the way you take in payments, but there are other considerations to take into account before you jump into a cash-only business, including:
The Need For Business Software: Using a basic cash register is fine for some businesses, but you may benefit from point of sale software. Not only is POS software used for accepting payments, but it also boasts other great features like inventory management and employee management. There are also specialized POS options for high-risk businesses like marijuana dispensaries. Accounting and payroll software are other options you may need to purchase to help streamline operations.
Not Exempt From Paying Taxes: It is, of course, perfectly legal for you to pay your employees in cash. However, you must still deduct your employees' income, social security, and Medicare taxes. Failure to do so will subject you to fines by the IRS.
Difficulty Obtaining Bank Loans: If you wish to borrow money to expand your cash-only business, you might have trouble borrowing from a bank. Unless you have excellent accounting records, it would be difficult for you to show a bank that you have adequate cash flow to repay the loan. Under those circumstances, they might decline to lend to your business.
Inability To Obtain A Merchant Cash Advance: Some financial services companies offer something called a merchant cash advance. The advance is paid back by deducting a percentage from future credit card charges. For instance, PayPal has something called PayPal Working Capital, and Square has Square Capital. If you do not process credit cards, then you aren't going to have access to this capital. While getting a merchant cash advance is not the cheapest way to finance a business, it might be crucial to providing cash flow in a pinch.
Newer Tech Allows Coin-Operated Machines To Take Payment Cards: Just because you run a traditionally coin-operated business doesn't mean that you are stuck in a cash-only world. Payment card readers designed for laundromats now exist. Newer vending machines can also take payment cards. In other words, while coin-operated businesses are traditionally cash only, you won't have to settle for that if you wish to take payment cards as well.
The Best Cash-Only Businesses
Cash-only businesses tend to be single-person operations that can be set up easily and quickly. With some notable exceptions like a laundromat, they tend to be mobile, with no physical business address. The goods or services they sell are usually lower priced, and customers do not usually demand refunds after purchase.
There are other types of businesses that may opt to operate as cash-only. This includes businesses in high-risk industries. These businesses may encounter challenges when seeking out a merchant services provider or credit card processor.
Here are a few examples of cash-only businesses:
Coffee, food cart, or food truck operator
Bakery, deli, or lunch stand
Small restaurant
Lawn mowing service
Laundromat
Vending machine operator
Errand service
Farm stand/farmer's market vendor
Arts and crafts show vendor
Street artist (face painter, caricature artist, street musician, or similar)
Babysitting services
Pet services (pet sitting, pet grooming, pet training, dog walking. etc.)
Personal trainer or fitness instructor
Handyman services
Music teacher/tutor
Hair/nail salon or barbershop
Is A Cash-Only Business Right For You?
Though we are transforming into a cashless society, going cash-only might still make sense for some businesses. While there will be inconveniences to you and your customers, an all-cash business is still the fastest and easiest type of business to set up because it requires zero setup cost. For small businesses that sell items of lower cost to customers who visit in person, accepting only cash might make a lot of sense.
However, even if you prefer to take only cash, you might wish to consider adding payment cards as a convenient option for your customers. You can require that every use of the card be in excess of a certain amount, and, with mobile processors like Square, as long as you have a cell phone, you can quickly set up an account to take credit card sales.
FAQs: Cash-Only Businesses