Expert Analyst & Reviewer

Updated on:
Advertiser Disclosure: Our unbiased reviews and content are supported in part by
affiliate partnerships
, and we adhere to strict
guidelines
to preserve editorial integrity.
Shopify POS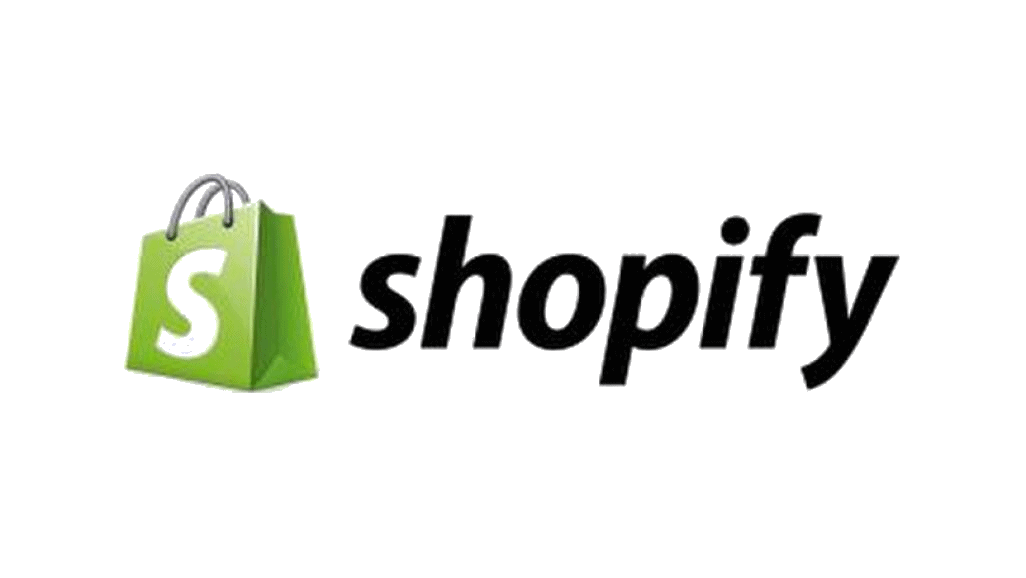 Pros
Mobile
Numerous integrations
Numerous payment gateway integrations
eCommerce integration
Modern UI
Accepts multiple payment options
Cons
Overly complicated pricing plans
Lack of offline mode
Overview
With its reasonable pricing structure, intuitive design, and thorough customer support system, Shopify POS has taken the small business world by storm. The Shopify POS app is easy to navigate, easy to set up, and easy to integrate with your Shopify online store. It all sounds great on paper, but is it the right POS for your business? In this review, we'll help you answer that question.
The Shopify POS system was created specifically for retail. While this POS system has a lot going for it, there is some room for improvement in overall functionality. However, Shopify is continuously updating its product, addressing any holes in its system quickly and effectively. A recent example is improved inventory capabilities that support multilocation management. Additionally, Shopify POS has recently added new features in response to the COVID-19 pandemic. The latest version of Shopify POS and the Shopify POS Pro add-on include online ordering for curbside pickup and QR code shopping.
If eCommerce is going to be a significant part of your retail business — and in our new reality, it more than likely will be — Shopify is worth a long look. The POS is built to sync with its eCommerce platform. Even as a standalone product, the POS holds its own with some of the top software on the market. It's a system you can get up and running and figure out in a matter of minutes and has very few flaws, save for a less than stellar offline mode.
Don't have time to read an entire review? Take a look at our top-rated point of sale solutions for a few quick recommendations. Every option we present here offers excellent customer support, detailed user interfaces, and easy-to-use software, all for a reasonable price.
Pricing
Shopify has a variety of pricing plans to meet the needs of businesses of any size. Shopify POS pricing options include Shopify Lite, Basic Shopify, Shopify, and Advanced Shopify. Plans range from $9/month to $299/month. You can save money on Shopify POS costs by signing up for an annual or bi-annual plan. The more expensive the plan, the more features and add-ons you get access to. Another benefit of choosing one of the top-tier plans is lower credit card processing fees.
For larger businesses and high-volume merchants, there is also the enterprise-level solution Shopify Plus (contact Shopify for custom pricing).
Unsure of which plan is right for you? Learn more about each Shopify plan's fees, pricing, and features in The Complete Shopify Fees & Pricing Guide. Then, sign up for your free 14-day trial to give Shopify a try!
Once you've selected your plan and set up your store, you can choose your POS plan. All Shopify plans include Shopify POS Lite at no additional cost. However, you may want to upgrade to Shopify POS Pro for an additional $89/month per location. Shopify POS Pro includes features you won't find with POS Lite, such as smart inventory management and advanced omnichannel selling features. In addition, Shopify POS Pro is included at no cost for Shopify Plus subscribers.
Is Shopify POS Pro worth the additional monthly expense? Check out the differences between Shopify POS Lite and POS Pro below:
| | Shopify POS Lite | Shopify POS Pro |
| --- | --- | --- |
| Cost | Starting at $9/month | $89/month |
| Included With | Shopify Lite, Shopify Basic, Shopify, & Shopify Advanced | Shopify Plus plans |
| Number Of Registers Supported | Based on a monthly plan | Unlimited |
| Number Of Employees Supported | Based on a monthly plan | Unlimited |
| Staff Roles & Permissions | | ✔ |
| Smart Inventory Management | | ✔ |
Cloud-Based Or Locally-Installed
Shopify is cloud-based and online stores and inventory are hosted on Shopify's servers. However, when you log in to the Shopify POS app, most of your data is downloaded and stored on the device itself, so you can still process cash transactions without an internet connection.
You cannot, however, process card transactions or access your customer database without an internet connection. This means you can't assign a customer to a transaction without creating an entirely new profile. Also, you can't access the POS if you lose your connection before you get the chance to log in to the app. And if you log out of the app before the connection is restored and the app has a chance to sync back up to the cloud, you will lose all of the transaction/customer data you collected during the outage.
Note that on Android devices, you will not have any offline functionality. This remains an unfortunate weak spot in a product that has otherwise made big improvements in the past couple of years.
Specific Industry
This app was created specifically for retail and has not been expanded for use in the foodservice world. If you are a restaurant or bar owner looking for a more appropriate POS system, take a look at our restaurant POS reviews. With that said, some small quick-service restaurants that only need a mobile POS to accept credit cards — such as coffee carts or food trucks — may find the $9/month Lite plan to be perfectly capable of meeting their needs.
Specific Size Of Business
Shopify POS is optimally designed for small to medium-sized retail businesses, though it is reaching out more and more to larger organizations (thus the Shopify Plus option). Shopify's affordability and the ease with which you can set up your eCommerce operation make it appealing to smaller retailers. However, larger businesses may still find some of the features lacking in its more advanced packages.
Ease Of Use
Shopify POS outdoes itself when it comes to design. It's tough to envision spots that could trip anyone up when navigating the system. Once you've opened the app, you can pretty much walk yourself through the basic front- and back-end features.
Usability is Shopify's hallmark, and for merchants who don't have the time or the know-how to spend on training, this should be an appealing system. You can easily walk yourself through the system and get up and running to accept all forms of payment in a matter of minutes. From there, it's a snap to add customers and import inventory.
Customization can also be done relatively quickly, and, probably within the first day of use, you can have a POS tailor-made to your specifications.
Shopify has also recently made even more improvements in its ease of use with the rollout of its newest version of Shopify POS, released in May 2020. The new version introduces a bevy of new features and a new default dark mode. The most compelling new feature in terms of ease of use is probably the customizable "smart grid" view, which puts your most-used apps, discounts, and products at your fingertips, helping to speed up checkouts.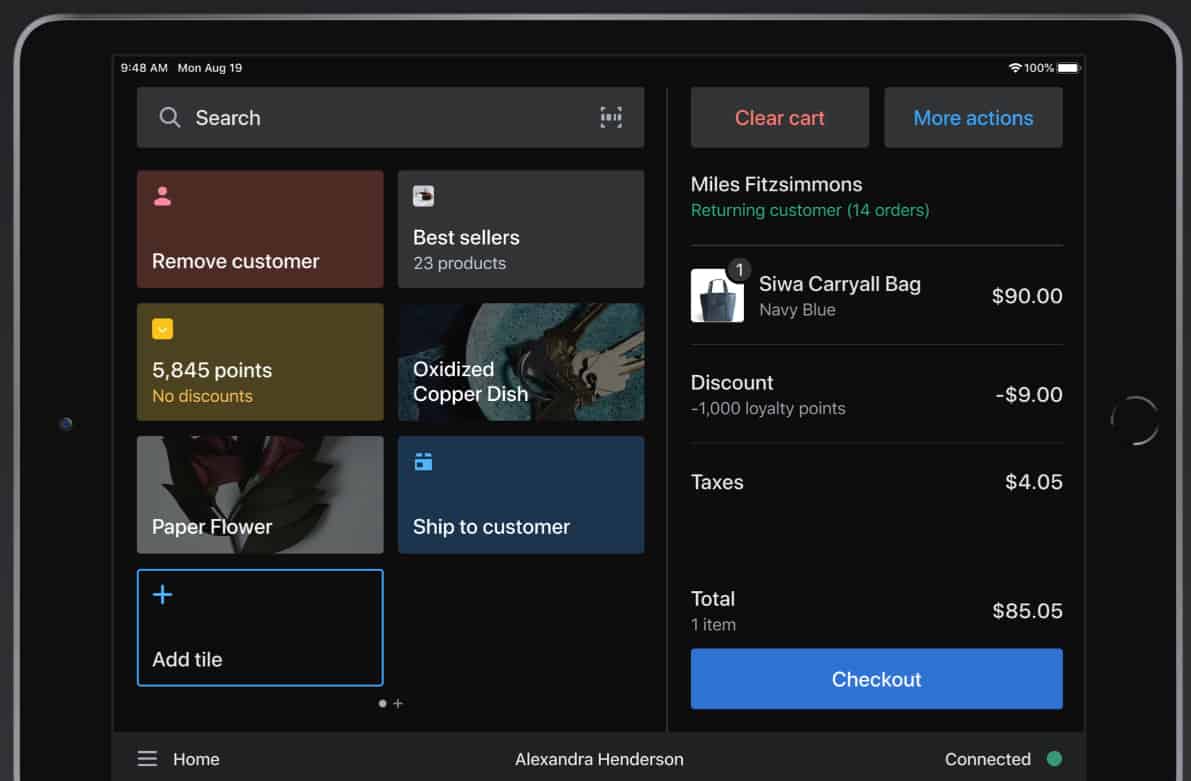 Shopify POS is also designed to work hand in hand with its eCommerce platform. If you already have a Shopify store, your inventory will automatically sync with the POS. You can then decide whether you want to be able to sell all your products the same way or separate them into store-only or online-only purchases. If you don't have a Shopify store, you must add your inventory to the back end, either item by item (I would suggest doing this if you only have a few products) or via CSV import. Both methods are easy, but the former is a bit more time-consuming than the latter.
You have the option to add photos and categorize your products by variants, such as color, size, material, style, and so forth. You can include all the details you want, including tags for internet searches. Adding new products is easy, and tax rates are set automatically based on your location.
There is one other important way that this POS software excels in the arena of user-friendliness: the Shopify mobile app, which is available on the App Store and the Google Play store. The app allows you to manage your store directly from your mobile device. It can handle everything from adding items and uploading photos to altering prices and contacting customers via phone or email.
Viewing the new Shopify POS version on both my iPhone and iPad, I can say that there are few if any differences between the two versions. It's a very refreshing distinction for a mobile POS, as mobile versions of POS systems are typically missing some features available in the iPad version. That said, there are a few features absent from the Android version (compared to the iOS version), such as offline functionality.
Hardware & Operating System Requirements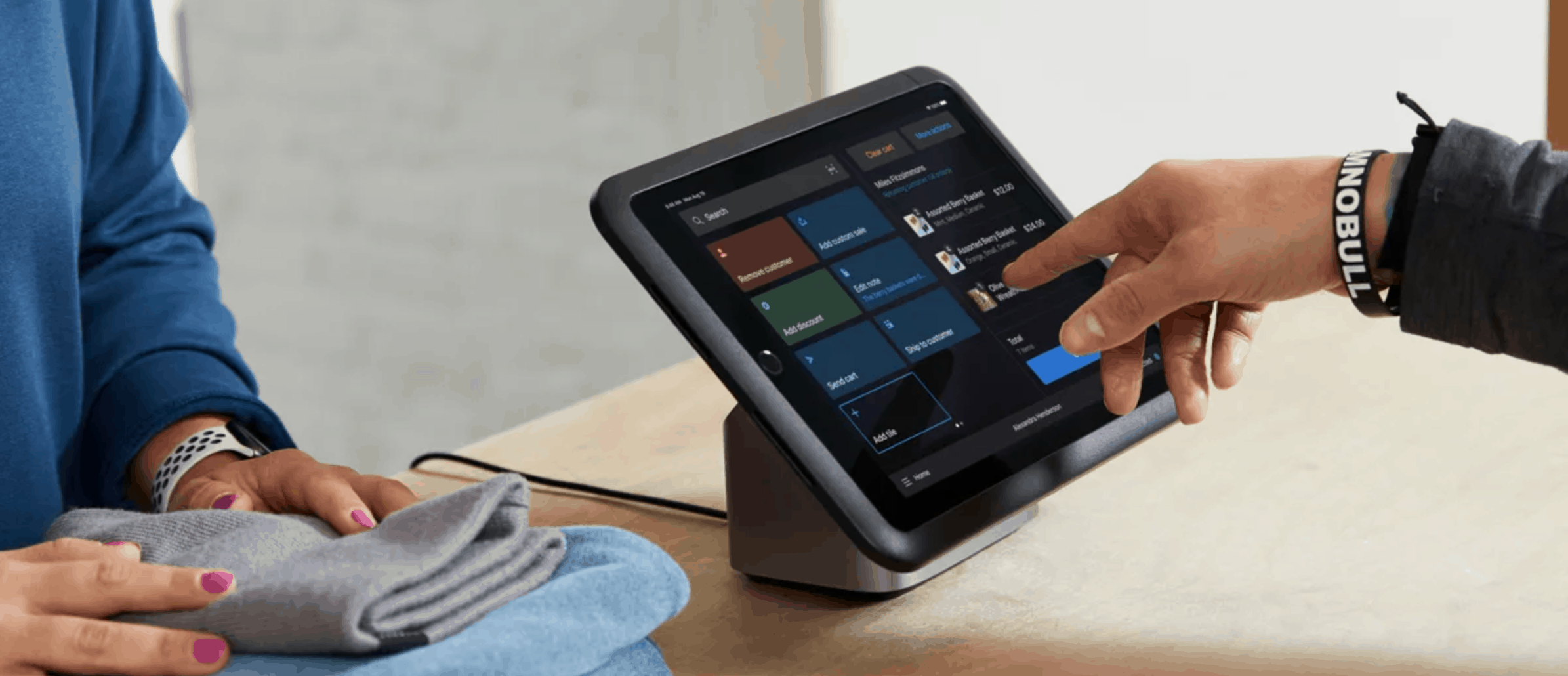 If you use the POS system solely for your brick-and-mortar store, all you will need is an iPad or Android tablet. You can also run Shopify POS from an iPhone or Android smartphone. Technically, you can set up your online store with your mobile device as well so long as you have an internet connection and a web browser. Without a computer, however, you can't import bulk inventory to your online store or even export reports (though you can still view key analytics and import items individually). So while you can run your POS from a mobile device, it's probably best to use your laptop for some back-end setup and admin functions.
As for payment hardware, Shopify provides one free card reader, but any additional ones must be purchased. The Shopify Chip & Swipe Reader can accept contactless, chip, or swipe payments. You can also upgrade to a contactless Tap & Chip Reader (pictured below with the optional iPhone case) for $49.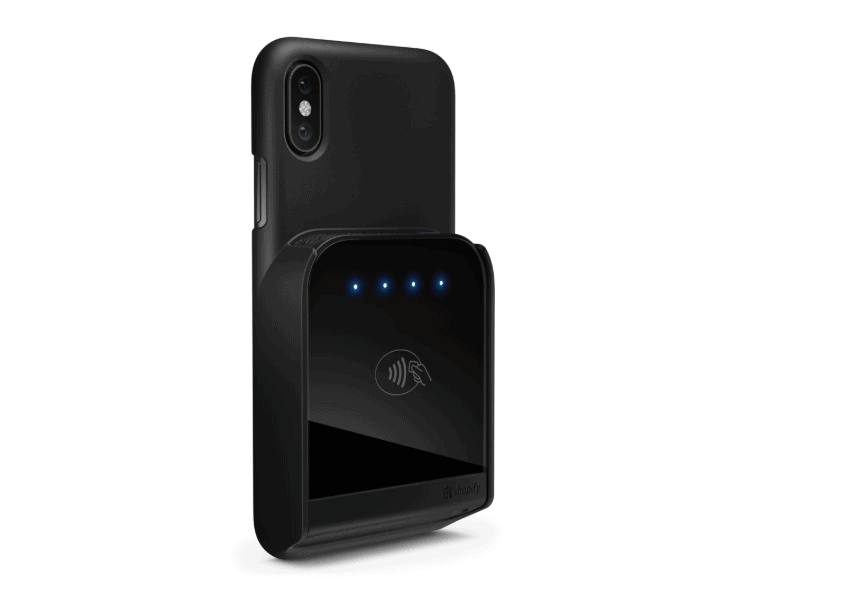 If you need other Shopify POS hardware, such as cash drawers, printers, and barcode scanners, the company offers a bundle to go with the POS app. Although the options on the site are somewhat limited, Shopify is pretty good at adapting to existing hardware. You can find more information about the hardware bundles on Shopify's website.
Features
In May 2020, Shopify released a new version of Shopify POS, along with the new Shopify POS Pro add-on, which adds advanced inventory features and new social-distancing selling features for brick-and-mortar retail stores. Keep reading to learn about Shopify POS's core features as well as the details of the new Shopify POS and POS Pro features. You can also find a comprehensive list of Shopify's POS's features by visiting Shopify's website.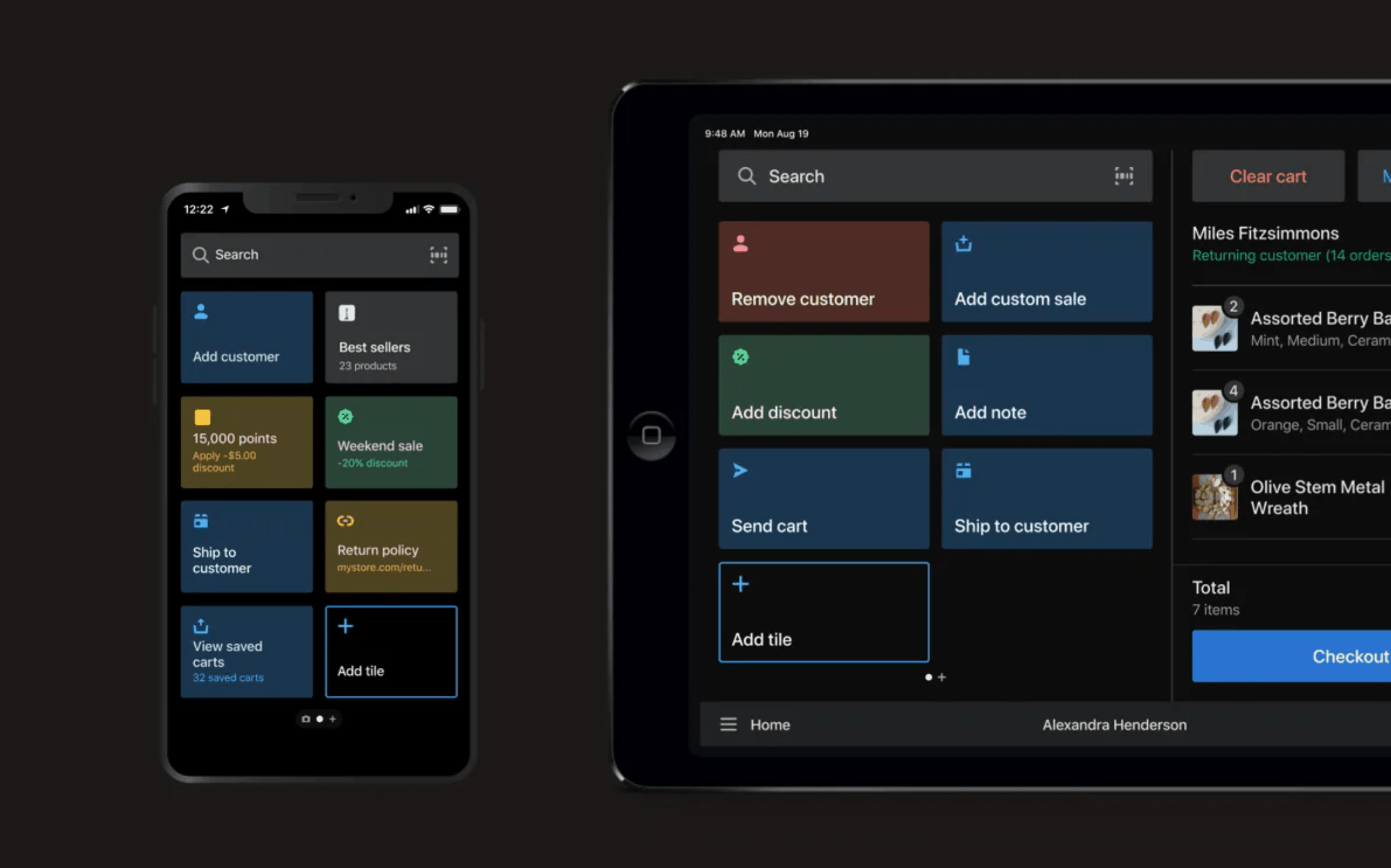 As follows are Shopify POS's most noteworthy features, broken down into several key categories.
Payment Features

Accept Two Or More Payment Options: Shopify POS allows you to split tenders and accept more than one type of payment in a single transaction. This is a fairly handy feature, created especially to deal with the inevitable customer who wants to pay partly with cash or divide their payment between two credit cards.
Gift Cards: You can create gift cards that are redeemable in-store or online. These cards can be emailed out to requesting customers or simply printed on your receipt printer. Usually, gift cards are only available on "Shopify" and higher plans, i.e., not on either the Lite or Basic plans. In light of the COVID-19 crisis, though, Shopify has temporarily extended gift card functionality to all Shopify plans.
Custom Payment Options: The ability to generate custom payment options (personal checks, gold coins, IOUs, etc.) is one of Shopify POS's most interesting features. You can also give customers the option to make a partial payment on their purchases and/or allow for deposits or layaway.
Refunds & Store Credit: Shopify POS makes it possible to give out store credit when you don't wish to refund money to the payment method that the customer originally used.
Multiple Sales Channels: Sell online through Shopify or sell from your website. With the "Buy Button" feature, you can embed a link that will allow customers to purchase your products through your site (WordPress, Tumblr, Wix, etc.) quickly and easily. You can also sell on Facebook, Messenger, Instagram, Amazon, and eBay.
Checkout Features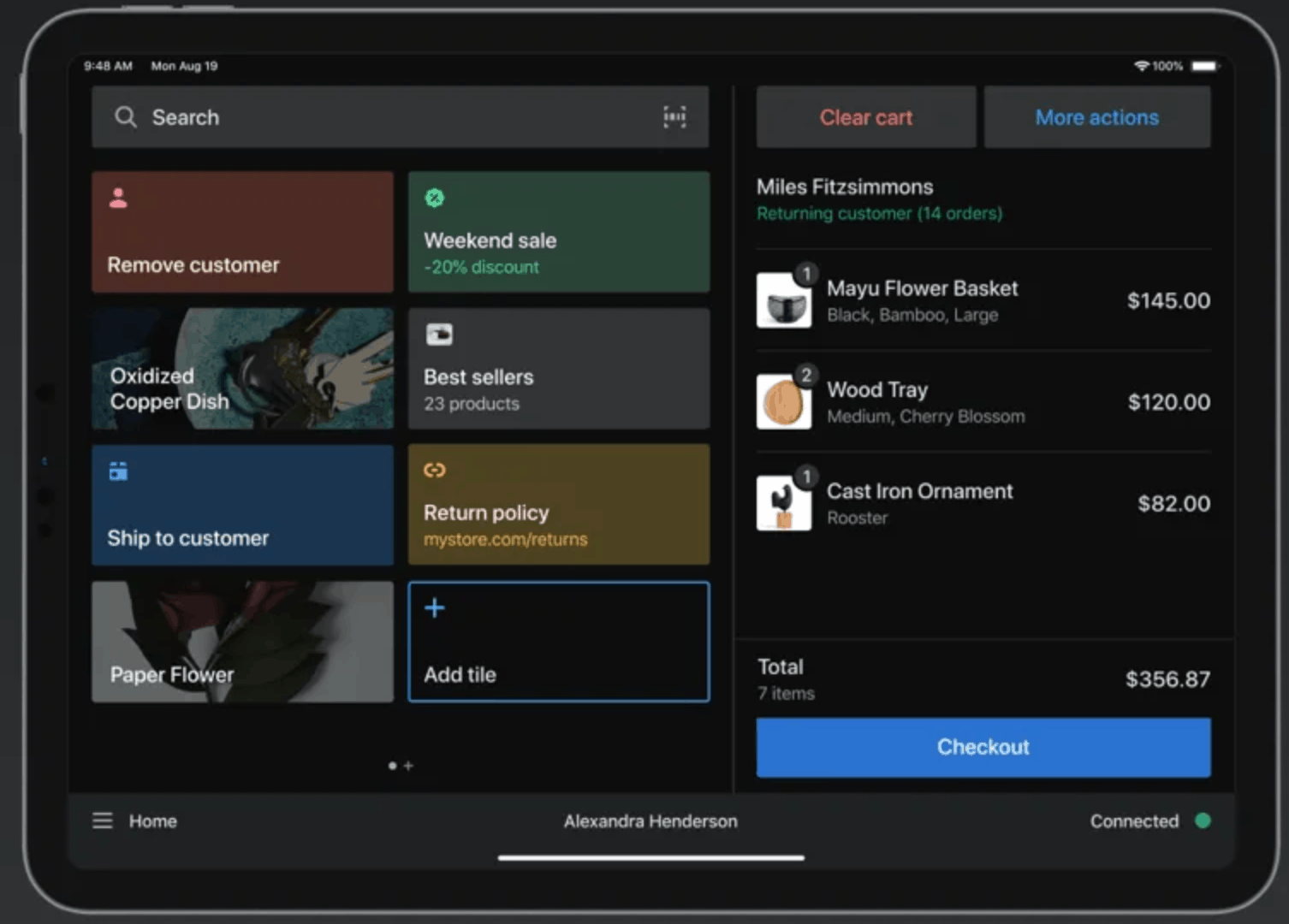 Custom Sales: Custom line items can be added at any time and priced however you wish. This is a perfect way to integrate specials or seasonal items into your usual stock.
Discounts: Shopify POS lets you offer discounts at checkout, either by percentage or dollar amount. These discounts can be used on one item only or applied to the customer's entire order.
Portable Registers: Because Shopify POS lives on your iPad or smartphone, it's easy to bring the device over to your customer and accept new orders anywhere. There is really "no need for a checkout counter" — quite a revolutionary concept for a brick-and-mortar store.
Custom Receipts: You can fully customize both your digital and printed receipts and include important details, such as store hours and policies, special promotions, and the URL of your online store. Note that custom-printed receipts are only available with Shopify POS Pro.
Automatic Tax Calculations: Shopify POS automatically calculates sales tax based on the location of your store. You can also set up custom taxes for specific products or orders, if necessary.
Shipping Addresses: It's possible to store a customer's address and contact details. This allows you the option to ship orders later on.
Store Management Features
Integration With Accounting Software: Shopify POS can integrate with accounting software, such as QuickBooks and Xero. This is a huge time saver and more efficient than entering things by hand.
Order Histories: You can get a good overview of your store's operations by viewing all past orders (whether made in-store or online). Order histories may be filtered by customer, product, or date.
Multiple Staff Accounts: The more advanced Shopify POS plans permit you to create multiple staff accounts, each protected by a unique, secure pin code. All register activity (and every order) is tracked by these accounts, allowing you to monitor cash register adjustments carefully and follow changes in staff throughout the day.
Customer Profiles: You can automatically create detailed customer profiles every time a new order is placed. These profiles let you learn about the shopping habits of your customers and track their buying patterns. Contact info about each customer and their unique order history is readily available, and this information fully syncs with Shopify.
Reporting: Shopify POS provides several analytical tools, including dashboards that track sales, orders, and traffic patterns. Product reports let you see which items are selling and which are stagnating on your shelves. You can also scrutinize each sale and filter by staff members, location, timeframe, or customers. All reports are exportable and can be converted into spreadsheets or sent off to a bookkeeper.
Timeline: Shopify comes with a unique tool that allows employees to communicate and monitor store issues from within the POS.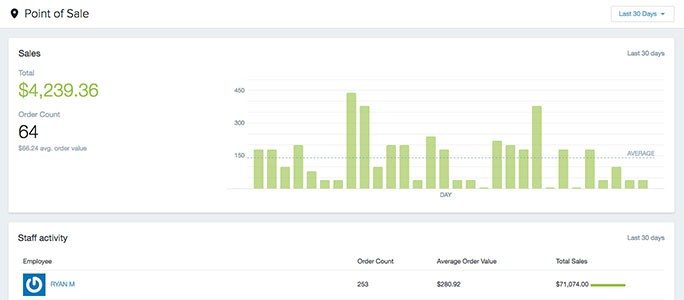 Product Management Features
Product Organization: Shopify puts no limit on the number or type of items you can sell with this POS system, and products can be organized in almost any way (by category, type, season, sale, etc.). You can even create collections and sort merchandise by the vendor, price, and inventory level. Even more importantly, you can offer multiple sizes, materials, and color options for your products, each with its own price, weight, SKU number, and so forth.
Inventory Management: Shopify revamped its inventory management recently, turning what was a weak spot in its offering into a legitimate strength. You can group products in several ways, either by type, season, sale, etc. There is no limit to the number of items you can sell. It's possible to manage inventory with Shopify and keep a close eye on stock counts. That way, you can "automatically stop selling products when inventory runs out." Shopify also offers numerous apps through its store to help out with specific needs. It's simple to track your best sellers and keep tabs on what items are the most cost-effective in your arsenal as well. This can help you forecast profits and set up promotions down the road.
Barcode Support: Each product can be assigned an existing barcode (or fitted with a new one). This makes it much quicker to process customer orders, as items can be quickly scanned with a wireless barcode scanner.
New Shopify POS Features
As follows are some of the latest new Shopify POS features that accompany Shopify's sleek new interface. Many of these features smartly reflect the needs of retailers during the COVID-19 crisis, such as curbside pickup, local delivery, and others.
Multichannel Sales Management: Manage offline and online sales in one central hub that includes an omnichannel search of all your products.
Real-Time Multichannel Inventory Management: The new version makes it easier for merchants to view inventory performance across locations and transfer inventory online or to different locations as needed.
New Shipping & Delivery Options: Shopify merchants have new shipping and delivery options, including local delivery and curbside pickup as well as a ship-to-customer option, so you don't lose a sale due to lack of in-store inventory, with shipping rates calculated automatically at checkout.
Smart Grid: Your most-used apps and other functions are now front and center to help you speed through checkouts.
Improved App Integration: Apps integrate even easier now, with integration options ranging from appointment shopping to door-counting apps that help you limit foot traffic.
Improved Analytics: More detailed information regarding store performance is now available on the "Analytics" screen.
Shopify POS Pro Features
The optional Shopify POS Pro add-on adds even more features for retail stores, including, most notably, features that help brick-and-mortar retailers offer online sales options.
Staff Roles: With Shopify POS Pro, you can create different employee roles with unique permissions and choose from preset roles, such as the default "Associate," "Full Permissions," and "Limited Permissions." These roles let you determine what each staff member can see and do on the POS. For example, the business owner or employee with full permissions can view and manage staff permissions right from the POS app. For example, below are the permissions of the "Associate" role, as viewed from the iPhone version of the Shopify POS Pro: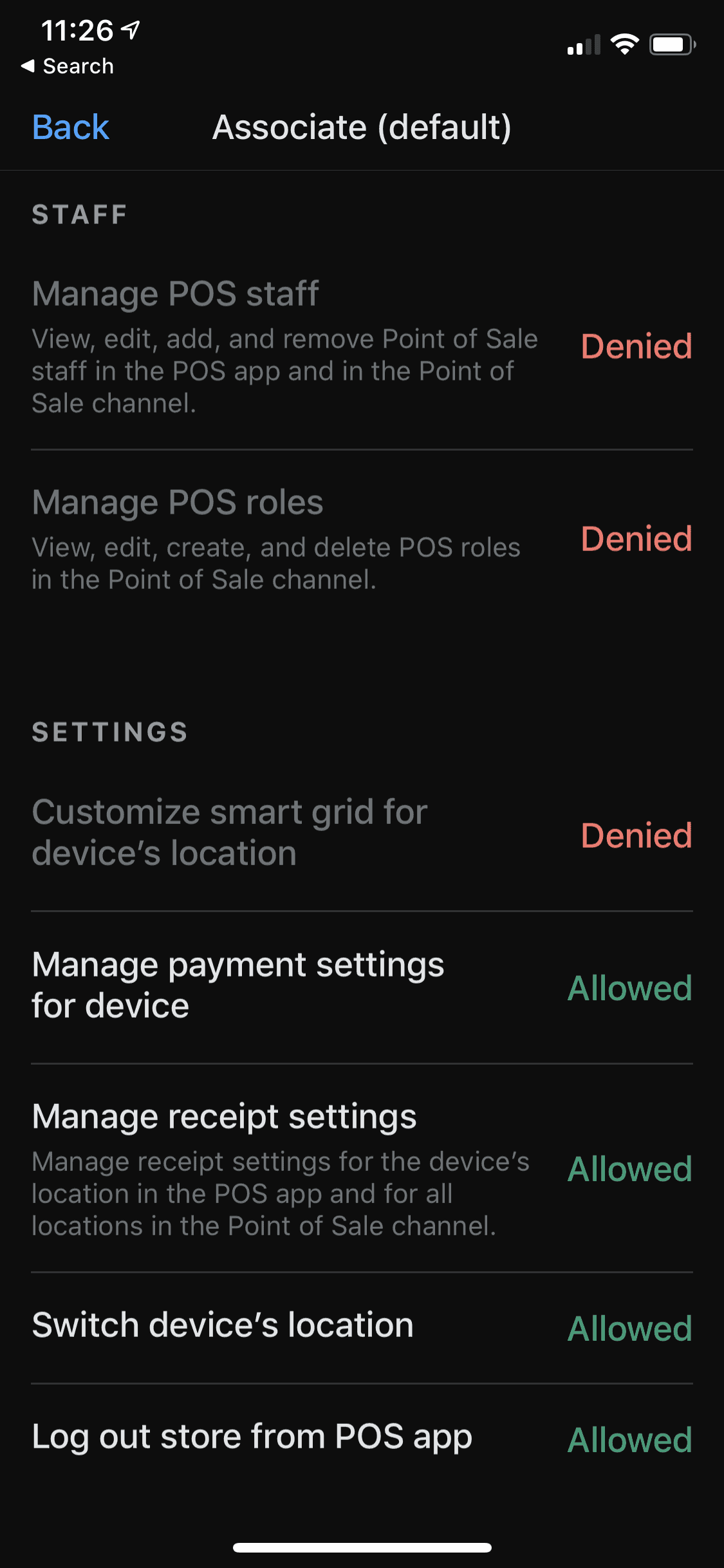 Omnichannel Selling Features
Email Carts: This feature lets customers browse online and buy in-store, and it even emails customers after their visit to your store with item suggestions.
Product Detail QR Codes: Use QR codes in your store that customers can scan with their phone to learn more about your products and buy them from your website — rather than ask sales staff for help.
Buy Online, Pick Up In-Store: Manage and track all pick-up orders placed online and notify customers when they're ready.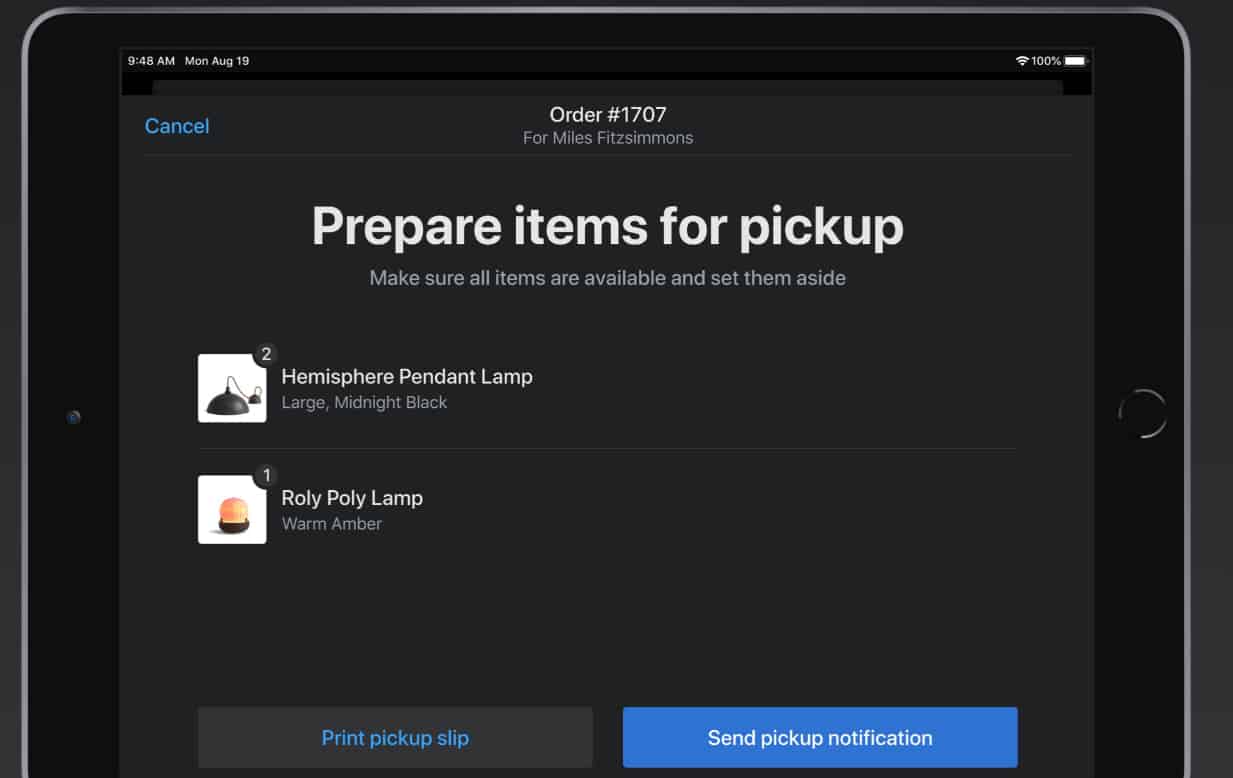 Omnichannel Returns & Exchanges: Customers can exchange purchases made online or at one of your retail stores at any of your business locations.
Smart Inventory Features
New smart inventory features make it easy to identify and prioritize your top-selling products as well as discount or bundle your slow-moving products. Other new-and-improved inventory features include:
Transfers
Inventory counts
Purchase orders
Inventory receiving
Demand forecasts
Inventory analysis
Sale item suggestions
Low stock reports
Detailed inventory reports
Overall, Shopify POS has a strong, thoughtful, and near-complete feature set. Perhaps the system's only significant weakness (and the only reason it didn't earn an "Excellent" rating in this category) is that it doesn't have much in the way of an offline mode.
If your internet goes out and you're already logged into the app, you can still perform a few functions (using the iPad or iPhone version only), such as accept payments by cash and custom payment methods. However, you can't accept credit card payments, sync orders with inventory, create new products, or import products offline. Unless you have a backup connection if your internet goes out, this is far from ideal.
Customer Service & Support
Shopify offers free 24/7 tech support via live chat, email, and phone. Customer service is generally prompt and knowledgeable, and it isn't too difficult to reach a live person. The email support service is not quite so fast but they still responded to my questions within 24 hours. The live chat support is friendly and helpful, and in my experience, an actual live chat operator was available (as opposed to many other sites that just prompt you to leave a message).
I also love that Shopify lets you know what your current wait time is going to be.
If you want to figure things out for yourself before contacting tech support, Shopify has a great knowledgebase that contains well-written instructions to guide you through most questions and issues. Most of these instructions are supplemented with screenshots, which is always a plus. Shopify University also offers quite a few forums to browse through. While most of these forums pertain to eCommerce, there are some for POS users too.
There is an incredible amount of information offered on Shopify's website, ranging from an encyclopedia of terms to success stories and even a few podcasts if you're so inclined. It's unlikely you'll find all of it relevant, but there's no such thing as too much information.
For those wanting to stalk Shopify on a social media level, the company has active Facebook, Twitter, Instagram, YouTube, LinkedIn, Google+, Pinterest, and Snapchat accounts.
Compatible Credit Card Processors
If you subscribe to the Shopify Basic plan or above, you can choose an external payment gateway for processing credit card payments. Shopify integrates with over 100 payment providers worldwide. In the US, this includes options such as:
Worldpay
2Checkout
Amazon Pay
Authorize.net
Vantiv
DigiPay
Braintree
CyberSource
Adyen
PayPal Express Checkout
You can also keep processing in-house by using Shopify Payments.
Shopify Payments For POS
Shopify's POS system comes already integrated with Shopify Payments, the company's in-house merchant services processor. Processing rates are based on your plan. Depending on the Shopify plan you choose, the advertised in-person rates with Shopify Payments are between 2.4% and 2.7%. One thing to note is that if you subscribe to the Shopify Lite plan, Shopify Payments is your only choice for credit card processing.
With Shopify Payments, it's easy to get set up and begin accepting credit card payments in-store and online with just a few clicks. You can also quickly and easily track cash flow by accessing your orders and payments all in one place. As previously mentioned, Shopify POS comes with a free Shopify Chip & Swipe Reader for use with your iPad. Additional readers and other hardware are available for purchase on the Shopify website.
Integrations & Add-Ons
This is another big plus, as Shopify has a great app store filled with thousands of apps. There you will find everything from accounting tools to apps for marketing, reporting, and so forth. For example, a search for a popular term such as "local delivery" delivers over 300 different results.
You can also create an app using Shopify's API. Keep in mind that some of the apps cost extra (which can add up), but you won't be lacking in options. You can also find a lot of free apps in the Shopify app store that let you do various things, such as add a no-contact delivery option to your online store or integrate a free loyalty program with your POS system.
Shopify POS Reviews
Negative Shopify POS Reviews & Complaints
Reviews for Shopify POS are generally positive, but there are also a good number of negative reviews and complaints. Shopify Inc. is accredited by the Better Business Bureau and has an A+ rating. However, the company has had 269 complaints closed over the last three years. Some of the most common complaints found in Shopify POS reviews include:
Bugs: Many customers complain about bugs and errors disrupting their experience.
Extra Or Hidden Costs: Some customers didn't like having to pay extra for staff accounts, staff sales tracking, and hardware integrations. These are pretty standard POS features that should be automatically included (at least in the higher subscription levels). A few individuals also complained that purchasing some necessary add-ons made the product significantly less cost-effective.
Offline Functionality: A few customers complained about Shopify POS's inability to process credit cards during an outage.
Analytics Features Lacking: A few reviews mentioned that the standard reports that come with the app are pretty basic. Even if you're going with an advanced package, they aren't quite up to what competitors offer. However, new analytics features have been added with the latest update and Pro add-on.
Customization Difficulty: A few less-than-tech-savvy reviewers struggled with the complexity of customizing the POS system and found it difficult to get support in this area.
Positive Shopify POS Reviews & Testimonials
The most recent positive reviews available online all mention the same things: Shopify POS makes running businesses simpler and keeps people better organized. One user noted that "everything syncs beautifully and the credit card rates are the lowest we have seen." Shopify POS receives high marks across review sites, including a rating of 4.4/5 (based on 237 reviews) on G2. Some of the most common praises include:
Simplicity: Most people raved about how easy Shopify POS is to set up, and that training is a snap. It also receives high marks for its overall usability and its design.
App Options: Customers appreciate the variety (and sheer number) of apps that integrate with Shopify POS, even though some of them come at an added cost.
Inventory Management: A common refrain among customers was how easy it was to import inventory and how well Shopify POS can handle a wide variety of products.
Customer Service: The majority of reviews appreciated the customer service team's overall friendliness and how quickly they were able to address and fix problems.
Final Verdict
If you love Shopify for its eCommerce platform, you should at least consider the POS as well. Before some of its recent changes, Shopify POS only made sense if you were locked into it for eCommerce. Now I would say Shopify POS is on par with its competitors even if you don't have an eCommerce platform.
Shopify checks all the boxes in a POS system with capable inventory management and reporting and an extremely simple and clean interface. You do have to go hunting for some of its integrations, but you won't be hurting for options. Shopify's pricing scheme can get a little complicated, but once you figure out which tier and add-on(s) you need, you'll likely find that Shopify POS provides a good value for all the functionality it provides. Shopify's offline mode still needs some work and is one of the few areas where the POS lags, but on the whole, there's a lot to like, especially with the rollout of its latest version.
Shopify is playing its part in addressing the massive changes taking place in the retail sector, including options such as curbside pickup and gift cards. Even if your retail biz hasn't really ventured into eCommerce before, an eCommerce-enabled POS such as Shopify can make it easy to add some online sales options. The future of retail will inevitably be some hybrid of in-person and online sales, and a versatile POS such as Shopify can help you sell in either channel or, ideally, both.
If you own a small or medium-sized retail business and are looking for intuitive and inexpensive software, look no further. Shopify has created a POS system that can handle multiple sales channels, with a free chip card reader, competitive flat-rate payment processing, and many additional integrations. Frankly, it would be difficult to go too wrong with this software.
Common Questions About Shopify POS
---
The Merchant Maverick Seal of Approval 🏆
Shopify POS


---



After hours of in-depth research and evaluation, we can confidently recommend this brand to our readers. Get started today and see Shopify POS for yourself.
The Merchant Maverick Seal of Approval 🏆
Shopify POS


---



After hours of in-depth research and evaluation, we can confidently recommend this brand to our readers. Get started today and see Shopify POS for yourself.
To learn more about how we score our reviews, see our
Point Of Sale (POS) Software Rating Criteria
.
Read Next