Shopify POS Review
If you love Shopify for its eCommerce platform, you should also consider the POS, as it checks all the boxes for a capable POS system.
Expert Analyst & Reviewer

UPDATED
Advertiser Disclosure: Our unbiased reviews and content are supported in part by
affiliate partnerships
, and we adhere to strict
guidelines
to preserve editorial integrity.
Shopify POS

Shopify POS At A Glance
Reasonable pricing, intuitive design, and thorough customer support make Shopify POS a great choice for retail businesses
Shopify POS provides ultimate mobility through its app, which is easy to set up, navigate, and integrate with Shopify online stores
Shopify continually provides updates and new features, such as improved inventory, online ordering, and QR codes, to stay on top of POS trends
---
Pros
Mobile
Numerous integrations, including payment gateways
eCommerce integration
Modern UI
Accepts multiple payment options
Cons
What Is Shopify POS?
Shopify POS is a cloud-based POS system created specifically for retail. Shopify POS is affordable, and it's easy to set up your eCommerce operation, making it appealing to small to medium-sized retailers.
Why We Recommend Shopify POS
Shopify POS Pricing
Shopify POS plans are month-to-month, although you can receive a discount for signing up for an annual or bi-annual plan. There are four Shopify plans that offer Shopify POS:
Basic Plan
The Basic plan costs $29/month ($14.44/month when paid annually) and includes the following:
In-person payments
Full online store builder
Buy buttons
Invoicing
Order management
Product management
Customer profiles
In-store inventory
Gift cards
Custom discounts
Basic financial reports
Two staff accounts
Up to four inventory locations
Omnichannel selling
Customer segmentation
Shipping discounts
Currency conversion
Shopify
The Shopify Plan costs $79/month (or $39.44/month when paid annually) and includes everything from Shopify Basic, plus:
Five staff accounts
Up to five inventory locations
Additional shipping discounts
Standard reporting
Discounted payment processing
Advanced
The Advanced plan is priced at $299/month (or $147.78/month when paid annually) and includes everything from the Shopify plan, plus:
15 staff accounts
Up to eight inventory locations
Advanced reporting
Additional discounts on payment processing
Duties and import taxes
Custom pricing by market
Shopify Plus
Shopify Plus is an enterprise-level solution that starts at $2,000/month. Highlights of this plan include:
Built-in AR, video, and 3D media for product pages
Support for multiple stores, languages, and currencies
Avalara tax automation
Advanced discounts and shipping rates
Automated workflows
Data migration
Note that Shopify also offers a low-cost Starter plan for $5/month. However, Shopify Starter does not include Shopify POS — you can't sell in person with a Shopify Starter account.
Extra Shopify POS Costs & Fees
| Shopify POS Extra Costs | Price |
| --- | --- |
| Shopify POS Pro | $89/month per location |
All plans include Shopify POS Lite at no additional cost. However, you may want to upgrade to Shopify POS Pro for an extra $89/month per location. Shopify POS Pro includes features you won't find with POS Lite, such as smart inventory management and advanced omnichannel selling features.
Unsure of which plan is right for you? Learn more about each Shopify plan's fees, pricing, and features in our guide on Shopify's fees and pricing. Then, sign up for your free three-day trial to give Shopify a try!
Shopify POS Features
| Shopify POS Features | Availability |
| --- | --- |
| Multi-Store Support | Supports multiple inventory locations |
| Contactless Payments | |
| Multi-Channel Selling | |
| Gift Cards | |
| Customer Loyalty | |
| Marketing Tools | |
| Online Ordering | |
| Inventory Management | |
| Reporting | |
| Menu Management | |
| Delivery Management | |
| EBT Acceptance | |
| Employee Management | |
| Text Messaging | |
Shopify recently released a new version of Shopify POS and the latest Shopify POS Pro add-on, which adds advanced inventory features and social-distancing selling features for brick-and-mortar retail stores. Shopify POS's most noteworthy features are broken down into several key categories.
Payment Features

Split Tenders: Accept more than one payment type in a single transaction.
Gift Cards: Create gift cards for your small business that are redeemable in-store or online.
Custom Payment Options: Generate custom payment options, accept partial payments, or accept deposits.
Refunds & Store Credit: Process refunds or issue store credit for returns to your business.
Multiple Sales Channels: Sell online through Shopify, your website, or other platforms, including Facebook, Instagram, eBay, and Amazon.
Checkout Features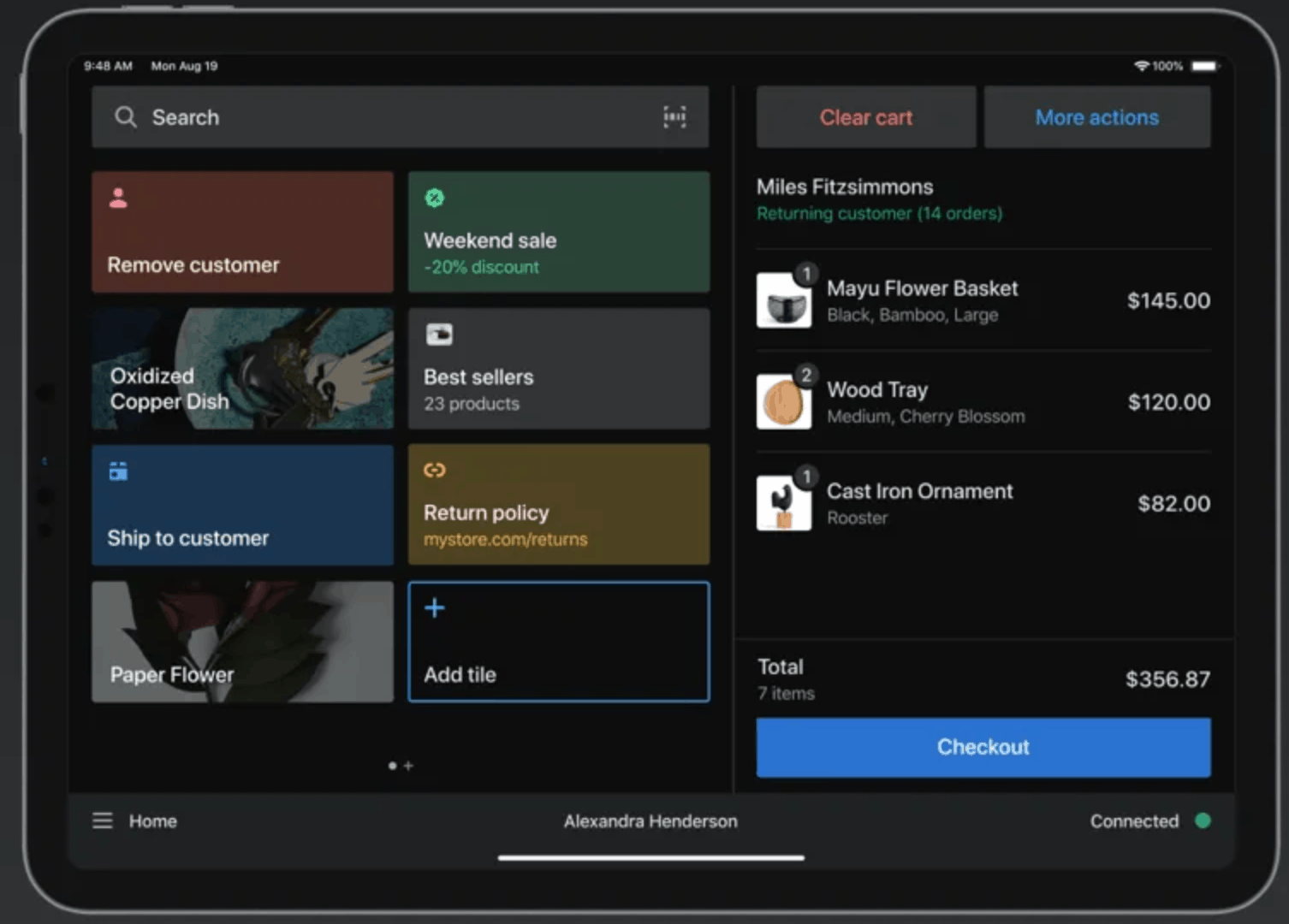 Custom Sales: Custom line items can be added at any time and priced however you wish.
Discounts: Offer your customers discounts at checkout, either by percentage or dollar amount.
Portable Registers: Because Shopify POS lives on your iPad or smartphone, it's easy to bring the device over to your customer and accept new orders anywhere.
Custom Receipts (Shopify POS Pro Only): Customize both digital and printed receipts and include important details, such as store hours and policies.
Automatic Tax Calculations: Shopify POS automatically calculates sales tax based on your store's location.
Shipping Addresses: Store customer addresses and contact details.
Shipping & Delivery Options: Options include local delivery, curbside pickup, and a ship-to-customer option, with shipping rates calculated automatically at checkout.
Store Management Features
Multichannel Sales Management: Manage offline and online sales in one central hub that includes an omnichannel search of all your products.
Integration With Accounting Software: Shopify POS can integrate with accounting software, such as QuickBooks and Xero.
Order histories
Multiple staff accounts
Staff Roles (Shopify POS Pro Only): Create different employee roles with unique permissions and choose from preset roles, such as the default "Associate," "Full Permissions," and "Limited Permissions."
Customer Profiles: Track customers' shopping habits, buying patterns, and contact info.
Reporting: Shopify POS provides several analytical tools, including dashboards that track sales, orders, and traffic patterns.
Timeline: Shopify has a unique tool that allows employees to communicate and monitor store issues within the POS.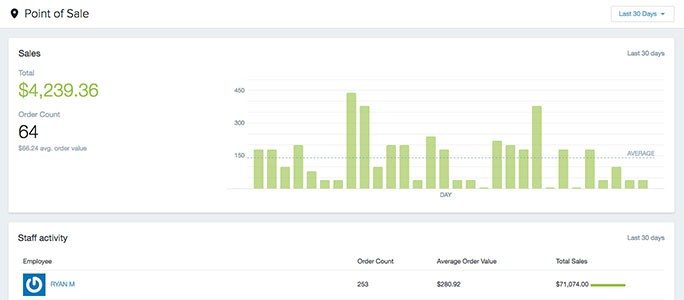 Product Management Features
Product Organization: Supports unlimited products, and products can be organized in almost any way (by category, type, season, sale, etc.).
Inventory Management: With revamped inventory management, Shopify allows you to group products in multiple ways, keep up with stock counts, and track your best-selling items.
Real-Time Multichannel Management: View inventory performance across locations and transfer inventory online or to different locations as needed.
Barcode Support: Each product can be assigned an existing barcode (or fitted with a new one).
Omnichannel Selling Features
Email Carts: This feature lets customers browse online and buy in-store.
Product Detail QR Codes: Use QR codes in your store that customers can scan with their phones to learn more about your products and buy them from your website.
Buy Online, Pick Up In-Store: Manage and track all pickup orders placed online and notify customers when they're ready.
Omnichannel Returns & Exchanges: Customers can exchange purchases made online or at one of your retail stores at any of your business locations.
Overall, Shopify POS has a strong, thoughtful, and near-complete feature set. Perhaps the system's only significant weakness (and the only reason it didn't earn an "Excellent" rating in this category) is that it doesn't have much in the way of an offline mode.
If your internet goes out and you're already logged into the app, you can still perform a few functions (using the iPad or iPhone version only), such as accepting payments by cash and custom payment methods. However, you can't accept credit card payments, sync orders with inventory, create new products, or import products offline. Unless you have a backup connection, this is far from ideal if your internet goes out.
Is Shopify POS User-Friendly?
Usability is Shopify's hallmark, and for merchants who don't have the time or the know-how to spend on training, this should be an appealing system. You can easily walk yourself through the system and get up and running to accept all forms of payment in a matter of minutes. From there, it's a snap to add customers and import inventory.
Customization can also be done relatively quickly, and, probably within the first day of use, you can have a POS tailor-made to your specifications.
The Shopify mobile app, available for Apple and Android devices, is also extremely user-friendly. The app allows you to manage your store directly from your mobile device. It can handle everything from adding items and uploading photos to altering prices and contacting customers via phone or email.
Customer Service & Support
| Shopify POS Support | Availability |
| --- | --- |
| Phone Support | |
| Email Support | |
| Support Tickets | |
| Live Chat | |
| Dedicated Support Representative | |
| Knowledge Base or Help Center | |
| Videos & Tutorials | |
| Company Blog | |
| Social Media | |
Shopify offers free 24/7 tech support and a number of other support resources to help you learn the system quickly and navigate any issues you may encounter. Shopify provides the following customer service and support options:
Live chat
Email
Phone
Shopify University
Knowledgebase
Podcasts
Social media
Payment Processing With Shopify POS
Shopify's POS system comes already integrated with Shopify Payments, the company's in-house merchant services processor. Processing rates are based on your plan. Depending on the Shopify plan you choose, the advertised in-person rates with Shopify Payments are between 2.4% and 2.9%.
If you subscribe to the Shopify Basic plan or above, you can choose an external payment gateway for processing credit card payments. Shopify integrates with over 100 payment providers worldwide. In the US, these include:
Worldpay
2Checkout
Amazon Pay
Authorize.Net
Vantiv
Braintree
CyberSource
Adyen
PayPal Express Checkout
Contract Length & Early Termination Fees
All Shopify POS plans are available on a month-to-month basis, so there are no early termination fees, although you may opt to sign up for an annual or bi-annual plan to save money.
There are no early termination fees. However, as with any other POS provider, make sure that you read all terms of service before signing up.
Shopify POS Integrations & Add-Ons
Shopify has a great app store filled with thousands of apps, covering everything from accounting tools to apps for marketing, reporting, and so forth. For example, a search for a popular term such as "local delivery" returns over 300 different results.
You can also create an app using Shopify's API. Keep in mind that some of the apps cost extra (which can add up), but you won't be lacking in options. You can also find a lot of free apps in the Shopify app store that let you do various things, such as adding a no-contact delivery option to your online store or integrating a free loyalty program with your POS system.
Shopify also has great in-house add-on services. The latest is Shopify Balance, a small business banking solution with good perks that connects directly with your Shopify account.
Shopify POS Reviews
Negative Shopify POS Reviews & Complaints
Reviews for Shopify POS are generally positive, but there are also a good number of negative reviews and complaints. Shopify Inc. is accredited by the Better Business Bureau and has an A+ rating. However, the company has had 354 complaints closed over the last three years. Some of the most common complaints found in Shopify POS reviews include:
Bugs and errors
Limited offline functionality
Lack of advanced reports
Difficult to customize the POS system
Extra costs
Positive Shopify POS Reviews & Testimonials
The most recent positive online reviews mention the same things: Shopify POS makes running businesses simpler and keeps people better organized. Shopify POS receives high marks across review sites, including a rating of 4.3/5 (based on 4,100+ reviews) on G2. Some of the most common praises include:
Easy setup
Easy to train users
Overall usability
Advanced inventory management
Numerous integrations
Good customer service
Final Verdict Of Shopify POS
Shopify POS Review Summary
Pricing
Starts at $9/month
Choose If You Need

Intuitive & easy-to-use POS system
Ample integrations
Retail-specific POS for small- to medium-sized businesses
If you love Shopify for its eCommerce platform, you should at least consider the POS as well. Shopify checks all the boxes in a POS system with capable inventory management and reporting and an extremely simple and clean interface. You do have to go hunting for some of its integrations, but you won't be hurting for options. Once you figure out which tier and add-on(s) you need, you'll likely find that Shopify POS provides good value for all the functionality it provides.
Shopify is also playing its part in addressing the massive changes taking place in the retail sector, including options such as curbside pickup and gift cards. Shopify's offline mode still needs some work and is one of the few areas where the POS lags, but on the whole, there's a lot to like.
If you own a small or medium-sized retail business and are looking for intuitive and inexpensive software, look no further. Shopify has created a POS system that can handle multiple sales channels, with a free chip card reader, competitive flat-rate payment processing, and many additional integrations.
Frankly, it would be difficult to go too wrong with this software. But if you want to continue your search, check out our other top retail POS systems to find the best option for your business. Good luck!
Shopify POS FAQs
---
The Merchant Maverick Seal of Approval 🏆
Shopify POS


---
After hours of in-depth research and evaluation, we can confidently recommend this brand to our readers. Get started today and see Shopify POS for yourself.
The Merchant Maverick Seal of Approval 🏆
Shopify POS


---
After hours of in-depth research and evaluation, we can confidently recommend this brand to our readers. Get started today and see Shopify POS for yourself.
To learn more about how we score our reviews, see our
Point Of Sale (POS) Software Rating Criteria
.