Square For Retail POS App Review
Expert Analyst & Reviewer

Updated on:
Advertiser Disclosure: Our unbiased reviews and content are supported in part by
affiliate partnerships
, and we adhere to strict
guidelines
to preserve editorial integrity.
Square For Retail

Pros
Predictable flat-rate pricing
Multilocation inventory management
Purchase order management
eCommerce integration
Advanced employee management
Cons
Limited features
Account stability issues
Square For Retail Overview
What is Square for Retail? In a nutshell, Square for Retail is designed for brick-and-mortar retailers. In particular, the Plus version is a big step up from Square Point of Sale in terms of purchase order management and inventory, with more advanced features and advanced reporting (specifically, merchants have been clamoring for cost-of-goods reporting for ages). The interface is designed specifically with retailers in mind; it can handle large inventories because of advanced search and barcode scanning features. However, according to merchants, the purchase order and inventory tools aren't necessarily what you'd expect for the price.
Square has never been one to stop introducing new features and services, though the addition of Square for Retail to its product mix had a few of us scratching our heads. The free Square Point of Sale app has been a key draw for Square users over the years, and it's not hard to see why: It's the most advanced free mobile app out there, and it works just as great as an entry-level POS, too. Did we mention it's free? All you pay for are transactions and any optional monthly services.
Given that, I was a tiny bit perplexed by this new, entirely separate Square POS system for retail, which goes for $60/month and took away some features from the original app. That Square has also released a free version of Square for Retail added to my perplexity. Square for Retail Plus includes in-depth inventory management, purchase order management, and advanced team management. Square for Retail Free has more pared-down inventory tools, among other differences.
Square for Retail earns a solid 4.5-star rating from us. The lack of advanced features is the most significant factor holding the Retail app back. But if you can manage without them, you will find a perfectly serviceable POS for large-inventory businesses. All you need to run it is an iPad or Square Register and standard register equipment. You also get Square's simple flat-rate pricing plan, with no contracts, no monthly fees, and no hidden fees or early termination fees, plus access to its terrific app marketplace.
Read on for a closer look at the Square Retail POS app, including its triumphs and failings.
Square For Retail Pricing
Square for Retail's pricing structure for the Plus app is simple: $60 per month per location. There is no extra cost for additional registers at the same location. Square charges 2.5% + $0.10 per sale for Retail Plus customers. Merchants who process $250,000 per year may qualify for custom pricing.
Square also offers a Square for Retail Free plan, which has fewer features and in-person processing at 2.6% + $0.10. The free version of Square for Retail does not include Team Plus (advanced employee management), though you can add it to your account for a fee of $35/month or use Square's free Team Management plan.
| Information Point | Square For Retail Free | Square For Retail Plus |
| --- | --- | --- |
| Monthly Cost | Free | $60/month |
| Additional Locations | Free | $60/month per location |
| Additional Registers (At The Same Location) | Free | Free |
| Basic Team Management | Free | Free |
| Advanced Team Management (Team Plus) | $35/month | Free |
| In-Person Processing | 2.6% + $0.10 | 2.5% + $0.10 |
| Online Sales | 2.9% + $0.30 | 2.9% + $0.30 |
Square charges a different online sales rate: 2.9% + $0.30 on the free online store plan. If you want to know more about Square's pricing, check out our article, How Much Does Square Charge, or read our full Square review.
There are no commitments or long-term contracts required. Square for Retail Plus offers users the company's standard 30-day free trial, but you should note that payment processing fees still apply.
Cloud-Based Or Locally-Installed
The Square Retail system is cloud-based, meaning all your information is stored on Square's servers and transferred to your device via the cloud every time you sign in. The Square Retail front-end register can be accessed via the iPad app. The back-office dashboard and virtual terminal can be accessed through any device with an internet connection.
Both the free and paid versions of Square for Retail have an offline mode that lets you continue to take credit card payments even if you lose your internet connection.
Specific Industry
The developers of this dedicated Square retail POS have focused on creating an extensive inventory management system that can be accessed with a search bar along with beefed-up reports.
While the Square Retail app integrates with several restaurant management systems, it doesn't offer the major features that a restaurant or small cafe needs. I highly recommend that restaurateurs look into other more restaurant-specific systems.
However, if you sell online and in-person, you'll get all of Square's eCommerce integrations and features included with the Square for Retail app.
One thing to remember is that Square is not for every business, even though almost anyone can apply for an account. Whether you're using the free Point of Sale app or the Square Retail app, the same limitations on accounts apply. Make sure you're not one of Square's prohibited businesses (per the user agreement) before you sign up.
Specific Size Of Business
Square's website states that Square for Retail is for businesses of any size, but that's a bit of a stretch. There aren't many one-size-fits-all options, and the Retail app definitely isn't one of them.
Square for Retail is more for businesses with large numbers of SKUs and don't mind using a basic front-end register as a trade-off for more powerful inventory management. There are some useful back-end reporting features that Square merchants have been clamoring for thrown in, too. The Plus version of the app also includes timekeeping and user permissions at no additional charge. If you have a half-dozen employees, you break even on the cost of employee management, which could justify paying for the upgrade.
I'm convinced that Square f0r Retail Plus is best suited to small-but-growing and medium-sized businesses. A large business might need other features that Square doesn't yet provide. And if your business is so small that Square's current inventory tools are more than enough, there's no reason to pay more for tools you won't use; you'd be better off with the Square for Retail Free or the standard Square Point of Sale.
Ease Of Use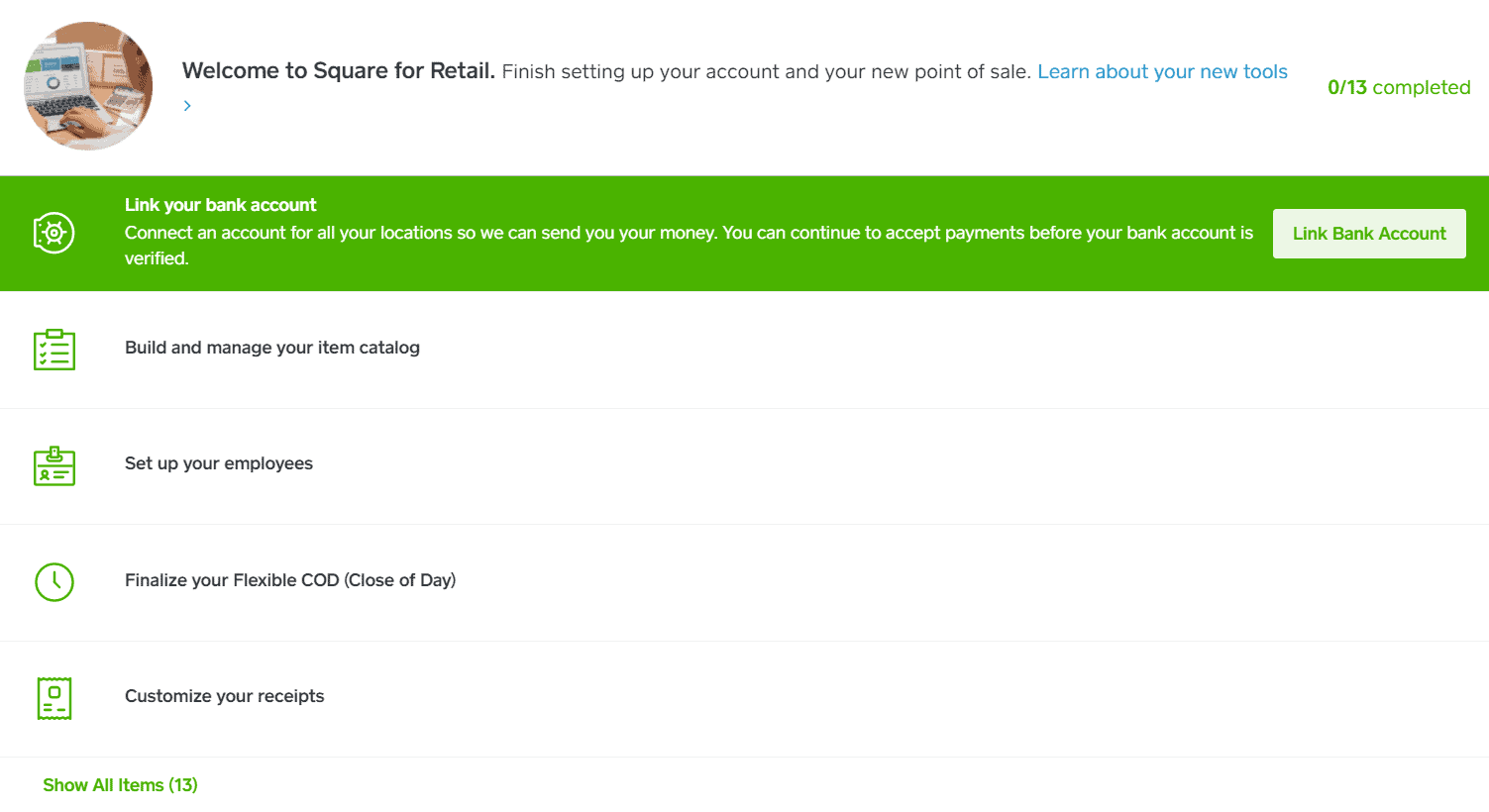 Setting up Square for Retail (or a Square account in general) is pretty painless. There are lots of step-by-step instructions if you need them. When setting up your account, you will be asked for your personal contact information, including the last four digits of your social security number, to verify your identity. Type carefully because if Square has trouble verifying your identity, you won't be able to make an account.
Once you've set up your account, you can log in and access the web dashboard, which looks the same no matter which Square product you choose. Square's dashboard is the heart of the platform. There, you will be asked to create a separate device code for each of your registers and to set up your store, both physical and online. Square will give you prompts to help you figure out what to do.
The system walks you through the various steps, such as linking your bank account, building your item catalog, setting up employees, customizing your receipts, and more. That's all well and good, but most of Square's features are pretty intuitive. And if you get stuck, Square's fantastic knowledgebase can help you out.
While Square for Retail is easy to use, it's far from impressive. There's an emptiness to it — a bland, humdrum interface that hides a lot of Square's tools and all of the menus you might need. The system is meant to be navigated by searching for items or scanning them with a barcode scanner.
Square's Retail POS is also not the most intuitive/efficient screen for wrapping up transactions. The interface includes a large black space that could easily incorporate some of the most frequently used buttons to expedite the checkout process. Instead, you have to access many buttons through different menus. If you've come to appreciate Square's simplicity, this shouldn't be much of an issue for you. However, if you were looking for an upgrade to a more modern interface from the free app, that's not in the cards.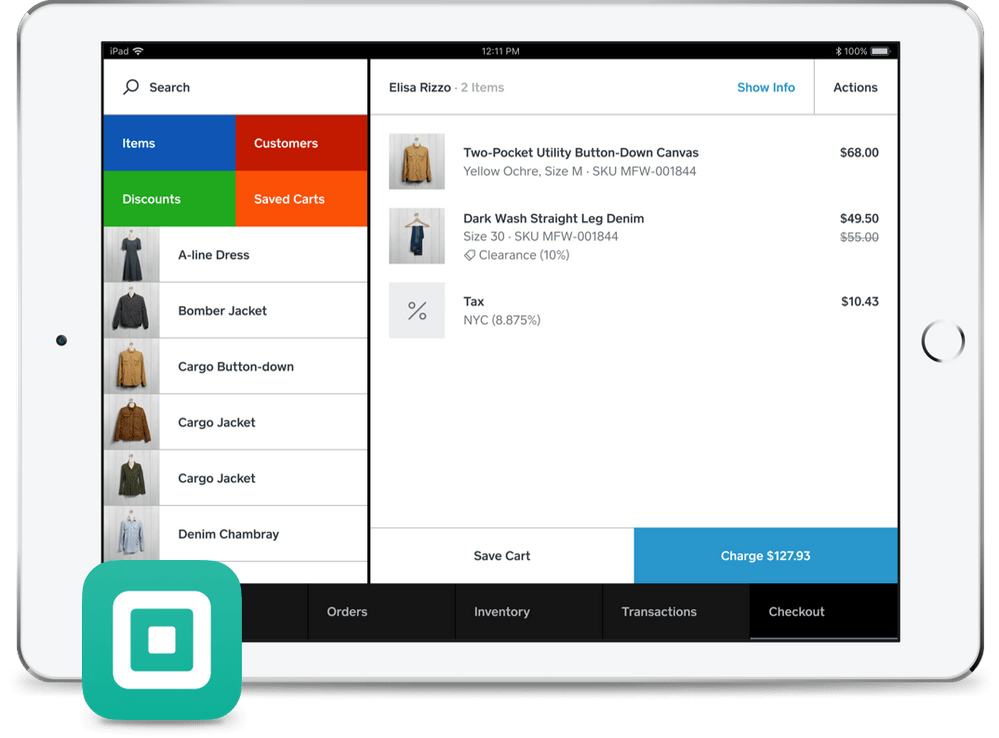 Hardware & Operating System Requirements
There are two components to the Square Retail POS app: the dashboard and the register features. The dashboard is accessible on just about any internet-enabled computer that isn't a complete dinosaur.
The register component can run on the following:
iPads
iPhones
Square Register ($799 from the Square Shop)
Unlike Square Point of Sale, Square for Retail cannot run on Android devices or Square Terminal.
Here is a list of peripheral equipment you will want to get for your POS:
Square Stand With Contactless + Chip Reader: If you plan to use Square Retail with iPad, your best bet is to order a Square Stand with its EMV/NFC reader included. Bonus: You'll also get the dock, all of which you can get at a discount. The Stand plus reader goes for $169 at its regular price.
Receipt Printer: For retail (not mobile) setups, Square recommends an Ethernet or USB printer, and there are quite a few compatible options. The default option in the Square Shop, the Star Micronics TSP143IIU, is available for $299.
Cash Drawer: Square offers quite an assortment of options, depending on the size of your space. Square sells the USB-driven APG VB554A-BL1616 for $249 or the printer-driven Star Micronics 37965600 for $129.
Barcode Scanner: The Square Retail app is designed for searching or barcode scanning, so a barcode scanner should be on your list, particularly if you're on Plus. Square sells a USB barcode scanner (the Motorola Symbol LS2208) for $119.
The Square site has an even longer list of compatible hardware options, but the equipment options listed above are best for running the Square Stand. Did we mention Square sells bundled equipment? You can get the Square Stand, Contactless + Chip card reader and dock, printer, printer-driven cash drawer, and 25 rolls of receipt paper in a retail kit for $646 (iPad not included). Or buy a Square Register hardware kit (which includes the Square Register POS device) for $1,329.
Square Retail POS Features
Square for Retail POS features depend on whether you're on the "Free" plan or the "Plus" plan.
Square Retail Plus Features
The free version of the app has many of the same features as the paid plan, but it has some limitations. For example, on the free plan, you can issue refunds, but not exchanges. The following features are only available on the Square for Retail Plus plan.
Manage item costs
Print item labels
Issue exchanges
Manage staff
Set different permissions for different users
Transfer inventory to a different location
Create and send purchase orders
Manage vendors
Manage pending restocks
Advanced reporting (COGS reports, vendor sales reports, inventory by category reports, labor vs. sales reports)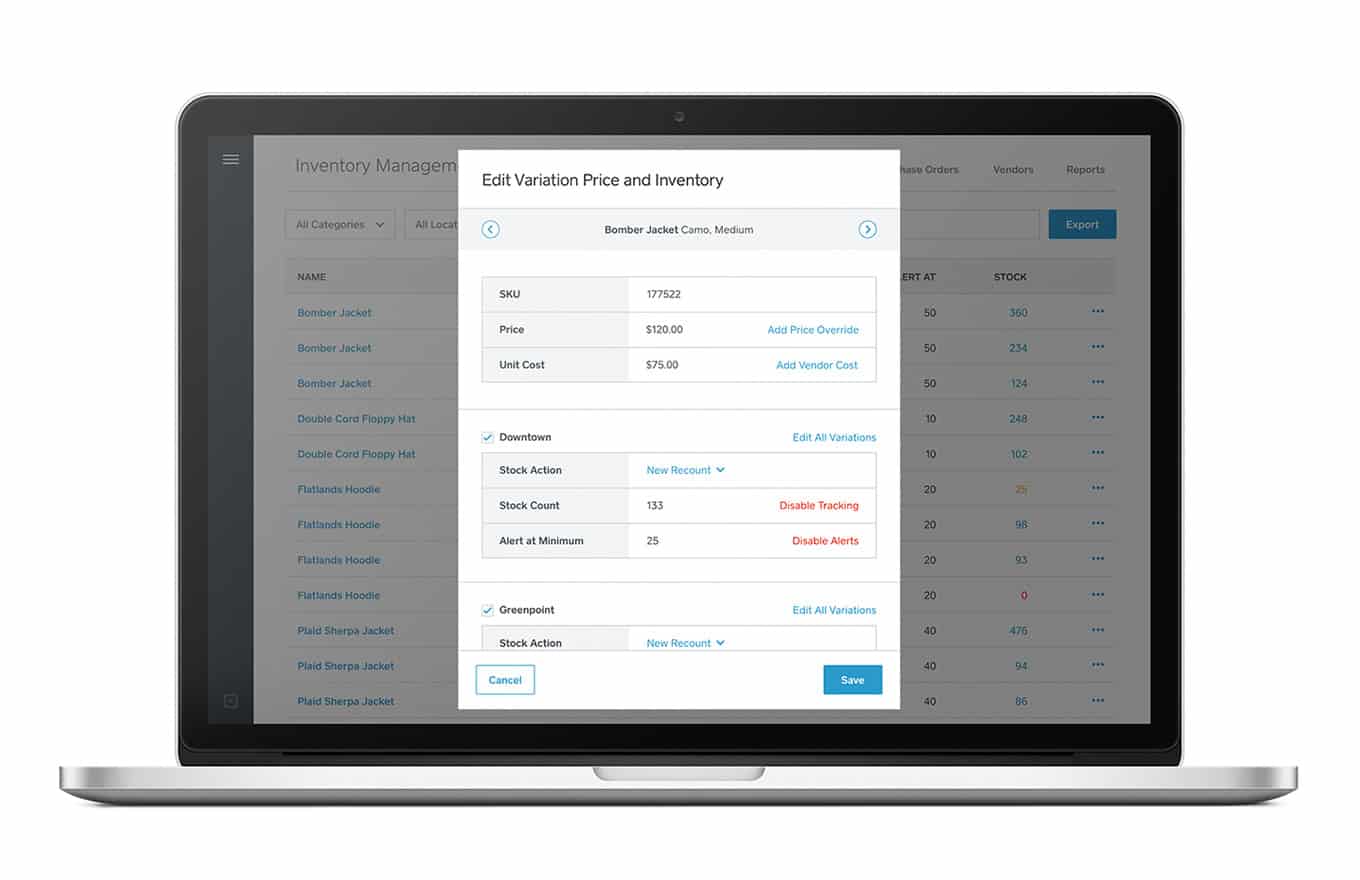 Significantly, you can upgrade to or downgrade your Square for Retail plan without losing any data. That makes it easy to switch back to the free plan if you decide you don't need the paid plan's extra features.
For a detailed breakdown of which features come with each plan, Square's website has a useful page where you can compare Square for Retail Free, Square for Retail Plus, and Square Point of Sale.
Here's some more information on Square for Retail's notable features:
Square For Retail Inventory
In the free version of the Square for Retail app, you get the basic inventory features, including the ability to add, import, receive, and search inventory, but you cannot transfer stock to different locations or print item labels. Square for Retail inventory tools include:
Add and manage items with descriptions and variants
Product matrix
Low stock and out of stock alerts
Receive inventory
Transfer inventory to a different location (Plus only)
Search inventory across locations
In-depth inventory reporting, including COGS and projected profits (Plus only)
Unlimited SKUs
Barcode and custom label printing (Plus only)
CSV import and bulk editing
Unit cost in item listings (Plus only)
Square For Retail Vendor & Purchase Order Management
Square for Retail's vendor management and purchase order management features are available on the Plus version only. These functions are an extension of Square for Retail's inventory management, but it seems these are the features merchants are most interested in, so I want to call them out:
Link Vendors To Products In Item Catalog: This is a new feature but a helpful one, and it's a good complement to the unit cost function.
Purchase Order Creation: You can create purchase orders from the Square dashboard. However, at this time, Retail cannot auto-populate purchase orders based on low or empty stock, which is a sore point. Instead, merchants have to select each item on the purchase order manually.
Purchase Order Management: You can receive purchase orders from the dashboard or within the Square Retail app and check the status (whether something is partially received, still waiting, etc.). When you receive items, you can also mark any taxes and fees for accurate cost-of-goods (COG) reporting.
Most of the inventory management and PO tools are concentrated in the dashboard rather than the app, which is a source of frustration for merchants who want to use their iPad for more than just accepting payments. Square is trying to remedy this, though. You can now receive purchase orders and products from the Square Retail app (this was not possible in the first version of the app).
Square For Retail Back-End Features
Square has a long list of back-end features, but these are the highlights:
Team Plus (Plus Only): Team Plus is Square's advanced employee management suite, which you can use to track employee hours, set user permissions, create custom employee roles, and much more. Employee timecards can sync with Square Payroll or another payroll provider. Team Plus is included in Square for Retail Plus, but not on Square for Retail Free. You can use the basic Square Team Management on the Square Retail Free plan if all you need is an employee timeclock and very basic scheduling and reporting.
Free Online Store: Square's free online store is really basic, but it works. It's as simple as ABC to set up, plus you can integrate with other third-party shopping carts (though not all reporting features work seamlessly). Square even allows you to accept orders online to pick up in-store, which is worth looking at. If you want more features for your online store, Square also has paid online store plans.
Square Online Checkout: This is a newer feature that gives customers different ways to pay online. Customers can check out using a link you text them, a button embedded into your existing website, a link on your social media profile, or a QR code they scan with their phone's camera. This feature works great for socially-distanced shopping during COVID-19. For example, even if your physical storefront is closed, you can display QR codes in your shop window that customers can use to purchase items online. Online Checkout is included with all Square accounts, including Square for Retail Free and Square for Retail Plus. Merchants are charged the standard online processing rate of 2.9% + $0.30.
Square Virtual Terminal: With Square's Virtual Terminal, you can accept payments through any web browser by manually keying in credit card information. Just like all other keyed-in transactions taken through Square, using the virtual terminal will cost 3.5% + $0.15 per transaction and take one to two business days to process.
Add Inventory: A recent update now allows you to add inventory directly through the app. Hit "Add Stock" in the dashboard and search or scan the product you're adding.
Item View: You can manage inventory across multiple locations from your Square dashboard. (You can also control employee permissions in the same way.)
Client Messages: Customers can make an appointment and leave information in the form of a comment or note, saving employees a few steps.
Invoicing: You can send invoices through the Square dashboard and pay 2.9% + $0.30. Invoices are customizable, and you can even keep customers' cards on file.
Refund To Gift Card: It's not quite the same as a store credit, but Square will finally let you refund a transaction to a gift card, giving you a more effective way to handle exchanges and store credit. It's not perfect by any means, but at least it's something.
Cash Management: Track the starting and ending balances of drawers, pay-ins and pay-outs, and more.
Decimal Quantities: Another initial hole with Square's Retail POS has been fixed with an update, as you now have decimal quantity support.
Advanced Reports (Plus Only): The Square Retail reporting suite lets you view the costs of goods sold and track projected profits. You can also see your inventory history, monitor employee sales, and track inventory by vendor or category.
Favorites: This feature allows you to create a list of popular items, or items you want to keep close on hand, that you can access from the app interface — no need to search for individual products.
Customer Directory: The directory itself isn't new, but with the Retail app, you can add notes to it, which is not available in the Square Point of Sale app. Both the free and paid versions of Square for Retail include customer management.
Custom Tips & Discounts: These aren't Retail-exclusive features, but I want to point out that the app supports tipping. I've encountered some merchants who sell a combination of services and retail goods that have expressed interest in the app. Unfortunately, many of them are frustrated by the inventory management tools, which don't seem adequately adapted for a hybrid business. But this does exist if you need it.
Square For Retail Missing Features
So what's missing? Here's the list of features the company either removed from the Square Retail app or have yet to include:
Open Tickets: Square claims this was more for quick-service restaurants, but merchants aren't pleased about its removal.
Auto-Populating Purchase Orders: Merchants have been asking for this almost since the Square for Retail app launched. Currently, Square doesn't offer this feature, requiring users to take extra steps to populate purchase orders.
Items Grid: You will not find the same "Items Grid" in Square Retail as you will in the Square POS app. But again, you do have the "Favorites" list, which can serve a similar purpose.
Want to know more about default Square features? Check out our full Square review, our review of the online store builder, and some of Square's eCommerce integrations.
Integrations & Add-Ons
A lot of services and add-ons work with Square. Let's start with a few of Square's optional monthly services that integrate with Retail:
Payroll: With Square Payroll, it's easy for merchants to transfer the timekeeping provided for free with the Retail app. Payroll is now available in all 50 states. This add-on is $29/month, plus $5 per employee paid that month.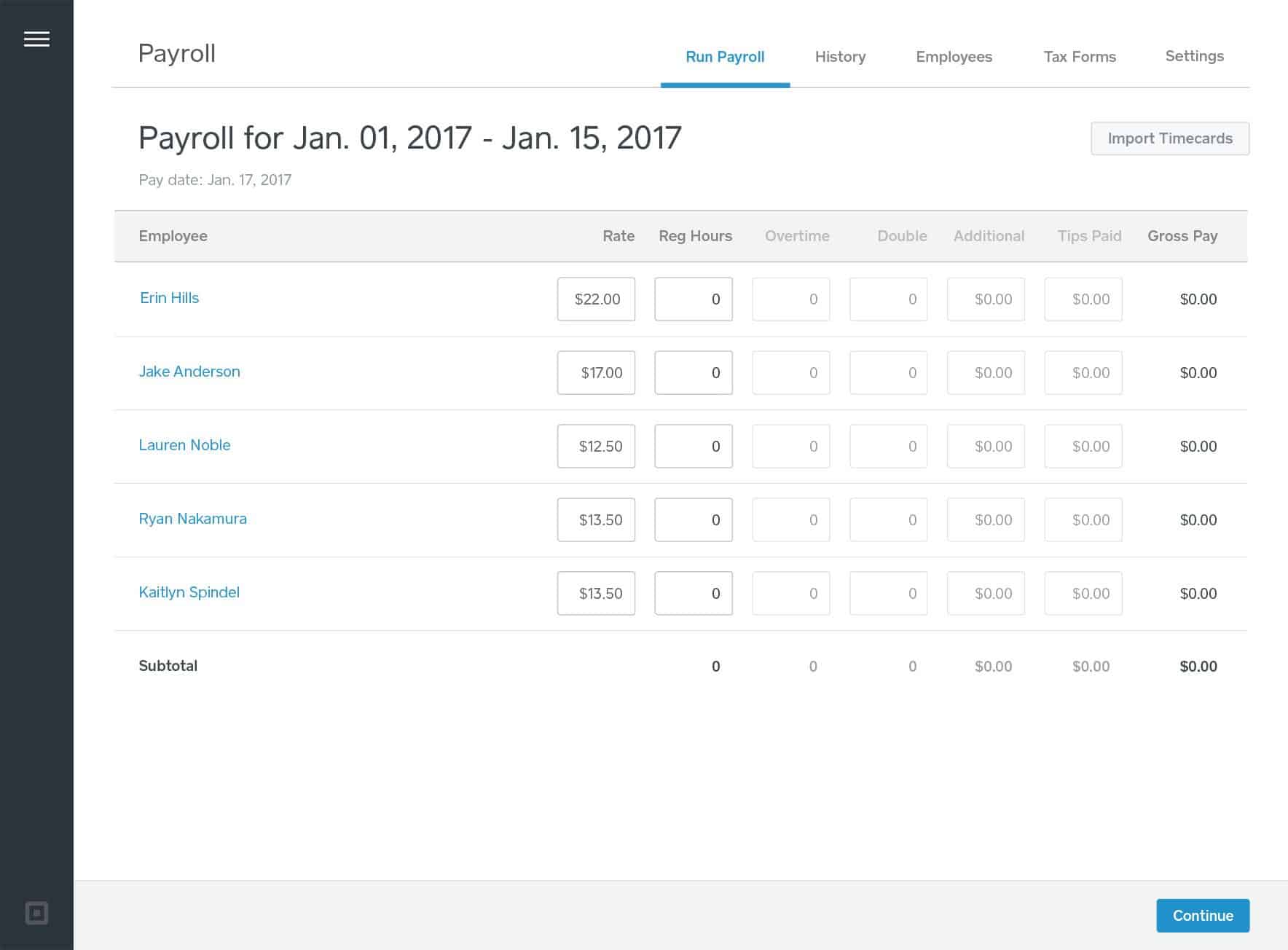 Marketing Campaigns: Use an email or Facebook campaign to promote your merchandise to customers. Costs start at an additional $15/month. Schedule campaigns and also track effectiveness with information, such as how many of your emails were opened and how many sales can be attributed to the email through a coupon code. You'll need to commit to maintaining your customer database to get the most out of this feature.
Gift Cards: You can order physical gift cards, including templates and custom designs, for a fee. You can also sell eGift cards and just pay the transaction fees. It's a great option for a lot of businesses. Best of all, there is no additional cost to use gift cards with Square.
Square Loyalty: Square offers users the option of adding a customizable loyalty program, starting at $45/month/location. With Square Loyalty, business owners can customize their rewards program to attract and reward customers. Business owners can choose their rewards, such as a 10% discount on the tenth visit, and customers can redeem them by entering their phone number. You can also track the redemption, participation, and sales rates with this program. Using your customer's phone number, you can pull up all their information.
The one monthly add-on service that isn't compatible with Square Retail is Appointments. That's because Square has expanded the service to make it a full-fledged POS that can handle transactions for appointments as well as track, manage, and sell inventory. If you're a hybrid merchant dealing in both services and merchandise, it might be worth looking into this.
Square also offers an extensive list of integrations in the App Marketplace. It doesn't appear that all of them work seamlessly with the Retail app, so you'll have to check with Square before committing.
One final thing to note: Square also offers developer APIs to create custom integrations and solutions. You need to make a Square account to access the APIs, but that's all that's required.
Customer Service & Support
Square offers a few options when it comes to customer support. Users can check out the customer support page to start their troubleshooting process. Then you just need to decide which avenue to pursue to get support.
Phone Support: Phone support is available to Square's existing customers Monday through Friday, 6 AM to 6 PM PST. To call, you must request a customer code and go through a troubleshooting process. It isn't a great system, but it works, and you can talk to a live person. (The exception being the case of account terminations.)
Email Support: Square's email support is a ticket-based system where you fill out some information about your problem and then wait for someone from Square to email you. Square's website says representatives will try to contact you within 24 hours.
Knowledgebase: Square's extensive knowledgebase should help you with any common questions or problems. It is an industry-leading solution in terms of the breadth of articles and topics. However, Square is still developing support articles for the Retail app, so there are many more resources regarding Square Point of Sale.
Community Forum: Square offers a community page where users can troubleshoot and discuss Square. Unlike many other online communities, this one is quite active, both for merchants and Square support reps (and even product managers). If the knowledgebase doesn't cover the issue and the problem isn't pressing, this is your best chance at an answer.
Social Media: You can follow Square on Facebook, Instagram, YouTube, and Twitter. Along with posting blogs and product updates, Square also uses Facebook and Twitter to help customers in lieu of instant messaging on Square's main website.
Blog: Square maintains an active blog called Town Square. It's also a terrific way to learn how to use Square's features better or learn more about running a business. The monthly recaps are an easy way to catch up on new features.
System Status: Users can go to www.issquareup.com to check Square's status. The page is updated every few minutes and lists any incident reports.
Because support channels for Square for Retail aren't separated from the rest of Square's general support, you should expect the same sort of overall experience. Square seems to provide pretty good customer service — except in cases of account terminations. But I don't think there's any way to guide merchants through the account termination process to their satisfaction, either.
Compatible Credit Card Processors
Square for Retail is only compatible with Square Payments for credit card processing. Square for Retail Plus's in-person processing rate is 2.5% + $0.10, while customers on the free plan get the standard 2.6% + $0.10 rate. These rates are excellent for low-volume and small tickets, but larger retailers can likely get a better deal using a merchant account that offers interchange-plus pricing. However, if you're new to processing and want to get set up quickly with minimal fuss, Square is the obvious choice.
It's important to note that Square is a third-party payment processor, meaning merchants do not get their own merchant account, and account stability can be an issue. Withheld funds and even sudden account termination are not uncommon with third-party processors, including Square. It helps if you run a low-risk business (e.g., not a vape shop), and your ticket size doesn't vary too much. For example, if you have an average ticket size of $15, but you sometimes have a random $300 purchase, Square might not like that. Read our blog post to learn more about the pros and cons of using Square vs. a merchant account.
If you want to avoid account troubles with Square, you need good business practices — a solid return policy, good customer service, and invoices for large transactions — to avoid red flags. Check out our article on how to prevent holds and freezes.
Want a POS that you can use with your choice of merchant account? Check out our comparison charts for the best retail POS systems and best merchant accounts.
Square For Retail POS Reviews & Complaints
Negative Reviews & Complaints
Since the Square Retail app is a recent addition to the POS world, there aren't many Square Retail reviews, positive or negative. Also, Square for Retail is not differentiated from Square, Inc., on the BBB website. But if you know where to look, you can find feedback from merchants who actively use the service or have at least completed the 30-day trial period and decided it wasn't for them. Here's what we've heard as far as complaints:
Missing Features: A lot of users have stated that they wished Square offered more features and functions. Purchase order creation is a sore point, as Square for Retail doesn't support the auto-populating of POs. It's also not friendly to service providers/hybrid merchants. I think complaints about lack of features exceed anything else — though it certainly ties into complaints about the Square for Retail cost or the lack of intuitiveness very closely. While Square continues to add updates almost monthly, this is still a common refrain.
Not Intuitive: While the numbers aren't overwhelming, merchants have said Square's Retail POS is not very easy to use and requires a lot of trips to the customer support page. This is especially true for inventory management and purchase orders. I see a lot of complaints specifically about how difficult it is to edit item costs.
Square For Retail Cost: Some merchants feel Square for Retail Plus is a bit spendy at $60/month/location, plus transaction fees. While competitive in the POS world, it's certainly not in keeping with Square's tradition of offering a lot of features at an outstanding price (usually free).
Unattractive User Interface: While I wouldn't call the interface ugly, it could probably use a makeover, and other merchants seem to agree. A screenshot of Square for Retail is on the left, and Square Point of Sale on the right. Which one looks more appealing and easier to use? While the Retail interface is minimalist, it also has a certain air of "you better know what you're doing with me" about it. The Point of Sale app is bright and colorful and full of buttons that make it easy to navigate. I've also seen complaints that the Retail app interface isn't friendly for very bright light (in the off chance you want to take the iPad mobile). Merchants would love the ability to toggle displays for different lighting conditions.

I also want to point out that the same primary complaints about account terminations with Square also apply here. Switching to Square for Retail or upgrading to Square for Retail Plus won't protect you from a processing hold or account termination if your processing history is full of red flags. However, it might show that you're doing a steady volume, which may mean you're less susceptible to holds or a termination. But please don't switch to the Square Retail POS system with the expectation that it will protect you. (It won't.)
Positive Reviews & Testimonials
There's a fair amount of press coverage around Square's Retail system and the company in general. Looking around the Square site, you'll also find a bunch of customer testimonials. From what we've seen, this is what merchants like about Square for Retail:
Ease Of Use: Many users comment that the Square Retail POS is easy to use and train new employees on. Considering that others have complained about the interface, I'm inclined to think this is more a case of people either loving it or hating it.
Customer Support: Quite a few comments noted that Square's customer service is friendly and helpful. I've seen this in action on the Seller Community, and it gets brought up in other public spaces. Remember, there's no separate customer support for the Retail app versus the rest of Square's services.
Features: Square's Retail app incorporates some features that merchants have been asking about for ages. Specifically, cost-of-goods reporting and more advanced inventory tracking are tools that Square users have desperately wanted. And despite the lack of some features and the pared-down UI, Retail is a step in the right direction. It's also nice to know that Square's developers are always adding improvements, and many of the complaints I've seen are already included in the company's roadmap.
Again, the usual chatter about Square applies here, too. It's easy and fast to make an account, there are always new features, and it's relatively inexpensive.
Final Verdict
With the Square POS system for retail, Square has left itself room to grow and improve, and the majority of its many updates have been positive thus far. The company has made a pretty clear commitment to listen to its customers' complaints. Square fixed a number of the holes that came with the product in just its first few months on the market.
Very small merchants with little inventory stand to benefit from switching from the standard Square POS, while very large businesses may find Square for Retail feature-set lacking, even at the "Plus" subscription level. This means the Square Retail system is ideal for merchants who fall in just the right range — a small-but-growing business or a mid-size business with somewhat basic/standard retail needs.
If you like what Square has to offer across the board but simply couldn't get by with the free app's inventory offerings, this is probably your solution. Square continues to make things easy by offering all-in-one solutions, even if they come with higher rates than you could found elsewhere. Also, be sure to check out our complete Square review before you forge ahead!
If you're unsure whether to use the Free vs. Plus version of Square for Retail, take the Plus version out for a free 30-day trial. Let me know down in the comments what you think of Square for Retail! Good or bad, your feedback helps immensely.
---
The Merchant Maverick Seal of Approval 🏆
Square For Retail


---



After hours of in-depth research and evaluation, we can confidently recommend this brand to our readers. Get started today and see Square For Retail for yourself.
The Merchant Maverick Seal of Approval 🏆
Square For Retail


---



After hours of in-depth research and evaluation, we can confidently recommend this brand to our readers. Get started today and see Square For Retail for yourself.
To learn more about how we score our reviews, see our
Point Of Sale (POS) Software Rating Criteria
.
Read Next