6 Best Thrift Store POS Systems In 2023
The best thrift store POS systems are Square, Shopify, Clover, Loyverse, Lightspeed, and Korona: each system has special features perfect for owners of secondhand shops.
Expert Analyst & Reviewer

UPDATED
Advertiser Disclosure: Our unbiased reviews and content are supported in part by
affiliate partnerships
, and we adhere to strict
guidelines
to preserve editorial integrity.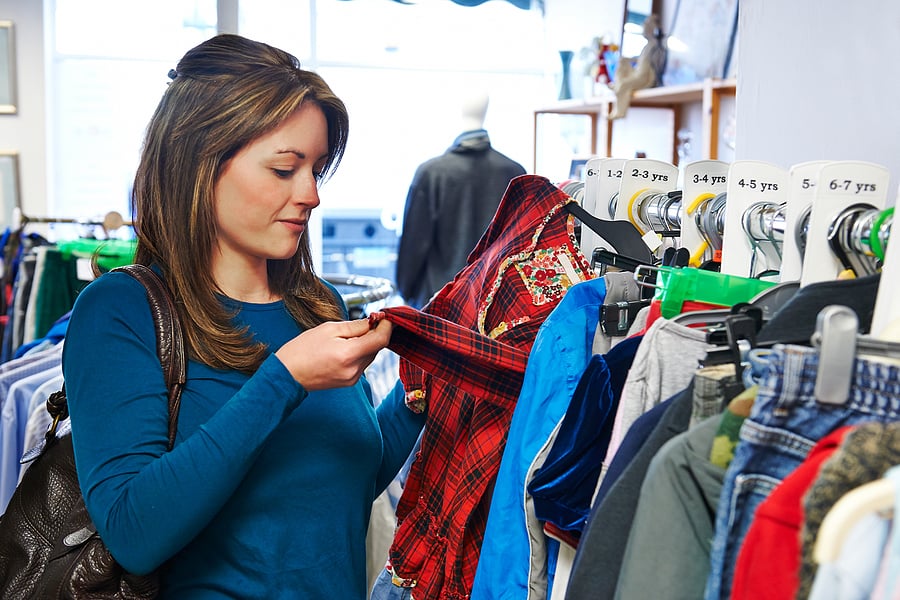 Thrift store POS systems allow small business owners to modernize their thrift shops with features such as barcode labels, email receipts, customer tracking, and even an online store.
Whether you run a nonprofit thrift store or a for-profit vintage and used clothing store, you need the best thrift store point of sale system for your needs as a small business owner. Thrift store POS systems include thrift store inventory software as well as software functions to reward loyal customers and keep them returning to your store. Read on to learn about the best thrift store POS software options for your thrift shop.
Learn More About Our Top Picks
Company
Best For
Next StepsBest For
Square For Retail
Best value.

Best value.

Lightspeed Retail POS
Best inventory management.

Best inventory management.

Shopify POS
Best for nonprofits.

Best for nonprofits.

Clover POS
Best POS hardware.

Best POS hardware.

KORONA POS
Best for choice of processor.

Best for choice of processor.

Show More Options
Loyverse
Best loyalty program.

Best loyalty program.

Show Fewer Options
Read more below to learn why we chose these options.
Best Thrift Store POS Software
Thrift store POS software should have affordable monthly pricing, tablet-based hardware, and an intuitive interface. The POS should also include features like inventory, eCommerce, and loyalty. The best thrift store POS vendors are Square, Lightspeed, Clover, Shopify, Korona, and Loyverse.
1. Square: Best Value
Square For Retail


---
Pros
Free retail POS
Free online store
No contract
Features for nonprofits
Cons
Occasional fund holds
Somewhat basic inventory features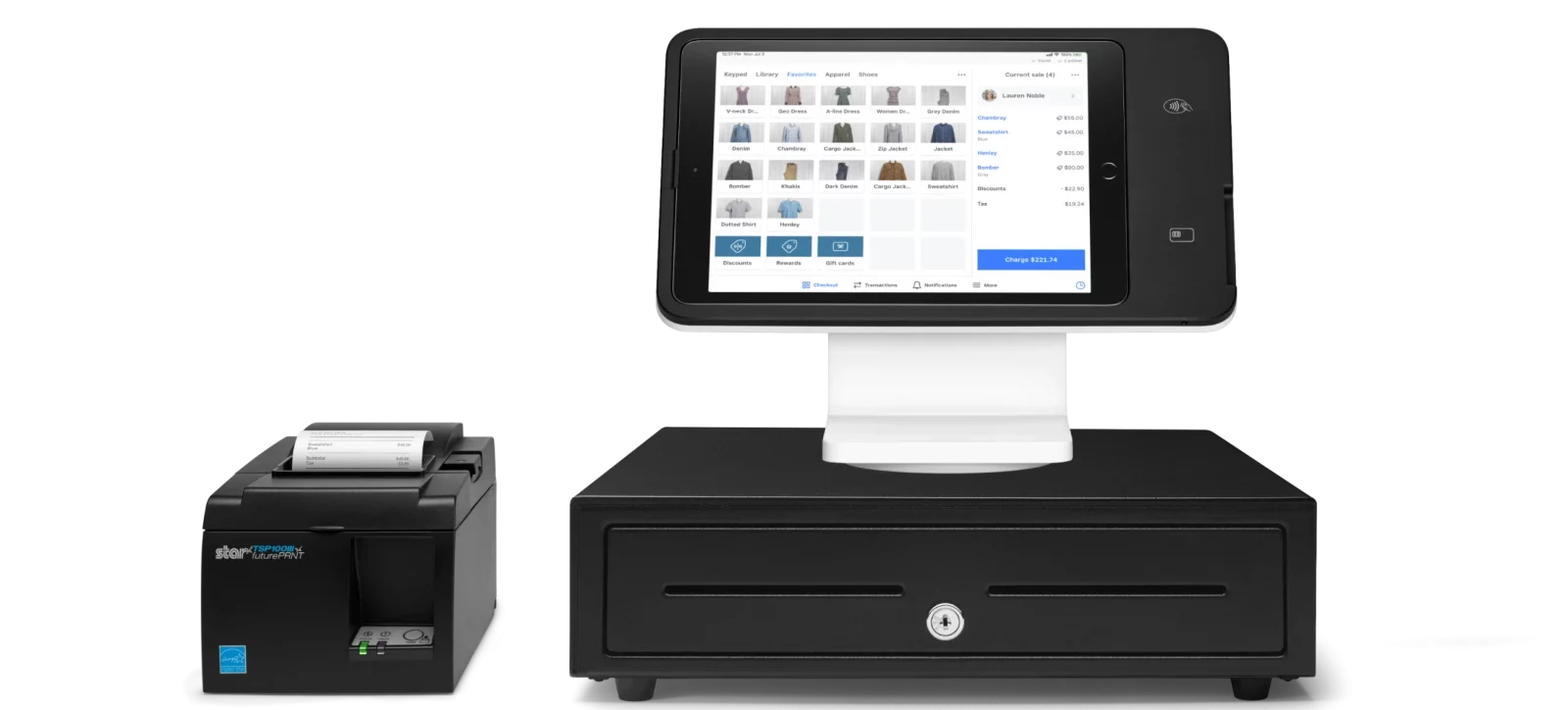 Square Thrift Store POS Features
Square for Retail offers the following thrift store POS features:
Track stock
Import/export item library
Manage modifiers, categories, discounts, taxes, & units
GTIN and SKU bar codes (auto-generate SKUs)
Free Square Online store
Free gift cards
Accept donations online
Local delivery via DoorDash or Postmates
Buy online, pick up in-store/return in store
Collect donor information at POS
Employee management & permissions (Plus version only)
Print barcodes (Plus version only)
Bulk inventory intake (Plus version only)
Loyalty program (paid add-on)
Square Pricing
Square POS and Square for Retail, which include added inventory features for retail stores like thrift shops, are both free. Square for Retail Plus, which includes even more advanced inventory features as well as team management, costs $60/month per location.
Hardware Cost
You can use it on pretty much any tablet, iPad, or even smartphone setup. Square also offers complete hardware kits for countertop retail use, which is what most thrift stores would use. For example, the Square Stand kit includes a Square Stand (proprietary iPad enclosure with built-in payment acceptance), 10.2″ iPad, cash drawer, receipt printer, and paper, for $1,068. Or you can buy a Square Register kit that includes an all-in-one Square Register (includes tablet and payment acceptance), cash drawer, receipt printer, and paper for $1,389.
Payment Processing
All Square accounts come with built-in payment processing. In-person rates are 2.6% + $0.10 on Square POS and Square for Retail Free plans, or 2.5% + $0.10 on Square for Retail Plus plans. Nonprofit thrift stores can indeed use Square, but Square does not offer a reduced processing fee to these organizations—unless you process more than $250,000 per year, in which case you may qualify for a discounted rate. (For more resources about running a nonprofit, please check out our guide.)
Contract Requirements/Warnings
All Square plans, including paid Square for Retail Plus plans, are month-to-month with no contract. One thing to know about Square is that it doesn't come with your own merchant account. It uses an aggregate merchant account, or payment services provider model, which can lead to account stability issues such as occasional fund holds.
Where Square Really Shines As Thrift Store POS Software
With its free plan and affordable "Plus" plan, Square for Retail provides numerous features and an overall great value to thrift stores. Using Square is the perfect way to upgrade to a modern POS that has features like email receipts, online sales, and customer management—but without breaking the bank. Square can capture donor information at the POS, and there are also other Square features for nonprofits, including the ability to accept donations online.
Square for Retail has somewhat basic inventory features on the free plan, but then again, thrift stores have somewhat basic inventory needs. Since each item is unique and donors are the vendors, most stores don't need features like vendor management or cost-of-goods (COGS) reporting. However, if you do need those features, both are included on the paid "Plus" plan.
Get Started With Square For Retail
2. Lightspeed Retail: Best Inventory Management
Lightspeed Retail POS


---
Pros
Advanced retail POS
Multichannel POS
Excellent inventory features
Unlimited 24/7 support
Cons
Advanced features (eComm, gift cards, loyalty) cost extra
Costs more if you use an outside processor or pay monthly
Early termination fee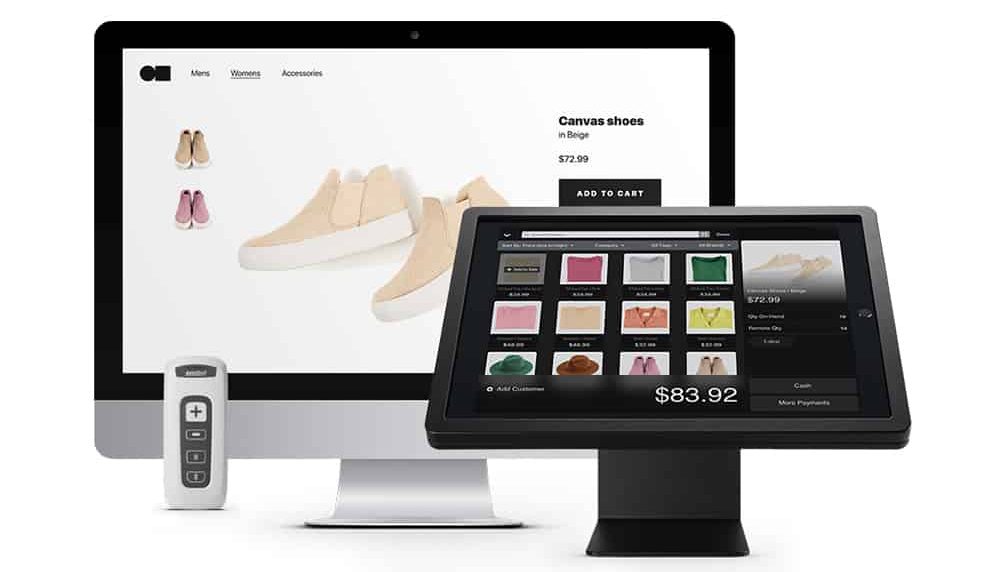 Lightspeed Thrift Store POS Features
Lightspeed offers the following thrift store POS features:
Create bundles with multiple products
Upload <10,000 items at once with item import
Make bulk pricing changes across your inventory
Offer BOGO discounts
Generate unlimited barcodes — free barcode tool compatible with all scanners
Holds and layaway
Pricebooks
Basic employee management
Integrated in-house eCommerce (on higher plans)
Omnichannel gift cards (on higher plans)
Social media selling
Lightspeed Pricing
Lightspeed pricing starts at $89/month ($69/month with annual billing) if you agree to use Lightspeed Payments, Lightspeed's in-house payment processor, to process customer payments.
You will pay an extra $50/month to use a third-party payment processor, such as TSYS or Worldpay.
Hardware Cost
You can use Lightspeed Retail with an iPad or Mac desktop setup. You can source your hardware yourself or buy a bundle from Lightspeed. Hardware pricing is quote-based.
Payment Processing
Lightspeed Payments is included on all accounts, with an in-person rate of 2.6% + $0.10.
You also have the option to integrate an outside processor, but if you opt to use another processor, you'll pay an extra $50/month. Businesses with large sales volumes or a high number of transactions should consider using a third-party payment processor that offers better rates and paying the extra monthly fee.
Contract Requirements/Warnings
Lightspeed has the option to pay monthly or annually. You'll pay a higher monthly price if you opt for the monthly plan. However, you will be charged an early termination fee if you cancel your plan early, so consider signing up for a monthly plan until you're sure Lightspeed is a good fit for your thrift store.
You are required to verify that you have received your Lightspeed hardware within five business days of receiving it, or the equipment will not be not eligible for Lightspeed's 30-day warranty (14 days for Apple products).
Integrating with a third-party payment processor costs an extra $50/month.
Where Lightspeed Really Shines As Thrift Store POS Software
Lightspeed is a premium retail POS for iPad with extensive inventory options and other advanced features that make it a great fit for any retail business, including ones with specialized needs, such as thrift stores. Some Lightspeed Retail features that thrift stores may find especially useful include the ability to create bundles with multiple items, set bulk pricing, import inventory in bulk, hold items in layaway, and remove items from inventory as donations or promotional giveaways.
For stores that sell some vintage items but also sell some new products, Lightspeed has you covered with purchase ordering and vendor management.
While not all thrift stores label all their items in a barcode system offered by a modern POS such as Lightspeed Retail, labeling your inventory with barcodes provides thrift stores with the benefits of automated inventory management, saved time at the register, theft prevention (customers can't switch labels to different items), and the ability to edit prices from your POS — including bulk price changes. And if you use a multichannel POS like Lightspeed, you'll also need a barcode system if you want to keep your inventory consistent across in-person and online sales.
Get Started With Lightspeed Retail POS
3. Shopify POS: Best For Nonprofits
Shopify POS


---
Pros
Reduced payment processing fees for nonprofits
Extensive multichannel selling features
Month-to-month plans
Mobile POS module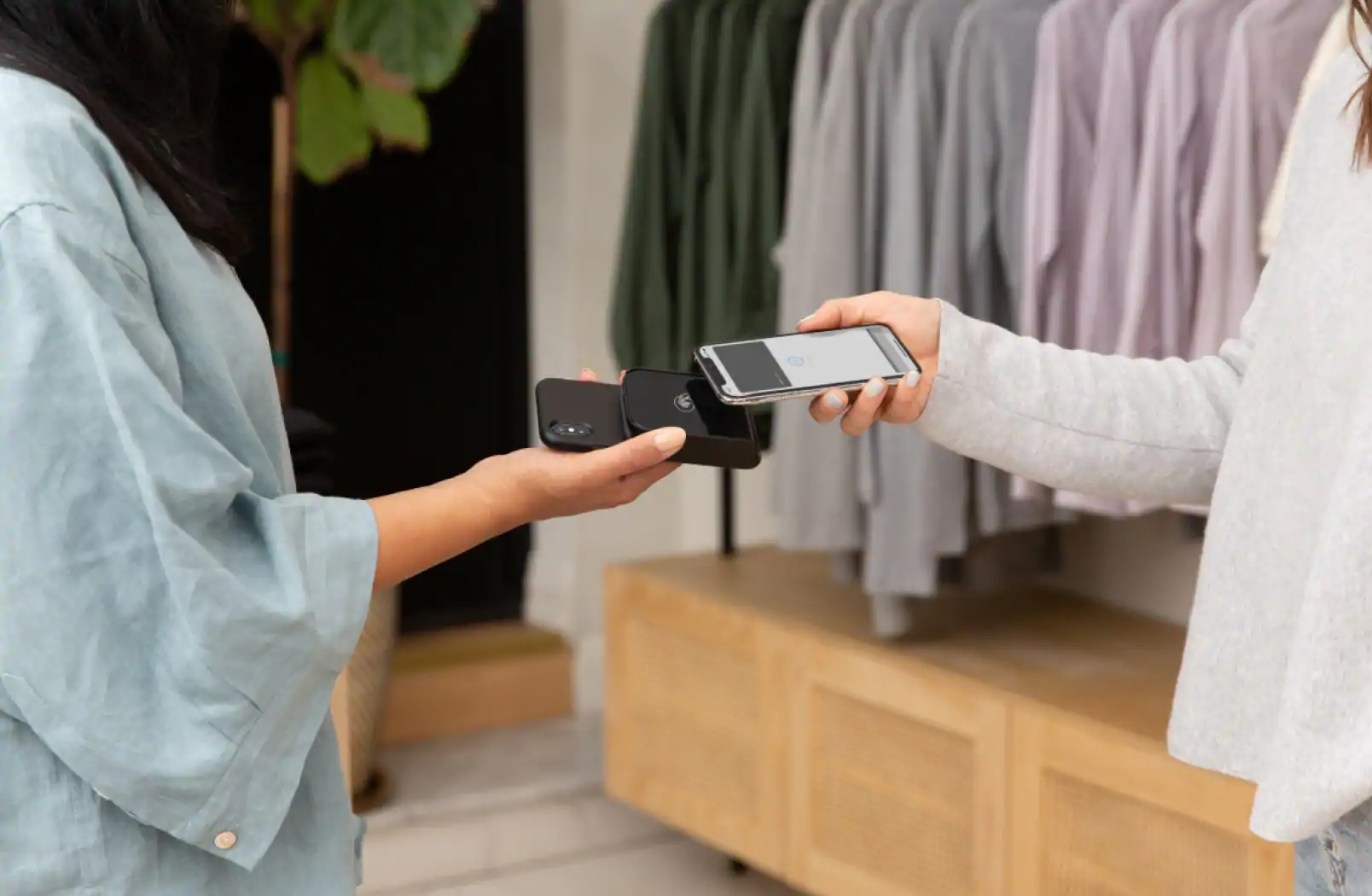 Shopify Thrift Store POS Features
Shopify POS has the following features for thrift stores:
Reduced transaction fees for nonprofits
Special features for charity thrift shops
Integrates with resale & consignment apps
Generate & print barcodes
Manage inventory across in-person, online, & social media sales
Create custom sales & discounts at the register
Accept custom payment methods, partial payments, and deposits
Sell at events with your smartphone using Shopify Lite (included in all plans)
Categorize products in almost any way (by category, type, season, sale, etc.)
Multichannel selling options like BOPIS, BORIS, & local delivery
Domestic & international shipping options
Shopify Pricing
Shopify pricing starts at $5/month for a Shopify Starter plan with mobile and social media selling. However, most thrift shops that sell from a brick-and-mortar store will want at least the Basic plan for $29/month, which also gives you your own website to sell online. Adding Shopify POS Pro package for an additional $89/month gives you access to even more features.
Shopify also has special plans for nonprofits and monthly pricing correlates closely with Shopify's other plans (i.e., there's no monthly discount), you will get discounted payment processing on these plans and some added features. Nonprofit pricing is as follows:
NPO Lite (No Online Shop): $9/month (Same price as Shopify Lite plan)
NPO Lite With Shop: $29/month (Same as Shopify Basic plan)
NPO Full (No Online Shop): $79/month (Same as Shopify plan)
NPO Full: $99/month (More than Shopify plan but lower transaction fees)
Hardware Cost
Shopify POS runs on iOS and Android devices, and you can purchase optional POS equipment such as scanners and cash registers on your own or on Shopify's website. At the very least, you will need to purchase a $49 Shopify Bluetooth payment reader. Shopify also sells hardware bundles such as a $639 Star Micronics mPOP bundle that includes a tablet stand, cash drawer, receipt printer, and hand scanner (iPad not included).
Payment Processing
Payment processing fees depend on your Shopify plan. On regular plans for for-profit thrift stores, fees for in-person transactions range from 2.4% to 2.7% using Shopify Payments. For example, Shopify Lite and Basic plan users will pay 2.7%, while Shopify plan users will pay 2.5%. If you use a third-party processor other than Shopify Payments you'll be charged an additional transaction fee ranging from 0.5% to 2%.
Notably, thrift stores on a nonprofit plan will receive reduced nonprofit payment processing fees through Shopify Payments: 2.5% on the NGO Lite plan or 2.4% on the NGO Full plan. If your store is nonprofit but you want to use a third-party payment processor like PayPal, you'll be charged an additional 1% per in-person transaction if you use an outside processor like PayPal—on the NPO Lite plan. On the NPO Full plan, you will not be charged any additional transaction fees even if you use a third-party processor.
Contract Requirements/Warnings
All Shopify plans are month to month with no contract or cancelation fees. However, you will save 10% if you pay annually instead of monthly.
Note that Shopify Payments is a PSP like Square or PayPal, which means you will not receive your own merchant account but rather an aggregate merchant account. This type of account will have more sensitive security checks, and may be prone to issues like fund holds for transactions that the system deems as "suspicious" (rightly or not).
Where Shopify Really Shines As Thrift Store POS Software
Shopify POS is an excellent POS for nonprofit thrift stores or any thrift store that wants multichannel selling and outstanding retail features. For charity thrift stores specifically, Shopify offers discounted processing and features such as unlimited staff accounts, real-time carrier shipping, and the ability to accept monetary donations through Shopify Payments.
Learn more about these features by reading our post on Shopify features for nonprofits.
But even if you run a for-profit thrift store, Shopify POS is a great choice, especially if you want to sell goods online (even to customers in other countries!) as well as in-person. Some of Shopify's expansive features include multichannel inventory management, a mobile selling app to sell your vintage wares at events and popups, and integrations with thousands of other apps that extend your system's functionality even further, including apps to manage consignments or donations, and even apps to create your resale/buyback program.
4. Clover: Best POS Hardware
Clover POS


---
Pros
Affordable monthly plans
Sleek, sturdy hardware
Fast, easy setup
Discounted nonprofit processing options
Cons
Some Clover providers are shady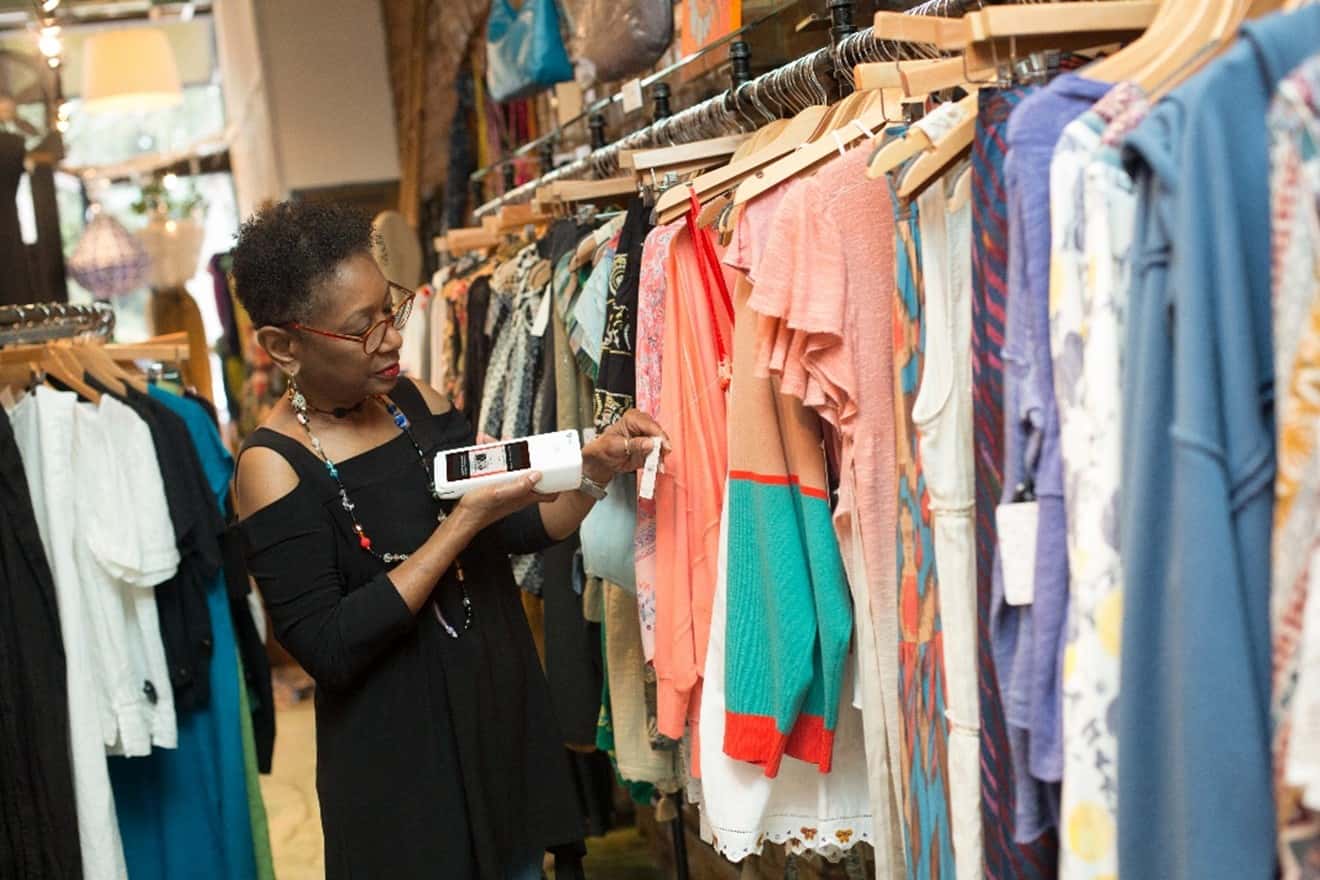 Clover Thrift Store POS Features
Clover offers the following thrift store POS features:
Mix-and-match hardware options
Integrates with multiple processors that offer discounts to nonprofits
Advanced inventory with variants
Sell by weight
Easy item exchanges
Item-level discounts
Built-in loyalty program
Customer tracking system
Generate & print sales reports on built-in receipt printer
Employee management (permissions & shift tracking)
Free Ecwid online store or integrate with existing e-store
Mobile & traditional gift cards
Expandable functionality with apps
Clover Pricing
When you purchase a plan from Clover.com, you can opt to purchase your hardware outright and pay a monthly fee for your POS software, or you can lease your hardware for an additional monthly cost. If you buy your equipment upfront, software plans range from $14.95 to $94.85 per month. If you lease your equipment, your hardware and software payment will range from $50 to $290 per month.
Hardware Cost
Clover hardware options include the $499 Clover Flex smart terminal, the $799 Clover Mini countertop POS, or the all-in-one Clover Station, which is either $1,349 or $1,799 depending on whether you want a customer-facing screen. You can also mix and match, adding a handheld Clover Flex to a Clover Station setup, for example.
Payment Processing
Plans purchased through Clover.com offer flat-rate processing. Rates for in-person processing start at 2.3% + $0.10.
Nonprofits may be able to get discounted Clover payment processing by using Clover with a processor that offers discounts to nonprofits, such as Dharma Merchant Services or National Processing. Rather than flat-rate pricing, both of these processors have an interchange-plus payment processing model.
Contract Requirements/Warnings
Clover.com plans are month-to-month and you can cancel anytime if you purchase your equipment outright. However, many other merchant services providers, banks, credit unions, and even retailers like Sam's Club sell Clover systems. Clover POS hardware is always sold with a First Data merchant account, but these accounts can be structured in various ways, including with expensive, long-term processing contracts and equipment leases. Quality of customer service also depends on where you purchase your Clover system from.
To avoid getting stuck with a predatory contract with a shady Clover MSP, be sure to buy your system from Clover directly or from another recommended Clover reseller provider.
Where Clover Really Shines As Thrift Store POS Software
There's a lot to like about Clover POS systems. They are excellent for first-time POS users, as they are super easy to set up, train your employees on, and start selling with. Even calling customer support is as easy as pressing a button on the screen. But where Clover really shines is its sleek, purpose-built hardware. Rather than using a consumer tablet like an iPad or Samsung Galaxy tab, Clover's POS systems are specifically designed for POS.
As a result, these devices are incredibly fast and sturdy, not to mention good-looking. If you're looking for a modern and time-saving yet affordable upgrade to your thrift store POS, Clover could be a perfect choice.
Clover's capabilities are modern, letting you accept virtually any form of payment from QR codes, to mobile wallets, to PayPal. You can also scan barcodes and take payments from the same device. However, Clover hardware also has some interesting "old school" features that thrift stores may be able to benefit from. For example, you can accept checks using your Clover and you can also sell items by weight, which would be useful if your thrift store sells clothes by weight.
5. Korona: Best For Choice Of Processor
KORONA POS


---
Pros
Numerous payment gateway integrations
Budget-friendly pricing
Gift cards included in base plan
Customizable UI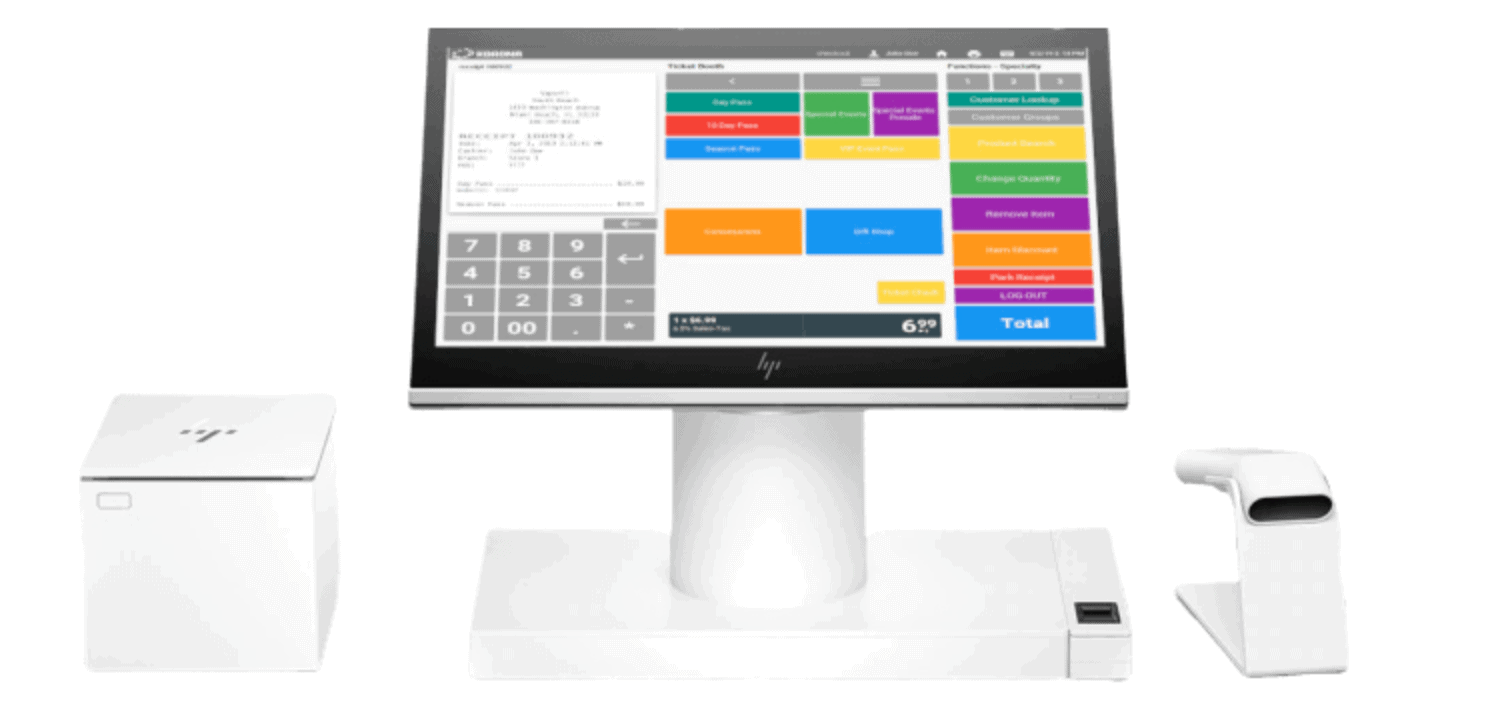 Korona POS Thrift Store POS Features
Korona has these features for thrift stores:
Native points-based loyalty program
Track items by price category
Donations by category
Customizable dashboard
Theft-prevention features
ABC analytics
Handheld inventory scanner app
Special pricing & promotions
Highly rated customer service
Employee management
eCommerce integration
Korona POS Pricing
Korona POS plans range from $49 to $79/month. Plans are month-to-month, but you will receive a free month of service if you opt to pay annually.
Hardware Cost
Korona can run on most POS hardware, including Android and iPad options. Korona sells hardware and also offers leases, though the company does not list pricing on its website.
Payment Processing
Korona POS does not offer in-house processing; rather, the POS integrates with all major payment processors. Some of Korona's processing options include high-risk processors, as well as cash discount processors for thrift stores that want to pass along their credit card processing charges to customers by offering a "discount" for paying in cash.
Contract Requirements/Warnings
Korona does not have a contract or long-term commitment. However, it's possible that whatever payment processor you choose to integrate with Korona may have a long-term contract, so be sure to choose your merchant services producer wisely.
Where Korona POS Really Shines As Thrift Store POS Software
Korona is a somewhat basic but excellently priced budget retail POS. Since most thrift stores don't track each inventory item individually or sell online, you may not need a POS with advanced inventory or built-in eCommerce (Korona does allow you to integrate with third-party eComm software, however). And like most cloud POS systems, Korona lets you receive, track, and price items by category, which is all the inventory features many thrift stores will need.
One area in which Korona may appeal to a lot of small businesses, including thrift stores, is that the POS is processor agnostic. Since Korona doesn't require you to enter a payment processing contract, you can use any payment processor you want. This makes Korona a good POS choice for a thrift store that wants to have payment processing options and not be locked into using a particular processor.
6. Loyverse: Best Loyalty Program
Loyverse


---
Pros
Free retail POS
Great built-in loyalty program
iOS & Android
Good customer support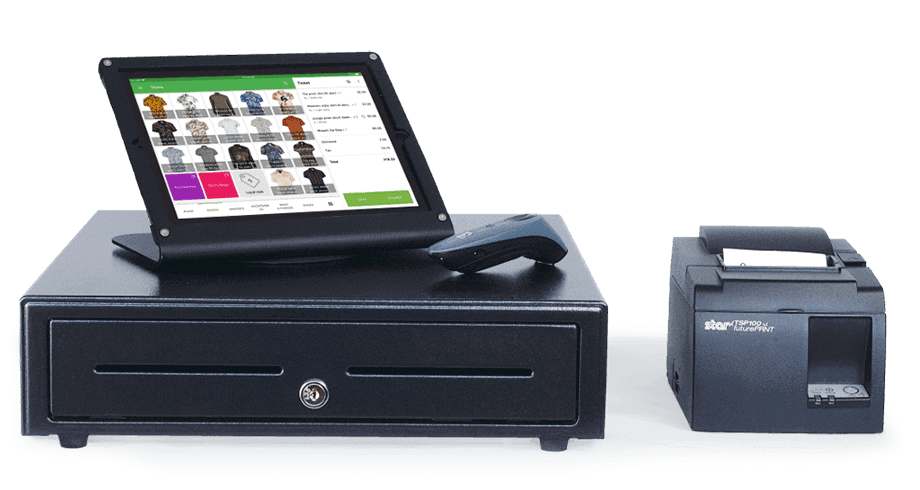 Loyverse Thrift Store POS Features
Loyverse offers these thrift store POS features:
24/7 live chat support
Works on iPhone, iPad, Android
Works with multiple processors
Free points-based loyalty program with scannable barcode cards
Free basic inventory management
Free customer display screen functionality
Easy discounts & returns
Organize goods by category
Cash management to identify discrepancies
Split payment between cash and card, two cards, etc.
Works offline
Multistore capability
Loyverse Pricing
Loyverse includes all of its core functionality, including its built-in loyalty program, for free. Loyverse also has a few affordable add-ons available for purchase, including employee management and advanced inventory ($25/month each) and integrations with third-party software like QuickBooks and Xero ($9/month)—both good accounting software solutions for nonprofits.
Hardware Cost
You can source your own Apple or Android POS hardware to use with Loyverse, and you can also buy various hardware components on Loyverse's website to put together a new system. Some examples of POS hardware items for sale on Loyverse's website include Heckler iPad stands ($109) and APG Vassario cash drawers ($124.99), and 2D SocketScan barcode scanners ($299.99).
Payment Processing
Loyverse integrates with various payment processors but does not offer its own payment processing services. Some processing options for US merchants include:
Note that you can accept donations in person using PayPal Zettle, but PayPal's discounted fees for nonprofits only apply to online payments.
Contract Requirements/Warnings
You can sign up for Loyverse for free with no contract. Paid add-on services are also month-to-month with no contract, but you do receive a discount if you sign on for a full year.
Where Loyverse Really Shines As Thrift Store POS Software
There are at least several free retail POS systems out there, but Loyverse is the only one with a free loyalty program. Simply set a reward percentage from each purchase and enroll your customer at the POS. Return loyalty customers will accrue points with each purchase that they can redeem for discounts at any of your stores. Optionally, you can issue a loyalty card with a barcode to easily look up customers and add them to a ticket.
The overall functionality of the POS is somewhat basic and doesn't include many integrations, but again, many thrift stores don't need advanced functions.
You can still use Loyverse to do things like scan barcodes (currently iOS only) or create and print new barcodes if you subscribe to the advanced inventory add-on. Otherwise, you can sort your thrift store inventory by category without a barcode system.
Why We Don't Recommend These 2 Options For Thrift Stores
Shift4Shop
Shift4Shop (formerly 3Dcart) is shopping cart software that some thrift stores can use to sell online. However, for thrift stores that sell in person with a POS, Shift4Shop isn't the best choice. For its retail POS, Shift4Shop uses Harbortouch, a system we do not recommend due to numerous public complaints. The main issue is that Shift4Shop's parent company and payment processor, Shift4 Payments, uses deceptive sales tactics and charges a lot of hidden transaction fees, as well as early termination fees if you want to end your contract early.
Vend
Vend is an excellent retail POS that works great in many thrift stores. However, Vend POS has been acquired by and absorbed into Lightspeed. Vend is now Lightspeed Retail POS (X-Series).
Which Thrift Store POS System Is Right For Your Business?
There are multiple excellent thrift store POS systems to choose from, but the best thrift store POS software for your business might not be the best system for another store. The main factors you should consider when choosing a POS system for your thrift store are your budget and your business's unique needs, including whether your store qualifies for discounted nonprofit credit card processing, and the type of inventory system you want to use. If you are replacing another POS system, you might want a system that can use your existing POS hardware and/or can import inventory from your previous system.
Is your thrift store a nonprofit organization? You might be able to fund some of your business expenses using nonprofit credit cards or loans for nonprofits.
FAQs: Thrift Store POS Systems
In Summary: Best Thrift Store POS Software