National Processing Review
A reputable merchant services provider with low rates, National Processing offers interchange-plus pricing and month-to-month billing.
Expert Analyst & Reviewer

UPDATED
Advertiser Disclosure: Our unbiased reviews and content are supported in part by
affiliate partnerships
, and we adhere to strict
guidelines
to preserve editorial integrity.
National Processing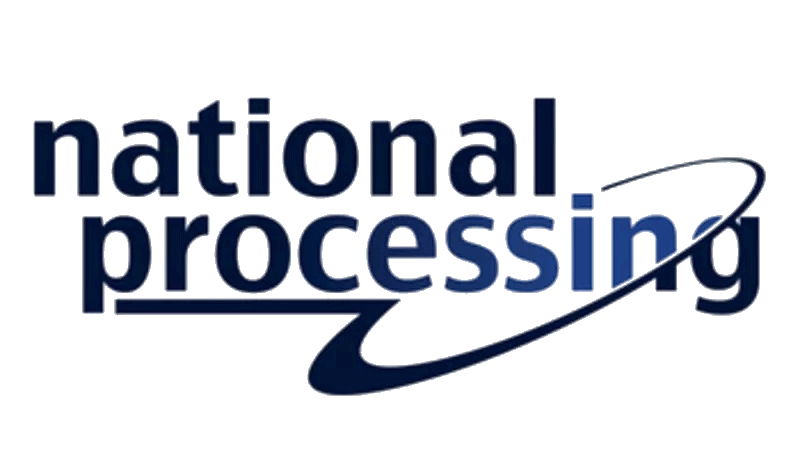 National Processing At A Glance
Offers credit card, debit card, echeck, and ACH processing
Offers full-service merchant accounts
Accepts some high-risk industries
---
Pros
Full line of Clover terminals and POS systems
Month-to-month billing with no long-term contract
Interchange-plus and membership pricing offered exclusively
Low-cost eCheck and ACH payment processing
Excellent online reputation
A good option for budget-conscious merchants
Cons
"Free" equipment may require a long-term contract
Early termination fee charged for "free" equipment
What Is National Processing?
National Processing is a full-service merchant service provider that serves low-risk and high-risk industries. Unlike most providers in the industry, National Processing features extensive pricing disclosures front and center on its website.
National Processing offers true month-to-month billing with no long-term contracts or early termination fees. However, there's one small catch: You'll have to buy your processing hardware (if any) outright. Alternatively, the company can provide one "free" terminal with each account, but you'll have to accept both a long-term contract and an early termination fee as part of this offer. Fortunately, National Processing only seems to enforce its early termination fee if you close your account to switch to a competitor, and without giving the company an opportunity to match whatever rates and fees you've found elsewhere.
Overall, National Processing rates an excellent 5 out of 5 stars. The company offers high-quality service with extremely competitive rates and fees. I confidently recommend the company to any business looking to get the absolute lowest rates. The standard account doesn't come with many bells and whistles, but it does its job and does it well. I suggest you give National Processing a try.
Note: Don't confuse National Processing with the now-defunct National Processing Company (NPC). NPC was a lousy merchant account provider, so if you see negative National Processing Company reviews online, remember that this provider had no affiliation whatsoever with the National Processing that is the subject of this review.
Products & Services
Although National Processing doesn't offer all the extra bells and whistles that you might find with a larger provider, it covers the basics very well. Here's an overview of National Processing services:
Payment Processing Services
Merchant Accounts: Like most merchant account providers, National Processing is not a direct processor. While the company does not disclose its back-end processor, it appears to use Fiserv (formerly First Data) exclusively. Note that National Processing still provides customer service in most cases. You shouldn't have to deal with Fiserv directly unless you experience an account hold, freeze, or termination.
High-Risk Merchant Accounts: National Processing also works with a variety of high-risk industries. While the company doesn't provide a complete list of which industries it can accept, subscription services, high-volume sales, firearm-related businesses, and tobacco and vape businesses are all supported. For other industries, we recommend contacting the company's sales team to see if National Processing can accept your business. Also, note that high-risk merchants will receive a custom pricing quote that will likely bear little resemblance to the rates or fees disclosed on the National Processing website. Rates and fees for high-risk accounts will invariably be much higher than for low-risk merchants, regardless of which provider you sign up with.
Payment Gateway: The company currently supports eCommerce merchants by offering a choice of either Authorize.Net or its proprietary National Processing Gateway. While it doesn't charge any gateway setup fees, you might have to pay gateway fees of $5 per month.
Virtual Terminal: Both Authorize.Net and the National Processing Gateway include a virtual terminal feature. All accounts also come with the SwipeSimple virtual terminal, which is used mainly for mobile payments.
ACH & eCheck Processing: National Processing has excellent ACH services with its own proprietary ACH software. Finding reasonably priced ACH processing isn't as easy as it used to be. Gone are the days of free ACH for low-value transactions. As always, be sure to ask your sales agent for more details if you need this feature.
Cash Discounting Program: National Processing offers one of the most well-established cash discounting programs available. This program is fully compliant with the card brands and works with Clover, SwipeSimple, and Dejavoo devices.
Point Of Sale & Terminals
Countertop Credit Card Terminals: National Processing offers terminals from the likes of SwipeSimple, Dejavoo, and Clover (in the form of the wireless Clover Mini). These devices offer varying degrees of POS functionality and accept both EMV and NFC (contactless) payment methods. National Processing does not disclose equipment prices on its website. You can either buy your equipment outright or include the use of a "free" terminal with your account under some pricing plans. The company does not offer overpriced equipment leases, which is good to see.
Point-Of-Sale Systems: For restaurants and other businesses that need a more robust processing device, the company now offers its own POS system (NP POS). It accepts swiped, dipped, and tapped payments and offers inventory management with stock alerts, staff scheduling, a loyalty/rewards program, cloud-based online reporting, and more. Several different Clover POS devices are also on offer. National Processing is currently our top choice among Clover resellers.
Mobile Processing: If you're a small business owner and just need an affordable mobile processing system to use with your smartphone or tablet, National Processing offers the Clover Go and SwipeSimple mobile POS systems. Clover Go connects to your smartphone or tablet via Bluetooth, and the app works on both iOS and Android devices. The Clover Go reader can accept magstripe, EMV, and NFC-based payment methods. SwipeSimple uses the SwipeSimple B250 card reader, which offers similar capabilities.
Fees & Rates
Unlike most merchant services providers, National Processing fees and rates are prominently disclosed on the website. The company breaks its plans down by the primary sales channel for low-volume businesses, with all plans offering interchange-plus pricing. High-volume and very high-volume businesses are eligible for membership pricing plans that eliminate the per-transaction percentage markup in exchange for a higher monthly subscription fee. All plans feature an option to include either a free card reader or a terminal with your account.
Each plan comes with the following perks:
Free reprogramming of existing equipment (if technically feasible)
Free gateway setup
Free SwipeSimple mobile reader
Here's an overview of the costs and additional perks of each plan:
| | Monthly Fee | Transaction Markup | Includes |
| --- | --- | --- | --- |
| Retail | $9.95 | 0.18% + $0.10 | The standard features listed above |
| Restaurant | $9.95 | 0.14% + $0.07 | The standard features listed above |
| eCommerce | $9.95 | 0.29% + $0.15 | The standard features listed above |
| Nonprofit | $9.95 | 0.12% + $0.06 | Free Mobile Reader & Terminal |
| Cash Discount | $39.95 | 0% + $0 | Free Mobile Reader & Terminal |
| Subscription | $59 | 0% + $0.09 | Free Mobile Reader, Terminal, & PIN Pad |
| Subscription Plus | $199 | 0% + $0.05 | Free Mobile Reader, Terminal, PIN Pad & SwipeSimple Terminal – Free Terminal Upgrade Every 2 Years |
National Processing's Subscription and Subscription Plus plans are for high-volume merchants. Both plans feature membership pricing and include options for additional free equipment. The company's website no longer discloses the monthly processing volume requirements for these plans. Previously, the Subscription plan required $75K-$200K/month in card sales, while the Subscription Plus plan required sales of more than $200K/month.
Additional Fees
National Processing is one of the better providers in the industry when it comes to fees. It doesn't charge any account setup fees or annual fees. It also doesn't require a monthly minimum for any of its pricing plans. If you don't need a free terminal, your contract comes with month-to-month billing and no early termination fee. While the company no longer discloses miscellaneous incidental and recurring fees on its website, in the past, it has charged the following extra fees:
PCI Compliance Fee: $7.95 per month
AVS Fee: $0.05 per verification
Batch Fee: $0.10 per batch
Chargeback Fee: $15.00 per chargeback
Retrieval Fee: $5.00 per instance
Voice Authorization: $1.50 per authorization
PIN Debit Fees: Passed through at cost (i.e., no markup)
ACH & eCheck Processing
If you need ACH processing, there are separate fees for this optional program. The following fees apply for ACH processing:
Setup Fee: $25.00
Monthly Fee: $15.00
ACH Processing Rate: 0-1.5% + $0.48 per transaction (varies by transaction size)
Return Fee: $3.50 per instance
ACH Rejection Fee: $15.00 per instance
You should also be aware that Clover charges a monthly fee for the use of any of the Clover hardware products described above in the Products & Services section. The amount of this fee varies based on your Clover product. Also, National Processing notes that the fees and rates disclosed on its website are only for low-risk merchants. NP does accept some high-risk merchants, but it doesn't offer any pricing details for said merchants. Note that if NP doesn't service your particular type of high-risk business, our list of reputable high-risk specialists may contain a provider that will accept you.
Overall, these are some of the lowest fees and rates we've seen disclosed by a provider, making National Processing an excellent choice for small or medium-sized businesses. However, we encourage you to compare its prices against what a competing provider will offer you before making a decision.
Sales & Advertising Transparency
National Processing's website does an excellent job of disclosing the company's rates and fees under its numerous processing plans. Unlike the vast majority of providers on the market, National Processing provides an extensive discussion of interchange fees on its website, allowing you to distinguish between interchange fees paid to card-issuing banks and National Processing's markup.
One fee not disclosed is the early termination fee (ETF), which only applies if you elect to include a "free" terminal as part of your account. Rest assured that the fee is disclosed during the sales process, so you won't experience an unpleasant surprise later on if you decide to close your account.
Lastly, we're not huge fans of the $500 promise National Processing makes if you can find a lower rate elsewhere (and you process over $10K/month). It's easy to manipulate the numbers and obscure value to make one deal seem better than another, so we generally consider this type of marketing to be gimmicky and meaningless. The fact is that just about any provider is willing to match a valid quote to win or retain your business. While it's not a bad thing per se, take this tactic with a grain of salt.
Contract Length & Early Termination Fee
Standard agreements with National Processing include a $295 early termination fee (ETF), but even as part of this standard contract, the company waives this fee under several circumstances. If you don't need any free equipment when you sign up, you should be able to get a month-to-month account with no cancellation fees. National Processing states the following on its website regarding this topic:
In the event that your business is sold or closed, National Processing will waive your termination fee upon receipt of the appropriate documentation.
In the event that National Processing can't meet or beat a competitor's rates, your termination fee will be waived. In order to qualify, the competing quote must be submitted to National Processing in writing with the competitor's original contract.
In the event that you leave National Processing for a competitor without providing the opportunity for National Processing to meet or beat another offer, you agree to pay the standard termination fee.
We'd prefer to see the company dispense with its early termination fee altogether. However, this is a reasonable compromise because there can be significant hard costs for equipment.
Customer Service & Technical Support
| National Processing Support | Availability |
| --- | --- |
| Phone Support | |
| Email Support | |
| Support Tickets | |
| Live Chat | |
| Dedicated Support Representative | |
| Knowledge Base or Help Center | |
| Videos & Tutorials | |
| Company Blog | |
| Social Media | |
National Processing offers 24/7 telephone and email support, as well as a live chat function on its website. Most of the comments online from merchants about National Processing's credit card processing support are positive, which is more than many merchant services providers can say. Usually, customer service is the leading complaint about any merchant account provider. The fact that National Processing doesn't have a ton of complaints about support says something in itself.
National Processing Reviews, Complaints, & Common Problems
Unlike most merchant account providers, National Processing has received far more positive comments from merchants than complaints. As with any processor we recommend, we can't guarantee that you won't have any problems. Nonetheless, your chances of experiencing difficulties with the company's service after you've signed up are quite low.
Negative National Processing Reviews & Complaints
National Processing has been accredited with the BBB since 2008 and currently has an A+ rating. The company has received only three complaints in the last three years (and just one in the last twelve months). As for reviewers on Google, they have awarded the company an overall rating of 4.6 out of 5 stars, based on 238 reviews.
The few complaints I've seen mention the following issues:
Poor customer service
Hard to avoid the ETF
Problems with Fiserv (the backend processor)
Again, these complaints are few and far between, with many more merchants reporting positive experiences regarding these issues (especially customer service). And again, don't confuse the company with the deservedly defunct National Processing Company (NPC). Remember that you're looking for the Utah-based National Processing.
Positive National Processing Reviews & Testimonials
I mentioned the company's stellar ratings from the BBB and Google reviews earlier. The story is similar when you look at other review sites, such as ConsumerAffairs.com (4.6 out of 5 stars, based on 392 ratings).
While many of these positive reviews don't go into much detail, two main themes emerged. The first is that merchants were very impressed with the quality of customer support they received. This reinforces a trend we've seen in which smaller providers are actually able to offer superior personal customer service than the industry's mega-processors. The second theme is that merchants were able to save a significant amount of money on their processing costs with National Processing.
Final Verdict
National Processing is an excellent provider for businesses that want low rates from a reliable company. If you're hoping for some massive free software suite like what Square offers, with POS, analytics, and such included, you might not find what you want here. However, you could easily end up saving enough money with National Processing to buy all that software and more from whichever provider you want. Low costs and overall versatility make National Processing a great option for many businesses.
We're not thrilled that National Processing continues to impose ETFs in exchange for "free" processing equipment. Still, it's a fair deal, given that you'll receive low processing rates and a reasonable account fee schedule in addition to the free terminal. We're also happy to see that the company will waive your ETF if you sell or close your business. Most providers will charge you the full ETF regardless of the circumstances that led to you closing your account.
We're happy to award National Processing an overall score of 5 out of 5 stars. If your small business has grown to where you need the added features and stability of a full-service merchant account, this is one of the most affordable options out there. While it offers low interchange-plus and membership rates that will be attractive to larger businesses as well, look carefully at the features on offer before making a decision. National Processing is a small company and doesn't offer as complete a lineup of services as you'll find with a larger provider.
Businesses with more basic needs, however, will find everything they need to accept credit and debit cards as well as ACH and eCheck payments. If this describes your business, give National Processing a shot!
---
The Merchant Maverick Seal of Approval 🏆
National Processing


---
After hours of in-depth research and evaluation, we can confidently recommend this brand to our readers. Get started today and see National Processing for yourself.
The Merchant Maverick Seal of Approval 🏆
National Processing


---
After hours of in-depth research and evaluation, we can confidently recommend this brand to our readers. Get started today and see National Processing for yourself.
To learn more about how we score our reviews, see our
Credit Card Processor Rating Criteria
.