Expert Analyst & Reviewer

Updated on:
Advertiser Disclosure: Our unbiased reviews and content are supported in part by
affiliate partnerships
, and we adhere to strict
guidelines
to preserve editorial integrity.
Authorize.Net

Pros
Broad support for multiple currencies
Robust security and anti-fraud features
Month-to-month billing with no long-term contracts
Predictable flat-rate pricing
Excellent customer support and service
Cons
All-in-one option may confuse some customers
High flat-rate pricing rates for optional merchant account
May be more expensive than using Authorize.Net gateway with another provider
Authorize.Net Overview
Authorize.Net is one of the oldest and most popular payment gateway providers for eCommerce. It's one of the most recognizable name brands in the eCommerce sector and has spawned many imitators. In fact, most proprietary payment gateways offered by other merchant services providers frequently include an "Authorize.Net emulator mode" to ensure compatibility with the company's gateway.
Before we delve into all of Authorize.Net's services, let's clear up a common misconception: Authorize.Net is not a merchant account provider. The company's primary product is the Authorize.Net payment gateway, and it also offers several ancillary products and services that integrate with it. While it can set you up with a merchant account if you don't already have one, a third-party processor provides that account.
You can get a payment gateway from Authorize.Net in one of two ways. First, you can sign up directly with Authorize.Net for a gateway-only account. This works best if you already have a merchant account through a provider that doesn't partner with Authorize.Net. Second, you can get a merchant account through one of the many merchant account providers that do partner with the company. There are a lot of them, including Payment Depot (see our review) and CDGcommerce (see our review), two of our most highly-rated providers. Which option is best for you will depend on the nature and size of your business, as well as whatever existing merchant account services you're already using. For many merchants, getting an Authorize.Net gateway through their existing merchant account provider will be less expensive, as many providers can offer lower monthly gateway fees and lower per-transaction charges for using the gateway.
Regardless of how you get your payment gateway, Authorize.Net provides a reliable service. In addition to a basic payment gateway, you'll get a simplified checkout system, support for automated recurring billing, a customer information manager, and QuickBooks support – all for one low monthly fee. Advanced fraud detection and eCheck processing are also available at an additional cost.
You can also turn your computer into a virtual terminal with Authorize.Net's free Virtual Point of Sale (VPOS) software and a compatible card reader. Card reader options now include models that support both EMV and NFC-based payment methods and connect via either Bluetooth or USB. While the high-end models are a little pricey, they can be a worthwhile investment if you're selling both online and through a retail location. Virtual terminals allow you to process credit cards without the need for a countertop terminal or dedicated POS system, while still qualifying for card-present processing rates.
Overall, Authorize.Net scores a solid 4.5 out of 5 stars. Its service performs well and offers several additional features that make its gateway more than just a way to accept credit cards over the internet. It also backs up its service with excellent customer service and support.
If you'd like to consider several other highly-rated alternatives, check out our article, The Best Payment Gateways For Online Payment Processing.
Get Started With Authorize.Net
Countries Served
Authorize.Net is available to merchants in the United States, Canada, United Kingdom, Europe, and Australia.
Products & Services
Here are all the standard and optional features that Authorize.Net offers:
Payment Gateway: Naturally, every account with Authorize.Net includes access to its payment gateway. For more information on how gateways work, see our article, The Complete Guide To Online Credit Card Processing With A Payment Gateway.
Merchant Account: While Authorize.Net is designed to work with your existing merchant account, it can also set you up with a full-service merchant account if you don't already have one. You'll get flat-rate pricing, which might work in your favor but often isn't the best rate for higher-volume businesses. If your business processes more than $500,000 per year, customized pricing is available, and includes an option for interchange-plus pricing. The company currently partners with Global Payments and EVO Payments to provide merchant accounts for businesses that need them. It also has a partner directory on its website that lists almost two dozen merchant services providers you can choose from for your merchant account.
Virtual Terminal: The browser-based Virtual Point-Of-Sale (VPOS) software acts as a virtual terminal, allowing you to manually key-in transactions on your laptop or desktop computer. This feature is free and is included as part of your Authorize.Net payment gateway. However, you'll need to purchase a compatible card reader to process card-present transactions. VPOS uses the BBPOS Chipper 2X card reader to accept EMV, NFC-based, and magstripe payment methods. Two versions of this card reader are available: a $35 model that connects via a headphone jack, and an $80 model that connects via Bluetooth (we highly recommend the latter to future-proof your payment system). A USB-connected reader (the ID Tech Augusta) is also available for $184. Unfortunately, VPOS is only available on Windows PCs and Surface tablets.
Mobile Payments: Like just about everyone these days, the company has an app that can accept mobile payments in conjunction with a smartphone or tablet and a compatible card reader. The Authorize.Net app is available for both iOS and Android. While the app is free, and this feature is included with your account, you'll have to purchase a card reader. Choices include the two BBPOS Chipper 2X card readers mentioned above. Again, we recommend the more expensive Bluetooth version, as headphone jacks are rapidly disappearing from newer smartphones and tablets.
Simple Checkout: Although Authorize.Net's ability to integrate with a vast number of third-party online shopping carts is one of its stronger features, many merchants don't need something that powerful. Simple Checkout lets you generate HTML code snippets for "Buy Now" and "Donate" buttons to add to your website.
Automated Recurring Billing (ARB): Subscription-based billing is more popular than ever, and ARB allows you to customize not only pricing but also features such as free trial periods and installment payments. Unlike many gateway providers, recurring billing is a standard gateway feature and doesn't require paying an additional fee.
Customer Information Manager (CIM): The CIM, one of Authorize.Net's most powerful standard features, allows you to securely store customer information, such as billing address, shipping address, and payment method information. Because this includes your customers' sensitive credit card information, the data is securely encrypted. As we've noted, however, this security comes at the expense of data portability (see Negative Reviews & Complaints).
Sync For QuickBooks: While QuickBooks integration is fairly standard these days, it's still nice to have and will keep your accountant happy, especially if that accountant is you.
Phone Payments: You can accept payments over the phone using the aforementioned Virtual Terminal.
Advanced Fraud Detection Suite (AFDS): This feature consists of a set of thirteen filters that you can customize to your own needs to help flag and block potentially fraudulent transactions. This feature helps to prevent inventory loss due to fraud and lowers your liability for chargebacks.
Account Updater: This optional feature automatically updates the information stored in your Customer Information Manager, including changes to billing or shipping addresses, as well as changes to payment card information such as updated card expiration dates.
eCheck.Net: This is also an optional feature. You can add eCheck processing to your existing merchant account or sign up for the eCheck Only Pricing Plan. Pricing is 0.75% per eCheck, a much lower rate than you'll pay for credit or debit card transactions.
Authorize.Net Fees & Rates
Before we dig into what you'll pay for an Authorize.Net gateway, let's clarify one important thing: The rates quoted below are only applicable if you sign up directly with Authorize.Net.
Many merchant account providers not only offer access to the Authorize.Net payment gateway, but they're also able to waive some fees and negotiate lower rates and fees than what you'd pay if you signed up directly with Authorize.Net. In other words, the pricing below represents the full retail price for Authorize.Net's services. If your merchant account provider wants to charge you higher rates than those listed below, don't do it.
Authorize.Net features two pricing options on its website:
The All-in-One option includes both a merchant account and a payment gateway.
The Gateway-Only option is for merchants that already have their own merchant account. If you've already signed up with a merchant account provider, be aware that it might be more cost-effective to get an Authorize.Net gateway through your existing provider if they offer it.
If you need a merchant account, Authorize.Net can set you up with a flat-rate pricing plan. However, it might be more affordable to find one of Authorize.Net's partner resellers rather than having Authorize.Net set up your merchant account, especially if you're already doing a reasonable volume of sales. Going directly through Authorize.Net for a merchant account is a competitive option for online payment processing for new and low-volume businesses. Also, businesses processing more than $500,000 per year can obtain customized pricing (including interchange-plus pricing) with Authorize.Net.
One recent change in the company's standard pricing is that it no longer charges an account setup fee. This fee, which used to be $49.00, applied to both the gateway-only and all-in-one options. However, many third-party providers that offered the Authorize.Net gateway didn't charge this fee, so it was probably dropped to avoid putting the company at a competitive disadvantage relative to those other providers.
Here are the listed prices for both options:
Payment Gateway Only Option
$25 per month gateway fee
$0.10 per transaction processing fee (this is in addition to any fee charged by your merchant account provider)
$0.10 daily batch fee
All-In-One (Payment Gateway + Merchant Account) Option
$25 per month gateway fee
2.9% + $0.30 per transaction processing fee
The single flat processing rate for the All-in-One option can be either a good or bad deal, depending on how you take payments and your average ticket size. It's not the most competitive rate for card-present virtual terminal transactions, but conversely, it's very competitive for card-not-present transactions. That said, the $0.30 per transaction fee will also add up very quickly if you process a lot of small transactions (less than $20 in particular). You'll want to carefully compare these rates against what your current merchant account provider is charging you before choosing either of these pricing plan options.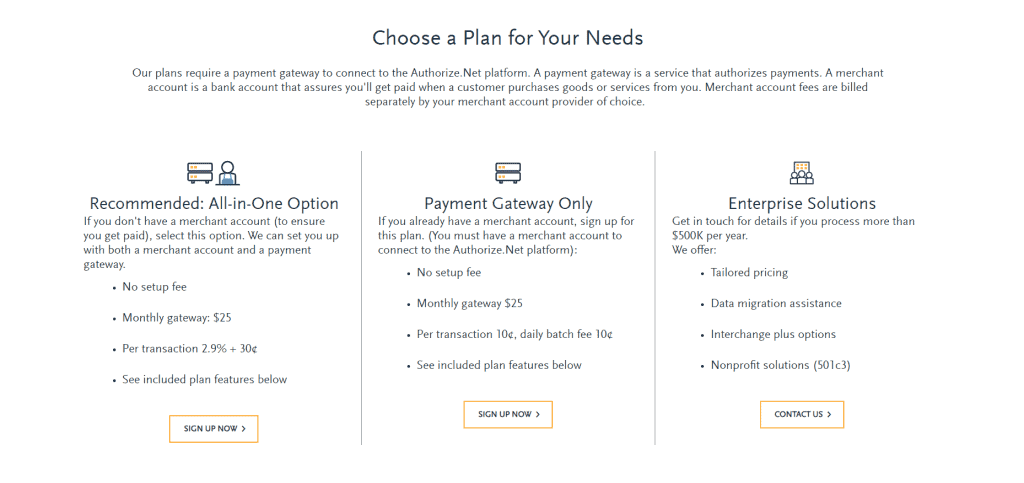 There is also a $25 per occurrence fee for chargebacks. International transactions will pay an additional 1.5% cross-border assessment. Every account through Authorize.Net includes the Advanced Fraud Detection Suite, Automated Recurring Billing, Customer Information Manager, and QuickBooks integration features for free. eCheck processing, if you need it, is 0.75% per transaction. Use of the Account Updater feature is billed on a per-update basis rather than paying a fixed monthly fee.
Get Started With Authorize.Net
Supported Payment Types & Currency
Authorize.Net supports Visa, Mastercard, Discover, American Express, JCB, PayPal, Visa Click To Pay, Apple Pay, Chase Pay, and eCheck payment types.
Authorize.Net can handle transactions in American, Canadian, Australian, and New Zealand dollars; Swiss francs; Danish and Norwegian krone; Swedish krona; euros; British pounds; and Polish zloty. Just be aware that supported currencies may vary depending on your business location. For example, a US-based business would have currency support for US and Canadian dollars.
Ease Of Use
Once again, this applies to services purchased directly from Authorize.Net; your third-party interface and experience may differ.
Authorize.Net provides a Merchant Interface website for accessing your payment gateway account, managing transactions, viewing reports, etc., that you can access from any computer with an internet connection and browser. Once you activate your account through this portal, things become a little more complicated. Your account will be placed in "Test Mode," which allows you to submit test transactions to see if your connection works.
Depending on whether you're using a prefab shopping cart, software integration, or your website, you may or may not need a developer to help test your connection. (Authorize.Net will point you in the direction of a developer if you need one.) In either case, you'll want to factor those costs into your calculations.
Authorize.Net provides a pretty detailed walkthrough of how to get and use your API Login ID and relevant keys, but there are quite a few steps involved.
Once you're up and running, however, Authorize.Net should be fairly straightforward to use.
Contract Length & Early Termination Fee
Authorize.Net advertises "no long-term contracts" and "no cancellation fees" on its website, and for the most part, this is true. Use of the Authorize.Net gateway is on a month-to-month basis, and you can cancel at any time without penalty.
If you also go through Authorize.Net for your merchant account, be aware that things might be different. While many of its resellers (especially Dharma Merchant Services (see our review) and Merchant Focus) will honor these guarantees, others are free to set additional terms and conditions, and some of them might impose a standard three-year contract with an early termination fee. Once again, you're probably better off going directly through your merchant account provider to get an Authorize.Net gateway and not the other way around. You'll have more room to negotiate, and you can probably get a better deal than the standard fixed-price 2.9% + $0.30 processing rate. In any event, be sure to review your contract thoroughly before signing it.
Sales & Advertising Transparency
As a tech-focused company, it should come as no surprise that Authorize.Net has an excellent website. The design is clean, and the layout makes it easy to navigate. There's even a site map and a search function if you're having trouble finding information on a topic. Best of all, it doesn't come off as overly "salesy" the way so many other websites in the payments industry often do.
One possible point of confusion that still occasionally comes up in complaints is that Authorize.Net is a gateway provider only, not a merchant account provider. To the company's credit, it takes pains to explain the difference between a merchant account and a payment gateway on its website.
If you need a merchant account, it will set you up with one of its resellers to provide this service. While the company points this out on its website, it probably could be a little clearer about explaining this. At the moment, Global Payments and EVO Payments are the two primary partners that Authorize.Net uses to provide merchant accounts. We do not recommend either of these providers for a typical small business. Instead, take a look at the Reseller Directory on the Authorize.Net website for a much wider selection of providers.
Like many companies in the payments industry, Authorize.Net now offers an online signup process where merchants can submit the basic required information about their business and get approved for an account very quickly. While this option allows you to get up and running in a short amount of time (particularly if you're eCommerce-only and don't need to wait for your processing equipment to arrive in the mail), it's also an easy way to trap yourself in a long-term commitment without adequately reviewing your contract documents.
We recommend that you only use the online signup option if you already have a merchant account and just need the Gateway-Only option. If you need the All-In-One option, you'll want to contact the company's sales department directly and carefully research which merchant account provider you want to work with before signing any contracts.
Customer Service & Technical Support
Authorize.Net provides numerous avenues of support to customers, including:
Telephone Support: Available 24 hours a day, seven days a week (except major holidays).
Support Center: Authorize.Net maintains an excellent knowledgebase on its website as well as numerous articles, white papers, and video tutorials.
Live Chat: Existing users can chat with the Authorize.Net support team or submit an online support request. You'll have to be signed in to use this option.
Social Media: Authorize.Net has an active social media presence, with accounts on Facebook, LinkedIn, and Twitter. The latter includes network status updates, so you'll want to follow them to keep up with any outages. It also has a YouTube channel, which features both tutorials and customer testimonials.
Authorize.Net has a great reputation for excellent customer support and won the Ace Award for achievement in customer excellence for the last 12 consecutive years. However, one thing to be aware of is that Authorize.Net's customer support is for its payment gateway only. If you're having a problem with your merchant account, you'll have to go through your merchant account provider.
User Reviews
Negative Reviews & Complaints
Authorize.Net has been accredited by the BBB since 2009 and has an A+ rating. It currently has 70 complaints filed within the last three years, 26 of which were filed within the last twelve months. If this sounds like a lot, remember that it's the most popular payment gateway provider in the country. With such a large customer base, it's bound to have some unhappy campers, and this number is actually quite reasonable under the circumstances. And the company's overall complaint volume has also been steadily dropping over the course of our last few review updates.
While the decreasing complaint volume is encouraging, it's apparent that far too many merchants still do not understand that Authorize.Net is not a merchant account provider. The company does not and cannot help you if you experience a chargeback or a hold, freeze, or termination of your merchant account. These issues need to be addressed with your merchant account provider, and not with a gateway provider like Authorize.Net.
Despite being mistakenly blamed for problems that it has no control over, the company is very thorough in offering detailed explanations of what went wrong and tries to correct the situation whenever possible. So, let's be clear: If you have an issue that doesn't involve the payment gateway itself (e.g., account holds or terminations), you need to address those complaints to your actual merchant account provider, not Authorize.Net. It can't help you, and misdirecting the complaint against the company lets the real offender (i.e., the merchant account provider) off the hook.
With that said, here are some common legitimate complaints against Authorize.Net:
Billing Issues: Many of the complaints revolve around the timing of monthly payments and cancellations, with customers feeling like they were wrongfully billed for services they didn't subscribe to. Like most subscription-based services, you'll want to double-check and make sure the service has been terminated when you're ready to quit. Unfortunately, Authorize.Net's online signup service makes it way too easy to get approved for an account, at which point you'll start being billed $25.00 per month in gateway fees – whether you ever use the gateway or not.
Monthly Fees Are Generally Non-Refundable: This isn't so much a valid complaint as a general policy. Authorize.Net usually won't issue a refund unless there was a genuine mistake on the company's part. Again, the issues that lead to a customer wanting a refund in the first place are usually the fault of the merchant account provider, not Authorize.Net. Merchants also seem to be unaware that if they register for an account on Authorize.Net's website, they'll be issued a gateway account automatically and charged the first month's gateway fee. The company is generally pretty good about closing these accounts and issuing a refund when requested. However, it could also do a better job of warning merchants in advance of the commitment they're undertaking by signing up for an account online.
Data Portability: Authorize.Net had developed a reputation for being difficult to migrate from. It looks like it has simplified the process, and I have not seen that many complaints about it post-2018, but be aware that it has been an issue in the past. The company now advertises "data migration assistance" as a feature for merchants on a customized pricing plan, but doesn't provide any details.
Positive Reviews & Testimonials
Customers who are very satisfied with the quality of service they receive from a provider rarely take the time to leave positive feedback on their own initiative. So, it's often left to the providers themselves to "blow their own horn" by posting testimonials from satisfied merchants on their websites. Often, these testimonials are less than convincing.
That's not the case with Authorize.Net. It has put together a very compelling series of video testimonials and case studies (both videos and articles) from customers around the country and posted it on its website and YouTube channel. While some of the videos come across as overly scripted, the case studies really shine by tying specific features of Authorize.Net's service to the needs of the merchant providing the testimonial.
Some common themes emerge about Authorize.Net's strengths:
Customer Service: While there are always exceptions, most merchants seem to be satisfied with Authorize.Net's customer service.
Recurring Billing Support: Several users found Authorize.Net's recurring billing to be easy to set up and use. We particularly like that this is included as a standard feature with all accounts. Many other gateway providers charge an additional fee for this service.
User-Friendly API: Several users found the API relatively easy to work with and versatile.
Final Verdict
Authorize.Net follows the maxim of doing one thing and doing it well. It provides a payment gateway and numerous ancillary services to support that gateway – and that's it. While you may or may not need options such as eCheck processing or mobile payments, it's nice to know they're available and perform well for merchants who require them. Basic features of its gateway service, such as the fraud prevention filters, will be useful to everyone using its service.
Since we last checked in, Authorize.Net has done away with its setup fees and appears to have at least partially addressed some of the data migration issues. While it's still possible that you'll get a better monthly fee deal with Authorize.Net through one of its resellers, the removal of the setup fee does make directly signing up with the service a more reasonable option than it was in the past. The flat processing rate for the All-In-One gateway + merchant account combo is still high, however, so you'll want to shop around if you're also in the market for a merchant account.
With broad support among merchant account providers and a host of standard features included at no extra charge, we highly recommend the Authorize.Net payment gateway for your eCommerce business or sales channel. The company scores a very commendable 4.5 out of 5 stars, and is clearly one of the best choices on the market for a payment gateway. However, it's not the only game in town by any means. Stripe Payments offers many of the same features and similar processing rates and includes payment processing services built-in (and without the need for a separate merchant account). Check out our Stripe vs. Authorize.Net matchup to see which provider is a better choice for your business.
---
The Merchant Maverick Seal of Approval 🏆
Authorize.Net


---



After hours of in-depth research and evaluation, we can confidently recommend this brand to our readers. Get started today and see Authorize.Net for yourself.
The Merchant Maverick Seal of Approval 🏆
Authorize.Net


---



After hours of in-depth research and evaluation, we can confidently recommend this brand to our readers. Get started today and see Authorize.Net for yourself.
Read Next