Dharma Merchant Services Review
We rate Dharma Merchant Services as among the best when it comes to providing honest merchant services and high-quality service at a fair price.
Expert Analyst & Reviewer

UPDATED
Advertiser Disclosure: Our unbiased reviews and content are supported in part by
affiliate partnerships
, and we adhere to strict
guidelines
to preserve editorial integrity.
Dharma Merchant Services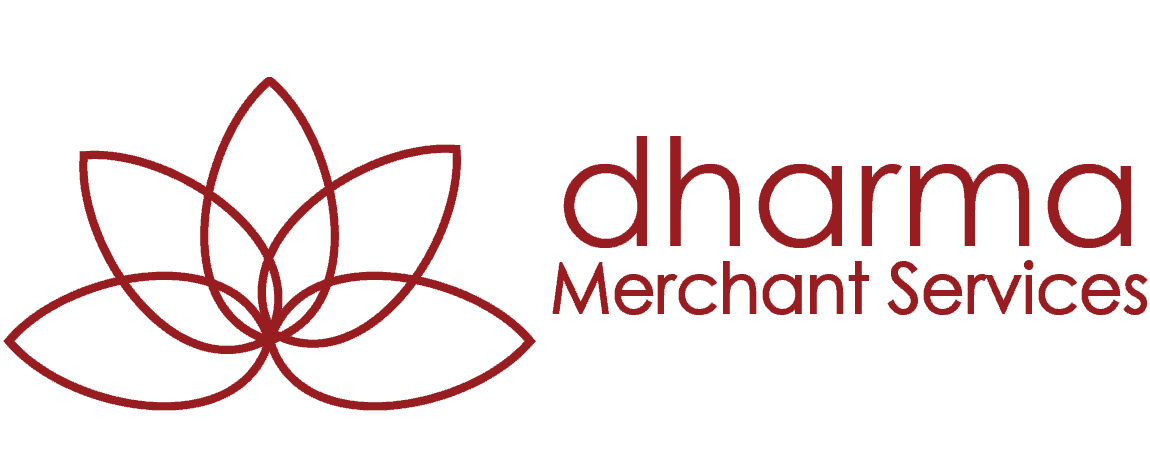 Dharma Merchant Services At A Glance
Offers full-service merchant accounts underwritten by Fiserv and TSYS
Month-to-month billing with no long-term contracts
Interchange-plus pricing offered exclusively
---
Pros
Interchange-plus pricing offered exclusively
No annual fee or monthly minimum
Month-to-month billing with no early termination fees
Discounted pricing for qualified nonprofit companies
Outstanding sales transparency and highly ethical business practices
Cons
Not recommended for businesses processing less than $10,000 per month
No support for high-risk or international merchants
What Is Dharma Merchant Services?
Dharma Merchant Services is a merchant services provider that combines expert processing industry know-how with highly ethical business practices to meet the unique needs of small businesses, restaurants, and nonprofit organizations. The company's pricing is fair, predictable, and fully disclosed on its website. You can also expect high-quality, friendly, personalized service and support from the Dharma team.
Dharma Merchant Services easily earns a score of 5 out of 5 stars. However, it's not for everyone — high-risk businesses and those processing less than $10,000 per month will usually need to look elsewhere. For most merchants, though, Dharma offers the best overall value of just about any provider in the industry, and we recommend Dharma to you with zero hesitation.
Products & Services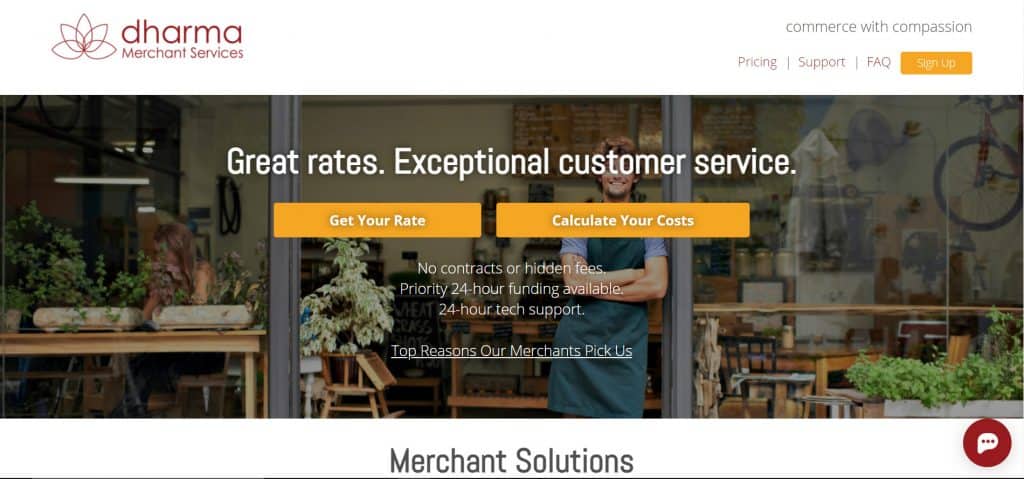 Dharma Merchant Services provides a complete lineup of essential products and services for retail and eCommerce merchants, including the following:
Payment Processing
Merchant Accounts: Dharma primarily uses Fiserv (formerly First Data) and TSYS as its main back-end processors. While Fiserv doesn't have a great reputation among small business owners, Dharma has tremendous leeway to set its processing rates, account fees, and contract terms. The result is that Dharma can offer you a much better deal than you would get if you tried to set up your own account with Fiserv directly. Dharma provides customer service to its merchants, so you shouldn't have to contact Fiserv in most cases. Note that Dharma does not accept high-risk or international accounts. Instead, the company will refer you to PaymentCloud, a reputable high-risk processor.

MX Merchant:

This is Dharma's all-in-one online account access and reporting system, and it's included with every Dharma merchant account. Features include a virtual terminal, online reporting, a customer database, a mobile processing app, and several other goodies. You can add options for an additional monthly fee, such as integrated ACH payment processing, B2B processing, invoicing, and recurring billing.
B2B Processing: If you run a business that sells to other businesses, Dharma has an exclusive B2B program that offers discounted rates for merchants processing Level 2 and 3 data. You'll need the MX B2B app, which costs an additional $25 per month. Depending on your average processing volume, your savings in processing charges should more than offset the cost of this extra fee.
Credit Card Surcharging: Dharma has recently introduced MX Advantage, an automated program for applying credit card surcharges. Used in conjunction with the Dejavoo Z11 terminal ($295), it can automatically apply the correct surcharge to all credit card purchases. MX Advantage is included as part of the MX Merchant integrated payments platform and doesn't require an additional monthly fee.
ACH Processing: You can add ACH processing with either the Authorize.Net or MX Merchant gateways. While you'll have to pay an additional monthly fee for this service, transaction processing costs are low in comparison to industry averages.
Retail Services
Credit Card Terminals: Dharma offers several countertop terminals for direct sale, with pricing fully disclosed on its website. Unlike many providers, Dharma won't set you up with an expensive (and noncancelable) lease. Current models include the Verifone Engage V200c ($269), the Fiserv FD-150 ($295), the Ingenico Desk/5000 ($369), and the Dejavoo Z11 ($295). All of these devices are EMV-compliant and can also work with NFC-based payment methods (such as Apple Pay). If you already have a terminal, Dharma can reprogram it for free if it's compatible with the company's system. Check Dharma's FAQ for more details, as several potential problems can come up. For example, Dharma won't reprogram wireless terminals and recommends that you buy a new terminal in most cases.
Mobile Processing: If you'd prefer a truly mobile way to accept payments, Dharma offers its MX Merchant Express app, available for both iOS and Android. It pairs with the Walker 2 card reader, which can accept magstripe, EMV, and NFC-based payment methods (including Apple Pay and Google Wallet). The reader costs $149 and can connect via either your device's headphone jack (if you still have one) or Bluetooth.
Point-Of-Sale (POS) Systems: Dharma promotes Fiserv's popular Clover series of POS products, including the top-of-the-line Clover Station Duo ($44.95/month, $1,999 for the hardware) and Clover Station Solo ($44.95/month, $1,649 for the hardware) models. Other options include the Clover Mini ($899/device + variable monthly fee) and Clover Flex ($599/device + variable monthly fee) models. Monthly fees for these two devices range between $4.95 and $34.95, depending on which level of service you choose. Note that you'll have to be onboarded with Fiserv to use any of the Clover POS systems. If you already have a POS system from your previous processor, Dharma can usually reprogram it to work with either TSYS or Fiserv.
eCommerce Services
Payment Gateway: For eCommerce merchants, Dharma offers a choice between either Authorize.Net or its proprietary payment gateway included with MX Merchant. Both options have similar features, but there are additional fees for Authorize.Net. Dharma's website includes a handy comparison table showing the various features and options of each gateway.
Virtual Terminal: MX Merchant includes the QuickPay virtual terminal for manually keying in transactions. You can also use the VPOS (Virtual Point-of-Sale) virtual terminal that comes with Authorize.Net if you choose that gateway.
Dharma Credit Card Processing Rates & Fees
Dharma Merchant Services offers one of the most transparent and fair pricing structures in the industry, with all costs being fully disclosed right on its website. Interchange-plus pricing is provided exclusively for every account, so you won't have to negotiate to get it.
The company separates its pricing plans by business categories rather than processing volume levels, so it's effortless to decide which plan is best for your business. Pricing plans include options for storefront and eCommerce merchants as well as a discounted rate plan exclusively for restaurants. Discounted rates are also available for qualified nonprofit organizations. Here's an overview of Dharma's pricing options:
| Plan Type | Monthly Fee | Per-Transaction Fee (Visa, Mastercard, Discover) | Virtual Terminal | Mobile Processing |
| --- | --- | --- | --- | --- |
| Storefront (Retail) Rates | $25/month | Interchange + 0.15% + $0.08 per transaction | Free | Free |
| Restaurant Rates | $25/month | Interchange + 0.15% + $0.08 per transaction | Free | Free |
| Virtual (eCommerce) Rates | $25/month | Interchange + 0.20% + $0.11 per transaction | Free | Free |
| High-Volume Retail Rates | $20/month | Interchange + 0.10% + $0.08 per transaction | Free | Free |
For each option, there are numerous incidental fees to pay (chargebacks, etc.), all of which Dharma discloses on its website. High-volume rates are available to merchants processing over $100,000 per month with all plan types. Also, processing fees for Amex transactions are different from those listed in the table above. Those rates are disclosed on the website along with the rest of Dharma's fees.
Gateway Fees
There may be extra costs associated with using a payment gateway. Dharma processing gives you a choice between its proprietary MX Merchant gateway and Authorize.Net. While the MX Merchant gateway is included for free with your account, you'll have to pay $10/month for recurring billing, and $20/month for Level 2/Level 3 processing. Authorize.Net requires a $10/month fee and a $0.05 per transaction charge but includes recurring billing and Level 2 processing for no additional charge. (Note that Authorize.Net does not support Level 3 processing.)
ACH processing will cost you $25/month and $0.40/transaction with MX Merchant. If you choose Authorize.Net, ACH processing fees are $10/month and 0.75% of volume.
Other Dharma Fees
Like any other provider, Dharma also occasionally charges incidental fees. Unlike most providers, however, the company discloses them in advance on its website. Here's an overview of the fees you might see on your statement:
Retrieval Fee: $5 per instance (charged only when a customer disputes a transaction)
Chargeback Fee: $25 per instance (charged only when a chargeback occurs)
Dharma does not charge account setup fees, annual fees, or PCI compliance fees. None of its accounts require a monthly minimum, and there is no early termination fee if you close your account.
Dharma sells its processing hardware directly, rather than setting you up with an outrageously overpriced third-party equipment lease. Prices for its terminals are quite fair, especially considering that you're also getting a warranty and the software load to work with Dharma's processing system.
If you already have a terminal, the company will reprogram it to work with Dharma's system for free. Unless you already have a compatible EMV-compliant terminal, we recommend buying your equipment outright from Dharma.
Special Rates For Nonprofits
Dharma specializes in working with nonprofit organizations and offers reduced pricing for qualified businesses. Retail rates are interchange + 0.10% + $0.08 per transaction, while eCommerce rates are interchange + 0.10% + $0.11 per transaction. There's also a $20/month account fee.
Sales & Advertising Transparency
Often, the sales experience is one of the worst aspects of setting up a merchant account. That's not the case with Dharma. The site is well laid out, and it's easy to find the information you need. All fees, rates, and contract terms are explained in detail, and the company lists the actual cost of every service and piece of equipment it provides.
Dharma uses in-house sales representatives exclusively, so you won't experience any of the misleading claims and high-pressure sales tactics that independent agents at other companies commonly employ.
With Dharma's standardized pricing plans and lack of long-term contracts, there won't be much left to negotiate when you finally talk with one of the sales representatives. They'll still provide friendly and helpful service, of course, but you'll already know most of what you need before you ever talk to a representative. Frankly, we wish a lot more providers would offer the same level of transparency that Dharma does. The company has set a very high standard in this area, and there aren't many other providers in the processing industry that come even close to matching it.
Dharma also gets the word out about its services via social media. The company has active accounts on Facebook, Twitter, and LinkedIn. A YouTube channel provides several educational videos, and Dharma has posted some marketing videos separately on the site that include excellent testimonials from satisfied clients.
Contract Length & Early Termination Fee
Dharma offers true month-to-month billing with no long-term contract and no early termination fee on all of its merchant accounts. While you can close your account at any time, be sure to follow the procedure specified in your contract to avoid being charged beyond your intended closure date.
While it doesn't charge an early termination fee, the company does impose a $49 account closure fee when you permanently close your account. Like all merchant account providers, Dharma is required by law to keep your account on file for a minimum of six months after closure to guard against late-filed chargebacks. This fee merely recoups the cost of this necessary record-keeping. Note that if you are a seasonal business, you will not be charged this fee when you suspend your account for the off-season.
Customer Service & Technical Support
| Dharma Merchant Services Support | Availability |
| --- | --- |
| Phone Support | |
| Email Support | |
| Support Tickets | |
| Live Chat | |
| Dedicated Support Representative | |
| Knowledge Base or Help Center | |
| Videos & Tutorials | |
| Company Blog | |
| Social Media | |
In-house telephone support that's available 24/7, 365 days a year, is the gold standard in the processing industry, but it's something that only the largest providers can offer. In most cases, companies provide in-house support during business hours and rely on outsourced support staff to cover the rest of the time. If you have an issue come up at 9 PM on a Saturday, for example, you'll often find yourself talking to a call center employee who can do little more than file a support ticket on your behalf. The actual resolution of your problem will have to wait until Monday morning.
Dharma compromises, providing superb in-house telephone-based support from knowledgeable and supportive staff during business hours, 9:00 AM to 4:00 PM Pacific Time, Monday through Friday. Support is also available via email 24 hours/day, and you can submit a ticket directly from the company's website. Outside of regular business hours, Dharma will direct you to the appropriate party, depending on the nature of the issue and your back-end processor.
Dharma's website also includes an outstanding knowledgebase — one of the best we've ever seen — that provides answers to a wide variety of questions you might have about how credit card processing works. All the information the company provides is beneficial, accurate, and, overall, quite impressive.
Dharma Merchant Services Reviews & Complaints
Dharma is one of the very few companies we've seen in the processing industry that has more positive feedback than complaints on the web. In fact, in surveying Dharma credit card processing reviews, the most common criticism of the company appears to come from merchants who've been turned down for an account for one reason or another.
Negative Dharma Merchant Services Reviews & Complaints
Dharma Merchant Services is no longer accredited by the BBB and is now listed as 'Not Rated.' However, the company has had zero complaints within the last three years, an enviable record. Over on Trustpilot, there are 117 Dharma Merchant Services reviews, with an average rating of 4.3 out of 5 stars. While it's not quite perfect, it's about as close to perfect as we've seen for any merchant services provider.
The general lack of negative feedback is, of course, an excellent indication of the high quality of service that Dharma provides. However, it does not mean that nothing ever goes wrong. Funding holds and equipment compatibility issues come up from time to time, but the company handles these hiccups in a much more professional and competent manner than most of its competitors. Dharma's use of a well-trained and supervised in-house customer support team is the main reason the company is able to keep almost all of its merchants happy.
While it's not a negative factor, we should point out that you will have to pay a monthly gateway fee and a small per-transaction charge if you use Authorize.Net. These fees, however, are lower than what you would pay if you signed up directly with Authorize.Net, and the gateway has some features (including third-party shopping cart integration) that aren't available with MX Merchant.
Positive Dharma Merchant Services Reviews & Testimonials
Unlike the overwhelming number of merchant account providers in the industry, praise for Dharma is much easier to find than criticism. Our Comments section (below) is filled with positive reviews from merchants who've used Dharma's services and been happy with the results. Reviews on Dharma's Facebook page are also mostly very positive, with the company scoring a 4.2 out of 5, based on the opinions of 62 people.
It's always a breath of fresh air to see a company receive so much positive feedback. Particular strengths praised by reviewers included fair pricing, excellent customer service, and Dharma's commitment to protecting the environment and promoting the work of a wide variety of nonprofit organizations.
Final Verdict on Dharma Credit Card Processing
Dharma Merchant Services offers high-quality merchant services at a fair price and ranks among the best of the best when it comes to honesty and transparency. The company excels at saving merchants money and providing a headache-free processing experience. If your business is a good fit for what Dharma offers, we can't recommend it highly enough. Dharma may not always be the least expensive provider (although it's pretty close!), but it does provide the best overall value around. The total value of the services a provider can deliver is more important in the long run than simply being the cheapest available option.
Of course, not all merchants will be a good fit for Dharma's business model. Dharma is only available to merchants operating in the United States, and it doesn't accept high-risk merchants. If your processing volume is currently less than $10,000 per month, Dharma recommends Square as a more affordable option.
In fact, Dharma now provides an online calculator that allows you to compare your anticipated costs using either Dharma or Square. We can't think of any other provider in the industry that gives you the chance to compare your costs with a competitor in this way. It's an excellent choice for the following entities:
Brick-and-mortar retailers
eCommerce retailers
Restaurants
Nonprofit organizations
Dharma earns a coveted score of 5 out of 5 stars and our highest endorsement.
---
The Merchant Maverick Seal of Approval 🏆
Dharma Merchant Services


---
After hours of in-depth research and evaluation, we can confidently recommend this brand to our readers. Get started today and see Dharma Merchant Services for yourself.
The Merchant Maverick Seal of Approval 🏆
Dharma Merchant Services


---
After hours of in-depth research and evaluation, we can confidently recommend this brand to our readers. Get started today and see Dharma Merchant Services for yourself.
To learn more about how we score our reviews, see our
Credit Card Processor Rating Criteria
.