TSYS Merchant Solutions Review
Expert Analyst & Reviewer

UPDATED
Advertiser Disclosure: Our unbiased reviews and content are supported in part by
affiliate partnerships
, and we adhere to strict
guidelines
to preserve editorial integrity.
TSYS Merchant Solutions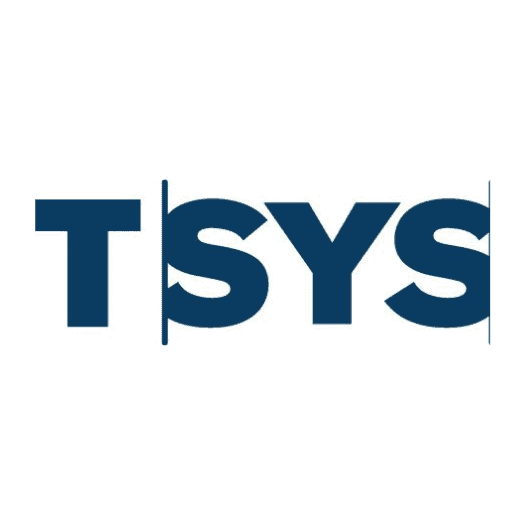 Pros
Robust product lineup
Interchange-plus pricing available
Low complaint volume relative to company size
Cons
Three-year contract term with an automatic renewal clause
Early termination fee as high as $500
Tiered pricing plans offered
Inconsistent customer service
TSYS Merchant Solutions Overview
Total System Services, Inc. (TSYS) is a merchant services provider and credit/debit card transaction processor headquartered in Columbus, Georgia. In addition to regional offices around the United States, the company has an international presence, serving clients in over 80 countries around the world. Although its roots go back to 1959, TSYS has been an independent business entity since 1983. Not only is it one of the oldest processors in the industry, but it's also one of the largest. With over 650,000 merchants onboard and an annual processing volume of more than 1 trillion dollars, it's second only to Fiserv (formerly First Data) in size. In December 2017, TSYS got even more massive by acquiring Cayan in a $1.05 billion deal.
While you might think that a company of this size would be immune to being acquired itself, that's not the case. In May 2019, Global Payments, another very large direct processor from Georgia, announced that it was acquiring TSYS for $21.5 billion. The combined organization will operate under the Global Payments brand name, and the TSYS name will eventually disappear. However, mergers of this size take a long time to complete, and as of May 2020, TSYS still has its own website, which lists the company as 'TSYS – A Global Payments Company.'
While they won't be around much longer, TSYS has two internal divisions that merchants should be aware of: TSYS Acquiring Solutions and TSYS Merchant Solutions. TSYS Acquiring Solutions serves as a back-end processor for other merchant account providers, including both TSYS subsidiaries and independent companies. TSYS Merchant Solutions, on the other hand, is the company's direct sales channel. This is where you would go to sign up directly with TSYS, rather than through a middleman, and we'll focus solely on this division in this review. At this point, new merchants looking to sign up with TSYS will probably be redirected to Global Payments, so you might want to read our complete review of them before proceeding.
As you may know, there are many resellers (called ISOs/agents) of TSYS that either contract TSYS for their processing platform or act as referral partners for all of the company's services. Some of those resellers are very ethical in their business practices, while many others are not. Going directly with TSYS Merchant Solutions offers the most standardized and predictable experience. With the recent acquisition, though, you might not get the same level of service that the company previously provided. TSYS has its own in-house sales team, and they can sign you up directly. There's no need to go through a middleman — unless that middleman is going to offer you something above and beyond what TSYS Merchant Solutions can give you, such as better contract terms or more personalized customer support.
For an organization of this size, I was surprised to find a relatively small number of complaints. I've seen smaller providers with five times as many complaints as this very large processor. As a point of comparison, the largest processor in the country, Fiserv (formerly First Data), has over 1,000 BBB complaints. TSYS has well under 100. That is very encouraging in terms of assessing overall trends at the corporate level. Furthermore, the complaints that do crop up are usually handled quickly and ethically, including refunds when a misunderstanding occurs.
Things are not perfect with TSYS, but — if you approach the company as an educated merchant — there is no reason why you can't get good service at a reasonable price. My one real warning is this: If you only process a low volume (say, under $5,000 per month), TSYS may not be able to get you the best deal possible. A bit of negotiation may get you some results, but it's generally not the best option for low-volume processing. Check out our Merchant Account Comparison Chart for better choices, or consider a mobile-based processor, such as Square (see our review), for very low volumes.
When compared to other large, direct processors of this size, TSYS performs only slightly above average and earns a rating of 3.5 out of 5 stars. If you run a high-volume business or have complex processing needs, it might be worth checking them out. Small and mid-volume businesses should look elsewhere.
Check out the full review below for more information. Good luck!
Products & Services
TSYS Merchant Services offers a complete lineup of products and services for retail, eCommerce, and omnichannel businesses. With its acquisition by Global Payments, you can expect that many of its proprietary services and products will be phased out in favor of Global Payments-branded features. Here's what TSYS is currently offering:
Merchant Accounts: TSYS is a direct processor, meaning it will manage your merchant account and process all your transactions. This arrangement makes it easier to deal with issues, such as chargebacks and account freezes.
Integrated Payments Platform: When TSYS acquired Cayan, it inherited that company's omnichannel payment processing system called Genius®. It combined a variety of countertop, wireless, and mobile terminals with a payment gateway to allow in-person and online payments using credit cards, debit cards, or echeck (ACH) payments. The system was cloud-based so that all transactions would sync across all your devices automatically. Genius is no longer mentioned on the TSYS website, so you'll probably be set up with Global Payments' Unified Commerce Platform, which offers the same functionality.
Credit Card Terminals: TSYS offers several Ingenico and Verifone credit card machines and PIN pads, including both wired and wireless models. All models are EMV-compliant, and some of them also support NFC-based payment options, such as Apple Pay and Android Pay. While pricing is not disclosed for any equipment, we highly recommend buying your terminals outright rather than leasing them. If you buy your terminal online rather than directly from TSYS, remember that you'll have to pay a re-programming fee to make it compatible with your TSYS merchant account.
Payment Gateway: For eCommerce merchants, TSYS still advertises its proprietary TSYS Gateway. This full-featured payment gateway can process card-not-present transactions and also in-person (i.e., card-present) transactions with an optional USB-connected magstripe card reader. It offers many standard features, including support for hosted payment pages, a customer payment information database, support for recurring billing, and tokenization for enhanced security. If you need something a little more powerful, or just don't want to be stuck with a proprietary product, you can also use Authorize.Net (see our review) with your TSYS merchant account.
Virtual Terminal: The TSYS Virtual Terminal turns your desktop or laptop computer into a full-featured credit card terminal. Virtual terminals allow you to enter transactions manually or by swiping your customers' cards using an optional USB-connected card reader. The company is still advertising the MagTek Dynamag as its only option for use with its virtual terminal. This older model is magstripe-only, so we don't recommend it. You should be able to get an EMV-compatible card reader from either Global Payments or through a third party.
Tablet-Based Point Of Sale (POS) System: TSYS offers its TSYS Tablet POS system, which comes with a tablet, stand, and card reader. While pricing is no longer disclosed, the company previously advertised fees of $39.95-$49.95 per month, depending on the options you chose. The TSYS Tablet POS is compatible with iPads and Android tablets.
Mobile Processing: TSYS also offers mobile processing through its Mobile Payment Acceptance Solution, which uses a free magstripe card reader and the free Mobile Payment Acceptance app. It's available for both iOS and Android. There is currently no support for EMV or NFC payments with this system. You can expect to pay a small monthly fee for this service. Again, you can anticipate that this older system (both app and card reader) will soon be replaced by a Global Payments-branded product offering the same functionality and the ability to accept EMV and NFC-based payment methods.
eCheck (ACH) Processing: If you need to be able to accept checks as payment, you can add this optional feature. TSYS partners with CrossCheck to provide this service but doesn't disclose pricing.
TSYS earns a "good" rating in this section due to its full line of essential products and services to get the most out of your merchant account. However, we're a little disappointed that one of the largest processors in the country still doesn't offer EMV-compliant card readers for mobile processing or use with its virtual terminal software.
Fees & Rates
TSYS used to offer several Simplified Pricing plans for small businesses, in addition to a customized pricing option. While the simplified plans were presented as flat-rate pricing options, the fine print indicated that they were actually tiered pricing plans, meaning you would pay a much higher rate than the one advertised for mid-qualified and non-qualified transactions. Because most transactions will be downgraded to mid-qualified or non-qualified for one reason or another, this type of advertising is very misleading, and we're glad the company has dropped this sales gimmick.
With Simplified Pricing no longer an option, you'll have to negotiate a customized rate plan for your business. Be sure to insist on interchange-plus pricing and be prepared to walk away if it isn't offered to you. Because the company offers both tiered and interchange-plus plans, some very small or newly-established businesses without a processing history simply may not qualify for interchange-plus pricing. If this happens to you, you're probably better off going with a provider that's better prepared to meet your needs. Take a look at our Merchant Account Comparison Chart for some recommendations.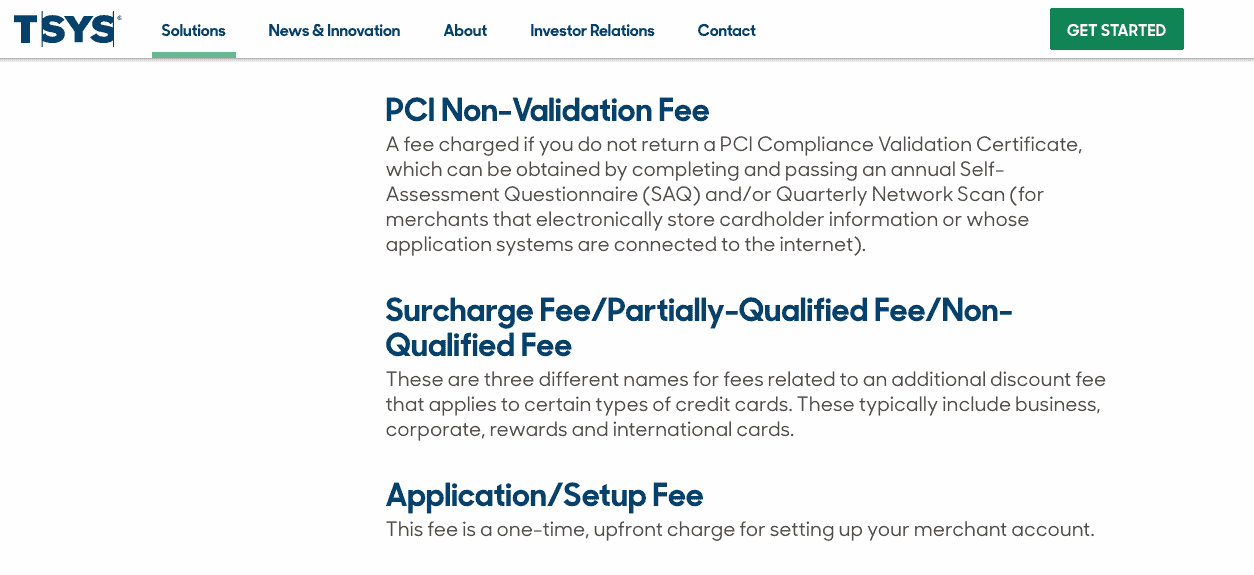 TSYS fee page example
TSYS no longer discloses any information about account fees on its website, and Global Payments has never disclosed any of this information, either. To make a valid comparison against whatever a competing provider can offer you, you'll have to obtain a full price quote that includes your proposed processing rates and a complete breakdown of all one-time, recurring, and incidental fees.
That said, TSYS doesn't usually charge any application or account setup fees. That is a good thing, as these fees are generally "junk" fees that don't provide you with anything of value beyond what you're already getting. These fees have always been unpopular with merchants, and they're gradually being phased out throughout the processing industry. You might see these fees if you have no previous processing history or are in a high-risk business category.
You can expect to pay a monthly account fee, which in the past has ranged from as little as $9.95 per month to as high as $49.95 per month. How much you pay will depend on your monthly processing volume, the processing rates offered to you (lower rates will usually require a higher monthly fee), and whether you include a "free" terminal with your account. Nothing is ever truly free in the processing industry, and you can bet that acceptance of a "free" terminal or tablet POS system will come with some sort of trade-off. You might have to pay a higher monthly account fee, or maybe you won't be granted a waiver of your early termination fee. At a bare minimum, you'll have to return the equipment promptly if you close your account to avoid being charged an inflated fee for the machine.
Like almost every processor in the industry, TSYS wants you to believe that it doesn't charge any "hidden" fees. In a literal sense, this is true. Every monthly, annual, and incidental fee you might be responsible for will be disclosed somewhere in the fine print of your contract. It's up to you to review your agreement very thoroughly before you sign up for an account. Some of these fees can be waived if you negotiate ahead of time, but once you sign on the dotted line, your ability to waive any fees diminishes drastically. Incidental fees, such as for chargebacks, generate the most merchant complaints because you might go a long time without ever paying them, only to be hit with one out of the blue. The good news is that we haven't seen many complaints from TSYS customers regarding fees. This indicates that the company does a good job of disclosing fees during the sales process and that the fees it charges are reasonable and in line with industry averages.
TSYS earns a "fair" rating in this category because it no longer discloses any information regarding processing rates or account fees. Also, its customized pricing appears to push expensive tiered pricing plans instead of interchange-plus pricing, unless you specifically request the latter.
Contract Length & Early Termination Fee
Regardless of what type of pricing plan you have, all merchant account contracts with TSYS include a standard three-year term and an automatic renewal clause that extends the contract in one-year intervals after that. All contracts also include an early termination clause, which imposes an early termination fee (ETF) if you close your account before the current term has expired. Section 11.2 (d) of the most recent TSYS Merchant Agreement we could find contains the following provisions:
(d) Damages for Early Termination.

(i) Bank and Merchant acknowledge and agree that in addition to all other remedies available to Bank under the Merchant Agreement or as otherwise available in law or equity, if the Merchant Agreement is terminated prior to the expiration of the applicable Term of the Merchant Agreement for any reason other than for a material, uncured breach by Bank, Merchant agrees to pay Bank damages (the "Damages") determined by adding an account closure fee as follows: (1) $250 for Merchants with less than twelve months remaining from the date of termination to the end of the then current Term, or; (2) $500 for Merchants with more than twelve months remaining, or such portion of the foregoing as may be permitted by applicable law.

(ii) Merchant agrees that such Damages shall also be due to Bank if Merchant discontinues submitting Transactions for processing during the Term for a period of ninety (90) consecutive days, and is not designated on the Merchant Application, or by notice to Bank, as a seasonal merchant or as otherwise agreed to by Bank.

(iii) Merchant acknowledges and agrees that the Damages are not a penalty but rather are a reasonable computation of the financial harm caused by the termination of the Merchant Agreement by Merchant.
So you're looking at having to pay up to $500 just for the privilege of walking away from TSYS and having to find another payment processor. We've also heard reports of other versions of this contract where the early termination fee can run as high as $750 or even $1,000, depending on your monthly processing volume and how much time is remaining on your current contract term.
The only good news here is that TSYS, like many traditional providers, will sometimes waive the early termination clause of your contract — if you negotiate for it before signing up. Be sure to get any waiver in writing and keep a copy of the waiver — just in case. You should also be aware that removing the early termination clause does not give you a true month-to-month contract. While you'll be able to close your account without penalty, you're still technically on the hook for the full three-year term. We've seen numerous complaints from merchants alleging that their processor continued to automatically charge them monthly fees for months after they thought their account had been closed.
If you do end up in a situation where you need to close your account early, follow the instructions in your contract to the letter. TSYS requires at least 90 days' notice and submission of a written form. You'll also want to return your equipment promptly. We recommend using certified mail to ship your terminals back, so you can get a receipt confirming that the equipment was received.
With a standard three-year term, an automatic renewal clause, and an unusually expensive early termination fee, TSYS rates a "poor" in this category. Be sure to read your entire merchant agreement before signing up, and don't forget to ask for a waiver of the ETF.
Sales & Advertising Transparency
TSYS Merchant Solutions has recently removed its old website and incorporated its content into the main TSYS site. Unfortunately, transparency has taken a big hit due to this change. As noted above, there is no longer any disclosure of pricing — either for processing rate plans or account fees. While it's very common in the processing industry to not advertise processing rates due to the complex variables involved in setting rates for a particular business, we're nonetheless disappointed that the company doesn't at least mention the availability of interchange-plus pricing.
On a more positive note, TSYS does not rely on independent sales agents to market its services, using a fully-trained staff of in-house sales representatives instead. While this doesn't provide an iron-clad guarantee that you'll get top-notch service and full disclosure of contract terms, it does improve the odds considerably. It's far easier for TSYS (or any other processor) to monitor the performance of in-house employees and ensure that they're following the company's sales policies. Note that if you sign up with one of the company's many sub-ISOs, you might have to deal with an independent agent. In most cases, we recommend working directly with TSYS Merchant Solutions to avoid this possibility.
TSYS Merchant Solutions used to have a robust social media presence, with accounts on Facebook, Twitter, and LinkedIn. However, these accounts now redirect to similar accounts for Global Payments. The TSYS YouTube channel is still available, although it's currently listed as 'Global Payments + TSYS.' All of the company's social media accounts are frequently updated, and the TSYS YouTube channel features many customer testimonials and merchant education videos.
The company earns a "good" rating in this category due to its use of an in-house sales team. While we'd prefer to see more pricing disclosures, we also realize that pricing is highly customized to each merchant, and there is a lot of variation in this area.
Customer Service & Technical Support
TSYS offers customer service and support through email and a 24/7 telephone line. It does not currently have a chat feature. Unlike most companies providing 24-hour telephone support, TSYS does not use outsourced representatives — all customer service reps are US-based.
If you peruse through our readers' comments below, you'll see that poor customer service is a common complaint. While this is an issue with most merchant account providers, it's particularly acute with a company as large as TSYS. While the company clearly has the financial resources to improve the quality of its customer service, it simply hasn't done so.
Self-service options are also available, but they aren't very in-depth and are more for educational purposes than actual troubleshooting. The TSYS website includes a Merchant Support page that has several FAQs and informative articles.
The company's "good" rating in this category is due to its providing true 24/7, US-based telephone support. Merchant complaints regarding the quality of that support brought the score down a little. We'd also like to see TSYS expand its self-help and educational resources on its website.
User Reviews
Negative Reviews & Complaints
TSYS Merchant Solutions has eleven separate profiles with the BBB that correspond to the company's network of regional offices throughout the country. A headquarters profile that combines complaints and reviews from all offices has been taken down from the BBB website, so we weren't able to examine the details of recent individual complaints. However, the company previously showed a total of 60 complaints filed within the past three years, with 18 of those complaints having been filed within the past twelve months. Although customer reviews are currently unavailable, the company previously showed an average rating of just one star out of a possible five stars. TSYS Merchant Solutions also has ten complaints on Ripoff Report, most of which are quite old at this point.
This may seem like a lot of complaints, and for most companies, it would be. However, TSYS is a huge processor and has hundreds of thousands of merchants using its services. Given this fact, the company's complaint volume is remarkably low relative to its size.
Overall, this is an impressive performance. Less impressive is the disclosure that in 2016 the company was fined $4.5 million by the Consumer Financial Protection Bureau (CFPB) and ordered to pay nearly $28,000,000 in restitution for deceptive practices relating to Consumer Credit Monitoring and Debt Cancellation products it was selling. While this government action doesn't appear to be related to merchant accounts or credit card processing, it's certainly damaging to the TSYS brand's reputation. Ironically, the company was recently selected by the Ethisphere Institute as one of the World's Most Ethical Companies for 2018.
On all these sites, the most common complaints included the following issues:
Early Termination Fees: There were several complaints from merchants who were charged an early termination fee (ETF) despite having a signed waiver in their contract. This can happen due to a miscommunication — or a lack of communication — between the sales representative who set up the account and the billing department. If this happens to you, insist on a refund and provide a copy of your waiver. You should get your money back. Also, beware of the automatic renewal clause in your contract. If you wait too long to notify TSYS that you're closing your account, you'll be on the hook for another year. When there are many other merchant account providers that don't charge an ETF or lock you into a long-term contract at all, it becomes hard to justify signing up with TSYS.
Difficulty Closing Accounts: This is one of the most common issues we've seen throughout the entire merchant services industry. Many merchants have complained about being billed monthly fees after requesting to have their accounts closed. While we find this entirely unacceptable, we're at least glad to report that TSYS seems to offer refunds in many cases. Still, keep an eye on your bank account when you end your TSYS contract.
Expensive Equipment Leases: While TSYS appears to have been moving toward selling its terminals outright in recent years, there are still a lot of complaints from merchants who were signed up for a 48-month non-cancellable lease. Whether you stick with your lease for the entire four years or cancel early, you'll pay the same: thousands of dollars for a machine that you can purchase outright for only several hundred dollars.
Positive Reviews & Testimonials
You'll find about a dozen video testimonials on the TSYS YouTube channel, all of which seem genuine and realistic in terms of the comments made (even if much of it is not really useful information). While it is, of course, an extremely small sampling of all TSYS merchants, we appreciate seeing a few satisfied customers speaking about their experiences. The interviewed merchants cited low rates and excellent customer service as two of the best features of TSYS. While this may seem ironic considering what we've had to say about the company's rates and customer service, remember that people are easily a hundred times more likely to complain than they are to praise. If you've had a positive experience with TSYS, please let us know about it in the Comments section below.
TSYS receives a "good" rating in this category due to the low complaint volume relative to the company's size and because it offers a robust lineup of convincing testimonials from some of its merchants.
Final Verdict
Overall, TSYS rates as a viable payment processor for a large, high-volume business. It offers a full range of products and services for just about any kind of industry, and its pricing models are flexible enough to be a good fit for large and medium-sized merchants alike. The low complaint volume relative to its size is a strong indicator that the majority of its merchants are happy with the company's service, even if they don't take the time to offer any positive comments online.
At the same time, TSYS is far from perfect. While it offers interchange-plus pricing, it also uses the generally more expensive tiered pricing. If you want to avoid being stuck with a tiered plan and overpaying for credit card processing, you'll have to take the initiative and insist on an interchange-plus plan when negotiating the details of your account.
We're also not happy with the current version of the TSYS website. All pricing disclosures have been removed, resulting in far less transparency than the previous site offered. While there are some valid reasons for doing this, we'd at least like to see a discussion of interchange-plus pricing and how it works somewhere on the site. Disclosures of at least some of the more common standardized fees (e.g., PCI compliance fees, etc.) would also be helpful.
TSYS could also improve the overall value of its service by following the growing trend within the industry and eliminating both the early termination fee and the three-year contract term. With so many of its competitors already offering true month-to-month contracts, it's getting harder to justify any business accepting these kinds of rigid contract terms.
Overall, TSYS Merchant Services scores 3.5 out of 5 stars. Prior to its acquisition by Global Payments, it was actually one of the better direct processors in the industry. Unfortunately, we can't say the same about Global Payments. That company continues to follow the old, traditional, take-it-or-leave-it approach to managing merchant accounts and receives new complaints from our readers on an almost daily basis. If you're currently using TSYS Merchant Services as your payment processor, we highly recommend that you take a look at when your current contract term is scheduled to renew and consider switching to a different provider. We haven't received any indication of how Global Payments plans to transition existing TSYS customers into its system, but we expect that you will probably be switched over to a Global Payments contract at some point. If you're a merchant looking for a new provider, now is not the time to sign up with TSYS.
Thanks for reading! Check out our Merchant Account Comparison Chart or our roundup of the best small business credit card processing companies to see your other options. As always, if you've had any experience with TSYS Merchant Solutions, we encourage you to leave a review in the Comments section below.
---
Our Top Pick To Save On Payment Processing 💰
PaymentCloud


---
PaymentCloud has an excellent track record for service quality, support, and fair pricing. Learn more from PaymentCloud.
Our Top Pick To Save On Payment Processing 💰
PaymentCloud


---
PaymentCloud has an excellent track record for service quality, support, and fair pricing. Learn more from PaymentCloud.
To learn more about how we score our reviews, see our
Credit Card Processor Rating Criteria
.