Clover Mini Review 2022
At first glance, Clover Mini seems like an ideal POS solution — it's portable, flexible, and functional. But there are some problems about the POS and how it's sold.
Expert Analyst & Reviewer

UPDATED
Advertiser Disclosure: Our unbiased reviews and content are supported in part by
affiliate partnerships
, and we adhere to strict
guidelines
to preserve editorial integrity.
Clover Mini

Pros
Easy to use
Compact, modular design
Highly customizable
Accepts multiple payment options
Loyalty program
Cons
Inconsistent customer support
Can't separate POS from payment processing
Clover Mini Overview
The Clover Mini was launched by First Data (now Fiserv) in 2015. Designed to be a smaller, more accessible version of the popular Clover Station POS system, the Clover Mini comes with a built-in receipt printer, a USB hub (allowing for interface with peripheral hardware), and a customer-facing camera. Like Clover Station, the Clover Mini is essentially a replacement for a standard POS terminal that provides support for advanced payment interfaces, such as Apple Pay.
Clover Mini is fully EMV-ready and comes equipped with an integrated NFC reader, barcode scanner, and an on-screen PIN pad with signature capture. Clover Mini is adaptable for many different kinds of industries and has the ability to grow and develop with time, thanks to the Clover App Market, which is constantly being improved upon. In short, it can be whatever you want it to be.
The Clover Mini (and other Clover products, including Clover Station) is always sold with a Fiserv merchant account. Currently, you can buy Clover Mini through over 3,000 major banks in the US, including Citibank, SunTrust, and Wells Fargo. It's also possible to purchase Clover products from small business suppliers, such as Sam's Club, Restaurant Depot, or from independent merchant services providers, and, of course, Clover's website itself.
At first glance, Clover Mini seems like an ideal POS solution — it's portable, flexible, and functional. But there is some negative customer feedback about the POS, mostly due to Fiserv's unsavory reputation. Is Clover Mini worth the risk? Read this Clover Mini review to find out!
Don't have time to read an entire review? Take a look at our top-rated point of sale solutions for a few quick recommendations. Every option we present here offers excellent customer support, detailed user interfaces, and easy-to-use software, all for a reasonable price.
Clover Mini Design
Clover Mini is an extremely compact, all-in-one POS system that keeps your checkout counter clutter-free. The Mini can be used all by itself with no connected equipment, but most businesses (unless they are cashless businesses) will probably at least want to connect a cash register. Or you can use a Mini as a customer-facing screen/PIN pad as part of a larger setup with a Clover Station.
The device is small but heavy, especially if you're used to an iPad. At 7 inches, the screen is kind of tiny, probably not too much larger than your phone's screen, and is framed by a considerable amount of white-backed glass casing. Still, the screen is large enough to see everything you need to see and to navigate the menus without having to squint. The 2.3-lb Mini might actually feel a little clunky at first, but that's only because it contains such an impressive amount of technology, which becomes apparent once you start to get acquainted with everything it can do. The Mini makes satisfying little clicks and dings when performing various functions, but you can turn the volume of those down if you like. Overall, I think the design is enjoyable and easy to use.
Clover Mini is portable in that it can easily be moved to another outlet or even used unplugged for a short period. It can also be used with an LTE plan purchased through Clover, Verizon, or another carrier. This makes it great for mobile businesses, such as food trucks. But despite its small size and wireless capabilities, Clover Mini is primarily a countertop POS rather than a handheld wireless device. Many businesses will want to bolt their heavy little Mini to their counter — it would definitely break if you dropped it (and might break your toe as well). The Mini does come with an internal backup battery, but it provides just 20 minutes of power if there's a power outage. If you want a handheld Clover device to use unplugged regularly, your best bet is the Clover Flex.
The Clover Mini terminal does not swivel out of the box, like the Clover Station screen or the Square Stand, but you can separately purchase a Clover Mini swivel stand that mounts to your counter and will allow the Clover Mini to swivel when the customer pays. These retail from about $69 to $89.
Clover Mini Device Specs
Screen Size: 7″ (1280 x 800 resolution)
Overall Dimensions: 6.47" H x 8" W x 3.73″ D
Weight: 2.3 lbs
Payment Types: Swipe, EMV, NFC, PIN-debit, gift cards, checks, cash
Barcode Scanner: 1D and 2D
Connectivity: Wi-Fi, Ethernet, 4G/LTE (available with a monthly data plan)
Operating System: Hardened version of Android (AOSP) 8.1.0 (API Level 27, Oreo)
Processor: Qualcomm Snapdragon 660 octa-core processor
Along with its built-in card reader and NFC technology, Clover Mini comes with an internal receipt printer and a high-resolution camera that acts as a barcode/QR code scanner. If you want additional hardware, you can use the included device hub to plug in a cash register, barcode scanner, or weight scale.
The Mini's Qualcomm Snapdragon 660 octa-core processor makes the device quite fast, and you should only experience some lag if your inventory exceeds the maximum recommended number of items (15,000) or if your connection is slow. The Mini uses the same processor as the much larger Clover Station Pro.
Getting Started With The Clover Mini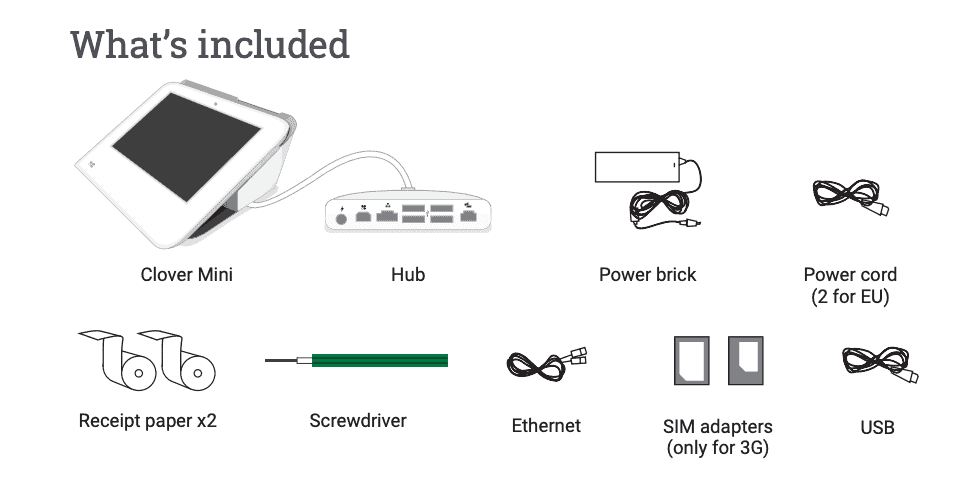 Your Clover Mini box will include the following components:
Clover Mini
Hub
Power brick
Power cord
Receipt paper (x2)
Screwdriver
Ethernet cable
USB cord
To get started with your Clover Mini setup, you just need to plug everything in per the simple instructions in the box, put the receipt paper in, and turn that bad boy on. This shouldn't take more than a few minutes. After the Mini powers on, you'll be prompted to set up your Clover Mini Wi-Fi and activate your device. Then you can set up your admin account, install apps, and start customizing your Mini. If you want to connect Clover Mini accessories, such as a cash drawer, external barcode scanner, or weight scale, you can use the included hub, which has four USB device ports and one RJ12 port for a Clover Mini cash drawer.
Note: Your Clover Mini should already be associated with your merchant account prior to installation. If you don't have a merchant account set up yet, you'll get an error when you try to activate your Mini and will have to give Clover customer service a ring.
Clover Mini POS Software Design & Features
The Clover Mini is so adaptable and can be customized with such a wide variety of apps that it's difficult to discuss features in general. Aside from the preloaded apps (Register, Orders, Tips, Reporting, Customers, Rewards, Promos, and a few others), the features included with your particular Clover configuration are customizable. However, one general thing I can say is that despite its small size, you can do and see a lot on the actual Clover Mini device, rather than having to go through the web dashboard. You will have to use the web dashboard to add inventory, but you can do just about everything else right from the Mini, including manage rewards and promos and even generate and print reports.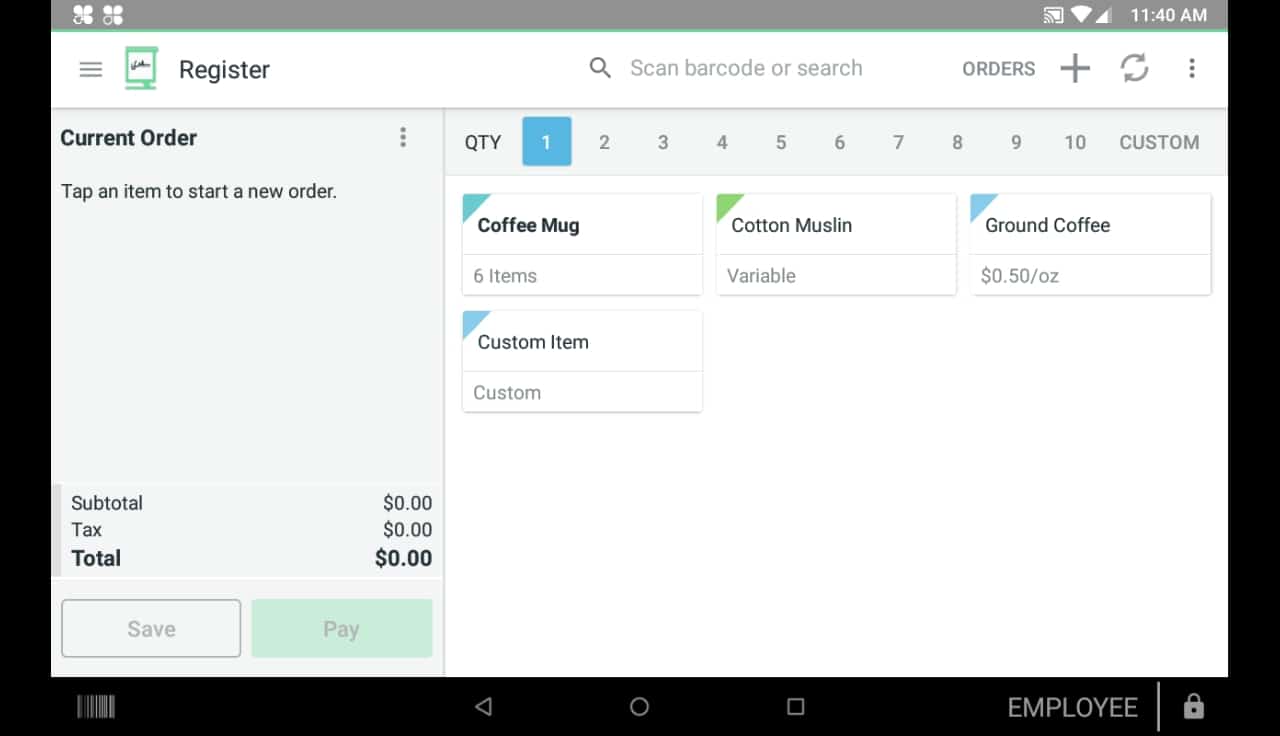 Unfortunately, if you want to test out how the Clover software works on a Mini before purchasing, you're out of luck: The hardware is proprietary, and you can't get it on a trial basis. However, you can get a personalized Clover Mini demo online from a Clover sales rep. Also, you can get a 30-day free trial of Clover software without the Mini hardware. So basically, you'll just be able to test out the web dashboard and virtual terminal.
Rather than writing a full Clover Mini software review, since most features are the same on the Clover Station, I'll highlight a few key features mentioned frequently in Clover Mini reviews. To see a full breakdown of Clover POS software features, refer to our full Clover POS System Review.
Accept Any Type of Payment
Clover Mini is said to be one of the most advanced payment terminals on the market and can accept almost any payment type, including Apple Pay, Google Wallet, EMV, credit, debit, EBT, QR codes, and gift cards (both physical and virtual). You can also enter card numbers manually or take sales over the phone using the Phone Sales app. Customers can additionally order ahead online and pay online or in person. Receipts can be printed at the time of the transaction or emailed to the customer for future reference.
Clover Mini is the only Clover device that can accept PIN payments, making it a must if your business wants to accept debit payments or EBT using a Clover setup.
Customer Profiles
Clover Mini lets you view and edit customer profiles and associate orders with those customers. You can add custom notes — for example, "Comes in at least 2x a week"– and enter other information, such as their birthday, whether they should be included in the promos you send out, and even their YouTube profile. Simply tap the "Customers" app to pull up a customer profile to see all their information, as well as their past orders, loyalty program info, and any notes you've added.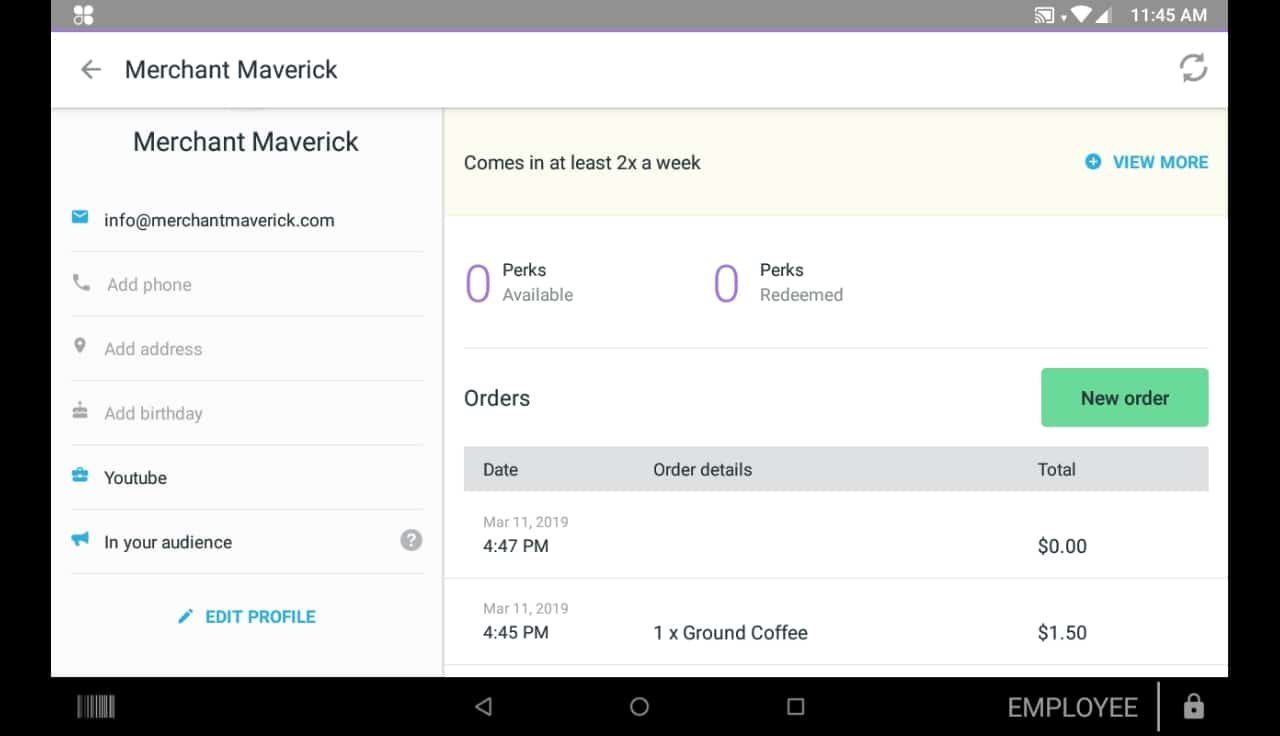 Clover Mini Restaurant Features
Clover provides retail- and restaurant-specific apps for everything from voice authorization to bar tabs, refunds, discounts, and restaurant inventory management. Clover can also be customized for service-based businesses. However, Clover Mini is especially well-suited for restaurant businesses, as it offers dedicated software plans for counter-service and full-service restaurants, which include apps that allow you to accept tips, receive online orders, manage tables, and more.
Online ordering is included free with all Counter Service and Table Service plans. Optionally, restaurants can use a Mini as their main register, along with a Clover Flex for tableside and curbside orders.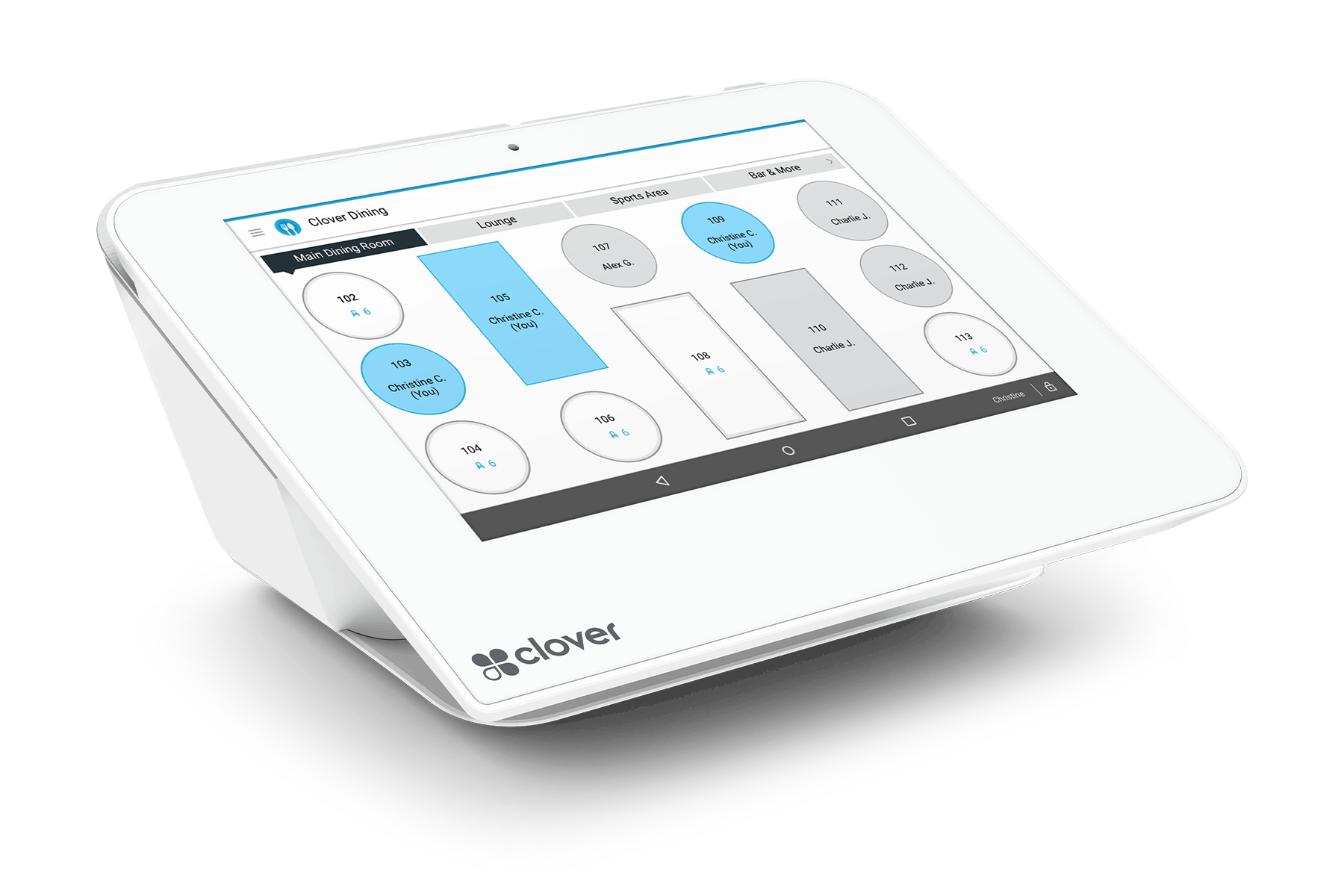 Preloaded Apps & App Market
Various apps will come preloaded on your Mini, depending on your software plan. On the standard Register plan, you'll get apps that provide customer management, employee management and permissions, loyalty, gift cards, inventory management, reporting, and promotions. Note that unlike a lot of POS systems, Clover does not charge extra for gift cards or loyalty.
Clover also has an App Market that allows you to pick and choose additional features and/or tools your business requires, such as coupon processing, advanced reporting, and integration with other business software you might use. Most of the apps are completely free, though many are accompanied by a small fee. Furthermore, if you have very specific needs and would like to design your own application, the Clover API is available to developers. It should be noted that while some of these apps are free, others will cost you per month.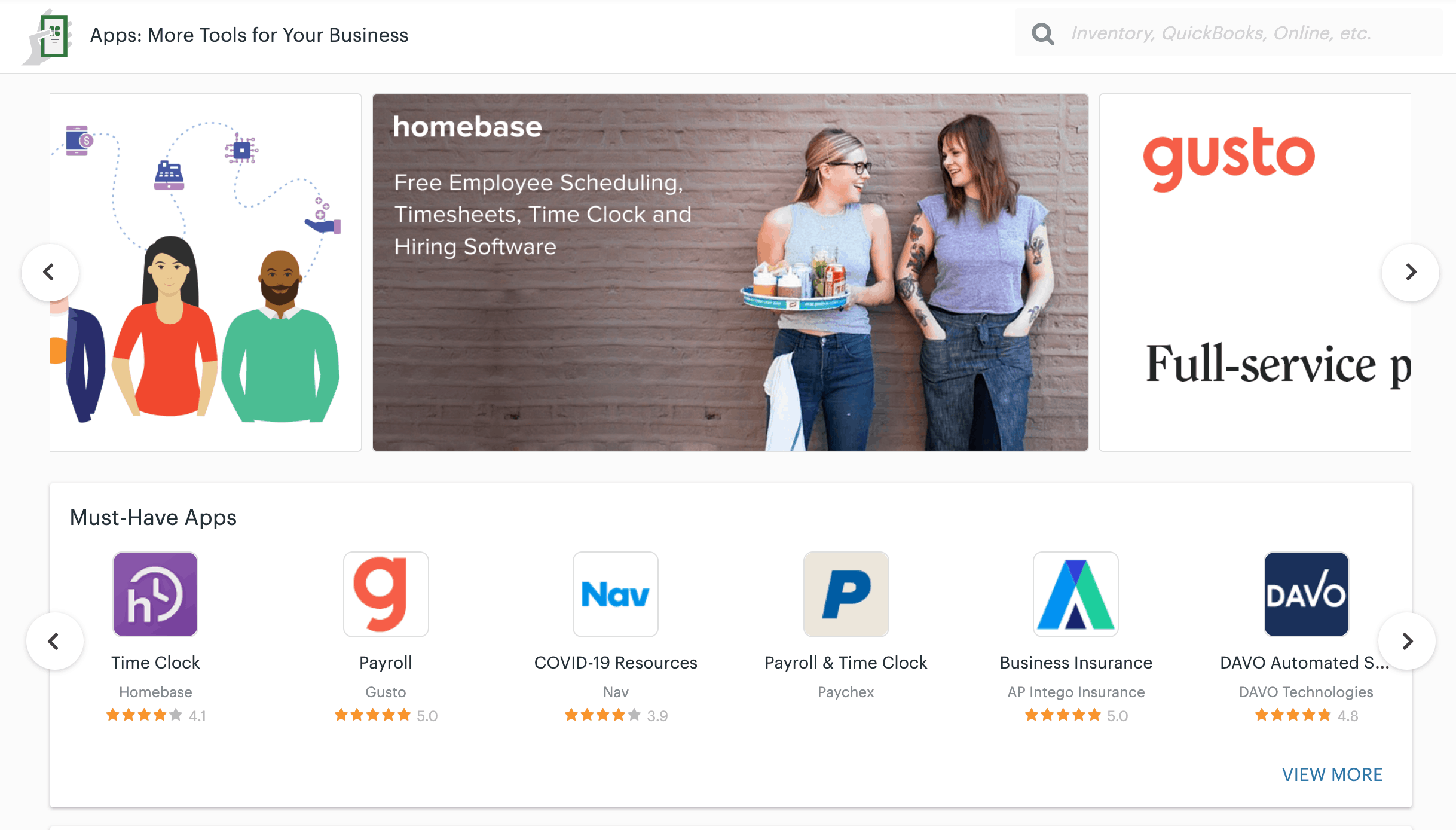 Web Dashboard
Once you've created a web dashboard account, you can access your Clover information anywhere with a network connection simply by typing in your email address and password. Clover stores every report, order, employee clock-in, inventory adjustment, etc., in the cloud, ensuring that the information is always kept current.
The web dashboard also includes a virtual terminal and a reporting suite that can provide insights about your sales, such as your top-selling items, top card types, top categories, and top-selling items. It's also easy to use the web dashboard to send a message to a customer, set up your loyalty program, view customer feedback, or create a promo or announcement.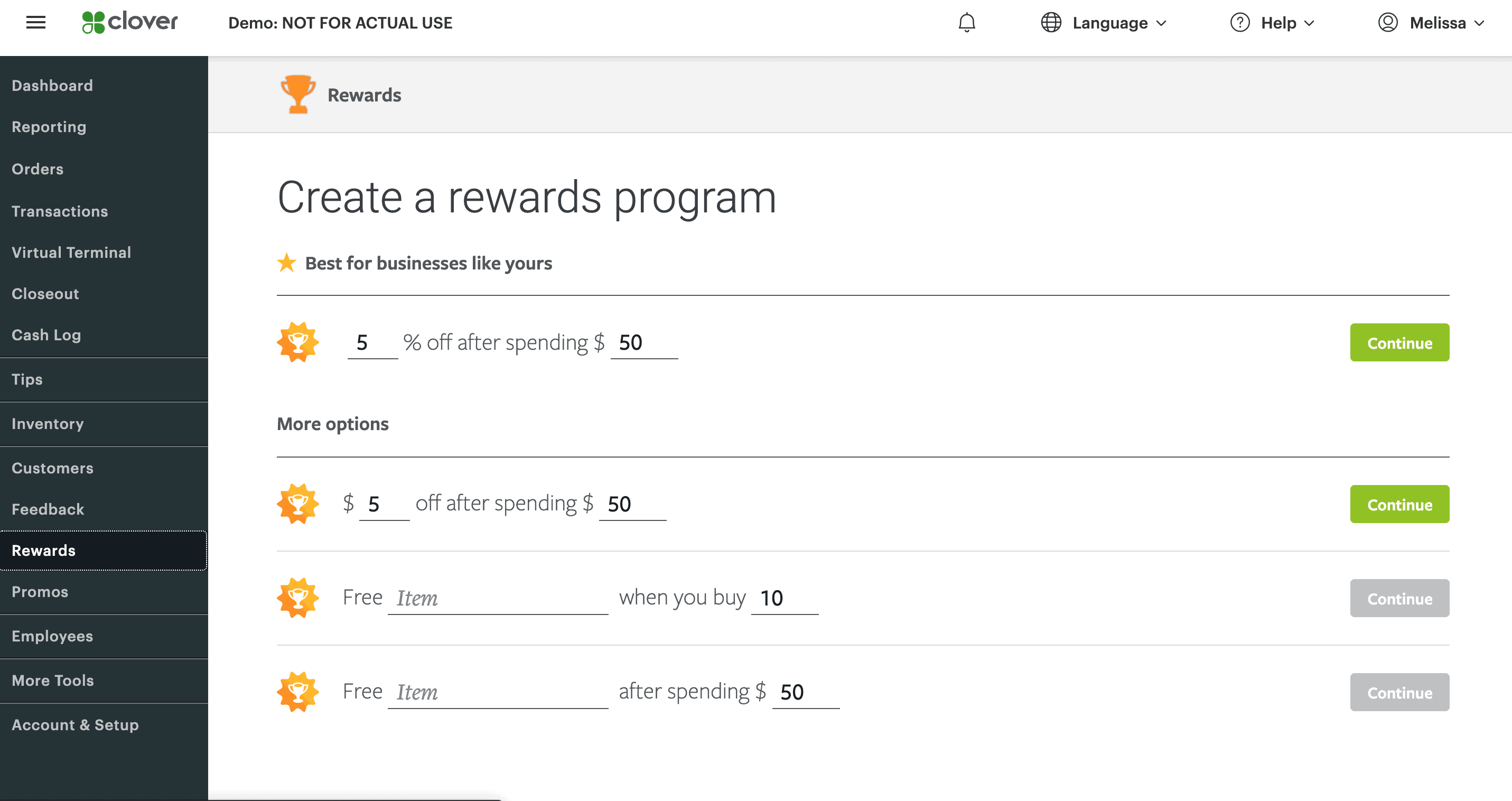 Receipt Features
If I had to choose, I think the Mini's best feature is its receipt functionality. Not only is the printer crazy fast, but the Mini also gives you numerous receipt options:
Print, text, or email receipt
Choose whether customers sign on-screen or on a printed receipt
Add a custom message to all receipts
Add unique customer feedback code to all receipts
Print gift receipt
Reissue receipt for a past order
Print bill for a past order
As mentioned, you can also use the Mini receipt printer to print basic reports, including Sales Overview and Sales by Employees. There are also options to add an external receipt printer, order printer, or label printer.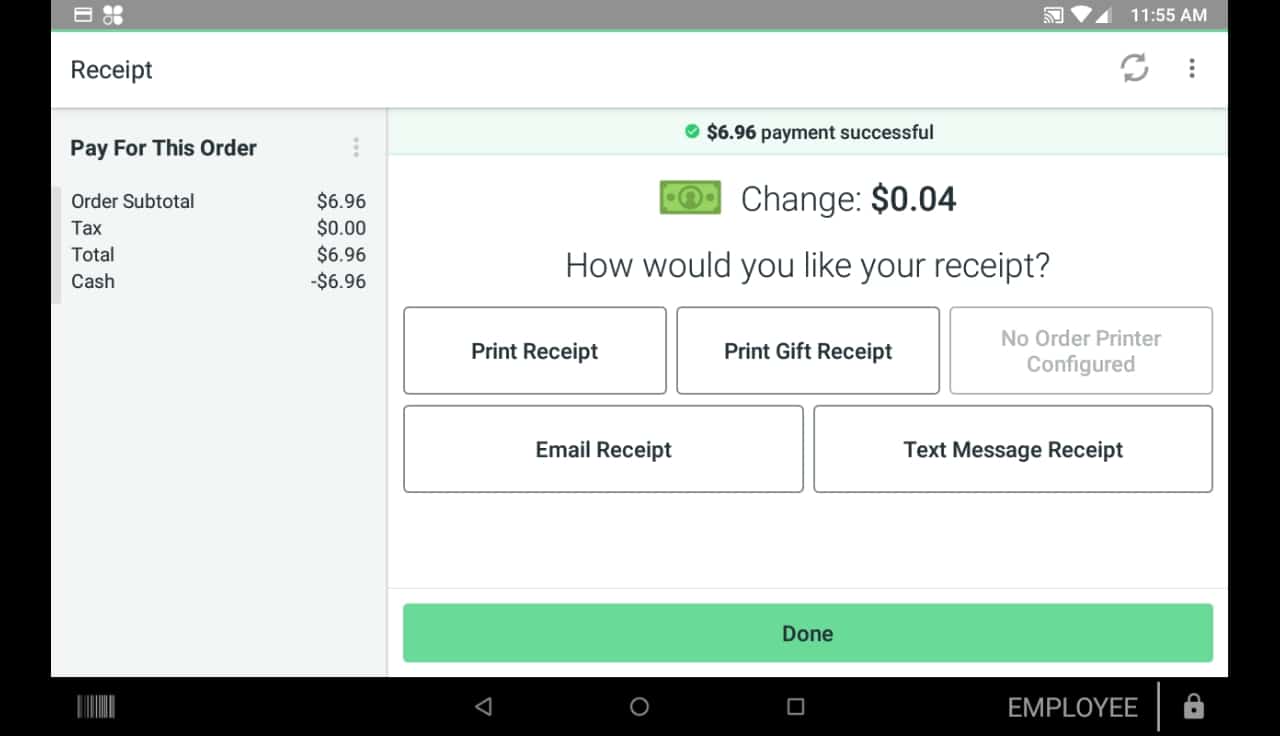 Is Clover Easy To Use?
In short, it is a breeze to set up and learn how to use Clover Mini.
No-Hassle Set Up: I can assure you from personal observation, as well as general consensus from users, that Clover Mini is easy to use and even easier to set up. It arrives nearly ready to go (with a preloaded menu), and there are only a few pieces to assemble.
Short Learning Curve: As you can see from the screenshot below, the main screen on the Clover Mini is very intuitive and resembles a typical computer screen or smartphone device. Depending on what functions you want, there are various apps on the screen, which you can open with a touch of your finger.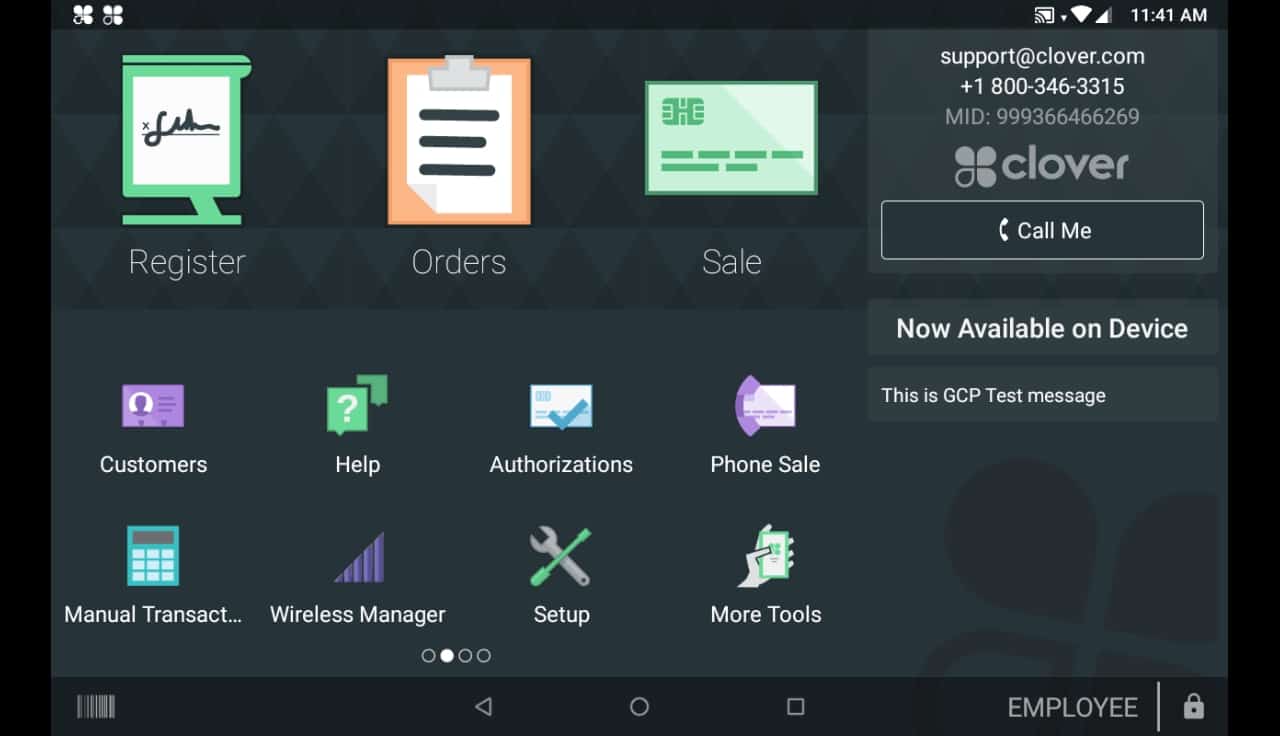 Employees should be able to pick up everything they need to know about Clover Mini after 15-20 minutes of basic training (if that). Most of the apps (at least the most common, such as reporting, inventory, customers, etc.) are self-explanatory and clearly labeled. The nice thing about a truly all-in-one POS solution such as the Clover Mini is that all of the hardware works together naturally. Clover really takes all of the guesswork out of things for many business owners.
Clover Mini Pricing
How much does Clover Mini cost? Well, it's complicated. As I mentioned in the overview, Clover Mini differs from other POS systems in the way it's marketed and sold. It must be sold with a merchant account. Instead of being available from one location for one set price, it can be bought from thousands of banks, business suppliers, and merchant services providers, each one offering different swipe fees and hardware costs. We recommend buying from Clover directly or from a recommended Clover reseller for the best Clover Mini pricing.
If you purchase from Clover directly, the Clover Mini POS price is $749 for the Mini itself, with the option of 0% financing (three monthly payments of $250). Most likely, the only additional equipment you'll need is a cash register. If you're buying the Mini with a Clover Station, you'll get a discount on the Mini.
Clover offers the following month-to-month plans for the Mini, including a free plan for payment processing only:
Clover Payments Plan
$0/month
2.6% + $0.10 for in-person transactions
Clover Essentials Plan
$9.95/month; $9.95/month for each additional device
2.6% + $0.10 for in-person transactions
Register Plan
$39.95/month; $9.95/month for each additional device
2.3% + $0.10 for in-person transactions
Table Service Restaurant Plan
$69.95/month; $9.95/month for each additional device
2.3% + $0.10 for in-person transactions
Counter Service Restaurant Plan
Note that the free Clover Payments plan is for businesses that want payment processing only, with no POS features. The Clover Essentials plan is also pretty limited and only recommended for very small businesses processing less than $50K/year. Most businesses using the Mini will be best served by the Register plan or one of the restaurant plans.
Overall, Clover's hardware and software are very reasonably priced, especially when you consider it doesn't charge extra for features such as loyalty, online ordering, and gift cards, and considering that each additional device on your plan is only another $9.95/month (per location). And even though Fiserv hasn't always been known for transparency in processing, the flat-rate processing plans it created for Clover are pretty fair and transparent. However, many third-party Clover providers out there may not have such good prices or transparent terms. Those providers may provide the Mini itself for a lower price or even for free, but they will lock you into a long-term processing contract with lots of sneaky fees.
You can find even more information about Clover POS pricing by reading How Much Does Clover Cost? Your Ultimate Guide To Clover Fees.
Customer Service & Support
Clover's customer support can be unreliable, depending on where you buy your system. Customer service regarding payments and any merchant account issues will come from whichever merchant services provider you end up going through. For this reason, it's important to be careful about the bank/provider you choose to buy from.
On the other hand, technical support regarding the actual software and hardware is going to come directly from Clover (or, more accurately, Fiserv). Fiserv has historically had its own problems on the merchant services side of the business (excessive fees, account terminations, withheld funds), and reviews for Clover's customer service are mixed. Some Clover merchants describe Clover/Fiserv's customer service as helpful and responsive. Others say they feel the customer service reps are unhelpful and that with so many different entities providing customer service, everyone "passes the buck," and nothing gets resolved.
The Clover Mini screen does have a particularly helpful customer service feature: a "Call Me" button. Click this button right from your Mini to request a call from support, and customer service will give you a call within minutes. Clover additionally provides a self-serve help center with guides, FAQs, and troubleshooting tips, many of which are accessible from the Clover Mini itself. There are a wide variety of articles and a decent arrangement of how-to videos for quick, easy-to-diagnose issues and problems specific to the different Clover devices. Clover also features a community forum for users to ask questions and share information.
One more thing to note is that when it comes to troubleshooting third-party Clover apps — upon which the system relies rather heavily — you'll have to call the app developer rather than Clover itself.
Clover Mini POS Reviews & Complaints
There are plenty of Clover reviews online, but it is difficult to find Clover Mini POS reviews, specifically. When it comes to Clover POS in general, the company does not have a presence on the BBB, but overall online reviews of Clover are mostly positive. Clover has 4/5 stars on GetApp, Software Advice, and Capterra. Clover has only 1.2/5 stars on Trustpilot (out of 399 reviews), although many of these negative reviews are concerning the third-party Clover resellers they bought their system from.
Negative Clover Mini Reviews & Complaints
Limited To A Fiserv Merchant Account: One negative of Clover Mini is that there is no single place to buy it, yet you are restricted to a single merchant services provider. Therefore, you're going to get different rates, different prices, and different customer service options at each location — and no matter which reseller you go through, you're still limited to having Fiserv as your processor. I'd be wary around any POS that only integrates with one processor, but this is particularly a problem with Fiserv because of the increasingly negative responses it has been getting from customers. More and more people are reportedly being hung out to dry by Fiserv and its resellers. Though some resellers (such as Payment Depot) have maintained a great reputation, they can really only help on the payments/merchant account side of things. For technical support, you're still at the mercy of Fiserv's hit-or-miss service.
Scammy Clover Merchant Service Providers: Many unhappy Clover customers say they were tricked by a merchant services company into signing a multi-year contract with hidden fees and charges. Besides Fiserv, other Clover merchant services providers that less-than-happy Clover merchants commonly complain about include Bank of America, Citibank, Paysafe, Rebel Payments, and Leaders. (We also wouldn't recommend buying your Clover from Sam's Club or Wells Fargo).
Inconsistent Customer Service: Customer service (or the lack thereof) is a major complaint among many unhappy Clover customers. Again, part of the issue is not with Clover itself but with various merchant services companies that sell Clover. Doing your research on which provider you choose can save you lots of heartache in the long run. Many customers complain of being helped by rude representatives (if they can even get ahold of anyone), and others even report feeling scammed by customer service reps. Others complain about customer service issues related to third-party apps.
Clover Mini Cost: Some Clover merchants complain about the cost of the Clover Mini terminal — the Mini is a lot more expensive than Square Stand, for example — and others complain about the cost of the software. Though Clover's monthly plans are well-priced, many users note that the system relies heavily on third-party apps, which often carry an additional monthly charge. Some feel that the system's functionality is rather basic without any additional apps installed, particularly for certain industries with specialized needs, such as retail or hospitality.
Scattered reviews mention an issue where Clover Mini locks up when processing metal cards, such as the AMEX Black Card. However, this issue seems to be limited to the Mini's 1st generation (3G) model, not the 2nd generation (LTE/4G) version discussed in this review.
Positive Clover Mini Reviews & Testimonials
Here are some common things happy merchants praise about the Clover Mini POS in Clover Mini reviews:
User-Friendly: Like all Clover hardware, the Mini is super easy to set up, train your employees on, and start selling with. Because it is such an intuitive system and includes everything you need out of the box, you can basically just plug your Mini in, boot it up, and start using it right away. The system is largely self-explanatory, even for users who are not particularly tech-savvy.
Sleek Hardware: Happy customers love the Mini's small but functional hardware and how slick, modern, and attractive it looks on their counters. Users also like its built-in receipt printer, camera, and Apple Pay acceptance and appreciate that the hardware is portable and easy to place, with lots of accessory options.
Software Apps: Clover's software is easy to use and super functional. Businesses with more general/basic needs seem to like Clover's software better than businesses with more specialized industry needs. However, the system also gets a lot of praise from quick-serve restaurants. Of the preloaded apps that come out of the box on the Register plan, reviewers especially praise Clover's rewards program, house accounts feature, reporting suite, web dashboard, and text/email receipt option, as well as its features for tracking customers, inventory, and transactions.
Customizability: Clover is highly flexible in that it is easy to customize your system to do virtually whatever you want it to do. The vast app market lets you add integrations for payroll, accounting, appointments, and much more. This makes Clover suitable for all kinds of industries. And while most apps do require an additional charge, some have free plans, and others are affordable, only adding another $10/month or so to your total software cost. Some software integrations users praise in reviews include Homebase, Menufy, and Salon Scheduler.
Final Verdict On The Clover Mini
Clover Mini's compact, sleek design means that it can go where traditional POS systems fear to tread. Sometimes, making a device smaller and more streamlined adds up to extra dollars and cents for the consumer, but in this case, smaller does actually mean cheaper. There is really very little to criticize about the Clover Mini as a product. It's not often you see a POS solution that is customizable, powerful, and suitable for almost every imaginable type of payment, but with Clover Mini, big things come in small packages.
One of my biggest concerns with Clover Mini is that it is sold by thousands of different banks, merchant services providers, and small business suppliers. In general, I applaud a system that is set up for competitive pricing/rates, but something gets lost when a company stops providing support (and even equipment) for its own product. While Clover has made strides in connecting more with its users by adding a forum and seeming to respond to customer feedback more quickly, that disconnect is still an issue for some users. Not only that, but the limitations placed on Clover users (both in terms of hardware and choice of a processor) are a definite negative.
When it comes to Clover's parent company, Fiserv, some customers complain about being tricked into expensive contracts and having to deal with little to no customer service response; they feel as though they've been scammed. For these reasons, we're shaving stars off of Clover Mini's rating until we see a positive change from Fiserv. That said, those of you who want a simple, attractive POS solution and don't mind taking risks with payment processing could do worse than Clover Mini. Just be sure to work with a vendor you trust and research their support/technical assistance policies beforehand.
Get A Clover Mini Credit Card Machine If…
You want a small countertop POS (i.e., the Clover Station is too big for you)
You want to accept PIN payments and/or NFC payments
You want a portable POS that connect via 4G/LTE
Don't Get A Clover Mini Credit Card Machine If…
You want a POS with a larger touch screen (Clover Station) or a fully mobile POS (Clover Flex)
You don't want to be limited to a Fiserv merchant account
You have industry-specific needs and don't want to rely on third-party apps
---
The Merchant Maverick Seal of Approval 🏆
Clover Mini


---



After hours of in-depth research and evaluation, we can confidently recommend this brand to our readers. Get started today and see Clover Mini for yourself.
The Merchant Maverick Seal of Approval 🏆
Clover Mini


---



After hours of in-depth research and evaluation, we can confidently recommend this brand to our readers. Get started today and see Clover Mini for yourself.
To learn more about how we score our reviews, see our
Point Of Sale (POS) Software Rating Criteria
.