Clover Flex Review
Clover Flex can be both a countertop and mobile POS, but be mindful that costs and contract terms depend on which provider you buy it from.
Expert Analyst & Reviewer

UPDATED
Advertiser Disclosure: Our unbiased reviews and content are supported in part by
affiliate partnerships
, and we adhere to strict
guidelines
to preserve editorial integrity.
Clover Flex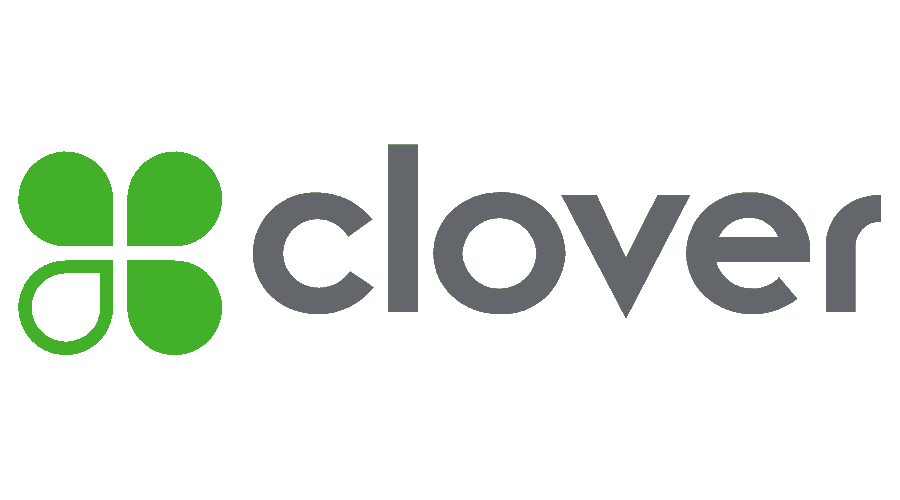 Clover Flex At A Glance
Clover Flex is flexible hardware that functions as a countertop or mobile POS solution
The hardware works with Clover's full POS software to offer plenty of features for small businesses
Customize your hardware with numerous apps available in the Clover App Market
---
Pros
Works for countertop and mobile POS setups
Supports multiple payment types
Built-in receipt printer
Runs full Clover POS
Cons
Large, somewhat clunky design
Pricing and contract terms vary by provider
Glitchy software
What Is Clover Flex?
Clover Flex is point of sale (POS) hardware that doubles as a countertop POS device and mobile card reader. It is compatible only with Clover POS software and other Clover hardware. With Clover Flex, you can take card and mobile wallet payments on the go, print receipts, manage inventory, and more.
Clover Flex Pricing
| Clover Flex Plans | Price | When To Use |
| --- | --- | --- |
| Clover Flex Starter | $499 or $35/month | If you want Clover Flex equipped with the free Clover Payments plan |
| Clover Flex Standard | $499 + $14.95/month or $50/month | If you want Clover Flex equipped with the Clover Essentials monthly plan |
| Clover Flex Advanced | $499 + $44.95/month 0r $80/month | If you want Clover Flex equipped with the Clover Register monthly plan |
If you go through Clover.com, Clover Flex will cost you $499 if purchased on its own. You may be able to find different prices through other vendors, but those may also come with varying processing fees.
You can purchase the hardware outright or pay one monthly fee for your hardware and software. Paying monthly over time like this is very similar to leasing POS hardware, which can end up costing more over time.
We recommend you buy your Clover hardware upfront. If you can't afford to do this, read our post on equipment financing for more payment options.
As for software, you'll have a choice of several monthly plans with Clover Flex. Payment processing is also an additional fee to consider, with rates starting at 2.3% + $0.10 per transaction.
Adding additional devices to the same plan is $9.95/month/device if the devices are in the same location or used on the go. If, for example, you place a second Clover Flex in a second business location, you'll pay the full monthly software fee for each device.
You can also add 4G processing to your Clover Flex for $15/month.
To learn more about Clover's prices, read our post on Clover POS costs.
Overall Design
Unlike the Clover Station and Clover Mini, which are designed to sit on countertops, the Clover Flex is a handheld device meant to be mobile.
In addition to the Clover Flex itself, you'll also get a separate "starter kit" that contains essential accessories — namely, the Flex charging base, cable, and power brick, the starter manual, a roll of receipt paper, and a screwdriver for replacing the SIM card.
Around the edge of the Flex, you'll find the card readers, various buttons, and some secondary features: a power button, a barcode scanner, speakers, an audio jack, and even a USB Type C port. Placement of these features is pretty standard if you're familiar with a smartphone — just on a larger scale. The Clover Flex manual and online help materials include a neat little graphic that shows what everything is.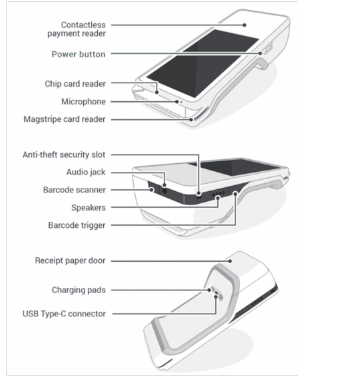 Let's talk about the biggest design-related issue: The Clover Flex is much bigger than a mobile device should be. It's about the size of an early 90s brick cell phone but with a 5-inch smartphone screen instead of buttons.
It's also top-heavy, thanks to the receipt printer at the top of the device, making it a bit unwieldy. The Flex is encased in smooth white plastic. It doesn't feel particularly prone to slipperiness, but Clover does include a silicone bumper case with it as well for shock protection.
The Clover Flex also includes a charging dock — the base is contoured to fit the handgrip on the Flex. The charging cable is about three feet long, so it can definitely sit on a counter.
Overall, the Flex is functional. The hardware design team clearly put thought into some aspects of the Flex, while others fell by the wayside. But let's talk about some of the more technical aspects of the Flex.
Device Specs
Here's a rundown of the specs of the Clover Flex:
Overall Dimensions: 7.7″ H x 3.2″ W x 2″ D
Display: 5-inch 720×1280 XHDPI display
Payment Types: Magnetic stripe cards, EMV chip cards, NFC cards, contactless payments
Connectivity: Wi-Fi and 3G
Processor: Qualcomm Snapdragon 400 quad-core CPU
Memory: 1 GB RAM, 8 GB Flash
As you might expect from a device called Flex, Clover throws in magstripe, chip card, and contactless payment support.
The 5-inch screen is protected by Gorilla Glass, the same stuff used by most Android smartphones. The Flex's screen size is pretty reasonable for a mobile device, but there's also a large open space above the screen where the NFC chip and receipt printer is located, making the whole device much bigger.
Loading a roll of receipt paper is quite simple. The drawer pops open easily but also seems to latch securely. However, the receipt paper roll does rattle about a bit.
Clover Flex comes with a 2100 mAh battery, which is a little bit weaker than what you'll find in most high-end smartphones. However, 2100 mAh is robust enough to run a device like the Flex for a standard business day (eight hours). Keep in mind that your mileage may vary depending on whether your shop is busy and you rely heavily on the Flex, you keep it on the dock when not in use, or you just use it for line busting or occasional tableside ordering.
Also, the Flex has a built-in camera at the top of the device. While I can't attest to the image quality, you may find it to be a helpful feature. The Flex's internal storage is limited to about 8GB, which will certainly hold a good amount of photos, but is about two times smaller than your standard smartphone (which typically offers at least 16 GB of storage).
Getting Started With Clover Flex
The device itself is pretty simple to set up. The Clover Flex started up with just about half its battery power, which is pretty standard for most electronics.
But let's commence with what you need to do to get your Clover Flex set up for the first time. That starts with powering up the device and choosing your default language. After that, the real setup process begins, starting with your data connection settings. Clover Flex comes with a mobile data connection (for an additional monthly cost), but you can also set the Flex up to work with Wi-Fi or an Ethernet connection. You can complete the setup process using any of these three connections.
Once you're connected, and Flex has downloaded any software updates, Clover will ask you to enter your activation code. Clover will send you the code via email when your device ships, but you can also access it in your online portal at Clover.com. I also conveniently received a reminder email about my activation code shortly after I powered the Clover Flex up for the first time. However, if your cellular provider isn't great at giving you timely notifications, remember that you can look back at your previous emails or log in to the dashboard to get the code.
After you enter the activation code, Clover will download your apps for you. Then, you'll need to set up the receipt printer, which really is as simple as popping the roll of paper in and closing the Flex up. You can print a test receipt to make sure the printer is working as it should.
The second-to-last step in setting up your Clover Flex is deciding what software plan you want. Once you've decided what plan you want to start with, Clover will also ask you to opt into the Wireless Manager add-on, which allows you to have cellular data in addition to Wi-Fi or Ethernet. If you don't opt-in, you won't have a backup data option if your internet goes down, but the Wireless Manager isn't mandatory.
Finally, you'll be asked to enable a couple of settings before your Flex is fully set up. For starters, you can require users to enter a passcode to unlock the device. You can also specify whether you want to accept tips and collect signatures on printed receipts or the Clover Flex screen.
It does sound like a lot, but I have been very detailed in the setup process here! It shouldn't take more than 10-15 minutes to get everything set up unless you need to research the software plans or your data connection is unbelievably slow.
Clover Flex Features
| Clover Flex Features | Availability |
| --- | --- |
| Multistore Support | |
| Contactless Payments | |
| Multichannel Selling | |
| Gift Cards | |
| Customer Loyalty | |
| Marketing Tools | |
| Online Ordering | |
| Inventory Management | |
| Reporting | |
| Menu Management | |
| Delivery Management | |
| EBT Acceptance | |
| Employee Management | |
| Text Messaging | |
I always knew that Clover was very modular, but I didn't fully understand just how much until now — nor did I understand why Clover refers to its inventory tools, customer database, and reporting tools as "apps." I thought it was a marketing gimmick, not a literal explanation. Having the opportunity to test out the Clover Flex finally shed some light on the mysteries of Clover's point of sale system.
For starters, Clover POS isn't a single app with many components. It's more like an entire mobile OS that replaces phone calls with payment processing. (The Clover Flex is built on an Android device, so you can think of it as a hefty cell phone if it helps.) Inventory isn't in a separate tab or buried in a menu within an app — it's an entirely different app that you open.
The Clover Flex runs the full Clover POS and is compatible with the Clover Station and Clover Mini. If you need a full-fledged register/countertop POS system, you can get that and use the Flex devices as a supplement. That means orders created on one device can be completed on the other, which is very important if you're dealing with mobile hardware and mobile staff.
Inventory Management With Clover Flex
Because the Clover Flex POS is meant to be mobile, it doesn't support a few of the inventory features that the Clover Station and Mini do. For example, you can't connect a scale to weigh products. However, you can create items (with variants), categories, and modifiers from Flex. You can also adjust the settings for Clover to track stock counts and costs, but this feature isn't enabled automatically.
Clover Flex lets you create fixed-price, per-unit, and variable-price items. Fixed price is for standard wares, whereas per-unit pricing will ask you to specify a unit and a price per unit. When you select the item to ring up, you'll need to enter the quantity.
With variable-price items, you'll simply enter the cost when you add the item to an order. This feature could be helpful for, say, art galleries that have a rotating inventory of paintings by a select few artists. You could set the item up as "NAME painting" and plug in the price of that particular painting. But there are many other uses as well.
I mentioned earlier that the Flex has a built-in barcode scanner, which you can use to load inventory into the app. Scan the barcode, and Flex will import that data into the POS. This could be a major time-saver for some businesses.
Payment Processing With Clover Flex
Clover Flex mobile payments are broken down into three apps: Register, Orders, and Sale. Register is where you can find all of your inventory and add products to the cart. Orders pulls up any open tickets so that you can complete the transactions. Sale is the standard quick-sale mode where you plug in an amount and swipe, dip, or tap the card.
However, you have access to all sorts of settings related to payments directly on Flex, starting with the basics: tax and tip. The tip settings are fairly intuitive, but the tax settings might require a bit more thought, depending on where your business is located. While I won't say Flex's tax settings are the most advanced I've seen, they're definitely flexible.
Most payment-related settings are in the Clover Setup app, including customizing your accepted payment tenders and whether a transaction triggers a cash drawer opening.
Other Features
Clover's additional POS features include a customer database, fairly comprehensive in-app reporting, and employee management features, among many others. (There's a rewards program add-on, timekeeping and payroll, and more, all available from the "More Tools" button on the Flex.)
I like that you can create custom roles for your employees, set individual logins and restrict which features an employee can access on Clover devices based on their role. This is included at no extra charge, and it's fairly advanced.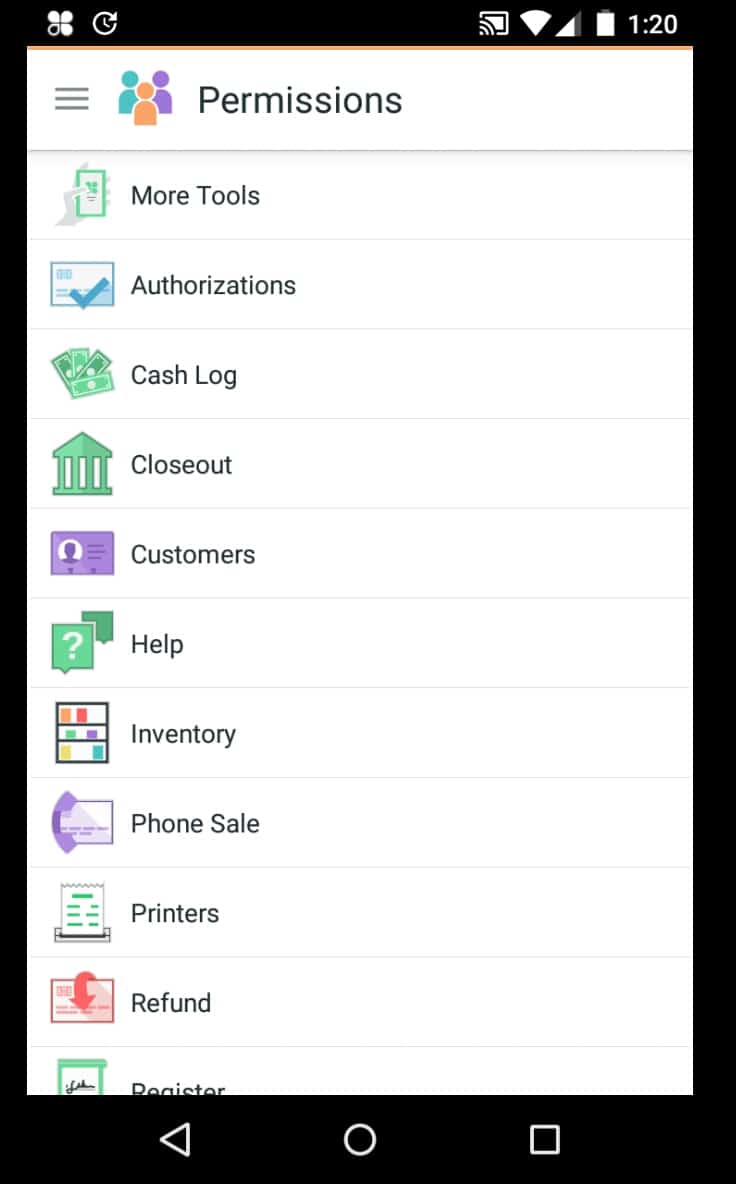 I wouldn't want to use the Flex as my primary device for analyzing reports, but the features are a bit more robust than what you'd find on your average mobile device. You can specify the hourly range, the total timeframe (today, yesterday, the past week, the past 30 days, or a custom range), and filter reports by all devices or just your Clover handheld.
The customer database lets you link transactions to customers and keep a database with their name, contact information, and even their birthday. This is a good foundation for the add-on CRM and loyalty programs that Clover offers.
Is Clover Flex Easy To Use?
The Clover Flex is fairly simple to set up. But what about actually using the POS and the hardware? In short, Clover Flex and other Clover devices will feel intuitive if you've ever used an Android device before. And even if you've only ever used an iPhone, you should be able to master Clover Flex's app-based functionality in no time.
However, you could be a little frustrated as you flip through multiple apps to find the right one to modify a particular setting. Settings are available within the individual apps rather than from a single settings menu.
There's no centralized control for any of the settings.
Customer Service & Support
| Clover Flex Support | Availability |
| --- | --- |
| Phone Support | |
| Email Support | |
| Support Tickets | |
| Live Chat | |
| Dedicated Support Representative | |
| Knowledge Base or Help Center | |
| Videos & Tutorials | |
| Company Blog | |
| Social Media | |
To some extent, your customer support options will depend on which processor you choose to sign up with. Your merchant account provider will often be your front line for all account-related questions. However, for technical support, Clover is the go-to source. (If you sign up with Clover directly, it will be your point of contact for account-specific issues, too.)
Clover offers 24/7 phone support, which is always nice to see. However, many Clover users report long phone wait times, unhelpful interactions, and having to deal with generally misleading customer service representatives.
You can also access customer support resources such as tailored knowledgebases and tutorials from your Clover dashboard and download PDF guides/support videos on your Clover device directly.
Payment Processing With Clover Flex
If you use Clover (or rather, if you use Clover's parent company Fiserv) for merchant services, you'll get the following payment processing fees:
Card-Present Transactions: 2.6% + $0.10 (Clover Payments and Essentials plan) or 2.3% + $0.10 (Clover Register plan)
Card-Not-Present Transactions: 3.5% + $0.10 (all Clover software plans)
Card-not-present transactions include online and phone orders, virtual terminal payments, invoice payments, manually keyed-in card numbers, and third-party ordering platform payments.
Your payment processing rates will vary if you buy your Flex hardware from a reseller.
Contract Length & Early Termination Fees
Clover currently offers 36-month and 48-month contracts. If you decide to cancel your Clover contract, you will pay an early termination fee equal to the amount you would have paid for the remainder of your contract.
For example, if you have 12 months left on a Clover contract and decide to cancel, you will have to pay a fee equal to 12 months' worth of your Clover subscription fees.
If you are paying monthly for your Clover hardware, you will have to pay off the rest of the money owed for the equipment.
However, Clover resellers do not all have this same policy. You can find a better Clover contract by working with one of these best Clover resellers and negotiating a better merchant agreement.
You cannot transfer ownership of your Clover hardware to anyone else or do anything with your Clover hardware if you decide to stop using Clover software.
Clover Flex User Reviews
One of the challenges that we have always faced with reviewing Clover products is user reviews. Parsing all of the data and getting a feel for what merchants love and hate about any piece of software (or hardware) is a big undertaking. Clover is extra challenging because Fiserv has such a massively huge network of resellers offering the Clover suite, and, unfortunately, some of them are completely terrible.
Most Clover reviews tend to be extremely negative and usually focus on payment processing or hardware leases. Even good reviews tend to primarily focus on the software element — being vague about the hardware, if it's mentioned at all. With that said, reviews have been slowly trickling in over a variety of places online, enough that a few recurring themes have emerged, albeit still from a small sample size.
Negative Reviews & Complaints
Customers Given Poor Information: More than one reviewer complained that they specifically asked Clover if certain software would be compatible with the Clover Flex, such as a gift card or a third-party app, and were told it wouldn't be a problem, only to find out that it doesn't work.
Bugs & Restarts: Multiple customers reported similar-sounding issues about bugs that would shut down the Flex or cause a restart right in the middle of processing. There are multiple instances of the hardware either freezing up or becoming unresponsive, forcing a hard restart.
Connection Issues: A few users reported that the machines would often process in offline mode even when connected to wireless, making for slower connection speeds. Similarly, a few reviewers complained that the range on the devices was sub-par, often dropping connectivity from one end of a store to another.
Battery Life: More than one reviewer noted that the Flex started to have difficulty charging earlier than they would have anticipated, and the battery life got progressively weaker with time.
Positive Reviews & Testimonials
Processing Speed: A good portion of the customers who were happy with the device felt particularly pleased with how quickly it processed payments and the speed at which they received funds.
Ease Of Use: Most customers appreciated how easy the device is to set up and use for both employees and customers.
Intuitive Design: A few reviewers liked the device's feel and found it simple for their employees and customers to use.
Final Verdict
Clover Flex Review Summary
Pricing
$499
Choose If You Need

A functional and flexible POS system
A mobile solution to use with Clover's POS software
Numerous features, apps, and add-ons
In all, the Clover Flex earns a 4-star rating for its functionality and — pun fully intended here, folks — flexibility. The Clover Flex makes the most sense if you already have a Clover setup and want to take it mobile.
The single biggest concern with any Clover product is making sure you sign up with a reputable processor. If you go through Clover directly, you'll get the lowest hardware pricing and a month-to-month agreement with clear, simplified rates. However, other reputable resellers for Clover exist, including Dharma Merchant Services, National Processing, and Payment Depot.
If you decide that Clover POS isn't for you at all, read up on the best Clover alternatives to find the POS hardware and software for your business.
Clover Flex FAQs
---
The Merchant Maverick Seal of Approval 🏆
Clover Flex


---
After hours of in-depth research and evaluation, we can confidently recommend this brand to our readers. Get started today and see Clover Flex for yourself.
The Merchant Maverick Seal of Approval 🏆
Clover Flex


---
After hours of in-depth research and evaluation, we can confidently recommend this brand to our readers. Get started today and see Clover Flex for yourself.
To learn more about how we score our reviews, see our
Mobile Credit Card Processing Rating Criteria
.